Have you been fed up with regular cleaning of your interior house settings, backyard, balcony, or garage, etc.? Is ordinary broom sweeping, mopping, or vacuum cleaning not delivering the best results? Worry not, an Air Blower is the perfect solution for this. And believe me, this small investment will make your life much easier.
An air blower is a simple electrical device used to blow away dust from curves and corners very effectively. The device can make the cleaning very easy and effortless and is very functional to clean crammed and congested areas. So far, even more handy and inexpensive over the vacuum cleaners, so isn't it a better choice?
But how to choose the right blower for your needs is a big question. So, we are here for you with our top picks of best air blowers in India and the Detailed Buying Guide on it. It will definitely let you choose the right product depending upon your requirements and budget preferences.
10 Best Air Blowers in India
Best Air Blowers in India Reviews
1. Bosch GBL 620-Watt Air Blower (Overall Best)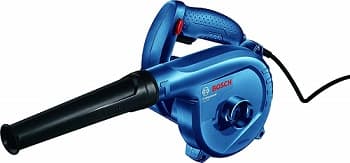 The cleaning of dirt and dust of your house interiors and exteriors is not easy, but you can make it effortless with Bosch GBL air blower. This air blower is the top pick in our list because of its tremendous features and high-quality skills.
The stylish blue color option makes it appealing and at the same time its high cleaning efficiency makes it a best product at all.
Bosch GBL air blower offers the highest power to weight ratio of 620 W. Moreover, with the airflow of 3.5m3/min, it can clean almost everything and is perfect for all domestic purposes. Corner and under furniture dirt, garden and balcony cleaning, as well as cleaning of various electrical appliances like AC, Coolers, computers, etc is a piece of cake with this easy to use appliance.
Not only domestic cleaning becomes easy with this handy blower but it is also good for industrial purpose as well. For instance, industrial wood dust clean up is extremely large undertaking, but this air blower is an ideal device for such intense cleaning.
This air blower is also highly functional for industrial and electrical maintenance, construction purpose, woodworking environment, etc. It also facilitates air drying after water washing or painting, surface treatment, etc.
The device provides effortless service and easy to change carbon brush design. You can replace the carbon brush if considered necessary. Overall, the handy and user-friendly feature of this product makes it a great choice for many Indian homes as well as industrial areas.
Key Features
Lock-on button for steady convenience
Offers highest power-weight ratio of 620 W at 1.7kg
Effortless service and easy to change carbon brush design
Offers highest cleaning efficiency with a blend of 620W power and 3.5m3/min of airflow
Item dimension: 33.40mm x 23.19mm x 22.40mm
Pros
Sturdy and durable construction
Easy and comfortable grip for prolonged usage
It offers the highest cleaning efficiency
Fixing of nozzle and dust bag is very easy
Heavy cleaning, such as removing wood dust, or trimmings from backyards is very easy with this tool
Very handy and easy to use
Cons
2. Stanley STPT600 600W Variable Speed Blower (Runner Up)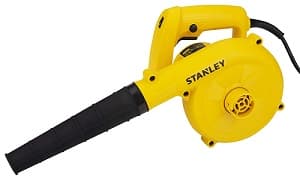 Coming to the next, this high quality and best performing air blower from Stanley is another great option for tiresome cleaning tasks. The model is very resourceful and powerful that makes all the laborious and boring task of cleaning a breeze.
This handy tool comes in a compact design that serves better while cleaning difficult to reach areas. It has a 600 W powerful motor that blows out high volume air and helps you clean the entire dirt and dust with ease. Plus, its 16000 RPM blowing speed makes cleaning easy and fast. It also has an optimized fan structure that offers enhanced airflow.
This air blower is ideal for cleaning dust and dirt, furniture, wood crumbs, air coolers, ventilation grills, dry grasses, etc.
Excluding enhanced fan structure and compact design; it also has a lock-on button for one-hand control. You don't need your another hand while cleaning that saves you from the extra effort. There is a rubber nozzle for better flexibility, and this rubber nozzle is detachable and can be functional for suction mode.
The cord length of the device is quite large and is measured approx 3 meters in length. This much lengthy cord is sufficient to reach hard to find areas. As an added benefit, the variable speed control setting allow you to change it as per your requirement.
Key Features
Light and compact design for easy handling
Variable speed control to manage airflow
600 W powerful motor for better performance
Optimized fan structure
2-in-1 blower cum vacuum cleaner
Detachable rubber nozzle
Suction mode for constrained areas
Lock-on button for user safety and single hand control
1-year manufacturer warranty on manufacturing defects
Pros
The build quality is superior
By feature, it has great suction power, drying power, and blowing power
Product is very light in weight that saves your hand from physical exertion while using it for long hours
Speed control setting is very nice letting you set the desired speed accordingly
Value for money product
Cons
Overall good product!! No off-putting feedback
3. Cheston Heavy Duty Electric Air Blower (Best Budget Pick)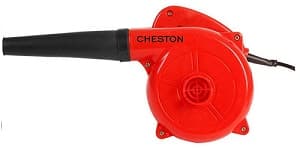 Finding quality air blower in a cost-effective budget is a very chaotic task. But don't worry!! Our this pick with a pocket-friendly price tag will surely be a great deal for you.
The Cheston air blower is a heavy-duty electric blower that helps you cleaning larger areas with ease. It comes with 500 W powerful motor that generates 13000 RPM of speed to blow out high volume air. This helps you to clean the entire dust and dirt effectively.
The best part is that it comes with variable speed settings for airflow. So, you can simply choose a particular speed to organize the flow speed of air. It can be used according to your cleaning needs. Like, you have to clean delicate components; you can change it to a slower speed and for clearing dust from huge areas, change it to a higher one. Isn't that resourceful one!! Apart from variable speed control and phenomenal air speed, the lock on button assures you more comfort and feasibility while cleaning.
This electric tool is also very useful for clearing dust from computers, sidewalks, garage floors, or a blow-dry on your car after a wash.
The Cheston heavy-duty electric air blower is durable and good for long-term usage. You may experience another level of satisfaction with its ergonomic design and easy to handle size.
Overall, the tool is awesome and value for money, seriously. It is functional for both suction and blowing. Hence, for quick cleaning of dirt, nothing is better than this Cheston blower. Simply go for it!!
Key Features
Heavy-duty electric blower having 500W motor
Motor speed: 13000 RPM
Variable speed control to manage airflow speed
Electric broom for cleaning and clearing dust
Easy serviceable
Easy to adjust carbon brush design
Lock-on button for regular airflow
Outstanding airspeed of 65 miles/h
6 months warranty from date of invoice
Pros
It has a high motor speed of 13000 RPM, which is good enough for clearing dust from delicate appliance
You can give a no-contact air dry to your car after wash
It can simply clean the sidewalks, garage floor, or humid dust with ease through air blowing speed of 65 miles/h
Easy to handle size makes it very convenient to use
Cons
No vacuum cleaning function is available
4. BLACK+DECKER BDB530 Air Blower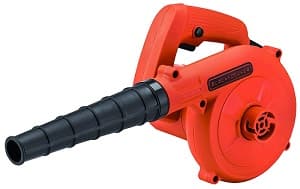 Black & Decker is famous for its high-quality manufacturing products. For home improvement solution, you can blindly trust this company. So, our next best pick belongs to the same brand.
This model of Black & Decker air blower is a compact and light-weighted device which is ideal for cleaning inaccessible areas. The dual-mode function makes it extraordinary with suction and blowing mode. When on suction mode, it mechanically collected the waste in a dust bag that is included in the package.
It has a powerful motor that consumes 530 W. The maximum speed of the air blower is 16000 RPM, which is good enough for rapid cleaning. And the airflow speed is 3.5 cubic m/sec that makes cleaning of household equipment or interiors much easier and smarter.
You can easily blow the dust particles of unreachable places like curvy or messy areas. It also facilitates in cleaning delicate parts of the music system, computers, television, or air condition. Moreover, you can also blow out dry leaves of backyards or plots or any larger area as well. As a bonus, the prolonged cord of the tool make it very much significant for easy accessibility.
The reliable single-speed airflow is best suitable for the entire handy tasks. There also comes a rubber nozzle that is generously best for direct airflow. So, overall, this is an ultimate speed blower with excellent quality and a powerful motor.
Key Features
Ergonomic design with first-class weight balance
530 W motor, Maximum speed: 16000 RPM
Lock-On switch for uninterrupted usage
Airflow 3.5 cubic meter/sec for power cleaning performance
Dual function: suction and blowing mode
Attached dust bag for waste collection
3-meter long cord for easy accessibility
Easy removable carbon brush for quick service
Warranty 6 months from date of purchase
Pros
It has dual function mode: blowing and suction which is very nice
When on suction mode, you can collect the waste in the attached dust bag
Powerful motor with a maximum speed of 16000 RPM for immediate task completion
Long cord for easy accessibility
The blower is good enough to clean rigid dust on electric appliances or household items
It has great suction power and durability
Cons
It does not have a variable speed option
5. Foster FEB-650VBL Corded Vacuum Air Blower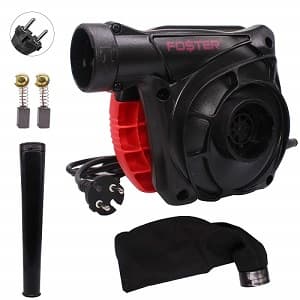 This 2-in-1 air blower cum vacuum cleaner is compactly designed to facilitate you in cleaning tasks, especially in congested or unreachable areas. It drives out tiny particles or humid dust from scraps with ease.
When it comes to design, the device includes plastic material construction that is hard-wearing and durable. The handle of the speed blower is designed ergonomically, that lets you hold it conveniently while cleaning. It also facilitates your hand not to get exhausted while using it for a prolonged time. There is a full copper core winding framework, which provides it better durability.
The best is its adjustable speed that makes it very functional, and you can change it to 6 different speeds that suit your working convenience. For cleaning delicate areas or fragile components, you can use a slower speed. Change it to higher speed or medium one if you are cleaning household items or dry leaves of the backyard even.
It also has a secured control switch with a lock-on button that keeps the air blower running frequently. So, you don't need to press it constantly. This way, it saves your fingers from exertion while working with it for long hours.
The 14000 RPM lightening fast speed saves your time too, and it becomes non-hectic while cleaning larger areas or humid stuffs.
One more exceptional features is its 2-pin Indian plug that is just almost missing in most of the other brands. So, you don't need to manage it with an extension board at all. It can easily runs on average 220-240 V AV power supply making it ideal to use anywhere you want. Thus, surely the best buy in a medium budget!!!
Key Features
Well built plastic material air blower in royal black color
Power: 650 watts, operating voltage: 220-240 volts
High Airflow of 3.2m3/min with 14000 RPM
Variable speed control with 6 different speed setting
Copper winding framework makes it durable and ever-lasting
Pros
Copper twisting framework makes it hard-wearing and giving it a long life
It is an air blower plus vacuum cleaner by design
The device can clean larger area surface to electronics and household items very effortlessly
Ergonomic handle grip allows your hand not to get exhausted while using it for long hours
It comes with a 2-pin Indian plug. You don't need an extension board for powering
Cons
6. Aegon Ab40 Electric Air Blower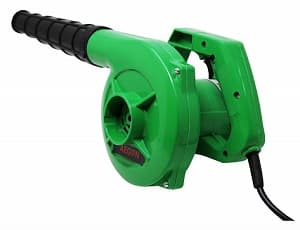 Our next best pick belongs from the house of the most reliable brand Aegon. The model Ab40 from Aegon is a strong and durable electric blower and is functional for various cleaning tasks.
It has a sturdy copper winding motor that has a power input of 350 W with an airflow of 2.3m3/min. Comparing to aluminum winding, a copper winding motor can bear approximately double the current capacity. It makes it functional for a longer duration at high speed.
For the domestic purpose, the device is very helpful in removing dirt from the side of beds, windows, or grills and every difficult corner of the house where the only mop cleaning is not sufficient. It also eases the job of cleaning sawdust, garage floors, wet leaves, dust from computers, and many others. Even, you can make your backyard stay clean after raining or damp pitch in an easy way, using this device.
You will surely love its ergonomically designed handle that provides a better grip. It makes you not to feel exhaustion at all, even using it for longer hours.
Extended nozzle enhances the effectiveness of the blower, and the prolonged cord makes it easy to clean more area. There is also a quick-lock mechanism on the nozzle. By means of this feature, you can simply change the nozzle and operate it flawlessly. The lock helps in securing the nozzle with the intention that it does not get unlock during cleaning.
Key Features
Power Input: 350 W, Air flow rate: 2.3m3/min
Plastic material gentle green color multipurpose electric blower
Light-weighted measures approx: 1.7 kg
Ergonomically design and user-friendly tool
Optimal no-load speed
Strong and durable motor for longer shelf life
Copper winding for the motor
Extended hose along with comfortable grip
Removable nozzle for flexible fixing
Pros
Ergonomic design
It is made for easy maneuverability
The copper winding motor supplies extensive power equal to 13000 RPM. It keeps functional for a longer duration at the highest speed rate
It has a power optimization feature that lessens power usage throughout the no-load operation
The carbon brush is changeable. Varying it frequently can add a motor's life
There is an extended nozzle for powerful cleaning
The blower comes with a double insulated dual-core PVC cord that measures 1.5 meters. It becomes easy to cover larger areas
Cons
7. Bosch GBL 82-270 Professional Blower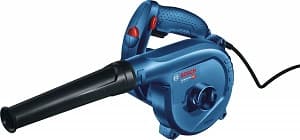 Searching for an air blower that delivers professional quality results, this one from Bosch is a one-stop solution.
Bosch GBL 82-270 electric air blower makes your cleaning task effortless and graceful with its extraordinary features. It has a power input of 820 W with an Air Flow rate of 4.5m3/min. Sometimes cleaning becomes hectic, but with this delightful electric blower, you can easily blow the waste even from hard to reach areas.
Being strong, sturdy, and powerful equipment, it takes only minutes to clean the mess or clear the dried grass of the garden.
The blower comes with variable speed control wheels. It makes the speed adjustment an easy job and you can change it from slower to higher according to your cleaning needs. The lock-on system is very functional for single-hand usage.
Another best feature is its hand clutch design that makes it appropriate for every person usage. The grip is comfy and secured that doesn't bother you at all, no matter how long you use the device.
You can also use the device for a vacuuming session as it holds the vacuum cleaner feature too. All you need to read instructions thoroughly so that you can use this mode successfully. But keep in mind, the suction mode is ineffectual, or you can use this mode for just sometime with low power performance. The main function of Bosch GBL is as a blower. Hence, use it for cleaning household appliances, car interiors, sidewalks, backyards, or any larger area.
Key Features
Power Input: 820 W
Motor speed: 16000 RPM
Air Flow: 4.5m3/min
Variable Speed control
Package includes: 1 main unit, 1 dust bag, 1 nozzle
Warranty: 6 months from the date of invoice
Pros
Build quality is superior
Strong and powerful airflow speed
Easy to use
Effective and reliable
Not too heavy. You can hold it easily while cleaning
Carbon brush can be replaced effortlessly
Cons
The machine heats up if used for longer duration
Suction is ineffectual
Very noisy
8. Elmico Heavy Duty Electric Blower
Elmico presents the most durable and versatile equipment to make the cleaning task easy and effortless. It is a perfect copper winding dust collector, which is very useful to clean congested or hard to reach spaces.
The blower weighs 1 kg or less, which makes it uncomplicated and easy to hold for a long time. It can run for 25 min continuously without heating up the motor.
The design is very handy, and you can effortlessly clean the humid waste immediately with this blower. This electric blower is perfect for garage floors, car interiors, garden leaves, snow, and delicate components as well. It is also very useful for the maintenance of electronic items such as air conditioner, air coolers, computers, music systems, refrigerators, etc.
This dust collector has a PVC nozzle that makes it stronger and long-lasting. The copper winding motor is quite durable and provides a load speed of 14000 RPM. The device also combines variable speed control, that can be very helpful in changing the speed flow rate accordingly.
Key Features
Heavy-duty blower made of superior quality plastic
Easy to use
Copper winding
PVC nozzle
Item Weight: 499g
Airflow rate: 2.8m3/min
Load speed: 14000 RPM
Versatile tool with variable speed control
Pros
The highest air flow rate eases the blowing of the dirt
An effective tool for hard to reach areas
It can remove light and fluffy snowfall as well
Useful in removing dead leaves from the pitch
Cons
The suction mode is not effective
9. Jakmister Vacuum Cleaner/ Dust Collector/ PC Cleaner /Electric Air Blower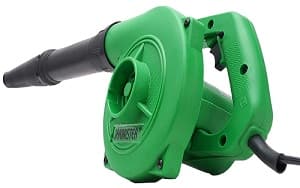 Jakmister Dust collector is the result of our thorough search that works effectively for all your hectic cleaning task. Its 800 W motor generates 17000 RPM along with an air speed of 80 miles/hour. So, performance and better results is completely assured. There also comes a deadbolt for constant airflow, making your job easy and convenient.
The design of the air blower is compact, and the company claims it is indestructible. The accessories are durable and everlasting as well. Apart from its hard and strong body, the working of this blower is influential. It could run for hours without getting heated.
As an extraordinary feature, the blower holds an anti-vibration factor. This is absolutely rare at this cost. And this element adds some more existence of motor so that it functions properly for years.
The blower is good enough to clear accumulated dust from computers, garage floors, window dust, room dust, sidewalks. You can also give your car a blow-dry after wash with Jakmister electric air blower. Plus, the device has a vacuum bag for suction and can be used as a vacuum cleaner too that is another great benefit.
The service of the product is quite simple and easy. It is advised to change carbon brush frequently so that the motor runs for years.
Key Features
Lock-on Button for a steady flow of air
It has a vacuum bag for suction
Easy to service
Easy to handle size
80 Miles/Hr (3.5m3/min) Blowing speed
800W motor
Changeable carbon brush
Pros
Budget-friendly that goes well with everyone's pocket
It can be used as a vacuum cleaner too
Easily serviceable
Amazing electric blower which is good enough to clean room duct, AC ventilators, grills, window dust, computer, etc.
Cons
No warranty on the product
Noisy
10. iBELL Professional Quality Air Blower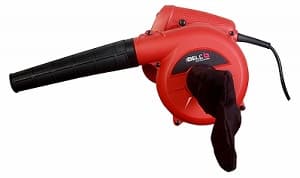 Now last but not least, we found iBell 600W air blower is another best option on our list. It is mind-blowing equipment that generates airflow at extensive pressure.
The device comes in an ideal size that is very easy to hold while cleaning. Even more, the build quality and the plastic material used in it are significantly better than local ones.
This air blower can be used for various purposes, for example: home cleaning, office cleaning, electric appliances cleaning, small car cleaning, and many others.
The device comes with 7 variable speed controls that are extraordinary. Counting the performance of airflow, it's working the same like impossible to differentiate. Cord quality is also very good and has extensive length.
It is definitely an excellent product to buy because of its better quality control and outstanding function. You need to follow instructions to take care of your blower if you want it to run smoothly for a longer time. Do change the carbon brush frequently to avoid any harm to the motor.
Not only for domestic uses, but also for industrial cleaning, iBell would be a great option. It goes perfectly for this kind of intense task or such heavy cleaning.
Key Features
Incredible blowing power with ideal size to hold easily
Blow rate: 3.3m/min
Adjustable speed function with 7 variable speed
Target jobs: Workshop, Furniture industry, sidewalks, showrooms, garage floor, backyards
Pros
Comes in ideal size that is quite easy to hold
You can smartly remove humid or damp dust with comfort
Saves a lot of time
Adjustable speed function is very purposeful and can change to 7 variable speed controls
Cons
How to Choose the Best Air Blower? (Buying Guide)
Different Types of Air Blowers
The function of every air blower is the same, but it comes in different types depending on the size, application, power capacity, and design of blades.
1. Types Based on the Blade Design
Frontward-curved Air Blower: This type of blower has curvy blades, and it creates a higher rate while revolving at minimum speed.
Rear-curved Air Blower: Comparing to the frontward curved blades, it rotates more rapidly. The smooth blades diverge from the revolving path. The backward curved blades are good for household tasks where high-static pressure is needed.
Radial Air Blower: The blades are even and not curved. It is used in mini exhaust systems. This kind of air blower is best for cooling purposes.
Airfoil blades Air Blower: These blades are increasingly bent down to thin towards the outer end.
2. Types Based on the Application and Utilities
Handheld Air Blower: These are mini size blowers that are used to clean small spaces. For larger areas or clean huge trash and waste, handheld blowers are not suitable.
Backpack Air Blower: These are also known as rucksack blowers that are quite huge in size. Comparing to handheld blowers, it runs for sufficient time with more battery backup.
Walk-behind Air Blower: These air blowers are designed for huge tasks as these are bigger in size and hard-wearing too. These are best suitable to clean larger lawns or backyards.
Things to Consider Before Buying an Air blower
Dusting and cleaning can't be done precisely by mop or broom. From cleaning the curvy areas to delicate parts of electric appliances, air blowers are a must-have device to ease the task. You will have to consider various features if you are deciding to buy an air blower. Firstly you need to weigh up your requirement. After that, other things will matter. Here, are some important features that you definitely need to consider.
1. Electric or Fuel-based Air Blower
Compare the type of blower you want. If you have a requirement for outside usage, you need to opt for a petrol-based air blower. These blowers can be used for extended periods, huge trash to blow away, or a bigger region to clean like backyards or garden leaves.
On the contrary, if you need a blower for small household tasks or small areas to clean, the freestyle battery-operated air blowers are a good buy. It is quite stress-free to operate and noiseless too. It works for approx 30-50 minutes continue with charging only. These are very affordable and long-lasting.
2. Backpack or Handheld
When you are going to buy an air blower, wisely prefer light-weight and user-friendly blowers. The handheld blower features the same and is the ultimate choice for light-duty tasks. Contrary to this, backpack air blowers can easily clean-up the flowerbeds and trimming grass from lawns, backyards, or driveways.
3. Variable speed
Speed alteration in a blower offers a lot of flexibility. You are advised to go for a model in which the speed can be attuned with the help of a regulator. So, you can easily adjust the airflow according to your requirements.
4. Vacuum Features
Most of the air blowers include a vacuum feature that is quite functional to suck up trimming grass or greeneries. To clean a larger area, vacuum featured air blowers are an ideal choice.
5. Noise
Who doesn't like a soundless blower…. In fact, thunderous roars of the blower are never acceptable. It may annoy others too. Above all, some air blowers are designed to fulfill low noise. Well, freestyle battery-operated air blowers are less noisy and user-friendly too. You can go for a blower that has noise retreating proficiency and battery-driven featured the same.
6. Brand and Cost
Cost and branding has its own significance. Other than your requirement, the cost of the product and brand name is very important. Always set your budget first and then pick a brand as maintained by your necessity and financial statement.
What else to look for in an Air blower?
Electric air blower should have some basic features such as:
It must have easy to use blowing and extraction features
It should have lightweight and easy to hold feature
The device also must have a variable speed control function so that it can be changed from requirement to requirement.
It must have a soft and well-built grip for long hours usage. A comfortable grip leads to minimal exhaustion.
The cordless feature is another requirement.
Air blowers should come with a lower noise level, most importantly.
Different products come with different features. Some of the air blowers have a speed selector feature as well, which are inconsistent and changeable. Therefore, you can select the speed accordingly through the given regulator. This may help you clean delicate parts of the appliances by altering the air pressure.
The latest air blowers also arrive with a vacuuming feature that makes it more versatile and flexible.
How Air Blowers are Useful?
Daily cleaning and dusting can be done with a broom or duster. But thorough cleaning can't be made from mop only. It doesn't get to the corners, and the dirt gets gathered heavily in some days if kept unclean. To make your task easy, you can trust in air blowers for the same. It delivers the forced airflow, for a hassle-free cleaning of your house interiors, backyards full of leaves and dust, balcony areas, even more the industrial and commercial spaces too. Here are few points showing how an air blower is useful:-
It allows the thorough cleaning under the beds, sofas, or other furniture easily.
It can clean big appliances, like refrigerators, air conditioners, washing machines, air coolers, & computers. Electronics can be cleaned with a cloth, but what about the delicate parts and difficult to reach areas of that gadget. Only for your convenience, air blowers are made to remove dust internally with its forceful air pressure. It can save your unnecessary effort and time as well in cleaning and dusting tasks. Moreover, you can add a few more years of existence of your appliances with regular cleaning.
The appliance also cleans your backyard or garden full of leaves and twigs in no time.
It can easily clean garages and the workshops where dust and debris are very common.
Cleaning and Maintenance of Air Blowers
Maintenance and cleaning of any electric device keep it functioning for the long-term. Similarly, air blowers are such device that uses core elements. It works with restraint and strap, oil, air pressure, etc. Hence, normal overhauling and frequent maintenance is very important to keep them functional. A little maintenance can make it efficient for a longer time. We suggest to read the following guide which covers very detail steps to tune up air blower.
Clean air blower. If you don't love to read, instead want to watch a video, we suggest watch this video.
Air Blowers Frequently Asked Questions (FAQs)
1. What can you clean with an air blower?

Air blowers are versatile and multi-purpose. It can clean dust, grass trimmings, and various other spaces. It can also be used in cleaning home interiors, home appliances, waste from woodwork shops, industrial trash, and others.

2. Does the use of air blowers cause any mishap?

Any product which runs on electricity is not completely safe to use. The same holds for air blower, and so minor or major accidents can be possible. Although the best air blowers for various appliances have precautionary measures, it is suggested to thoroughly follow the safety measures provided by the manufacturers to avoid any disaster.

3. Are air blowers and vacuum pump works as same?

No, not completely… In actual, there are some air blowers that have an attached vacuum inside. But separately, both of these devices are not the same exactly. You will find the variation in their energy consumption, flow rate, and strength parameter. You may use air blowers as an alternative to the vacuum pump if you have a low budget.

4. Does noiseless blower exist?

Yes, definitely there are some models available that don't make much noise. In fact, electric blowers are not that much noisy compared to the battery operated blowers. There are also some air blowers available in the market that makes no noise at all.
Conclusion
The above script covers the entire thing about best air blowers in India. Read thoroughly our buying guide and wisely pick a one for your need. We have enclosed top air blowers listing, too, with their key features and review. Compare them judiciously along with the pricing. And so, make your life easier and stress-free to clean up the entire dirt or even grass trimmings with ease through the best air blower.
Read Related Reviews
Buy Electric Blowers Online
Jakmister (Anti-Vibration) Unbreakable Plasti...
65%
Jakmister 900 Watts (Unbreakable Body Sparkle...
69%
Jakmister 600 W, 70 Miles/Hour Electric Air B...
66%
Bosch GBL 620-Watt Air Blower (Blue)
30%
Jakmister 4.0m³/min-18000 RPM Extra 20 Feet ...
76%
Asian Paints TruCare Hand Held Air Blower, 50...
65%
Cheston 500W Air Blower I Anti-Vibration I 13...
56%
BLACK+DECKER BDB530 530W Single Speed Air Blo...
42%