Dealing with the messy cords while vacuuming is so much annoying. Thankfully, the cordless vacuum cleaners are now available, making your job easier. It not only cuts down the cleaning time but also offers you the flexibility to carry it anywhere and clean anything. So, welcome to the blog that is all about the best cordless vacuum cleaners in India for easy cleaning.
For in-depth information on Cordless Vacuum Cleaners, please read our Buying Guide.
7 Best Cordless Vacuum Cleaners in India
Best Cordless Vacuum Cleaners Reviews
Now, have a look at the detailed review of each of our best picked models of cordless vacuum cleaners to choose the best one.
1. Dyson V11 Absolute Pro Cord-Free Vacuum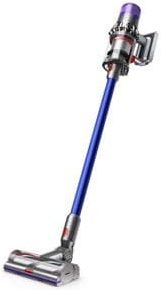 The Dyson V11 Absolute Pro is one of the most powerful and intelligent cordless vacuum cleaners. That's why our top pick in this list. With more remarkable features and ultimate performance, it can deliver the best cleaning experience, whether it is floor, carpets, ceiling, or other high places. This vacuum cleaner is a stick type in a vibrant blue color option that gives an eye-catching appeal to it.
The most exciting part is its light-weight design even with the attachments too, making cleaning convenient and really a breeze. When it comes to performance, the new and improved digital motor with ceramic-based shaft makes it even faster and lighter. If noise bothers you a lot, here you don't need to worry as this one offers great cleaning with an extremely low noise level.
There come the three cleaning modes with the machine- Eco Mode, Auto Mode, and Boost Mode that you can switch accordingly. The run time for each mode is different. The eco mode can last for up to 60 minutes while boost mode can last between 7-15 minutes. But the boost mode is powerful enough to tackle tricky cleaning tasks such as getting dog hair off of a fabric sofa seat. The auto mode intelligently adapts power between floor types, with the optimum balance of power and run time.
The most advanced feature of this cordless vacuum cleaner is the LCD screen. It lets you switch modes more easily as the screen displays the remaining battery run time for each of the cleaning modes. You can also get the maintenance instructions in case of blockages or if the filters need cleaning. Even the improved dust disposal mechanism allows the easy emptying of the bin where the dust gets collected.
The powerful attachments with it fulfill all your cleaning needs. The accessories include Quick Release Crevice Tool, High Torque Cleaner, Soft Roller Cleaner, Quick-release Combination tool, Quick-release Mini Motorised tool, Soft Dusting Brush, and a Mattress tool.
The wall-mountable design allows you to store the unit along with the accessories easily.
Key Features
Senses and adapts for optimum cleaning of all floor types
LCD screen reports performance and run time
Integrated power management system
Digital motor for powerful suction
Powerful cleaning on all floors and carpets
Three cleaning modes for a variety of tasks
Point and shoot hygienic bin emptying
Wall-mounted docking station
Seven-cell nickel-cobalt-aluminum battery
Advanced filtration captures 99.97% of smaller particles
Package Includes: Nickel Torque Drive, Soft Roller Cleaner Head, Docking Station, Quick-release Crevice tool, Combination tool, Mini-motorized tool, Mini-soft Dusting Brush, Mattress Tool, Wand Storage Clip, Quick-Release Extension Hose, the blue/gold stick extension, Wall Mount Unit, a Charging Adapter, and two Instruction Manuals.
Pros
Nice build quality and design
Offers hassle-free cleaning
Perfectly balanced to clean high areas like ceilings
Great for floors and carpets as well
Suction power is too good
Innovative accessories for all types of cleaning
Cons
A little higher on the price side
Filter needs frequent cleaning for ultimate performance
2. Dyson V12 Detect-Slim Cord-free Vacuum
Again a model from Dyson, that if one of the most powerful vacuum cleaners in the line-up. It offers the deep cleaning of your house as well as vehicles with no hassle of cords. Even the more smart design enhances ease of use as well as looks aesthetically beautiful. The stick design lets you clean the hard-to-reach areas on the ceiling as well as corners. You can also remove the handle to make it a normal handheld vacuum for cleaning of the easy-to-reach regions.
It comes with the cyclone technology to offer the powerful suction of dirt, dust, and debris. The vacuum generates more force to suck up the smallest particles into the bin. The best is its in-line configuration of motor, bin, and cyclone that gain delivers the powerful suction. It also comes with pet-grooming tool that allows easy pet hair removal from almost all the surfaces.
Moreover, the fully-sealed filtration system of the device adds up more and creating a clean and healthy air around you. Emptying the dust-bin is also very easy with one-touch Point and Shoot Button that hygienically ejects dust and debris deep into your bin.
There come three power modes that you can easily control through a slide button for cleaning of tile, hard floor, and even the carpets. The device offers the run time of 60 minutes that is pretty good enough for all your cleaning needs. At maximum setting, this vacuum cleaner lasts for seven minutes with a motorized head and five minutes with a non-motorized head.
Now the most important is its accessories that offer you the ultimate cleaning experience. It can easily fit on the wall-mounted dock along with the accessories that look neat and tidy. Plus, you can easily grab it whenever you want.
Key Features
Lightweight design for easy handling
Powerful suction to remove hidden dust and dirt
Fully sealed filtration system
Three power modes
Run time of 60 minutes
Point and shoot hygienic bin emptying
Drop-in docking
Tackles Pet Hair, Allergens and Deep Down Dirt
High-performance cleaning
Cleans up high and hard to reach areas
Package Includes: 1 Wand, Quick-release Soft Roller Cleaner Head, Direct Drive Cleaner Head, Quick-release Mini Motorised Tool, Quick-release Combination Tool, Quick-release Crevice Tool, Quick-release Mini Soft Dusting Brush, Quick-release Extension Hose, Quick-release Mattress (Upholstery) Tool, Quick-release Up-top Adaptor, Docking Station, and Charger.
Pros
Decent vacuum cleaner with powerful suction
Quality stands out the best
The 360-degree movement is really helpful getting around objects
Lightweight and very handy device
All the accessories provided cover every nook and corners of house cleaning
Great for removing pet hairs and tough dirt from carpets and floor
Cons
3. Dyson V8 Absolute Plus Cordless Stick Vacuum Cleaner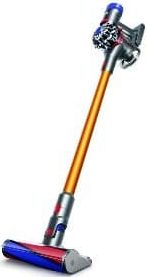 Cord-free and hasslefree, this machine from Dyson makes all your cleaning chores a fun and enjoyable task. Featuring powerful suction it can remove all dirt and debris from your floor and carpets. Being light-weight and ergonomic, it can reach as high to clean cobwebs and ceiling dirt in one smooth motion. With one click, it can also be converted to a handheld vacuum for quick clean up of your sofas, mattresses, curtains, and vehicles, etc.
The Dyson V8 Absolute Plus vacuum cleaner has a wall-mountable docking station to store it neatly along with the accessories and recharge it whenever you need. It features the new lithium-ion battery that not only offers powerful suction but also provides a run time of 40 minutes for more efficient cleaning.
The vacuum cleaner comes with two power modes having a slide switch to select the power accordingly. On powerful mode, it can offer longer cleaning. With the maximum mode, the device offers up to 7 hours of high power for best cleaning. Moreover, the HEPA filtration captures up to 99.9% allergens and small dust particles so you can breathe in clean and healthy air.
When it comes to attachments, the device has many for all types of cleaning needs. The motorized brush is for sucking up pet hair and dirt from carpets and tight-spaces. With the combination tool, you can switch between surfaces. For cleaning of narrow areas and edges, the crevice tool is there. The best is that all the dirt it captures in a bin that is so easy to empty even without touching it. Push the button to release all the dirt in the dustbin.
Key Features
Cordless Stick Vacuum Cleaner
Powerful Suction
HEPA filtration to capture allergens and small dust particles
Two Power Modes- Maximum mode and Powerful Mode
Lightweight and ergonomic to clean high places
Easily transforms into a handheld vacuum
Run time of 40 minutes
No-touch bin emptying
Docking station to store it neatly along with the accessories and recharge when needed
2 tier radical cyclone technology
Package Includes: Quick-release Soft Roller Cleaner Head, Direct Drive Cleaner Head, Mini Motorised Tool, Combination Tool, Crevice Tool, Mini Soft Dusting Brush, Extension Hose, Mattress (Upholstery) Tool, Up-top Adaptor, Flexi Crevice Tool, Docking Station, Charger, and Accessory Bag.
Pros
Strong and sturdy built
Very powerful cordless vacuum cleaner
A stick vacuum cleaner to clean the ceiling and windows perfectly
Gentle on hard floors and tough on dirt
Good for cleaning of carpets and upholsteries
Easy to assemble and use
Hassle-free cleaning
Run time is also decent
Cons
It takes a long time to charge
4. KENT Zoom Cordless Vacuum Cleaner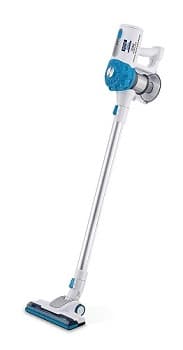 It is another stick type cordless vacuum cleaner from the brand Kent. This versatile and easy manageable vacuum cleaner offers multiple cleaning options to vacuum all types of surfaces, even hard to reach areas. With a soft-touch grip and ergonomic design, it is very easy to handle. Plus, the modern and elegant design makes it aesthetically appealing.
The device comes with cyclone technology as well as HEPA filtration technology to suck out the smallest dirt and dust particles for a completely healthy and clean environment. The filters are easy to maintain with simple washing and cleaning procedure.
The wand included with the machine allows you to clean the hard to reach areas, as well as ceilings, corners, and edges. When you remove the wand, the device turns to a handheld machine for easy cleaning of any surface. The easy touch and clean emptying of the dust bin make it more hygienic.
This cordless vacuum cleaner comes with the new generation lithium batteries that offer the run time of 30 minutes. Plus the batteries can get charged in a very short period, making it more convenient.
Talking about the accessories, it comes with turbo brush and motorized brush for powerful performance on all types of floor whether it is a tile, hardwood, or carpet. The multipurpose brush is there for cleaning of furniture and a special brush for upholstery cleaning. All these can be easily attached and detached in just one click.
Key Features
70cm aluminum extension tube
Ergonomic handle with soft-touch grip
180º swivel joint
Cyclone filtering system
Easy to maintain and washable HEPA filter
Motorised Turbo Brush light to detect dust in dark areas
Easy to remove and clean motorized brush
650 ml easy emptying dust bin
Battery status indicator
Wall mountable
Package Includes: Motorized brush for the floor, separate brush for furniture and upholstery, 2-in-1 crevice tool, multi-nozzle tool, charger, docking station, and user manual.
Pros
Very handy and super convenient
Nice build quality
Easy to use on ceilings as well as floors
Decent battery life
HEPA filters are very easy to clean
The LED light on motorized brush offers cleaning of the dark areas
Cons
5. Black + Decker BSV2020G Cordless Stick Vacuum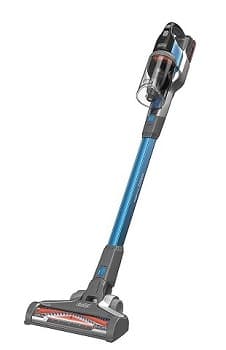 The model BSV2020G from Black and Decker features both stick as well as a handheld vacuum to cater all your cleaning needs. With the integrated stick, it is easy to move around the corners and tight spots. The low profile design with the handle folds easily like a flat to clean easily under the couches and tables. If you want to clean sofas, mattresses, upholstery, as well as cars, you can easily turn it out in a handheld machine.
The model comes with a powered beater bar that can lift stubborn dirt and debris from carpets and floors. Moreover, the intelligent boost mode allows the vacuum for more suction power to catch out dirt and debris more thoroughly. It also has a wide mouth design that can suck up large debris for ultimate cleaning. As a bonus, it comes with translucent and bagless dirt bin to easily see the dirt and easy emptying.
This cordless vacuum cleaner can stand upright without any support, that ensures more added convenience in cleaning. Even with the lightweight cordless technology, it offers you grab and go convenience.
This stick vacuum features Lithium-ion battery to offer you the decent running time of 25 minutes. It allows enough suction power to clean your home easily and quickly. However, this cordless vacuum cleaner lacks a charging stand; it comes with a base charger for easy and convenient charging.
Talking about the accessories, it comes with the soft brush and crevice tool to clean all the delicate and hard to reach areas. You can easily and neatly store all these accessories within the floor standing charging base.
Key Features
Cordless and lightweight design for easy maneuverability
Powered beater bar to lift stubborn dirt from carpets and floors
Intelligent boost mode for more powerful suction
Slim nozzle design
Translucent, bagless dirt bowl makes it easy to see the dirt
Easy to empty and washable bowl – For simple and hygienic maintenance
Wide mouth design to pick up large debris
Self-standing
Charging base with accessory storage
Package Includes: Vacuum Cleaner unit, Crevice tool, Base charger, and Push-in brush.
Pros
Nice build
Easy to use design
Powerful suction to pick all dirt and debris from floor and carpet
The stick design allows easy cleaning of cobwebs and dirt on the ceiling as well
Easy to empty and washable bowl for simple and hygienic maintenance
Quiet operation
Cons
The run time is less. Also, the charging takes more time
Lacks HEPA filtration. So it is not ideal for allergy sufferers, and people with breathing issues
6. ILIFE H75 Cordless Stick Multipurpose Vacuum Cleaner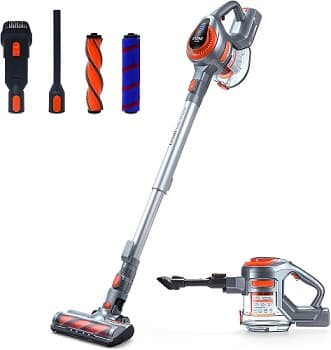 This cordless vacuum cleaner from ILife might be your next best choice. It combines high quality, best performance, and excellent design for all your home and office cleaning needs. Featuring a sleek design and high-quality body, it can not only delivers the ultimate cleaning performance but also ensure ease of use.
This 2 in-1 vacuum cordless vacuum cleaner can be used both as a handheld vacuum cleaner and stick vacuum cleaner. With stick, use it to clean high surfaces like walls and ceiling. Also, you can convert it into a handheld model by removing the stick for cleaning of sofas, mattresses, couch, etc.
It comes with the motorized 270° adjustable floor head that allows the cleaning of tight spots including under and around furniture a breeze. Moreover, the built-in LED light illuminates the darker areas for superior cleaning.
This vacuum cleaner comes with the superior and powerful suction mechanism to catch out both solid particles as well as the tiniest particles with ease. Even the powerful motor makes suction more powerful for catching up the dirt and debris more efficiently. It can easily remove the tough stains, dirt, and pet hair from floors and carpets.
The device also comes with HEPA filtration technology that allows it to suck up even the tiniest particles from the floor and carpets. Thus, it makes easy for allergy sufferers and people with breathing disorders to inhale in a clean and healthy environment. It also comes with various attachments and accessories for more thorough cleaning.
Key Features
Stick vacuum cleaner
Powerful suction
Soft-touch handle for easy grip
Variable speed control
Cyclonic airflow with 3-stage filtration system
HEPA filtration
Effective dust filtering
One-step click-off nozzle for easy emptying
Pros
Cute design
Nice build quality
Powerful suction that clears powdered dust too
Suitable for cleaning of sofa, mattress, floors, and carpets
Cons
7. Shark CH901 UltraCyclone Pro Cordless Handheld Vacuum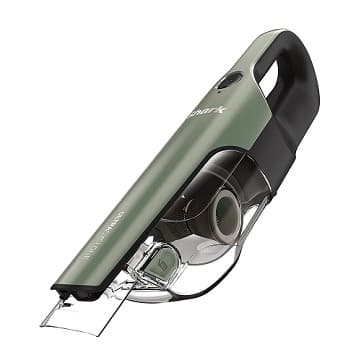 This cordless vacuum cleaner from Shark is a handheld type with a light-weight design for easy usage. What makes it outstanding is its powerful suction, fair run time, and decent attachments for effective cleaning of dry spills, upholstery, and stairs. This lightweight cordless vacuum is versatile enough that you can use on a variety of different surfaces.
It comes with an extra-large and detachable motorized brush to remove pet hair and tough dirt from carpets and floors. Featuring two ultra-powerful cyclonic air streams technology, this one vacuum cleaner offers strong suction while cleaning. It also has a detachable and washable filter for easy cleaning.
The device comes with a crevice tool and scrubbing brush to clean hard to reach spots with ease. There also comes an LED charging indicator to let you know when the device is ready to use again.
Package Includes: Vacuum cleaner unit, motorized pet hair brush, dusting brush, and crevice tool
Key Features
Handheld vacuum cleaner
Lightweight to make cleaning easier
Bagless dust cup design
Detachable and washable filter
LED charging indicator
Twister Cyclonic Technology
Pros
Compact and lightweight design
Easy to use
Great for removal of pet hairs
Good for cleaning of tough stains and spills
Powerful suction
Easy to maintain
Decent run time
Cons
Charge time is very large
Cordless Vacuum Cleaners Buying Guide
Why choose a Cordless Vacuum Cleaner?
Well, if you think that cordless vacuum cleaners have poor suction power, low battery life and are not as powerful as the corded vacuums, you are wrong at this point. With technological enhancement, the cordless vacuum cleaners are upgraded with advanced functionalities and features. It offers you more versatile cleaning quickly and easily. Even, these are light in weight and smaller, so you do quick spot cleans whenever you want. Thus, offering you more convenience while cleaning your house.
Pros and Cons of Cordless Vacuum Cleaners
Pros
Quick, easy, lightweight and convenient
No need of constant plugging and unplugging the wires while cleaning like a corded vacuum
Good for small homes
Easy to carry anywhere
It comes with several detachable components, including a charger that can be connected to wall mounts for more convenience
Takes less time in cleaning
Being light in weight, these are good for people with back pain issues
Easy to use on stairs as well
Great for the cleaning of vehicles
Cons
Cordless vacuum cleaners run on batteries. So, there might be the chances of battery exhausting while cleaning
It takes a long time to recharge the battery that is the most frustrating part
Dust absorbing capacity is smaller over the corded models
These are not as powerful to suck up the hard dust
Types of Vacuum Cleaners (Cord and Cordless)
1. Upright Vacuum Cleaners
Upright vacuum cleaners are the most popular choice among people. These are very powerful and offers efficient cleaning of your home. You can use it on both carpets as well as floors. But on the downside, these are bit bulkier making storage the main issue if you are on a tight space.
2. Canister Vacuum Cleaners
These are medium in size-slightly smaller than upright vacuums but bulkier than stick vacuums. The canister type vacuums come with a slender structure having a canister attached to a long wand. The specialty is that it can be easily transportable and easy to store. It works well both on the carpet as well as floor.
3. Stick Vacuum Cleaners
The design includes like a stick model with a handle, that's why named as stick vacuum cleaners. It is one of the best cordless vacuums with outstanding performance. Its ultra-compact design makes storage very convenient. Plus, its narrow design makes the cleaning of narrow space as well as hard to reach areas very easy. These work well on hard floors, rugs, and carpets.
4. Handheld Vacuum Cleaners
With a small footprint design, these vacuum cleaners are ideal for cleaning small messes, and hard to reach areas, especially best for your cars, and sofas. The cordless design makes it easy to use and easy to carry anywhere.
Robotic Vacuums
If you don't want to deal with the messy cords, the robotic vacuums stands out at best rather than other types of vacuum cleaners. Usually, these are very expensive, so not a perfect buy for those who are tight on budget. But, if budget is not a concern for you, it can take up all the hard work of cleaning including vacuuming, sweeping as well as dry and wet mopping totally hands-free.
Features to Consider Before Buying a Cordless Vacuum Cleaner
1. Budget
Budget is one of the most important factors before buying a cordless vacuum cleaner for all your cleaning needs. For light cleaning jobs, you can go for the models below Rs 8000. But remember, these will not be ideal for heavy duty cleaning jobs. If you want a decent cordless vacuum cleaner, you will go beyond minimum Rs 8000 up to Rs 25000.
But if you expect more features from your vacuum cleaner and can afford, then investing in a machine above Rs 25000 is a great deal.
These will offer you much power as well as longer run time so that you can clean your house without any interruption. Plus, these will also have additional attachments and tools for specific cleaning of floors and carpets as well.
2. Ease of use
The one that is light in weight offers you the convenience to hold it easily and then clean out the clutter without any difficulty. But light-weight doesn't mean that you must compromise the power, dirt capacity, and battery life. For quick and efficient cleaning, it is better to go for easy to move cordless vacuum cleaner with good battery life and suction power.
3. Dust Chamber Capacity
Some models are bagged, and some come instead with dust canisters having the capacity range of 0.30 l up to 1 l. If you have the model with small canister, it needs frequent emptying, which is very easy by simply clicking or switching the button it has. But in case, if there are allergy sufferers or asthmatic patient in your house, investing in a bagged option is really worth. So, while emptying the dust contents, it may not affect them.
4. HEPA Filter
Some advanced models of cordless vacuum cleaners come with HEPA filter technology like the corded vacuums. It can remove the tiniest particles from the air making the environment clean and healthy. So if you or any member of your family have allergies or breathing issues, it is better to go for the one having HEPA filter. It can put a stop to coughs, sneezes, and breathing issues.
5. Versatility
A decent cordless vacuum cleaner will have several attachments to offer you more versatility in cleaning. For instance, it comes with a crevice tool for skirting and cleaning of tight corners. Dusting brush for cleaning of carpets and tabletops. The most important docking and charging station so that you can use it all the time. Some also come with the pet tools to grab out all the pet hair and furs from the carpets and floors as well as under the sofa, table, or other furniture.
When it comes to versatility, I think cordless stick vacuums offer more. The construction includes the main body like a stick design with a comfortable handle along with on/off button. A wand is there which, when attached to floorhead, can be used for normal floor cleaning. After removing the heads, you can use it to suck up cobwebs or window sills. When you remove the whole wand, it works better for the cleaning of cars and sofas.
6. Battery Life
The battery life of a cordless vacuum cleaner range from minimum 10 minutes to an hour depending upon the setting. Some work for 10 minutes at the maximum setting while some can go longer at the minimum setting.
Before buying a cordless vacuum cleaner, it is very much important to check your floor space you need to cover. If you have a small area with hard floors to cover, the one with a battery life of up to 20 minutes may be fine. But if you have a larger and carpeted home, you will need the one that runs longer for up to an hour. Some models allow you the flexibility to swap the batteries for continuous cleaning. Some also come with an alarm indicator to tell you that the battery is running low.
7. Maintenance
If you want your vacuum cleaner to work for the long run, the maintenance of it is very much important. As it comes with small dust containers over other vacuum types, it needs frequent emptying. Also, the filters require proper cleaning. If not cleaned properly, it can cause blockages, which affects its performance. Cleaning and maintenance of the filter is as easy as running it under the tap and drying.
8. Warranty
For a good vacuum cleaner, the minimum warranty should be one year. But some models also offer the warranty up to 5 years.
Conclusion
Well, I think the above informative guide, as well as our picks of the latest and best cordless vacuum cleaners and their reviews, will surely help you in picking out the best one. We have covered almost all the points to finalize your decision with ease. But still, if you think that we have missed any point, or for any of your feedback and suggestions, please pen down to us in the comment section below.
Read Related Reviews
Buy Best Cordless Vacuum Cleaner Online
KENT 16068 Zoom Vacuum Cleaner for Home and C...
53%
Tusa Wireless Handheld Vacuum Cleaner, High P...
29%
Oraimo Handheld Vacuum Ultra Lightweight Hand...
57%
Black + Decker WDC215WA-QW 7.2 V,10.8W Lithiu...
48%
Black + Decker BSV2020G Power Series Cordless...
62%
AGARO Regal 800 Watts Handheld Vacuum Cleaner...
24%
Balzano Tornado Cordless Vacuum Cleaner, Vacu...
54%
Balzano Tornado Cordless Vacuum Cleaner, Vacu...
45%