Robot Vacuum Cleaners, or Robot Mops and even Robot Vacuum and Mop Combo is such a wonderful technological invention. The gadget offers you hands-off convenience for smart cleaning of your home. By moving all around your home floors, it provides you both the comfort and time to do some other more important things. And so, it makes your life more relaxable and easier.
If you are a busy homeowner, this small yet powerful gadget will be your best companion. There are various robotic vacuum cleaners available now with different features and capabilities. Some are only mopping robots, and some are robot vacuums. But some also combines both vacuuming and mopping function. So, here we present the reviews on Best Robot Vacuum and Mop Combo that will surely save your time and effort.
To get more detailed information on Robot Vacuum and Mop Combo, please read our our Buying Guide Section.
5 Best Robot Vacuum and Mop Combo in India
Choosing the right robot vacuum and mop combo from thousands of choices is pretty difficult. So for your ease and convenience, we have lined up here some of the latest models with great features and high performance. Have a look at our best picked hybrid robotic mops.
Best Robot Vacuum and Mop Combo Reviews
So, here comes the detailed review of each of our best-picked models of robot vacuum and mop combo. It will surely let you finalize your decision with more ease.
1. iLife Robot V5s Pro Robotic Vacuum Cleaner with Mopping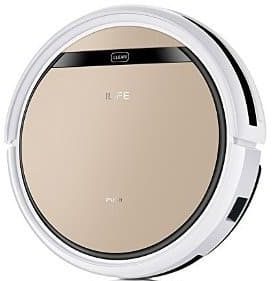 This smart and intelligent robotic vacuum cleaner is our top pick because of its solid performance, cute design, and definitely the affordable cost. The iLife Robot V5s does a great job in both vacuuming and mopping, leaving all your worries behind about cleaning the home. Whether you have tiles, ceramic, laminate, or hardwood floor, this robot vacuum and mop combo work best for all the types.
It comes with a highly powerful motor that is making it's suction power more powerful so that it can't miss out any dirt. The vacuum mode not only works well on floors but also on the carpets too. The best part is that this mode is very quiet, letting you away from the annoying noise. Also, the sizeable dust cup as well as water tank making you free from emptying the dust cup or filling water tank on a frequent.
When it comes to mopping, this robotic vacuum-mop provide two cleaning modes, wet and dry. For mopping, you just need to replace the dust cap with the water tank and attach the microfiber cloth to it. Program it, and it will start mopping your floor to give it shiny look. You can choose between wet and dry cleaning modes accordingly.
This one hybrid robotic mop also comes with four smart cleaning modes, including auto-clean mode, edge clean, spot clean, and schedule mode. As a default mode, the auto-clean mode makes the robot to clean out the dust and dirt automatically wherever it meets. The edge clean mode is suitable for cleaning out the edges and corners. For cleaning of spillage and pours, the spot clean mode is perfect. Finally, the schedule mode that makes you program the robot so that it can start its work while you are not at home or even asleep.
It has intelligent IR sensors that automatically detect the high gap and avoid dropping. Also featuring OBR sensors, wall sensor, it can recognize the barriers and avoid the collision. Even if there come any obstacles, it automatically changes its direction to avoid the collision.
As it runs on battery, it offers automatic and manual charging both. In case if the battery lowers down while operation, the robot automatically finds the charging duck and plugs itself in.
What is especially best about this robotic vacuum cleaner is its low profile design. It is only 3 inches high that makes it efficient to clean or vacuum underneath sofas, beds, or electronic consoles, etc. Moreover, you can easily control it via remote.
Key Features
Vacuuming, sweeping, and damp mopping
Powerful motor with max mode
Powerful suction
Pet hair technology to pick up furs, hair, dust, dirt, debris
Automatically docks and recharges
Advanced i-dropping technology
Enhanced battery running time up to 140 minutes
Larger road rover wheels with self-rescue technology
4 cleaning modes- Auto Clean, Spot Clean, Edge Clean, and Schedule clean
Front obstacle sensors
Anti-collision system
Remote control with LCD for easy operation
Sizeable water tank and dust cabin
Pros
Both vacuuming and mopping for efficient cleaning
Performs both dry and wet mopping very well
Excellent suction power to clean out all dirt and debris
Compact size
User-friendly operation
Automatic cleaning, no need for any continuous supervision
Schedule cleaning feature, so, set the time and get your home cleaned in no time
Can clean in difficult spots such as under beds and wardrobe where normal mop can't reach easily
Cons
Small alarm when stopped due to any obstacles or entangling
Not compatible with Wi-Fi connectivity
2. iLife X620 Robotic Vacuum Mop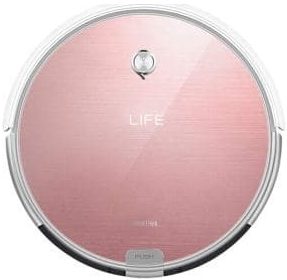 The iLife X620 Robotic vacuum mop might be your next best choice for all its premium features and outstanding performance. It features triple cleaning functions that include sweeping, vacuuming, and dry/wet mopping to make your house floor as shiniest as possible. This one is ideal for hard floor cleaning like laminate, marble, tiles, mosaic, and hardwood floors, etc.
For effective floor cleaning, first, use its vacuuming and sweeping function that collects all dirt and debris in the dust bag. It comes with advanced Pet Hair technology to extract out the pet dander from corners, carpets, as well as from the floor. Once you are done with vacuuming and sweeping, you can program the robot for wet mopping by changing the dust bag with the water container.
The best is its smart sensors that allow the robot to figure out where the dust is, and then it cleans out automatically. There also comes the Max mode for more concentrated or deep cleaning of mud stains or dried off dirt.
When it comes to design, this robot vacuum and mop combo come with an anti-scratch tempered glass cover that protects the robot from being damaged. And its thin design allows it to perfectly clean out hard-to-reach areas like under beds, sofas, or any other furniture as well as corners.
Also, it has an infrared sensor to avoid any obstacles if it comes in front of it. Plus, its drop-sensing technology makes the robot to prevent drop-offs or falls from stairs, etc.
What makes it more efficient is its long-lasting rechargeable battery that allows a run time of 140 minutes to the robot. And the best part is that if the battery dies, this robot vacuum and mop combo automatically finds out its docking station and recharges itself. When the charging gets over, it resumes cleaning. Moreover, its large road rover wheels with self-rescue technology make the robot to move out freely on the floor, even if it is rough or uneven.
Key Features
3 in 1 Robotic Vacuum Cleaner: Sweeping, Vacuuming, Dry/Wet Mopping
Ultra-thin design
i-Dropping technology to avoid falls
Pet Hair technology
HEPA filter
Anti-scratch tempered glass cover for protection
Infra-red sensor for avoiding obstacles
Upgraded navigation sensor
Run -Time 140 minutes
Auto charging via a home base docking station
Road rover wheels with self-rescue technology
Package Includes: Virtual wall, Line cord, a Vacuum cleaner with a high-efficiency filter, dust cleaning brush roller, Side brush, Home base charging station, Lithium-ion battery installed, High-efficiency filter, Extra side brush, Remote, Users Manual
Pros
Smart design
Strong and sturdy construction
Works very well both as a vacuum cleaner and wet mop
Working is very smooth without noise
Suction power is excellent
Easy to use
Cons
Not able to connect to Wi-Fi
Complaints of water marks on the tiles after wet mopping
3. Irobot Roomba 692 Vacuum Cleaning Robot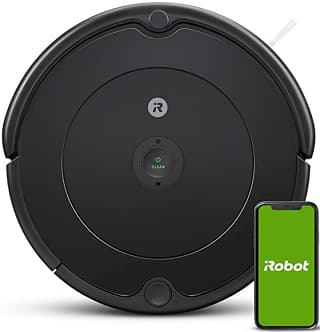 The iRobot Roomba 692 is another best vacuum cleaning robot in our list. It offers deep cleaning of floors, rugs, and carpets at just the push of a button even without any supervision. It comes with patented iAdapt 2.0 Navigation Technology with Visual Localization that seamlessly navigates your home. This way, it keeps track of where it has cleaned and where it has yet to clean. With just 3.6 inches in height, it can efficiently clean under your beds, sofa, and other hard-to-reach areas.
The responsive navigation feature allows the robot to navigate through multiple rooms easily. Plus, this technology also prevents it from collision to any obstacle in front of it, whether it is furniture, wall, or even people too. This robot vacuum mop also comes with Cliff Detect Sensors that protects it from falling out of the stairs.
What is the most exciting part of this robotic vacuum cleaner is its AeroForce Cleaning System with carpet boost. This feature offers the more powerful suction to the device for thorough cleaning of rugs or carpets. It automatically adjusts its cleaning to clean hard floors, carpets, wall edges, and corners. Plus, its multi-surface brushes work together to pull in pet hair, dust, dirt, and large debris for efficient cleanup.
Moreover, it also comes with a high-efficiency HEPA filter to remove up to 99.9% and tiniest dust particles, dirt, pollen, and pet dander, making the indoor environment clean and healthy.
The run-up time is 2 hours for this robotic vacuum. And when the battery dies, it returns to its home base charging station to recharge it automatically. When the battery is full, it resumes cleaning. The best part is that it remembers the last place where it had left and starts cleaning again from there.
You can easily control this robotic vacuum through the iRobot Home app. With this, you can customize your cleaning method and also schedule cleaning very conveniently anytime and anywhere. It has a Clean map that shows your custom cleaning preferences and the status of cleaning jobs. Plus, you can also receive a notification, once your robot has finished its job. This smart robot is also compatible with Amazon smart speakers, and you can control it via Alexa and Google Assistant voice commands.
Key Features
iAdapt 2.0 Navigation technology
Responsive Navigation
Visual Localization
Cliff Detect sensors to avoid falls
AeroForce Cleaning System with carpet boost
Dirt-detect sensors
Auto-adjust cleaning head
Edge Sweeping Spinning Brushes
Multi-surface tangle-free brushes
Self-charging feature
Compatible with iRobot Home app
Compatible with Alexa and Google Assistant
Package Includes: Vacuum cleaning robot, Side brush, AeroForce extractors, Home base charging station, Line cord, Dual-mode virtual wall barrier, Extra high-efficiency filter, Extra side brush, Lithium-ion battery, Owner's guide, and Documentation package
Pros
Extremely convenient and efficient robot vacuum cleaner
Very easy to use
Smart design and great appeal
Schedule cleaning makes it more good when you are not at home or while sleeping
Voice command makes it more easy to use
Cons
Does not support wet mopping
Price is high
4. Roborock S5 MAX Robot Vacuum and Mop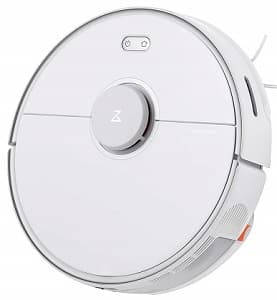 The model Roborock S5 Max is one of the most powerful robot vacuum and mop combo that offers excellent floor cleaning. It comes with an advanced navigation system with 2in 1 cleaning. It sucks up all the dirt and dust via its vacuuming and sweeping function and then mops the floor with its mopping function.
This one features a laser distance sensor (LDS) that allows the robot to scan its surroundings at 360-degree. And at the same time, it maps out the room's perimeter, to clean out the room efficiently in Z-pattern. It also has Simultaneous Localization and Mapping ( SLAM ) algorithm that calculates the most efficient route for cleaning. It can zoom up and down to clean every inch of space. With the persistent mapping enabled, you can also define the virtual barriers and no-go zones by default.
Using it is as easy as playing a game on your phone. Plus you can also change cleaning modes and schedules accordingly. Moreover, this robot vacuum and mop combo have strong suction power that works best on both hard floor and short carpets as well. So, no more dust, debris, granules, or any other waste left on the floor or carpets.
This robot vacuum and mop combo have the specialty to automatically distinguish the floor type smartly. Plus, it can also climb up 2 cm of an obstacle. It comes with a 5200mAh li-ion battery that allows the run time of 150 minutes. Also, with a self-recharging feature, it automatically finds the docking station to recharge it when the battery dies. And when the charging is over, it resumes the cleaning.
Key Features
Vacuuming and mopping
Intelligent route planning
Slide drawer detachable water tank design
Intelligent route planning
Laser distance sensor
Customized cleaning area
360 degrees LDS pressure sensor
3-dimensional vacuum cleaning system
App remote control
2 cm obstacle climbing
4 anti-drop stair sensors
10 mm laser edge sensor
Double-sides virtual wall identifier
Auto power-off while leaving the floor
Automatic self-charging sensor
Pros
Highly intelligent home cleaning device
The mapping feature is awesome
Smart suction to clean up dirt, dust, debris, hair from floor and carpet
Slim profile to clean easily under furniture
Excellent navigation around furniture or obstacles
Long battery life
Remote control via mobile app
Cons
It catches the long hair in the wheels
Not ideal for thick carpets
5. Trifo Ironpie m6+ Robot Vacuum Cleaner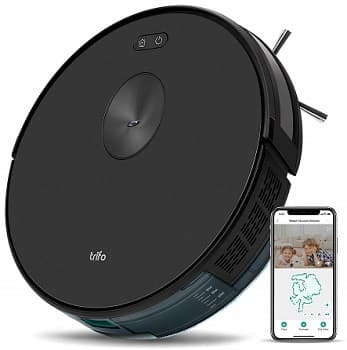 If you are searching for a wallet-friendly robotic vacuum cleaner, this one from Trifo is a worth buy. This automatic robot vacuum and mop combo support 3 in 1 cleaning solution including vacuuming, mopping and UV sterilization. The smart and elegant design with black color option is the most eye-catching part of this robot.
It is ideal for cleaning of various floor situations whether it is tile, marble, ceramic, wood-floor, or even short-haired carpet. Moreover, it comes with four cleaning modes, including edge cleaning, zigzag cleaning, spiral cleaning, and go-straight cleaning. The edge cleaning with side brush makes it very efficient to clean out edges and corners. With zigzag, spiral, and go-straight cleaning modes, the robot can clean the floors more efficiently.
This robotic mop has a low profile design with only 8.7 cm in height that makes it ideal for cleaning under beds, sofas, or other furniture very easily. Plus, it has an intelligent crossing system. The up-down rubber wheel makes it easy to cross the barrier and slope. It also has an anti-collision system that avoids the collision from any obstacles in front of it. And the anti-fall system ensures that the robot may not fall from the stairs or table.
The robot has run time of 90 minutes. And if the battery gets exhausted while cleaning, the robot automatically recharges itself on its home base docking station. When the charging is finished, it resumes the cleaning process. As it comes with HEPA filter, it is capable of removing 99.9% small particles of dust, dirt, and debris. So you can only get a clean and healthy environment. Moreover, the UV sterilization feature disinfects the bacteria from the carpet and floor, making your room more healthy and clean.
The robot also has a program scheduling feature that allows it to work automatically at the scheduled time. This feature makes it more efficient while you are away from your home, or sleeping, or doing any other important stuff.
Key Features
3 in 1 cleaning: Vacuuming, Mopping, and UV sterilization
Large LCD touch screen
Smart isolation to work within a certain area
Schedule vacuuming
Four cleaning modes: zigzag cleaning, edge cleaning, spiral cleaning, go-straight cleaning
Extra thin body to clean underneath the bed, sofa, etc
Intelligent crossing
Anti-collision to avoid barriers
Anti-falling system to prevent falling from stairs
Self recharge
Run time 90 minutes
Package Includes: 1 Robot Vacuum Cleaner, 1 HEPA Filter, 1 Dust brush, 1 Side Brush, 1 Mopping cloth, 1 Docking station, 1 Adapter, 1 Space Isolator,1 Remote Control, 1 User manual
Pros
Excellent performance
Sleek and smart design
Build quality is outstanding
UV mode offers better cleaning than other models
Low noise operation
Very easy to use
Affordable
Cons
How to Choose the Best Robot Vacuum and Mop Combo? (Buying Guide)
What are the Robot Vacuum and Mop Combo?
Like the name, Robot vacuum and mop combo, also known as Hybrid Robot Mops come with the combination of both mopping and vacuuming function. It has two containers inbuilt in it. One for collecting the dust and one for storing the water for wet mopping. There also comes an absorbent mop pad or microfiber cloth for mopping various floor types.
As a bonus, some come with the advanced HEPA filters as well as other high-quality filters to trap dust more efficiently. It can control dust and dander in your house. And it is thus proving to be an excellent choice for allergy sufferers or asthmatic patient if anyone in your home.
The robot vacuum and mop combo can easily navigate around the walls, furniture, and other obstacles by means of sensors built in it. And some advanced models also use the mapping technology to easily clean the rooms without striking the obstacles. Most of them also have smart features like app control via your phone and other smart devices as well as voice control via Google Assistant or Alexa.
How do the Robot Vacuum and Mop Combo works?
A robot vacuum and mop combo come with a detachable water reservoir and a bin for collecting the dust. It also has one of more brushes that sucks out the dust and debris from the floors and carpets. For mopping, you need to fill the reservoir with water and attach a microfiber cloth to it. Then press the start button and let it do the cleaning job for you. Most of the models spray water directly to the floor that softens out the stains and spots and then mops it out to clean the floor perfectly.
These hybrid robot mops come with the buttons or remote, allowing you to choose between the mopping as well as vacuuming. Some more advanced models of robot vacuum and mop combo automatically detects the type of the floor as well as carpet and then clean them out accordingly.
Pros and Cons of Hybrid Robotic Mop
Pros
It gives the flexibility of both mopping and vacuuming for effective cleaning of the floors as well as carpets
Offers fast and efficient cleaning for all types of dirt and stains
Saves a lot of time for the busy homeowners
Detects the dirt level automatically and then clean them out accordingly
A user-friendly gadget, even a good choice for handicapped and elderly people
Some robot vacuum and mop combo can be controlled through smartphone apps, making your job easier
No need to deal with the tangled cords like the manual vacuum cleaners
Cons
These are higher on the price side over manual vacuum cleners
Sometimes, they do not work effectively on big spills. In this case, you need to mop the spills manually
Some models come with small water tanks that require frequent refilling for cleaning of bigger rooms
Features to Consider Before Buying a Robot Vacuum and Mop Combo
1. Flooring Type
This one is the most important factor to consider before buying a robot vacuum and mop combo. Some works good on the hard floor and some works best for laminated and wooden floors. So, choose the one that ideally matches the cleaning of specific floor type. Some advanced models also come with the feature to clean all kinds of surfaces very efficiently.
For more effective results, go for the vacuum-mop that has strong suction, side spinning brushes, brush roll with different bristles, etc.
Moreover, if you have the carpeted areas in your home, you can use the vacuum function to clean them perfectly. Here also, the vacuum mops with side spinning brushes, strong suction power, as well as brush roll work perfectly. With tough bristles, the brush roll can go deep into the carpet fibers to suck out all the dirt and debris.
2. Check for your Furniture Size
Mopping robots with vacuum come in variable sizes and shapes suiting everyone's needs. So, before buying it, first, check for the size of your house furniture. Whether it will fit under the tables or cupboards? Can it clean best under the sofas or around the corners? After analyzing these, choose the perfect size of the robot vacuum and mop combo for the efficient cleaning of your home.
3. Size of Your Home
This one is another important consideration before buying a robot vacuum and mop combo. For instance, if you are living in a small house, a robotic vacuum cleaner with a compact bin and water reservoir, and the short battery life might be sufficient. However, if your home is large, then you must need a robotic vacuum and mop with a sizeable water reservoir, wide cleaning path as well as long battery life. It will make your job easier.
4. Manageable Mopping and Vacuuming
With both the vacuuming and mopping, you need to empty the dust container as well as refill the water container after each cleaning cycle. So, go for the one that is easy to work. It is advisable to choose a model with a bigger capacity water reservoir as well as dust cabin. So you don't need frequent refilling of water as well as emptying the dust cabin. Also, choose the one that offers you the flexibility to select different modes of cleaning easily.
5. Robot Vacuum and Mop combo for pets
Pet hair is one of the major concerns if you have pets in your house. Thankfully, various models of robot vacuum and mop combo are available that works best to clean out the pet hairs. And as a bonus, some also come with HEPA filters that can trap 99.9% allergens. As a result, these are also good for people with allergies.
6. Multiple Cleaning Modes
The robot vacuum and mop combo with multiple cleaning modes are ideal for dealing with different messes. For instance, an auto mode is suitable for everyday floor cleaning needs. Edge mode for cleaning of corners. And the spot mode for cleaning off dirty footprints and spills, etc.
7. Run and Charge Time
The battery of a robotic vacuum mop determines how much it can run to clean the house and how long it takes to recharge. The one that runs longer per charge is an ideal buy. And the ideal charge time for a good robot vacuum and mop combo is considered to be 4-6 hours.
8. Programmed Scheduling
This feature allows the robot vacuum and mop combo to work significantly at the preset time. So, whether you are not at home, or sleeping, or doing some other stuff, this feature makes your
Robo vacuum mop to start cleaning at the scheduled time. Some models allow you to set the schedule at the same time every day. While some advanced models offer you the flexibility to change the time for each day.
9. Easy control
Ease of use is one of the most important factors; we usually want in each gadget. The robot vacuum and mop combo come with advanced touch control panels allowing easy of use even for a beginner too. Some come with a remote control feature so that you can control it from a distance. Some have an app control feature. And some high-tech models are also controlled by your voice via Google Assistant or Alexa.
Conclusion
Well, that's all about on the best robot vacuum and mop combo or hybrid robotic mops. These will offer you effortless cleaning experience in no time. We have covered all the necessary details that will let you find the perfect one. So, hopefully, you can now decide better which model is right for you. Also, feel free to share your suggestions and feedback in the comment section below.
Read Related Reviews
Buy Dry and Wet Robot Vacuum Cleaners Online
AGARO Alpha Robot Vacuum Cleaner, 2-in-1 Dry ...
32%
Eureka Forbes Robo Vac N Mop NUO Wet & Dry Ro...
45%
ECOVACS DEEBOT 2-in-1 Robot Vacuum Cleaner, L...
79%
ILIFE T10s Robotic Vacuum Cleaner, Self Empty...
43%
Drumstone【Limited Time Offer10 Years Warran...
50%
Haier Robot Vacuum Cleaner with Wet Mopping, ...
41%
ILIFE V3s Max Robotic Vacuum Cleaner, 2300Pa ...
49%
Sulfar BR151 Intelligent Robot Vacuum Cleaner...