Are you looking to buy the best car vacuum cleaner to keep your automobile in a neat, tidy, and good condition? The guide below will help you decide which car vacuum cleaner is best for you.
Who would love to enjoy a car ride with messy and dirty seats full of dirt, bacteria, and germs? Surely, no one. Well, washing the car exteriors is quite easier than cleaning its interiors. Most of us rely on wiping the surface using damp cloth but the result we get is almost not satisfactory (also very tiresome and time-consuming). So, why take stress if we have the option of the best car vacuum cleaners.
Yes, a car vacuum cleaner makes cleaning of your car's interiors pretty much easy. It can clean all the little corners and crevices of your vehicle that are usually unreachable.
To let you pick the best product, we have reviewed here some of the best car vacuum cleaner models from top brands that are specially made to be used on car interiors; it leaves no residue behind.
Best Car Vacuum Cleaners (Quick List)
Reviews of Best Car Vacuum Cleaners
1. Bergmann Stunner Car Vacuum Cleaner
Best Car Vacuum Cleaner Overall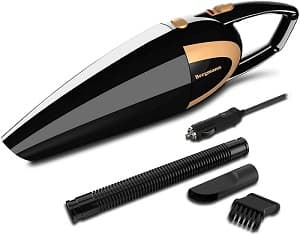 Bergmann presents this most stylish and sleek car vacuum cleaner that is our overall best pick and a worth buy in every manner. For powerful performance, good suction capacity, decent dust holding capacity, inevitable cleaning and definitely its price range, you will surely love this product.
It has a 100% pure copper refined motor and has a sturdy metal fan. You need not compromise with the quality anymore as most others use an aluminum motor with a plastic fan which lacks high efficiency and high power.
Bergmann Stunner Car Vacuum Cleaner with Stainless Steel HEPA Filter does the work reasonably well. It comes in graceful color options and a 1-year Warranty with impeccable service. Overall it's a perfect car vacuum cleaner that definitely suits your checklist. Just go for it!!
Specifications
Dust Collecting Capacity: 2.5 l
Wattage: 150 W
Dimension and Weight: 40 x 12 x 12 cm; 900 Grams
Cord Length: 5 m
Run Time: 30 min
Warranty: 1 Year
Package Includes: 1 Car Vacuum Cleaner; 1 Nozzle; 1 Brush; 1 Flexible Hose Pipe; 1 Extra Fuse; 1 Warranty Card & User Manual; 1 Storage Bag
Key Features
The first impressive feature is its sleek, elegant, and compact design that doesn't stress your palm and hands while vacuuming your car.
The powerful suction of 150 W provides the optimum power for vacuum cleaning your car.
It is equipped with 100% copper motor with 5 KPA plus suction to provide better efficiency and is durable too than the normal vacuum cleaners.
Less noisy motor with 150 W power and 75 DB low noises do not bother you at all.
It has a new generation stainless steel HEPA filter that is durable enough and requires no frequent replacement.
Unbreakable sleek mirror finish body made of piano grade pure ABS material gives it a decent look.
5-meter long power cord with no hassle of charging ensures you can clean every nook and corners of your car easily.
Three multi-use attachments comprise brush, nozzle, and flexible hose pipe to serve variable cleaning needs.
The model can run continuously for up to 30 minutes that is a decent run time for a good quality car vacuum cleaner
It comprises a free storage bag to keep the accessories and equipment conveniently.
Pros
Most stylish and sleek finish body with striking new age design
The sturdy stainless steel HEPA filter provides durability and requires no replacement ever like paper/fiber HEPA filters
It has enough long cord for easy accessibility
Metal fan with high-efficiency motor power
Cons
Suction power is not sufficient to suck small gravels or the sand granules/stones
2. BLACK+DECKER Dustbuster Handheld Vacuum
Best Cordless Car Vacuum Cleaner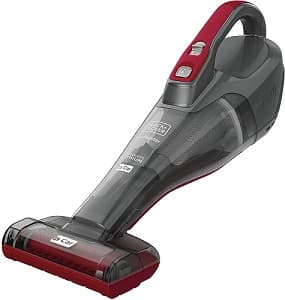 The choice is abundant, and the second-best model is a cordless vacuum cleaner that definitely meets your expectation. This model from Black Decker is a perfect vacuum cleaner for car cleaning tasks especially for the cleaning of heavy dust accumulation. It comprises a motorized head that includes nylon bristles, which effectively clean dirt, and debris from hard-to-reach areas. The car vacuum provides strong suction to remove dust from the seats and corners effectively. It provides a complete set with easy tools and accessories for hectic car cleaning odd jobs.
Specifications
Dust Collecting Capacity: 0.6 l
Run Time: 20 min
Dimension and Weight: 36.19 x 23.49 x 16 cm; 425.24 Grams
Warranty: 2 Years
Included Components: Vacuum Cleaner, Motorized Head with rubber tines, Jack plug, Charger, Washable Filter, Crevice Tool
Key Features
This is a handheld model, so no more hassle to deal with the messy cords.
It is equipped with two times better suction power for perfect cleaning.
Motorized head with flexible spikes provides thorough cleaning.
It is very light in weight, and so it becomes effortless to make car seats, floors, or windows sparkling and dust-free.
The handheld vacuum filter is featured with lithium technology that runs for a long duration.
It includes a transparent bagless dirt bowl, so you can clearly see how much dust it has collected and when it needs to get empty.
It has a charging indicator light that notifies you about its charging or full-charge status.
Pros
Lightweight and handy device
It has two times better suction power than the regular hand vacuum cleaner
The vacuum cleaner is made of high-quality plastic material, which is durable and long-lasting
Long-lasting battery life
Charging indicator is a nice feature
Cons
The only shortcoming is its run time. It can run only 20-25 minutes after full charge, and it is a too short time for a complete car cleaning task.
Expensive
3. iGRiD Car Vacuum Cleaner
Best Affordable Car Vacuum Cleaner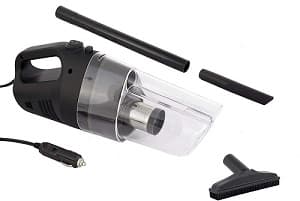 Car cleaning and its maintenance cost too much, and we recommend you the third-best pick from our search list, which is completely economical and value for money. This budget-pick car vacuum cleaner from iGRid is a fantastic tool for those who want to keep their car clean and dirt-free.
What makes it best is its L" Shaped Pro-Cyclone Technology that offers powerful suction for effective dirt removal. Moreover, the included stainless steel HEPA filter and the Triple Cyclone filtration system can trap the particles up to 0.3 microns.
Another feature that makes it rest out of others is that no dust bag is here. You can just wash it to clean and maintain this vacuum cleaner. The ergonomic design of this vacuum cleaner makes it one of the necessary products for your car.
Specifications
Wattage: 150 W
Cord Length: 4 meter
Runtime: 30 min
Dimension and Weight: 37 x 12 x 15 cm; 900 Grams
Warranty: 6 months
Package Includes: 1 vacuum cleaner, brush connector, extension connector, tube, and carry bag
Key Features
It comes in an ergonomic design with a resourceful dust catcher. As an added benefit, it is a bagless type vacuum cleaner that means you don't need to replace the dust bags. Just empty the dust and wash it for next use.
It features a high quality stainless steel filter, that keeps the motor safe and is durable too with easy maintenance.
The model offers quick and effective cleaning with 4000 PA suction and 150 Watt high power source.
You can directly insert it into the 12 V lighter port of the car for thorough car cleaning.
The long nozzle with inflexible and solid ending puts out the dust and dirt from the narrow cracks and corners of the seats.
The stiff brush nozzle helps in cleaning hard-to-pick dirt from sliding doors and AC windows. And the soft hose helps in cleaning the deep places and narrow gaps.
Moreover, the extension tube grasps the dispersed particles on the floor, seats, or even mats without disturbing suction power.
Pros
It is a compact, user-friendly, and portable vacuum cleaner
Sturdy construction makes it durable
The suction power is significant enough to remove dirt from curvy areas
The carry bag is convenient, and you can take the entire set within the bag and store it in the trunk
Very effective for pet hair removal
Cons
4. RNG EKO Green RNG-2001 Car Handheld Vacuum Cleaner
Best High Power Car Vacuum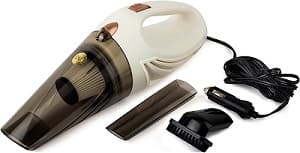 Your search for a high power car vacuum cleaner ends here because this particular model comes with 150 W High power and has both dry and wet cleaning features. Isn't it a decent buy? The bigger motor is made of 100% pure copper, which gives high efficiency and generates high torque. It absorbs the leaks or spilled liquid from the car seats and floors. Moreover, it filters the dry waste and debris also. It is the best handheld vacuum cleaner that generates 72 dB low noises for quick and effective cleaning.
Specifications
Dust Collecting Capacity: 0.5 l
Wattage: 150 W
Dimension and Weight: 34.3 x 8.9 x 8.9 cm; 449 Grams
Cord Length: 5 m
Warranty: 1 Year
Included Components: 1 Vacuum Cleaner, Extension Connector, Brush Connector, User Manual and Storage Bag
Key Features
It offers 4.5 KPA suction, 150 Watt High power, and 72 dB low noise in this price range.
Dual cleaning application with dry/ wet feature that absorbs spilled liquid as well.
Strong and durable Stainless Steel HEPA filter is 100% waterproof and provides 3-4 times more existence than normal HEPA filters made of paper/fiber, which destroyed easily.
The cable length is long enough to reach the car dickey easily. The 5 m lengthy cord works well for either small size cars or even bigger ones.
Easily removable and washable HEPA filter for high efficiency.
There is an extra brush to clean away dust inside the car. Additionally, it has a different connector to clean all corners of the car thoroughly.
To keep the entire accessories organized with the main unit, you will get an impressive storage bag.
Pros
Sturdy and durable construction
It has great suction power, and the sturdy metallic fan generates a high suction force
The bigger motor of 3.6cm diameter generates high power with high efficiency
The HEPA filter is strong, durable, and 100% water-resistant that runs for longer
No noisy at all
Cons
5. Voroly Handheld Car Vacuum Cleaner
Best Dry and Wet Car Vacuum Cleaner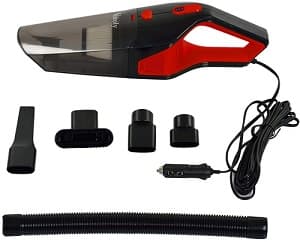 If you are searching for a car vacuum cleaner that offers both dry and wet vacuum cleaning, investing in this model from Voroly is a best bet. Not just that, but it is also a great choice for its powerful performance and economical price range.
The high suction power collects all the possible dirt from your car, even from curvy areas and corners. It has three different attachments and a brush, which is very useful in cleaning inside the car. The rotating nozzle provides a comfortable hand position to corners, and the pull-out crevice tool gives you easy access to hard-to-reach areas. All you need to put this attachment, and it will make them dirt-free very efficiently.
Overall, it looks pretty premium and classy with the color and design. Make your car cleaning task easy and efficient with this best cordless car cleaner!!
Specifications
Dust Collecting Capacity: 0.5 l
Wattage: 120 W
Dimension and Weight: 38.8 x 13 x 11.2 cm; 601 Grams
Cord Length: 4.5 m
Key Features
Ultra-powerful motor with 120 W capacity and advanced cyclone tech allows 5 KPA Suction power to remove dust rapidly, pet hair, spilled food, and more pollutants.
The car dustbuster has great suction power with a multilayer HEPA filter to suck up all types of dirt, debris, and clean stubborn stains.
It is a highly lightweight handheld vacuum cleaner for automotive cleaning.
The vacuum supports dry /wet cleaning, and it gets easy clean hard-to-reach areas with 16.4 feet long power cord.
The flip-up brush makes it a practical choice for cleaning a vehicle and upholstery.
It can be powered by a cigarette lighter or vehicle's 12 V DC outlets.
The three different attachments make cleaning more accessible in every corner of your car.
Detachable filter with easy-to-wash properties keeps it new and provides longer life.
Pros
The car vacuum cleaner sucks every particle flawlessly
Economical and efficient
Cable size is quite big to reach even backside of the car dickey
Ultra-powerful motor with great suction to clean edges and seat curves
Cons
No warranty
No carry bag included storing accessories, and the main unit
6. Bergmann CYCLONIC 2-in1 Car Vacuum Cleaner
Best Car Vacuum Cleaner with Tyre Inflator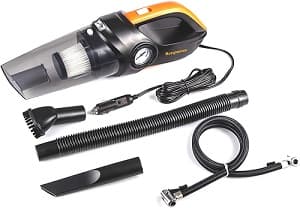 Next on our list, comes a 2-in-1 product that not only works as a car vacuum cleaner but as a tyre inflator too.
This powerful automatic vacuum cleaner is manufactured for cleaning tiny dust particles in the car interiors. It is ergonomically designed to deliver a professional and efficient cleaning solution on multiple surfaces.
It has a sleek and compact design with four different accessories that facilitate the user to reach curved and congested areas with absolute ease. A braided rubber hose attachment is also there to inflate air to the tyre of various vehicles, toys, and other inflatable goods.
It provides an innovative solution for maintaining your vehicle and keeping it organized and tidy by removing dust from seats, corners, car floors, cup holders, air outlets, gear leaves, and more. This particular model ensures that your car is cleaned within a short time with a double-action filtration system.
Specifications
Wattage: 120 W
Dimension and Weight: 46 x 12 x 12 cm; 1400 Grams
Cord Length: 3 m
Warranty: 1 Year
Included Components: Vacuum Cleaner & Inflator (1N), Nozzle (1N), Brush (1N), Hose (1N), Air Hose (1N), Extra Fuse (1N), Nozzle Tip Attachments (3N), User Manual (1N)
Key Features
Powerful corded hand vacuum to clean automotive vehicles power through 12 V DC.
It has a semi-transparent bowl through which you can see the dirt and know when to pour out the dirt.
The quick-release bowl button facilitates to release of the dirt bowl easily.
The double-action filtration system increases the life of vacuum cleaners and will enhance the performance. It spins dust and has a strong filter for sustained suction power.
It comes with a tyre inflator attachment to fill air to the tyres of various vehicles, toys, etc. The built-in tyre pressure gauge determines when to end the inflation based on the tyre pressure displayed.
Its long 3-meter cable allows you to use it anywhere with easy accessibility. Moreover, it will enable you to reach easily every area of the vehicle, including the boot.
It is also equipped with a super bright LED light to clean even in the dark and dim light conditions.
The built-in crevice tool provides easy reach to confined spaces and out of your depth areas.
Pros
Not like other cheap brands, it offers a comfortable grip and hand support while cleaning
Build quality is very good
Being lightweight, it facilitates the user to clean the car interior very rapidly and effortlessly
Easy to use
Tyre inflator works perfectly
Cons
7. ELEGIANT Handheld Car Vacuum
Best Car Vacuum Cleaner for Pet Hair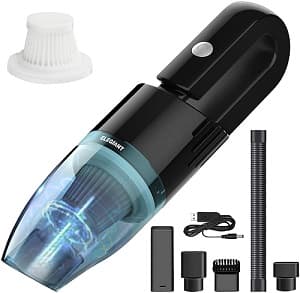 If you feel so annoyed with the stucked pet hair on your car seats, then nothing is better than investing in this model. The Elegiant Car Vacuum Cleaner not only effectively eliminates the pet hair but also small particles of dirt and dust, making your car clean and hygienic.
It is specially designed for cars and has been a modernizer in hectic car interior cleaning solutions. With a superior and ergonomic design, it offers an easy and relaxed car cleaning experience.
This vacuum cleaner is fabricated with top-rated features, but if you get a backup on the product, what else could be better than this. You will get a 6-months warranty on the product in which you will receive immediate and kind assistance as expected.
Specifications
Dust Holding Capacity: 125 ml
Run Time: 22 Minutes
Dimension and Weight: 27.43 x 7.11 x 7.11 cm; 572 Grams
Key Features
Lightweight design makes it portable and easy to use.
Sturdy material and ergonomically designed body.
It includes different accessories for removing pet hair, and stubborn dirt with ease.
The model also comes with highly efficient and washable HEPA filter
It has a less noisy motor that won't bother you while cleaning car interiors.
Pros
A powerful, less noisy motor does vacuuming perfectly
Multi-functional design to clean fine dust, debris, pet hair, grass, grain, sand from hard-to-reach areas
Ergonomic design for comfortable cleaning.
Good suction power
Easy maintenance
Cons
How to Choose the Best Car Vacuum Cleaner? (Buyers Guide)
First of all, you should need to know what features are necessary to evaluate before buying the best car vacuum cleaner. For your feasibility, we have mentioned some very important factors that will definitely meet your needs.
1. Power
Car vacuum cleaners are both corded and cordless that have definite high power ratings. Every model has dissimilar suction power that eventually helps you to decide on choosing one over the other. Surely, the differences in their power limits make you understand the better option and accordingly which one is to go for.
2. Amperage
If the suction of a vacuum cleaner works flawlessly, you will get the desired result. And, the factor that influences the suction power is the Amperage. The higher it is, the better is the sucking power. The best quality car vacuum clears are equipped with 4000 pa (Pico amperes). It is better to go for 4000 or more.
3. Power Source
Wall plug-in
The car vacuum cleaners having wall plug-in features have the most powerful suction. These can remove deep-seated dust and pigheaded messes. The only disadvantage is that they require electricity to plug in the vacuum cleaner and if no electricity, they are of no use.
Battery-powered
If you are looking for any feasible and portable option, then battery-operated car vacuum cleaners would be a great option. Their suction power is excellent and can remove dirt and dust effectively. The best thing is that they can run even without any power outlet. But, as the battery gets discharged, it dies away as expected.
Automobile powered
For more convenience and handiness, an automobile-powered car vacuum cleaner is a great choice. It can be connected to the vehicle's outlet, and once plugged in the car, it can start removing dust and messes from the corners of the seats. However, compared to the wall plug-in vacuum cleaners, it has less suction power, but overall, these are effective for little mess.
4. Accessories
To clean different surfaces in a car, you need a vacuum cleaner with various attachments and a proper set of accessories. Some surfaces like carpets, seating chairs, and jagged areas require definite accessories that allow you to clean the surfaces as mentioned above.
Over and above, more attachments in a car vacuum cleaner allow you to clean the hidden and hard-to-reach places too. Most of the best car vacuum cleaners come with the following attachments.
Upholstery Tool: It is intentionally designed for deep vacuuming, especially under the car seats and mats. It is a wide tool and comprises a lint-catching cloth strip that is perfect for catching the dust from carpets, car seats, etc.
Crevice tool: It works best in tight spaces, and so it comprises long, narrow, and angled tip structure. It effectively cleans the corners, gaps, and similar areas. Some crevice tools have the flexibility to bend and dirt-free the areas that are not easy to get to with inflexible crevice tools.
A flexible cleaning hose: It is an attachment that is easily bent and allows the user to clean hard-to-reach areas. For more effectiveness, you can add a four-inch-wide car cleaning nozzle. When put together with the hosepipe of dry/ wet vacuum cleaner, this wedge-shaped tool provides better suction than before and a detailed cleaning on car floors and carpeted mats. It locks up every last bit of dust or even pet hairs.
Dusting brush: It has gentle bristles that stir up the dust on the surfaces, followed by vacuuming by the strong suction. For more delicate tasks, you can use this brush, especially when dusting silk or soft fabric car seats.
Turbo brush: It is a compact size brush that has revolving bristles and helps clean car interiors. Most of the turbo brush tool has rubber parts, which will help remove pet hair thoroughly.
Pet Turbo tool: It is usually the most wanted tool of many pet owners. It has a tiny brush roll that drags out the embedded pet hairs that get stuck on the fabrics, fibers, lint, and other similar dirt when spun. After that, it is vacuumed into the cleaner by strong suction.
5. Vacuum Performance
Vacuuming is an essential feature to consider because no one wants to have their vacuum cleaner run out in the middle of cleaning. If you are considering a battery-powered car vacuum cleaner, ensure how long the battery lasts.
Other than its performance, make sure you check its water suction, cleaning performance, pickup, and maneuverability at the same time.
6. Which Type Do you Want? (Corded V/s Cordless Car Vacuum Cleaner)
Here, we discuss the difference between corded and cordless car vacuum cleaners based on many criteria. The comparison below will surely help you in deciding which one will meet your needs.
Cordless car vacuum cleaners are definitely light in weight and handy, but it is less effective at sucking up dust and dirt from car seats and floors. Some freestyle car vacuums last as minimum as 5 minutes on Power or Turbo setting.
Based on suction power, corded vacuums have a higher suction power as they are power-driven. But, cordless vacuums work on batteries, which is why it does not have that much suction power. However, a cordless model with lithium batteries provides consistent suction power and lasts longer.
If comparing the dust collection capacity of both models, obviously corded car vacuums have a higher capacity than cordless ones. You have to pour out the dust frequently in the cordless vacuum cleaner and clean the dust container more often. On the other hand, corded vacuums don't need frequent cleaning or emptying containers.
If talking about portability, a corded car vacuum cleaner may not be as handy as a cordless one. On the contrary, the cordless cleaner offers better portability and handiness, so you can quickly move the appliance without giving stress to your palm while cleaning.
7. Ease of Use & Portability
Car cleaning is already a hectic task, and no one would like to get exhausted even more by holding its weight. Whether you are selecting a corded or cordless car vacuum cleaner, you should check its size, weight, shoulder strap, and storage case for easy portability.
8. Cord Length
The length of the cord plays a vital role in a car vacuum cleaner. It should be long enough (at least 5m) for easy maneuverability. The longer cord length helps you clean difficult-to-reach areas and provides serenity.
9. Tank Capacity
The capacity of the tank is also an important criterion to consider while purchasing a car vacuum cleaner. However, the dust and dirt weigh not as much. You may find vacuum tanks that can hold approximately 1-18 gallons. Consider your requirement first. For example, for light cleaning tasks, choose 2-6 gallon tank capacity and heavy-duty cleaning tasks, go for 8-16 gallon capacity.
10. Filter
The filter should be of high quality to maintain its existence and performance. Usually, HEPA filters made of stainless steel are strong and durable enough to continue for longer. Filters prevent blockages in airflow and facilitate the user to execute the cleaning task for longer hours without any difficulty. Ensure that the model you select has a Stainless Steel HEPA filter and water-resistant feature rather than normal filters made of paper/fiber, which can tear down easily.
11. Tyre Inflator
The best car vacuum cleaner with tyre inflator plays a significant role which is often ignored. It is required when your car tyre is deflated or punctured by chance. A car vacuum cleaner with tyre inflator works well on tubeless tyres, running 100 km extra on punctured mode after puffed up with air. Hence, it's better to count this feature too before making a decision.
12. Budget
Above all, it is important to have a clear-cut budget while shopping for a specific car vacuum cleaner. Firstly fix on how much you would literally want to spend on a vacuum cleaner. Create a listing of the required features and then make a clued-up decision. The best quality car vacuum cleaners with decent features fall in the range of Rs 1500 to Rs 3000. The one with high-end features go beyond.
13. Warranty
Warranty ensures that you don't need to spend extra on its mechanical fault or efficiency during that period. To get relaxation for such issues considering the minimum of one year warranty is good. Some good brands also offer the warranty of up to two years on their car vacuum cleaners.
How to Clean and Maintain your Car Vacuum Cleaner?
When it comes to maintaining car vacuum cleaners, it is essential to buy high-quality brands to continue for a long duration. But above all, it requires constant care and maintenance. With so many advantages of having a car vacuum cleaner, you should find out how to clean the equipment and keep it working like brand new.
The major part of the vacuum cleaner that requires cleaning is the vacuum filter. Basically, it sucks up the dirt and throws away dust and allergens. If the filter remains dirty and unclean, its suctioning capability gets reduced. Additionally, the filter remains blocked, leading to the breakdown of other parts such as the motor, etc. Motor replacement could be very costly, so it is best to clean the vacuum cleaner frequently. But before cleaning, make sure to read the instruction manual carefully.
For cleaning, all you need to do is:
Just remove the nozzle after pressing the knob from the main unit.
Clean the main unit by using a microfiber cloth or a rag. Avoid using water for cleaning electric parts, or else it may affect its working.
Gently remove the filter from the nozzle. Tap it gently until it becomes clean completely.
Wash the plastic part with a soapy solution and water.
Wipe them all with a microfiber cloth and let them dry completely.
Reassemble them carefully for further use.
Precautions While Cleaning a Car Vacuum Cleaner
Different car vacuum cleaners have different cleaning methods. Some filters can be detached and washable, while some cannot. You will need some safety measures while cleaning the vacuum cleaner to keep it for a lifetime.
If the filter is not washable, avoid washing. Just clean all the dirt by tapping gently on the mat rather than washing it.
Once you clean the dust from the filter, it will spread in the air and disperse on the spaces nearby. Here, it would help if you kept in mind that remove the dust particles in an open space or garage so they won't reach indoors.
Read the instruction booklet carefully before getting the filter wet.
It is recommended to thoroughly drying the filter and other parts before reassembling it.
Car Vacuum Cleaners Frequently Asked Questions (FAQs)
1. What features are necessary to look for while purchasing car vacuum cleaners?

When shopping for the best car vacuum cleaners, you must check their suction power for best working. The better its suction power, the better its performance. Moreover, you can also check the extension hose to easily reach curvy areas and crevice tools for borders and tight spaces.

2. Can you take out car seats while cleaning with a car vacuum cleaner?

Yes, you can. It is relatively easy, but you need to be very careful while removing seats. In fact, by removing seats, it is effortless to access the floor of the car. You can easily clean the gaps and corners of the vehicle by removing the base of the seat.

3. Can you vacuum your car with a shop vac?

Yes, you can. In fact it offers the best result in cleaning both dry and wet spots from your car. There is only one downside that it is too big for cleaning some narrow areas in your car.

4. How long does a vacuum cleaner last?

It actually depends!! Generally, the high-class branded product can last for five years or more. It doesn't matter if you used it rarely or regularly. Moreover, the reputed companies provide a year or two-year warranties on average. So it is acceptable to say between 2-5 years of its continuation.

5. How much do car vacuums cost?

The best quality car vacuum cleaners with decent features fall in the range of Rs 1500 to Rs 3000. The one with high-end features go beyond. You can find some low-end models too, from Rs 800 to Rs 1500, but they lack some accessories and features.
Conclusion
Hope the guide is pretty enough for you to finalize your decision before buying a best car vacuum cleaner. You can choose from the models that we have already shortlisted for you for a good start. Above all, decide your budget first and take your pick accordingly.
As our personal recommendation, we suggest you to go for Bergmann Stunner Car Vacuum Cleaner that performs well, and comes with all the decent features at a great price tag. And if you feel dealing with the messy cordy hectic, go for BLACK+DECKER Dustbuster Handheld Vacuum, that is a best cordless car vacuum and great for grabbing even small particles of dirt and dust.
If you have any query related to car vacuum cleaner please leave a comment below.
Read Related Reviews
Buy Car Vacuum Cleaner Online
Agaro CV1079 Car Vacuum Cleaner, Portable, Ha...
46%
Eureka Forbes car Vac 100 Watts Powerful Suct...
32%
PESOMA Portable & Corded High Power Car Vacuu...
66%
MOHITAM Portable High Power 2 in 1 Car Vacuum...
70%
MOHITAM Portable High Power 2 in 1 Car Vacuum...
40%
Woscher 578 2in1 Portable Air Compressor Tyre...
33%
Agaro CV1077 Car Vacuum Cleaner, Portable, Ha...
43%
VENO Portable High Power 2 in 1 Car Vacuum Cl...
70%