The Indian Kitchen is famous for all its mouthwatering dishes flavored with a lot of aromatic spices, oil, etc. We, the Indians love food prepared at our home and also love to serve others with the most exotic dishes. Well, the oil and spices we use in our dish makes the utensil greasier and thereby it is difficult to clean them. Most of the time, we depend on the maids for dish cleaning. But sometimes when she got absent, it makes all of the pressure to clean the utensils on your own. And here comes the most effective solution- The Dishwashers.
Owning a dishwasher can make the tedious task of cleaning dishes, pots, and utensils very easy. Even it comes with a lot more benefits for you and your family. Whether you are a passionate cook or even run a busy family, a dishwasher can make your life easy by saving a lot of your time.
What are Dishwashers?
A dishwasher is actually a machine that can do magic in cleaning the dirty dishware and cutlery automatically. You just need to add detergent, set the proper washing cycles, and turn it on and then done. It comes with the sensors and a timer. The sensor detects the temperature of water and air to make it protected from overheating as well as damaging the dishwashers. Another sensor is used to detect the water level. Some of the latest models also come with the sensor to detect the dirtiness of the water coming from the dishes while washing. And the timer in the dishwashers regulates the length of each washing cycle.
To get more in-depth information on dishwashers, please check our Buying Guide Section.
Our Best Picks of Dishwashers in India
Best Dishwashers Reviews
So, now let's have a detailed look on the full review, specification and buyer's feedback for each of our listed models of dishwashers.
1. LG Free-Standing 14 Place Settings Dishwasher, DFB424FP
When it comes to home appliances, the brand LG always comes first to our tongue. And this dishwasher from the brand LG is the most ideal choice for the Indian households due to its outstanding features and great performance. Style and elegance with the latest technology to wash the dishes, it can do really a magic. This dishwasher comes with the 14 place settings that is great for medium-sized households. The best is its smart and unique racking system letting you adjust the tines accordingly so that you can easily load different size of vessels. Just to get the more flexibility in arranging the large utensils, fold down all the time to get a large tub that fits easily extremely large pots and pans, etc.
The appliance comes with a special inverter direct drive motor for the highly energy efficient performance with great energy savings. It also come with SmartThinkQ app that allows you to control the dishwasher via your smartphone.
With the most futuristic design, this dishwasher comes with an elegant LED display that eases your operation. Even it has a stainless steel tub that not only ensures the durability but also repels stains and odors from the dishes.
The model comes with five wash programs including Dual Wash, Auto, Eco, Gentle, and Quick that helps to control the time it takes to wash, the temperature of water, amount of water and energy saved. The very best thing about this dishwasher is its super quiet operation that doesn't irritate you anymore.
Key Features
Freestanding dishwasher
14 place settings
Triple filter system
Refill Indicator
Smart Rack System
Adjustable upper rack
5 Wash Programs: Dual wash, auto, eco, gentle and quick
Time Delay 1-19 hrs
Auto Restart
Error display
Quick Wash
Aqua stop
Smart diagnosis system
Less Noise
LED Display
Child lock
Buyers Feedback
The Good
Sturdy and strong built
Awesome design
Consumes very less energy
Silent and smooth operation
Clean the dishes very perfectly
Smart adjustable racks are very convenient for dish washing
Very easy to use
2. Bosch 12 Place Setting Dishwasher, SMS40E32EU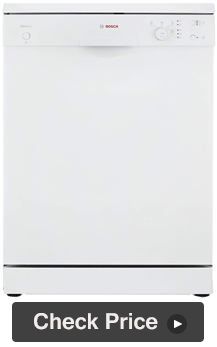 The next in our list is this dishwasher from the brand Bosch. It comes with all the smart features and techniques that aid in the effective cleaning of the utensils with the more greasy stains and patches. This dishwasher comes with the capacity of 12 place settings to hold almost a large number of utensils. Even with its adjustable and foldable racks and tines, you can place the vessels depending upon their size.
One of the best things about this dishwasher is its power saving feature. Since it comes with load sensors, half load options, and electronic delay timers that ultimately saves a lot of energy. It is also featured with the Eco Silence Drive that helps in increasing the efficiency of the machine.
When it comes to hygiene, this machine offers the most hygienic cleaning of the utensils. The machine heats water up to 65-degree Celsius and then kills approximately 99.9% germs and bacteria to offer only the germ-free utensils. Also, an Aqua-Stop feature is there that lets the machine to detect automatically if any type of water leakage is there and thus saves the machine from being damaged. As an added safety, this appliance features the child-proof control lock to prevent the accidents.
Key Features
Freestanding dishwasher
Advanced dishwashing technology
12 Place settings
4 wash Programs
Adjustable foldable racking
Time remaining indicator
LED Display
Programme selector with the indicator start button
3 cleaning temperatures
Refill Indicator
Electronic delay timer
Load sensor
Half Load option
Eco Silence Drive
Hygienic wash
Aqua Stop
Buyers Feedback
The Good
Sturdy built
Classy design with an appealing finish
Super silent operation
Offers very effective cleaning of the utensils
With the adjustable racking, you can place the vessels very conveniently depending on their size
Operating the device is very easy
Requires very less maintenance
3. IFB Neptune VX Fully Electronic Dishwasher 12 Place Settings
Get an effortless cleaning experience of your kitchen utensils by bringing this dishwasher from the brand IFB. Its appealing silver color, eye-catching design, stunning finish, and the hi-tech control panel combines both the aesthetics and functionality. Even with its compact size, it never fails to save space in your kitchen. When it comes to the capacity, this dishwasher comes with twelve place settings that let you wash a huge number of utensils in one go. The adjustable height feature enables you to adjust the height of shelves and racks accordingly to fit your utensils best.
For an effective dish cleaning, this appliance come with nine variable wash programs including normal, pre-wash, delicate, hygiene, auto normal, auto-intensive, quick, and super 60-degree centigrade. The flexible half load feature is also there letting you load either the upper or lower or both the baskets according to your need for easy washing. This dishwasher not only cleans the dirty utensils but also has the steam drying feature for perfect drying of utensils.
It is also featured with the water softening device, that allows the dishwasher to soften hard water making the detergent to dissolve perfectly in it. And therefore cleans the dishes and utensils with the ultimate perfection. And the very best is its energy saving feature that saves a big on your electricity bills.
Key Features
Smart Design
Super efficient in saving energy
12 Place settings
Flexible half load option
Adjustable racks for more flexibility
Removable racks
Perfect space utilization
8 wash Programs: Normal, pre-wash, delicate, hygiene, auto normal, auto-intensive, quick, and super 60-degree centigrade
Steam Drying
2 wash arms
Buyers Feedback
The Good
Design and build quality is awesome
Great in terms of performance
Offers very efficient cleaning of utensils
Saves a lot of water, time and effort
Operating it is very easy
It not only cleans but also sanitizes the dishes due to the hot water being used
The Bad
Overloading/over stacking can leave you with some dishes not cleaned well
Cost of maintenance is high
Wooden spoons and non sticks are not recommended
4. BPL 12 Place Settings Dishwasher, D812S27A
If you want a dishwasher at an extremely affordable price range without compromising the quality and performance, this one from BPL is a great choice. The classy design with smart silver finish adds an appeal to your kitchen interiors. Plus its easy operation allows the hassle-free cleaning of the dishes with the toughest grease and stains.
This dishwasher also comes with the capacity of 12 place settings that offers you ample space to fit almost any type of vessel. And the best part is that its foldable racks and tines allow you to place the vessels of different sizes conveniently. It is featured with eight wash programs to clean all types of vessels including steel, glassware, ceramic dishes, etc. efficiently. And one of the handiest features of this dishwasher is Half Load Wash that offers you the convenience for washing smaller loads.
This dishwasher is featured with a digital LED display letting you observe the different functions like monitoring the wash, keeping track of the time remaining, checking the detergent level, and much more. Plus, its super quiet operation creates no annoyance while doing other works.
Key Features
Classy design
12 place settings
Adjustable and foldable racks to arrange utensils properly
Digital LED display
8 Wash Programs
Half Load Feature
Buyers Feedback
The Good
Nice dishwasher at such an affordable price range
Performs very well
Quality of the product is also very nice
All the features are very good and handy
Easy to use
Saves water and electricity
5. Bosch 12 Place Settings Dishwasher, SMS66GI01I
So, here comes a model again from the brand Bosch with all its superb features and great performance. This dishwasher is packed with all the features that you would look for in an ideal dishwasher. With the capacity of 12 place settings, it is absolutely a great buy for medium-sized family. Also, an ideal one for cleaning the greasy and oily utensils of the Indian kitchen. The foldable racks allow you the flexibility to arrange utensils properly. It is featured with an auto program that automatically adjusts the water usage, water temperature, and rinse time to offer the optimum wash.
It also comes with the time delay function that lets you pre-select the program for the desired time. Once the program is started, a display indicates the precise remaining time. The model also features a load sensor that automatically detects the size of the load and then only uses that much water depending on the load. A half load option is also there that saves more water and electricity. It means if there is lesser load, you can opt for this function.
It offers the most hygienic wash of the utensils as the water gets heated up to 70-degree Celsius to kill up to 99.9% of germs and bacteria. The appliance also comes with the safety child-lock feature to prevent any accidents and mishappenings. Plus the smooth and low noise operation not creates any disturbance in your other works as well.
Key Features
Free Standing Dishwasher
12 Place settings
6 Wash Programs
Auto Program
Electronic Delay Timer
Load Sensor
Eco silence drive
Half load option
Offers hygienic wash
60 minutes wash cycle
Effortless cleaning of utensils
Childproof control lock
Buyers Feedback
The Good
Nice build quality
Smart, eye-catching appearance
Perfect for the cleaning of most greasy and oily utensils
Easy to use and maintain
Super quiet operation
6. Faber 14 Place Settings Dishwasher (FFSD 8PR 14S)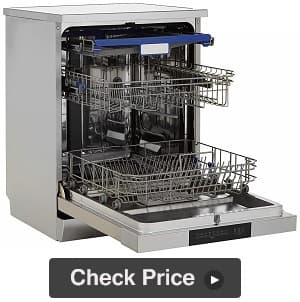 Bring home this dishwasher machine from the brand Faber and get a hassle-free cleaning experience of the dirty utensils of your home. This dishwasher comes with so many outstanding features that will make you love this product.
It comes with 14 place settings making it an ideal buy for a family having 5-6 members. The machine also has eight different wash programs, including autowash, soak, rapid, glass, intensive wash, normal wash, eco wash, and 90 min wash. So you can choose them accordingly for efficient and effective cleaning of dishes.
Its innovative 3D wash technology ensures the very effective cleaning of oil, grease, masala, and black stains, etc. from the utensils. With the use of three spray arms, this dishwasher ensures to maximize the water spray to every corner of the dishwasher. And thus, it saves up to 15% more in the cleaning time.
This dishwasher also features auto wash technology. It makes the machine to determine automatically the amount of water and time required for cleaning the load. This way, it effectively cleans out the dishes in no time.
It also provides you the option of targeted cleaning in the selected wash zone, no matter whether it is upper or lower. This dual wash zone feature saves both time and energy.
If you are worried about removing the tough stains from the dishes, this dishwasher is the best way to clean them. It has the ability to heat water up to 69°C, unlike other dishwasher machines. Thus, it can clean the dishes very efficiently.
Key Features
Freestanding dishwasher
14 Place settings
8 wash programs
3 layer cutlery basket
3D wash technology
Delay start for late operation
Child Lock
Dual Zone Wash
Silent operation
Fast and easy cleaning
Buyers Feedback
The Good
Sturdy construction
Very easy to use
Does the job of cleaning dishes very well
Removes tough stains from the dishes very easily
Offers deep cleaning
The Bad
The detergent used in the dishwasher is expensive
View on Amazon View on Flipkart
7. Siemens 12 Place Settings Dishwasher (SN256I01GI)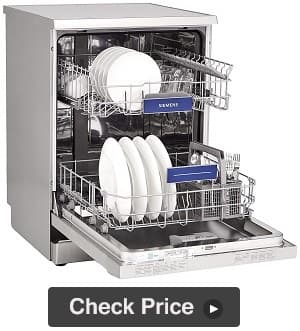 No need to scrub and rub the tough stains on the utensils with your hands, if you have this dishwasher machine at your home. This Siemens dishwasher comes with a host of unique features for cleaning any type of utensils in a hassle-free way.
This dishwasher comes with 12 place settings that can accommodate a large number of utensils in one go. Plus, the removable rack option allows you to load tall dishes in the second rack.
There are six washing programs to clean out the dishes as per your cleaning needs. If you have only a few utensils to clean, you can use its half load option. The easy to control buttons allow you to control the washing time, amount of water, and temperature of the water, etc.
It also includes an intensive 70-degree program to clean out heavy soiled utensils with tough oil and masala stains. Also, there is drying mode too that dries out the utensils when the cleaning gets dons. And the plus point is that you will get 99.9% germ-free utensils.
Key Features
Freestanding dishwasher machine
12 Place settings
6 Wash programs
Intensive 70-degree celsius program for heavy soiled utensils
Half load program for cleaning only a few utensils
Sparkle 65 degree Celsius Programme for a spotless dry finish
Foldable Rack
Buyers Feedback
The Good
Excellent quality dishwasher machine
Looks classy
Ideal for a variety of cookware like pressure cookers, kadhais, stainless steel utensils, glassware, etc.
Great in terms of performance
The Bad
Complaints of heating element stop working
View on Amazon View on Flipkart
8. Whirlpool 14 Place Settings Dishwasher (PowerClean-WFC3C24 PF IN)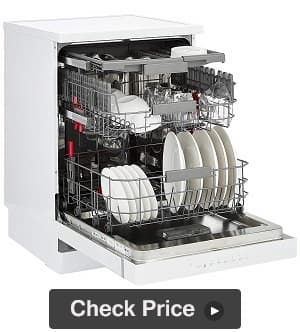 Now last but not the least, this Whirlpool dishwasher machine is another great buy for your kitchen. With a lot of unique features, this dishwasher offers you the excellent and germ-free cleaning of the utensils in an effortless way.
The smart, innovative design with easy to use control options make this dishwasher very handy. It comes with 14 place settings so you can arrange a large number of utensils for cleaning in one go. The convenient loaded flexibility ensures customized loading to hold taller and wider vessels in the upper rack very easily. Even with the multiple foldable racks, it offers extra interior space.
Like other Whirlpool appliances, this dishwasher also comes with the 6th Sense Technology that detects the soil level present on the dishes and then optimizes the cleaning resources accordingly. Thus, this feature delivers outstanding cleaning results and saves up to 50% of both water and time.
Accredited with the A++ energy rating, this dishwasher ensures optimum performance and delivers perfect cleaning results. And the best part is its super-silent and smooth operation that makes no more annoyance or disturbance while cleaning the kitchen utensils.
Key Features
14 place settings
8 wash programs
Intelligent 6th sense technology
Power Clean Pro technology to remove tough oil and stains from the utensils
8 foldable lower racks and 4 foldable upper racks save extra space
Delay start to wash utensils at a later time as per your convenience
Half load washing to clean fewer utensils
Super-silent operation
Buyers Feedback
The Good
Looks nice and sturdy
Great in terms of performance
Very energy-efficient dishwasher
Very easy to use
The Bad
Complaints of wash cycle stop in between
Dishwashers Buying Guide
Pros and Cons Of Dishwashers
Pros
Washing dishes in a dishwasher saves a lot of water over washing them by hands, and thus these are the most environment-friendly solution.
It saves your glassware and fancy dinner sets from being broken.
It is the best place to hide your unwashed utensils and thus making your kitchen clean and presentable.
In a dishwasher, the dirty dishes go through different washing cycles even at the extremely hot temperature of water. That's why making your cutlery and dinnerware more sanitized than washing by hands.
Dishwashers also save a lot of your time, means you can do your other pending works while the washing process.
Cons
You can't use regular soaps or detergents in the dishwasher.
Sometimes washing fine china and crystal, nonstick pots and pans, as well as wooden items, can be damaged in the dishwasher.
These are not ideal for small kitchen.
Type of Dishwashers
There are four types of dishwashers you can buy depending on your preference and budget.
1. Built-in Dishwashers
This is the most popular type of dishwasher that usually needs to get installed under the kitchen counter. It is the best choice if you have your own home. But not ideal for those who live in a rented house or apartment.
The built-in dishwashers are available in semi-integrated and fully-integrated styles.
Semi-Integrated dishwashers blend in with your kitchen cabinets, but have a control panel on outside the door. These are the ideal choice for those who don't want to open their dishwasher to change settings or stop a wash.
And the next is fully-integrated dishwashers that completely blends in with your kitchen cabinets, with the control panel inside the door. These are the great choice for those who want to completely conceal their dishwasher.
2. Drawer Dishwashers
Like the name, these dishwashers come with the drawers and are the great choice for nuclear or small families. These are comparatively smaller in size but comes in a single or double-drawer units. A double-drawer dishwasher lets you to separate dishes depending upon your washing needs and preferences into different units.
3. Portable Dishwashers
These dishwashers are ideal to move from one place to another. It can easily hook up to a sink and faucet without any plumbing installation and can be connected and disconnected whenever you want. When not in use, they also serve as an additional countertop workspace.
4. Countertop Dishwashers
These dishwashers are the ideal choice for the kitchen with space constraints. It comes in size like a microwave and can easily be placed on your kitchen countertop. It can also easily hooks up to the kitchen sink and faucet without any plumbing installation.
How do Dishwashers Work?
As we have already discussed above that there are different types of dishwashers available in the market, so the working and functionality of each one differ from one another. However, a dishwasher can take these 7 steps to complete the washing process.
1. There comes a shallow basin in the bottom of a dishwasher to fill it completely with the water.
2. Then it heats the water at an appropriate temperature by means of a heating element under the jet arms.
3. Then the detergent is added automatically at the right stage of the wash.
4. In this step, the heated water and detergent are pumped up through the jet arms. This creates the pressure to spin them and thus ensuring the dishes to get a good cleaning of them.
5. Then the machine drains out the dirty water. Again adds the clean water and heats it as before, but without detergent. This water is then pumped through the jets to ensure no detergent is left on the dishes.
6. Then again drains out the water
7. This final step includes the heating of air to dry up the utensils if you have chosen this mode.
To get a more better understanding of the working procedure of a dishwasher, please check the following video.
Features to Consider Before Buying a Dishwasher
Look for these features to pick the best dishwasher for your kitchen.
Capacity
The capacity of a dishwasher to clean dishes depends upon the size of your family. Dishwashers come in 8,12, and tall tub configuration that you can choose accordingly. The one comes with 8 tub configurations can hold a maximum of 8 quantities each of 8 bowls, saucers, dinner plates, dessert plates, and quarter glasses. The same way 12 tub configurations can hold these up to 12 quantities. And similarly, there comes the capacity for 16, 18 and even tall tubs to accommodate utensils at the desired capacity. So if you have a small family, small tub configuration is perfect, otherwise, for a large sized family, you can choose for the tall tub configurations accordingly.
Type of Dishwasher
We have already discussed about different types of dishwashers above. So depending upon your preference, you can opt for the built-in dishwashers, drawer dishwashers, portable dishwashers, and countertop dishwashers.
Construction
The one with stainless steel construction is more preferable over the plastic ones as they are more durable. The stainless steel has the ability to remove stains and odors from the utensils. Even when it comes to the transfer of heat, it takes place faster in stainless steel than the plastic one. Steel tubs can also withstand higher temperature settings. However their initial cost is high, but in the long run, they might have been proved to be the most cost-effective solution.
Touch Pad Control
Angled control panels, large digital displays, wide push buttons, soft-touch electronic controls, and top-mount controls are the nice control features in a dishwasher.
Flexible and Intuitive Racking
Dishwashers with the height adjustable upper and middle rack and a couple of sets of folding tines is the most ideal choice for arranging big and tall items like large bowls, pots, and trays, etc. Another rack for utensils and cooking tools keeps them uncluttered. Also check for the baskets, hooks, and special trays to hold knives, cooking utensils, and small, lightweight items.
Sensors
The latest and advanced models come with sensors for the most proper and efficient cleaning and also saves energy as well.
Soil Sensors have the ability of dirt sensing and thereby adjusts the wash cycles accordingly.
Water sensors determine the optimum level of water.
Temperature sensors ensure the appropriate temperature.
Detergent sensors allow releasing the desired quantity of detergent depending on the load.
Performance
Performance of a dishwasher is yet another most important feature to consider. Just check the number and types of wash cycles among various models and brands. The high performing dishwashers come with two or three spray arms that soak dishes with water from several levels and angles. Some also come with a central wash tower for improving the wash performance, but you may not get more rack space.
Wash Cycles
The modern dishwashers come with numerous cleaning options. A customize wash cycle option is available depending on the type of dishes you load. Different type of Wash Cycles Include:
Delayed Wash- With this cycle, you can choose and set the time from 12 to 24 hours for the cycle to start.
Only rinse- This cycle is best to wash away the leftovers.
Rinse and hold- This cycle not only rinse the utensils but also removes the odor from them without using detergent while it awaits the full load.
Quick Wash- With the quick wash cycle, you can clean the soiled utensils in double quick time.
Sanitize- With this cycle, the dishwasher can kill 99.9% of the germs and bacteria from the dishes at high water temperature.
Drains and Filters
A twin-pump system drains dirty water faster than a standard single pump. And thus prevents the clogging of the machine. If we talk about the filters, most of the latest dishwashers come with this feature to catch the food particles. It also restrains the food particles from redepositing onto the dishes. But these filters require cleaning only a couple of times per year for the most efficient operation.
Drying Style
Most of the dishwashers come with the heat-dry option to dry the dishes after washing them. But these perhaps increase your electricity bill. The other ones rely on condensation without adding extra heat after the final rinse.
Noise Level
Go for the one having an extra-quiet motor to avoid the irritation of a noisy dishwasher.
Best Dishwasher Brands in India
We have already reviewed above the top models of the best dishwasher brands in India. Now, let's know a little about these top brands of the dishwasher.
LG
LG is one of the well-known brands that deal in home appliances, home entertainment, mobiles, and vehicle components. This South Korean multinational electronics company is headquartered at Yeouido-dong, Seoul, South Korea. The LG smart dishwashers in India are of superior quality and built. These dishwashers offer you an effortless cleaning experience of the dirty and greasy kitchen utensils with no hassle. With attractive warranty and aftersales services, the LG dishwashers can be a great buy for any modern kitchen.
Bosch
Bosch is a German-based multinational engineering and technology company. It deals in four major areas, including mobility (hardware and software), consumer goods (household appliances and power tools), industrial technology (drive and control), and energy and building technology. Bosch dishwashers are one of the best amongst various brands in India. These ensure outstanding quality, deliver optimal performance, and are very energy efficient too. Thus, these are proving to be a perfect companion in your kitchen.
IFB
IFB is an Indian company based in Bangalore and offers a great range of home appliances with superior features. The dishwashers from IFB feature state of the art technology to remove tough and stubborn stains of oil, grease, and spice from the utensils. The various wash programs ensure to clean out the dishes easily and conveniently.
Siemens
Siemens is a German automation company with its headquarter in Munich. The company offers a great range of home appliances in India, including fridge, microwave ovens, coffee machines, washing machines, and dishwashers too. Siemens dishwashers have a modern design and innovative features. These also perfectly combine speed, thoroughness, and efficiency. Most importantly, they are very durable and so a perfect mate in your kitchen.
Whirlpool
Whirlpool is an American multinational company headquartered in Benton Charter Township, Michigan, United States. The company deals in India with the name of Whirlpool India and offers a variety of home appliances with unique features and sophisticated design enriching your lifestyle. Whirlpool dishwashers are one of the most common home appliances that bring the effortless and unmatched utensil cleaning in your kitchen. With budget-friendly costs and awesome warranty periods, the Whirlpool dishwashers can be a great addition to any Indian kitchen.
Frequently Asked Questions(FAQs)
What are the best dishwasher brands in India?

There are various dishwasher brands available in India. The top brands include IFB, Bosch, LG, Whirlpool, Siemens. We have covered the review of the best models from these brands in this blog. So, before going to choose, check out the full reviews to get the best one for your needs.

Is it good to use regular detergent in dishwashers?

No, regular detergent affects the performance of the dishwasher. You can choose dishwasher detergents that are available in the form of tablets, powder, and gels.

Why should I buy a dishwasher?

If you don't want to mess out your hands for cleaning the dirty and greasy utensils, a dishwasher is a perfect option. It lets you conveniently wash the kitchen utensils without putting much efforts. With simple wash programs and dryer mode, the dishwasher can't only wash the dishes but also dries it up. Thus, it saves your precious time and gets you away from the hassle of cleaning utensils.

Are dishwashers compatible with hard water?

There are various places in India with hard water. So, if you are going to buy a dishwasher, check out first whether it is compatible with hard water or not. The dishwashers that are compatible with hard water come with a water softening chamber to dissolve the hardness. So, it prevents the scaling and overuse of detergents.

How to load a dishwasher?

Loading a dishwasher with utensils depends on the interior space of it. Most of the dishwashers come with three to four racks. It is always recommended to place the crockeries at the top rack. Place the cutleries like the spoon, and forks, etc. to the second shelf. And in the third rack, place large vessels like cookers, kadhais, pans, etc. You will also get the adjustable rack option with the dishwasher, so you can easily place tall vessels in it.
Final Words
So, this is all about our best picks of dishwashers for the most hassle-free and efficient cleaning of the dishes in your kitchen. We have added all the necessary information and the dishwashers buying guide to make your buying decision easier. Even we have covered only the top-rated models with the budget-friendly prices, so I am sure, you can get only the best one for your kitchen.
Explore More On Kitchen Appliances
More Related Products
Finish Dishwasher 'All in 1 Max Powerball' - ...
Tetraclean Superior Quality Dish Wash Concent...
55%
Midon Dishwash Powerful Cleaner Gel Premium C...
33%
ArNiGo Dishwasher All in One Tablets (3 Packs...
10%