Kitchen is an important place in your home because this is the place from where you get the most satisfying meals whenever you want. And the Indian kitchen is very much famous for all its exotic spicy flavored food that involves deep-frying, grilling, tadkas, etc. to get the most wonderful taste. Besides the most aromatic taste, it also leaves its impression on kitchen tiles, slab, and ceiling. But who wants the stinky kitchen, greasy and staining walls, tiles, and ceiling, and also the smoke in the whole house. This is where the Best Kitchen Chimneys or kitchen hoods comes to play. As every modern Indian Kitchen requires the smart and modern appliances, the smart kitchen chimney will make your house free from smoke and the lingering smell of the food you are cooking.
Gone are the days when people used to install the exhaust fans in their kitchen for ventilation. Maintaining of them was quite difficult, and so now everyone prefers to install the kitchen chimneys in their kitchen. Kitchen chimneys are easy to use, clean, maintain, and even easy to install.
What are Kitchen Chimneys?
Kitchen chimneys are the most useful kitchen appliances that are used to eliminate fumes and smells while cooking. Even these are the perfect ventilation medium when you are cooking. These are made up of stainless steel material with a smooth or matte finish, and the adorable, smart design of these appliances adds a great style to your kitchen decor.
Generally, they come in a hood mountable design that is mounted over the gas stoves or cooktops. With a great range of sizes available, the kitchen chimneys are used to cater different kitchens from medium to large and remove away the harmful gases, smokes, and odors and don't let it spread in different rooms of your house also. And so, offers you the best cooking experience in your kitchen with the utmost ease.
But, choosing the best kitchen chimney requires a lot more considerations. We recommend you to please head to our Buying Guide Section, so that you can choose the right one easily.
10 Best Kitchen Chimneys in India
With a different range, varieties, and brands of kitchen chimneys available in the market, it is pretty a daunting task which one to buy for your kitchen. But don't get worried as we have compiled up here the latest and best kitchen chimneys to make your buying decision easier. The latest design, features, great performance, and the budget-friendly price, all these factors we have taken into consideration to make only the best picks.
Best Kitchen Chimney Reviews
So, now it's time for the full review of each our handpicked kitchen chimneys models. Have a detailed look on the full review of each model to make your best-preferred choice.
1. Faber Hood Tender 3D Kitchen Chimney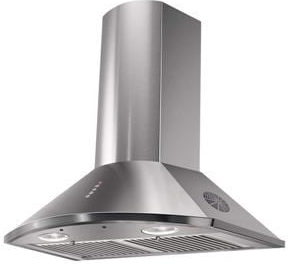 Faber is one of the well-known brands for cooking appliances. And this kitchen chimney from Faber comes with a lot more unique features as well as great performance. That's why comes the first in our list.
This wall mounted chimney is made up of high-end glass and matte-finish steel offering your kitchen a great stylish and classy look. This ductless chimney is highly suitable for oily Indian cooking featuring 3 layer baffle filter that works very efficiently in separating grease particles.
When it comes to the suction power of this chimney, its 3D suction capacity offers the best-in-class suction power and captures the smoke and grease very faster. Plus its powerful motor is great for efficient suction capacity. And the best part is that the noise level is very low that offers you a calm environment in your kitchen to cook without any annoyance.
Talking about the smart features of this electric chimney, this one comes with the most smart touch panel with LED light and push buttons. The energy-efficient LED lights offers very high brightness and very little heat. There are separate buttons for light and variable speed control buttons combining 4-speed controls to operate the chimney at the desired speed level.
Key Features
Triple layer baffle filters
Stainless steel material
Powerful Motor
3D suction capacity
Low noise level
LED light
Push buttons with 3+1 speed settings and separate button for light
Pros
Stylish appearance
Nice build quality
Awesome suction power at low rate
Very strong and powerful to capture grease and smoke
Easy to use
Cleaning of the filter is quite easy and simple
Cons
2. Hindware Nadia Kitchen Chimney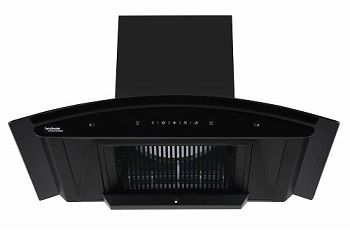 This one is a great buy for your smart kitchen. Featuring cutting-edge technology and the most classy design, the Hindware kitchen chimney offers you a healthy and smoke-free environment in your kitchen. Plus the stainless steel matte finish offers a great style to your kitchen decor. It is equipped with stainless steel baffle filter that effectively pushes the grease, oil, and residue to collect inside the filter. And offering the fresh and clean air in your kitchen.
This electric chimney is equipped with the powerful motor for the most efficient suction power that perfectly catches the grease, oil, and smoke while cooking. As an added benefit, the motor consumes very less electricity and even the lesser noise for smooth and quick cooking.
The control panel of this kitchen chimney comes with the smart push button controls for the more smart and easy operation. Just one touch operation and you can create a perfect environment in your kitchen. Moreover, there are also two LED lamps that illuminate the wider area without consuming more power.
Key Features
Compact Size
Stainless steel finish
Maximum Air Flow
Stainless steel baffle filter
Energy efficient LED lamps
Push button control
Powerful motor
Low noise
Pros
Good chimney at a budget-friendly price
Nice stylish look with a great build quality
Performance of the chimney is outstanding
Push buttons are very easy to operate
LED lights on the chimney look great
Low noise operation
Cons
3. Faber Hood Primus Plus Energy HC SC BK 60 Auto Clean Chimney
The next is again a model from Faber with supreme features and outstanding performance. This kitchen chimney is absolutely a great buy to make your kitchen clean and quiet. It comes in a beautiful black color with curved design as well as the nice touch control panel for easy operation. Featuring 3 layer stainless steel baffle filters, it perfectly catches the oil and grease providing a clean environment. And the filters are very easy to clean and maintain.
The best part of this electric chimney is its Auto Clean function that ensures your kitchen is absolutely oil and grease free and your chimney works perfectly. Just pressing the one-touch control, the auto-clean function gets activated and done its job in 38 seconds only. No more extra cleaning is required. Also, there comes the oil collector that collects the grease and oil to ensure hassle-free cleaning and thereby reducing the chances to clean the filter frequently.
This kitchen hood comes with the powerful motor ensuring the great suction power to catch more and more oil and smoke for the clean kitchen. It is also equipped with 2 LED lights to offer the perfect amount of light while cooking and the best part is that the LED lights consumes very less power. And the variable speed control options letting you operate the hood on the preferred speed level depending upon the needs.
Key Features
Higher suction capacity
Better grease reduction
3 layer stainless steel baffle filters
2 Energy efficient LED lights
Auto Clean Technology
Touch control panel for easy operation
Powerful motor
Less noise
Pros
Decent and stylish design with matte finish
Build quality of the product is awesome
Auto clean function saves extra time for cleaning
The filters are easy to clean and maintain
Nice touch control panel with easy operation
Cons
4. Eurodomo Classy HC TC 60 Auto Clean Chimney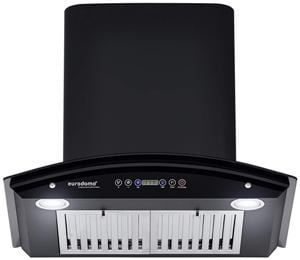 This kitchen chimney comes from the house of most popular chimney brands Eurodomo. Classy look, great performance, and hassle-free cleaning for the chimney is all this kitchen hood comes with. This one offers a clean and healthy atmosphere in your kitchen as well as add a great aesthetic appeal to your kitchen. It is featured with high-quality stainless steel baffle filter that catches all the oil, smoke, and residue particles very efficiently. But requires frequent cleaning to make your chimney work for long and long.
One of the great features of this kitchen chimney is its heat auto clean technology that gathers all the oil particles and dispense it in a separate oil collector attached with it. The oil collector is easy to wash and clean. So now no more hassle to clean the chimney. With just the one touch of the button, you can clean your chimney very well.
Now when it comes to the suction power, this chimney comes with the most powerful suction capacity allowing you the smoke-free and dust-free cooking. Its touch control panel with digital display ensures the very easy and quick operation. Plus, the two improved LED lights aids in illuminating your cooking area and thus giving you an easy cooking experience.
Key Features
Elegant design
Stainless steel baffle filter
Heat auto clean technology
2 energy efficient LED lights
Powerful suction capacity
Powerful Motor
Low noise operation
Touch control panel for easy and quick operation
Pros
Beautiful aesthetic appeal
Super quiet operation
Quality of the product is extremely good
Great in terms of performance
Great product in this price range
Auto clean function is superb offering you save the extra time for cleaning
Nice touch panel with push buttons for easy operation
Cons
5. Elica WD HAC TOUCH BF 90 Auto Clean Chimney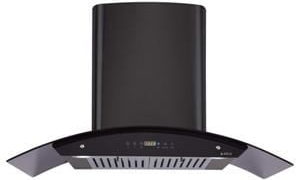 Now the next is this kitchen chimney from Elica. This sleek and stylish wall mounted chimney caters to keep your kitchen free from cooking odors and smoke. With compact and sleek design, it doesn't take much space in your kitchen, further complements your kitchen interiors. This kitchen hood comes with the stainless steel baffle filter that works very efficiently in pushing the oil and other residues to get settled inside the filter. And then collected in the oil collector.
This kitchen chimney also features the heat auto clean function that offers you the hassle-free cleaning of the chimney in just a press of the button. And the maximum airflow ensures only the fresh and clean kitchen atmosphere while cooking. Its powerful motor is less noisy, energy efficient and even less on maintenance.
The smart control panel comes with the push buttons for different speed settings. There also come two energy efficient LED lamps offering you the proper lighting while cooking covering the wider area.
Key Features
Power Efficient Kitchen hood
Stainless steel matte finish
Easy to clean baffle filter
Oil collector
Touch control panel for easy operation
Heat auto clean technology
Maximum air flow
Powerful Motor
Low noise operation
2 LED lamps
Pros
Power efficient chimney
A perfect chimney for hassle-free cooking and smoke-free environment
Build quality is great
Easy to use with push buttons
Auto clean function is very handy
Cons
6. Sunflame Innova Dx 60 Auto Clean Chimney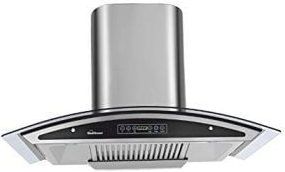 Sunflame is one of the best brands when it comes to kitchen appliances. This one not only looks stylish but also energy saving and budget-friendly option. The stainless steel construction makes it more durable and long lasting. Along with the elegant design, this kitchen chimney has two energy-efficient LED lamps that illuminate the wider area while you are cooking. And thus making the cooking process more easy and simple.
This Sunflame kitchen chimney is equipped with stainless steel baffle filters to catch grease, oil, and other residues making your kitchen clean, healthy, smoke-free, and odor-free. Cleaning is one of the tedious task, but with this chimney, you don't need to worry about the cleaning of the chimney as it comes with Auto Clean function. With just a simple press of the button, the chimney would clean itself even you don't need to put your hands dirty.
With its high suction power, you even don't need to be bothered by the irritating smoke in your kitchen. Other smart features include an easy touch control panel with push buttons for speed settings and LED light.
Key Features
Auto clean chimney
Stainless steel finish
Stainless steel baffle filter
Touch control panel for quick and easy operation
Powerful suction capacity
2 energy-efficient LED lights
Pros
Strong and sturdy built
Nice design
Great in terms of quality and performance
Easy to use and maintain
Cons
7. Seavy Zeroun Plus SS 60 Auto Clean Chimney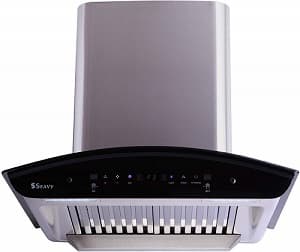 Style, elegance, and functionality all in one, is this chimney combines with. So, if you want to make your kitchen smokeless and odorless as well as want to uplift its decor, this one kitchen chimney is a worth buying. With the most appealing and eye-catching design, this kitchen hood removes all the dirt, grime, smoke, and odor, without lifting your finger.
This energy-efficient hooded chimney comes with the detachable baffle filters with stainless steel construction offering you the healthy and clean environment in your kitchen. The detachable option makes it very quick and easy to clean the filters. Now if you feel worried about the tedious task of cleaning chimney, you really don't need to be, as this chimney comes with a thermal auto clean technology. This technology lets you set free from the manual cleaning of the chimney. With simple one touch of a button, the auto clean function gets activated to make the chimney interiors free from oil and grime.
The very best is its higher suction power that catches the dirt, smoke, and odor in higher amount to make your kitchen free from smoke. Other smart features of this auto clean chimney is the most appealing two LED lights and push control buttons. The LED lights illuminate your cooktop while cooking and the push control buttons offering you the most ease of operation.
Key Features
Stainless steel construction
Energy efficient chimney
Heat Auto Clean Function
Powerful Suction
Detachable baffle filters
2 LED lights
Push Control Buttons
Pros
Superb glass finish with sturdy stainless steel construction
LED Lights and auto clean function are really good
Excellent performance
The detachable filters ensure easy cleaning of them
Oil collector makes it easy to collect extra oil and grease for enhancing the performance of the chimney, and its cleaning is also very easy
Worth for the money
Cons
8. Glen 6071 EX60 Kitchen Chimney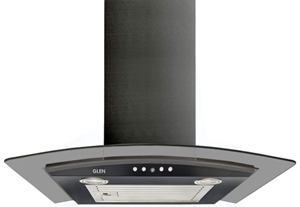 If you want something at an affordable price, this kitchen chimney from Glen is the great choice. This wall mounted chimney absorbs all the heat and ventilates your kitchen very well and keeps it fresh, clean and free from fumes and odors. When it comes to design, its graceful curved shape with appealing matte finish adds a great style to your kitchen decor. This chimney is featured with a very powerful suction capacity that offers a dynamic airflow to remove smoke and grime very effectively.
The chimney comes with the stainless steel baffle filter crafted with dynamic airflow to offer the most efficient performance. And the best part is that it consumes very less power, so no more worry about the high electricity bills. Plus, the cleaning of the chimney is super easy. Its powerful suction capacity reduces away the traces of fumes and grime in few seconds only.
There are also two LED lights equipped with this chimney that adds a great appeal while illuminating the cooking area for a great cooking experience. Even more, the smart touch control panel with push buttons make it easy to operate the chimney with a whole lot convenience.
Key Features
Premium curved design
2 Stainless steel baffle filters
Dynamic airflow
Super powerful suction
2 LED lights
Push control buttons
Copper Italian motor with thermal overload protector
Pros
Nice chimney with awesome features
Design and quality is awesome
Great in terms of performance
Budget-friendly price
Cons
9. Seavy 60cm 1200 m3/hr Auto Clean Chimney Ciaz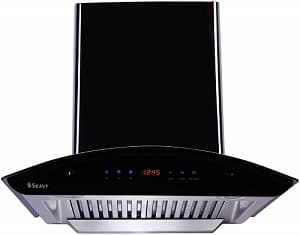 This kitchen Chimney again from the same brand comes the next on our list. It speaks about excellent quality, great performance, and all the unique features to make your kitchen clean and healthy. The elegant glass matte finish appeals your kitchen decor while the stainless steel construction ensures the durability of the chimney. No more odor, no more smoke, and even no more traces of grease and oil on the kitchen tile if you have this chimney in your kitchen.
It comes with easy to clean stainless steel filter along with an oil collector to collect the oil and grime which is easily removable for an efficient cleanup. And this large oil collector cup makes the filter to perform without any issues.
This kitchen chimney comes with an impressive suction capacity with a powerful motor letting you cook in a fresh environment. For an added elegance, two LED lamps are also there to illuminate the cooking area. And the very best is its smart touch control panel with push buttons to operate the chimney in an effortless manner.
Key Features
Stainless steel construction
Curved glass panel
2 LED lamps
Push button operation
Efficient suction power
Fixed filter with oil collector
Pros
Superb classy design
Nice build quality
Variable speed control options are really very great to operate the chimney on desired speed level
Low noise operation
Reasonably priced
Cons
10. Pigeon Nebula Kitchen Chimney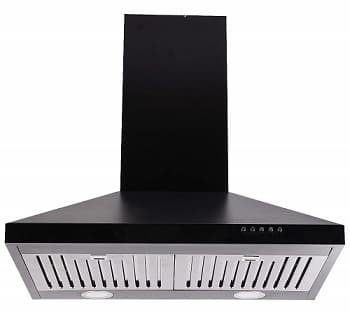 Now last but not the least, this kitchen hood from the brand Pigeon is yet another smart choice for your smart kitchen. Featuring easy to clean baffle filter, the chimney gets you rid of the smoke, odor, and all the oil and grease in an effective way. And this way giving you a very clean and healthy atmosphere in your kitchen. The classy design in decent steel grey color appeals to the interiors of your kitchen. And the stainless steel construction makes it more durable and sturdy.
With its powerful suction capacity, the chimney catches out more and more smoke and odor, and so you can prepare your favorite dishes without any irritation. The two appealing LED lights attached to this chimney makes you cook very easily by illuminating the whole cooking area. And the best part is that it doesn't consume very much power. The easy to use touch control buttons lets you operate the chimney in the more efficient and effortless way.
Key Features
Stainless steel body
Glass matte finish
Powerful suction capacity
Energy Efficient kitchen chimney
Push control buttons
Baffle filter
Pros
Great quality and performance
Not consumes more power
Great for heavy frying and grilling
Cleaning and maintenance is very easy
Variable speed control options are very nice
Low noise
Cons
Kitchen Chimneys Buying Guide
Types of Kitchen Chimneys
Kitchen chimneys are basically categorized into two types:
1. Ducting Chimneys
Ducting chimneys also known as extracting chimneys comprises of the motor, filters, hose pipes / PVC pipes, and an elaborate ducting system. It sucks the air from your kitchen which is then passed through the filters and meshes of the chimney. The filter then absorbs the grimes, oil, and grease from the air and this air is then passed outside by means of a pipe or PVC outlet.
Pros:
Capture smoke, fumes, and odor in high amount
Highly efficient to use
Completely vents out the polluted air
With washable filters, they have very less operating costs
Easy and cheap to maintain
Cons:
Expensive
Proper installation is required
Creates noise
2. Ductless Chimneys
Ductless chimneys also known as reducing chimneys is the same like ducting chimneys but comes with an additional carbon filter and lacks ducts. These chimneys work using a motor and a fan or blower. The chimney first sucks the air from the kitchen which is then passed through the carbon filter that absorbs the heat, odor, and smoke. And thus releases the clean air in the kitchen.
Pros:
Easy to set up and install
Initial installation cost is very less
Programmed to turn on/off automatically
Versatile in nature
Cons:
Not good at keeping temperatures down
Operating cost is very higher
Recirculates the air
Types of filter used in Kitchen Chimneys
There comes the three types of filters in kitchen chimneys that you can get better understand with the following details.
1. Mesh Filter
These filters come with a thick mesh of stainless steel or aluminum. It has multiple layers with numerous small holes. When the kitchen air passes through the filter, oil, dirt and grease sticks to the layers. And the remaining smoke, carbon, and bad odors are ejected outside through ducts. But a major drawback is that the pores get clogged very soon with the oil and dirt that affects the performance of the chimney. And so requires proper cleaning regularly with warm soapy water or detergent.
2. Baffle Filter
The next is baffle filter that is most ideal for the Indian households. It comes with the overlapped layers of steel/aluminum to change the direction of airflow for separating grease, oil, and the spice particles from the air. Moreover, the oil or grease gets deposited on the layer of steel or aluminum, but the best part is that it doesn't affect the suction power of chimney. The cleaning is quite simple and requires cleaning once in 4-5 months.
3. Charcoal Filter
Charcoal filters also known as Carbon filters comprises of the charcoal granules and are the great options to remove odors. It comes in combination with mesh filter and baffle filter. The odor absorption capacity of the charcoal filter depends upon its thickness and the size of the charcoal granules. These filters are generally used in ductless chimneys. Since these filters are non-washable, so you must replace it once they are fully saturated.
Types of Kitchen Chimneys Hoods
Hood style for kitchen chimneys is another important feature to consider depending upon your preferences and type of kitchen. Here comes the 4 type of hood style a kitchen chimney comes with.
1. Wall Mounted Chimneys
These are the most popularly used chimneys that are mounted on the walls and the kitchen hood placed directly over the gas stove or cooktop.
2. Corner Chimneys
These are very sleek and stylish chimneys that come with adjustable option. You can draw it over the gas stove when you want to use it and also push it back with its push button when not in use.
3. Island Chimneys
These chimneys are fixed on the ceiling exactly above the gas stove. And is ideal for countertop cooking ranges with western styled counters.
4. Built-In Chimneys
These are integrated behind or under the cabinets above the cooktop. They remain hidden from view and blend in seamlessly with the kitchen decor.
Features to consider before buying a Kitchen Chimney
Now, when it comes to buying a chimney for your kitchen, you must consider the following points to choose the best one.
1. Size
Size is the most important factor in deciding upon while choosing a kitchen chimney. First, you must consider the size of your kitchen and then go for the appropriate one. Also, it is ideal to select the one that comes with even exact or greater size from your gas stove that lets the chimney to suck up the smoke very efficiently. You must not go for the one having the size smaller than your gas stove or hob.
2. Suction Power
Suction power in a chimney means how much smoke or odor a chimney motor can suck up. And it is measured in cubic meter per hour. The one with higher suction capacity is the most ideal choice. For a small kitchen, the ideal range of suction power is 500 m3/hour to 650 m3/hour. And for a large kitchen, the ideal suction power range is 650 m3/hr to 1000 m3/hr.
3. Filters
Choosing the right filters will always improves the performance of the chimney. If the filters will not work properly, it results in low suction power and thereby causing the unclean air in the kitchen. As we already discussed about the filters of kitchen chimneys, choose the one that is highly suitable. Baffle filters are considered to be the most ideal choice.
4. Noise
The noise in a kitchen chimney comes due to air circulation. Sometimes the heavy noise irritates you so much. And that's why some of the kitchen chimneys need to get installed with a silent-kit that makes it silent and noise-free.
5. Speed
The advanced models of the kitchen chimneys comes with multiple speed settings letting you adjust them at the best speed that is ideally suitable depending upon your cooking needs.
6. Design
Design is, of course, the most important factor that describes the appeal and look of the kitchen chimney. Choose the one depending upon your budget, and most importantly the one that suits your kitchen decor.
7. Cleaning and Maintenance
These two factors are very much important if you want that your chimney will perform well for the long years. That's why proper cleaning of them is very much essential. Also, regular filter replacement is very much important for its maintenance.
Some More Advanced Features in a Kitchen Chimney
The latest models come with Auto Clean feature that allows you to clean the accessories in a chimney automatically with just a press of the button. The regular cleaning enhances the long span of the appliance even without affecting the performance.
The modern kitchen chimneys come with the LED Indicator Light notifying you that the chimney is in working mode.
Push Buttons are also available to change the speed of the chimney accordingly.
Some of the advanced models come with the Buzzer or Alarm that notifies you by alarming that the filters need cleaning or replacement.
There also comes the chimney with Detachable Oil Collector that collects the oil particles and grease and then detaches it for easy cleaning.
Soundproof Kits are also available to ensure the fully noiseless operation in your kitchen chimney.
Benefits of having Kitchen Chimney
Keeps your kitchen tile safe and protected from grease and oil and other stains
Makes your kitchen wall and ceiling clean and spotless
Protects other kitchen appliances from fumes
Removes unwanted odor and smell of the spices
Removes smoke from the kitchen
Avoids irritation while cooking in the kitchen
How do Kitchen Chimneys Work?
Kitchen Chimneys work on a very simple mechanism. These appliances make use of carbon or charcoal to trap out the smoke and moisture. A kitchen chimney sucks the air inside the kitchen with smoke and oil droplets and then passes it through the filters that absorb the heat and traps the grease particles. And this way the kitchen chimneys remove the fumes and odor and keep it ventilated while maintaining the freshness and odor-free kitchen.
Conclusion
Well, that is all my gathered information on latest and best kitchen chimneys that you can install in your kitchen for a smokeless and odorless environment. Hope the blog with our best picks of chimneys and the buying guide will help you to pick out the best one. Get rid of the most hectic cleaning of your kitchen and make your kitchen fresh and odor free with one of these best kitchen chimneys.
Explore More On Kitchen Appliances
Buy Kitchen Chimney Online
Elica 60 cm 1200 m3/hr Filterless Autoclean K...
48%
Elica 60 cm 1350 m3/hr Filterless Autoclean A...
56%
Elica 60 cm 1200 m3/hr Filterless Autoclean K...
56%
Faber 60 cm 1100 m³/hr Auto-Clean curved gla...
34%
Faber 60cm Autoclean Chimney | Free Installat...
38%
Hindware Smart Appliances Nadia IN 60 cm 1350...
37%
Hindware Elena 60cm 1100 m3/hr Auto-Clean Kit...
55%
Elica 60 cm 1425 m3/hr Filterless Autoclean K...
47%