Being one of the most nutritious and protein-rich food, eggs are the wonderful delights to have. Whether it is scrambled egg or an omelette, it makes your morning breakfast very awesome making you feel energetic the whole day. But I think, the boiled eggs are one of the favorite choices for all of you and increases your taste buds too.
Boiling egg is not actually a difficult task, but sometimes if you need to boil a lot of eggs at the same time in the same pot, it is somehow very difficult to manage. There is fairly a chance of cracking of some of them. But think, if you can do the same thing without any mess even without no more cracking, it's really a pleasant way, I guess. So, get an easy and effortless egg boiling experience with the Best Egg Boiler Machines.
What are Egg Boilers?
Egg Boilers, also known as egg cookers are the electric appliances used for boiling the eggs. The best thing is that you can boil multiple eggs at the same time. Some egg boilers also come in a double layer so that you can boil as many eggs on them. And some models also serves as omelette maker and an egg poacher too.
Now, no need to boil eggs in a water-filled vessel on the gas stove which is very messy. The egg boilers come with various stations to boil each egg separately. And so, they don't bash with each other and thereby no more cracking of eggs at all. The egg boilers not only look stylish, but also compact in size and easy to use.
To get in-depth information on egg boilers, please head to our Buying Guide Section.
10 Best Egg Boilers in India
Best Egg Boilers in India – Reviews
So, here is the full review of each our best picked models. Have a detailed look at each of them and make your buying decision more easier.
1. Kent Egg Boiler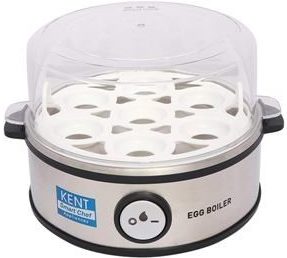 Well, this egg cooker from Kent comes the first in our list for all its smart features and great performance. With a great stylish appearance, this egg boiler allows you to boil the eggs in three different modes-Soft, Medium, and Hard. And you can boil seven eggs in one go. When it comes to ease of use, this one allows a hassle-free one-touch operation. So always a best choice whether you reside in a hostel, or hotel rooms, and even best for home use also.
Speaking about the design, its stainless steel body and heating plate allow the faster boiling of eggs. The device is also featured with Automatic Power Off that makes the device switch off automatically, once the cooking is finished. Plus, the convenient, transparent lid lets you watch the cooking process without opening the lid.
Key Features
One touch smart operation
Allows boiling of eggs in 3 different modes-Hard, Medium, and Soft
Attractive control panel
Stainless steel body and heating plate for fast boiling
Auto Shut off
Overheat protection
1 Year Warranty
Pros
Nice quality product
Stylish design
Great in terms of performance
Easy and convenient to use
Easy to clean
Cons
A little bit pricey
Doesn't support egg poaching and omelette making
2. Black & Decker BXEG2801IN Egg Cooker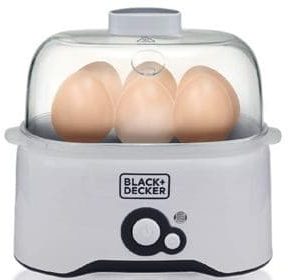 Top-notch quality, great performance, and modern stylish design is all this electric egg cooker boasts about. This model from Black & Decker features 6 eggs cooking rack along with two egg poaching pans. So, you can cook only with ease even with more busy schedules in this egg cooker. Moreover, its boil dry protection makes the device shuts off automatically when there is no water left in it. Also, it comes with an alarm indicator function that beeps once the cooking is over.
This egg boiler also comes with the steam release hole, ensuring the steam to pass out regularly for the more even cooking. Plus the measuring cup included with it lets you add the desired amount of water to boil eggs according to the desired consistencies. Its transparent lid allows you to keep an eye on the whole cooking process. You don't need to replace the lid for that. And thus makes it easy to cook eggs without any mess.
Package Includes: Egg cooker, Lid, 6 egg capacity tray, 2 egg poachers, Base, Measuring cup with egg picker (80ml) and Instruction Manual.
Key Features
6 eggs cooking rack
2 egg poaching trays
Transparent cover
Dry boil protection
Measuring cup included with egg picker
Auto shut off
Alarm Indicator
2 Years Warranty
Pros
Nice build quality and design
Awesome performance
The alarm beep function is not too loud
Very much convenient to use
Easy to clean
You can easily make soft boiled or hard boiled eggs just by varying the quantity of water
Cons
3. Russell Hobbs REG300 Fully Automatic Egg Cooker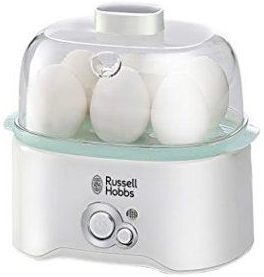 This egg cooker from Russell Hobbs comes with the most eye-catching design as well as fully automatic operation. It is the perfect combination of high-quality materials and advance technologies that makes it absolutely a top-notch product. With an average power consumption of 300-Watt, it never increases your electricity bill too high. So, you can use it without any worry.
Plus, this egg cooker also comes with a measuring cup and 2 poaching trays. And you can easily boil six eggs at a time in just 5-6 minutes, with this egg boiler. And the best is its dry boil dry protection that is one the great features making it a steal deal. The more convenient way to boil eggs, this egg boiler never fails to prove itself. Moreover, its automatic shut off feature, once the cooking is done adds an enhanced safety to the users.
Key Features
Fully automatic operation
Dry boil dry protection
40 ml water for soft boiled eggs
50 ml water for hard boiled eggs
Includes measuring cup and 2 poaching trays
Automatic shut off
1 Year Warranty
Pros
Excellent egg maker with perfect boiling
Nice design and quality
No shock or heating in the outer body
Very convenient and efficient to use
Time-saving
Cons
4. Inalsa Chic Instant Egg Boiler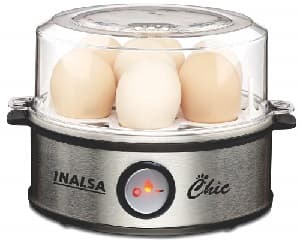 Here comes the next best egg boiler from Inalsa. This is one of the best egg boilers with a well-built design and affordable price range. The superior stainless steel construction makes it so sturdy and gives a premium finish to it. No more trouble at all, just add the required amount of water and wait for 6-8 minutes only. And it gets its job done very perfectly. You can boil 7 eggs in one batch with this egg boiler.
This egg boiler boils the egg more faster and efficiently and offers the perfectly fluffy eggs every time. The device comes with a measuring cup with firmness markings on it, so you can easily measure the water with it according to the firmness level you desired in the eggs.
Plus, the power button comes with an indicator on/off light that shows when the device is working. Even no more worry about the power consumption as this electric egg boiler consumes very less power. As an added safety, the device comes with an auto shut off feature that makes the device switch off automatically when the cooking process is over.
Package Includes: Egg boiler, Egg tray, Lid, Measuring cup, Instruction manual cum Warranty card.
Key Features
On/Off switch with indicator light
Stainless steel lid
Measuring cup with piercing pin
Cooks up to 7 eggs in one go
Removable egg tray for easy cleaning
1 Year Warranty
Pros
Excellent quality product
Superb space-saving design that can conveniently gets fit in your kitchen
Super quick and convenient to use
Saves time and energy both
Piercing of the eggs is very easy as the measuring cup comes with a piercing pin
Cons
5. Glive's Electric 2 Layer Egg Boiler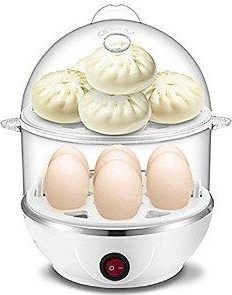 If you are searching for an egg cooker with good capacity, this one from the brand Glive is the best choice. It is a double plate boiler that can cook in the lower as well as the upper plate at the same time reducing the time of cooking for large batches. You can cook 14 eggs in one go and so it is an ideal one for a big sized family.
You can also boil small potatoes, and other veggies too, and also cook rice in it.
This electric egg boiler comes with a stylish design made up of plastic and stainless steel material. The device consumes very less power, so don't get worry about the huge electricity bills. A measuring cup is also included with it that you can use to put water in the boiler according to firmness level you want in the egg. And the device offers perfectly cooked and great textured eggs every time. Plus, this egg cooker has a fully automatic operation and comes with the power switch with On/Off indicator light showing that the device is in operation or not.
Package Includes: Two-layer egg boiler, 1 Measuring Cup
Key Features
Stainless steel and plastic construction
Two layered structure
Cooks 14 eggs in one go
Includes measuring cup
Fully automatic operation
Automatic Shut off
Pros
Great product to cook a large number of eggs at the same time
Quality of the device is very nice
The design is very appealing
Easy to use
Hassle-free operation
Easy to clean
Cons
6. Nutricook Rapid Egg Boiler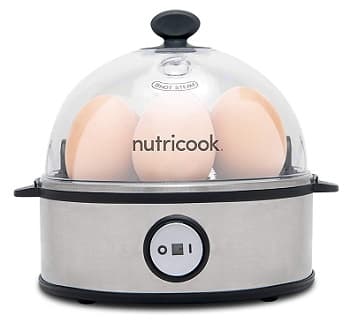 If you want an egg boiler at a budget-friendly price, this model from Nutricook is the most ideal choice. It offers you the option to cook 7 eggs at the same time. There is also the option to choose between soft-boiled eggs or medium boiled cooking modes as per your preferences. The model also features the stainless steel cooking plate, that allows the unit to heats up very quickly, and so speeding the cooking process.
The most sophisticated design of this electric egg boiler really fits to any modern kitchen decor. Operation of the device is very simple with its simple on/off switch. The model also comes with the cooking and signal light indicators to let you know that the device is in function. Moreover, for added safety and convenience, this smart egg boiler is also featured with auto shut off function that automatically switches off the device when the cooking is over.
Key Features
2 cooking modes for soft and medium boiling
Boil 7 eggs in one go
Stainless steel heating plate for fast cooking
Simple one-touch operation
Cooking and signal light indicators
Auto Shut off
Alarm Indicator
1 Year Warranty
Pros
Nice egg cooking appliance with awesome quality
Eggs get perfectly boiled with this device
Operation is very simple
Hardly takes 10 minutes to boil the eggs
Alarm Indicator is really a nice feature
Cleaning of the device is very easy
Cons
The power cord is very short
7. Goodway Electric Egg Boiler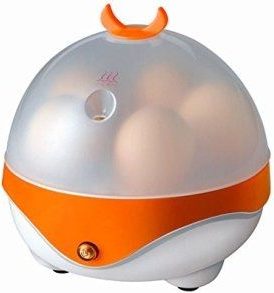 So, here is the next best electric egg boiler from the brand Goodway. What is really impressive is its appealing, stylish design with the white and orange color combination. So, now you can boil eggs with utmost ease and convenience if you own this egg boiler. It maintains the nutrients of the eggs, and you can get only the perfectly boiled eggs every time.
This is an ideal purchase for small servings as it can prepare 5 eggs in one batch. Even this boiler comes with 5 different sections to cook each egg separately.
Speaking about the design part, this electric egg cooker is made up of plastic body with the stainless steel heating plate that quickly heats the device for faster cooking. The round shape design not only looks elegant but also traps steam for even cooking of the eggs. The device consumes only 200 watts, and so you can treat it as the most energy efficient egg boiler.The device also comes with the automatic shut off feature that switches off the device automatically once the cooking process is done.
Key Features
One-touch simple operation
Outer plastic body
Stainless steel heating plate
Multi-functional egg shelf design
Boil dry and overheat protection
Auto Shut Off
Pros
Beautiful design
The high-quality stainless steel heater boil eggs in 7 minutes only
Very quick and easy to use
Can prepare hard boiled and soft boiled eggs with just a press of the button
Compact and lightweight
Cons
8. AGARO Crown Instant Egg Boiler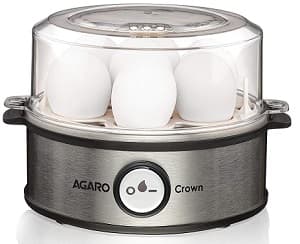 This smart electric egg boiler comes the next best in our list that combines quality and performance in the same. The Agaro crown egg boiler makes the tedious task of egg boiling really a breeze. So, it is absolutely a good choice for all homemakers, hostelers, office goers, etc., as it makes their morning breakfast in a jiffy. This egg cooker can boil 7 eggs at a time and offers the option to cook them in medium-hard, hard or soft, mode accordingly.
The device also comes with an indicator light that notifies you by shutting off when the cooking process is over. It also features the boil dry protection that makes the device switch off automatically when no water is left. Plus, the auto shut off feature makes it more safe to use, as the device gets shuts off once the boiling is done. Moreover, a measuring cup is also included with this egg cooker to add the desired level of water to boil the eggs.
Key Features
Offers 3 mode of cooking- hard, medium, and soft boiled eggs
Translucent cap made of PP material
Heat resistant and durable
Anti-slip and scald proof egg holder
Cooks 7 eggs in one batch
Comb handle
Auto Shut Off
Indicator light
Boil dry protection
1 Year Warranty
Pros
Unique design
Easy to use and clean
Price is very reasonable
Great in terms of quality and performance
Cons
9. iBell EG014Y Egg Boiler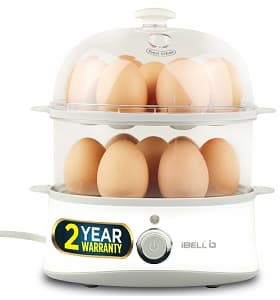 This egg boiler from iBell is yet another smart choice for those who want to cook a large number of eggs in one batch. That's pretty good about this egg boiler that lets you cook 14 eggs at the same time. It comes with two-layer structure, the bottom layer and the upper layer for a large number of eggs boiling.
This device is equipped with good quality stainless steel heating plate that ensures quick heating and so allows faster cooking of the eggs. The best part is that it maintains the delicacy and nutrition in the eggs, so your eating becomes healthier only. The measuring cup included with the device adds a whole lot convenience to add the required amount of water for cooking of eggs. Beyond egg boiling, it is also used for heating milk, corn boiling, and steaming buns, etc.
Key Features
Electric egg boiler with double-layer design
Cooks 14 eggs in one batch
Stainless steel heating plate for faster cooking
Simple one-touch operation
Auto shut off function
Boil dry protection
Measuring cup included
1 Year Warranty
Pros
Excellent egg boiler with sturdy and robust construction
It boils eggs to perfection with no cracks
Easy to use and clean
Good for a large number of egg boiling at the same time
Very cute design
Compact and lightweight
Reasonably priced
Cons
The length of the cord is short
10. Wonderchef Egg Boiler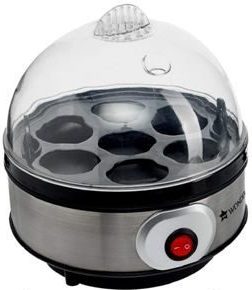 This egg boiler from Wonderchef is a must-have appliance in your kitchen to treat you and your family with the perfectly boiled eggs. Its latest and smart technology, as well as the fabulous design, makes it a good choice to use in the hostel, hotel rooms, or for home use.
This egg boiler offers you the option to boil the egg in different consistencies- hard, medium, and soft. Since it comes with a measuring cup marked with 3 water levels, so you choose the water level accordingly for your preferred consistency.
The device also comes with the aluminum heating plate with a non-stick coating that prevents the egg from sticking to the plate surface while boiling. And the best is its buzzer timing alarm function that beeps once the cooking gets finished. This egg cooker is also featured with automatic shut off with on/off indicator light that makes the device switch off automatically once the cooking gets done.
Package Includes: Egg boiler, Transparent lid, Measuring cup, Egg piercer, and Nonstick egg rack
Key Features
Boil 7 eggs in one go
Measuring cup included with 3 water level marks for soft, hard, and medium texture
Buzzer timing alarm function
Removable lid and steaming rack for easy cleaning
Aluminum heating plate with non-stick coating
Automatic switch off
Safety cut off
2 Years Warranty
Pros
Nice build quality
Appealing stylish design
Capacity is great enough to boil 7 eggs in one batch
Automatic shut off feature enhances the safety
Cons
Water leakage problem while boiling the eggs
How to Choose the Best Egg Boiler? (Buying Guide)
Advantages of having an Egg Boiler Machine
An egg boiler proves its necessity for those who live in a hostel with no kitchen access. Some people still doubt that Egg boiler is a not worthy appliance, but if you are interested in fitness or a hostler, then the best egg boiler machine can make your life easy and effortless. The benefits of an electric egg boiler machine are:
It saves your effort and time.
An egg boiler provides you control over boiling. You can boil eggs in three ways: Soft-boiled, Medium-boiled and hard-boiled.
Unlike traditional egg boiling methods, you can boil seven eggs at a time within just 5-7 minutes with an egg boiler.
It is a user-friendly device that anyone can easily operate.
Egg boilers are space-efficient too. You can place it in an insufficient space in your kitchen.
Some high-tech egg boil facilitates you more than just boiling eggs, such as cooking omelets as a fryer, scrambled eggs, poached eggs, and an egg steamer.
What to Look For Before Buying an Egg Boiler Machine?
1. Capacity
This is the most important factor before buying an egg cooker. So, go for the one that comes with enough capacity to boil many eggs in one go. Some come with two-layered option letting you cook so many eggs at the same time. Electric egg boilers can generally boil between six to ten eggs in one go, but there also comes the small egg cookers for one or two eggs only.
2. Construction Material
An egg boiler machine is either steel-bodied or plastic. The stainless steel egg boilers are more expensive but strong and long-lasting when compared with a plastic body. The egg boilers made of plastic materials are light in weight but not that durable. It could be wise if you choose an egg boiler that meets your requirement.
3. Cable Length
Many brands manufacture egg boilers with a limited range of wire's length. Inadequate cable length provides inconvenience to reach the power output from your kitchen platform. Make sure that the egg boiler machine you are going to buy come with an adequate cable length that will reach the power outlet easily. If not, then the connecting wire of the appliance requires an extension for the energy supply.
4. Size
If you have an undersized kitchen, you need an appliance that will consume less space. When you are going to purchase an egg boiler machine, go for that model that will take the least amount of space in your kitchen. Moreover, if you prefer a compact size egg boiler, you can easily store it when not used.
5. Multiple Cooking Features
Various models of egg boilers not only do boiling, or poaching, but also capable of making omlettes too. So it is ideal to invest in an egg boiler that comes with all these features also.
6. Portability
An egg boiler machine should be handy and convenient so that you can effortlessly shift it from one place to another. It is an important feature to add to your checklist, especially for those who live far away from home and have a busy life.
7. Automatic shut off
This is obviously a great feature to keep eggs from getting overcooked or scorched. Moreover, it saves your electricity bill too.
Most egg boilers have a reminder which stays you watchful towards the end of the cooking process. It requires manual effort to turn off the equipment. On the other hand, the egg boilers with automatic shut-off features are pretty good options if you have issues with your audible range. Once the timer ended, the boiler gets switched off automatically.
8. Non-stick Coating
Non-stick coating assures the eggs not get stuck to the base of the pan. No one wants to make extra effort to look over every second whether the eggs get scorched or stick to the pan.
9. Power Consumption
You should also check the power consumption of an egg cooker. The ideal power consumption of egg boiler is 200-300 W. Go for the one with light power consumption as higher power consuming models will raise your electricity bills.
10. Extra Convenience Features
Some models of egg boilers have the alarm beep feature to call you when cooking gets finished.
Most of the models of egg boilers also come with the feature of keeping the eggs warm for a long time.
Some come with the dishwasher-safe parts enhancing the hassle-free cleaning of the device.
11. Warranty
Warranty on any appliance provides you peace of mind for future repair costs, at least for the given warranty period. So, must check the manufacturer warranty to save further expenses on repairs.
How do Egg Boilers work?
As we have already discussed above, the egg boilers are the electrical appliance that can cook eggs by means of electricity. Some egg boilers can also poach the eggs and make omelette too. But for boiling, first, you need to fix the eggs (how much you want to cook) in different sections of the plate in an egg boiler. A measuring cup is also available with the egg boiler by which you can easily calculate the amount of water needed in the boiler. The amount of water depends upon the number of eggs you are going to cook and the desired level of hardness and softness you want in your boiled eggs.
Then the next step is to plug the device in a socket and switch it on. Once the water is completely evaporated, the cooking process gets finished. And it requires 5-6 minutes only. Some models of egg boilers come with a beep sound letting you know that cooking has been done.
But the most important thing you must keep in mind about the exact amount of water for cooking. If you want the softer eggs, then you must keep the lesser amount of water. In the same way, if you want the harder ones, the amount of water should be increased. It depends on you, which type of egg you want.
Cleaning and Maintenance of Electric Egg Boiler Machines
Cleaning and maintenance of any appliance are essential for better hygiene and ultimate performance. It should always be cleaned before and after use. Following are the steps you can go behind to clean-up your egg boiler:
First of all, you need to turn off the main power supply to clean an egg boiler. Unplug the device and let it cool down completely.
Then, put off the egg boiler and open the boiling unit by holding from the tip of the lid.
Draw out the egg tray and rinse it with hot water. You can use some cleaning liquids if necessary.
Clean the cover too with hot water.
Dry out each part of the boiler by wiping it with a clean cloth.
Now, clean the body of the egg boiler with a damp cloth. Wipe it carefully and make it spotless and clean like an unused appliance.
Things to Keep in Mind while Cleaning Egg Boiler Machine
Before cleaning your egg boiler machine, ensure that you turn off the device already. Please wait until it becomes cold completely.
Avoid touching the egg tray bare-handedly just after using the egg boiler. It will save you from scorching or any electric shock.
Avoid washing the main unit with water. Only wiping is allowed to save it from circuit damage. The machine will stop working if the central working unit gets in touch with water.
Check if there is any damage to the cable before plugging-in/out the device.
Safeguarding tips for using a brand new egg boiler
If you are a newbie to use an egg boiler machine, you should keep in mind some safety measures. It will save you from unnecessary accidents as well as any damage to your machine.
If you ordered an egg boiler machine to add a useful appliance in your kitchen, make sure you take out every wrapping before using it. Since it is treated with high temperature and electricity and its packaging comprises ample protective coverings. Make sure you remove it before use.
While using it for the first time, wash the egg tray and the cover thoroughly. It will keep your cooked eggs hygienic.
How to boil eggs in an egg boiler machine?
Boiling eggs in an egg boiler is a very simple process. First of all, you need to decide the number of eggs you want to boil at a time. Although it depends on the model to model, the basic model can carry up to 5-7 eggs. To boil eggs, all you need to do is:
Clean the eggs with normal tap water.
Pierce the bigger end of each egg with a needle. Pricking makes it boil perfectly. Then, place the entire eggs in the tray.
Add water accordingly (for soft, medium, or hard-boiled), and place the cover.
Plug-in the egg boiler into the main power supply and switch it on. If the boiler has a short cable length, use an extension board.
You are all set to boil your eggs. Turn on the switch and wait for 8-12 minutes, as per your choice. Hold it for few more seconds for hard-boiled eggs.
As soon as the timer ends, switch off the device. However, most of the models turn off automatically.
Now, open the lid carefully and let the eggs cool down completely. If you are in a hurry, place the hot eggs under cold running water.
It's all done now!! Peel the eggs and cut them into desired shapes. Add seasoning as per your taste and serve them hot!!
Egg Boilers Frequently Asked Questions (FAQs)
1. How much time an egg boiler requires to boil eggs?

The cooking time somehow depends on your choice. You can boil eggs in three- different ways: soft-boiled, medium-boiled, and hard-boiled. For soft-boiled eggs, steam it for 5-6 minutes. It requires 7-8 minutes for a medium-boiled and approx 12 minutes for a hard-boiled one.

2. Is the egg boiler machine safe?

Any electrical appliance is safe if you follow the necessary safety measures. Although it is completely safe to use appliances, you need few precautions while boiling eggs in a boiler. Make sure you fill enough water while boiling eggs to avoid dry operation because insufficient water will lead to electric shocks.

3. Can you microwave an egg?

With an egg boiler machine, you need not worry about cooking eggs in different forms, especially if you use them regularly. Above all, it is specially meant for that. However, if talking about microwave cooking, it is safe to boil eggs in the microwave. Other than that, you can fry, scramble, or poach your eggs in the microwave that tastes even better than egg boiler or stovetop but requires some safety measures. All you need to do is boil the eggs after piercing the shell's bottom if you need hard-boiled eggs.

4. How to avoid exploding eggs while cooking in the microwave?

First of all, lightly prick the egg base with a thumbtack or pin to prevent it from exploding. After that, boil the eggs with plentiful water for at least 3 minutes.

5. Is an egg boiler value for money?

To sum up, Yes!! It is value for money. No matter you want soft-boiled, hard-boiled, or medium-boiled, make it all with an egg boiler perfectly, only if you add sufficient water and look after the cooking time. Moreover, you can make perfect fluffy and light omelets, poached eggs in an egg boiler in a matter of minutes.

6. How much water does it require to cook eggs in an egg boiler?

The correct water level is essential for perfect boiled eggs. Use a measuring cup to pour water into the egg cooker. Use approx 30 ml of water for soft-cooked eggs and around three tablespoons or 45 ml of water for poached eggs or medium-boiled eggs.

7. Which end to prick to cook an egg perfectly in an egg cooker?

Pricking an end of the egg is very vital to avoid exploding eggs while cooking. But this may not be very clear for newcomers to which end to pierce. The answer is straightforward. The air cell is positioned at the larger end of an egg, so prick the large end with a pin or thumbtack.

8. Is egg cooker healthy?

Yes. You can say it!!! In fact, lower heat cooking leads to less cholesterol oxidation that ultimately maintains the egg nutrients. And so, the soft-boiled and poached eggs are a much healthier choice to eat. Moreover, short-time and low-heat cooking methods don't contain any unnecessary calories. So, it is beneficial to eat egg cooker recipes.
Conclusion
Well, that's all for the best egg boilers and their full reviews with the ultimate buying guide. So get ready to make the well-boiled eggs as well as poached eggs, or omelette, with a whole lot ease by picking one of the best egg boilers we have mentioned in the blog. I am sure the details provided will help you out in picking the best one only.
Read Related Reviews
Buy Best Egg Cooker Online
Simxen Egg Boiler Electric Automatic Off 7 Eg...
50%
SOFLIN Egg Boiler Electric Automatic Off 7 Eg...
63%
KENT 16069 Super Egg Boiler 400 Watts | Boils...
20%
SKYTONE Multi Function Electric 2 Layer Egg B...
50%
ATHRZ 2 In 1 Multifunctional Steaming Device ...
57%
Wipro Vesta 360 Watts 4 in 1 Multicooker Egg ...
43%
Glen 3 in 1 Electric Multi Cooker - Steam, Co...
38%
Aoxito Electric Plastic Automatic Off Mini 7 ...
64%