Most of the people have the high cravings for oily and deep fried foodstuffs but treating yourself with these greasy meals frequently may lead to severe health issues. It doesn't mean that you should skip out with these temptations, as in this technological era, the smart alternatives are available to us. Have you guessed what I am talking about? Yes, of course, I am talking about the most healthy alternative, The Air Fryers, that you all must have in your kitchen in the era of healthy living.
If you think that air fryers will not imitate exactly like the taste and texture of typically fried food items, here you are absolutely wrong. The air fryers offer the same taste and texture with crispy and golden outside and moist inside, by using a few drops of oil only. It means air fryers fry your favorite food items like french fries, potato chips, samosas, nuggets, etc. without drenching them in oil. This is all the new way to get your classic fried foods without having extra grease and fat, but still, quench you with the same satisfaction.
We recommend you to read our Buying Guide Section to know better how to choose the Best Air Fryer.
10 Best Air Fryers in India
Best Air Fryers Reviews
With the plenty of options for the air fryers available in the market, it is quite confusing which one to buy. So, for making your buying decision easier, we have reviewed here the best air fryers that you can buy for all your oil-free frying needs. Have a look to pick the best one.
1. Philips Viva Collection HD9220 Air Fryer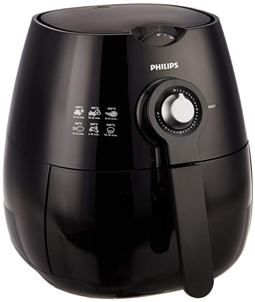 Get perfect texture and delicious results with this model of Philips Viva Collection equipped with rapid air technology. It lets you cook your favorite fries with air with a little bit or even no oil. The best part is that this innovative appliance not only makes you to fry but also helps you to roast, grill, and bake your favorite food items in no time.
This smart air fryer also comes with the adjustable time and temperature control feature that you can adjust accordingly depending on the food you are going to prepare. Its 1400 high wattage power lets you cook very quick and fast.
Key Features
Capacity
Rapid Air Technology for healthier frying
Less Oil cooking
Fry, Grill, Roast and bake features
Fast and easy cooking
Adjustable time and temperature control
1400 W High-Power performance for fast cooking results
Easy to clean
Pros
Nice attractive design
Super Easy to use and clean
Very healthy and alternative cooking option who love fried treats
Good for small batches of barbequed and tandoori food
Very good for frozen foods also
Compact
Cons
No downsides for the product noted yet
2. Havells Prolife Digi Air Fryer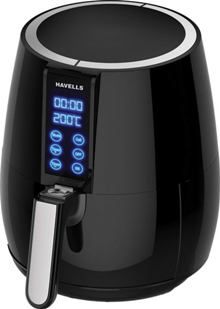 This air fryer from Havells is absolutely the smart choice for every health-conscious foodie in their kitchen. It comes with a rapid air technology letting you fry, grill, roast, and reheat the food with less or no oil and the best part is that the taste is perfect.
Another best feature is its capacity that is 4L which is pretty big enough enough to serve the medium-sized family very well. Also, its air frying basket comes with a separator that lets you cook multiple items at the same time and thus saves a lot of your time also.
Key Features
4 L Pan Capacity with a separator
Rapid Air Technology
Fry, grill, roast, and bake
Innovative Air Filtration System
Integrated Timer with Auto Shut-Off
Temperature Control
Pros
Extremely fast and easy cooking
Great for health conscious people as very less or no oil is used in cooking
Considerably larger capacity
Compact design
Saves a lot of calories and time also
Cons
3. Kenstar Aster-N Oxy Fryer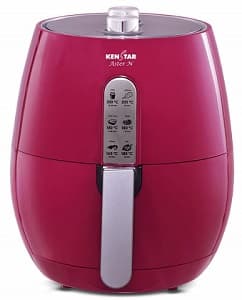 For all those who are health-conscious and love the fried snacks, this air fryer from Kenstar is another best choice. It gives a healthy twist to the fried foods by using only a little bit of oil. And thus not only satisfies your taste buds but also makes the food healthy too. You can use this air fryer for frying, roasting, grilling, and baking your favorite food items.
This air fryer comes with a removable food tray of capacity 3.5 L that is pretty enough to fry a large amount of foods in one go. It also comes with two LED indicators, one showing that the power is on, and the other one showing that cooking is in progress.
Key Features
3.5 L Capacity
2 LED Indicators
Timer and temperature control
Hidden Handle for easy handling
1.2 m Power cord
Air Outlet vent to ensure freshness in your kitchen
Pros
Good choice for healthier meals
Best for no oil or less oil cooking
Very easy to operate and clean
Capacity is great
Cons
Handle lock is not satisfactory
4. Inalsa Frylight Air Fryer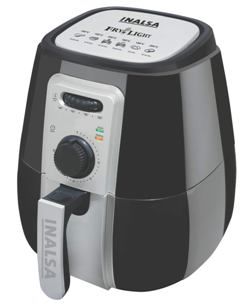 With the most sophisticated, classy, and stylish design, this Air Fryer from Inalsa is a great addition to your kitchen for all no-oil cooking. This model comes with a basket and a divider so you can cook two foods at the same time with ease. Two indicator lights are also there, one showing that the power is on, and the other one turns on when the preheat temperature is reached. The model also comes with the cool touch handle ensuring the safe and comfortable handling.
Key Features
Food Basket Capacity2.9 l
Cooking Pan Capacity 4.2 l
High-speed air circulation to cook food
Timer with auto shut-off facility
Temperature control
2 Indicator Lights
Warning alarm
Dishwasher safe parts
Pros
The dishes get cooked with very less oil
Taste it delivers to the food is also great
Cleaning is also very easy
The capacity of the basket is pretty good
Cons
5. Kent Air Fryer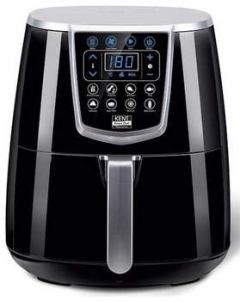 This smart device from the brand Kent is yet another smart choice to relish upon your favorite snacks without the excess oil. This air fryer provides you the option to fry, bake, grill, roast, and steam all with the same device. Just select the desired function, and this device can do all with ease. It is equipped with rapid hot air technology ensuring proper air circulation and maintaining the right temperature level to prepare food with perfection.
This Kent air fryer also comes with eight preset menus for the most easy operation to makes your favorite dishes without any hassle. And the best part is that you can get your favorite mouthwatering snacks with less oil that are crispy outside and tender inside. Moreover, its cooking basket has a large capacity to prepare more food in short interval.
Key Features
Rapid Hot Air Technology
Fry, bake, grill, roast, and steam
8 preset menu
Smart LED touch panel
Less oil usage
Faster and uniform heating
Large Capacity
Easy to clean
Pros
Smart design with easy functionality
Highly durable
Healthy as it uses less oil to prepare the meal
Hygienic
Auto cook menu makes you program your meal without any hassle
Cons
6. Glen Air Fryer 3045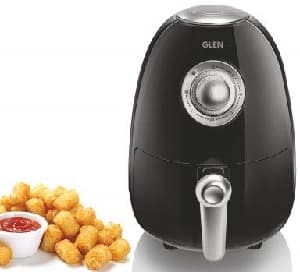 With such an amazing price range, this is another great option to prepare your favorite snacks without using oil. This air fryer from Glen comes with a specially designed high-speed fan that results in faster cooking. Means its rapid air circulate system fry food faster and save energy. The device also comes with variable temperature control for different cooking modes that let you make your favorite dishes more conveniently.
Its smart control panel with specially designed control knobs allow you to operate the device more conveniently. This air fryer also comes with the cool touch and shockproof body for easy handling, plus the convenient handle makes it more handy to use the device.
Key Features
Powerful air distribution technology
Cool touch and shockproof body
Variable temperature control for different cooking modes
Capacity 2 l
Power On Indicator
Stainless steel cooking chamber
Stain-proof control panel
Smart control knobs
Auto shut off feature
Pros

Nice design
Awesome build quality
Fast performance and quick preheating
Offers oil-free cooking
Easy to clean this air fryer

Cons
7. Hilton 3.5L Air Fryer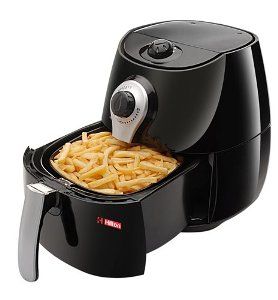 And the next is Hilton air fryer to fry, grill, and bake your favorite food with little or no oil. Its smart rapid air technology offers a smart way of healthy oil-less cooking even without compromising the taste. With the adjustable temperature control, you can easily set the desired temperature for what you are cooking accordingly. Even more, its unique design allows the food to get prepared in no time. Plus, the smart auto shut off feature, auto smart lock, and special child lock ensures the extra safety while using it.
Key Features
Rapid air technology
Fry, grill, bake, and roast
Capacity 3.5 l
Variable temperature control
Indicator light
30-minute timer
Air filter
Auto smart lock
Special Child lock
Pros
Nice design and build quality
Very easy to make different recipes with less oil in this air fryer
Offers good taste in each and every food
Cleaning and handling is very easy
3.5-litre capacity is good enough
Cons
8. Glen 3044 Stainless Steel Air Fryer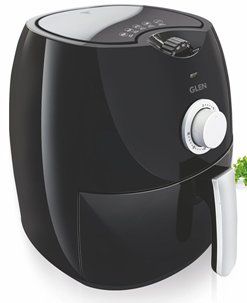 Now go healthy and oil free with this air fryer from Glen. Not only you can fry with this air fryer, but also, roast, grill, toast and reheat the food with various temperature settings accordingly. With the optimal airflow feature, this air fryer cooks your food evenly. And thanks to its decent capacity that lets you cook a good amount of food in one go.
Key Features
Capacity 2.8 l
Nonstick cooking bowl
Fry, grill, roast, and bake
Oil-less cooking
Vapor steam for crispier frying
Rapid heating
Big stainless steel coil
Pros
Prepares oil-less food in no time
Build quality is very nice
Easy to use and clean
Cost-efficient product with up to the mark quality
Cons
No separate frying basket is there
9. Prestige PAF 4.0 Air Fryer
For your mouth-watering and delicious snacks delights cooked in little oil, this one air fryer from Prestige is the best choice. So, enjoy your favorite food items in a healthy way using this air fryer. It comes with the capacity of 2.2 l that is pretty enough to serve the small to medium-sized family. The high 1400 W power of it makes your food in a very quick and easy way.
Key Features
Capacity 2.2 l
Fry, grill, bake, roast, and reheat food
Nonstick cooking bowl
LCD display
Timer and temperature control
Pros
Stylish, classy look
Best for less or zero oil cooking
Great in terms of performance
Silent operation and makes food real crisp
Easy to use and clean
Cons
Pan size is very small
The length of the cord is short
Handling of the crumb basket is somehow difficult
10. Oster Halo CKSTHF2 NXG Air Fryer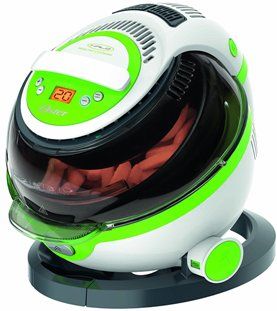 Get a healthier twist of fried foods with this air fryer from Oster. The Oster Halo is one of the great alternatives towards the deep-fried foods and makes the food even more tasty and healthy. With this halo air fryer, not only you can fry the food items in less oil, but also bake, roast, grill, and reheat your favorite food items. It comes with the halogen heating technology and automatic thermostat feature to maintain an even temperature. Also, its unique tilt function and the rotating bowl fry your food very evenly with the crunchy outside and moist inside.
Key Features
2.5 l Capacity
Halogen heating technology
3 cooking mode
Dishwasher safe parts
Illuminated heating chamber for content visibility
LCD display
Automatic thermostat to maintain an even temperature
Auto Shut off
Contoured sealed bowl for soundless cooking
Lid release function
Removable lid for easy cleaning
Pros
Nice build quality and design
Absolutely no oil required for frying
Best for frozen items
The two heat sources is a nice option
Quick and convenient to use
Cons
No temperature control option is there
How to Choose the Best Air Fryer? (Buying Guide)
How do Air Fryers Work?
An air fryer comes together with different cooking methods in one simple appliance that you can easily use to get your favorite fried foods with a little bit oil used. The appliance actually works on the convection mechanism, and so it is also known as mini-ovens. It has an electric coil that provides radiant heating to the food and a fan positioned above the coil circulates electric heat around the food that is referred to as the convection heating. When you apply a thin layer of oil in the tray where you have placed your food to get fried, the convection mechanism converts it into the mist that coats the food while circulating. And the hot air flow makes your food dry and crispy from outside as well as moist, soft and fluffy from inside.
You can easily understand the working principle of an air fryer by the following video.
Pros and Cons of Air Fryers
Pros:
Low-Fat Meals
Easy to clean without any mess
Produces healthier foods without oil at all
Cooks food very faster
Offers well cooked and tasty foods
Air Fryers are also very versatile options. These are not only used for frying but also for baking, roasting, grilling, and stir-frying
These units don't take too much space on your kitchen countertops and can be stored very easily
Cons:
Air Fryers are electricity powered only and consumes more power
The food turns out to be dry very quickly in the air fryers, so extra caution must be taken while frying them
The taste it produces is not satisfying for everyone
It is not best for preparing food for very large group
Features to consider before buying an Air Fryer
Before buying an air fryer for your kitchen to make your favorite no oil recipes, you must consider the below mentioned points:
1. Cooking Capacity
This is one of the most important factors before purchasing an air fryer. As the air fryers come in different sizes with the ranging capacity from 1-4 liters and above, you can choose accordingly. In my consideration, the air fryers with the capacity of more than 4 liters is an ideal choice for a medium sized family.
2. Power and Wattage
The next comes the power and wattage of an air fryer. Typically they come in the range of 800-2100 Watts of power. More wattage means the more quick cooking. So go for the one having high wattage power. But make sure that your kitchen power outlets must support that wattage power.
3. Size
Size is another important thing for consideration. Make sure to buy the one that is compact and easily fits your kitchen countertop without taking much space.
4. Temperature Control
Opt for the model having a temperature control feature. This feature lets you cook a variety of foods with a specific temperature setting. It is also important to go for the model that reaches high temperature for proper cooking of foods like tandoori chicken, chicken nuggets, etc.
5. Auto Functionality
Auto functionality refers to the automatic shut off feature in the air fryers. This one is an important feature in an air fryer that makes the appliance shut off automatically once the cooking gets completed and horns an alarm to notify you.
6. Food Separator
The best models of air fryers come with the food separators including diverse racks, trays, etc. to let you cook multiple foods at the same time. So, go for the one having this feature that also saves your time in cooking.
I am sure that you will now have a clear idea about the plus points and features of air fryers that serve a multitude of tasks in the kitchen. From making the zero oil versions of fried foods to baking and to steam vegetables, it can do everything without any mess.
Conclusion
So, this is all about the best air fryers in India.These models of air fryers will surely a must have in your kitchen to prepare your favorite even healthier delights. And I am sure the above buying guide and reviews of each model of air fryers definitely help you out in picking the best one. So, what are you waiting for? Pick your favorite one right now…
Read Related Reviews
Buy Best Air Fryers Online
Philips Daily Collection HD9218 Air Fryer, us...
9%
Havells Prolife Grande Air Fryer with Aero Cr...
41%
Hilton 3.5 Liters AIR FRYER, Black
73%
SToK 4 Liters 1500W Smart Rapid 3D Air Techno...
38%
Havells Air Oven Digi 1500 watt Combination o...
29%
Kenstar Aster Digi 1500-Watt Oxy Fryer (3.5 L...
32%
Inalsa Air Fryer Fry-Light-1400W with 4.2L Co...
34%
American Micronic- AMI-AF1-35CLDx- 3.5 Liters...
27%