Fried foods are the most delicious treats, but when it comes to your health most of the time, we skip out of them. But what if we get the same taste and texture in zero oil? Sounds good na. So, the blog is dedicated to all the fried food lovers where we have mentioned the best models of Philips Air Fryers for absolutely oil-free cooking. Now you can relish upon your favorite snacks in zero oil without worrying about the extra fat and cholesterol.
Why Choose Philips Air Fryers?
We all know that when it comes to quality and eminence, the brand Philips is unbeatable. With a lot of quality assured home appliances combining best-in-class technology as well as great aesthetic look, it perfectly complements your style. Being healthy and staying fit is now become easier with the latest models of Philips Air Fryers. So, Presenting the blog with the best innovative models of Philips Air Fryers that will not only keep your taste buds high but also keeps you healthy too.
Extremely best part of Philips Air Fryers
You can get your favorite fried foods in 75% less oil and fat
It is the healthiest way of cooking
Its rapid air technology lets you fry your food very quick and fast
The adjustable temperature control for perfect results every time
It can also do a multitude of tasks rather than frying like baking, grilling, toasting, and even reheating the foods
Best Philips Air Fryers Reviews
Philips comes with a great range of air fryers each having with their own magical capabilities of frying, roasting, grilling, baking, and even reheating. Equipped with the advanced air frying technology, Philips Air Fryers require a very little or no oil to fry your favorite food items in an effortless manner. Thus, leads you towards a healthier lifestyle. So, have a look on our top picks of Philips Air Fryers and their reviews to get the best one suiting your requirement.
1. Philips Airfryer HD9238/21
This is one of the best models of Philips Air Fryers having top-notch features. Featuring the innovative rapid air technology, it fries your food evenly with crunchy and crispy outside and moist inside. With the Quick Clean bottom and cover, cleaning is not a big deal with this air fryer. Not only you can fry, but also roast, grill, and bake your favorite food items in this air fryer.
Key Features
Patented rapid air technology for healthy cooking
Unique starfish design
Large cooking capacity 2.2 l
Digital screen for easy temperature and time control
Quick clean Bottom
Auto Shut off
Fry, grill, roast, and bake
Buyers Feedback
The Good
Amazing product for less oil cooking
Nice and sturdy built
Digital display for time and temperature control is a very nice feature
Easy to clean and maintain
The Bad
A bit higher on the price side
2. Philips Viva Collection HD9220/20 Air Fryer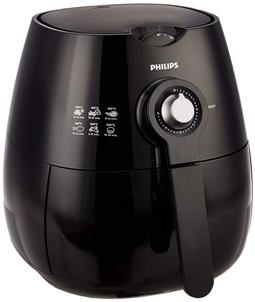 Cook healthy and live smarter with this model of Philips Air Fryer from Viva collection that comes with rapid air technology to do its magic in frying, grilling, roasting, and baking. Its unique design offers delicious and low-oil cooking results. It is also equipped with the feature of temperature and time control that lets you prepare well-cooked food in no time. Cleaning is also hassle-free and less tedious as it comes with the detachable, dishwasher-safe parts.
Key Features
Rapid air technology for healthier frying
Adjustable time and temperature control
Capacity 2.2 l
High power performance for fast cooking results
Fry, grill, roast, and bake
Easy to clean
Buyers Feedback
The Good
Awesome build quality and design
Very healthy and alternative cooking option
Great for less-oil cooking
Truly non-stick basket
Food prepared in it tastes good
Great in terms of performance
3. Philips HD9220/28 Viva Air Fryer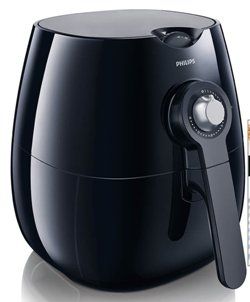 This is another best model of Philips Air Fryers in its viva collection with the best-in-class technology. With an appealing, compact, and glossy design, this air fryer is capable of cooking the healthier versions of fried foods. Its unique design combines the fast circulating superheated air and optimal heating profile that lets you to fry in a variety of foods in a fast and healthier way even without using unnecessary oil. This innovative model not only lets you fry but also makes you to grill, roast, and bake your favorite dishes.
Key Features
Rapid air technology for healthy frying
Manually adjustable time and temperature control
Unique and patented starfish design for low-fat cooking results
Easy to clean
Automatic shut off
Non-slip feet
Buyers Feedback
The Good
Classy design
Fastest and most even results in cooking your favorite snacks
Makes healthy meals both fast and delicious
Cleaning is a breeze
The Bad
There are some design flaws with this model
This air fryer is quite big, so some significant counter space is required
4. Philips Airfryer HD9240/90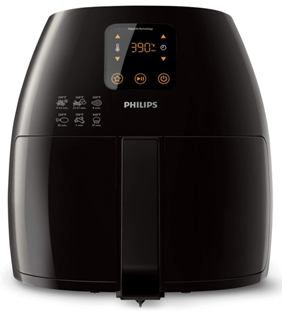 The simple and versatile cooking is now possible with this model of Philips Air Fryer. This innovative Philips Air Fryer comes with rapid air technology that is not only great for frying, but also roasting, grilling, and baking evenly with ease. Featuring the digital touchscreen interface, you can easily control the time and temperature of your cooking accordingly. It also comes with the smart preset button that automatically saves the settings of your favorite meals so that the next time, your meal is ready at the touch of a button.
Key Features
Patented rapid air technology
Large cooking capacity of 1.2 Kg
Unique starfish design for low-fat cooking
Quick clean bottom and lid for easy cleaning
Digital screen for easy control of time and temperature
Integrated power-on light
Auto shut off
Buyers Feedback
The Good
Great product for healthy and tasty delights
Food taste is very good
Cooking capacity is also pretty good
Digital touch screen seems to be very nice and easy to control time and temperature
A one-stop solution for low-fat meals
Cleaning is super easy
5. Philips Daily Collection HD9216 Air Fryer
This is another great addition to the models of best Philips Air fryers. With its rapid air frying technology, it delivers nonstop heat from over the food letting you get the consistently crispy and fried delights. With this air frying unit, you can fry your favorite snacks in a healthier way with up to 75% less fat. Its unique design offers the fastest and the ideal results not only in frying, but also baking, grilling, and roasting.
Key Features
Rapid air technology
Unique design for delicious and low-fat cooking results
Timer with auto shut off
Temperature control
Removable basket
Auto shut-off
Easy to clean
Buyers Feedback
The Good
Well designed product
Compact and lightweight, so storage is very easy
The cord tucks into the compartment for easy storage
Super easy cleaning
Great for low-oil or even no-oil cooking
Final Words
This is all about the best and latest models of Philips Air Fryers with the most innovative technology to fry your food in zero oil. Now no need to change your food habits as these air fryers makes your snacks tastier, healthier, and absolutely fat-free. So, get ready to adopt a healthy lifestyle by picking one of the above mentioned Philips Air Fryers according to your preference and budget.