Summer is in full swing so are you ready to jump on your favorite chilled and icy drinks to soothe your throat. What about a Cold Brew Coffee? I am sure that everyone loves an iced cold brew during the summers. And that's where the Best Cold Brew Coffee Makers come to play.
The chocolaty and smooth flavor of cold brew coffee, its versatility as an ingredient in coffee mocktails and cocktails as well as the "low acid" has made it a famous alternative to traditional coffee beverages. But don't get confused with this type of coffee.
Now you are thinking what exactly the cold brew coffee is? If you think that it is simply an iced coffee, you may be absolutely wrong. Actually, the cold brewing is a process of brewing the coffee at a low temperature ranging from room temperature or colder. It simply uses a different steeping technique that has 3 impacts:
No more bitter coffee
The process also brings down the acidity by almost 70%
Enhances the chocolaty and fruity notes
5 Best Cold Brew Coffee Makers in India
There are countless makers and products on the market today that attempt to capitalize on the trend. So, we have searched through what is available to find the very best in several categories, from high-end to portable to the simply cheap. Have a quick look at our best picks of cold brew coffee makers based on the ease of use, features, and other buying considerations. And then go through the full review to pick your favorite one.
Best Cold Brew Coffee Makers – Reviews
1. KitchenAid KCM4212SX Cold Brew Coffee Maker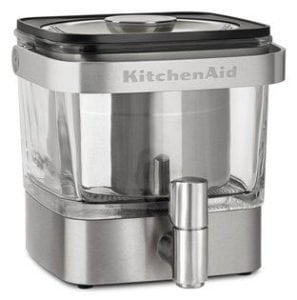 This machine comes on the top of our list of best cold brew coffee makers. Get the perfect brew with this model of KitchenAid cold brew coffee maker. It comes with a beautiful and streamlined design with glass and stainless steel components to preserve taste. You can make up to 14 servings in one go with this cold brew coffee maker.
Ideally, fit for any refrigerator and kitchen counter, this device lets you brew the beverage of your choice. It also comes with a fill level indicator to take the guesswork out of brewing process and gives the perfect brewing experience.
Key Features
Beautiful and streamlined design with glass and stainless steel components
Built-in stainless steel tap to dispense your cold brew
Ideal fit for any refrigerator or kitchen counter
Large capacity
Reusable stainless steel steeper
Pros
Beautiful and elegant design
Easy to use
Cold brew on tap
Great quality product
Perfect iced coffee, not bitter
Top notch functionality
Perfect size to fit in any fridge
Cons
No downsides for the product
2. Toddy T2N Cold Brew Coffee Maker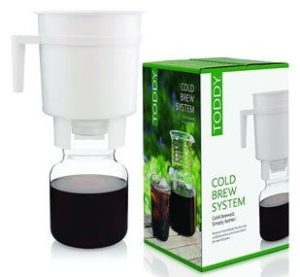 If you are looking for an easy to use as well as straightforward best cold brew coffee maker, this model from Toddy is the great one for you. Equipped with the plastic brewer, the glass carafe, the cloth filter and the rubber stopper, this brewer makes refreshing and smooth coffee. This machine can brew up to 12oz of coffee.
The very best is its filter that strains all the unwanted compounds like bitter acids and oils found in the ground coffee, and thus you can only get the smooth and fresh brewed coffee.
Key Features
Brew coffee with 67% less acid
Equipped with patented cold brew system that uses regular coffee beans to create a super smooth coffee
You can also make tea with it
No electricity is required
Pros
Great product to make great iced coffee
An inexpensive product
Easy to clean up the system
Its spongy filter keeps all the grounds out, even the small ones
Cons
Somehow messy, so needs some design improvements that would make the device less frustrating to use
3. InstaCuppa Cold Brew Coffee Iced Tea Maker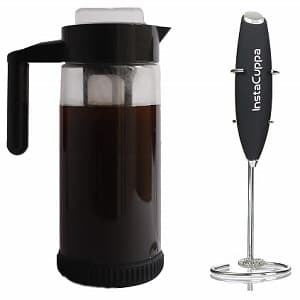 This extremely budget-friendly device lets you make the quality coffee without any mess or hassle. Cold brewing process in this coffee maker is tremendously very simple. It offers only the naturally delicious coffee flavors, leaving behind the fatty acids as well as bitter oil. And thus, resulting in a perfectly balanced and smooth texture of concentrated coffee. Once you are done with the brewing process, you can keep your coffee fresh for up to 2 weeks in the InstaCuppa airtight cold brew coffee maker.
Key Features
New and improved filter with a fine mesh
Makes 10 cups of coffee at a time
Non-slip silicone handle
Durable pitcher body
It's airtight as well as leakproof lid locks in freshness and flavor
Fits in most refrigerator doors
Dishwasher safe
BPA free
Pros
Makes great cold brew coffee at a budget-friendly price
Extremely easy to use and clean
Sturdy product
Cons
Not up to the mark in terms of durability
4. Original Grind Coffee Co. Cold Brew Coffee Maker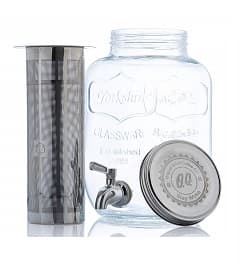 This is another best cold brew coffee maker from the Original Grind Coffee Co. that gives a perfect cup of cold brewed coffee. The best thing that catches your eye is its superb design. Made up of borosilicate glass, it looks like extremely sturdy and classy. Brewing coffee is also very simple with this cold brew coffee maker. The device offers you an extremely rich and smooth textured iced coffee in no time even without any mess or hassle.
Key Features
Easy pour airtight lid
Stainless Steel Spigot Tap
Glass Pitcher Brewing System
Stainless steel mesh filter
The large capacity of 1 gallon
Looks like glass but shatterproof
Pros
Nice and classy look
Fantastic device to make a perfect cup of cold brew coffee
Very easy to use
Outstanding performance
Worth value for the money
Cons
5. Bodum K11683-01 Bean Cold Brew Coffee Maker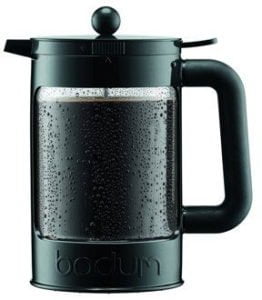 This cold brew coffee maker from Bodum brewed the same way as in the usual French Press. And this machine has made the best way to get your smooth and delicious iced coffee with a French Press. Just put the ground coffee in the jug as usual and add cold water to it. Then put the jug in the refrigerator overnight. In the morning just press down the plunger-Wow! The most smooth tasting ice coffee is now ready.
Here, the bean comes with two covers- one for the fridge overnight and the next with a plunger to push down the coffee grounds. So get ready for a perfectly smooth blend of iced coffee with this cold brew coffee maker.
Key Features
Innovative locking lid system
Comes with the two lids one with the plunger and one for the fridge overnight
No paper filters required means more flavor without any waste
Dishwasher safe
BPA free plastic
Pros
Great way to do cold brew
Easy to use and clean
Worth for the price
Works great
Cons
Why is Cold Brew Coffee favorite of everyone?
Easy to make: Cold brewers are relatively easy to prepare and set up. Simply add cool water and coarse-ground coffee and let them sit together in a cool place or refrigerator for a long time. And let the magic happen.
Brings the unique flavor of beans: Making a batch of cold brew brings out the unique flavors of the beans. You'll really start to notice those hints of chocolate / floral / citrus etc.
Numerous recipes to make: Once you have made the cold brew concentrate, now you have a lot of option what to do next. You can make different delighting recipes with that. Add sugar and cream to that and your morning drink is ready. Add soda water for a summer spritzer. And the same way you can discover a lot more recipes.
Low Acidity: Since it undergoes the milder brewing process, the cold drip has up to 70% less acidity than your regular brewed coffee. And so it is best for the people having sensitive stomachs or heartburn.
Long Shelf Life: The cold brew can be refrigerated between 7-14 days after it is brewed. For the people with hectic schedules, having cold brew concentrate to easily and quickly pour into their morning coffee cup can really help them get a great start of the day.
Conclusion
That is all about the best cold brew coffee makers in India. Since cold brewing process takes the acidic bite out of the coffee, it gives you a delicious and smooth cup of iced coffee. Get ready to impress yourself and even your guests with an awesome and super rich coffee by picking one of our top-listed cold brew coffee makers. And don't forget to share your thoughts and comments if you feel anything is missing.
Read Related Reviews
Buy the Best Cold Brew Coffee Makers Online
HARIO Mizudashi Cold Brew Coffee Pot, 1000 ml...
25%
HARIO Glass Mizudashi Cold Brew Coffee Pot, B...
32%
GrowlerWerks uKeg Nitro Cold Brew Coffee Make...
NISPIRA Luxury Ice Cold Brew Dripper Coffee M...
Takeya Patented Deluxe Cold Brew Iced Coffee ...
69%
Takeya Patented Deluxe Cold Brew Coffee Maker...
NISPIRA Luxury Ice Cold Brew Dripper Coffee M...
Bayar's 10-Ounce Dripo Cold-Brew Coffee Maker
17%