The most authentic flavor of grilled food is now getting very easy with the barbecue electric grills. Easy to cook without any smoke or flames, the electric grills are now becoming very popular for both indoor and outdoor grilling. No more smoke of charcoal and even no more flare-ups, cooking is just a press away of the button. You can comfortably grill your favorite steaks, chicken, chicken breast, veggies, and other mouthwatering delights on these best electric grills for barbecuing. So get ready to enjoy the birthday parties, indoor cookouts, and family barbecues by investing in such a wonderful appliance.
To get in-depth information on Electric Grills, please head to our Buying Guide Section.
10 Best Electric Grills (Tandoors) in India
Best Electric Grills (Tandoors) – Reviews
Get ready to pick your favorite electric grill we have reviewed here. All these models are durable, affordable, and with best qualities and amenities, even offering you the best taste and are healthy too.
1. Wellberg Electric Tandoor Big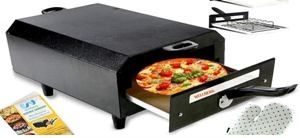 This stylish and feature packed electric grill from the most reputed brand Wellberg is one of the best buy for those who love barbecue foods. Now you can easily prepare the delicious and finger-licking grilled dishes without spending much more amount as you spend in a restaurant or cafes. This one electric grill is best for both indoor and outdoor grilling offering you the comfortable and easy grilling experience whenever you want. Its super light-weight makes the product to carry with you anywhere easily.
When it comes to the design part, this electric grill is made up of aluminum and toughened front glass windows, ensuring the product is shockproof and durable. Moreover, it comes with the stainless steel heating element that is rust-proof, and ideal to use continuously for long hours. It comes with a large cooking surface that lets you prepare a good amount of food to serve a large number of people in one go.
This electric grill enriches your food with rich tandoori flavors and great texture in the healthiest way, as you can prepare your food with only a little bit of oil. The non-stick cooking surface makes your food not to get stick on the cooking surface and offers only the proper cooking. This electric grill is also featured with defrosting of frozen foods and reheating of the fast foods without overcooking. So get ready to enjoy a hassle-free cooking experience with this amazing electric grill.
Package Includes: 1 grill, 1 magic cloth, 4 rubber legs, 4 skewers, 1 glove, 1 pizza cutter, 1 non-stick sheet for the heating element and 1 recipe book
Key Features
Compact and lightweight
Shockproof body
Fitted with extra safe stainless steel heating element
Aluminum tray
High heat capacity
Great for grilling, roasting, baking, and toasting
Oil-free cooking
Warm and reheat food
Pros
Nice design and build quality
Its compact size makes it ideal for both indoor and outdoor cooking
Easy to use
Cleaning is super easy
Affordable price
Offers healthy and rich flavored foods
Cons
Lacks auto shut off feature
It should have a more long connecting wire
2. Wellberg Electric & Charcoal Barbeque Grill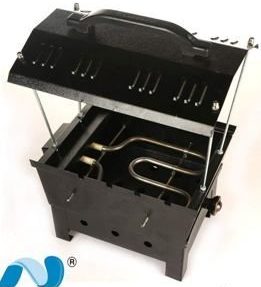 Here comes the second best electric grill from the same brand Wellberg. This 2-in-1 barbeque grill can work both as an electric grill and the charcoal grill. And it is ideal to be used in hotels, offices, home, and camping, etc. Thus, it is an ideal purchase suitable for both indoor and outdoor grilling needs.
Now, no need to rush on the restaurants for your mouth-watering grilled delights when you have this electric grill. Relish upon your favorite grilled food items including paneer tikka, tandoori chicken, aloo tikka, mushroom tikka, seekh kabab, and a lot more, from the comfort of home. Featuring a sophisticated and stylish design, the device offers you to cook by means of charcoal as well as electricity both. For a real smoky flavor, you can use this barbecue grill as a charcoal grill. And to add more convenience to your cooking style, you can use this grill as an electric grill.
This electric grill comes with the metal body and tray that is rust-proof and durable. For more easy handling, the device also comes with chromium-plated grill and cool-touch handles. So, enjoy hassle-free cooking and dive into the healthiest and tastiest food with this multi-purpose barbecue grill.
Package Includes: 1 Main Unit of Barbecue,4 Skewers,1 Tong
Key Features
2 in 1 Charcoal Grill and Electric Grill
Healthy cooking with minimum oil requirement
Compact and stylish
Serves for both indoor and outdoor cooking
Metal body and tray
Chromium plated grill
Cool touch handles
Detachable parts for easy cleaning
Portable and lightweight construction
Grill, Roast, and Tandoor
Pros
Nice and sturdy construction
Cooks very neatly and evenly
Offers total oil-free cooking
Assembly is very easy
Cons
It does not have a power knob for controlling heat
Size is very small, so good for small servings only
3. Glen Electric Tandoor 5014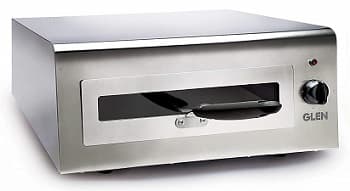 This smart electric grill is worth your consideration if you are looking for quality, versatility, and performance- all in one. It can be used both as tandoor as well as a grill. This electric grill lets you cook to the perfection while maintaining the flavors and texture at the same time. The best is its big size that lets you cook a variety of food for large servings in one go. Its elegant, stylish design is all set to compliment your modern kitchen decor.
It comes with a matte stainless steel exterior body that you can clean very easily. Just wipe it with a damp cloth and done. The interiors can also be cleaned the same way. This electric tandoor is featured with stainless steel heating element that is blast-proof, corrosion-proof, and you can simply use it for long hours.
What is especially best about this electric grill cum tandoor is its 3 mode heat controller. This feature offers you the full control over cooking and the cooking gets done very evenly and perfectly. Also, it is featured with timer control. Just set the desired time for the food you want to cook and forget. Once the cooking gets finish, the device reminds you by beeping that cooking is over. Baking, grilling, roasting, all you can do with this smart electric grill.
Key Features
Stainless steel body
Stainless steel heating element
4 Mode heat controller
Timer function
Great for baking, roasting, and grilling
See through window
Pros
Nice design with sturdy construction
Very useful for a variety of kitchen dishes like Tikkas, pizzas, toasts, Bati and even rotis and tandoori paranthas
Heats well and perform its job very efficiently
Great product in this price range
Cons
The whole body gets hot while cooking
4. Black & Decker LGM70 Electric Grill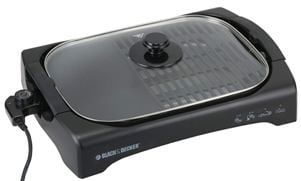 The next best is Black & Decker LGM70 Electric Grill that lets you prepare healthy and delicious grilled items whenever you want. This electric grill can be used as both indoor grill and outdoor grill and thus a great choice for partying outside, camping, tailgating, on the beach, and even inside the home. It comes with a non-stick grilling plate with the large cooking surface that is pretty good to cook multiple items in one go. The grill comes with a glass lid that lets you monitor your food while cooking.
The special heating elements fitted inside the grill offers the fast and efficient cooking of the food without overcooking or burning it. This electric grill comes with a removable drip tray that collects extra oil from the food. And so, it is an ideal choice for people who are health conscious and love oil-free food.
The device also has various temperature control option to cook different types of food at different temperature level. And thus enabling you to cook perfectly each and every food item. The grill plate is detachable, and the drip tray is removable that offers ease in cleaning. Moreover, the accompanying spatula helps you out in cleaning the greasy grill surface with more ease.
Package Includes: 1 Grill Machine, Spatula and Glass lid
Key Features
Non-stick coated detachable grill plate
Large cooking surface
Multiple temperature control
Removable drip tray collects extra oil/fat
Glass Lid
Pros
Great in terms of quality and performance
Portable and handy
Convenient to cook with this grill
Cleaning is very easy
Performs even cooking of food whether it is roasting or grilling
Cons
5. Weber Q 1400 Electric Grill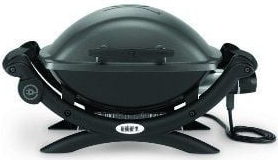 Weber is one of the best brands when it comes to barbecue grills whether it is charcoal, gas, or even the electric grills. So, this model is the electric one with a lot more awesome features for a great barbecuing experience. Cooking is as simple and easy like you cook on the gas stove. With 1560 W of heating element, the device never fails to offer only the searing steaks, hamburgers, and your favorite grilled meats and vegetables. The device comes with 189 sq in of cooking space that is great to cook for large servings at a time.
The design is very simple and elegant. Even featuring a compact and portable construction, it can be better used for both indoor and outdoor grilling as well. Its frame is made up of glass reinforced nylon. And the lid and the body of the grill are made up of cast aluminum providing the device durable for long years. The power cord attached with it is 6-foot grounded that can easily reach a handy power outlet. An optional cart is also there that lets you convert the device from a tabletop grill to a free-standing grill that you can use accordingly.
Grilling is so easy with this electric grill as it also comes with infinite heat control settings on one easy-to-dial knob. So you can turn up the heat to sear your steaks and turn it down to cook delicate food items like fish, paneer, etc. There also comes a removable catch pan that collects the extra grease. It is then easy to clean once you are done with your cooking.
Package Includes: 1 Main Unit Electric Grill
Key Features
Sturdy Glass-reinforced nylon frame
Cast aluminum lid and body
Porcelain-enameled cast-iron cooking grates
Infinite heat control settings
Side handles for easy carrying
Lid and cook box designed for even cooking
High heat capacity
Cooking area 189 sq inch
Heating element 1560 W
Electrical cord 6 foot
Pros
Stylish and strong construction
Simple plug and play operation makes the device easy to use
Quickly heats up
Great performance
Cons
6. Wonderchef Electric Tandoor Barbeque Grill
Pamper yourself in a delightful palate of tandoori, grilled, and roasted food with this Barbecue electric grill from the brand Wonderchef. Hosting parties for your families and friends have now been easier with this electric grill that works really magic for the delightful grilling. This grill is powered by electricity, so no more messy at all like the gas grills and charcoal grills.
This barbecue grill offers an easy way of cooking, so you can now show your chef skills by cooking a wide range of barbecue foods very easily and simply. Featuring the windshield support and slide handles, the device makes the cooking more simpler.
This device is great for both indoor and outdoor cooking, whether you have organized a pool party, or party in your garden, terrace, or even in your own living room. It comes with an operating indicator light that makes the device more handy and easy to use. Also, there comes the grill rack at the bottom to stack raw food. And the best part is that you can raise this cooking rack to keep the food warm, once the cooking is finished.
Key Features
Electric barbecue grill
Metal body
Operation Indicator light
Comes with stand and grill rack
Safety micro switch
Windshield support
Side handles
Water base keeps the barbecue cool and safe to touch
Pros
Stylish design with stand
Minimum assembly and requires less maintenance
Easy to clean
Perfect for roasting, toasting, and grilling
Cons
The power cord is very short
7. American Micronic AMI BBQ 150Dx Electric Grill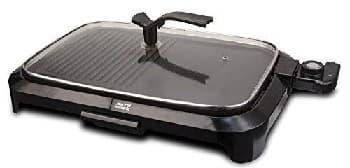 Explore your cooking skills with a plethora of smart and convenient cooking styles, with this amazing electric grill from American Micronic. This electric grill is one of the smartest and safest cooking alternatives for all your barbecued food items. The sleek and stylish tabletop design is great to use this grill for indoor cooking. However, being compact, this is also an absolute choice for outdoor grilling as well.
It is easy to grill and roast your favorite food items like mushroom, paneer, potatoes, chicken, etc. on this electric barbeque grill. As it comes with the adjustable cooking temperature, so you can easily set the desired temperature to cook different kinds of food accordingly. And thus, it enhances only the quick, efficient, and proper cooking.
The non-stick grilling plate is so convenient to clean. Even the device also comes with a pull out oil box that captures all the dripping oil from the snacks. Hence, it offers you only the rich and healthy food. A transy glass lid is also there that lets you see the food while the cooking process.
Package Includes: Griller with User manual
Key Features
Sleek Design
Non-stick grill plate
Long lasting toughened glass lid
Pull out oil box
Adjustable temperature control
Grilling, roasting, and toasting
Pros
Sleek, stylish design
Nice build quality
Easy to port and grill
Cleaning is very easy
Cons
Difficult to fit things inside with lid and without lid there is a fair chance of getting uncooked meat at the end
8. Skyline VTL-4545 Barbeque Grill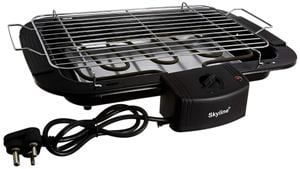 Style, performance, and quality all in one that defines this electric barbecue grill from Skyline. Its sleek and portable design makes it a good choice for both indoor and outdoor grilling. Also, the open grill design gives this electric grill an authentic look. The device heats up very quickly and offers even cooking to all the food you are preparing on it. Thus, delivers the rich taste and flavor that everyone loves. When it comes to the cooking area, it is great enough to serve 2-4 people at a time.
The best part of this electric grill is its adjustable grill level that you can adjust accordingly on the basis of your convenience. Even all the parts are detachable, that makes cleaning of them really a breeze. So, get ready for quick, smart, and easy cooking of all your favorite grilled delights and enjoy them with your friends and family.
Key Features
Cast aluminum body
Stainless steel lid
On/Off operating indicator
Adjustable grill level
Removable parts for easy cleaning
Adjustable temperature control
Oil Tray
Comfortable handle
Pros
Nice and stylish design
Great in terms of performance and quality
Fast and efficient cooking
Cleaning of the device is super easy
Hassle free cooking with just plug and on operation
Requires less maintenance
Cons
Not ideal for large servings
9. Inditradition Electric Barbecue Grill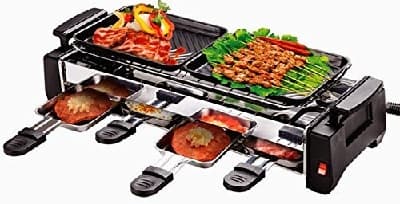 And the next is Inditradition barbecue grill packed with great features and outstanding performance. The elegant open grill design of this electric grill surely adds a great style to your modern kitchen decor. Enjoy the goodness of grilled and roasted food wherever you want, on the picnic, at camping, outdoor parties, and even at your home.
This electric grill combines grill and broiler in the same device that lets you broil, brown, grill, toast, and warm your food. Also, it comes with an adjustable temperature control with five heat settings offering more control while cooking. With this feature, you can get only the best results while cooking any type of food. It is fully electric that is no more messy to use, no more flare-ups, no more mess to light charcoals, just plug and cook.
The device comes with a non-stick steel grill to grill and roast the food on it. Also, there comes the cool touch handle offering you the easy handling of the device while cooking. The best is its adjustable height option for the grill that you can adjust accordingly as per your convenience. So explore your culinary skills of cooking in front of your friends and family and get them to indulge in an amazing platter of grilled delights.
Key Features
Electric barbecue grill
Grill and broiler combo
Adjustable temperature control
5 heat settings
Non-stick steel grill
Cool touch handle
Adjustable height for more convenient cooking
On/Off operation indicator lights
Pros
Sturdy and strong construction
Quality is up to the mark
The temperature control option offers perfect cooking result for each food item
Great for both indoor and outdoor cooking
Easy to use and carry
Easy to clean
Cons
The outer body becomes very hot while cooking
10. NOVA Bakelite Electric Barbecue Grill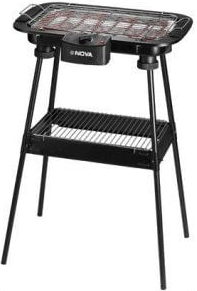 This is yet another smart choice for all barbecue lovers who want to cook their favorite grilled delights with ease. It comes with a stand for more easy and effortless grilling experience. Plus, the compact size and portability make it a good choice for both indoor and outdoor use. Get your finger-linking barbecued dishes prepared in few minutes only-just plug it on and let it cook.
All the parts are detachable making it easy to clean them. With adjustable temperature control option, you can cook your food on desired temperature level for perfect results. This electric grill has a convenient grill rack to stack raw food while cooking. It also doubles up as the warming rack to keep your food warm once the cooking is done.
Key Features
Adjustable thermostat control
Drip tray for excess oil
Removable and adjustable stand
Extra placement grill rack
Removable parts for easy cleaning
Pros
Strong and sturdy built
Lightweight and compact
Works perfectly for grilling and roasting
Assembly is very easy
Easy to use and clean
Great product in this price range
Cons
Electric Grills Buying Guide
How do Electric Barbecue Grills work?
An electric grill is a device that is used for grilling vegetables, meats, and other food items by means of electricity. It comes with a heating element that is located inside or just under the cooktop and is powered with a cord. You just need to plug it into a wall socket and done. The cooking gets started which is no more messy. The electric barbecue grills also come with a drip pan that catches the grease runoff. Unlike the charcoal grills, no more waiting for coals to cool down or dealing with gas canisters in a gas grill. It is just simple. When cooking is done simply turn it off and unplug it.
Types of Electric Grills
Indoor Electric Grills- Sometimes the climate is not ideal for outdoor grilling and even if you don't have an outdoor space for barbecuing, and at the same time you have the cravings for grilled food, then nothing is better than the indoor electric grills. With the indoor electric grills, you don't even need to leave your kitchen, and you can make the flavored, tendering, and juicy grilled meats and vegetables with ease in your indoor space. Small and convenient countertop electric grills are ideally best for indoor grilling.
Outdoor Electric Grills- Now when it comes to preparing the grilled food on the go including outdoor trips, picnics, camping, or tailgating, etc. then you need something that you can easily carry with you for perfect barbequing, Here comes the role of outdoor electric grills. Sometimes in a building or apartment you reside, the open flames are not allowed, and this way the outdoor electric grills comes very handy. For partying outside or in an open area, outdoor electric grills are considered to be the best choice.
But a major drawback is that it needs an electric outlet to operate which is sometimes not possible while camping, at the park, or on the beach. The stainless steel varieties of electric grills and those with legs and wheels are ideal for outdoor grilling.
Pros and Cons of Electric Grills
Pros
Turing on these grills is very simple, no need to light a match, simply plug it on and press the button
Easy and safe to use
Easy cleaning
No more flare-ups and no more smoke
More controlled temperature
Quickly heats up so offers the perfect grilling of foods
Can be used both as an indoor and outdoor grill
These units are easy to transport
Maintenance of these units are also very easy
Cheaper than gas and charcoal grills
Cons
Electric grills require cables and outlets, so somehow it is inconvenient to operate them in outdoor areas
Not ideal for searing meat
Electric grills need a very careful cleaning, as it comes with electric circuits, and even a drop of water may lead to malfunctioning of the device
Not offers the smoky flavor like charcoal grills
Factors to Consider Before Buying an Electric Barbecue Grill
1. Type
First and foremost thing to consider before buying an electric grill is its type. Some are portable, and some are stationary. So, if you want an electric grill to use in your garden, patio, or balcony, go for the one that is portable and are easy to move. And if you prefer indoor cooking in your kitchen, balconies, and backyards, even in the restaurants and cafes, stationary electric grills are the best choice.
2. Design
Electric grills come in different sizes, design, and construction. And the most popular ones are open electric grills with a simple design as well as with an optional grill gate. Some have covered designs featuring a tall lid that you can raise or lower down accordingly. Some of the models are closed type electric grills that come with a lid liner to grill meat and veggies on both the sides.
3. Grilling Surface
This one feature is also very important that decides upon how much quantity you can prepare at a time. To cook a large number of servings in one go, you can ideally go for the model having the grilling surface of 240-300 sq in. For small servings for 4-6 people, grilling surface of 200 sq inch is pretty good.
4. Power
The more the power, the faster the device will cook. The latest models come with the power ranging from 1500-2000 Watts. Some also come with an adjustable thermostat feature that lets you choose the required temperature easily for each and every dish accordingly.
5. Heat Control Functions
Some electric grills come with fixed heat settings while some come with the adjustable temperature dials offering you more control over your cooking. The adjustable heat control feature comes very handy to cook different kinds of food that require different heat levels.
6. Auto Shut-off and Timer
Like the other cooking appliances, electric grills also come with an auto shut off feature. It has a built-in switch that lights up and turn off the device automatically once the cooking is done. Plus, some also comes with the timer feature. Just set and forget. This feature lets you set the cooking time for your meal accordingly. Once the time is over, it beeps or alerts you that the food is ready.
Some Extra Convenience Features
Ease of control and ease of use
Wheels for easy transportation
Stay-cool handles for easy handling of the appliance while cooking
Non-stick grids for easy cleaning
Drip tray for collecting extra grease
Removable, dishwasher-safe parts
Conclusion
Well, this is all about the reviews on best electric grills and their full reviews that offers the convenient way to cook your favorite grilled delights. Grilling with an electric grill is easy, fun, and healthy. No messier and very easy to use, if you haven't tried one yet, what are you waiting for? Get the one right now of your choice.
Read Related Reviews
Buy Best Electric Tandoor Online
HOT LIFE Nano Size Electric Tandoor for Home ...
32%
HOTBERG Big Electronic Tandoor with Full Acce...
30%
GLEN Electric Tandoor and Grill 1100 watt Sta...
36%
WELLBERG 2 IN 1 Electric Tandoor with Auxilia...
25%
GLEN 5014 Electric Tandoor Grill Stainless St...
33%
Wellberg Extra Large Electric Tandoor For Hom...
62%
Cultbuzz 2000 Watt Electric Barbecue Grill Sm...
58%
Glen Electric Tandoor 1400 Watt (SA5014XL)
17%