Yeah, party season has started with the Christmas Eve and New Year arriving soon, and no one can go beyond to get their favorite barbecue delights with their family and friends around the bonfire. Whether you are vegetarian or non-vegetarian, the grilled delights with the mouthwatering flavor offer a great pleasure and add more fun to your party. Barbecue dishes like Chicken kabab, sausages, roasted chicken and fish, as well as grilled paneer, carrots, capsicums, potatoes and much more, all you can grill with the spices and flavors of your choice by owning the best gas grills.
Grilling season never ends. So, explore your grilling art and make it perfect as you get at the restaurants or cafe with the gas grills that are very easy to use. Now no more stress, invite as many friends as you can, and enjoy the grilled delights with them. You can also keep the gas grills right in your backyard, garden, or terrace, and have the house party for more fun. For detailed information on gas grills, please check our Buying Guide Section.
Our Best Picks of Barbecue Gas Grills
Here we have picked the latest and best gas grills models that will surely fit every cooking style and budget. From portable models for camping to larger gas grills, everything we have reviewed, so pick the desirable one.
More Options in Barbecue Grills
Best Barbecue Gas Grills Reviews
So here is the full review of all our best picks. Have a detailed look at them to make your buying more easy and simple.
1. Eglemtek Barbecue Gas Grill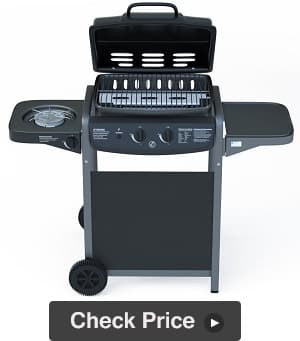 This one gas grill from Eglemtek comes the first in our list. So, who all loves the grilled delights from the comfort of your home, this gas grill is for you. With a stylish design, this gas grill let you make all your favorite grilled foods in your garden or balcony. You can also easily carry it along with you for camping, fishing, tailgating, and picnic, etc. The design is just sleek and simple, even the durable enough to accomplish all the roasting and grilling task of your favorite meats and veggies.
This gas grill from comes with a convenient hook to hang the lid while keeping it closed at the hand while you grill. The upper lid comes with an integrated thermal thermometer to measure the internal cooking temperature. Also, there come the legs that you can use to raise the height of the grill when needed. Featuring porcelain-coated steel cooking grate and aluminized steel burner, the device is very easy to clean.
Key Features
Portable gas grill
Works with butane, propane and LPG
Quality steel construction with a durable finish
237 sq inch cooking surface
Rust-resistant firebox for strength and durability
Convenient lid-hanging hook
Heat resistant handles
Filtered regulator protects the tank valve from debris
Manual ignition allows for easy start-up
Buyers Feedback
The Good
Great for grilling and indirect cooking at low temperatures
Perfect barbecuing
Cooks a fairly large amount of food at the same time
Easy to assemble and use
Cleaning is super easy
The Bad
Complaints of leaking regulators
The gas valve has to be removed to fold the legs up or down, and it is not easy to get on or off all the time
Instruction manual is not available in English, so difficult to understand
2. Char-Broil Classic 360 3-Burner Liquid Propane Gas Grill
This is the next best gas grill from the brand Char-Broil. Whether to cook indoor or outdoor, or want to take it out along with you on camping, fishing, tailgating, or on the beach, this one is also the best buy. With a small, portable, and lightweight construction, this gas grill is great for all your rugged camping trips. Get a perfect barbequing of your favorite meats and veggies with its easy and simple operation.
This gas grill comes with the 360 sq inches of cooking surface enabling you to cook your favorite foods for a lot more people. You can grill burgers, chickens, veggies, and much more very quickly and easily on it as it comes with a convenient piezo ignition mechanism. It ensures for fast and reliable startups that quickly heats up for perfect grilling. The best part is that this gas grill uses infrared heat that evenly spreads across the entire cooking surface to cook food evenly and no flare ups at all. It also prevents drying of the food and locks the moisture into the food.
The burner is powered by a small and easily portable one pound disposable propane tank. The durable die-cast aluminum construction along with a black porcelain finish makes it rust-resistant and long lasting. Plus, the stainless steel cooking grate is really a breeze to clean.
Key Features
The tru-infrared cooking system eliminates flare-ups
Cast aluminum firebox and lid with stainless steel latches
Hood mounted temperature gauge to monitor and control the grill
Piezo ignition for easy starting
High impact frame with legs and carry handles
Stainless steel cooking grate
360 sq in grilling space
170 sq in porcelain-coated swing-a-way rack for warming
30,000 BTU stainless steel tubular burner
Buyers Feedback
The Good
Well built grill with nice design and quality
Very useful for on-the-go grilling needs
The lid locks tightly in the place
The legs and handles are sturdy
Produce high grilling temperatures
The Bad
Limited temperature control options
Cooking temperature gets too hot because of infrared technology
Frequent complaints of regulator leakages
3. Weber Q 1000 Gas Grill
Function, style, and performance- all in a single grill is this gas grill from Weber comes with. The sleek and stylish design adds a great aesthetic appeal. Even the compact, lightweight, and durable stainless steel construction make this super-portable model a perfect companion for all your outdoor trips.
It comes with a large cooking area to cook a large amount of breakfast, lunch, and dinner at the same time. Plus the split grates allows the combination cooking for grate or griddle. It offers the options for what food you are cooking or how you want to cook them. You can simply replace one of the grates with the griddle to enjoy the full range of cooking modes, and this is absolutely a unique feature of this gas grill.
Some other smart features of this smart gas grill are larger grip handle and control knobs, ergonomic side handles for easy carrying, and sturdy front and rear cradles.
Key Features
Portable propane gas grill
Cast aluminum lid and body
Porcelain-enameled cast-iron cooking grates
Glass-reinforced nylon frame
Painted cast aluminum lid finish
8500 BTU/hour input of heat runs on 14.1 or 16.4 oz LP
Cooking Area 1219 sq cm
Single stainless steel burner
Push button ignition
Infinite control burner valve setting
Removable catch pan
Set up for use with LPG cylinder
Buyers Feedback
The Good
Nice build quality and design
Lights up and heats up in less than 10 minutes
Cooks food evenly with even heat distribution
The cast iron cooking grate retains heat for longer, also reduces the gas consumption
Easy to assemble
Super convenient to clean and maintain
4. Weber S-670 Stainless-Steel LPG Gas Grill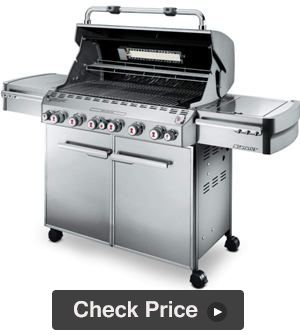 The outstanding and exclusive features, as well as the highest performance grade, simply defines this stainless steel gas grill from Weber again. Get your favorite mouthwatering meals ready in a few minutes only with this amazing gas grill. This one is made of cast aluminum that makes the cook box durable and long lasting and requires very less care and maintenance. Even it can withstand the heat required for grilling at any temperature.
The cooking grates it is equipped with, come in three different materials with each having their own benefits. The one is porcelain-enameled steel that is very durable and offers cleaning ease. The next is stainless steel rod cooking grates that sears food very beautifully, holds heat very well, and also easy to clean. And the last one combines both the features of porcelain-enameled cast iron and stainless steel rod.
This cart-style gas grill comes with 6 burner options that are also made with high-quality stainless steel material. And the controls for each burner offers you to grill perfectly either by the direct method or by the indirect method. Also, the burner valves come with infinite control settings to easily adjust the heat levels. The burner tubes are designed with the singular piece of steel with no welds at all making them stronger and rust-resistant.
Its 769 sq inch cooking area lets you prepare food in bulk to feed large masses. There also comes a flavorizer bar to add smoke and sizzle to the food making it more flavorful. This model also has a sear station burner to increase the heat level for perfect searing. And a side burner to do multiple tasks while grilling at the same time. For effective grease management, this gas grill comes with the grease tray and catch pan that is easy to clean.
Package Includes- A cart, a stainless-steel shroud with a built-in thermometer, two stainless-steel work areas, two Grill Out lights, six tool hooks, two heavy-duty front-locking casters, and two heavy-duty back swivel casters.
Key Features
Cart style gas grill
Cooking area 769 sq inch
800 BTU Gas Grill
2 Work Area
Stainless steel cooking grates
Flavorizer bars
6 Stainless steel burners
Front Mounted controls
Snap-Jet individual burner ignition system
Rear mounted infrared rotisserie burner
Side Burner
Sear Station Burner
Smoker Burner
Warming Rack Area
Designed for use with natural gas or a 20 pound LP tank
Buyers Feedback
The Good
Strong and sturdy built
Nice design
Great for the backyard barbecues
Electronic ignition for fast startup
Lighted control knobs and handles make viewing easy after the sunset
Large cooking surface to cook food for large gatherings
5. Weber Q 3200 Gas Grill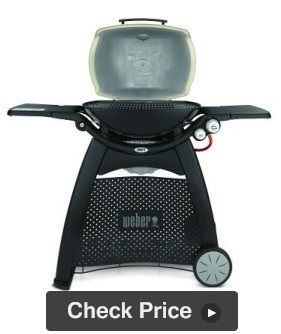 The next is another a model from Weber with a host of unique features. The Weber Q 3200 Gas grill is an ideal buy for those who has space is a constraint. With the fold-down side table, it can easily fit in a smaller yard or patio. Also, with the power of two burners, it can grill an entire roast with the use of natural gas. It comes with the split grates offering you the grate and griddle cooking combination. When you combine the primary grilling surface and warming rack area, the grill is able to cook ultimately for a crowd or group.
To start the grilling process on it is as easy as like the simple push of a button with its electronic ignition system. The infinite control burner valve lets you adjust the desired cooking temperature to cook food efficiently at different temperatures from low to high. Also, it comes with the grill handle light that enables you to cook food even in low-light conditions.
Key Features
393 sq inch total cooking area
21,700 BTU per hour
Natural gas hook-up hose included to attach to your home natural gas line
Cast aluminum lid and body
Porcelain-enameled cast-iron cooking grates
Glass-reinforced nylon frame
Built-in lid thermometer
Grill handle light
Easy start electronic ignition
Infinite control burner valve settings
Removable folding side tables
Tank holder
Removable catch pan to catch grease
3 tool hooks for convenient storage of tools and utensils
A sturdy cart mounted on wheels for easy transportation
Buyers Feedback
The Good
Nice design and build quality
Compact size for easy storage
Plenty of cooking area
Sturdy legs and parts
Assembly is very easy
Easy to use and clean
Gas Grills Buying Guide
Types of Gas Grills
Gas grills are categorized into four different types on the basis of their size. Let's have a look at different types of gas grills.
Portable Gas Grills- Like the name, these gas grills are perfect bring-along for picnics, camping, and other outdoor tips. These are also ideal for smaller decks, terrace, and courtyard.
Smaller Gas Grills- These are non-portable units, yet small in size that is ideal for the small cookout and even saves space. Some of the models come with the foldable design that makes it more compact. It comes in varying price range and style from the painted steel cart to stylish stainless steel designs.
Medium Sized Gas Grills- Medium sized gas grills are the most popularly used gas grills that come with storage options, extra burner options, and a lot more other features including LED lights, Backlit knobs, etc. to cook even in the dark.
Large Gas Grills- These units come with the large cooking surface and features seamless construction with the highest grade material construction. Some more smart features of these units are extra storage space, gliding drawers, thicker grates, and more burner options, etc.
How do Gas Grills Work?
Gas grills are now becoming the most favorite type of indoor and outdoor cooking tool because of its ease of use and ease of cleaning. Even it is an environment-friendly way to grill and roast the food without any harmful smoke or debris left over from burning coal or wood. A gas grill uses natural gas or propane gas as the source of fuel for cooking. Most of the gas grills use propane gas but can easily be converted to use natural gas also.
The natural gas grills use the gas from the gas line that is to be attached and extended to your backyard. Once the gas line is installed, the location becomes permanent. And that's why the upfront cost of natural gas grills are higher, but the operating cost is lower than the propane gas grills.
While Propane gas grills use the gas from the refillable gas tanks that can be attached and removed anytime depending on the usage, but it needs regular replacement once the propane has been used.
Some Smart Features of Gas Grills
Igniters
Gas grills use igniters to start on. And it is preferable to choose electric igniters that are more easy and reliable over rotary or push-button igniter.
Heavy Duty Grates
The gas grills with heavy-duty grates made of stainless steel and coated cast-iron are meant to be the best as they offer better searing. And also these are best for maintaining an even grilling temperature for perfect cooking.
LED Lit controls- The gas grills featuring LED-lit controls lights up the grilling surface and also illuminates the control panel and knobs for easy cooking.
Fuel Gauge
This is an important feature in a gas grill that shows you how much propane is left in the tank. If the gas grill misses this feature, make sure to buy the one separately.
Pullout Grease Tray
It simplifies the process of changing propane tank when you run out of gas. It also makes the grilling and cleaning process easier.
Dual Fuel Valves or Natural Gas Conversion Kit
Most of the gas grills use propane, but some models also come with the Dual Fuel Valves for conversion to natural gas.
Side Burner
Some gas grills come with side burner that you can use to cook some snack or warming food while grilling the food on other burners at the same time.
Gliding Drawers
Some high-end models also come with the gliding drawers that offers convenience in storing utensils and condiments.
Smoker Box
Some models of gas grills come with smoker boxes also to get a rich charcoal or smoky flavored food.
Other Features to consider before buying a Gas Grill
Grilling Area and Performance
Before buying a gas grill, it is the foremost thing to consider the grilling area. For this, you must consider the size of the family or often how much quantity you want to prepare at a time. Then buy the model – Smaller, Medium or Bigger, accordingly. Also, you can take into consideration the number of burners. Three burners gas grills are ideal for serving a complete big family or small parties. But if you need more to prepare, you can also go for the four, six, eight, and ten, burner options.
Durability
Durability is, of course, an important factor before buying any product. And in case of gas grills, most of the models come with stainless steel exteriors that stand for a long time when maintained and cleaned in a proper way. Even the best grills come with the cast-iron grates that are rustproof and highly durable, and it also holds and reflects heat very well.
Heat Consistency
Make sure to buy the model that evenly distributes the heat over the whole cooking process. It offers the most consistent cooking to the food you are preparing.
BTU
BTU stands for British Thermal Unit that is a very much important factor to consider before buying a gas grill. The BTU/hour measures the amount of fuel used by the grill in an hour. The more the BTU, the more fuel is used.
And the heat delivery of the grill is calculated by the BTU per square inch. While purchasing a gas grill compare the size of the cooking surface. It is ideal to go for the 80-100 BTUs per square inch of cooking surface. As it is clear, the more BTUs a model has, the faster it will burn up the fuel, so it is pretty wise to choose a grill with the amount of BTUs you need to get the job done.
Budget
How much you prefer to spend on a product wholly depends on you. However, if you want to cook for a small family, two and three burners gas grills are ideal, and at the same time, you need to pay very less in buying them. But to cater big family or to serve a huge party, large sized gas grills are absolutely the great choice. And then it is but obvious; the price will get higher for these gas grills as they also come with some more added features for extra convenience.
Gas Grills Vs. Charcoal Grills
Now which one is best The Gas Grill or The Charcoal Grill. You can get it understand better through the following points.
Convenience- In terms of convenience, I think gas grills are better over charcoal grills. With the simple push of a button or turning the knob, you can simply turn on your gas grill for grilling and roasting. Even the gas grills heat up very fast for faster cooking. On the other hand lighting charcoal is a little bit tricky and also takes a lot more time to heat up.
Ease of control- Adjusting heat or the temperature of cooking is very easy in gas grills that you can easily do by turning the knob. And so you can easily prevent your food from burning or overcooking. But, in the case of charcoal grills adjusting is quite difficult.
Ease of cleaning- Also, the gas grills are very easy to clean as they don't come up with the smoke or ashes like the charcoal grills. You just need to brush and wipe the grates and empty the grease tank after cooking.
Final Words
Hope, you got that investing in a gas grill is really worth of it. To satisfy your cravings for grilled meats and vegetables like chef style, you can quickly prepare it at your home without spending much. And I am sure our best picks of gas grills and their buying guide will surely make you buy the best one according to your preferences and budget.
Related Items
H Hy-tec (Device) Briefcase Foldable Portable...
46%
Inditradition Barbecue Skewers for BBQ Tandoo...
30%
Chefman Charcoal Barbeque Grill
35%
Kitchen Delli Barbeque Jali Roti Roast Grill ...
50%
Chef Direct Stainless Steel Round Skewers for...
38%
H Hy-tec (Device) Terrace Garden Picnic Barbe...
45%