The real and natural smoky flavor of your favorite grilled foods like grilled chicken, fish, and grilled vegetables, etc. is, of course, everyone love that. Whether you are planning a party, or for camping, road trips, picnics, and other pleasurable trips, having a barbecue charcoal grill with you is the best option. Easy to carry with you, the barbecue charcoal grills offer the mouthwatering smoky flavor of your favorite snacks anywhere you go and make your bash more enjoyable.
For the perfect barbecuing, ranging from electric grills, gas grills, and the barbecue charcoal grills, everything is now available for your taste and needs, best for outdoor cooking. With the Christmas and New Year arriving soon, you must go along with one of the best barbecue grills to make the party more enjoyable. Just enjoy with your guests the warmth of the bonfire while serving up hot food from the grill.
And so the blog is dedicated to all the grilled food lovers who want the natural smoky flavor of the grilled snacks. Get the same by picking one of the best charcoal grills we have gathered up here for you. Also, to get in-depth information on Charcoal Grills, please head to our Buying Guide.
Our Best Picks of Charcoal Grills
To celebrate Christmas Eve, or New Year, or any other party, you must check these smart barbecue charcoal grills to enjoy your favorite smoky grilled delights.
More Items for Parties & Gatherings
Best Charcoal Grills Reviews
1. Weber One-Touch Stainless Steel Charcoal Grill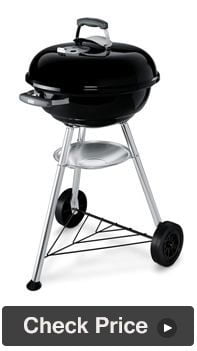 Barbecuing in a whole classical way all on a charcoal grill with amazing smoked-in flavor to veggies, meats and desserts is all this compact charcoal grill does. The best is its compact size that tucks very well even if you have the shortage of space. But compact doesn't mean that you are compromising in flavor. As it comes with a porcelain-enameled bowl and lid, it lets you prepare your meals comfortably and conveniently even keeping the original flavors intact. The lid and bowl both are fire and rust-resistant making the grill long lasting.
The Weber One-touch Charcoal Grill also has a heavy-duty steel-plated cooking grate with a large area that lets you prepare almost everything on it with utmost ease. Plus, the Glass-reinforced nylon handle with a shield protects the handle from overheating for easy and safe handling of it.
The model comes with an ash-catcher allowing you to clean the ashes quickly. Moreover, it is also very easy to clean the grill without putting a lot more effort and time. And also thanks to the no-rust aluminum air vents available on the cover and bottom of the grill that provides proper airflow for perfect barbecuing. The legs with the wheels, disassemble from bowl makes the grill to carry it anywhere with ease. So enjoy the perfect barbecuing whether you are out for camping, partying, etc. with this great bbq charcoal grill.
Key Features
Grilling, roasting, and baking
Fire and rust-resistant lid and bowl
Rust-resistant aluminum ash catcher
Rustproof aluminum vents to provide proper airflow for perfect barbecuing
Glass-reinforced nylon handle
Buyers Feedback
The Good
The fit and finish of the product is great, and feels sturdy and of high quality
Handy and convenient
The wheels make it easy to move around
The long tripod makes the barbecuing process too easy
Assembly is also very easy
It is very easy to remove the ash thanks to the ash catcher
The Bad
Doesn't include any accessory, still higher on the price side
2. Royal Charcoal BBQ Grill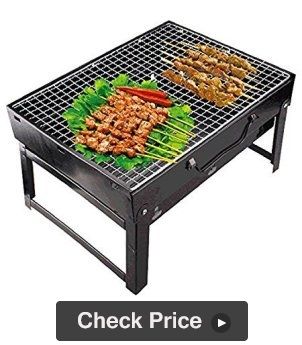 The next charcoal grill in our list is the Royal Barbecue Grill. When it comes to quality, this charcoal grill with the metal built never fails to impress you. And since it is a charcoal based grill, you will enjoy only the natural and smoky flavor of your favorite foods. The model is featured with blow slots for extra heat producing and thus you can do the perfect barbecuing.
Being foldable and compact, the grill can easily be stored in your kitchen and terrace. And so you can enjoy both the indoor and outdoor cooking in ease. The barbecue stand features the ergonomic handles on both the sides so you can easily carry it wherever you want.
Package Includes: 1 foldable leg, Mesh Grill, 1 charcoal net, 3 pieces of steel rods and 1 carry handle
Key Features
Blow slots for extra heat producing
Large cooking surface
Metal built for durability
Ergonomic grab handles
Foldable legs
Charcoal based
Foldable to briefcase form for easy carrying
Buyers Feedback
The Good
Build quality is very nice
The grilling surface is quite sturdy too
Easy to assemble and use
Cleaning is also very easy
There is sufficient space between the grilling surface and bottom
The Bad
Lighting charcoal in it is quite difficult
3. Weber Go-Anywhere Charcoal Grill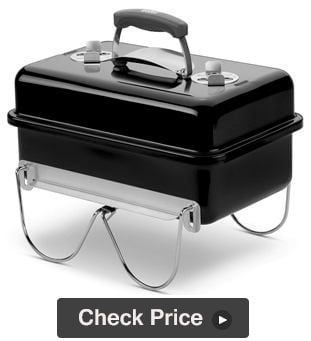 Enjoy the natural taste of your favorite food grilled on charcoal, anywhere you go with this smart charcoal grill from Weber. Like the name, you can easily carry it wherever you go and get the awesome taste of smoky and grilled foods. This one is perfect for camping trips and backyard barbecuing. Don't think that it lets you compromise to serve more people as it has enough capacity instead of being small in size.
This Weber charcoal grill in suitcase style features a 160 sq. in plated steel cooking grate. Its grilling basket is ideally perfect for grilling meats, fish, veggies, and other foods. Also, it closes shut that protects the food from slipping out while turning.
The Weber Go-Anywhere Charcoal Grill is designed with a Porcelain-enameled bowl and lid that ensures its durability and long life. And the lid and bottom have dual aluminum dampers for adjustable airflow that ensures the more perfect grilling. Also, the lid includes Glass-reinforced nylon handle that stays cool during cooking. And the best is its sturdy legs hinged over the top of the lid that snaps securely in place for transport.
Key Features
Durable and space saving suitcase style design
Fire and Rust-Resistant Lid and Bowl
Rectangular plated steel cooking grate is included, providing 160 sq. in. of grilling surface area
Lid includes a glass-reinforced nylon handle that stays cool during cooking
Plated steel legs maneuver to secure lid in place for transport
2 adjustable dampers regulate the flow of air, each with 3 vent holes
Buyers Feedback
The Good
Quality of the product is extremely good
Portable charcoal barbecue grill
Easy to set up and use
Great for long trips, picnics, camping, backyard barbecuing, etc
Sturdy carrying handles for easy transport
Stands elevated on strong metal legs so you can grill on a variety of surfaces
It has enough cooking space to cater for a family of 4-5
4. Hy-Tec Barbecue Grill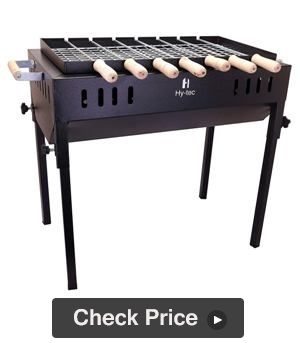 This is our next best pick of charcoal barbecue grill to enjoy the most aromatic flavored foods grilled on charcoal. The Hy-Tec Charcoal Grill is great for fun and the most flavorful grilling every time. With an appealing design and finish as well as easy to assemble parts, you can use this charcoal grill in your patio, garden, or balcony, for perfect barbecuing. Even it comes with a compact frame that makes it ideally suitable for carrying it anywhere you go.
This charcoal barbecue grill is designed in such a way that you can use it either for wire grill barbecue or the iron plate barbecue. It also comes with the detachable legs, and its maximum height is 1.5 ft. The grilling surface is quite large enough to serve 6-7 people at a time. It comes with two wooden handles that make it easy to carry. And the best is its rust proof body construction that ensures its durability.
Key Features
Charcoal Barbecue Grill
Double structure metal body
Combines both iron plate barbecue and wire grill barbecue
Stainless steel stick with wooden handle
Unique warming rack with large size
Rustproof body
Buyers Feedback
The Good
Strong and sturdy built
Large cooking area
The double chamber design is its big plus
The cover on top and ash disposal tray is pretty good
Great for perfect barbecuing
The Bad
The legs need some improvement
5. Prestige Barbecute Coal Barbecue Grill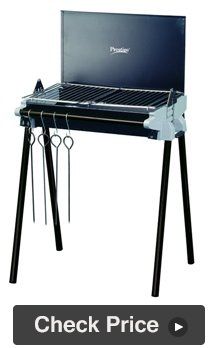 Prestige is a well-known brand for kitchen appliances and this charcoal bbq grill from Prestige will, of course, the best choice for all your grilling needs. Say thanks to its quick to assemble design that you can carry anywhere for amazing barbecue delights whether at the party, picnics, camping, and other outdoor parties, etc.
The Prestige barbecue grill is made up of aluminum which is corrosion resistant and offers an easy cleaning every time you use it. This grill also comes with a warming rack that helps to keep cooked food warm. The convenient legs are foldable, and you can attach them with the grill to cook food on the desired height.
Package Includes- 1 Charcoal Barbecue grill, 1 foldable leg, skewers of two different sizes, instruction manual.
Key Features
Compact and portable design
Coal-based cooking
Quick to assemble
Easy to clean
2 size of skewers
Buyers Feedback
The Good
Nice design and build quality
The barbecue structure is quite stable
The height is also ideal
Makes cooking very easy
6. Prestige PPBW 04 Barbecue Grill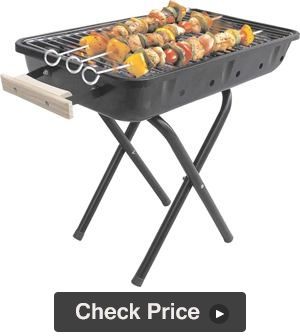 This is another best barbecue grill from the brand Philips. Superior quality, great performance, and affordable price range are all this Philips Barbecue Charcoal Grill describe about. Being compact in size, this grill is an ideal buy for parties, picnics, family gatherings, and other outdoor barbecuing. Whether it is meat, fish, vegetables or steaks and burgers, this charcoal grill let you enjoy the most mouthwatering smoky flavor that you all will sure to love.
This coal-based barbecue grill you can carry along with you wherever you go, thanks to its portable case and detachable legs. You can easily assemble its legs for barbecuing. The grill also has the grab handles made of wood that lets you carry it with ease from one place to another. Even with the warming rack, it comes with, makes the cooked food warm for a long time. So, add a more fun and showcase you barbecue skills with your friends and family with this great charcoal barbecue grill.
Key Features
Portable design with detachable legs
Perfect for preparing unique, delicious barbecued meals
Unique warming rack
Convenient to assemble and clean
Grab handles for easy transportation of the grill
Removable legs
Buyers Feedback
The Good
Great product in this price range
Unique and stylish design
Nice build quality
Easy to fit and start off
Handy and easy to carry
The Bad
The material used is not of a heavy gauge, the stand is very delicate and has to be very careful when loaded with charcoal
7. Fabrilla Barbecue Charcoal Grill Round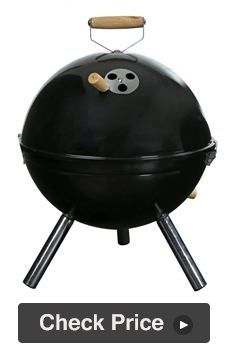 Aesthetic appeal with beautiful finish-this barbecue charcoal grill from Fabrilla comes with. The Fabrilla round shaped outdoor barbecue charcoal grill is an ideal choice for picnics, camping, parties, family gatherings and used for indoor grilling as well. It comes with a simple design and equipped with three sturdy legs that offers the grill steadiness while cooking the food on it. Plus, it's easily foldable design makes it easy to carry anywhere you want.
This charcoal grill is made up of iron making the product durable and long-lasting. And the bonus is that it comes with the wired wooden handle that makes the easy handling of the grill. This barbecue grill also comes with the unique adjustable air valves that let you regulate the temperature and air flow with ease. So you can do the perfect barbecuing only whether it is sausages, rolls, fish, and kababs, etc.
Package Includes: 1 charcoal grill, 4 skewers, 1 Air Blower
Key Features
Hard anodized barbecue with iron body
Foldable design for easy carrying
Wooden Carry Handle for easy handling
Unique adjustable air valves for regulating the airflow and temperature
3 sturdy legs
Coal-based cooking
Buyers Feedback
The Good
Stable and sturdy design
Easy to assemble and use
Size is right for a small barbecue of 2-3 people
Separate tray for charcoal is convenient as it's easy to throw out ash and also keeps heat in
The best part is the free blower
Quite handy to clean as well
8. Starvin HotL Foldable Briefcase Style Charcoal Barbeque Grill
Featuring a unique and smart design, the Starvin barbecue charcoal grill is yet another smart choice for all barbecue lovers. This briefcase style grill comes with a handle and foldable legs to carry it anywhere with ease. So, enjoy the party, family gatherings, traveling, camping, picnics or road trip with this smart barbecue grill.
This charcoal grill is made up of stainless steel material, and even all the assembled parts are made of quality material ensuring its durability. There also comes the air vents on both the sides of the grill that lets you adjust and control the temperature accordingly for perfect grilling. The mortarboard which separates the carbon and dust helps charcoal to burn effectively.
Key Features
Charcoal based grill
Stainless steel body
Carbon crystal plate
Comes with eight skewers
Unique design with both sides air vents for perfect grilling
Foldable for easy carrying on the go
Ideal for traveling, camping, party, picnic, or road trip
Buyers Feedback
The Good
Stylish design
Easy to set up and use
Perfect grilling every time
Worth for the money
9. Velkro Stainless Steel Barbecue Grill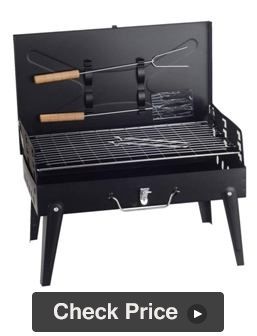 And the next is Velkro Stainless Steel Barbecue Grill finished with a unique design for all your barbecuing needs. It is made up of stainless steel along with the enamel coating on it that ensures the long life and durability of this charcoal grill. Enjoy your favorite grilled foods with all the smoky flavor on picnics, camping, outdoor trips, and even at your outdoor garden.
This barbecue grill is compact and when folded comes to a unique suitcase style for easy carrying. It also comes with the foldable legs that make the grill even more handy for easy carrying. The adjustable height option makes you do your barbecuing very comfortably. Plus, the ventilation angle keeps the fire strong for perfect grilling and roasting.
Key Features
Coal-based barbecue grill
Stainless steel body
Compact and foldable
4 foldable legs
Adjustable height and ventilation angle to keep fire strong
Buyers Feedback
The Good
Nice design and build quality
Lightweight and portable
Foldable design makes it easy to carry
Good for small family of 4-6
Height adjustment is a nice feature
10. Athenacreations ACYL1515S Charcoal Base Barbecue Grill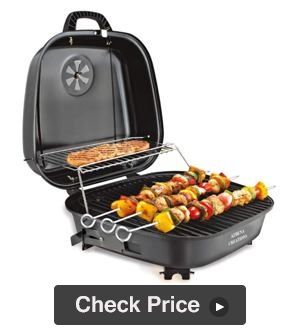 Now, last but not the least, this is yet another smart choice for all smart barbecue lovers. With this compact and easily portable charcoal based barbecue grill, you can now make your favorite grilled delights very easily anywhere you want. The design is straightforward and elegant, and with the foldable legs, it gets tuck very easily in small households.
Assembly is super easy, so pack this with you when you are out for camping, outdoor trips, picnics, etc. and showcase your cooking abilities with this smart grill. Even the simple design of this charcoal grill allows preparing your food very easily and quickly.
The model comes with a unique air damper for adjustable airflow and temperature so you can grill and roast on the desired temperature. Its hooded designs allow the heat retention and offer the great flavor in no time. With this compact barbecue grill, you can not only make the juicy steaks and marinades but also simmer, roast and saute a variety of food items with the great smoky flavor. This charcoal grill also comes with a warming rack that aids in keeping food hot for a long time.
Key Features
Coal-based cooking
Unique air damper
The unique top cover to increase the heat inside while cooking
Warming tray to keep food for a long time
Folding legs
Come with 4 skewers
Buyers Feedback
The Good
Nice design and finish
Quality is up to the mark
Compact and foldable for easy carrying
Easy to assemble and use
Easy to clean and maintain
Charcoal Grills Buying Guide
Why Choose Charcoal Grills?
If you want to get the most mouthwatering flavor of your favorite grilled snacks like the chef made grilled foods in the restaurants, you must own a charcoal grill for your home. Now, no need to pay a huge bill for your favorite grilled foods, if you own the same by paying a little amount of money. With the charcoal grills, you can make your favorite snacks to get grilled in a very small amount of time. And the smoky flavor- you will surely love it. Besides check the following benefits of charcoal grills.
One of the biggest benefits of charcoal grills is its affordable price. As these are available in different sizes and for different purposes, you don't need to break the bank. Besides the smaller models, you can also get the super fancy options and bigger models at relatively affordable prices.
Charcoal grills are available in different sizes. From the portable models to the bigger professional-grade models, everything you can get for a perfect barbecuing.
When it comes to style, charcoal grills come in three different styles each having their own benefits.

Kettle Type- If you want a portable as well as the cheapest option, these classic styles kettle charcoal grills are the ideal option. It is designed like a metal ball on legs, with charcoal to keep in the bottom for grilling meat, vegetables, etc.

Ceramic Grills- Though the ceramic charcoal grills are expensive but can be used to smoke and grills both, even you can use it for baking also. These are extremely bigger than the portable units.

Barrel Grills- The barrel type charcoal grills are much similar to the gas grills rounded on the top and the bottom with a hinged top. It is ideal for professional grilling and smoking.

Ease of cleaning is another great benefit of the charcoal grills. Here, you have to deal only with the charcoal ashes and build up that you need to empty out, making the cleaning process really a breeze. The smaller units provide you even no headache in cleaning.
Some downsides of Charcoal Grills
The process of firing up a charcoal grill is somehow tricky. For this, you can use the accessories available for making the process easier and faster.
Another biggest disadvantage of charcoal grills is their more difficult temperature control. You need to keep an eye on the food you are grilling or smoking; otherwise the excess heat may lead to food burnt.
Also, the charcoal grills create the charcoal ashes that need to be cleaned before the next grilling.
How do Barbecue Charcoal Grills work?
A charcoal barbecue grill comes with a metal or ceramic container along with a charcoal chimney that can hold burning charcoal in it. There come the vents at the bottom part that sucks in the oxygen and fans the flame. On the other hand, the top vents on a charcoal grill allow the release of excess smoke and heat. And you can easily control the inside cooking temperature by adjusting the vents.
To grill the food like chicken breast and wings, pork chops, sausages, as well as fruits and vegetables, you need to place the food on the metal grate at the center of the container and above the charcoal. But I think for perfect grilling, preheating of the grilling grates is a to-do step. It lets the food to prevent from sticking and also offer faster cooking.
As there are different modes of heat to grill food, you must have perfect control over them. Grilling on high heat offers the food a perfect sear outside and juicy inside. If you want to grill your food on high heat, it takes about 5-10 minutes for the coals to get to high heat. Steaks, burgers, and dense vegetables like corn on the cob and capsicums are ideal to get grilled on high heat. But if you opt to cook food at medium temperature, it takes about 25-30 minutes for ideal grilling. Marinated food like chicken wings, sausages, and dense fruits and vegetables like pineapple and eggplant are ideally prepared on medium heat temperature.
And the most important thing to know is that if you want searing and high heat cooking, you must keep the grids close to the coals and food directly above. And oppositely if you're going to get your foods cooked at slow or medium heat, you need to arrange the coals to one side of the grill and place the food away from them that is also known as indirect grilling.
Features to consider before buying Charcoal Grills
For What Purpose
Charcoal grills come in different sizes and features, each having their own priorities and needs. And it is very much important to think about for what purpose you are going to buy a charcoal Barbecue grill. First decide whether you are buying it for picnic or camping, or for a large patio. Then keep in mind the size of your backyard or patio, family size or the number of people you need to cook for, etc. and then decide which one you should go for.
Size of the Charcoal Grill
The second most important thing is to consider about the size of the charcoal grill. If you are fond of traveling and want a grill to take along with you on the picnic, camping, beach, etc. a lightweight and small barbecue charcoal grill is enough to serve your purpose. Even if you have a small backyard or patio, choose the one that ideally fits the space.
On the other hand, the large charcoal grills come with the bigger cooking surface that is ideal for cooking for several people at once.
Type of the Charcoal Grill
Then the next comes, type of the charcoal grill to choose. We have already discussed above the different styles and types of the charcoal grills. The Kettle type models are smaller and light weighted and are the ideal ones to take along with you and best serves for a smaller family. However, the ceramic grills have a massive built and are heavy too. That's why it is harder to move them to a different spot. And the next are the barrel grills, that comes with the bigger grilling area to serve a large number of people at once. So, the choice depends on you.
Charcoal Grill and Smoker Combo
Some of the models of charcoal grills double as smokers also. Smokers tend to cook slowly at lower temperatures. For the most flavorful, tender, and smoky flavor, of the grilled food, Charcoal Smoker Grill Combos are the ideal option.
Temperature Control
This feature is very much important for perfect grilling. The grills with lid are the ideal ones that lock the warmth inside the grill. It lets you cook the food at the right temperature and also consumes less charcoal. Also, keep in mind that the grills that the lid of the grill is air-tight so that the warmth gets lock inside the grill. And it lets you control the air flow using air vents.
Some charcoal grills also come with the feature to adjust the distance between the charcoal and the food. This lets you raise and lower the temperature accordingly.
Accessories
Check for the accessories like rotisserie kit, skewers, smokenator, metal grates, igniting accessories, and much more to make grilling process a breeze.
Durability
Durability, of course, is an important consideration before you buy anything. So, in the case of charcoal grills check for the materials it is made of, warranty and other features that ensure its durability. It is even better to invest in a costly unit of a renowned brand that will last for many years.
Final Words
Hope the blog will let you pick the best charcoal grill of your choice depending upon your needs and budget. So, get ready to enjoy the smoky and tender flavor of the grilled food from the most out of your best-picked charcoal grills and even the most enjoyable grilling experience.
Related Items
H Hy-tec (Device) Portable Picnic Metal Barbe...
29%
hot life Charcoal Grill Picnic Barbeque Campi...
45%
Chefman Charcoal Barbeque Grill
50%
Orbit Electric Barbeque Grill 2000W Tandoori ...
43%
H Hy-tec (Device) Briefcase and Picnic Metal ...
42%
Prestige PPBB-02 Coal Barbeque Grill
10%