You can never have enough griddles, and this is doubly true if you're an Indian. After all, the country is the birthplace of tandoori cooking. So, if you want to make your life a little easier and never have to worry about whether you have an appropriate space to cook a full chicken or bake cakes, then you should be looking at getting yourself the best OTG Ovens on the market.
In order to provide you with a list of the best OTGs, we examined more than 35 ovens and narrowed things down to the top 7 OTGs.
Depending on your baking preferences, grilling preferences, and budget, you can pick the OTG that is right for you. We also have an Buying Guide with several questions you might want to be answered before purchasing one.
Best OTG Ovens (Quick List)
7 Best Oven Toaster Grill (OTG) – Reviews
1. Philips HD6975/00 Oven Toaster Grill
Best OTG Oven for Home Use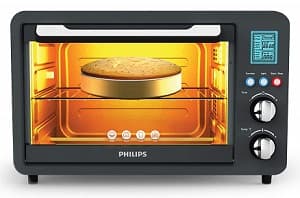 Our first pick is from Phillips, one of the best brands in delivering outstanding home appliances. This digital Oven Toaster Grill is perfect for home use as it is beginner-friendly. It ensures an easier and healthier way to bake, toast, and grill – assuring quality and performance. Moreover, it has an easy digital display and a "one-touch 10 pre-set menu" feature. Furthermore, this OTG oven is exclusively designed with a "preheat mode feature," which provides expert results for a wide array of food delicacies.
Specifications
Capacity: 25 Litres
Wattage: 1500 watts power
Operating Voltage: 220-240 volts
Frequency: 50/60 Hz
Material: Cold rolled steel (metal)
Color: Grey
Weight: 6380 grams
Dimensions (L×W×H): 46.5×37×30 centimeters
Warranty: 2-years
Key Features
This OTG oven has an optimal size which makes baking, grilling, and toasting a lot easier. Thus, the best Oven Toaster Grill for home use.
It is built with an opti-temp technology that allows uniform cooking of ingredients at optimum temperatures for a prolonged duration. This feature helps distribute the heat evenly, resulting in the uniform browning of loaves of bread and cakes.
This oven helps you toast to perfection. This OTG oven maintains an optimum temperature, which in turn reduces moisture. This enhances the flavor of the dish, giving it the perfect crispness.
While it ensures grilling, it does so with the use of very little oil. Thus, you can use moderately less or even no oil to cook homemade delicacies and opt for a healthier lifestyle.
It comes with an exclusively formulated Pre-heat mode, which helps provide incredible results for a wide range of delicious recipes.
It has an easy-to-use Digital Display Panel that enables you to select cooking modes, recipes, time and make temperature adjustments.
The brand provides you with myriad accessories, such as a detachable crumb tray, a drip and baking tray, a cooking tray, rotisserie handle, grilling rack, skewer rods, tongs. The brand makes sure all the accessories are rust-free and food graded for effective maintenance and easy cleaning.
It has specially designed Chrome finish knobs and chamber lights, making it more user-friendly.
Pros
Precise temperature control
Sturdy construction
One-touch preset functionality
Accessories for multi-cooking
Chamber lights to monitor the food
Cons
2. Borosil – Prima 30 L OTG
Best OTG with Convection and Rotisserie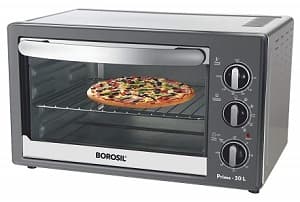 Our runner-up pick from the brand Borosil is a decent addition to your kitchen with premium quality material, smooth finishing, and assured durability. Of the many amazing features that make the Prima Oven Toaster Grill the most convenient OTG, the auto-power indicator, adjustable temperature control, and 60 minutes mechanical timer tops the list. It would fulfill all your grilling requirements. Besides, the motorized rotisserie function and the convection function allow the automatic rotation of food and uniform browning of meat and veggies, respectively.
Specifications
Capacity: 30 Litres
Wattage: 1500 Watts power
Material: Metal
Color: Silver
Weight: 7500 grams
Dimensions (L×W×H): 56.5×47.5×38 centimetres
Warranty: 2-years
Key Features
With its 6 stage heating function, this OTG oven is equipped to perform baking, toasting, grilling, and rotisserie a cakewalk.
It is the most convenient Oven Toaster Grill with temperature adjustment facilities, a mechanical timer, and an auto-power indicator.
The convection feature helps maintain dryness in the chamber and allows uniform browning of veggies and meat. Moreover, it caramelizes sugar faster and efficiently helps cook food. Thus, saving more energy than an ordinary oven.
It comes with a rotisserie function, which allows grilling meat and veggies (with automatic rotation). This, in turn, causes the hot air to efficiently circulate inside the OTG. Thus, the food has a perfect consistency.
It is accessorized for convenience. With the purchase of this OTG oven, you get all the accessories you need. A cooking tray, a detachable crumb tray, a rotisserie handle and rod set, a grill rack, skewer rods, cum barbecue tray, etc.
Additional features include an illuminated chamber (inbuilt lights) to keep a check on your cooking and a recipe book with over 25 cooking recipes.
Lightweight
Sturdy material construction
Power-efficient
Automatic power indicator
Illuminated chamber
Cons
It cannot be used for defrosting
3. Inalsa Oven Chefs Club 30BKRC OTG
Best OTG for Baking Cake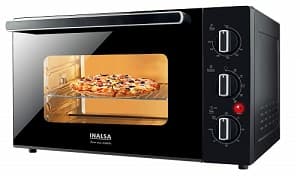 Belonging to one of the top-rated brands, our next pick is worth purchasing for anyone looking for an OTG oven with excellent baking performance. It has 1500 watts of power which makes baking cakes, pizza, bread slices faster and more efficient. Its compact design and sturdy material enhance its efficiency. Besides, it comes with an adjustable thermostat and timer selection, which helps maintain the apt temperature for baking. Thus, forming the perfect consistency.
Specifications
Capacity: 30 Litres
Wattage: 1500 Watts power
Material: Metal
Color: Black
Weight: 10700 grams
Dimensions (L×W×H): 53.5 x 43.5 x 32 centimeters
Warranty: 2-years
Key Features
The Inalsa OTG oven allows uniform heating in 5-8 minutes, making the device quicker and more efficient. Thus, it helps decrease the power consumption, and you save on your time as well.
It is multifunctional and comes with a five-mode heating function. This helps you toast, bake, grill, brown, and roast a variety of fresh, frozen meals.
This oven comes with a rotisserie and convection feature, which ensures uniform browning of the food. It also helps the food cook to the core, maintaining crispness and flavor.
The company provides multiple cooking accessories, which include a crumb tray, grill and baking tray, cooking tray, grill rack, steel wire rack, rotisserie fork set and handle, a baking pan/grill tray handle, and removable trays.
Unlike other OTGs, it is one of the most convenient Oven Toaster Grills for baking a cake or making pizza dough. It has an adjustable thermostat and timer selection option, which helps maintain the perfect consistency.
It has an easy-to-use digital display panel with touch screen control where you can choose the temperature and time by simply rotating the knob, even when your finger is wet.
Pros
Looks stylish with durable construction
Rotisserie and Convection facility
Clear, heat resistant tempered glass
Variable temperature range and timer selection
Improved thermal efficiency
Cons
4. Wonderchef Oven Toaster Griller
Best OTG for Grilling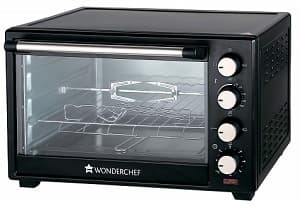 The next product in our list of the best OTG ovens comes from the brand Wonderchef. With impressive features at a budget-friendly price, this oven toaster griller stands out to be the best for grilling purposes (especially for grilling chicken). Its outer body is made up of stainless steel. With the aid of this oven, you can easily roast chicken, grill vegetables, and introduce a variety of new recipes in your kitchen. What's more is it has a 3-in-1 cooking mode, equipped with convection and rotisserie function. It enables you to grill chicken efficiently and makes tempting non-vegetarian food at the comfort of your home.
Specifications
Capacity: 28 Litres
Wattage: 1600 Watts
Material: Stainless steel
Color: Black
Weight: 6140 grams
Dimensions (L×W×H): 40x 37 x 55 centimeters
Warranty: 2-years
Key Features
The Wonderchef oven toaster griller has a temperature control system that can withstand a maximum temperature control of up to 250 degrees Celsius.
It has an in-built "stay-on" feature that helps keep the food warm for several hours even after the food is cooked. Moreover, it has a maximum capacity of 28 liters that makes it perfect for 2-3 people.
This oven toaster griller is conveniently sized to make mouth-watering food in large quantities. It grills your chicken just fine and tenderizes it on time!
It comes with an auto power shut-off facility with a bell. Thus, you don't have to keep an eye on the cooking process. Once the food is cooked, the oven automatically shuts down, preventing overcooking. Besides, it alerts you with a bell.
It has an easy control function. It features 4 knobs with easy-to-operate buttons that enable you to make the temperature adjustments, set the air convection, cooking mode, and time.
Pros
Lightweight and durable design
Uniform grilling
Multi-stage heat selection
Easy to use and maintain
Cons
5. Usha 60L (OTGW 3760 RCSS) Oven Toaster Grill
Best OTG for Commercial Use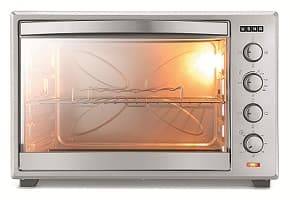 This Usha Oven Toaster Griller comes with 60 liters capacity, which makes it ideal for large families – with 4-5 people or more. It is energy-efficient and offers long-lasting performance, making it the best OTG oven for commercial use as well. Moreover, it has a very easy control panel setting with no confusing dials or buttons. Some of its basic features include Rotisserie and Convection technology with a stay-on function for longer preparation time.
Specifications
Capacity: 60 Litres (5-8 people)
Wattage: 2200 Watts
Operating Voltage: 220-240 volts
Material: Stainless steel
Colour: Steel
Weight: 6140 grams
Dimensions (L×W×H): 62.5 x 46.2 x 41.5 centimeters
Warranty: 2-years
Key Features
This oven features convection technology for 360 degrees even cooking, preventing any undercooked spots.
It comes with a rotisserie function that allows uniform browning of food while maintaining crispness.
It has a stainless steel body with a cool-touch handle. Thus, it prevents any possibilities of burning.
There are 6 mode cooking option for baking, toasting, roasting, and grilling.
It has a sleek design made up of long-lasting metal materials along with a thermostat and a heavy-duty call.
The exterior unit is made up of break-resistant tempered glass that assures increased durability and performance.
It comes with many accessories – rotisserie, skewers, bake tray, grill rack, crumb tray, grill, and bake tong, rotisserie tong, barbeque rack, and a recipe book.
Pros
Beak resistant tempered glass
Compact design and lightweight
Budget-friendly
Easy to clean and maintain
Cons
It makes a loud humming noise sometimes
You can't heat or warm food in this OTG
6. Inalsa MasterChef 19 BKR OTG
Best Cheap OTG Oven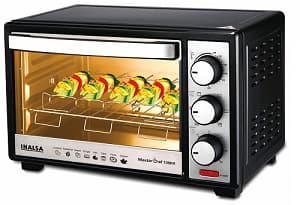 This Inalsa MasterChef OTG is a multi-tasker like no other. This compact tabletop Oven Toaster Griller allows you to cook with passion and serve with pleasure – at the most affordable price. It has a 60-minute timer with a stay-on feature that takes care of all your cooking tasks. Besides, it has a large capacity to accommodate casserole dishes and fit an entire 9″ pizza. However, the best part is – it's the cheapest of all.
Specifications
Wattage: 2200 Watts
Operating voltage: 220-240 volts
Material: Powder coating CRCA
Color: Black/silver
Weight: 4500 grams
Dimensions (L×W×H): 44 x 31.8 x 28.6 centimeters
Warranty: 2-years
Key Features
The Inalsa MasterChef OTG is built with an efficient heat distribution technology that helps in the uniform browning of pizzas and bread. Besides, it bakes and toasts to perfection, improving flavor by reducing moisture and giving perfect crispness.
It comes with 6 cooking modes, and you can easily cook innumerable recipes by simply rotating a knob – and setting the desired temperature to cook exactly to your specifications. It also helps conserve energy and keep your kitchen cooler.
This oven has a powder coating, big glass window that allows you to keep an eye on the cooking. Moreover, the 60-minute stay-on function helps you cook golden brown bread slices, browned meat, and crispy crusts in less time.
This oven has a "motorized rotisserie feature" that allows rapid heat distribution and thus faster cooking results. This OTG, however, is perfect for small and medium-sized families.
It offers powerful performance. With a 1300 watt power, it makes the machine all the more efficient and your cooking faster.
This oven has a compact and elegant finish. Its powder-coated design makes it more resistant against scratches, wear, fading, and chipping.
Pros
Motorised Rotisserie
Sturdy and durable construction
6 stage heat selection
Power indicator light
Cons
7. Morphy Richards OTG Besta
Best OTG Oven for Home Bakery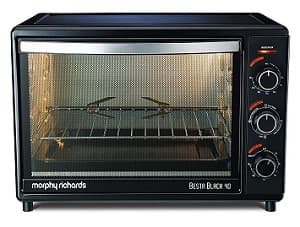 Our last pick for today is the OTG Besta from the brand Morphy Richards. It is energy-efficient and consumer-driven. What's more, it has sturdy construction with amazing performance and durability. Besides, the motorized rotisserie and the special "bake mode" feature make it the best OTG oven for home bakeries.
Specifications
Wattage: 2000 Watts
Capacity: 40 litres (5-6 people)
Material: Metal
Colour: Black
Weight: 9700 grams
Dimensions (L×W×H): 58.6 x 46.6 x 44.2 centimeters
Warranty: 2-years
Key Features
The oven comes with a stay-on feature that keeps the food warm up to 2 hours after cooking, retaining its moisture, flavor, and freshness.
It also includes a motorised rotisserie (with forks) that efficiently helps grilling kebabs, broiling meat, or other delicacies.
There is a temperature control feature that helps you regulate the temperature according to your requirements.
It comes with a removable crumb tray that helps collect all the spillage while cooking or food droppings while serving. It also ensures easy cleaning and protects the bottom chamber of the OTG oven.
It has a special "smart bake" feature, which makes baking a breeze. Thus the best home bakery OTG oven.
It has an outstanding timer feature of 120 minutes, which prevents any possibility of the food getting overheated or burnt.
Pros
Simple, clean, and elegant design
Easy operation
Value for money
Cons
No defrost function available
How to Choose the Best OTG Oven? (Buying Guide)
1. Size or Capacity
Size matters when choosing the best OTG oven for you. Most ovens have a width of 60 centimeters (or above), which is substantial enough for residential uses. Before opting for your purchase, first, consider the space available in your kitchen. Larger ovens take up more space, and if you have tight space in your kitchen, this wouldn't be an ideal option. A medium-sized OTG oven can do the job just fine.
Besides, capacity, too, plays a crucial role. Make sure you consider the capacity of your Oven Toaster Griller. Choose between the 30-60L capacity of – depending upon your family requirements. The higher the capacity of the oven, the less will be the cooking time. Hence, you save your time and electricity.
2. Dimension and Storage
OTG ovens come in all sorts of sizes ranging between 864-2592 cubic inches, dimensionally. Checking the dimension of the device may assist you in many ways – it allows you to know if it would fit in any of the racks in your kitchen or not. You can easily measure the oven depth from the back wall to the front. Then multiply the height, width, and depth to get the accurate dimensions. Keep in mind, OTG ovens generally take up more space than regular ones. Besides, the smaller the size, the easier the storage and the easier the installation process.
3. Power Consumption
Like any other appliance used in the kitchen, the power consumption of OTG ovens varies. Power consumption directly depends on the size and capacity of the appliance. The greater the size and the capacity of the OTG, the greater will be the power consumption. Therefore, opt for the smaller ones; they work efficiently, all the while using less power to run.
4. Cooking Modes
The number of recipes you can cook with your oven is what cooking modes indicate. OTG ovens provide you with extra cooking modes – as they consist of grilling and toasting features as well (along with other basic features). It's always a bonus if you could perform more than one task with your appliance. Therefore, consider the cooking modes so that you could cook innumerable delicacies at ease.
5. Temperature Regulation
The temperature regulation feature provides an additional advantage to your appliance. It helps regulate the oven's temperature and prevents any chances of the food getting overcooked or under-cooked. This is a must-have feature! It's always best to opt for the ovens that provide maximum temperature regulation (250-300°C).
6. Timer
The timer feature is again one of the most important features. Its primary function is to determine how much time the OTG takes to cook/bake the food. All you need to do is set the timer button. Once the food gets cooked, the device will inform you automatically. What's more, you can even set the timer manually.
7. Build Quality
The build quality (material used) is extremely necessary to consider, especially when the oven is used at high temperatures. Before purchasing your OTG oven, you must check the quality it is made with. You don't want the plastic burning and leaching into your food. Moreover, make sure the appliance is lightweight as it would then make it easier to carry around. Besides, consider a bright light installation feature (illuminated chamber) as well. It allows you to see the insides while cooking.
8. Ease of Use
The demand for OTG has been increasing day by day as it makes your cooking experience as easy as pie. Go for something with an effective user interface and interactive design. An appliance with an easy control panel and no complications when it comes to handling buttons or dials.
9. Keep Warm Function
The keep warm feature is again necessary to consider. Opt for the ones that are updated and have an advanced 'keep warm' feature. It provides additional freshness to your food and keeps it warmer for a finer period. It clearly implies your food remains deliciously warm and fresh – and it is totally to serve!
10. Accessories
With the purchase of your OTG oven, companies provide you with rotisserie, skewers, bake tray, grill rack, crumb tray, grill and bake tong, rotisserie tong, and a recipe book.
11. Price
The price of an OTG oven depends on the type, the brand, and the features present in it. For instance, the price of an OTG oven in India ranges anywhere between Rs 3,000 to Rs 20,000 (the price varies according to the capacity). You are also free to choose the more expensive models if money is no object. All in all, it's important that the appliance has all the essential features. Considering your budget and choosing what you need (exactly) to purchase is a good idea.
12. Warranty
The standard industry warranty range for OTG ovens is 2 years. However, many companies offer even longer warranty periods ranging from 3-4 years. Extended warranties are always worth it – it saves you cash in the long run. Thus, always go for the product with a longer warranty period
Benefits of Using an OTG
Here are some of the major benefits of using OTGs:
Portable: OTG ovens are not so heavy in comparison to microwave oven. They are made of lightweight material, and you can effortlessly position them wherever you need.
Budget-friendly: OTG ovens are a lot less expensive than standard microwave ovens.
Less Power Consumption: If you believe in saving energy and performing all your work, an OTG oven could be the ultimate choice. It consumes minimal energy while cooking.
Multi-task: You can prepare multiple dishes with an OTG oven. It can act as a microwave oven, griller, and toaster as well. Why go for something else when an OTG oven is an ALL-IN-ONE facility provider?
Disadvantages of OTG Oven
Although an OTG oven doesn't have many disadvantages, here are some you may occasionally observe.
More Time to Cook: OTG ovens consume less energy, and thus it takes more time to cook food (as compared to microwave ovens).
Improper Heat Distribution: OTG ovens do not distribute the heat properly. Sometimes, you may observe that some part of the food is not cooked properly. And that's because OTG ovens cook food by radiating heat through the coil. Therefore, it's likely that the lowermost part gets uneven heat.
Quite Confusing Sometimes: OTG uses mechanical control panels, which may be difficult or confusing for the new users.
Hot Outer Body When Overused: You might notice the outer handles of the OTG oven get heated due to high-temperature changes inside the chamber.
Difference Between OTG Oven and Microwave Oven
| | OTG Oven | Microwave Oven |
| --- | --- | --- |
| Cooking Technique | OTG ovens make use of the heating element on both ceiling and floor of the chamber. It helps produce heat to cook the food. They do not reduce the moisture content in the food. | A microwave oven emits microwaves, causing water molecules in the food to vibrate. It helps in the production of heat to cook the food. And therefore, they reduce the moisture content in the food. |
| Functions | OTG ovens can also be used as a toaster and griller as well. Besides, they can be used to bake or keep food warm. | You can only bake and reheat food in the microwave oven. |
| Cooking Time | OTG ovens take more time to cook food. | They take less time as compared to OTGs. |
| Heat Distribution | The heat distribution is less even. | Microwave ovens have a more even heat distribution. |
| Power | The power usage is relatively low. | The power usage is high. |
| Price | It's more economical price-wise. | It's more expensive. |
| Auto Cook | OTG ovens do not have an auto-cook functionality. | Microwave ovens have an auto-cook function. |
| Portability | It is light and easy to move around. | It is comparatively heavier. |
OTG Oven Frequently Asked Questions (FAQs)
1. Can you bake in OTG?

YES. An OTG is best used for baking, toasting, and grilling. Moreover, a few OTGs come with a "smart bake" feature that allows you to bake cakes, pizza, cookies, and whatnot!

2. How to clean an OTG oven?

Cleaning an OTG oven is quite easy. Sprinkle some baking soda on the surface of the chamber, scrub it with a sponge dipped in water, and clean the surface. Then wipe it with a clean towel and let it dry.

3. What size OTG oven should I buy?

It totally depends on you. You can select the size considering the number of members in your family and the space available in your kitchen rack.

4. How much power does OTG consume?

The consumption of power of OTG ovens is quite less in comparison with Microwave ovens. It is observed that an OTG oven consumes about 1000-5000 watts on average.

5. Which is better – a microwave oven or an OTG oven?

Both the appliances have their own individual uses. While an OTG oven helps you toast, grill, crisp, and caramelize more efficiently, a microwave oven has its benefits. An OTG oven can allow you to keep the food warm for longer durations, whereas a microwave oven does not. Choose the one that suits your needs.

6. Is cooking in an OTG oven healthy?

YES. Cooking in an OTG oven has been scientifically tested and approved. Although it makes use of energy radiation to cook food, there have been no signs of leaching observed. The food is absolutely healthy and free from chemicals. You just need to take a few precautions while handling the OTG oven.

7. Which appliance is better to bake a pizza – a microwave or an OTG?

An OTG oven is better when it comes to baking a pizza than a normal microwave oven. Few OTG ovens are manufactured with a "convection feature," which helps retain the water content of the food, thus making it crispier. An ordinary microwave oven does not have this feature.

8. What utensils should you use in an OTG?

You may use certain utensils for baking and cooking in OTGs such as non-reactive metal vessels or cast iron, glass utensils marketed as microwave safe (borosilicate glass), silicon vessels marketed especially for baking, food-grade quality, a plastic vessel that can resist heat, marketed as microwave safe.
Conclusion
That's all! We hope the above-listed reviews and guide was beneficial to you – and it helped you make the best choice according to your requirements. In this article, we have covered everything you need to know – down to the last detail.
As per our recommendation, you may consider purchasing our top pick Philips HD6975/00 Oven Toaster Grill, which is the best oven for home use. With optimum temperature regulation and 90 minutes auto cut-off, this OTG oven offers the best performance and durability. Our second recommendation would be Borosil Prima 30-Litre OTG. Some of its advanced features include a motorized rotisserie and a smart convection feature, giving your food the perfect consistency.
Let us know if you have any questions or suggestions in the comment section down below. We would love to hear from you!
Read Related Reviews
Buy OTG Ovens Online
Philips HD6975/00 25 Litre Digital Oven Toast...
25%
Bajaj 2200 TMSS Oven Toaster Griller (OTG) wi...
74%
AGARO Marvel 9 Liters Oven Toaster Griller, C...
39%
Bajaj Majesty 1603 TSS 16L Oven Toaster Grill...
35%
Inalsa Oven MasterChef 10BK OTG (10Liters) wi...
39%
Wonderchef Oven Toaster Griller (OTG) - 19 li...
43%
AGARO GRAND Oven Toaster Grill Convection Cak...
18%
Morphy Richards 30 RCSS LuxeChef 30 Liters Ov...
52%