A Bread Maker Machine is one of the best ideal kitchen gadgets letting you enjoy fresh loaves of bread anytime, whenever you want. That's why the demand for bread maker has rocketed in the past few years in India. Not only for commercial purposes, but it is also a good choice for many Indian homes who love fresh bread with cheese or butter, sandwiches, etc. in their breakfast.
The appliance comes with a pan or tin and built-in paddles to bake fresh bread at home with minimal active supervision. With different sizes and setting options, you can easily create all kinds of loaves right from home.
Having a bread maker machine at home, you can enjoy fresh loaves made with fresh and healthy ingredients. So, you don't need to worry about your health. Even you can customize it, with various options available like a gluten-free setting to get only the healthiest version.
In this article, you will find the reviews of the best bread maker machines in India that can improve your baking and change your life for the better. Even to make your buying process simpler, we have covered a Comprehensive Buying Guide , so you can easily choose the right one for you.
But before going into detail, let's know about some key points to choose the best Bread Maker Machine.
Types of Bread Maker- The bread maker machine comes in two types: Horizontal and Vertical. These two types yield the loaf in either horizontal or vertical shapes depending upon the type of machine you are using.
Capacity- The capacity of the bread maker determines how much slices of bread it can bake in one go. They usually fall in the range of 500 gms to 1200 gms with different numbers of bread yielding capacity, including:

The bread pan size of 500 gm will yield 8 slices
Pan size of 700 gm will deliver 12 slices in one batch
The pan size of 100 gm will produce 16 slices
Pan size of 1200 gm will yield 20 bread slices at a time

Pre-programmed Settings- You can find a variety of programmed settings to make the customized bread in just one push of a button. It allows you to make whole wheat bread, French bread, gluten-free bread, pizza dough, and a lot more.
7 Best Bread Maker Machines in India
Best Bread Maker Machine Reviews
1. KENT 16010 Atta and Bread Maker (Overall Best)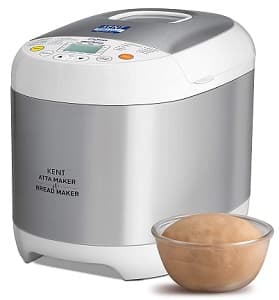 KENT 16010 Atta and Bread Maker is a vertical bread maker machine that tops the list not only for its features but also due to the company's history of providing exceptional products and top-notch service all over India. The key features of this particular model include:
User-friendly and ergonomic design with a one-touch automatic operation. It has detachable components, simplifying the process for both cleaning and storage.
The settings include automated mixing and kneading, making it convenient to create special types of bread, such as chapatis and puris.
Perhaps one of the most underrated features of this product is its hygienic process. The KENT 1600 Bread Maker is a dump and leave-machine that does not require you to touch the dough with bare hands.
The customizable function of this product tops the list. It can handle any type of ingredients and make any varieties of bread from Wheat to French Bread.
This particular model comes with a detachable kneading panel, a measuring cup, a measuring spoon, non-stick bakeware, and a detailed instruction manual.
KENT 16010 Bread Maker has 19 pre-set menus, simplifying the cooking process. The pre-set menus are:
Basic Bread | Quick Bread | Sweet Bread | French Bread | Whole-Wheat Bread | Rice Bread | Gluten-Free Bread | Dessert | Poori Atta | Pizza Dough | Chapatti Atta | Cake | Jam | Yogurt | Bake | Sticky Rice | Rice Wine | Defrost | Stir-Fry
These pre-set menus give users versatility and allow them to be creative in creating not only bread but also the bread maker machine for more.
KENT has more than 1500 service centers all over India. The product has a one-year warranty, protecting consumers and providing the best service it can.
Pros
It has a one-touch automatic-operation that simplifies the process
The hygienic quality goes both ways; dump-and-leave operation without touching the bread and easier cleanup
550-Watt consumption makes it energy efficient
It has the simplest and easiest user interface, making it the most user-friendly
Cons
2. Sharp Table-Top Bread Maker (Runner Up)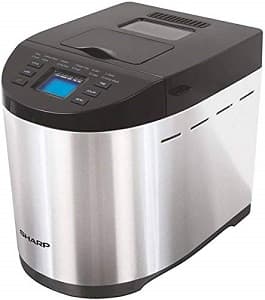 The Sharp 600W Table-Top Bread Maker is a tough competitor and a close second to the top pick. Compared to KENT, Sharp 600W is a horizontal bread maker that has smart and many add-ons. Here are some of the key features.
The Sharp 600W Table-Top Bread Maker comes with an LCD, making it easier to know the status of the process.
This model's sleek and compact design will fit comfortably in countertops. And with its stainless steel body it is also easy to clean.
This bread maker machine gives you control over the loaf size and color of the bread you want to make. It provides three crust color options; light, medium, and dark.
This model has 12 programmed menus. It means that you have in-built programmed menus, making the bread-making process fully automatic.
The 12 programmed menus are:
Basic | French | Whole Wheat | Quick | Sweet | Ultra-Fast | No-Gluten | Dough | Jam | Cake | Bake | Home Made
You have two loaf size choices that will remind you to use it regularly if not every day. The first loaf size option is meant for everyday use, while the largest setting is for family gatherings. This a smart trick on their part to make it more cost-efficient for the consumer in the long run.
Perhaps a weird but much-welcomed function is its fruit and nut dispenser. The unique dispenser releases the nuts at the same time. It guarantees equal distribution, giving you quality bread with the nuts and fruits still packed with nutrients.
Pros
The Sharp 600W Table-Top Bread Maker has an auto-resume function. In case of power interruptions or sudden unplugging, it will not restart the process
The fruit and nut dispenser is an innovative feature that will appeal to people who want healthier options
It has more adjustable browning options compared to that of KENT
Cons
Sharp Ltd. does not have the same number of service centers in India as that of KENT
Some reviews say it doesn't do well with chapati and poori dough
3. Glen Bread Maker 3034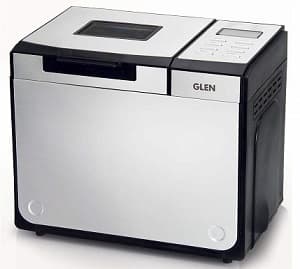 The Glen Bread Maker 3034 places third on this list but remains a strong competition to its predecessors. Glen is an intelligent vertical bread maker machine, both in function and design. According to its Amazon product description, the company has revolutionized this product for two decades to cater to Indian citizens. Here is a list of its key features.
The Glen Bread Maker 3034 has a nonstick baking pan. It is detachable, making it easy to remove the bread. Cleaning is a breeze with this function.
The bread-maker machine gives a standard 12 pre-set function, giving complete electronic control. The twelve pre-set functions are:
Basic | Whole Wheat | French | Quick | Sweet | Cake | Jam | Dough | Ultra Fast | Bake | Dessert | Homemade
It also has 3-crust settings and 2-size options to choose from.
The lid comes with a viewing window, which is a great addition. You can see the progress of the bread-making process and stop when necessary.
The lid also comes with a lift, making it easy to lift the bread and relatively less to no mess.
Glen took it a step further by adding a protective housing. The exterior does not emit any heat, and insulation is top-notch, ensuring less accident occurrence.
The model is extremely durable but surprisingly lightweight. It can prove to be useful for outdoor parties or even camping trips.
Pros
Its large bread making capacity challenges than that of the others in the market
It has a keep warm option
The minimum time to make bread is 3.5 hours
The maximum delay can be up to 13 hours
Cons
One of the complaints found in the reviews is poor customer service
Despite the reasonable price, the spare parts of the Glen Bread Maker prove to be expensive
4. Wonderchef Regalia 550-Watt Bread Maker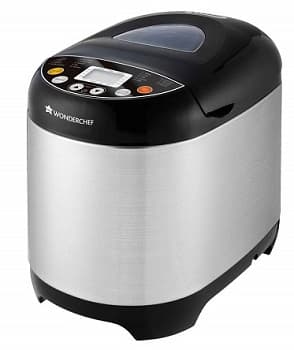 The Wonderchef Regalia Bread Maker is an average vertical bread maker aimed at people who want simplicity. It has simple yet special features that make it stand out. Their brand takes pride in encouraging people to make a healthier lifestyle with gluten-free and whole wheat options. The key features of the Wonderchef Regalia Bread maker include:
Automatic Intelligent Setting that controls the texture and color of the crust. That also includes the sizes of the loaves that can go up to 2 pounds.
It has a one hour automatic "keep warm" function along with a 15-hour delay hour timer, one of the most extended times in our list.
Has 19 preprogrammed features including Basic, French, Whole Wheat, Gluten-Free, Corn Bread, Jam, Yogurt, and more.
For a midrange bread maker machine, this one has both an LCD and a viewing window. Most mid-range bread makers don't have those features, only having opaque lids, but the SKG beats them in that field.
The non-stick pan is easy to detach from the unit. The bread will easily lift from the pan after baking.
Accessories include a spare kneading blade and a metal tong to use for the bread. That means that the coating is not easily dented.
It is the most user-friendly model from the mid-range models in this list.
Pros
The Wonderchef Regalia is set at a reasonable price
The Power Interruption Recovery feature continues the bread cycle feature when a power interruption takes place
It is fully automatic
Cons
5. Hamilton Beach 29885 Bread Maker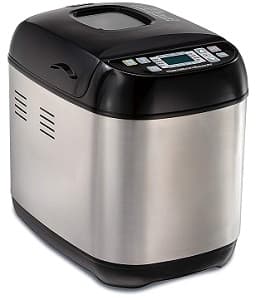 Hamilton Beach 29885 Bread Maker is a horizontal bread maker machine that can be used for outdoor activities such as parties. According to its Amazon product description and even their settings boast on it, this machine specializes in artisanal bread. Hamilton Beach can create simple white bread to complex ones such as croissants. Here are some of its key features:
Can produce 2 pounds of bread in as short as two hours.
It has a stainless steel design that makes it easy to clean.
It comes with two paddle attachments that can be used interchangeably.
Has 12 Program Cycles including:
Basic – For white and mixed bread using simple bread flour | Gluten-Free | Quick – For types of bread that do not use yeast or need rising, but use baking soda | Sweet | 1.5 Express | 2.0 Express | Dough | Jam | Cake| Whole Grain| Bake
Functions without noise, making it safe to use throughout the night
It has non-slip feet and is cool to the touch surface to avoid accidents.
The Hamilton Beach has 14 Preparation Cycles, all of which you can customize to mix and match to make your recipe.
It comes with its own cookbook.
Pros
Hamilton Beach produces bread at a faster rate compared to its competitors
It comes with fourteen preparation cycles
This bread maker machine can handle complex pastries such as croissants
This bread maker machine comes with customizable bread sizes and shades
Cons
It does not have that many service centers all over India
There are no settings to keep the bread warm after the baking cycle
6. Cuisinart Bread Maker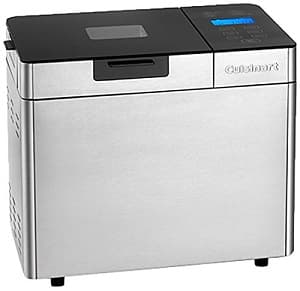 The Cuisinart Bread Maker is a midrange vertical bread maker machine. It is an average type of bread maker that you can purchase in the market. The 600W model comes with both an LCD and a viewing window. Another thing that makes it unique is that it has a touchpad wipe control that makes cleaning the unit easier. Some of its key features include:
An intricate 12 list pre-programmed bread selections incuding:
Basic/White | French/Italian | Gluten-Free | Sweet Bread – this function focuses on bread high in protein and sugar | Pre-packaged mix – a new function that allows people to bake packaged goods in the bread maker | Cake | Quick Bread | Dough | Pasta Dough | Jams | Bake Only | Rapid Bake
Three selections to determine the texture and color of your bread crust (light, medium, dark).
Most of its components, such as the kneading blade and pan, are removable. That makes cleaning easy.
The Cuisinart can produce up to 2 pounds of bread.
Pros
Offers special preprogrammed features at a mid-range price
Cleaning and maintaining this unit is easy
The Cuisinart uses convection heat that helps develop the crust overall
The pre-packaged mix feature allows it to bake a cake at a faster rate
Cons
Customer service is offered online. It takes time to replace spare parts
Some customers complain that it is too pricey for a midrange bread maker
7. Oster CKSTBRTW20 Express Bread Maker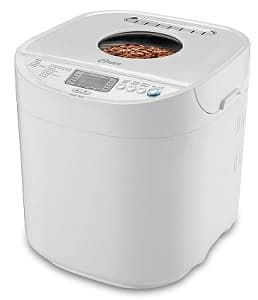 The Oster Express Bread Maker maybe second to the last on the list, but it does not skimp on the features. The Oster lives up to its claim of being an express bread maker as it can produce a loaf of bread in an hour. This bread maker machine is small, but it is decent and can be a great home appliance for big families. Oster is a solid choice for people on a budget. It has 12 pre-programmed settings, including express bake. Some of its key features include:
Having a 2.0 pound of loaf capacity that is ideal for big families.
The 12 pre-programmed features are:
Basic | French | Whole Wheat | Sweet | Ultra Fast (1.5) | Ultra Fast (2.0) | Quick | European | Dough | Bagel Dough | Jam | Bake
For a budget-friendly bread maker machine, it is very customizable when it comes to making bread.
Comes with delay time feature, crust color settings, and keep warm settings.
Pros
Fast and dependable
It is a solid choice for a bread maker machine
The most budget-friendly bread maker
Cons
How to Choose the Best Bread Maker Machine? (Buying Guide)
When buying a bread maker, there are many things to think of. We have detailed here some of the most important points that you must consider before buying a bread maker machine for home. So, keep reading to get full insight into it.
Types of Bread Maker
The two types of bread makers are the vertical bread maker and the horizontal bread maker. The difference between these bread makers relies on the shape of the bread they produce.
1. Vertical Bread Maker
The vertical bread maker machine produces the usual shape of bread, which is the rectangular, brick shape. Most vertical bread makers only come with one single attached kneading paddle with one spare. If you are not the type of person who cares about the shape of bread, then the vertical bread maker machine is for you.
2. Horizontal Bread Maker
In the horizontal bread maker machine, you can control the shape of the bread. The look of the bread that comes out of it can mimic the ones you see in bakeries. It comes with two kneading paddles and a spare.
Parts of the Bread Maker
Bread maker machines come with different parts that can make it the best choice or a deal-breaker. The two parts you need to focus on are the bread pan and the kneading paddles.
1. Bread Pan
There are bread maker machines that come with a detachable pan or completely removable. On that same note, there are pans that are made with a non-stick material while there are others in the market that have aluminum or cast iron options.
The material of the pans combined with programmed settings helps determine the browning of your bread crust.
2. Kneading Paddles or Kneading Blades
The kneading paddles or kneading blades are often a big problem in bread maker machines. The reason behind this is that the kneading paddles are the most working part of a bread maker. So, it must be strong enough to handle kneading dough for long hours of days.
Some models have a separate dough hook, such as the Bajaj Platini. It can be an additional or essential part of the bread maker machine.
Make sure that these parts are durable. You can also note that there are models that come with spare parts. If you want, buy these spare parts in advance or take note of the price to save up money.
Features to Look For Before Buying a Bread Maker Machine
1. Control Panel
If you are a beginner or a pro, looking for convenience, the bread maker machine you choose should match your abilities with space for improvement. The panel consists of the controls that will help you decide on the outcome of the bread you're making. Hence, choosing the right one matters. People often skip this step and end up in a bind as they find themselves confused.
Find the right panel and make sure that it is user-friendly and matches your needs and level of baking. In addition to that, verify that it has the settings that allow you to make varieties of bread and is non-sensitive. It will help you make it a one-time purchase, or a long-time one until you outgrow it.
2. Quality
Quality pertains to two things: the machine's quality and the bread it produces. Often, people only look at brand names with expensive price tags. That's not the proper course to take when it comes to purchases, and bread maker machines are not an exemption. High bread maker price does not equate great quality. It comes down to durability, warranty, effectiveness, and bread quality.
3. Durability
Bread maker machines are not cheap. Purchasing one is meant to be cost-effective, meaning it will lessen the expenses spent on bread and other pastries. The materials used in making the bread maker machines should matter. The parts that make-up the machine are vital in the bread-making process.
Choose bread maker machines made with strong materials. There are models that offer stainless steel or plastic outer parts that make it durable.
4. Warranty
The warranty is not just a piece of paper. When choosing your bread maker machine, choose the one with the most detailed and extended warranty. The purpose of the warranty is to protect you. During the period of which the product malfunctions, the store must repair or replace the defective model. The warranty legally holds the store accountable and acts on it.
5. Budget
Bread maker machines do not come off as inexpensive, but it is a reasonable purchase considering its uses and advantages. Hence, there should be a set budget when buying a bread maker machine. The price should match the options the machine offers. If you want something simple, you don't have to break the bank for something durable. Researching beforehand helps set a specific budget.
6. Options
Options are connected to the panel. However, it deserves an explanation as to why it is crucial to think of it when buying a bread maker machine. Options allow you to control the outcome of the bread, literally. The options on the panel of the bread maker you want to buy should cater to the types of bread you want to produce. If you want a darker crust, less kneaded dough, and such, the panel should have programmable options to reach that outcome.
7. Bread Quality
The bread quality is an essential part to consider when buying a bread maker machine. The machine's structure plays an integral role in creating the bread, and the options allow you to customize everything. Consider purchasing a bread maker with a proven quality mark. That way, you are getting homemade quality bread.
An essential afterthought to this is how it handles types of flour. Do not opt for a breadmaker that can only handle basic flour. One of the reasons why you should buy a bread maker machine is because you want to make it healthier, and sticking to basic flour will not do the trick. Look for machines that can handle gluten-free and whole wheat flour so you can create several types of bread at home.
8. Brand
Brand names should not be a top priority. However, it should be considered when shopping for a bread maker. Brands like KENT and Sharp have a track record of making it a priority to make bread-making accessible to the working class. While brands do come with a price, it helps that it also comes with quality service.
One of the reasons why brands can make a difference is that they are veterans. That means that the range of products they have most likely has one that can cater to your needs. It is also easier to get spare parts and connect with service centers because they have dedicated service for this.
9. LCD vs. Clear Window Display
When buying a bread maker machine, you have three options to know what stage your bread-making progress is. You can rely on the machine when it beeps or goes for bread maker machines with clear window displays or LCD.
There are Backlit LCD that will update you on the progress of the bread through its screen. However, if you want one that mimics the oven where you can see the bread, a clear window display is the way to go.
10. Multifunctional Bread Makers and Multi-cookers
An example of a multifunctional bread maker and multi-cooker is the Vitek Smart Chef Bread Maker and Multi-Cooker. Bread makers are appliances and will take up counter space. It is understandable to want to compromise and go for a multifunctional appliance.
A pure bread maker, on the other hand, does not mean it is only for bread. Many of those listed above can make cheese and even yogurt. Pure bread maker machines have additional features that can be enticing to those who want to buy it.
11. Healthy Options
KENT Atta can make yogurts, and that's an excellent feature for people who want to make a healthier lifestyle for themselves. Sharp has a nut and fruit dispenser, which releases fruits and nuts at the optimum time to equally distribute the additives. So the bread comes out fresh with the nuts and fruits remaining their nutrients. Most of the products listed above encourage no preservatives and use only organic ingredients. It pushes for healthy options.
12. Pre-programmed Settings
Pre-programmed options are a great help for people who are still new to baking. The selections will help modify the outcome of the bread, depending on your taste and make the learning process much easier. Pre-programmed settings are connected to the panel but deserve to be highlighted in its own right.
13. Quick Options
There are bread makers that can make bread in as short as one hour, including proving. Oster has Express Bake that can produce bread in as little as one hour. There are pre-programmed settings on models such as Hamilton Beach that concentrate on bread that do not use yeast but other risers such as baking soda. Quick option is a feature that can make a big difference for people who are always on the go.
14. Warming Options
Many of the bread maker machines listed above have a keep warm option or delayed setting options. It will give users the advantage to set the time when the cycle starts or start the cycle now and come back to baked bread.
Why choose a Bread Maker Machine?
The bread maker machine eliminates the process of bread-making rather than doing it manually or using an oven that includes:
Preparation and mixing- This is the first step in which you combine the ingredients.
Kneading- Most beginners fail in this step as it requires elbow grease. It is also time-consuming progress and is not advisable for people with disabilities and the elderly.
Rising and Proofing- This step takes time as it requires people to wait and then do kneading in between, depending on the recipe, and then allow it to proof it and rise again.
Baking- In this step you need to bake the bread at a required temperature and time that is a hassle if you have selected the right time and temperature.
With the Bread Maker machine, you don't need to do all the above steps manually. Just put the ingredients, choose the setting, and start the machine. The rest is up to the bread maker.
It functions to customize the recipe to your preference and make it healthier by eliminating preservatives usually added in store-bought bread. That alone makes it an excellent investment to have in a kitchen.
How does a Bread Maker Machine Works?
Very less manual intervention; you just need to take out the bread making tin and load it with ingredients.
Then place the tin or pan inside the machine, close the lid and choose the program via the control panel. The rest is done by the machine.
The machine then starts the procedure of making bread. Ideally, some come with the transparent lid or window to offer you a clear view of the whole procedure.
The machine first starts with kneading the dough, and you may find some noise in this step.
Once the kneading is over, the machine allows the dough to rest and rise for further steps. It will take some time (2-4 hrs depending upon the machine).
After the dough is raised and set for making bread, the machine starts the baking process automatically.
And when the baking is over, the machine stops automatically, and you get notified through a beep alert.
Very simple!
Cleaning and Maintenance of Bread Maker Machine
For the prolonged life and durability of the bread maker machine, cleaning and maintenance of it at regular intervals is very important. Here are simple steps to clean it properly.
First, unplug the appliance and cool it completely. Remove the bread tin from the machine and gently sweep out the remaining floor or bread crumbs using a soft sponge or brush.
Now clean the baking tin and kneading paddles using warm or soapy water or with a damp cloth or soft sponge.
Do not use chemicals while cleaning the tin as it can harm the coating of the pan or rust to it.
Do not clean the pan and kneading paddles in the dishwasher unless it is stated that it is dishwasher safe. Even never soak detachable parts for more than 30 minutes. That will destroy the coating.
After complete clean up, allow every part to dry completely for further use.
Following these easy cleaning and maintenance steps, you can keep your bread machine always in great condition.
Important Cleaning Tips
Clean the bread maker machine after every use for its efficient performance.
Never pour water in the machine, except tin or pan, else it will damage or leads to malfunction the bread maker.
Always unplug the machine and cool it completely before cleaning.
When cleaning the inside of the machine for crumbs, tilt it to the side. Use a dedicated dry brush and sweep away the crumbs outward.
When storing the bread maker machine, make sure it is assembled properly.
Use fresh ingredients and exact measurements to avoid overspilling the sides of the pan and seeping through the bread maker machine.
Keep it away from direct heat and away from wet surfaces.
Bread Maker Machines Frequently Asked Questions (FAQs)
1. Is a bread maker machine truly a worth purchase?

Yes, it is worth it. There are many reasons that make it a great choice.
First of all, it makes the bread making process easy and convenient. People do not always have free time to make their own food, and a bread maker helps with that.
Second, it is a healthier choice compared to store-bought bread. Even bakeries have to add preservatives to prolong their product's shelf life. The cost of organic ingredients weighs on the price of the bread and is negated by the preservatives added. By making your own bread, you are customizing it to your own taste, sugar levels, and using organic ingredients without the use of preservatives.

2. How do you use a bread maker machine?

A bread maker machine automates the process of making bread and eliminates all the manual hassles. However, it still requires you to be attentive. For one, a bread maker machine requires exact measurements. Manuals and tutorials help you walk through that. You use a bread maker machine by carefully adding the ingredients inside and pressing the modes depending on your preference.
There are models that have a delayed starting process that can save your time. By putting the ingredients and setting the timer, you can come back to fresh bread later. An alternative setting found in other models is the keep warm setting wherein after the baking process, the machine will keep the bread warm for few hours.

3. Is a bread maker economical in the long run?

A bread maker machine is a cost-effective choice.
By buying bread, you pay for labor, ingredients, delivery fees, and transportation. Eliminating those fees by investing in a machine that you will use in your own home, for the most part, will save you more money.
Buying ingredients in bulk helps save money. Second, bread maker machines, depending on how well you maintain it, last years. It will be an economical choice if you use it regularly.

4. Are bread maker machines environment-friendly?

The answer is yes, bread maker machines are environment-friendly. The only difference between the bread makers listed above is their wattage. However, compared to factory-produced bread, bread maker machines are friendlier to the environment due to its low waste production and low energy consumption.
Another thing that makes it environment friendly is that it removes single-use plastic wrappings. Food waste is avoided because you make what you can only consume.

5. Is a bread maker easy to use?

Yes, bread maker machines are easy to use. It varies on the model mostly, but most of the modern selections available on the market today are semi to fully automatic. Bread maker machines are a breeze to use with their simple functions and buttons. You can easily mix and match depending on your taste to get the type of bread that you want.
One thing that makes bread-making so easy in this machine is removing the need to estimate temperature. You have pre-programmed settings that you can rely on for that. From the crispness and texture of the crust to the rising of the bread, you have control. The only difference is that the bread machine does all of the work for you.

6. Does a bread maker really make a difference in quality?

This question is perhaps the most asked question by those who are curious about bread maker machines. What makes this home appliance so special? The secret comes down to how vital bread is in your diet. That's the answer. For many, bread is a daily staple and a source of nutrients. By consuming store-bought bread, you are missing out on key nutrients and also taking in quite a few preservatives in.
Store-bought bread is purely for convenience. Making it at home is both for convenience and a healthy lifestyle. It makes a difference in quality simply because it is a more intricate process. Factory-made bread comes in bulks and is often exposed. You are not sure of what happens before it is packed.
When you make bread at home, you are aware of what is happening from start to finish. You control the ingredients, the process, and the storage. That is what makes it high quality.
Conclusion
Finally, to conclude, I would like to say that you must have a decent knowledge about the functionality and utility of bread maker machines. With the above buying guide and reviews of top-rated models, you will surely get your best piece while saving your time and effort both.
Well, all the above-listed products are the best choices; our personal recommendations are KENT 16010 Bread Maker and Sharp 600W Table-Top Bread Maker. These are top quality bread maker machines that can last years when maintained well. The most budget-friendly one on the list is the Oster, which has pre-programmed options for a fraction of the price.
Making bread at home aims to improve your quality of life through diet and save your money in the long run. It is a home appliance that is worth purchasing.
Remember, a bread maker machine is only worthwhile if you use it. Make sure that when you buy it, you intend to use it regularly.
Read Related Reviews
Buy Bread Maker Online
AMERICAN MICRONIC-Atta and Bread Maker, Fully...
35%
Lifelong Atta and Bread Maker for Home and ki...
33%
Wonderchef Regalia Fully Automatic Atta Knead...
39%
KENT Smart Bread maker and Atta maker for Hom...
46%
Sharp Table-Top Bread Maker for Home, Kitchen...
34%
Glen Bread Maker & Atta Kneader Fully Automat...
43%
Glen Bread Maker & Atta Kneader, 615 W Fully ...
40%
Hamilton Beach Premium Dough & Bread Maker Ma...
30%