Whether you do believe it or not, but an Electric Kettle can, indeed, serve a lot of different functions. For instance, you can use it to boil water, make soups, brew tea or coffee, etc.
But, in today's inflation market, how are you going to find the best electric kettle without spending your hard-earned money?
Well, in short, you can't. However, there's no need to worry. This write-up is going to guide you in this aspect.
Here, you can find a detailed review of ten of the best electric kettles in India. Besides, there will be an all-inclusive Buying Guide available, which can help you avoid any further confusion. So, without making any further ado, let's get started with it.
Electric Kettle Key Points
Size: You should notice the size and capacity of the best electric kettle in India. The right size would allow you to choose the one with the right quantity and build to suit your needs.
Safety: You must keep in mind the safety precautions more carefully before using an electric kettle. Reading the reviews and specifications would come handy here.
Adjustable Features: Buy an electric kettle that would have essential features like temperature management, heat sensor, warning sound/light, etc.
All this and more are explained in detail in the buying guide below. Knowing why you should buy one and what to look for would help you make the correct buying choice.
10 Best Electric Kettles in India
Best Electric Kettles Reviews
The following are some excellent selections of electric kettles you should consider carefully.
1. BLACK & DECKER KE2000SD Cordless Kettle (Overall Best Pick)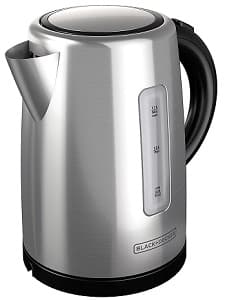 Are you thinking about buying a powerful kettle with a minimalistic design? Then, the cordless kettle from BLACK+DECKER should be ideal for you. The model comes with various awe-striking features, which can help you to boil water quickly and precisely. So, let's take a look at them.
For starters, the product has an overall capacity of around 1.7l. So, it should be enough for you to make tea or hot cocoa for your whole family. Besides, there is a rapid boil zone available inside the kettle as well. It can help you to brew one-three cups of water almost instantly.
The product features an anti-scale filter as well. It is removable and can eliminate limescale from your beverages. The black and decker kettle's safety feature automatically turns it off when the product reaches the boiling temperature.
The overall design of the product seems to be pretty compact and diminutive. Thus, you can place it almost anywhere in your kitchen. The lock system of the lid also seems to be pretty secure and durable. It flips up automatically to help you to fill the glasses comfortably.
The only issue with the model is that it has only one temperature setting.
Key Features
Has a capacity of 1.7l
Comes with the coveted rapid boil zone feature
Safety locking lid for more security
Boasts the Automatic-Shutoff feature
Features 360⁰ swivel base for more convenience
Pros
Its compact design can save a lot of space
Can be ideal for a small family
Has a removable anti-scale filter for efficient cleaning
Cordless outlook can be beneficial for travel purposes
Comes with a water-level screening window
Cons
Has only a single temperature setting
Its overall durability is not up-to-the-mark
2. Wipro Vesta Stainless Steel Electric Kettle (Runner-Up)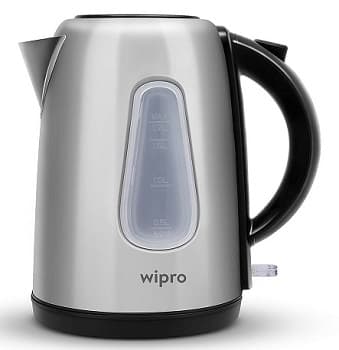 Wipro Vesta Stainless Steel Electric Kettle is another top-notch appliance that you can bring home to brew your morning tea/coffee. Both for design and durability, the mentioned device deserves tons of appreciation.
Amid all its favorable qualities, its automatic-shutoff feature is the one to consider in the first place. With it, you do not need to put extra effort into switching off the kettle. Once it reaches the maximum boiling temperature, it turns itself off automatically.
Besides, the kettle comes with a power indicator light that informs about the boiling status. The second-best aspect that makes the product highly admirable is its remarkable design. It allows you to pour its inner content conveniently without creating any mess!
Moreover, the kettle is made from stainless steel material. So, it is not likely to catch any corrosion. The kettle comes with a slip-resistant Stay Cool Handle. No matter how hot the carrier is, you can grasp its handle with great ease.
One more fascinating part about the product is that you can port it wherever you want. Since it is wireless, it can make out to be an excellent travel electric kettle. On top of that, the Wipro Vesta stainless steel electric kettle makes a great gift!
Key Features
Availability of Automatic-shutoff option
Possesses a Stay Cool Handle
Comes with an indicator light
Appears with a capacity of 800 ml
1200w maximum power for fast heating
Pros
BPA-free to circumvent uncleanness
Has a minimalistic design
Pours content easily with its gooseneck
Cordless and easily portable
Copious 1.7 l capacity
Cons
3. Philips HD9306/06 Electric Kettle (Perfect Value for Money)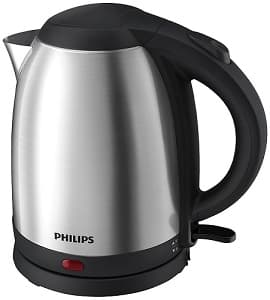 When talking about the best electric kettle in terms of value for money, the first name that comes to mind is Phillips HD9306. Phillips has manufactured it with high-end stainless-steel material. Hence, in essence, its overall durability is unquestionable.
The opening of the kettle is considerably wide and extensive. Thus, it might prove to be beneficial for cleaning and pouring water into it. There is a steam sensor available in the model as well. It can prevent various common issues like overheating and dry boiling.
The overall design of the model seems to be pretty compact and space-saving. Furthermore, to make things even more convenient, Phillips has concealed its cord winder and heating element as well.
The security system of the lid section of the Philips electric kettle is quite robust and durable. Additionally, it also comes with a one-touch spring, which helps you to avoid scalding. Last yet not least, it features a 360⁰ pirouette base for a less-complicated handling experience.
The only issue with this product is that it does not come with a water level indicator. So, you might have to put all your trust upon your instincts.
Key Features
1.5 liter of overall capacity
Food-grade stainless steel-made body for more durability
360⁰ pirouette base for more convenience
One-touch spring lid section is easy to open
Massive 2-year warranty
Pros
It has a wide opening for convenient water pouring experience
Its steam sensor prevents over-boiling
Concealed elements save a lot of space
Perfect for a 4-people family
It is quite affordable
Cons
The cord length is way too short
It is pretty noisy
4. Orpat OEK-8147 Cordless Kettle (Best Affordable Kettle)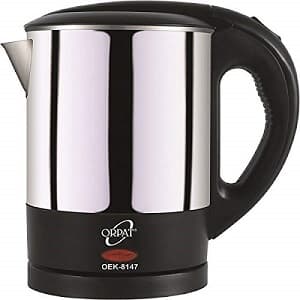 While discussing the topic of the best electric kettle, it becomes almost impossible not to mention the products from Orpat. So, here, you will get some insights about one of the best offerings of the brand. So, let's just jump right into it.
The OEK-8147 comes with a capacity of 1-liter only. Hence, it won't be a decent option for larger families. The spout filter of the product seems to be pretty efficient as well. If you want, then you can also remove it for quickening your cleaning session.
Orpat has used high-end aluminum die-cast material to prolong the longevity of the model. The brand has also provided an eloquent handle with it, which does not get hot, even when the product is boiling water within.
The mouth section of the model seems to be pretty extensive. So, it will be easier for you to pour water and clean it precisely. Also, due to the same reason, you can boil eggs and cook noodles in it as well. Sounds pretty versatile, doesn't it?
The automatic cut-off feature of the kettle can turn the product automatically off in case of a high temperature. The 360⁰ swivel base is yet another section of the product that makes it an ideal beginner-friendly appliance.
Key Features
Automatic cut-off feature for safety purposes
Boil dry and overheating protection
1.0 liter of the overall capacity of holding water
Availability of an indicator light
Removable spout
Pros
Owing to its wide mouth, it is quite versatile
Easy to use and maintain
Its stainless-steel body lessens the chances of corrosion
Compact and space-saving design
Durable and elegant-looking handle
Cons
Sometimes, accidental leakages can occur
5. Fellow Stagg EKG, Electric Pour-Over Kettle (Variable Temperature)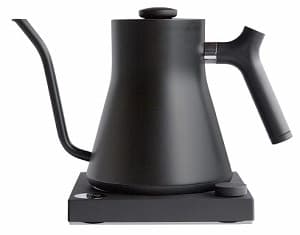 Are you considering buying a unique-looking kettle, which can make your tea-making duties a lot easier? Then, the Stagg EKG from Fellow should be your go-to option. Well, to begin with, the product comes with a decent black matte finish, which can enhance the overall look of your kitchen to some extent.
Its overall design, too, seems to be pretty compact as well. So, you won't have to deal with any spacing issues as well. The precision pour-spout is yet another excellent feature of the model. It offers an excellent pouring-over flow rate. Further, it also has a 1200W heating element, which can quicken the brewing procedure of your morning-coffee.
The feature, which makes it the best multipurpose electric kettle in the market, is its variable temperature feature. With it, you can choose between different heat settings as per your need. There is also an exquisite LCD screen available in the product, which offers decent information about heating progression.
Besides, to make things even more convenient, Fellow Fellow has also added a 60-min hold option in it. It can help the kettle in maintaining your desired temperature for around 60 minutes. If you haven't put the Hold position, then the product will automatically stop working.
Key Features
1200W heating element
Variable temperature control for a user-friendly experience
In-built stopwatch for proper time management
Can produce a maximum temperature of 350°F
220V product, suitable for almost any circumstance
Pros
The black matte finish looks elegant as ever
The LCD screen provides proper information about the brewing temperature
Its spout does not cause drips
It automatically stops after reaching the boiling point
Cons
Quite expensive
Heavy in weight
6. Havells Aqua Plus Double Wall Kettle (Best Multipurpose Kettle)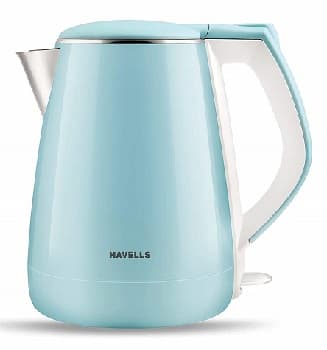 In essence, there is a wide variety of multipurpose kettles available in the market. However, regarding efficiency, none of them can compete against this Havells electric kettle. But why are we saying so? Let's know more about it.
Unlike most other multifunctional products in the market, this one comes with a durable stainless-steel body. Hence, if you do maintain it properly, then it will last for a prolonged period. Due to its size and capacity, you can make soup, noodles, tea, coffee, etc., instead of only boiling water.
There is an indicator light available in this kettle as well. It will let you know once the water has reached its boiling point. The automatic-cutoff feature can prevent boiling issues by shutting off the product after attaining a specific temperature.
The storage base of the model is pretty spacious, as well. Hence, it can comfortably cater to the cords and other extra accessories of the kettle. The extended lid section of the appliance can help you to pour water conveniently without the risk of spills.
However, due to its large size, storing the product might prove to be a headache for you.
Key Features
Seamless and elegant design
Auto shut-down feature
Has an indicator light for more convenience
Food-grade stainless steel body
Rotational storage base
Pros
Can hold 1.2l of water at once
Easy to maintain and use
Decent build quality
Comes with multifunctional abilities
Very light in in weight
Cons
The thermostat switch tends to malfunction at a low temperature
7. Morphy Richards Flamio Electric Kettle (High Capacity)
Since its inception in the market, Morphy Richards has always provided premium products to its consumers. Hence, here, is the review one of the best offerings of the brand, the Morphy Richards Flamio. So, let's get started with it.
The product comes with a massive 1.7l of capacity. Therefore, it can cater to a small family quite comfortably. The appliance's overall outlook seems to be quite eye-catching as well, owing to the exquisite metallic finish.
As per the electric kettle reviews, the product lasts for a pretty prolonged period as well. Anyways, moving on, like some other products on our list, this one, too, comes with an auto-shutoff feature. So, it will automatically shut down if the water reaches its boiling point.
There is also a spout filter available in the kettle. It can help you eliminate all the impurities from the water. It is removable. So, you won't have any issues while cleaning it. Additionally, Morphy Richards has added a water level indicator in it as well.
So, you will not have to make blind guesses about the status of boiling water.
Key Features
2000W maximum power output
2-year warranty period
Availability of auto-shutoff mechanism
Concealed element for more space-saving
Removable spout filter
Pros
The metallic red finish of the product looks pretty eye-pleasing
Its 1.7l of capacity seems to be quite family-friendly
The high-end Strix thermostat ensures a safer operation
Has a water level indicator
Offers an efficient performance in any circumstances
Cons
Quite pricey
Prone to cause leaky issues
8. Prestige Electric Kettle PKSS (Durable and Long-lasting)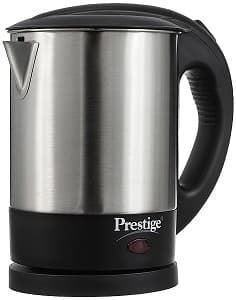 Do you wish to buy an affordable electric kettle Philips for your purpose? Then, the PKSS model from the famous brand should be ideal for you. Unlike the previous Prestige product, this one is not much capacious at all (1.0l).
But, if you do have a 2-people family, then it will be perfect for you. In proper circumstances, the product can provide a maximum output of 1350W. So, the water would not take much time to get boiled in it. The handle of the model is pretty durable and does not get affected by the kettle's high-temperature.
The power base of the product is removable. So, it can reduce your maintenance headache a little bit. Like most of its offerings, Prestige has used durable stainless-steel material top manufacture this one. Hence, it can last for a prolonged period without any issues.
The single-touch lid-locking feature of the hot water kettle helps its lid get fit upon snuggly. Hence, you do not have to worry about falling while you are pouring water. One of the best things about the product is its concealed heating element.
It makes the model look a lot more compact and space-saving.
Key Features
1350W of the maximum wattage
1.0 liter of capacity
Single-touch lid locking
Concealed and compact design
1-year warranty
Pros
Its stainless-steel exterior seems pretty durable
Convenient and durable handle
The automatic cut-off feature prevents boiling-related risks
Single-touch lid-locking improves the overall user experience
Weighs only 630g
Cons
The interior material isn't good enough
Its Automatic cut-off sometimes malfunctions
9. Bella Electric Ceramic Tea Kettle (Authentic Design)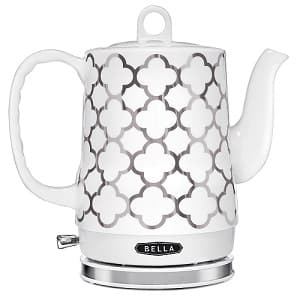 Do you wish to infuse a touch of conventional aroma to your kitchenette's outlook? Then, the tea kettle from Bella can be a decent option for you. However, the design of the model isn't the only best thing about it. There is a lot more to it. Let's check them out.
The kettle comes with a 1200W heating element. With it, the model can boil water or brew tea almost instantly. The 360° power base of the product is entirely detachable. So, cleaning and maintaining the product is not going to be an issue for you.
There are both boil-dry prevention and automatic shut-off feature available in the appliance. These elements will offer maximum safety in any condition. The beautifully-designed gooseneck spout makes it easier for you to pour drinks without any spills.
The functionality of the kettle is quite top-notch as well. Besides tea, you can also prepare coffee, instant soups, oatmeal, and more with it. To make the lid section more durable, Bella has reinforced it with a silicon seal. So, it can trap heat and quicken the brewing procedure even further.
Key Features
Power heating element 1200W
1.2 liters of capacity
One-touch design for easy pouring and filling
Boil-dry protection and auto-shutoff feature
360° base with cord storing space
Pros
It is pretty easy to use
Portable, due to its lightweight design
Highly durable
Does not cost much
The Bad
It does need a little bit more storage space
10. Bajaj Electricals Juvel Double Walled Electric Kettle (Well-constructed Kettle)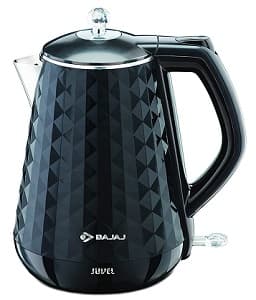 Whether it is about its design or capabilities – this Bajaj electric kettle scores a 10/10 on almost every aspect. Well, to begin with, the appliance comes with a capacity of 1.5 liters. So, you can cater to a family of three to four members with it.
Besides, it also features unique double-wall construction. Due to this reason, it can offer efficient heating while maintaining a cool-touch exterior proficiently. Speaking about its build-quality, Bajaj has used high-end stainless-steel material for making its inner pot.
Thus, it can maintain heat for a prolonged period as well. To make things a little bit more convenient for you, Bajaj has added a press knob on its lid section. It, in turn, minimizes the spillage issues pretty efficiently and reduces dripping problems as well.
Like any other hot water kettle of Bajaj, this one also comes with a compact appearance. Therefore, it should fit in the smallest spaces in your kitchenette as well. Nonetheless, its weight (1.54kg) can be an issue for you if you usually do not use heavy kitchen appliances.
Key Features
1.5 liter of overall capacity
360⁰ cordless connector base
Stainless steel-made interior pot
Double-wall design for efficient heating
Press knob feature for handy lid opening
Pros
Comes with a powerful heating element of 1800W
An excellent choice for smaller families
Can be ideal for brewing coffee or boiling eggs
Premium aesthetics for a better outlook
Durable
Cons
It is a little bit heavy
Expensive
How to Choose the Best Electric Kettle? (Buying Guide)
Like anything else, it is essential to first look at an electric kettle's properties before buying one. It is used for heating water or tea mostly, and for those who drink it every day, this is an easy preparation technique. Yet, there are many alternatives that you would find, and not all may live up to your expectations.
Therefore, it is essential to know which is the best electric kettle in India for you based on your needs. This includes things like temperature settings, less water wastage capacity, energy-saving, and more. Look below to know what factors you must consider before buying an electric kettle.
Types of Electric Kettles
While there is a separation under types of kettles, there is a further distinction under electric kettles. Essentially, there are two types of this, based on the power functions of the multipurpose electric kettle. They are:-
1. Corded Electric Kettles
This type of kettle is more traditionally made. They come with an electric power cord that you need to stick inside the power socket to run the appliance.
2. Cordless Electric Kettles
This version of a Water Boiler is more modern and is more user-friendly. The main heating element is fitted underneath the appliance, which connects to a power supply. After the water heats up, you can remove it from the heated base and carry it around too.
3. Jug Kettles
This type of kettle resembles a regular jug in design. The essential body measurement of it is slightly bigger, with a handle placed on the side. Another noticeable point about these kettles is the fact that the water gauges look and are more significant.
4. Pyramid or dome kettles
This version of a Water Boiler looks quite similar to stove-top kettles. It has a dome-like appearance, and the handles are on the top rather than the side. Plus, the top lid is slightly fiddly on some models, compared to the stove-top versions.
5. Other Types
Below are some more ways to classify kettles, but they are based on functionality hence we do not consider them proper classification.
Smart Kettles: This is another type of more advanced electric kettle as it operates with the help of your mobile application. These are more expensive options, however.
Multiple-temperature kettles: Certain kettles come with settings that you can use to control the temperature.
Hard-water kettles: Such kettles can boil harder water, but they are comparatively slower to fill.
Features to Look Out for Before Buying an Electric Kettle
The features that you should focus on more seriously before purchasing an electric kettle are as follows.
1. Timer
In terms of efficiency, a timer sets the best electric kettle apart from the regular options. The timer option makes an electric kettle best because you can select how long you want the water to boil and leave to do other work. The kettle would then automatically stop when it reaches the time mentioned and reduce energy usage.
2. Minimum fill
In most kettles, the capacity is for around 4 cups worth, but that is useless if you do not need that much. To save energy and water, a good feature that some kettles have is the minimum fill option (300ml or lesser). The minimum fill option is good for you if you want a cup for only one person at a time.
3. Multiple Temperature Settings
Of course, tea is not the only thing you can brew using a hot water kettle. If you are a coffee and green tea person, you need to stay aware of the temperature as they require less heat. For this purpose, some of the kettles come with a multiple temperature setting, and you can adjust according to need.
4. Cost
There is a cost difference between smaller and simpler kettles and higher-capacity kettles by many rupees in the Indian market. Thus, you should think through what you desire that matches the electric kettle price that you want. If you want extra features like display, temperature control, timer, etc., you should reconsider your budget for a higher-priced model.
5. Sound
The best electric tea kettle would not make much of a sound, although most do so. Some of the products in this range come with a beeping technology that would tell you when the water is ready. Beeping is a helpful feature if you are not in the room for some reason and need a warning indication.
Yet, for those who are sensitive to too much sound, buying one that does not make much noise is necessary. For this, also, you should refer to the electric kettle reviews. From there, you can see what other customers say about the sound quality and volume and then make your decision.
6. Size and Capacity
Two things are equally essential to think about when deciding on the size of an electric kettle. These include the capacity of the product and its contour, too, both crucial for different reasons.
You should choose a small electric kettle that can hold a higher level of water in terms of the former if they come with a water level indication, even better. However, you have to consider the size of the family and how many people need a cup at a time.
For smaller-sized families, 1-1.5 liters of capacity is sufficient, while for bigger families, the number is 2 liters or more. As for contour, it signifies how well it can fit inside of a kitchen, its space. For this purpose, go forward with a smaller, narrower electric kettle and a multi-socket-fit power socket.
7. Durability
When you buy the best electric kettle, the actual product is best only if you use it well for long. Thus, go for such models that have received good reviews from prior customers or a warranty. Plus, the kettles which have a higher price have so because they have stable features. Check to see the electric kettle reviews for that firsthand, though.
8. Exterior heat
One of the drawbacks of using any kind of kettle is that most of them turn hot to touch when heated. You would feel so on the body surface and the handlebar, and you should buy one that does not. Indeed, some electric kettles (plastic- or glass-made specifically) in the market whose exterior does not heat up too much.
9. Weight
The kettle's weight is essential to think about, especially if you want to use an electric kettle for camping or other travels. In such a situation, buying a kettle that is heavy or is built for the counter is not right. You should opt for a more lightweight option that is easy to hold and pour a beverage from.
10. Material
It is essential to buy a product with good material, depending on what you need. If you prefer durability, opt for a stainless-steel electric kettle.
If you are focused on portability or less heating on the surface, choose a plastic product. On the other hand, if you prefer seeing how the water is boiled, an electric glass kettle is a good purchase.
11. Speed
Usually, an electric kettle is faster than other water heating products and takes 3-4 minutes. Some of the manufacturers proclaim their products as the most instantaneous, lowest count being 1-and-a-half minute. To know which one to buy in this regard, you should notice both the work and the manufacturer's reviews first.
12. Safety Features
Of course, when buying an electric kettle, you have to consider how safe it is. After all, it boils water, and if it falls off when someone is holding it, that can harm the kettle. Thus, buy those that come with a properly placed handle with a sturdy grip.
Plus, many electric tea maker models have the automatic shut-off feature. The automatic shut-off feature works when the water has reached over the boiling point, and the power automatically switches off. You can buy these kettles or the ones that switch off similarly, but only if there is an under-capacity water level.
Smart Tips to Buy the Right Electric Kettle
Aside from knowing what features to look for, here are some tips for you to personalize your buying choice. Judging these aspects before placing the order would help you immensely.
Buy a product that comes with the display area or switch that tells you when the water is boiled.
Try to go for a product that has its heating element concealed. That would improve the speed and efficiency of the kettle when in use.
It is better to opt for a cordless electric kettle, if you love travelling.
Always read through the warranty period and forms mentioned and remember it. It would help you to get free replacement or maintenance when it stops working suddenly in the worst-case scenario.
If you purchase the kettle from a store, ask the employee to give you a demo of the product. This would allow you to see how fast it boils the liquid.
Benefits of Electric Kettle
While the best electric kettle's cost is more than regular kettles, there are comparatively more benefits. If you are wondering why you should consider ordering them, here are some reasons why:-
Easy to Utilize- Without a doubt, a significant reason why electric kettles are outstanding is because of how easy it is to use. With buttons to adjust temperature and time, all you need to do is press and wait. It is that simple and efficient.
Precision- Brewing a good cup of tea is not merely about putting water on the boil and throwing tea leaves in. There are specific time and temperature variations that can make a massive difference to the taste. For those who want their tea done just right with particular ingredients, the best electric kettle would provide that precision.
Fast Technology- Tea-drinkers want a cup of tea when they wake up, and they boil water on gas to make it. But often, they would prefer something faster and still makes a tasty beverage. If you are one of those people, you will fare well with an electric kettle.
Safety- The materials that are present in an electric kettle are insulated for electricity and heat. These products undergo safety checks often, plus you are safe from fire too.
Energy-saving- Another good point why you should buy an electric tea maker is the amount of energy it saves. Since it is a smaller product than a microwave, it takes lesser electricity to run. It is also better than regular stove-top water boilers, which run on gas.
How to Use an Electric Kettle?
Water can boil at 100 degrees Celsius, and the way the electric kettles achieve that without fire is through a removable thermal fuse or thermocouple. There is a bimetallic switch on the kettle handle that heats up when the water reaches the boiling point. The water vapor or steam deforms a metal within, and that leads to it switching off automatically.
You would likely notice the deposit of limescale in the bottom layer in a stainless-steel electric kettle. Thus, you should clean it regularly and use a thermometer once or twice a week to check the limescale level. Not to mention, you should fill it with the mentioned amount of water before switching it on and do not overfill it.
Not only would the water possibly fall off and short circuit the appliance, but also the thermal fuse would not heat the entire water level properly.
Safety Precautions to Follow while Using an Electric Kettle
The following are some of the safety factors you should stay aware of when you are buying and then using an electric kettle.
Opt for a model of Water Boiler that comes equipped with dry boil protection. This is important for safety as such a kettle would turn off automatically when the maximum capacity is full.
Get a handle that is a comfortable fit for your hand. If it has non-slip material, that will prevent it from slipping from your hand as well.
You should never switch on such a kettle when there is no water inside. That would burn up the heating element within.
Do not store water inside the electric kettle as that would lead to a build-up of limescale.
You should clean the interiors every single day, especially after use.
Steps to Clean your Electric Kettle
The steps for cleaning the best electric kettle are as follows.
After switching off the kettle and removing the plug from the socket on the wall, wipe the exterior with a clean piece of cloth.
If you used it just before, let the appliance cool down first.
Fill warm water in it until it reaches the halfway point, and add distilled vinegar into it. Let the solution sit for around 20 minutes. Alternatively, fill water in the kettle and add an equal percentage of vinegar, then bring to a boil. Let it stay like that for 15-20 minutes.
Remove the water after the required time limit crosses, and take a scouring pad to scrub inside the kettle. This would remove any limescale if present.
Rinse with clean water.
Use a softer dry cloth to wipe the surface and interior.
Electric Kettles Frequently Asked Questions (FAQs)
1. What is an electric kettle?

The electric kettle is a type of kettle that includes a self-contained heating unit. It generally stops boiling the water after it reaches the boiling point or the temperature you have set. The number of features that would appear in a kettle depends on its electric kettle price.

2. Is it safe to use an electric kettle for reboiling water?

If you choose to reboil the water using an electric kettle, you will not face many issues. After you boil the water and if the water level goes too low, it is still safe to drink.

3. How long should you use an electric kettle?

The average amount of time you can use an electric kettle is around six months. There are some variations to the time-limit depending on usage and product quality.

4. How long does a kettle take to boil?

Usually, a water boiler kettle of the electric variety takes about 2 to 3 minutes to boil.

5. How does an electric kettle automatically switch off?

A channel is present within a kettle that takes the steam from the boiling interior top down to the thermostat. This is usually present inside the handle. When this steam temperature crosses 100 degrees Celsius, the water starts boiling. It causes the bimetallic spring within inverts and the power shuts down.

6. What else can you cook using an electric kettle?

You can use an electric kettle for cooking other things besides making tea, coffee, or herbal tea. Some easy to make recipes include boiled egg, maggi, a bowl of oatmeal, rice meal, etc.

7. Which is more energy-efficient- boiling water using an electric kettle, a kettle on a gas hob, or a microwave oven?

Out of the three mentioned, an electric kettle is the most energy-efficient tool for boiling water. Most electric kettles use a small amount of voltage to run, making it the right choice. The other two options either use up too much gas or electric power.

8. Is the electric kettle easy to clean?

An electric kettle is reasonably easy to clean. One of the simplest ways to do so is to fill it with lemon juice and water, boil, and then leave the solution for an hour.

9. How does the kettle pour water? Is the spout precise?

The spout of a kettle is an excellent way to pour the boiled liquid into containers. Most models have a narrow and filtered faucet that makes it easy to pour the water in the correct spot.
Conclusion
Out of the options provided, BLACK+DECKER KE1500B and Zell Stainless Steel Kettle are two highly commendable electric kettles in different price ranges. Of course, there are other options too you can choose from, seeing the advantages it promises. Based on that, you can go ahead with your purchase order, and then select the right one for your needs.
There are many reasons why you should look at the key features of the products you are considering. When choosing the best electric kettle for you, you should pay mind to its endless possibility, the temperature buttons, and much more. How easily you can use it would also help you in your daily life, and buying a multipurpose electric kettle would help you with that.
Yet, do keep a note of the safety instructions and the features you need before making your buying decision.
Read Related Reviews
Buy Electric Kettle Online
Prestige 1.5 Litres Electric Kettle (PKOSS 1....
52%
Pigeon Amaze Plus Electric Kettle 1.5 L, 1500...
30%
Havells AQUA PLUS 1500W 1.2L Electric Kettle,...
41%
Prestige Stainless Steel 1.5 Litre Kettle 150...
44%
Butterfly EKN 1.5-Litre Electric Kettle (Silv...
37%
Longway Kestro 1500W Electric Kettle with Sta...
62%
KENT Elegant Electric Glass Kettle (16052), 1...
27%
KENT 16026 Electric Kettle Stainless Steel 1....
56%