Consuming fruit and vegetable juices keeps your body hydrated, healthy and rich in nutrients. But, packaged fruit and vegetable juices can never take the place of fresh homemade juices as they retain all the essential nutrients to keep your body fresh and healthy. Even the traditional centrifugal juicers are very common for extracting juice from fruits and vegetables,the new Cold press juicers are getting more popular these days. The reason is that they do not produce heat, thus retains the nutritional value of fruits and vegetables. So, we are here with our reviews of Best Cold Press Juicers, so that you can buy the best one only.
TL;DR
Cold press juicers are better way to get fruit or vegetable juice which are more rich in nutrients. These juicer preserve the nutrients because there is no heat produced while extracting the juice. Kuvings Professional is our top choice and you can buy it on Amazon or Flipkart. They are little costlier but have more benefits when compared to traditional juicer. Read our rest of the blog to have more options.
What is Cold Press Juicer?
Cold Press Juicers also known as Masticating Juicers or slow juicers are the appliance that offers high-quality juice which are extremely efficient. Plus it can process a wide range of fruits and vegetables as compared to the traditional centrifugal juicers. And the best part is that these juicers have the ability to preserve the nutritional quality of fruits and vegetables as they do not produce heat.
The cold press juicers don't have the metal blades. Here the fruits and vegetables are first crushed and then compressed at the slow speed to extract the juice from it.
We recommend to read our Buying Guide to know better what to keep in mind while choosing the best cold press juicer.
10 Best Cold Press Juicers in India
Best Cold Press Juicers – Review
1. Kuvings Professional Cold Press Slow Juicer (B1700)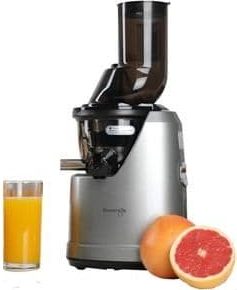 The Kuvings Professional Cold Press Juicer is our best choice because of its top-notch quality, superb performance and quality combination. With its slim and sturdy space-saving design, this one ideally fits in your kitchen space while adding the grace to your kitchen interior as well.
It comes with a wider feeding tube letting you add the largely diced fruits and veggies as well as whole fruit with more convenience. Featuring ULTEM based auger, the appliance squeezes out whole fruits to juice. Not only for juicing purpose, but this multi-functional appliance can also make ice-cream and smoothies.
Cleaning is such a breeze with this cold press juicer as it comes with a simplified juicing bowl with less parts that makes the assembly and cleaning super convenient. The juice outlet has a smart cap that prevents the leaking while pouring the juice into the glass.
When it comes to safety, the appliance comes with a safety-lock system that makes the juicer work only in that condition when the components are properly assembled. And the superb part of this cold press juicer is its less vibration and low noise operation.
Key Features
Slim and attractive design
Made with food-grade BPA free plastic
76 mm patented large feeding chute
Safety lock mechanism
Compatible with smoothie and ice-cream attachments
Low noise operation
Speed: 50 RPM
Delivers fresh juice
Pros
Heavy built quality
Easy juicing
Easy cleaning and maintenance
Nicely designed auger and strainer for enhanced performance
The large chute can accommodate whole apples, oranges, beetroots, etc. which is a wonderful feature
Cons
The pulp comes out is quite wet indicating that the juices are not fully extracted
Expensive
2. Hestia Nutri-Max Cold Press Juicer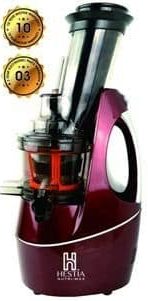 Coming to the next, the Hestia Nutri-Max cold press juicer is another great addition to take care of your morning juicing routine. Its sleek and stylish design with an appealing wine red color option definitely adds a great style to your kitchen.
The appliance amazingly offers you super-dense juices of fruits and vegetables while maintaining the quality and nutrition at the same. This cold press juicer from Hestia features a powerful motor rotating at 60 RPM for the super quiet operation. Plus it can juice both hard and soft fruits and vegetables with full ease and minimum froth and thereby maintaining the freshness and nutritional value for a longer period of time.
One of the best features of this masticating juicer is its wider feeding tube that enables you to feed a whole fruit directly to it without any hassle. Plus, there also comes three different strainers for making not only juices but also for making smoothies and frozen fruit gelato. It is equipped with self-cleaning function making the cleaning process, not a messy task. Moreover, its smart touch panel with five pre-programmed display enhances quick and easy operation.
Package Includes: Juicer, Hopper, Pusher, Juicing screw, Juicing bowl, Juice strainer, Smoothie strainer, Frozen fruit strainer, Cleaning brush, Rotation wiper, and 2 cups.
Key Features
All the parts are 100% BPA free
Huge feeding tube
Dense juice with no air bubble ensuring long-lasting freshness
Self-cleaning function
Bigger auger and 60 RPM allows for maximum juice to be squeezed
3 strainers for juices, smoothies, and frozen fruit gelato
Dishwasher safe parts
100% pure copper wired motor
Pros
Excellent build quality
Juice stays fresh for a longer period of time
Very easy to use
Quiet operation
Easy cleaning and maintenance
Cons
The pulp coming out is not fully dry
3. Usha CPJ 382F NutriPress Cold Press Juicer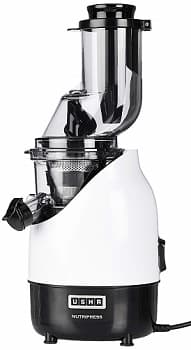 With so many innovative features, the Usha Nutripress Cold Press Juicer is another best buy for your smart kitchen. It extracts the juice at low temperature to retain the nutrients as well as the shelf life of the juice. Plus you can extract juices from hard vegetables, green vegetables, and fruits, and even can make frozen desserts as well as extract milk from nuts and grains. It comes with the wider mouth that takes in whole uncut ingredients and offers the maximum juice extraction.
There also comes two types of filter- The fine filter and the coarse filter for all your convenience. If you prefer juice without pulp, you can use its fine filter. The coarse filter is useful in making thicker, pulpier juices, smoothies, and soups. Its powerful and effective motor operates very silently, and so you do not get disturbed while operating the appliance.
Package Includes: Cold press juicer, Fine filter, Coarse filter, Dessert filter, Pulp container, Juice container, Instruction manual, and Recipe book
Key Features
Extracts juice from all hard vegetables, green vegetables, nuts, and grains, and frozen desserts
Maximum juicing without any wastage
Unique cold press mechanism retains nutrition, enzymes, vitamins, and minerals
2 Filters (Fine and Coarse)
2 Jars(Pulp container and juice container)
75 mm wider feeding tube
Speed 65 RPM
Pros
Strong and sturdy built
Handles hard vegetables with ease
Easy to assemble
It juices hard veggies and fruits with pulp super dry
Cons
Cleaning is somehow difficult
Not good for citrus fruits as the seeds get crushed that spoils the taste
4. Havells Nutrisense Cold Press Slow Juicer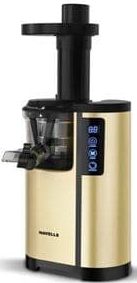 Design, aesthetics, features, performance, and functionality all are outstanding that describes this cold press juicer from Havells Nutrisense very well. It is featured with patented slow squeeze technology that allows the extraction of juice at slow speed and thus minimizes the damage to the ingredients. Therefore keeps the natural taste and nutrition from the juices intact. It also has a continuous extraction system that can extract juice for 20 minutes continuously.
The best is its electronic touch control panel with blue LED functions and three-speed operation making the device so easy to use. Not only for juicing purpose, but this one can also be used as smoothie-maker. And another amazing feature of this advanced cold press juicer is its easy assembly and cleaning. Just rinse the parts and clean them with brush and done.
Key Features
Made with stainless steel ABS material
Slow squeeze technology
Juice residue separation
Magnetic safety lock
Smoothie maker attachment
Electronic touch control
Speed 47 RPM
Self-cleaning function
Auto shut off
Pros
Quality of the product is too good
This cold press juicer requires less effort and time
Disassembling, cleaning, and reassembling is very easy
Quiet operation
The touch control panel is really very nice
Cons
Some design flaws
Citrus fruit like sweet lime and orange juice is a bit bitter
View on Amazon View on Flipkart
5. Panasonic MJ-L500 Cold Press Slow Juicer

Stay rejuvenated and refreshed with a glass full of freshly pressed juice from this model of Panasonic Cold Press Juicer. The juicer comes with much more outstanding features and functionalities making your daily juicing routine quite easier and simpler. Compact, efficient, and versatile, it combines all these features in one single appliance.
Its slow juicing technique squeezes out fruits and vegetables at 45 RPM and thus extracting maximum juice with minimal efforts. The lower speed means less heat as well as less air exposure, and so it retains the freshness in the juice for the longer period of time.
What is extremely best about this juicer is its large feeding tube that aids in juicing even large fruits and vegetables like apples, carrots, and beetroots without pre-cutting them. The juicing screw and strainer are made up of extremely durable plastic that is very much stronger to withstand heavy-duty juicing.
To prevent any drips, there also comes the juicing spout with the hinged cap that plugs in to stop the flow. And finally, you can also enjoy the frozen fruit delights with its special frozen attachments. When it comes to cleaning, it is really quick and easy with its easy to disassemble parts that are dishwasher safe too.
Package Includes: Slow juicer, Frozen attachment, Juice container, Cleaning brush, Pulp container, Instruction manual and Warranty card
Key Features
Suitable for soft and hard fruits
Speed: 45 RPM
Highly efficient low-speed motor
Less foam and more juice with long-lasting flavor and freshness
Easy to use and clean
Well built screw and strainer
Low-speed squeezing auger
Frozen attachment, juice cup, and pulp cup
Pros
Build quality is extremely nice
Fresh pulp juice and minimum wastage
Easy to assemble and disassemble parts
Great in terms of performance
It not only preserves nutrients but also preserves the fiber content
Cleaning is super easy
Cons
Cleaning the spout from which pulp comes out is difficult
View on Amazon View on Flipkart
6. Wonderchef V6 Cold Press Juicer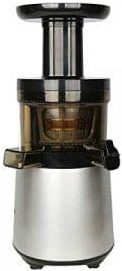 The brand Wonderchef brings this amazing cold press slow juicer with awesome functionalities and great performance. It offers you the higher juice yield rich in essential nutrients and enzymes. You can juice both hard and soft fruits and vegetables with ease in this slow juicer. There is little, or no foaming means no oxidation that keeps the juice fresh for an extended period of time. Its wider feeding tube allows you to insert the whole fruit in it for juicing without pre-cutting them.
Plus, the juicer gives you absolute smooth and super dense juices that keep you fit and healthy in the busy lifestyle. Moreover, with its super quiet operation with no heat generation, you can never go wrong with this Wonderchef cold press juicer.
Key Features
Fiber plastic body
Sleek and stylish look
High juice yield
Leaves the minimal amount of pulp
Quiet operation
Quick and easy operation
Powerful AC motor
Wide feeding chute
Pros
Strong and sturdy construction
Looks elegant on the kitchen counter
Extracts fresh and natural juice
Overheat protection is a good feature
Easy to clean
Cons
7. Kent Cold Press Juicer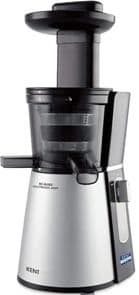 Kent cold pressed juicer is yet another budget-friendly juicer feature packed with awesome performance and great functionalities. Made with food grade plastic material as well as with elegant black and gray colored scheme, it adds an appeal to your smart kitchen.
Like the other cold press juicers, it also has low-speed squeezing mechanism and less heat generation to preserve the nutrients. Equipped with a powerful motor, the appliance ensures faster extraction of the juice. Plus, its unique cup design aids in the smooth outflow.
The juicer also has the reverse function to prevent the clogging and blockages if occurs. With its separate pulp container, it is now no more messy to collect wastes while juicing. And of course, its low noise operation will never bother you at all. So, just ready to get nutritious and tasty juice without putting much effort with this cold press juicer from Kent.
Key Features
Low-speed squeezing mechanism
Large feeding tube
Retains more fiber and nutrients
Extracts high yield
Powerful motor
Reverse function
Unique juice outflow passage
Pros
Great in terms of quality and performance
Easy to assemble and disassemble the appliance
Low in noise
Suitable for all kinds of fruits and vegetables
Cons
Cleaning is pretty difficult
View on Amazon View on Flipkart
8. Borosil Health Pro BSJU20WB13 200-Watt Slow Juicer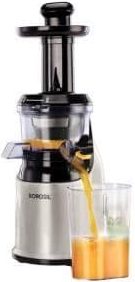 Built to save your time and energy, this advanced cold press juicer from Borosil might be your another best choice. The Borosil Health Pro BSJU20WB13 slow juicer comes in a slim and sleek design that makes it an ideal for any kitchen size as it takes very little counter space.
With amazing slow speed technology, it gives you maximum juice with remarkably high nutrient value in an effortless manner. When it comes to build quality, it is made of high-quality durable material that makes this versatile juice for enhanced durability.
It comes with a spinning brush that thoroughly mixes nutrients from different fruits and vegetables. And thus, gives you amazing flavor and aroma to your juice. So, now treat your family and friends with a tray full of juice, made in minutes. And the best part of this cold press juicer is it's on and reverse function for pulp clearance as well as to prevent clogging if occurs.
Package Includes: Slow Juicer, Juicer gear, Juice filter, Juicer cup, Pulp container, and Instruction Manual
Key Features
Sleek and compact design
Slow juicing technology for maximum juice extraction
Preserves maximum nutrients in the juice
Spinning brush for mixing nutrients from different fruits and vegetables
On and reverse function for pulp clearance
Low noise motor
Easy to disassemble
Pros
Strong and sturdy built
Delivers good quality juice
Low noise operation
It has a small cap to seal the nose of juicer to avoid spilling on the kitchen or table platform
Small and compact so provides easy storage
Cons
Not able to extract complete juice form hard fruits/vegetables, lot of pulp come out
Cleaning is pretty difficult
Reassembling the parts is also quite difficult
9. La Italia By Renesola Nectar Cold Press Slow Juicer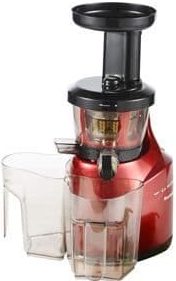 Get a great start on your morning with fresh and pure juicing regimen made in La Italia cold press slow juicer. It yields nutrient-rich and dense juices with its cold press slow squeezing technology yet retains the long lasting freshness. With the power of 200 W, the appliance extracts more juice than the conventional juicers while producing bone dry pulp in the process. The model is even energy efficient too because of its ergonomic design.
Its juicing spout is featured with a hinged cap that allows drip-free pouring directly to your glass and also prevents spillage. The unit also comes with a safety sensor that makes the unit to operate only in the condition when the chamber is completely and accurately assembled on the base. The only downside we see in this cold press juicer is that its chute is not so wide. So, we need to cut the fruits and vegetables into pretty small pieces. But, for the healthier and efficient version of juicing, this smart cold press juicer is a great buy at such an affordable price range.
Package Includes: Pusher, juice jar, pulp jar, cleaning brush, and a spiral propelled squeezer for effective extraction of juice & pulp.
Key Features
Sleek and stylish design
Low noise motor
Slow squeezing mechanism
Yields maximum juice with no wastage
Preserves essential nutrients and enzymes
Clockwise and anti-clockwise operation
Easy operation
Pros
Great product in this price range
The reverse function is too good to prevent clogging
Smooth operation
Hassle-free cleaning
Smart safety lock mechanism is very nice
Cons
10. Wonderchef Compact 63152281 200-Watt Cold Press Slow Juicer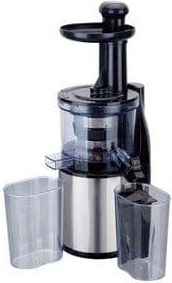 If you want something in budget, this cold press juicer from Wonderchef is a great buy to get healthy and fresh juices whenever you want. This vertical masticating juicer comes in an elegant, classy look with steel finish that not only easily gets fitted to your kitchen countertop but also adds a great appeal. Its unique slow juicing technology extracts the juice from fruits and vegetables that is full of enzymes and essential fiber.
With little or no oxidation, the appliance ensures freshness of the juice for up to 72 hours. And one of the lovely features of this slow juicer is its quiet operation. Talking about the cleaning aspect, its all parts are easy to disassemble that ensures the ease of cleaning as well.
Package Includes: Cold press juicer, Juice jug, Pulp jug, and Recipe book.
Key Features
Classy look in brushed steel
High juice yield
Electro-magnetic induction switch
Low noise DC motor with quiet operation
Quick and easy to clean
Pros
Nice build quality
Easy to use and clean
Great in terms of performance
Requires very less effort
Cons
It has a small chute that means you need to slice hard fruits and vegetables
Cold Press Juicers Buying Guide
Which is better- The Cold Press Juicers or Centrifugal Juicers?
To meet all the nutritional needs of your body, Cold Press Juicers are the ideal options. Now you are thinking why? The simple reason behind this is their extracting techniques that differ totally from each other. Now, let's get understand it in a more simple way.
The Centrifugal Juicers are generally the high-speed juicers that use high-speed spin via the metal blades to separate the pulp using the process of grinding and then squeeze the juice from fruits and vegetables. However, the method produces a lot of heat that destroys some of the nutrients of the juice through oxidation. Though this juicing technique is faster, easier, and convenient, but kills the essential nutrients that your body needs.
Contrary to this, the Cold Press Juicers extracts maximum juice and nutrients from fruits and vegetables. These type of juicers work by squeezing the fruits and vegetables through the shaft. However the extracting process is very slow, but for the juice quality, these are extremely best. Since there is no oxidation here, the juices extracted from Cold Press Juicers are extremely natural in taste with retained nutrients, enzymes, and minerals your body needs to get healthy.
Types of Cold Press Juicers
There are two types of Cold Press Juicers:
1. Vertical Masticating Juicers
Being compact in design, the vertical masticating juicers is the favorite of most of the users as it fits ideally to most of the kitchen sizes. These juicers come with a cap allowing you to mix your juices inside the juicing chamber. And the best part is that it comes with the self-cleaning function makes the mess of cleaning an easier task.
2. Horizontal Masticating Juicers
If you want the juice of green leafy vegetables and wheat grass too, the horizontal masticating juicers are the great options. The advanced models of such juicers don't just juicing only but can double as a coffee grinder and make baby food and nut butter, prepare pasta noodles and does the mincing too.
Pros & Cons of Cold Press Juicers
Pros:
The cold press juicers help in retaining the nutritional value of fruits and vegetables after extracting the juice
These type of juicers do not produce much heat, and thus retains the essential vitamins, enzymes, and trace minerals
It produces superior quality of juice that is long lasting. You can store the extracted juice for p to 72 hours in a refrigerator
No oxidation, as there is a minimum exposure of the juices to air, thereby no formation of foam at all
These juicers offer higher quality, more nutrient, and better-tasting juice
The cold press juicers operates more quietly
Compared to centrifugal juicers, the cold press method produces 35% more juice from the same amount of fruits and vegetables
These type of juicers are very easy to clean
Cons:
Higher on the price side
Slow juicing process over the centrifugal juicers
Features to Consider Before Buying a Cold Press Juicer
1. Design
The cold press juicers come in a great array of design, shapes, and sizes. So choose the one that ideally fits your kitchen countertop. However, the horizontal cold press juicers take more space than the vertical ones. The choice depends on you.
2. Versatility
A good cold press juicer comes with the versatility. When it comes to speed, variable speed options in a cold press juicer is definitely a great feature. For instance, the slow speed option lets you make out the juice from soft fruits like grapes, oranges, etc. And on the other hand, the fast speed option can easily tackle the juicing of hard fruits and vegetables like apple, spinach, etc.
The latest models come with other versatile functions that we have already discussed above. It means some of them can also work as a pasta maker, butter maker, and coffee grinder, etc. So this multi-functional appliance saves your pocket on spending to other food processing appliances.
3. Feeding Chute Width
I think this feature is very much important to consider in a cold press juicer. And it is wise to choose the one having wider feeding chute that lets you throw in whole fruits and vegetables or even the larger slices of them. Wider chute also ensures the lower level of clogging and fewer chances of oxidation, and thus retains the freshness of the juice for a long time.
4. Pulp collection method
Most of the cold press juicers come with the pulp collection container either internally or externally to collect the pulp. Consider the one with bigger pulp collection container that lets you collect a large amount of pulp without any need to empty the container after every glass of juice. But some models lack this feature, so you need to place the juicer over a trash bin. But this is somehow messy I think. It is better to invest in a one having external pulp container that makes the pulp collecting task very easy.
5. ULTEM Auger
Auger is the juicing screw which crushes the fruits or vegetables into tiny bits and further squeezes it out to separate the juice from the pulp. The augers made with ULTEM material are very safe, eco-friendly and BPA-free that provides maximum strength.
6. RPM
RPM stands for Revolution per minute. The lower the RPM of the cold press juicer, the lesser is the heat and the oxidation which means the freshness of the juice retains for a long time. So, opt for the one that comes with less RPM. However, cold press juicers with RPM less than 70 is considered to be the most ideal choice.
7. Ease of Use
Look out for the cold press juicers that is easy to handle. The one with easy labeled On/Off buttons, speed buttons, as well as user manual will be absolutely perfect to buy. Some modern juicers are also featured with reverse function and unclogging that makes it more efficient to use.
8. Ease of Cleaning
Cleaning is as important as your seek for the easy functionality and features. Go for the one that is quite easy to disassemble and assemble the parts for making cleaning a breeze. Some also come with dishwasher safe parts for easy cleaning and some have self-cleaning features.
9. Quality of juice
More pulp, more froth, and foam means high oxidation that degrades the quality of the juice. However low-quality juicers give you the juices with some pulp, froth, and foams. But if you will invest in a good quality cold press juicer, you will always get the juice free from pulp, froth, and foam. It means no oxidation at all, and you will get only rich and nutritious juice.
10. Right Brand
With the trusted brand, you always get the right and safe products. The same holds for cold press juicer. For the long run, as well as with added convenience and safety features, it is advisable to go for the trusted brand only.
Conclusion
This is all about the latest and best cold press juicers to get the nutrient-rich and healthy juices only. Moreover, they are very convenient to use that offers high-quality juice of fruits and vegetables without no hassle at all. I am sure the above buying guide for the latest cold press juicers will make you to have your best investment. So, fulfill your daily juicing routine by picking one of the best cold press juicers we have mentioned in the blog.
Read Related Reviews
Buy Best Cold Press Juicer Online
AGARO Imperial Slow Juicer, Professional Cold...
62%
Hestia Appliances Nutri-Max Cold Press Juicer...
42%
kuvings B1700 Professional Cold Press Whole S...
39%
Borosil Health Pro Cold Press Slow Juicer, Po...
20%
Pigeon Slow Cold Press Juicer 150 Watts (100%...
42%
Hestia Appliances - Nutri-Max Cold Press Juic...
29%
SOLARA Slow Juicer Cold Press Juicer | Easy C...
49%
Wonderchef Compact Cold Press Slow Juicer 200...
33%