Smart kitchen needs smart appliances. So, how can we forget Juicer Mixer Grinders– one of the most important kitchen appliances for all your juicing, mixing and grinding needs? We, the people of India are spice lovers, and spices give the most authentic taste to all of our dishes. But to prepare these spices for any dish is quite difficult if we don't have the perfect tool. Here comes the role of Mixer Grinders in our kitchen. How awesome when the juicers are also attached with the Mixer Grinder?
Juicer Mixer Grinders make the cumbersome task of juicing, chopping, grinding, and mixing easier and thus helping every homemaker to make a perfect dish. Plus, there is no hassle to use it likewise the traditional grindstones even the taste remains natural. Whether to chop and grind the foodstuffs like dry fruits, spices, onion, garlic, etc. or to make various chutneys like green chilli, tomato chutney, mint chutney, etc., the mixer grinders can do all in no time. Also, you can make different kind of shakes, and whip any liquid whatever to you want in a very easy way as well as make fresh juices with the Juicer Mixer Grinders.
Things to consider before buying a Juicer Mixer Grinder
Type- There are two types of mixer grinders. One is known as blender or mixer grinder that is commonly used for the purpose of grinding and mixing things. The other one is Juicer Mixer Grinder- the mixer grinder attached with a juicer. It means with this type not only you can grind and mix things up but also make different kinds of juices very easily. So, it is advisable to choose the one having juicer attached to it.
Number of Jars- The more the jars, the more tasks your mixer grinder serves. You must go for the one with at least 3 pots. The large one for making shakes and juicing purpose, the medium one for grinding spices, and the small one for making chutney, etc.
Power of the Motor- This is one of the most important things you must consider. The power of the mixie motor is measured in terms of watts. The best model comes having at least 500 Watts of power. But if you want heavy mixing and grinding tasks, go for the one having at least 800 Watts.
Speed- The best models comes with variable speed settings. So it is advisable to choose the one having different speed options. So you can operate it easily at different speed depending upon the task.
Auto Shut off- This feature saves the motor of the grinder from damage. It means if the mixer grinder is overloaded, the mixer grinder automatically switches off.
Safety Lock System- This feature makes the mixer grinder starts working only in that condition when the jar is properly locked with the base unit. The latest models come with double lock feature ensuring more safety.
Best Juicer Mixer Grinders Reviews
Are you fed up with your old juicer mixer grinder and planning to buy a new one but still confused which one to buy? As there are a lot of models and brands are available in the market, so the confusion is but obvious. But don't worry; we have made your task easier by lining up the best and latest models of juicer mixers grinders that can serve all your juicing, grinding and mixing needs very efficiently. Check below the list of 7 best and latest juicer mixer grinders and then go for the full review of each model and pick your favorite one.
1. Philips Viva HL7715 Juicer Mixer Grinder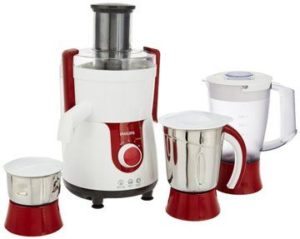 This juicer mixer grinder from Philips offers an excellent juicing, mixing, and grinding experience. The stainless steel blades chop and grind the stuff in no time. Also, this one comes with the bigger round shaft that enables you to extract the juice very easily. The online transparent pulp chamber and removable blades ease the cleaning process.
This juicer mixer grinder also comes with the jar locking feature that firmly fixes the jar to the base unit ensuring safety. So get this one for fine mixing and grinding as well as convenient juicing at home.
Key Features
Optimally designed motor for best performance
Specially designed jar with flow breakers
Removable spout and blade for easy cleaning
Stainless steel fine blades for best chopping, grinding, and juicing
Specially designed jar with flow breakers
Long lasting plastic body
Buyers Feedback
The Good
Fast mixing and grinding
The lock system is very good
Simple and easy to use
View on Amazon View on Flipkart
2. Philips HL1632 Juicer Mixer Grinder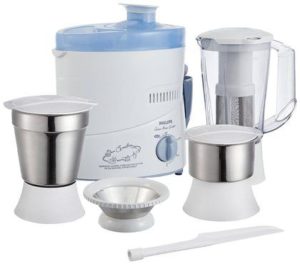 If you want a hassle-free cooking experience in your kitchen, this model of Philips juicer mixer grinder is surely be the best buy. The compact size of this model doesn't take much space in your kitchen and lets you store it very conveniently. The very best is its stainless steel blades that can perfectly blend even the harder foodstuffs very easily.
It comes with 3 Jars – the blender jar, the multipurpose jar for grinding and pureeing, and the last one chutney jar, so all you can do very easily with these jars. This juicer mixer grinder also has the variable speed settings so you can use it accordingly whatever you want to.
Key Features
Powerful motor for efficient mixing, grinding, and juicing
Compact design for less storage space
Unique micro mesh filter for maximum juice extraction
Fruit filter for separation of skin and seeds
3 Jars: Multipurpose Jar of 1 L, Blender Jar of 5 L, and Chutney Jar of 3 L
Speed control knob for variable speed settings
Buyers Feedback
The Good
Quality of the product is very good
Performs very well in juicing, mixing, and grinding
Easy to use
Nicely designed
View on Amazon View on Flipkart
3. Philips Amaze HL7576/00 Juicer Mixer Grinder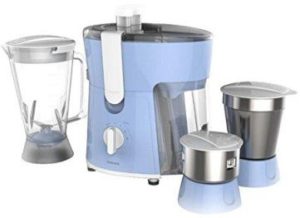 Superior performance and best mixing, grinding, and juicing is all this product boasts about. This juicer mixer grinder comes with 600 W powerful motor that efficiently do its job in no time. Whether you want to make your favorite shakes, or want to mix and grind spices for curry, or chutney making and even extracting juice of your favorite flavors, it can do everything for you.
This mixer grinder is equipped with powerful short-armed blades that let you churn out even the toughest ingredients very easily. The leak-proof jars with advanced locking system enable you to use it very conveniently.
Key Features
Unique 600 W Torque X motor
Spill-free detachable spout
Centrifugal Juicer
Multipurpose blades
Durable, leakproof jars
Auto shut off
Buyers Feedback
The Good
Great for all your mixing, grinding, and juicing needs
Compact and lightweight
An option of whipping is a nice add-on
Product quality is very good
The Bad
Length of the cord is short
A little bit noisy
View on Amazon View on Flipkart
4. Havells Endura GHFJMAHW050 Juicer Mixer Grinder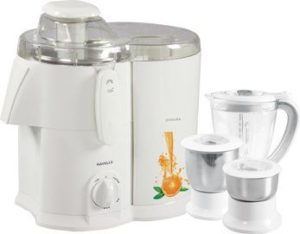 This all-in-one kitchen mate is perfect enough for all your blending, whipping, and juicing needs. This juicer mixer grinder from Havells comes with the powerful blades and smart speed control options that let you operate it very smoothly. Get an effortless and timeless cooking experience with this model.
Key Features
3 Speed Control
Large pulp collector
Polycarbonate liquidizing jar
Stainless steel juicer mesh
Powerful motor
Buyers Feedback
The Good
Great quality product
Nice design
Great Performance
View on Amazon View on Flipkart
5. Maharaja Whiteline Desire Red Treasure Juicer Mixer Grinder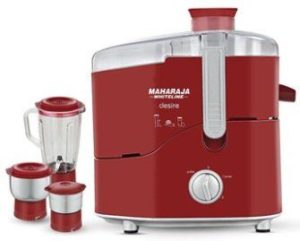 This one model from Maharaja Whiteline is surely be the great purchase for your kitchen. Delicious foods rely on best spices and it will really help you in making and grinding the perfect spices for all your recipes without eliminating the natural taste. Also, the juicer attached with it let you make the fresh juices whenever you want. It comes with three versatile jars equipped with powerful blades that make your task easier in the kitchen.
Key Features
Powerful Motor
Anti-splash spout cover
Stainless Steel Juicer Mesh
Maximum Juice Extraction
Sharp blades
Three versatile jars
Large feeding tube
Buyers Feedback
The Good
Compact design
Nice and stylish look
Faster and perfect
Safe and easy to use
The Bad
A little bit noisy
Cord length is short
View on Amazon View on Flipkart
Final Words
This is all about best juicer mixer grinders that we have picked for you. All these models are the latest ones with amazing features that will surely make your task easier in the kitchen. Also, all these models we have listed are based on their specification and buyers' feedback, as well as ratings. So you can choose the one accordingly. But if you feel anything is missing in the blog or for your any suggestion, please write down in the comment section below.