Smart kitchen needs smart appliances. So, how can we forget Juicer Mixer Grinders– one of the most important kitchen appliances for all your juicing, mixing and grinding needs? We, the people of India are spice lovers, and spices give the most authentic taste to all of our dishes. But to prepare these spices for any dish is quite difficult if we don't have the perfect tool. Here comes the role of Mixer Grinders in our kitchen. How awesome when the juicers are also attached with the Mixer Grinder?
For in-depth detail on Best Juicer Mixer Grinders, please read our Buying Guide Section.
10 Best Juicer Mixer Grinders in India
Are you fed up with your old juicer mixer grinder and planning to buy a new one but still confused which one to buy? As there are a lot of models and brands are available in the market, so the confusion is but obvious. But don't worry; we have made your task easier by lining up the latest and best juicer mixer grinders that can serve all your juicing, grinding and mixing needs very efficiently. Check below the list of 10 best juicer mixer grinders in India.
Best Juicer Mixer Grinders Reviews
Now, read the full review of each model and pick your favorite one.
1. Philips Viva HL7715 Juicer Mixer Grinder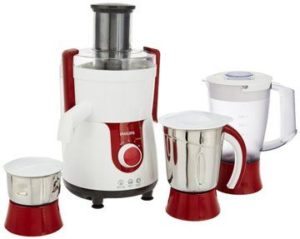 This juicer mixer grinder from Philips offers an excellent juicing, mixing, and grinding experience. The stainless steel blades chop and grind the stuff in no time. Also, this one comes with the bigger round shaft that enables you to extract the juice very easily. The online transparent pulp chamber and removable blades ease the cleaning process.
This juicer mixer grinder also comes with the jar locking feature that firmly fixes the jar to the base unit ensuring safety. So get this one for fine mixing and grinding as well as convenient juicing at home.
Key Features
Optimally designed motor for best performance
Specially designed jar with flow breakers
Removable spout and blade for easy cleaning
Stainless steel fine blades for best chopping, grinding, and juicing
Specially designed jar with flow breakers
Long lasting plastic body
Pros
Fast mixing and grinding
The lock system is very good
Simple and easy to use
Cons
2. Philips HL1632 Juicer Mixer Grinder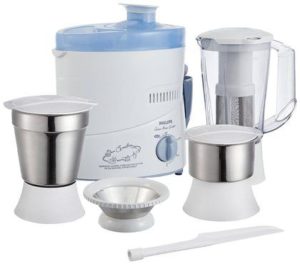 If you want a hassle-free cooking experience in your kitchen, this model of Philips juicer mixer grinder is surely be the best buy. The compact size of this model doesn't take much space in your kitchen and lets you store it very conveniently. The very best is its stainless steel blades that can perfectly blend even the harder foodstuffs very easily.
It comes with 3 Jars – the blender jar, the multipurpose jar for grinding and pureeing, and the last one chutney jar, so all you can do very easily with these jars. This juicer mixer grinder also has the variable speed settings so you can use it accordingly whatever you want to.
Key Features
Powerful motor for efficient mixing, grinding, and juicing
Compact design for less storage space
Unique micro mesh filter for maximum juice extraction
Fruit filter for separation of skin and seeds
3 Jars: Multipurpose Jar of 1 L, Blender Jar of 5 L, and Chutney Jar of 3 L
Speed control knob for variable speed settings
Pros
Quality of the product is very good
Performs very well in juicing, mixing, and grinding
Easy to use
Nicely designed
Cons
3. Philips Amaze HL7576/00 Juicer Mixer Grinder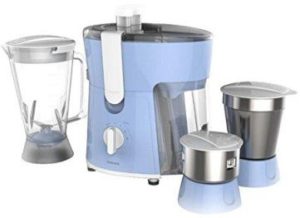 Superior performance and best mixing, grinding, and juicing is all this product boasts about. This juicer mixer grinder comes with 600 W powerful motor that efficiently do its job in no time. Whether you want to make your favorite shakes, or want to mix and grind spices for curry, or chutney making and even extracting juice of your favorite flavors, it can do everything for you.
This mixer grinder is equipped with powerful short-armed blades that let you churn out even the toughest ingredients very easily. The leak-proof jars with advanced locking system enable you to use it very conveniently.
Key Features
Unique 600 W Torque X motor
Spill-free detachable spout
Centrifugal Juicer
Multipurpose blades
Durable, leakproof jars
Auto shut off
Pros
Great for all your mixing, grinding, and juicing needs
Compact and lightweight
An option of whipping is a nice add-on
Product quality is very good
Cons
Length of the cord is short
A little bit noisy
4. Havells Stilus Juicer Mixer Grinder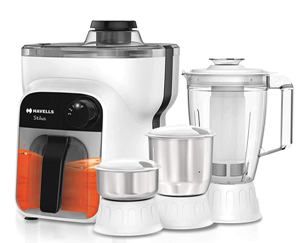 The Havells Stilus Juicer Mixer Grinder is an excellent buy for dry grinding, wet grinding, juicing, chutney making, and blending. This one comes with three normal jars having the capacity of 400ml, 1 l, and 1.5 l, respectively and one juicer jar with the capacity of 1 l along with a fruit filter too.
There comes a specially designed bigger sized stainless steel sieve ensuring the proper and effective cutting of fruits. It also has a bigger pulp container for hassle-free juicing and can collect approx. 2 kg of pulp in one go.
You can easily operate the appliance at desired level of speed as it comes with three-speed settings with the pulse feature. Moreover, this juicer mixer grinder is also featured with non-slip feet that prevent the movement of the grinder while in operation.
Key Features
Juicer mixer grinder with 4 jars
Break-resistant polycarbonate transparent blending jar
Filter for smooth and lump free juice
Bigger sized stainless steel sieve
Bigger pulp container
3-speed control
Auto Shut Off
Non-slip feet
Includes 1 fruit filter, 1 stainless steel mesh, and 1 food pusher
Pros
Nice and sturdy built
Good performance
Ideal for dry grinding, wet grinding, juicing, chutney making, and blending
Auto shut off
It comes with 4 jars that is really very nice
Cons
5. Sujata Powermatic Plus + CH Juicer Mixer Grinder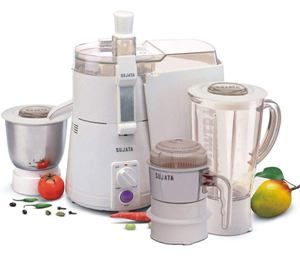 And the next is Sujata Powermatic Plus + CH Juicer Mixer Grinder which comes with a lot of unique features and great performance. This multi-purpose appliance not only aids you in mincing and grinding meats, cutting vegetables, grinding spices, and whipping creams but also you can make fresh and healthy juices with it whenever you want.
The best part is that it comes with extra sharp blades for the more enhanced performance and get remains the same even after the regular use. It has two jars, one liquidizing jar of capacity 1.5 l to mix and blend large quantities of food and the other is grinder jar of capacity 0.3 l.
The appliance has anti-skid feet to prevent it from slipping while in operation. And talking about its other features, it also comes with a cord winder and micro safety switch mechanism for your convenience. Plus, the ergonomic buttons makes it more comfortable and convenient to use.
Key Features
Elegant and stylish design
Powerful 900 W motor with double ball bearings
Multiple attachments for proper cutting, mincing, grinding, shredding and much more
2 jars having the capacity of 1.5 l and 0.3 l
Juicer with unique honeycomb filter
Anti-skid feet
Overload protector
Pros
Nice build quality with smart design
Outstanding performance
All jars are Stainless Steel, and aluminum die-cast bottom for durability and long lasting
Fantastic grinder to grind even the toughest material perfectly
Great for both domestic and commercial purpose
Cons
6. Havells Endura GHFJMAHW050 Juicer Mixer Grinder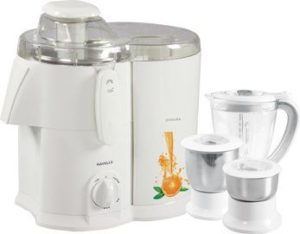 This all-in-one kitchen mate is perfect enough for all your blending, whipping, and juicing needs. This juicer mixer grinder from Havells comes with the powerful blades and smart speed control options that let you operate it very smoothly. Get an effortless and timeless cooking experience with this model.
Key Features
3 Speed Control
Large pulp collector
Polycarbonate liquidizing jar
Stainless steel juicer mesh
Powerful motor
Pros
Great quality product
Nice design
Great Performance
Cons
7. Maharaja Whiteline Desire Red Treasure Juicer Mixer Grinder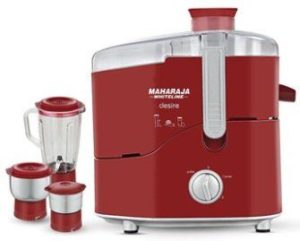 This one model from Maharaja Whiteline is surely be the great purchase for your kitchen. Delicious foods rely on best spices and it will really help you in making and grinding the perfect spices for all your recipes without eliminating the natural taste. Also, the juicer attached with it let you make the fresh juices whenever you want. It comes with three versatile jars equipped with powerful blades that make your task easier in the kitchen.
Key Features
Powerful Motor
Anti-splash spout cover
Stainless Steel Juicer Mesh
Maximum Juice Extraction
Sharp blades
Three versatile jars
Large feeding tube
Pros
Compact design
Nice and stylish look
Faster and perfect
Safe and easy to use
Cons
A little bit noisy
Cord length is short
How to Choose the Best Juicer Mixer Grinder for your Kitchen? (Buying Guide)
Benefits and Uses of Juicer Mixer Grinders
Juicer Mixer Grinders make the cumbersome task of juicing, chopping, grinding, and mixing easier and thus helping every homemaker to make a perfect dish. Plus, there is no hassle to use it likewise the traditional grindstones even the taste remains natural. Whether to chop and grind the foodstuffs like dry fruits, spices, onion, garlic, etc. or to make various chutneys like green chilli, tomato chutney, mint chutney, etc., the mixer grinders can do all in no time. Also, you can make different kind of shakes, and whip any liquid whatever to you want in a very easy way as well as make fresh juices with the Juicer Mixer Grinders.
Features to Consider Before Buying a Juicer Mixer Grinder
So, what factors should you consider while buying a decent juicer mixer grinder?
A multi-purpose appliance is a fortunate thing for modern kitchens, such as a versatile Juicer mixer grinder. You can see how a simple multi-task appliance will help you not just crush spices or vegetables or make chutneys but also help you turn out some flavorful juice or smoothies this summer. So, getting the best juicer mixer grinder for your kitchen cupboard, you should consider these factors:
1. Power of the Motor
The motor's power is probably the primary thing to check before buying a juicer mixer grinder for home use. The power is measured in Watts, and the best mixer grinder comprises at least 500 watts of power.
Rather than making grinding and mixing, if you want your mixie to make juice also, you need an appliance with a good motor and wattage.
A Juicer Mixer Grinder with a wattage of 750 watts is a good specification because it also comes with a juicer. However, you can find the motor from 350 watts to 1000 watts based on your daily usage and requirement.
2. Number of jars
The more the jars, the more tasks your mixer grinder serves. You must go for the one with at least three pots. The large one is meant for making shakes and juicing purposes, the medium one for grinding spices, the small one for making chutney, etc. Hence, it would be of great help if it has three or four jars, and you can use these jars with different blades for dry or wet grinding.
3. Speed
The best model comes with variable speed settings. So it is advisable to choose the one having different speed options. So you can operate it easily at different speeds depending upon the task. For instance, a juicer requires slow speed juicing option as you can turn out healthy as well as tasty extracts. However, pulse speed is another good option if you have to crush your veg roughly.
Apart from manual speed settings, you can also prefer an advanced electronic speed sensor feature. This feature will help you with grinding at the programmed speed from start to end.
4. Quality
Quality ensures the durability of the product. It would be best if you purchase a juicer mixer grinder with good quality jars, blades, and body. Beware of worse quality product as if the jar doesn't fit properly in the food-mixer or it may be uneven, it doesn't work smoothly. Excluding this, you must be very careful while purchasing tight jars and durable blades. It is suggested to go for a decent quality product always.
5. Design
Having a compact design is always the first preference. The design of a juicer mixer grinder makes sense as the gravely intended device heats up pretty fast.
In contrast, the standard L shape model or slim tower shape design is a steady selection. Then again, the narrow tower design includes its specific plus point, and that is easy cleaning. It becomes no messy to clean the unit.
6. Safety
It would help if you considered the safety aspects while buying a juicer mixer grinder. It could be cut out, protecting power cables or earthing maybe. Possibly you will get these appliances at low-priced rates, but you have to go through with dangerous electric shocks with low quality or shredded power cables. Hence, it could be wise for safety sides to prefer decent quality power cables, powerful motor, and perfect circuit arrangements.
7. Overload Protection
Overload protection is another feature you need to think about because sometimes you might load the jar to excess, which might increase the risk of motor burning. If your appliance has an overload protection feature, then it will offer you a circuit breaker. When the jar becomes overloaded, it impedes the circuit, and as a result, the unique circuit breaker has been delivered, such as a typical fuse set up in your house. It immediately stops the appliance, and by removing the excess load, you can reset the switch.
8. Price
Price is also the key feature while buying a juicer mixer grinder. An expensive juicer mixer grinder would be best if you use it on a regular basis. You will need a mixer grinder with strong jars and high power that definitely costs you more. It certainly worth the price if you use it regularly for grinding dry or wet masala, coconut paste, chutneys, idli batter, and for making juice.
If you purchase a juicer mixer grinder with not-so-strong and tight jars together with a low-power motor will cost you even more in the long run. Moreover, you have to pay out extra for future repairs and spares.
9. Auto Shut off
This feature saves the motor of the grinder from damage. It means if the mixer grinder is overloaded, the mixer grinder automatically switches off.
10. Safety Lock System
This feature makes the mixer grinder starts working only in that condition when the jar is locked correctly with the base unit. The latest models come with a double lock feature ensuring more safety.
11. Speed (RPM)
Aside from motor capacity, RPM is another factor to evaluate before purchasing a juicer mixer grinder. RPM derives the Rotations per minute. The Higher the Rotation of the motor, the more powerful is the speed of the motor. Generally, the blades are revolving at the rate of 15000RPM.
The device can heat up soon and become loud; this is the only drawback of having a higher RPM.
12. Brand
A reputable brand always offers you good customer service after the purchase. But ensure the brand you choose has any nearby service centers. It is also significant to consider the availability of spare parts in your local service area. The absolute ease of access to spare parts such as blades, jars, rubber gaskets, motor, etc., is a decisive factor while choosing a definite brand.
What are the Safety Measures to Consider When Using a Juicer Mixer Grinder?
A juicer mixer grinder is a user-friendly appliance that is entirely safe to use at home. But if you take certain safety measures, it will help you evade any accidents or mishaps to the extent. We have listed some instructions which you need to follow while using a Juicer Mixer Grinder at home.
It is better to use cool ingredients while grinding or mixing.
Mixing or grinding hot ingredients might damage the blades and other elements. It may also harm the walls of the mixing jar.
As a precautionary, you should always turn off the power supply while filling stuff into the jar.
Every jar's lid has a hole to get away the air from the jar. So, before starting any operation, ensure that the air has escaped outside through the given hole.
Prior to grinding, mixing, or making juice, you need to check that the jar has been sealed properly. The jar should have been closed securely to avoid any mess.
While making idli batters, purees, or even smoothies, ensure that you add sufficient water or required fluid to keep the extra pressure far away from the machine's motor. The blades get stuck into the ingredients if it is extremely dry or very flabby. As a result, the machine can get overheated, which leads to damage to the motor.
While purchasing any brand, check safety features once, such as anti-skid feet to keep the machine secured when in operation to avoid any mishap.
And lastly, make sure that the juicer mixer grinder has a proper earthing system to avoid electric shocks.
Following the precautions that we have mentioned above will definitely save you from potential risks such as electric shocks, messy ingredients, appliance failure, and others.
Utility and Functions of Juicer Mixer Grinder
Juicer mixer grinder is a handy kitchen appliance that has much utility. You can ease your manual effort and save your time with the best mixer grinder online. However, a mixer grinder is not a new piece of equipment for home use. But if you are not familiar with how you can use the mixer grinder, then here are some points through which you recognize better about its utilities:
Summers are at peak!! So, the best use of a juicer mixer grinder is to turn out a delicious banana shake or mango smoothie. It is certainly everyone's favorite. And now, with best juicer mixer grinder online provides you a way to make a sweet lime drink, strawberry shake, delicious pineapple shake, and many other flavors on a summer's day.
If you own the best juicer mixer grinder for home use, it becomes really effortless to make tomato purees, smoothies for kids, ginger garlic paste, chutneys, shakes, etc.
If you are fond of delicious South Indian recipes, and you don't have the wet grinders, you need not worry about grinding batter for idlis, Vadas, dosa, uttappams, etc. Preparing instant batter for typical South Indian Dishes is now easy with the best mixer grinder.
If you are working on a commercial scale, the best mixer grinder can save a lot of your time. It will help you pulse vegetables. Chopping and mincing onion is a very struggling task, but this can be easy with the best juicer mixer grinder. You can make the most of the mixer grinder by putting the pulse button to good use and make onion slices in minutes without dropping tears.
The advanced juicer mixer grinder has the slower speed option through which you can extract slow-pressed juices without squashing the seeds. These juices maintain their flavor as well as nutritions simultaneously. If you are health-conscious, don't hesitate to spend a few more pennies on this innovative option because slow-pressed juices are definitely a healthy choice.
Juicer Mixer Grinder Care and Maintenance Tips
It doesn't matter you pick the latest but the best mixer grinder for your use. It is essential to sustain its life. Every kitchen appliance requires a lot of care and maintenance, so they last longer. Here are few points that help you a lot:
Don't operate the mixie when it is unfilled.
Avoid opening the jar's lid when it is still running.
Ensure that you keep it dry before every use.
While making batter or grind something, don't overload the ingredients. Add it in small quantities with a sufficient amount of fluid inside to avoid motor damage.
Ensure that the unit is placed on an even surface. Otherwise, it will vibrate or create a mess when in operation.
Read all the instructions carefully given in the manual before use. If you experience any problem with the appliance's functioning, don't try to fix it yourself. Contact an authorized dealer or take it with you to the legitimate service center.
Moreover, check for manufacturer Warranty and after-sales service when buying an appliance for your personal use.
Juicer Mixer Grinder Frequently Asked Questions (FAQs)
1. Can we make juice in a mixer grinder?

Yes, using a high-speed mixer grinder can make it possible. You can make healthy fruit or vegetable juices with a mixer grinder in minutes. Even some latest mixer grinders also come with a separate juicer feature to make fresh juices conveniently.

2. How can you differentiate a grinder and blender?

A blender basically uses small blades to mix the eatables. It comprises a tall glass beaker with a small base. Conversely, the grinder helps in preparing the ingredients and speed up time in the kitchen. It usually facilitates grating, grinding, chopping, and mixing in no time.

3. Do we use a food processor as a grinder for kitchen tasks?

A food processor is a versatile kitchen appliance that meets real cooking needs. You can use it for different purposes such as chopping, grinding, blending, grating, etc.

4. Is it worth purchasing a mixer grinder?

A juicer mixer grinder can help you with plenty of kitchen tasks. It makes it easy to grind spices & vegetables, mixing something, blending and grating, etc. A juicer mixer grinder lessens your effort and saves time too.

5. How much wattage is ideal for a mixer grinder?

Each and every function requires different power consumption. All you need to know is how much wattage does your preferred mixer grinder has. If you have to grind tougher ingredients frequently, you would require higher wattage mixer grinder. Above all, a mixer grinder with 500 W to 750 W is good to accomplish all kitchen needs.

6. Can you grind with a blender?

Basically, a blender has a spinning blade that works with the motor. It is somehow like a blade grinder, and you can grind few items such as coffee beans in a blender.

7. Which thing is avoidable to put in the blender?

A blender is a motor-driven appliance that has some limitations. Here are few things you should never put in the blender:

It should be avoidable to put sizzling hot items in the blender. For instance, while making purees, let the boiled item cool down completely because hot things directly throwing in the blender can be very unsafe. It would be best if you waited to make puree until it becomes thoroughly chill.
Make sure you avoid putting Dried fruits or veggies, mashed potatoes, dal or messy batter, anything frozen, whole spices, etc., in the hand blender.

8. Why a mixer grinder makes noise?

A juicer mixer grinder is a motor-driven appliance, which is very natural to make a sound while working. But you need to place it far away from the wall to minimize the sound. It increases the noise due to the reflection of the sound and bounces the sound back if the appliance is close to the wall.

9. Can you make sugar powder in a mixer grinder?

You can grind sugar in an electric mixer grinder, but you have to be very careful while making powder. Running continuously for 3-5 minutes can harm the motor. However, it becomes hot and creates a syrupy texture that eventually stops working while stirring constantly. Most of the model comes with automatic shut off feature when it becomes too hot. It will resume working once the motor become cools down completely.
Conclusion
This is all about best juicer mixer grinders that we have picked for you. All these models are the latest ones with amazing features that will surely make your task easier in the kitchen. Also, all these models we have listed are based on their specification and buyers' feedback, as well as ratings. So you can choose the one accordingly. But if you feel anything is missing in the blog or for your any suggestion, please write down in the comment section below.
Read Related Reviews
Buy Best Juicer Mixer Grinder Online
NutriPro Juicer Mixer Grinder - Smoothie Make...
64%
Sujata Powermatic Plus, Juicer Mixer Grinder ...
30%
Cookwell Bullet Mixer Grinder 600 Watts (5 Ja...
59%
Sujata Powermatic Plus 900 Watts Juicer Mixer...
29%
Havells Vitonica 500W Juicer Mixer Grinder wi...
37%
Bonsenkitchen Portable USB Juicer Electric US...
69%
Longway Sage 500 Watt Juicer Mixer Grinder wi...
59%
Prestige Iris Plus 750 W Mixer Grinder With 4...
49%