Have you ever wondered why almost every kitchen in India has a Wet Grinder? Here is the reason.
In the olden days, grandmas could use the saddle querns to make a wet dough, batter, or marinate other recipes. And that manual labor were always resulted into great tasting recipe.
Authentic recipes are still the part of Indian kitchens, but as the lifestyle has changed, the latest wet grinders has taken over the place of traditional quern stones.
Now, if you think why choose a wet grinder if you have the option of mixer grinders, and food processors, etc. The answer is difference in taste and lack of consistency that you won't find for many of the recipes like dosa, idli, vadas, etc. By choosing a wet grinder for your home, you can easily prepare perfect consistency batter with ease. As a best note, the appliance delivers the same result and taste, you would expect from the quern stones.
Here, we are with our reviews of Best Wet Grinders in India, so that you find your best. But before digging deeper, check some important key points for choosing the right wet grinder.
Key Points
First things first! Before we put on my boots and jump right into the mud, We'd like to share some top secrets on how we selected our top picks.
Unlike the classic models or mixed grinders, wet grinders simplify your work in the kitchen besides providing a delicious batter.
Wet grinders are a beautiful addition to any South Indian Kitchen to prepare traditional delicacies such as Dosa and idli.
Wet grinders comprise a drum or jar, conical stones, a coconut scraper attachment, a motor, and an Atta kneader.
Some wet grinders are heavy-duty and can grind grains such as rice.
Most wet grinders comprise high-quality stainless steel for durability and an ABS plastic body.
A well-maintained wet grinder can last many years and hence a good value for money.
Some of the best-wet grinders need not cost a lot. Some reasonably priced options will get the job done.
Since we use grinders in an Indian home setting, it's essential to choose a noiseless device that will not disturb everyone's peace.
For safety concerns, a wet grinder should have thermal protection to ensure it doesn't overheat.
Well, these points are not just enough, go through our Comprehensive Buying Guide that will let you know "How to Choose the Best Wet Grinder" for all your needs.
7 Best Wet Grinders in India
Best Wet Grinders Reviews
1. Butterfly Rhino Table Top Wet Grinder (Overall Best Pick)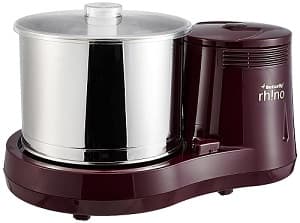 Do you have a small to medium-sized family in India? I highly recommend the butterfly table top wet grinder, a two-liter jar capacity enough for an average-sized Indian family. It's the best wet grinder machine for the money.
It is designed to meet your daily needs, and this little workhorse scores brilliant points to emerge as my best overall pick. And here is why! It comes with amazing features, which makes it the best. Sit back as I slice up the features, pros, and cons of this incredible machine.
Key Features
Four-way Grinding System and Even Grinding Pressure

A uniform grinder can make or break your grinding experience. Whether you're grinding at home or the restaurant, a consistent texture for your paste is the dream of every Indian chef.
What I love about the Butterfly Rhino is that it has an even grinding pressure. It means that the tastes from your south Indian cuisines such as dosas or idli will come out fine, and the flavor or taste will not change.
Likewise, the four-way grinding system makes it one of the most efficient wet grinders on the market.

Shockproof ABS Body Frame

I love this wet grinder's body structure, which comprises a top-grade ABS plastic material, which is both shockproof and heat resistant. The body is as hard as a rock and hard to break. Further, it offers stable support for the cylinder so that there is even grinding speed.

Removable Stainless Steel Drum and Roller Stones

You'll enjoy cleaning or maintenance of this wet grinder. It's so easy because of the detachable rolling stones and the drum. It only takes a few minutes to remove the parts clean and dry. The outer layer is easy to clean. Wipe off with a dry cotton cloth or leave it out to dry.

High-torque Powerful Motor

Want more money in your wallet! The Butterfly Rhino is an energy saver with 150 watts of power consumption. Despite the low power consumption, the high-torque motor produces more power to grind swiftly and fast. Best of all, it has thermal overload protection and a built-in sensor.

High quality Transparent and Polycarbonate Lids

I'm super impressed by the quality of the lids. Made from polycarbonate, these will provide a long-lasting experience. Even better, they are transparent, so you can have an unobstructed view of the contents as the grinding progress.

Compact Design

Do you have space issues? Worry less! Butterfly Rhino wet grinder comes in a small compact design that will not clutter your countertop. It has a stylish design that blends with your kitchen decor. You can even fit it in your cabinet shelves without taking too much space.

High-capacity Jars

Make no mistake! The small size doesn't mean the inside is small. This wet grinder is a two-liter jar and hence can accommodate enough food contents for a medium-sized family. Consequently, there's more room inside to grind all your favorite ingredients. Besides, the two stones can make two liters of paste in one instance
Pros
Easy to clean with soap and clothe
Has two-liter capacity tank suitable for Indian homes
Thermal protection against overload
Sleek and stylish design
It is made of sturdy ABS plastic
Less power consumption
Easy to use
Cons
2. Butterfly Smart Wet Grinder (Runner Up)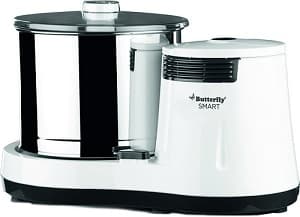 The next product is the Butterfly Smart Wet Grinder, which takes the runners-up slot in my review. Without a doubt, many people in India love the Butterfly brand, and is perhaps the best wet grinder in Coimbatore in India. It's the number one choice for many families.
But don't take my word for it! Almost every Indian family has a butterfly wet grinder.
A smooth, fine, and consistent paste is the key to enjoying your meal. But, to get it right, you need a high-quality wet grinder.
Are you looking to save some money? You don't have to spend too much as this Butterfly model is your best bet for the money. Now, let's have a sneak preview of the top features!
Key Features
Powerful Motor

A powerful motor responds to consistent results without heat build-up. With this wet grinder, the motor is super powerful and grinds at an incredible 1300 rpm. With a wattage of 150w and a voltage of 220/240 V, the butterfly model will not disappoint.

Easy to Use

For ease of use, I'll give this grinder a strong vote. First of all, it comes with an easy to read and understand manual. It's a plug n play and doesn't require any tools or hardware to fix everything for an easy start.

High-quality Plastic Material

Everything about this wet grinder is top-notch. You'll love the sturdy ABS plastic, which comprises a tough material with shockproof characteristics. Besides, the roller stones are a plus feature with sturdy construction to ensure you get superior grinding.

Doesn't Overload or Overheat

The majority of Indians fear buying a wet grinder because of overheating. However, this is not the case with the Butterfly Smart. Amazingly, it comes fitted with a ventilator feature for regulating the heat. It doesn't overheat or even overload, which boosts durability.

Compactness

It features a compact design that occupies less space on the table or countertop. As the name suggests, the butterfly smart is a beautiful appliance that will look good in your kitchen. The color combination is moderate and will match well with other kitchenware.

Lightweight Design

One thing that makes this wet grinder outsmart others is the lightweight. Hence it's a portable design easy to transport. Also, cleaning and maintenance is easy since it's lighter than most options. The outside features a smooth layer that eases the cleaning process. You only need to wipe with a wet cloth and leave to dry.

Coconut Scraper Attachment

Are you worried about bruises on your hand when scrapping? Worry no more! The coconut scraper is a unique feature that makes this wet grinder a choice for many people in South India. It comes with the package and scraps the coconut shell easily and effortlessly.
Pros
Has a sturdy body frame
High-quality materials
Highly efficient
Compact and lightweight
Easy to clean and maintain
Cons
3. DGMR Sowrna Lakshmi Wet Grinder (Budget-Friendly)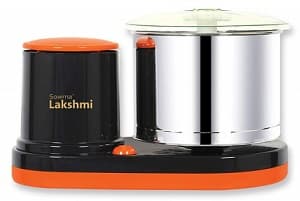 There are many reasons I choose the DGMR-Sowrna Lakshmi as one of the best wet grinders on the Indian market. For starters, you don't have to break the bank to own this wet grinder since it's budget-friendly and cheap. Therefore, it's a top choice amongst Indian families on a tight budget.
Key Features
Value Pack

Despite the low price, the package has everything you need, so you don't have to run back to the stores to buy other accessories. Inside, you'll have a two liters grinder and a grinding stone. There's also a kneader table and a coconut scraper.

Versatile

Lakshmi table top wet grinder is an essential appliance in Indian homes to prepare a wide variety of meals, such as spices and cereals. Also, it's a common piece of equipment in restaurants and hotels all across India. Therefore, with such wide use, the DGMR wet grinder is one of the most versatile kitchen appliances.

Sturdy Construction

As I mentioned earlier, this wet grinder is the best for the money. For just a few Rupees, this tool will find its way into your kitchen. It's not to mean that cheap means low quality. It's a robust appliance with sturdy construction, which means you're assured of the best value.

Less Noise

I don't dispute that some grinders may turn your kitchen into a mini-factory because of the noise. However, with the DGMR, things are totally different since everything is crisp, quiet and will not disturb everybody's peace. Because of this, we highly recommend it for homes with many family members.

Easy to Clean

Another reason I consider this wet grinder as a top pick is the ease of cleaning and maintenance. The individual components are easy to remove for quick cleanup. Indeed, you can leave it to dry or wipe off the water with a clean, dry cloth.

Lightweight

You'll enjoy the fact that the outer material comprises plastic, which is light to carry. Hence it's easy to move around with. If you're traveling on holiday, you can tag this wet blender and not miss your favorite delicacies.

Overload Protection

The motor will not burn because of consistent use. However, it's recommended to allow it to cool when switching between different uses to prevent overheating. Hence, it's safe to use in a normal home setting.
Pros
Easy to use
Sturdy construction
Easy to clean
Reasonably priced
Noiseless operation
Versatile
Cons
Has a metallic smell when new
4. Elgi Ultra Wet Grinder (Value for Money)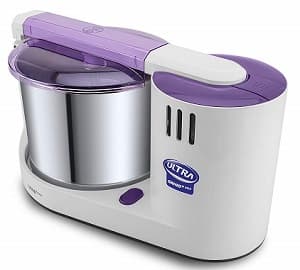 Elgi Ultra Wet Grinder comes in a stylish purple color that will look good on your kitchen cabinet or countertop. But that's a fact! There's more than meets the eye! Beyond the beauty lies a useful kitchen appliance that every Indian home should have. Below are the major highlights of this wet grinder and why it's the best value for money.
Key Features
High-quality Conical Stones

I particularly love the quality of the conical stones, which I consider top-notch. Of course, when I compare with most models in the market, the Elgi wet grinder is a step ahead. Therefore, this will deliver the best value for the money and hence more money in your wallet. Quite amazing!

Rust-resistant

Another aspect of wet grinder Elgi ultra, is that it is made of food-grade stainless steel. What this means is that it's incredibly rust-resistant, and this enhances durability. Besides, it's essential in maintaining the flavor and taste of your food items.

Large Capacity

Let the sleekness of this wet grinder not deceive you. Unquestionably, it's a two-liter capacity to grind food for a small to a medium Indian family. It also saves on power consumption since you only need one round of grinding to get your food ready.

Easy Storage

Are you worried about storing this appliance? The size is sleek and hence will fit in a small space. But then this will sound like music to your ears! It's a multi-drum, and yes, you heard me right! Storage is easier since you can store in the drum without the need to remove it.

Lightweight Design

The exterior comprises an ABS body, which is lighter than the old models. Also, it's a classy addition to any kitchen, and also, you can carry it anywhere with ease. Best of all, it features a two-liter container that will prepare enough food items for a small to medium-sized family.

Easy to Clean

Cleaning this appliance is a breeze, more so with grinding stones. The package also includes a batter cleaner essential in getting rid of the batter's remains from the stones. Also, the other parts are simple to clean with soap and warm water.

Multi-purpose Drum

I love the drum's versatility, which apart from grinding, is also suitable storage for the batter. Therefore, after grinding, there's no need to transfer the batter. Simply store!
Pros
Easy to clean
Multi-purpose drum
Comes in a compact and lightweight design
High-quality stainless steel that is rust-resistant
The conical stones are top-notch quality
Cons
It heats more, and one must wait for it to cool before grinding other food items
5. Ponmani Wet Grinder ( Best Tilting Grinder/ 3l)
Are you looking for a healthy meal or a healthy product? The Ponmani Wet Grinder is the best tilting wet grinder that every South Indian home should have. It's plug and play, which means you can turn on, go on with your errands without constantly checking the entire process. Other than that, it's full of wholesome goodness, as you'll discover in this review.
Key Features
Everything in one Package

The first thing that made me try this model is the quality of the components. These make the appliance functional right from the box. Inside the kit, there is an atta kneader and coconut scraper.

Versatile

Whether you'd like to prepare your batter, favorite cereals, or grind rice, the Ponmani is a versatile option that will get the job done. It's super reliable, and coming from a trusted brand, you have an assurance of impressive performance for all your grinding needs.

High quality

The Ponmani is a high-quality device that's worth each penny you spend. Honestly, few grinders can match this appliance, and since it's durable, this will save you money on replacements or repairs.

Affordability

Another reason I choose this grinder is the reasonable price tag. You don't have to spend a lot of money on owning it, yet you'll get the same value as a premium grade option.

Large Capacity

The Ponmani is a tilting grinder with a three-liter tank capacity to make enough for the entire family. The large capacity also enables an easy cleanup.

Powerful Motor

With a 150 watt motor, this grinder is suitable for grinding medium to large grains. Even with a powerful motor, electricity consumption is low and hence low power bills.

Heavy-duty Grinding Stones

I give a thumb up to the grinding stones of this 3-liter wet grinder for the heavy-duty design. Their design is pretty innovative, and if you'd like a higher capacity device, this is your best bet.
Pros
A high-quality grinder that makes it a good value for money
Capacity is good enough
Powerful motor
Large tank
Heavy-duty stones
Cons
6. Panasonic Wet Grinder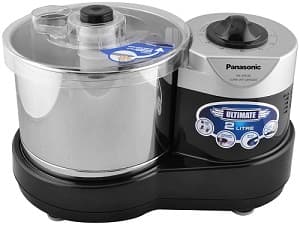 Some wet grinders on the market have lots of features, some of which are unnecessary. What I mean is! Why pay for features that you won't need if the answer is a simple machine for an average Indian family? For this reason, I recommend the Panasonic table top wet grinder, which comes at an unbelievably low price yet will meet your grinding needs.
Key Features
Value for Money

Are you looking for a cheap wet grinder? You don't want the low bottom prices, but definitely, you also wouldn't want to spend much. The Good news is that Panasonic is cheap yet good value for money and hence the best table top wet grinder.

Top-quality

Let me be the first to admit that the Panasonic wet grinder may not be the best in the market. I wouldn't give it a 10/10 rating. However, the quality is outstanding to last many grinding days.

Rust-resistant Steel Drum

The drum comprises 304-grade steel, which has excellent rust-resistant characteristics. Because of this, the Panasonic wet grinder is easy to maintain and keep in excellent condition.

Energy-efficient Motor

With a 240 watts motor, this grinder is energy efficient and will not consume a lot of electricity. Therefore, for small scale grinding for a normal South Indian family, this grinder is an excellent choice.

Consistent Grinding

Efficiency is the right word to describe this Panasonic grinder. Although it may not win any award in getting the finest grind, the conical stones are good enough compared to traditional grinders.

Ease of Use

You don't require special skills to operate this wet grinder. It's easy to use, and even a first time user will not have trouble adapting to it. The best part is that it comes with a manual that contains simple instructions.

All-inclusive Package

Other than the wet grinder, the package also contains a stone roller, spatula, drum, lid, and a warranty card. Hence you can get started right away with no return trip to the stores.
Pros
Consistent grinding
Very easy to use and clean
Energy-efficient grinder
Great in terms of performance
Cons
Costs more than normal grinders
7. Premier Wet Grinder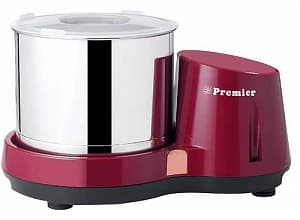 The experience of using the premier grinder is satisfactory. It is elegantly designed, and you'll love the sleekness of this device. If you're looking for a grinder to make your favorite dosa, there's every reason to consider a premier wet grinder. There are many ways to describe the premier model, and below are the major highlights.
Key Features
A Silent yet Highly-efficient Motor

Some grinders can irritate the ears. Thankfully, the premier table top wet grinder is yet highly efficient. It's highly recommended for small to medium-sized homes.

Compatible with an Electric Supply

You'll have peace of mind when you order this wet grinder. This ultra table top wet grinder is a 240voltage, which is compatible with the home electricity supply. Furthermore, it uses less electricity and hence a money saver.

Stainless Steel Jar

The jar material is stainless steel, which gives it a mirror shininess. It's rust-resistant, and hence it's a durable material that will last many years.

2-liter Jar

If you're looking forward to step-up your home grinding, this wet grinder is your best ally. It comes in a 2-liter jar, which I consider a practical option for most Indian households.

Easy to clean

One unique aspect of this grinder is the outstanding design that makes cleaning a simple affair. The batter doesn't stick inside, and the wide jar makes it easy to wash the device manually.

Compactness

A premier model is a compact-sized appliance that will look good in a modern Indian kitchen. It doesn't occupy much space on your countertop and will not overcrowd other items in the kitchen. Also, it's lightweight and thus easy to carry around.

Overload protection

This grinder is safe to use in a standard Indian kitchen. It has overload protection that prevents overheating when using it. However, it's always advisable to allow it to cool before switching between various tasks.
Pros
It comes in a sleek design
Affordable
Noiseless operation
Doesn't consume a lot of electricity
Large size jar is the biggest plus
Cons
Not excellent in preparing nut butter
How to Choose the Best Wet Grinder? (Buying Guide)
Before you buy a wet grinder, there are some key features you need to keep in mind. Some are standard, while others come with various benefits to the user.
I have outlined the features to look for in this buying guide when shopping for a wet grinder. It's not possible to find all the features. But it's my hope you won't miss one that fits into your description.
Different Types of Wet Grinders
There are three types of wet grinders, though the designs may differ, their functions are similar.
1. Regular Wet Grinder
A regular wet grinder is a large capacity machine for heavy-duty milling. Bulk milling will save time and electricity. These are common in restaurants where there's a high demand for bulk food. It has a single stone design that attaches to a steel bar by use of a metal belt.
Such a grinder is economical since it can produce paste in large amounts at once. At home, it may consume more power and is thus uneconomical for grinding small quantities of grains.
Installation is difficult, and it does occupy a lot of space. Although they are common in India, I wouldn't recommend them for a small to medium-sized family.
2. Tabletop Wet Grinder
A tabletop wet grinder is a small scale grinder which you can use to grind grains at home. It has 2-3 conical stones that attach to a drum for stability.
It is the most common in Indian homes and requires a scooper to remove the contents from the drum after grinding. You can also turn it upside down to remove the paste.
3. Tilting grinder
A tilting wet grinder has a unique design that allows you to tilt the drum and empty the contents into a container after grinding. It's also common in Indian homes, and you can use a spatula to remove the sticky paste on the sides of the drum. It's one of the best wet grinders, and its quality is far much better than a table or regular grinder.
4. Comparison Table for Different Types of Wet Grinders
| Regular Wet Grinder | Table-top Wet Grinder | Tilting Wet Grinder |
| --- | --- | --- |
| It's a large sized wet grinder for large scale milling | It's a small sized wet grinder for home use. It's most common in Indian homes. | It's a small-sized wet grinder that doesn't occupy much space. |
| Since it's a large sized device, you can put more ingredients. | You can only mix few ingredients. | Due to the small size, it's not possible to mix a lot of ingredients. |
| It's the best choice for large families. | It's an excellent choice for small and medium-sized Indian family. | It is suitable for an average Indian family. |
| Although it costs more than a table top grinder, it's more economical if you have a large family. | It is budget friendly and thus a choice for many families. | It costs more than the regular and table to wet grinder. |
| Requires an open kitchen to operate. It's not suitable for use in apartments. | Doesn't occupy a lot of space and can fit in a counter top or kitchen cabinet. | Occupies less space in the kitchen. |
| It's not easy to clean due to the large size. | It's easy to clean and hence suitable for a small-sized kitchen. | Requires just water and soap for a quick clean-up. |
| Doesn't have a tilting feature and hence it's not user-friendly. | It doesn't tilt and therefore it's a bit difficult to empty the batter contents. | It has a titling feature that lets you empty the contents with ease. |
Features to Consider Before Buying a Wet Grinder
1. Design of the Wet Grinder
There are two designs of the wet grinder, tabletop and tilt design. The tilt design is easy to use, especially when emptying the contents from the drum after grinding. Tilt and the contents flow out easily into a container.
The tabletop design requires you to scoop the contents out using a spatula or a spoon. Quite often, some spatter may remain in the drum, which is wastage.
2. Size
When choosing a wet grinder, it is important to determine your needs first. For heavy-duty grinding, you will need a heavy-duty grinder since the quantity of batter is large. But, for a small Indian family, it may not function because of strain.
A heavy-duty is more economical as you will grind large quantities of grain at once, saving on time and electricity. For use at home, it doesn't make economic sense and occupies more storage space.
3. Grinding Stones
There are two types of wet grinders, and these are cylindrical or conical shaped stones. A conical shaped grinder can produce smoother and consistent batter, unlike the cylindrical one.
As you have seen in my review, most grinders have two or three grinding stones. These tools are critical and ensure you get a smooth and consistent batter.
When comparing the two, a three stone grinder is better than a two stone grinder since it is faster and saves time.
4. Capacity
A high-capacity grinder means you'll get more grains and batter. Most grinders range between two and three liters, a suitable capacity for most South Indian families.
There is no need to get a large capacity grinder for a small to medium-sized family, as it will take more time as you turn the grinder. It also consumes more power. Likewise, a 1-liter wet grinder is suitable for a small family.
5. Budget
When shopping for any product, your budget is an important consideration. A wet grinder price may differ depending on the brand. However, cheap might mean expensive, and it's critical to pay attention to the grinder's quality and the brand.
Although some of the best wet grinders brands may cost a lot, you can still find a reasonably priced grinder that will give you value for money. In my review, the major highlights are popular brands in India that come at a great price.
6. Drum Material
The drum is an essential part of the grinder, and so is the material composition. Most likely, the drum material comprises durable stainless steel. The advantage of this is that stainless steel is rust-resistant and doesn't scratch easily. Also, stainless steel is easy to clean and maintain.
Contrary, some grinders have a stone drum that can scrape easily, and these particles may mix with the batter. Moreover, too much scratching or erosion will reduce the lifespan of the drum.
7. Motor
Without a doubt, the motor is the heart of the wet grinder. The efficiency of any running machine depends on the quality of its motor.
A good motor means efficient grinding, long life, and fewer maintenance costs. Therefore, it's important to consider the power of the motor and its capacity.
Sometimes, grinding may involve hard grains, and a motor with low wattage may not be proficient. If you intend to use it commercially, it is advisable to select a high wattage grinder. Such an option will not overheat if it runs continuously for a long time. In a nutshell, look for a grinder with a powerful motor for efficiency and high performance.
8. Settings
Grinding various types of grains usually differ as some may be coarse, whereas others are soft. Thus, you need a grinder with different speed settings, which you can adjust depending on the grains' texture.
Such a grinder allows users to customize their preferences as they feature low and high-speed settings.
9. Overload protector
A power overload of a wet grinder can affect the motor rotation and subsequent damage because of overheating. When shopping, ensure that your wet grinder has a built-in overload protector to ensure durability and reduce the replacement cost.
10. Safety Measures
Most users of electrical appliances rely more on a machine's safety while forgetting their safety. When using a wet grinder, your safety is an essential consideration.
A grinder with a good cut out in case of troubleshooting is the best option. The earthing and overheat detectors are also necessary to prevent electrocution or injuries. Most manufacturers have advanced techniques where an appliance will not start unless there is a proper installation.
Check out for any unique feature that will save your life and guarantee the safety of others.
11. Ease of use
As I mentioned earlier, a wet grinder is a simple home appliance common in many Indian homes. It should be easy to operate. When shopping, look out for a user manual.
Because of advancements in technology, grinders now have modern and smart features. Therefore, you can find that it's super-intelligent to alert you when there's a problem. All operating elements, such as control or stop, should be easy to follow and operate.
12. Energy Conservancy
Like all electrical appliances, a wet grinder consumes electricity, and you're likely to notice a hike in power bills once you use it.
Luckily, there are some wet grinders on the market with energy-saving features. Don't let your power bills escalate when you can avoid it. Take time and compare different wet grinders and pick one that's low on power consumption.
13. Unique Features
Most wet grinders come with several features that ease grinding. Here are some unique accessories in a grinder.
Buzzer
A buzzer is a device that alerts you when the appliance finishes grinding. This function's advantage is that you can attend to other tasks even as the wet grinder is grinding.
Timer
A timer allows you to set an accurate time for grinding. As soon as the grinding halts, the timer will go off. It prevents your grinder from overheating and hence saves on power consumption. Also, you can multitask and do other duties as the grinding progresses.
Transparent Lid
With a transparent lid, you can have an unrestricted view of what is happening inside. In this way, you can get to know if the batter is attaining the right texture to your satisfaction. You can also adjust the setting depending on your preference.
In addition, a transparent lid prevents the paste from overflowing or spilling.
14. Extra Accessories
Accessories are necessary since they boost your grinding experience. These include:
Dough kneader that is useful for mixing ingredients.
A measuring cup that helps in estimating the quantity of the ingredients.
Batter cleaner for removing the batter from the drum.
A scraper to help in removing shreds from the drum, which you can use later for making other delicacies.
A spatula that is useful in removing mixtures from the drum into the containers. Also, you can use it to stir the batter or paste.
A spatula can either comprise wood, steel, or plastic. A wooden or plastic one is better than steel since it won't scratch the drum as you remove the contents.
A plastic spatula is easy to clean and doesn't stain easily, unlike the wooden spatula. A steel spatula is rust free and durable and cannot break easily like the wooden one.
The Importance of a Wet Grinder
A wet grinder is an essential kitchen appliance for making pastes from grains and lentils.
You can use it to grind scrapped coconuts and soaked grains into smooth pastes for food recipes.
You can also use a wet grinder to grind masala or chutneys on a large scale.
Likewise, you can use it to grind dry grains and pulping vegetables for soups.
Generally, a wet grinder is useful in wet milling by reducing materials in their liquid form into small particles to produce batter or smooth paste.
A wet grinder is fast, convenient, and requires electric power to operate, which makes the work of grinding cereals easy and without strain.
How to Clean a Wet Grinder?
For your wet grinder to last long, it's important to clean it regularly after use. It's a healthy way to prevent unpleasant odors and contamination of food. In return, this prolongs its life by preventing deterioration of the inside part, which can lead to rusting.
The following steps will guide you on how to clean a wet grinder.
Remove the grinding stones from the wet grinder and clean them using running water.
Using a brush, remove batter stuck on hooks and reach all corners of the grinder.
Dry the grinding stones by use of a dry cloth. Also, you can keep it to dry.
Wipe the motor using a clean wet cloth.
Turn the grinding drum upside down for drying.
Reassemble the parts for future use.
Tips for Maintenance of Wet Grinders
Any machine requires regular maintenance to prolong its life and ensure that it doesn't wear and tear quickly. Below tips will ensure the longevity of your wet grinder.
Adopt a consistent and regular schedule for maintenance and stick to it.
Maintain regular cleaning of your grinder after every use and ensure no water remains unwiped on the drum and other parts. Water can cause the inner parts to rust and also emit foul odors.
Turn the drum upside down to drain out the water quickly.
Assemble all the parts before you use a wet grinder.
Do not turn on your grinder when empty, as this can damage the rollers.
Rather than putting large amounts of grains at once, it is advisable to add little by little to prevent the grinder from overstraining.
Ensure the grinder rests on an even surface to prevent it from noisy vibrations and function effectively.
Balance the water quantity well to reduce the motor's strain, which can lead to the grinder coming to a halt.
Always turn off your grinder when not grinding.
Keep it away from children who may be turn it on when empty and expose them to risks and eventual damage to the grinder.
Place it in a safe location to prevent it from falling.
Read the user instructions before use.
Consult a qualified technician for repairs if your wet grinder stops functioning or when you notice some defects.
Lastly, seek any useful information from your dealer if some things are not clear. Where there are warranties attached, seek advice if it stops functioning. Calling a technician may contravene the terms of the warranty.
Wet Grinders Vs. Mixer Grinder
I'm sure you may ask yourself what advantage wet grinders have over the mixer grinder. But just to remind you of the wet grinder's overview is that it's a useful appliance for preparing pastes or batter. You can also use it to scrap coconut and grind hard grains.
A mixed grinder works the same as a wet grinder; however, it costs more. A wet grinder is budget-friendly yet highly effective kitchen equipment for any Indian home. Here we look at the advantage of the wet grinders against the mixer grinders.
Ease of Use
A wet grinder is a simple device that doesn't require prior training. I consider it as a plug & play. Because of this simplicity, it's the best choice for many people who may view the mixed grinder as a complicated tool to use. Hence, it's suitable for home chefs as it will boost your kitchen skills.
More functions
A wet grinder comes with a set of unique features that make grinding a quick and fast task. These include the conical stones, coconut scraper, Atta kneader, and more.
Many models with distinct features
Many brands have different models on the market, and hence it's easy to find an option that will meet your needs. In addition, the prices may vary.
Wet Grinders Frequently Asked Questions (FAQs)
1. What is the best capacity for a wet grinder to use in an Indian home?

An average Indian home would require a 2-liter capacity machine. It's a small to medium scale and doesn't take a lot of space, and uses less power.

2. What is the use of a wet grinder?

A wet grinder is a useful appliance for making pastes and batter. It works effectively than normal mixes and uses less energy.

3. What type of wet grinder stones are suitable for grinding dosa in India?

You may need to consider granite options such as the conical stones for dosa as they grind faster and produce consistent batter.

4. Is a wet grinder with three stones more efficient?

Yes, a wet grinder with three stones works better and produces consistent batter. It's also faster and takes less time to grind.

5. When shopping for a wet grinder, do I need to buy a coconut scrapper and Atta kneader as separate products?

That's a good question, especially if you're shopping on a budget. It's important to note that these two products are accessories that accompany a package. Therefore, some brands may have them, whereas others may lack in the package.

6. How can I install a wet grinder?

If you're a first time user, you'll find that most wet grinders come with instruction manuals that will assist you in the installation. It's a simple process that doesn't require the help of a technician.

7. Why is a wet grinder lid necessary?

A lid is an accessory, and some wet grinders may have it, whereas others lack. However, it helps in covering the wet grinder and prevents spilling of contents during grinding. It would help if you got a transparent lid so you can see the contents inside.

8. Are wet grinders noisy?

A wet grinder may produce some noise when grinding. However, there should be at an acceptable level, so it doesn't disturb other family members' peace.

9. Where can I buy a wet grinder in India?

You can find a wet grinder in stores that stock home appliances. Similarly, you can buy wet grinders online in virtual stores such as Amazon, which has several of these for hassle-free shopping.

10. Do wet grinders have overload protection?

Again, this depends on the model of the wet grinder. I always advise my readers to pick a thermal protection model to ensure the motor doesn't blow off because of overheating.

11. How can I ensure my wet grinder lasts long?

With proper maintenance and care, your wet grinder will see better days. Clean well after use and dry all the water to prevent rusting.
Conclusion
In wrapping up the discussion, it's clear that a wet grinder is a must-have appliance in an Indian home. Gone are the days when grinding could take lots of time and energy. A wet grinder uses electricity and mills your food items pretty fast than traditional mixes.
However, the market has many brands that sell these appliances, and it can be difficult deciding quickly on what you want. As you have seen in the guide, I've clearly outlined the useful points to make your shopping fun and easy. Even the list we have provided, all are wonderful choices, though our best recommendation is Butterfly Rhino Table Top Wet Grinder.
Hopefully, you can make your dosa and idli into a delicious delicacy.
Read Related Reviews
Buy Wet Grinders Online
Butterfly Abs Smart Wet Grinder, 2L (White) W...
28%
SmartFingers Comfort Plus Table Top Magic Wet...
21%
Elgi Ultra Grind+ Gold Table Top Wet Grinder,...
7%
Butterfly Rhino Tabletop Wet Grinder 2 Litre,...
32%
Prestige PWG 07 Wet Grinder, 2L (Multicolor) ...
19%
Premier Smart 200W Wet Grinder 2 Ltr 230V Pg-...
38%
ULTRA Elgi Mini 1.25L Wet Grinder White
8%
Butterfly Rhino Plus Table Top Wet Grinder 2L...
27%