Sausages, hamburgers, meatballs, croquettes, meat loaves, kebabs all made up of meat- yum! These names will surely make your mouth watering if you love meat. And if all these yummy recipes are homemade, it not only adds a taste but also more healthy too. But now, you are thinking about how to make these recipes at home with ease, as these recipes require ground meat which is not an easy task to do at home. But if I say you can do it very easily at home, don't get surprised. Yes, I am talking about the Electric Meat Grinders for home. This little and smart kitchen appliance is an ideal choice for all the meat lovers to make all their favorite meat dishes in no time.
What are Electric Meat Grinders?
Well, meat grinders are of different types including for commercial use and also electric meat grinders for home use as well. And in this blog, we are going to discuss about the electric meat grinders for home. There are various names for a meat grinder you can call upon like meat mincer, meat chopper, meat blender and a lot more. This valuable kitchen tool not only helps you in mincing and chopping a lot of meat in a very short period of time but also chops other veggies too if you are a vegetarian. And the very best part of this smart kitchen appliance is that it offers an effortless mincing and grinding of the toughest meats. However, their manual counterparts are also available, but for using them, you need a lot of manual effort. Therefore, it is better to invest in electric meat grinders.
An electric meat grinder comprises of different components including a powerful motor, grinding plates for mincing and chopping made up of any metal. But the stainless steel plates are considered to be the best. Some models also come with the sausages stuffing tubes for those who prefer to make sausages at home. Also, the attachment for shredding and slicing is available to cater your needs depending on your preference. And so, with a minimal effort, you can ground meat more quickly with an electric meat grinder to make your favorite meat dishes at home.
To get the more detailed information on Electric Meat Grinders, please check our Buying Guide Section.
Our Best Picks of Electric Meat Grinders for Home
As there are different type of electric meat grinders for home use are available in the market, with varying features, designs and aesthetics, and of so many brands, it makes you quite confusing which one to choose for your kitchen. So for your ease and convenience, we have rounded up here the best and latest models of electric meat grinders for home. So have a look at our best pick.
Explore More On Kitchen Appliances
Best Electric Meat Grinders Reviews
Now if you are confused, which one to buy, just have a detailed look on the full review of each of these models we have mentioned in the list. And I am sure you will get your favorite one.
1. Panasonic MK-MG1500 Meat/Food Grinder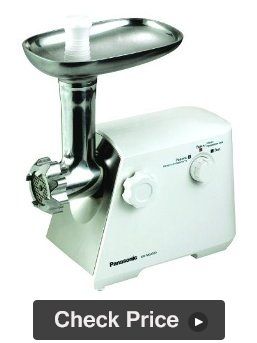 Coming to the first one, this electric meat grinder machine from Panasonic caters all your grinding needs in the kitchen and makes cooking very easy. With lots of fascinating features, the device never fails to offer quality, safety, and convenience. The smart front panel design of this electric meat grinder looks very smart on your kitchen counter. This ABS and stainless steel meat grinder with high-end functioning is absolutely a great buy for your kitchen.
Featuring three sharp blades made of stainless steel, the device lets you mince the meat from the rough, medium, and fine depending upon the delicacies you want to prepare. Even it comes with large capacity metal hopper so that you can grind a huge amount of meat in one go.
The appliance comes with a rotary switch with the reverse function so that you can mince the toughest meat in no time. Not mincing of only meat, the device also offers the grinding of veggies, dal, etc. Moreover, the advance 4-speed settings of this machine make grinding of the meat easier. Plus, the powerful motor makes grinding of the meat more efficiently.
Key Features
Slant front panel design
3 types of stainless steel blades for rough, fine, and mid grinding
Rustproof plastic and stainless steel body
High grinding performance
Rotary switch with reverse function
4-speed settings
Auto off feature
Safety lock
Buyers Feedback
The Good
Sturdy and strong built
Powerful motor for efficient grinding of the meat
Very easy to disassemble and clean
The three different blades allow you to mince the meat for different cooking needs accordingly
Good for grinding the toughest meats even with bones too
Great performance
Easy to use
2. STX INTERNATIONAL STX-3000-MF Electric Meat Grinder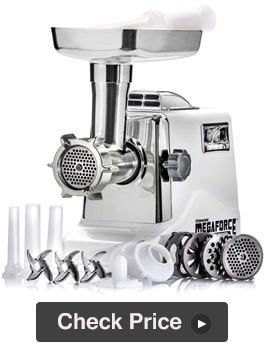 Something for the long run, this electric meat grinder from the brand STX exactly serves the purpose. This comes with the patented cowl air induction system that doubles the life of the meat grinder. This feature doesn't overheats the motor with its special cooling system and thus prevents the malfunctioning of the device. When it comes to power, this electric meat grinder comes with 3000 W of peak output power (locked motor wattage), 600 W of power under no load (when running, but not grinding) and 800 to 1200 Watts of power under load (while grinding) depending on the type and toughness of the meat you are grinding.
Whether you are just a starter or a seasoned food processor, this electric meat grinder comes with all the standard and high-quality accessories, making grinding of the meat really a breeze. It comes with three stainless steel cutting plates for rough, medium, and fine mincing accordingly. Even there are three sizes of hardened stainless steel grinding plates that you can use according to your choice.
Also, there comes a beaner or stuffing sausage plate combined with the set of three sizes of sausage stuffing tubes with an adapter.
For the more convenient operation, the device comes with the three-speed control settings along with stop and reset button. The first ON setting with high speed lets you grind all types of meat. The second low-speed setting is normally used for stuffing sausages. And the Reverse button is used in case anything got stuck inside the grinding head.
Key Features
Patented cowl air induction cooling system
3-speed controls
3 tempered steel grinding plates
A beaner plate
3 stainless steel cutting blades
3 piece of sausage tubes
Kubbe attachment
Buyers Feedback
The Good
Smart design
Strong build quality
Works well for preparing raw pet food with bone-in chicken
Assembly is very easy
Even disassembling and cleaning is very easy
Utility and power is impressive
The 3-speed controls with the reverse button is an extremely good option
The Bad
Higher on the price side
Noisy
3. Cuisinart MG-100 Electric Meat Grinder
Whether it is your first meat grinder or an old replacement, this Cuisinart Electric Meat Grinder is the most perfect choice. You can now make your favorite mouthwatering delights like meatballs, burger, meatloaves, sausages, etc. effortlessly with this Cuisinart electric meat grinder. This can grind a wide variety of meats including beef, chicken, turkey, venison, and more very efficiently so that you can make different dishes with them.
It comes with two cutting plates to offer you the desired level of thickness from medium to coarse depending upon the dish you want to prepare. For the delicious regular sausages, this grinding machine also comes with the two sausage attachments.
The machine can grind up 3 pounds of meat per minute as it comes with a powerful motor, so it serves both for home use as well as for professional grinding results. It is also featured with the reverse function that releases the clogged food for the smooth operation. Even the simple one-touch operation makes the machine very handy to use without any hassle.
Key Features
Powerful 300 W motor
2 metal cutting plates for varying degrees of thickness: medium and coarse
2 sausage attachments
Reverse function
Simple On/Off operation
Buyers Feedback
The Good
Smart design with sturdy construction
Great in terms of quality and performance
It does a decent job in grinding any type of meat
Easy to set up and clean
For the price, it is absolutely a good value
The Bad
It works fine for the small amounts but would take a long time processing the large amounts
A little bit noisy
4. Panasonic MK-G20NR Meat Grinder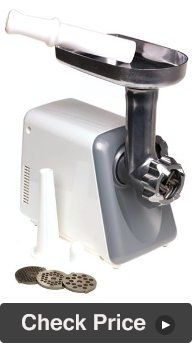 This electric meat grinder from Panasonic comes the next in our list that can handle the grinding of beef, chicken, pork, etc. without any strain. Not heavy at all, not loud at all, plus extremely good performance and salient features makes it an ideal choice for all your mincing and grinding needs.
Construction of the product is extremely solid relatively better than the ones with the plastic body. It is featured with heavy-duty metal gears and parts that offer more points for the durability of the grinder. And the bonus point for stainless steel blades and plates that ensures extra durability of the machine.
Its three cutting plates offer you the options for fine, coarse, and medium grinding. Also, the circuit breaker feature of this meat grinder protects the motor from overload. Easy to disassemble parts ensures the easy cleaning of them.
Key Features
Stainless steel construction
Heavy duty durable metal parts
Large metal hopper
3 stainless steel blades for fine, coarse, and medium grinding
Circuit breaker feature to prevent motor burnout
Sausage attachment
Buyers Feedback
The Good
Superb simple machine with stylish design
Quality is very good
Works well for grinding meat for burgers, meatloaf, sausages, etc
Super quiet motor
Pretty compact and lightweight
Very easy to clean and reassemble
The Bad
Lacks reverse function
Highly Priced
5. Russell Hobbs Meat Grinder – RFM2000P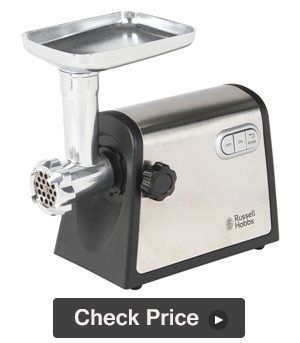 And the next is this model from Russell Hobs that is yet another most powerful electric meat grinders, loaded with a lot of useful accessories for perfect grinding of meat. It's easy to clean as well as long-lasting aluminum body and the powerful motor makes this machine unique in every manner. Plus the smart design, not only adds an aesthetic appeal to your kitchen decor but also proving to be a versatile and strong one. With an extreme power of 2000 W, this meat grinding machine never fails to offer you the best and fine grinding even if there are thickest chunks of meat. And the overheat protection on motor offers the ultimate safety while using the machine.
The machine comes with three stainless steel cutting blades offering you the options for fine, medium, and coarse grinding. The grinder also comes with the die-cast aluminum head, meat pan, and auger. The biggest benefit of this meat grinder is its simple one-touch On/Off operation making you use the device in a hassle-free manner. Plus, The reverse function makes the machine more easy to grind the meat despite any of the chunks got stuck down in it.
Key Features
Stainless steel body
3 Stainless steel cutting blades and plates for fine, medium, and coarse grinding
Kubbe attachments
Food Pusher
Die-cast aluminum head, meat pan, and auger
On/Off switch
Overheat Protection
Buyers Feedback
The Good
Great quality product
Nice build quality
Great in terms of performance
Easy to use and clean
6. Black & Decker FM1700 Meat Mincer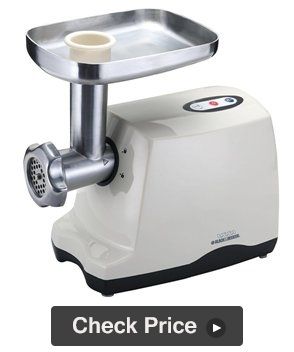 This model of Black & Decker meat mincer is absolutely the best solution for all your mincing problems. With this machine, you can easily prepare a lot of vegetarian and meat items at home. With all the functionalities of chopping, grinding, and mincing, it is a must-have appliance in your kitchen. This electric meat grinder comes with the powerful 1700 W locked motor offering you the quick and efficient results every time. Plus, its soft touch single speed setting and the pulse reverse function offers the excellent grinding and mincing results.
This electric mincer comes with the three stainless steel blades and a feeder screw for efficient mincing. Also, there comes the three mincing plates to serve various mincing needs. The machine also has a food tray ensuring the comfortable and hygienic feeding of the meat. If you want to make kebabs and sausages, this machine also comes with the attachments for that.
When it comes to safety features, this meat mincer comes with overload protection that makes the machine switches on and off automatically. In addition, its safety locking mechanism ensures a secure assembly and prevents the accidents.
Key Features
Stainless steel body
High-performance stainless steel blades
Powerful 1700 W locked motor power
3 vegetable shredding desk
One speed control
Reverse function
Kubbe and sausage attachments
Overload protection
Safety locking mechanism
Buyers Feedback
The Good
Decent design
Good performance
Strong and sturdy built
The accessory compartment of this meat mincer is useful for storing all the provided accessories
The Bad
Higher on the price side
Not suitable for grinding meats with bones
7. Redmond RMG-1211-E Electric Meat grinder and mincer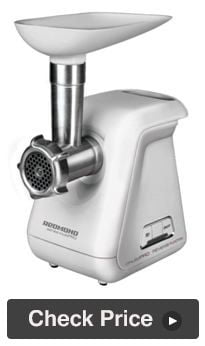 If you are tight on budget and requires the meat grinder with full functionalities without compromising the quality, this one meat grinder is for you. With quite sturdy and solid construction, it comes with the most promising and innovative features and plenty of useful accessories for perfect grinding. You can grind large quantities of meat even with the thick pieces, very efficiently and quickly in this electric meat grinder. And thus, extremely a time saver appliance.
Not only you can grind meat, but also other foods too to prepare a variety of both vegetarian and non-vegetarian dishes. Plus the attachments for sausages and kabab makings is also there to get your favorite sausages and kababs in no time. With three different stainless steel blades, the grinder lets you grind the meat for desired consistency whether it is fine, coarse, or medium. Plus, the reverse function makes the performance fully flawless.
Key Features
Stainless steel body
Compact and stylish
Stainless steel blades
Reverse function
Overload protection
Kubbe and sausage attachments
Buyers Feedback
The Good
Excellent Built
Works very well
High speed and high-quality processing
Great product at an affordable price point
8. Redmond RMG-1205-8-E Meat Grinder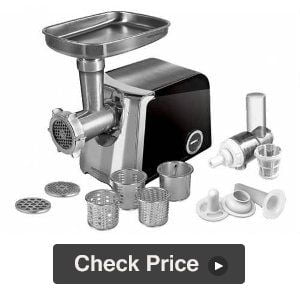 So, here comes again a model from Redmond packed with quality, superb features, and great performance. It comes with a wide range of tools and accessories for sausage making, kubbes making, and other meat dishes. Even it is also used as a vegetable grater, shredder, slicer, cold press juicer, etc., and so it a multi-functional device.
This meat grinder is very easy to assemble yet very durable, and withstand to handle huge amounts of meat with barely any maintenance required. Whether you want to change the consistency and texture of the meat or make your sausages smaller or bigger, the huge range of features offers you to get the same according to your needs.
The device comes with a powerful motor for the most efficient grinding, and the best part is that it doesn't create noise at all. Overload protection, auto cut-off, safety lock mechanism are some of the safety features of this electric meat grinder.
Key Features
Stainless steel blades, disks, screw, slicing, grinding, shredding attachments
Sausage attachment, kebab attachment, vegetable chopping cylindrical attachments grater, shredder, slicer, screw squeezer
Safe and easy to use
Reverse function
Ground meat discs with various perforation
One speed mode
Simple On/Off operation
Buyers Feedback
The Good
Multi-functional device that you can use for a variety of purposes
Quality of the product is very good
Easy to use
Very efficient and powerful
Cleaning of the parts is very easy
9. VonShef Digital Electric Meat Grinder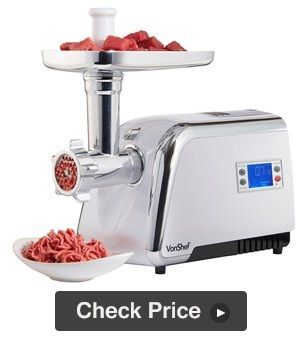 This electric meat grinder from the brand VonShef is yet another cost-effective, fast, and easy mincer to prepare your own meat products. Its stylish, modern, and sleek design with an appealing white color looks not only good but also its high performance make it a good choice for all type of grinding and mincing needs. This is an extremely versatile device with super powerful and efficient motor for high-class performance. Plus the heavy duty stainless steel cutting blade gives you the exact mincing texture; you want in preparing different kinds of dishes.
This meat grinder comes with the spacious filling tray so that you can put a large quantity of meat in that for grinding. And the full complete accessories including food pusher, sausage, and kebbe attachments, along with the storage box, makes the grinding process really a breeze. There comes the three stainless steel grinding plates to get the ground meat of your desired consistency: fine, medium, and coarse. Also, the machine comes with the reverse function for the smooth operation and for the smooth meat consistency.
Key Features
Versatile electric meat grinder for homemade meat dishes, sausages, and kebbe
Powerful motor with low noise
Simple On/Off operation
Reverse function
Stainless steel cutting plates for fine, medium and coarse grinding
Easy cleaning with removable aluminum die-cast parts and metal tray
Stainless steel knife blade
Digital display window
Buyers Feedback
The Good
A sturdy and good looking product
Not so heavy
The machine works fantastic for grinding and mincing
The reverse function is too good in case anything gets stuck
Cleaning is also very easy
The Bad
It can not grind hard pieces of meat and bones
Feed mouth is small
10. LEM Products 35 HP Electric Meat Grinder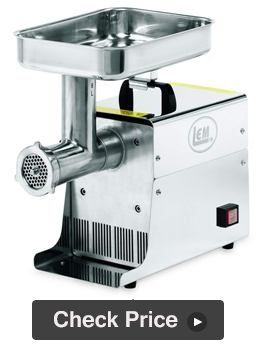 With all the awesome features and great performance, this electric meat grinder is one of the best LEM products. If you are thinking why we have put it in the last of the list, the reason is just its high price point. But if you can afford this, it is really too good for your home use as well as for the commercial use. The machine comes with the stainless steel build making it stable and durable for a long time. Whether to make homemade meat products, like kebabs, meatballs, sausages, etc. or to prepare pet food or even to make own venison, this electric meat grinder is absolutely perfect.
Its compact size makes it an ideal buy as well as convenient for storage in your kitchen. Well, the moderate weight of this meat grinder with the carrying handle makes the machine easily movable from one place to another. This meat grinder in size 8 comes with the 35 horsepower motor in a stainless steel housing that makes grinding of bones as easy as grinding the meat. All the gears and accessories are made up of stainless steel making them sturdy and durable. It consists of three stainless steel plates, two are grinding plates for coarse and fine grinding, and one is the stuffing plate. Also, there comes the large meat tray that can hold a huge amount of meat to get chopped in one go.
It comes with the auto shut off feature that protects the motor from damage and thus ensuring the long life of the machine. Plus, the appliance is very fast and efficient, and so there is no doubt that it will give you value for the money.
Key Features
Stainless steel motor housing
35 HP motor
All metal gears with roller bearings
Heavy duty handle for easy moving
Permanently lubricated motor
Built-in circuit breaker
Stainless steel accessories including cutting knife, blades, head, auger, and meat pan
3 stainless steel plates
3 stuffing tubes
Meat stomper
Auto shut off
Buyers Feedback
The Good
Super quick and easy with the big auger, grinds even chicken-bones
Works awesome on all type of meats
No clogging at all
Very easy to clean
Ideal for grinding deer meat
Big bite auger makes the grinding process faster
Feeding raw for your pets, this meat grinder is best
Worth the extra money
The Bad
Narrow feeding tube
Not ideal for grinding strong bones
Price is very high
Electric Meat Grinders Buying Guide
Pros & Cons of Electric Meat Grinders
Pros
The electric meat grinders are incredibly very easy to use. With an electric meat grinder, you can ground or mince the meats and even other veggies too without any effort.
Electric meat grinders come with the powerful motors that can easily tackle the task of grounding the toughest and larger meats even with the bones.
They can also move swiftly through huge batches of pork, chicken, or beef.
The electric meat grinders are more hygienic as here you don't need to deal with the spilling hands due to the meat juices.
Cons
These are expensive units over the manual meat grinders.
If you select a model with plastic gears, they can stop working after some time and so you need to pay for the expensive repairs.
Some models are quite loud too that is too much irritating.
How to use an Electric Meat Grinder | How Do Electric Meat Grinders work?
Using electric meat grinders is very easy. It requires an easy, quick, and consistent method to chop, mince and ground meat in a very short period of time without any effort. Just put the meat in it, put the plugin, and turn the device on. Let me explain it in a more clear way.
An electric meat grinder comes with a pusher and a hopper to place the pieces of meat in it. There is a tray on its top. The larger the tray, the more the meat you can mince in no time. The pusher exerts the pressure on meat and pushes it down to a feed tube. And the most important part in an electric meat grinder is the screw that pushes the meat down towards the shaft and blades. The blades and plate are very important components of the electric meat grinder. The blades come with the sharp edges, even are cross-shaped to ground and mince the meat perfectly. On the other hand, the plates come with the holes, so when the screw forces a piece of meat the blade chops it into small pieces, which then comes out from the holes of the plate.
The electric meat grinder also offers you the flexibility to ground meat at the preferred consistency depending upon the type of dish you want to make. To understand the process of meat grinding using an electric meat grinder in a more better way, watch the full video below:
Electric Meat Grinders Parts and Accessories
For easy and smooth operation of an electric meat grinder machine, you must know the following parts and accessories of it.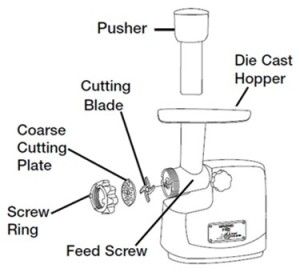 Meat Tray- This comes to the upper part of the meat grinder and also known as Hopper which is connected to the feeding tube. Here you can place the meat cubes or strips before pushing it down to the feeding tube to grind it.
Feeding Tube- The next is feeding tube where the meat undergoes to be ground. Generally, the diameter of the feeding tube determines the size of the grinder.
Meat Pusher- Meat pusher also known as the plunger is used to push the meet down so that the auger can grab it.
Auger- The auger is a spiral-shaped screw found inside the feeding tube that is used to collect the meat pushed into the tube and then pass it over to the cutting blade for grinding further.
Cutting Blades- This is actually the cutting knife that rotates and cuts up the meat.
Grinder Plate- Grinder plate is the flat plate on the front face of the electric meat grinder machine. It comes with the holes of different sizes and determines the size of the ground meat. Generally, there come the three types of plates in a meat grinder: fine, medium and coarse plates, you can choose accordingly while grinding the meat.
Features to consider before choosing the best Electric Meat Grinders for home
Now, when it comes to choosing the best electric meat grinders for home use, you must consider the following points.
Size
Size of the electric meat grinder is the foremost thing to decide upon while buying it. First, you must consider whether you are going to buy it for only some burgers or meatballs to serve your family, or want to entertain a large gathering with the exotic meat dishes. Even if you are planning to buy it for some homemade sausages, different sizes of electric meat grinders are available to serve different purposes. A small meat grinder comes with the small feeding tube, and the larger one has a large feeding tube. So you can decide easily which one ideally suits your need.
Budget
Before buying any of the things, deciding your budget is very much important. Always choose the best model with best features and functionality that ideally fits your budget. Investing in a cheap and crappy product will result in spending more either for its maintenance or to buy another one. So, get the one with awesome features and functionality that still falls under your budget.
Type of Meat you use to grind
If your purpose is to grind the raw meat, even to grind the meat with bones, choose the large-sized meat grinder that can do this well without any problem. Most of the electric meat grinders can grind up the meats like beef, chicken, and pork, without any issues. Since a large meat grinder has a large feeding tube, so you don't need to cut them into very small pieces, and also you can put a large amount of meat in one time.
Power
The more the power of the electric meat grinder, the faster and more efficient it serves its job in grinding the meat. But if you just want to use the electric meat grinder machine oftenly, you can go for the low power machine as well.
Durability
Opt for the electric meat grinder that is sturdy and durable enough to withstand the amount of work it is made for. The stainless steel meat grinders are the best choice if you want an ultimate level of durability over the one made with plastic materials. However the price of the stainless steel meat grinders are quite much high, but they have less maintenance cost that you can use without any trouble for the long run.
Accessories and cutting plates
Like the same having a durable construction, it is also very much important to have a machine with durable accessories too. The electric meat grinder machines with stainless steel accessories are considered to be the best choice. Plus they are easy to clean as well. If you want to make sausages at home, most of the meat grinders come with this accessory too. Some also come with the sausages stuffing plate that is a nice option letting you not to regrind the meat again while you go to make sausages.
Also, check whether the machine comes with the variety of cutting plates or not. Various cutting plates in an electric meat grinder machine lets you do a variety of grinding options with ease.
Reverse Function
Sometimes meat grinders can get jammed while grinding the large pieces of meat and that's why most of the meat grinders model comes with the reverse function. This function reverses the motor to clear up the jam in the grinder.
Ease of cleaning
Cleaning of any kitchen appliance is very much important to maintain the hygiene and to ensure the long life of the machine as well. And when it comes to electric meat grinders, go for the one with easy to disassemble parts and vice versa to ensure the ease of cleaning. Again, in this aspect, the stainless steel accessories are the very good choice as they are pretty much easy to clean.
Final Words
So, that's all my gathered knowledge on best electric meat grinders for home use. Well, I have covered all the necessary details on our best picks of meat grinders for home including their full specifications and buyers reviews as well. So, I am sure you will now make your best pick very easily.