Various advanced kitchen tools and gadgets are available nowadays that eases your kitchen tasks without any hassle. And food processors are one of the best amongst them, that simplify your cooking process. Even, if you want to cook like a professional chef, then the Best Food Processor will come in very handy for your cooking needs.
In fact, the food processors are a time saving marvel of the kitchen that comes with myriad features to help you whip up delicious food in no time. You can effortlessly do a variety of tasks like shredding, chopping, dicing, slicing, pureeing, juicing and even dough mixing without putting much more effort with this smart appliance.
But how to choose the best one for your needs is quite a cumbersome task? So, we are here with our list of best food processors in India along with their reviews and complete Buying Guide on it. It will surely help you out in finding your best choice.
Key Takeaways
But before we start, here are the quick points which summarize this entire article for those who don't want to read all of this.
Hamilton Beach 70725A and Kenwood FPP225 are topmost recommendations among all of the below listed models. Pick anyone they both are the best food processor.
Inalsa Fiesta is cheap and work well with your all kitchen needs that require processing.
When buying a food processor check the attachments, capacity of bowl, motor power, overload protection and warranty(This all information is covered in the buying guide).
Top 10 Best Food Processors in India
For your ease and convenience, we have lined up here the latest and best food processors in India to choose accordingly. Let's have a quick look on our best picks.
Best Food Processors in India Reviews
1. Hamilton Beach 70725A Food Processor (Best Overall)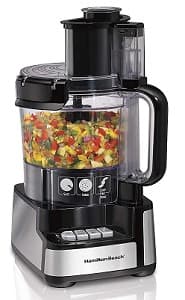 This food processor from Hamilton Beach comes at the top of our list for its super impressive performance, large capacity, and durable quality. Even more, with a lot of convenient features, this exclusive food processor makes chopping, slicing, shredding, mixing, or even pureeing very easy.
The first thing you will love about this model is its eye-catching design with exceptionally simple operation. It does not require any kind of twisting, revolving, or locking while assembling, therefore ensures ease of usage.
The model comprises a 450W powerful motor that can do almost anything from simple chopping to pureeing the toughest food material with ease. It also has a big mouth feed tube that allows you to put the whole foodstuff without cutting it into pieces. Therefore, it reduces your effort of pre-cutting.
From a small family meal preparation to a large family snack serving, the product makes every task effortless with a simple function guide. The function guide clearly shows you which button to press. Moreover, it also helps you with which blade to use for specific kitchen needs.
The best part of this food processor is that it has a sealed bowl that has 12 cups capacity. Moreover, it has no maximum liquid fill line on it, so you can make puree or pulp without worrying about leaks. Seeing as the bowl is sealed, so it reduces messy pulp or puree drops.
Talking about the cleaning and maintenance of this food processor, it is very simple and effortless. The cord storage, in-bowl blade storage, and dishwasher-safe parts are very simple to clean.
Hence, easy processing and handling with effortless maintenance; what else you want from a food processor. Without a hitch, go for it!!!
Key Features
Superior quality Stainless steel S-blade
Best for chopping, mixing, and making puree
Stainless steel reversible disc for slicing and shredding
Function guide gives proper direction for usage
Sealed 12 cup capacity bowl with pour spout helps avoid leaks
1 Year Warranty
Pros
Simple and compact design with stack and snack assembly.
It does not have complicated twisting and locking.
It reduces the pre-cutting of vegetables and fruits as it consists of a big mouth feed tube that fits whole foodstuffs.
Easy function guide shows you which button to push or which blade to use.
Easy to use and clean.
Cons
A little bit noisy
Expensive
2. Kenwood FPP225 Food Processor (Runner Up)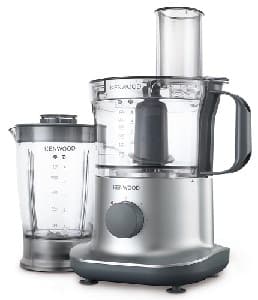 This one from Kenwood is our runner-up pick that comes with the equivalent features and performance as our top pick. In case you do not find our first pick available or not matching your budget and needs, then this one will definitely be the best buy.
The Kenwood FP 225 food processor is a less spacious and compact food processor that comes with all the essential features that you actually want without taking part in your lovely counter space.
The model is featured with an In-bowl drive system for enhanced utilizable bowl capacity. For more power, it has a dual-drive system. This exclusive Dual drive system will allow you to operate the processor all at once as the blender from the same power base.
Counting its powerful motor, the food processor has two speeds and a pulse function as well. It consists of a 750 W powerful motor that provides constant velocity and giving you an instant way to chop, mince or dice vegetables precisely.
Another best feature is its large bowl capacity of 2.1 L that allows you to slice plenty of ingredients with ease. Also, with the standardized 1.2 L liquidizer capacity, you are free to make a perfect puree, smoothie, or pulp in large quantities without any messy drops.
The model also comprises a variety of tools counting aerating beater, grating or slicing disc, and knife blade to deal with all your food preparing tasks.
This food processor also takes safety into consideration. The safety-lock feature and anti-skid base ensure it is safe and sound. Furthermore, the cleaning and maintenance of this food processor is also very simple and effortless.
Key Features
Compact design with space-saving feature
Dual Drive System
User-friendly processor with the in-bowl drive system
750 W powerful motor
Total bowl capacity 2.1 L with standardize1.2 L liquidizer
1 Year Warranty
Pros
Easy to clean and maintain
Large capacity bowl
Efficient power motor
Versatile and handy
Built-in locking mechanism to ensure safety
Cons
Plastic burning smell comes after long-duration usage. Hence, it is recommended to use it for less time interval
Noisy while in operation
3. Inalsa Fiesta Food Processor (Best Budget Pick)
Searching for a feature-packed and performance-rich food processor in budget? If yes, then this model from Inalsa fits best to your needs.
The Inalsa Fiesta Food Processor is a complete kitchen tool that aids in doing grinding, chopping, juicing, grating, and a lot more in a matter of minutes. The appliance has four functional blades and cutter offering you the smooth grinding and chopping all you need for your cooking. It also comes with the dough maker and an egg whisker, so you can also easily prepare the items for baking too.
The appliance has three-speed settings along with the pulse feature that lets you control the speed accordingly. The capacity of the blender jar is 1.5 l that is good enough to prepare a large amount of juice in one go. Plus, the compact size of this food processor makes it very convenient to store it neatly.
Key Features
Elegant and compact design
Shockproof plastic body
3 speed with pulse setting
4 functional blades and cutter
Kneading, chopping blade and whisking disc
Overload protector
3 jars and processor bowl
5 Years Warranty on motor
Pros
Excellent product with an economical price tag
Performs all the jobs of food processing with ease
Quick and fast
Blades are awesome
Safety features are great
Very easy to use and clean
Cons
Very noisy
Build quality is not up to the mark
Sometimes overload quickly
4. Morphy Richards Icon Dlx Food Processor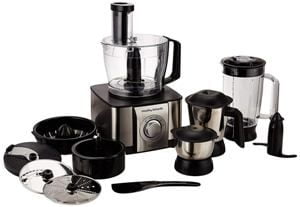 It is another best food processor in our list from the brand Morphy Richards. Get the hassle-free experience of cooking food in your kitchen with this smart appliance. The appliance can easily do the job of shredding, slicing, juicing, kneading, and mixing, etc. very easily and efficiently. It works on the quadra flow technology that results in perfect grinding and blending of the ingredients.
This food processor comes with a powerful 1000 W motor that can perform the toughest job of grinding very effortlessly. The appliance also offers you the option of customize slicing with its seven different variomatic slicing feature. There come four jars for various functions including the chutney jar, grinding jar, liquidizing jar, and the processing jar. Plus, a centrifugal juicer is also there to make healthy and fresh juices whenever you want.
Key Features
1000 W powerful motor
Quadra Flow technology
Customize slicing thickness
4 jars for various functions
11 food processing attachments
Extra long blade for efficient grinding
Centrifugal juicer
Overload protector
Unique safety lock
2 Years Warranty
Pros
Nice build quality of the product
Motor capacity is nice
Performs very well
Easy to use and clean
Cons
View on Amazon View on Flipkart
5. Philips Food Processor HL1660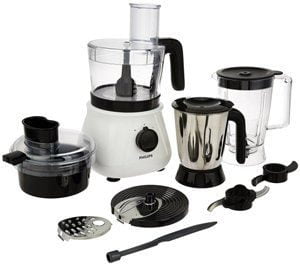 This multitasking appliance from Philips eases your work in the kitchen and offers the best performance. It comes with a powerful 700 W motor that performs various functions very efficiently. This model of Philips food processor comes with a variety of attachments that helps you in grinding, mixing, liquidizing, chopping, slicing, dicing, grating, juicing and even dough making. And so, making it convenient to create awesome recipes without any hassle. It also has a superior power chop technology that gives the best chopping of both the soft and hard ingredients.
Key Features
Powerful Chop Technology for best chopping
Compact design
2 Speed Settings and pulse for maximum control
Dishwasher safe accessories
High-quality leak-proof jars
1 Year Warranty
Pros
Nice design
Great quality product with good quality attachments
Compact food processor
Excellent performance
Cons
6. Inalsa Inox Food Processor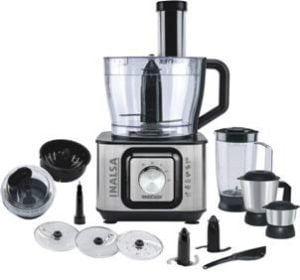 Save excessive effort in the kitchen with this smart food processor from Inalsa and make great recipes for your loved ones in no time. It comes with a sharp stainless steel blade for superior chopping, slicing, shredding, juicing, blending, whisking, etc.
The appliance also has an intelligently-designed knob for different functions that you can use accordingly. The multipurpose blades come with it are used for different cooking requirements. The smart citrus press is also there for getting fresh juices anytime.
Key Features
1000 W Power
Multipurpose blades
Speed controlling knobs
Centrifugal Juicer
3 Jars – 1.0 l Dry/Wet Grinder Jar, 0.4 l Chutney, Grinder Jar, 1.5 L
Transparent Blender Jar
5 Functional SS Disc Blades
2 Years Warranty on Motor
Pros
Nice design and features
High Power Motor
Comprehensive attachments
Efficient performance
Compact
Less power consumption
Cons
7. Inalsa Wonder Maxie Plus V2 Food Processor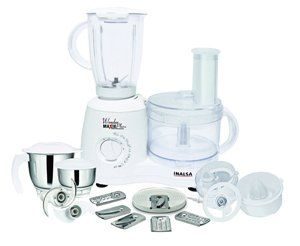 The next best food processor in our list comes again from the house of Inalsa. Power and performance is all this food processor from Inalsa boasts about. This user-friendly appliance can ease the operations like cutting, grinding, chopping, mixing, kneading, and juicing with its powerful advanced 700-W motor. It also comes with overload protection to ensure safety. Moreover, its user-friendly action makes it very comfortable to use. A range of jars come with it that you can use in accordance to your need and requirement.
Key Features
700 W Power
3 Stainless Steel Jars
3 Speed settings
Minimal Power Consumption
Stainless steel cutter
Overload Protector
Bowl cover
Pulse Feature
5 Years Warranty on Motor
Pros
Built quality and design is very nice
Easy to clean
6 blades make all your work easy and quick
Performance is great
Consumes minimal power
Cons
8. Bajaj FX7 Food Processor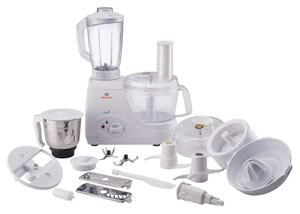 This multipurpose and best food processor from Bajaj is a great way to add convenience in all your kitchen activities. This food processor saves a lot of time in the kitchen and gives a comfortable and convenient cooking experience. It makes the toughest job of kneading, mixing, grinding, shredding, chopping, and even juicing very easy and quickly. The smart safety features equipped with it enables you to use it more safely and conveniently.
Key Features
Multiple functions including shredding, slicing, chopping, grinding, kneading, and juicing
Interlock mechanism
LED indicators
Energy efficient
Sturdy Food Processor
Stainless steel jars and blades
3 Speed settings with pulse
2 Years warranty on product and 5 Years on Motor
Pros
Sturdy built
The large capacity of the processing bowl
Performs well
Cons
9. Morphy Richards Icon Superb Food Processor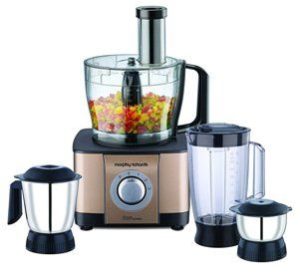 This model from Morphy Richards is one of your best kitchen-mate in doing all kitchen activities very efficiently and quickly. Not only, you can chop, mince, grate, but also can do a lot more with its smart 16 functions. This food processor comes with a Quadra flow technology that assists in best blending, grinding, and juicing. The different blades let you perform various functions very quickly and perfectly.
Key Features
1000 W Power
11 attachments
16 different functions in one appliance
6 different blades for the different function
2 Years Warranty
Pros
Nice design
Performs very well
Easy to use and clean
Cons
Material quality is not up to the mark
10. La Italia By Renesola Food Processor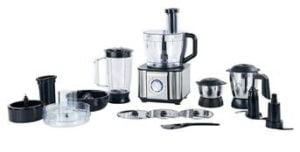 Now last but not least, this one is absolutely a great buy for effortless cooking. This food processor from Renesola has a lot of unique features that make it the best choice for your kitchen. It comes with full 16 attachments that perform the function including grinding, slicing, shredding, chopping, mixing, juicing, and kneading very efficiently. The variable speed control enables you to perform the operation accordingly.
Key Features
Variable speed settings
LED lights
16 attachments for complete kitchen use
3 Jars for chutney, mixing, and blending
2 Years Warranty on product and 5 Years on Motor
Pros
Classic design
Easy and convenient to use and clean
Full SS disc gives the best performance
LED light in knob gives a great look
Worth for the money
Cons
Food Processors Buying Guide
Different Types of Food Processors
There are basically four types of food processors available in market. These are listed below:
1. Hand-operated Food Processor
These are the most basic food processors and are perfect for chopping when the quantity of food is less. They are used for chopping onions or other vegetables. Hand operated food processors require some effort in chopping manually, but alternatively, they are easy to use and clean. You can easily store it in a little space as it comes in quite small sizes.
Also check for the Best Hand Blenders
2. Mini Food Processors
These are versatile and compact food processors. It is a highly recommendable product for those who love cooking variable dishes. It can do the chopping, grinding, mixing, and shredding, but the quantity should be less. Hence, it is best for smaller families.
3. Full-sized food processors
These are quite big in size and can perform multiple tasks with a capacity of 10-12 cups. Full-sized food processors come in variable ranges with unique features. Some of the brands offer 20 cup capacities, whereas the most costly food processors are tied in with dough-hooks for mixing.
Moreover, these are also equipped with a variety of blades and discs. You can choose the best for your needs. It is recommended to prefer brands when choosing full-sized food processors because brands can be ongoing. The reason is their motors that are durable enough to deal with unique functions.
4. Buffalo Choppers
A Buffalo chopper comprises a strong metal structure that makes it more powerful and intoxicating than any other type of food processor. These are appropriate for heavy food-processing such as meat, beef, or pork. These can perform slicing and grinding too, with particular accessory parts. It makes them more versatile and suitable for daily kitchen chopping needs.
Also check, Best Meat Grinders
Various Attachments in a Food Processor
A food processor generally comes with the following attachments:
1. Bowl
This one is the most important attachment of the food processor that is used to collect and process food. Generally, three main sizes are available for a food processor- Full, Compact, and Mini.
The full-sized bowls come with the capacity of 9-13 cups.
The compact sized bowls come with the capacity of 5-7 cups.
And the mini-sized bowls can accommodate 2-5 cups.
2. Discs and Inserts
Discs and inserts are another important attachment in a food processor that lets you performs several tasks on the food you have inserted in the bowl. Different inserts and discs include dicer, slicer, chopper, shredder, etc.
3. Blades
Different type of blades is available with the food processor that you can use accordingly to perform various tasks including chopping, grinding, mixing, juicing, etc. These blades are made up of strong metal, normally stainless steel for durability.
4. Cover
A food processor generally comes with a cover to wrap the bowl. The cover helps in preventing the food from being scattering and spreading here and there due to the force of blades. And thus, it is ensuring safe mixing, grinding, and chopping, etc.
5. Control Systems
The best models of the food processors come with a completely digital control system including various switches and buttons to operate accordingly. And you can easily control the speed of the blades by using these switches and buttons based on different types of recipes.
6. Citrus Press
This another important attachment in a food processor lets you make fresh fruit and vegetable juices very easily.
Things to Consider Before Buying a Food Processor
1. Motor Power
Food processors work on the power of the motor, so it is advisable to choose the model with high motor power. Food processors with highest motor power enable you to do tough cooking activities like kneading, grinding, juicing, etc. effortlessly in no time. The best models come with a minimum power of 750 Watts that performs very well.
2. Capacity of the Bowl
The bowl in a food processor comes in three different sizes full-sized (9-13 cups capacity), compact-sized (5-7 cups capacity), and mini-sized (2-5 cups capacity). So, you can choose the one depending on your needs.
3. Attachments and Accessories
Different attachments and accessories are available with the food processors that ease all the toughest activities like chopping, slicing, mixing, grinding, kneading, and juicing, etc. The pricey models come with more and more attachments while the inexpensive models have limited attachments and accessories. So it is advisable to choose the model on the basis of your need, convenience, and budget.
4. Size and Weight
Food processors come in different sizes and weights. If you are a professional maker or even have a large family, you must choose the full sized models. For a family having 5-7 members, compact models are the ideal choice. And for a small sized family, it is advisable to choose the smaller models.
5. Speed
Considering the speed setting in a food processor is also very important if you are going to buy one. Most of the models have variable speed settings. It may be low, high, and pulse. So, you may choose the preferred setting depending upon your requirements.The speed option buttons also help if you are dealing out constantly. Above all, when you are adding ingredients all together to the feed tube, you do not have to repress the button by hand for a longer period.
6. Overload Protection
Most of the models in food processors have OLP switches, i.e., basically an Overload Protector knob. If this knob is turned on, the food processor will cut off the power supply already. Thus, saves your device from any damage due to overload. This switch is meant for the purpose if the appliance is in operation for a very long time or if it is stuffed with items. Hence, make sure to consider this feature before you buy one.
7. Brand / Price
Before buying a food processor, you must check if the model you choose is branded or not. Brands are expensive, but they provide a powerful motor, which is useful in the long run.
On the other hand, if you prefer local brands, maybe you will get some extra accessories and attachments but not a powerful motor. Ultimately, the decision is yours, based on your personal preference and your budget.
8. Warranty
Warranty on any product doubles its value, and so you have to open your heart to the product that has an ongoing warranty. You must ensure that it provides quality customer service, as well.
9. Easy Demonstration
If you are spending your money on any product that eases your task, then a detailed demo is a must for user-friendliness. Food processors and other electronic appliances are very delicate, and they can stop working if not used properly. Hence, the entire information about the Do's and Dont's is very important. Easy demonstration makes it easy to use by the older generation as well.
10. Easy assembly and handling
Easy assembly is very important if it's a kitchen tool. The arrangement of the accessories and tools must be simple and effortless of any product. Even the lid of a food processor should get securely placed with a crack straight away.
Easy assembly is also very important for cleaning and maintenance. It makes the cleaning of different parts very easy. You can choose a food processor that comprises a touchpad and soft inset knobs so that it can control variable functions easily.
How does a Food Processor Work?
A food processor comes with a work bowl that is to be fixed on a motorized drive shaft. A feed tube is there on the lid of the bowl from where you can insert the food you want for chopping, dicing, slicing, grinding, pureeing, or even kneading the dough. Most of the food processors come with various disks and attachments for different activities like grinding, juicing, etc., etc. Also, the S-shaped blades in a food processor help in doing all these activities very easily and quickly. You just need to plug it out, insert the food, and attach the disk based on what you need to do with the foodstuff. It's so simple and gives an effortless cooking experience. Here is a video showing how it works.
Food Processors Frequently Asked Questions (FAQs)
1. What is the use of a food processor?

A food processor can be used to cut, chop or slice foodstuffs such as vegetables and meat. It can also be used in making juice or beating cake batter, egg whites, etc.

2. How a food processor is significant than other kitchen tools?

A food processor is a versatile kitchen appliance that can replace a hand chopper, mixer, blender, or dicer. It can cut, chop or slice vegetables much faster than other chopping tools. Moreover, the cleaning and maintenance of a food processor is very easy and effortless. Everything is dishwasher safe, and it can be clean without any hassle.

3. How is a food processor different from a blender?

A blender can be specifically used to blend liquids or soft foodstuffs. It can be used to make smoothies, juices, and pulp. On the other hand, a food processor helps in reducing manual effort in chopping, slicing, and kneading, etc.

4. Can you make a fruit drink or pulp in a food processor?

Yes, a food processor can be used to make fruit or vegetable pulp. You can simply make fruit drink with or without the pulp in it.

5. Which is the most popular food processor in the Indian market?

For daily basis small kitchen needs, mini food processors are a great option. It can do everything in less time while big food-processors are also good to perform all functions through its powerful motor. The famous brands of food processors you can trust are Bajaj, Phillips, Morphy Richards, etc.

6. Can you crush ice in a food processor?

Most of the food processors with peddlers can't help you out in crushing Ice as it may break the bowls and the blades. But there are some models that come with a variant that can crush the ice. All in all, you should know about your preferences before buying one.

7. How easy or difficult is the cleaning and maintenance of the food processor?

Cleaning and maintenance of the food processor is not that much tricky as you think of. You can simply wash or clean the blades in the dishwasher with warm water.

8. How to clean the food processor easily?

The cleaning process of a food processor is very easy. All you need to detach the entire equipment of the processor safely. Then keep it soaked in soapy water for a few minutes. Warm water is mostly recommended for soaking. After that, gently cleanse the dirt and thoroughly rinse with water.

9. How many watts are best for a good food processor?

An excellent quality food processor should have a power consumption of at least 500-1000 watts.
Conclusion
This is all about the best food processors in India that you can buy for an effortless and efficient cooking experience. For easier and faster food preparation in the kitchen, food processors help you a lot. Even it is the best kitchen tool that saves a lot of time and effort into making delicious recipes. So, I am sure the listed models and mentioned buying guide would surely help you in picking out your favorite model for the kitchen. As our personal recommendation, you can go for Hamilton Beach 70725A Food Processor that is best in all manner-quality, performance, durability, and high capacity.
Still, if you think anything is missing in the blog or for your any recommendation and suggestion, please pen down to us in the comment section below.
Related Reviews and Buying Guide
Buy Food Processors Online
Usha FP 3811 Food Processor 1000 Watts Copper...
31%
INALSA Food Processor/ Atta Kneader/ Chopper ...
43%
Usha FP 3810 Food Processor 1000 Watts Copper...
30%
Preethi Zodiac MG-218 mixer grinder, 750 watt...
26%
PHILIPS Mixer Grinder 3-in-1 750 Watt (Mixer ...
34%
Bajaj Food Factory FX 11 600 Watts Food Proce...
32%
Morphy Richards Icon Superb 1000-Watt Food Pr...
46%
Inalsa INOX 1000 1000W Food Processor with Bl...
30%