In this article, the team of OneReview has researched and reviewed the best vegetable choppers for Indian users. We have gone through more than 50 vegetable choppers and listed the top 10 from them. Our team has listed key features, pros and cons of each of them. To make your selection process easy we have a comprehensive buying guide at the bottom of this article, helping you to know the various aspects of a best vegetable chopper.
Chopping is an essential part of cooking. Preparing salads for table, desserts, cutting green leafy vegetables and other eatables require chopping. But isn't it hectic if done manually? For most people, it is such a boring and tedious job. And we are sure you feel the same. But worry not! Buying the best vegetable chopper for household use will make your chopping and dicing veggies or fruits very easy and effortless. So, now you can manage this hectic process smartly and conveniently.
Key Takeaways
If you are falling short of time reading this long article. We have summarized some key points for a quick decision(TL;DR version).
Vegetable choppers come mainly in 2 types, electric or manual. Both have their own pros and cons.
Borosil Chef Delite and Inalsa Bullet choppers are the best ones to buy. These are electric types.
Pigeon Mini Plastic is the manual type vegetable chopper and cheapest too.
Look for motor power, warranty, capacity, types of blade, shape and size of vegetable slices when buying a vegetable chopper (All these details and many other important information is covered in the buyer's guide section for your convenience).
Top 10 Best Vegetable Choppers in India
This is a quick glance of our best picked models of vegetable choppers. Below it, we have covered the detailed review of each of them for more information.
Best Vegetable Chopper Reviews
1. Borosil Chef Delite BCH20DBB21 Chopper (Overall Best)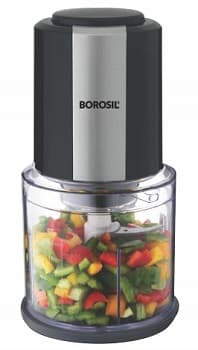 Are you tired of doing hectic chopping with the same knife in the kitchen? Then, give a helping tool to your kitchen and make your daily cooking a breeze with Borosil Chef Delite Chopper. This chopper from Borosil is an absolute bonus to your chopping needs, which is damn good at its job. The product is found best in our search list for its outstanding performance and features.
The first thing we like about the product is its attractive design in an elegant black color with a transparent chopping container. It has an anti-skid rubber base that makes it more stable while using the appliance.
This chopper includes two sets of sharp stainless steel blades that ensure the best chopping results. The twin blades also allow fine chopping of leafy vegetables at ease.
From now, no more tears during chopping onions because it comprises a 600 ml plastic container with a storage lid. You can directly chop the vegetables without getting in touch with the foodstuffs. As a bonus, you will surely get rid of smelly hands too while chopping garlic or other foodstuffs.
When it comes to safety, the appliance comes with an inbuilt auto shut-off feature that enhances motor life. Plus, a motor mount switch is also there for extra safety. Moreover, a great benefit is its low noise motor that ensures the noiseless operation of the appliance.
Overall, the product truly helps you out in cooking speed as it can dice or finely chop half a kilo of onion or the vegetable of your choice in just two minutes. The chopper is a user-friendly product and easy to clean as well due to the dishwasher safe parts. Definitely a good buy!! Go for it…
Key Features
Motor: 100% Copper Winding
It consists of two sets of sharp stainless steel blades
600 ml plastic container with lid for chop, serve and store
Dual blades make easy chopping of leafy vegetables including spinach
Silent operation with low noising motor
Anti-skid rubber base with portable and user-friendly feature
Motor mount switch for extra safety
Auto shut-off for motor safety
2-year Warranty on product
Package Includes: Chopper, Container, Blade set, and Rubber Lid
Pros
It can finely chop the vegetables at one go and simplifies the daily chaos of boring chopping.
Saves time and effort.
Twin one blade unit can be easily removable. You can easily disconnect them into two and then clean.
Low noise operation doesn't bother anyone.
Cons
Not suitable for grinding. It is recommended not to grind hard items such as rice, coffee beans, spices, and thin liquids.
2. Inalsa Bullet Electric Chopper (Runner Up)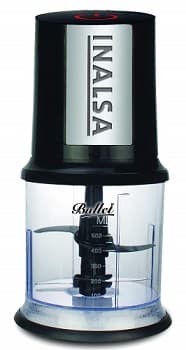 Coming to our runner up product, Inalsa Bullet Electric chopper provides efficient chopping in one go. The performance and quality of this model are equivalent to the above mentioned chopper. Hence, if our best overall pick is not available, or you may not find it best for your needs, you may definitely consider this one.
This mini chopper comprises twin blade technology with a powerful 400 W motor that delivers the best results in each use. It includes 100% pure copper winding that can efficiently work for 3 minutes endlessly. So, you will get amazing professional results in chopping, mincing, and making puree.
The product offers you to chop vegetables in three ways: roughly, medium or fine. The hook-on blades can be used for less quantity and high quantity both that is the biggest plus. The Inalsa mini bullet electric chopper has a press button at the top that makes it accessible and provides better control for medium or fine chopping. Also, there is a 2 pin cord plug with a 1.5 m wire length that is sufficient for easy operation.
The best thing about this chopper is its Safety Sensor Device. This feature provides safe operation as the motor does not function if every part of the model is not fixed properly. It comprises rust-free stainless-steel blades, and its regular use does not cause any harm to the chopped foodstuffs. Hence, in all ways, it is safe for you.
It also features a double layer stainless steel decoration on front and a transparent processing bowl that gives you a see-through experience to the chopping levels. With this chopper, you can chop onions, garlic, or other vegetables and cut fruits and nuts, or make bread crumbs easily in no time.
Key Features:
Compact and stylish design that executes high-speed chopping
The product is made from strong and resilient ABS plastic for hassle-free use and is long-lasting as well
Works silently without any annoyance
High-quality stainless steel with dual-blade technology
Hook-on double layer stainless steel system provides fast and excellent dicing operation
Easy and simple press down button
Anti-skid base offers better support
2-year Warranty
Pros
Safety sensor device function facilitates secured operation.
Rust-free stainless steel blades will always be safe to consume any of the food item chopped or crushed using the chopper.
The motor will efficiently work for 3 minutes continuously.
Saves time and value for money.
Cons
Most of the users find inconvenience while using it, as the lid locks after every use. But, for safety purposes it is good.
3. Pigeon by Stovekraft Mini Plastic Chopper (Best Budget Pick)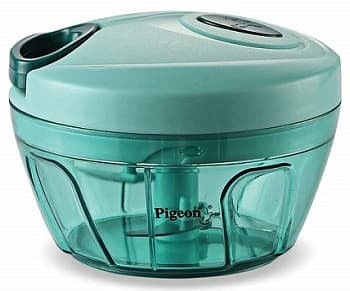 The third option in our search list is a budget-friendly pick and suitable for those who don't want to spend extra money on it. The Pigeon New handy mini chopper is a fantastic reasonably priced device for all chopping needs.
It is featured with 3 sharp stainless steel blades that are durable and rust-free too. These blades are extremely sharp for chopping vegetables and fruits with ease. Even with regular use, it maintains its sharpness and enables superior performance at long last.
The chopper comprises an exceptional string design that comfortably cuts and chops vegetables with less effort. The eco-friendly design of this handy chopper allows an easy-handling process.
The best part of this chopper is that it does not affect the quality of foodstuff as it keeps the water content the same as even like before while chopping tomatoes, cucumber, beetroot, etc. Some things you need to keep in mind before using this handy mini chopper. Firstly, you need to roughly chop the veggies or fruits so that it doesn't get stuck between blades. Pre-cutting makes chopping smoothly and will help crush them into more refined pieces to make pulp or suitable for chewing.
This chopper comprises a short string which you need to be pulled 5-7 times to rotate the blades. This procedure eventually starts the chopping operation, and you will get 2-4 mm fine chops in a few seconds which you can't get by manually.
Maintenance and cleaning of this device are also effortless and easy. You only need to disassemble the blades and wash them with lukewarm water, gentle detergent, and a soft sponge.
Key Features
Made up of Polypropylene and strong ABS plastic for ongoing operation
3 high-quality stainless steel blades provide hassle-free cutting with minimal effort
Eco-friendly design with the most convenient and easy handling process
It can be opened and removed easily
Easy cleaning and maintenance
Required no electricity
The package comprises a 1-piece handy chopper
30-Days warranty on manufacturing defects only
Pros
Made from strong and hard-wearing BPA free ABS plastic material which enables superior performance and long-term use.
The simple design and style of the chopper makes it easy to dismantle the parts quickly and clean the chopper in minutes.
User-friendly operation makes the appliance easy to use.
Cons
Not suitable for hard foodstuffs such as coconut or other solid nuts.
Need to use it carefully as the thread may get stuck inside and stop working.
4. Brayden Chopro Electric Food Chopper for Kitchen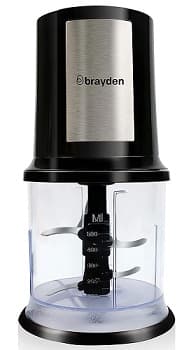 Get trendy with this classy kitchen appliance and make chopping in seconds with Brayden Chopro electric chopper. This is an amazing product at its price and can do chopping easier.
It is featured with 4 Bi-level stainless steel blades and a 300 W pure copper winding motor. The blade is sharp enough to cut vegetables, and thus it makes fun to chop, grind/mince, or even blend and puree more conveniently without any extra efforts.
Now you don't have to wait too long for onion parantha's or green leafy vegetables dishes because it can chop 4-5 onions and other foodstuffs in just seconds. Its single zippy press on top assists you with easy operation and precise chopping. Moreover, its anti-slip grip makes it more sturdy and firm while in use.
It includes a cylindrical bowl that has 500ml capacity. It may capably hold the chopped foodstuffs together with no exposure to open air. The container is transparent so that you can view the level of chopping while in action.
Key Features
Powerful 300 W uni-copper winding motor
Buttonless chopping with zippy top press
Large 500ml chopping container with Bi-level AERO4 Blades
Compact storage with transparency to see-through while in action
Anti-skid grip ring at the base
Pros
Bi-level stainless steel blades provide double action and ensure easy chopping.
The bottom of the chopper has an anti-slip ring that makes it firm and strong. It also prevents it from trembling while in action.
One zippy press button on top makes it easy to use. No chaos.
Cons
Excellent product but a bit expensive.
View on Amazon View on Flipkart
5. Prestige PEC 3.0 250-Watt Electric Chopper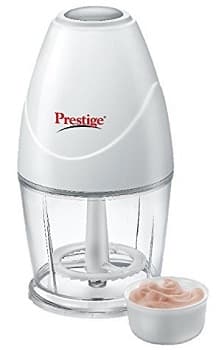 Prestige presents this sleek, versatile and powerful electric chopper for daily chopping needs. The prestige electric chopper version 3.0 is associated with a 250-watt motor that facilitates noiseless operation. You can chop, dice, crush, and even whip with this efficient chopper as per your chopping requirement.
A press button at the top makes it easy to operate and provides easy maneuver for fine chopping. It is a multi-purpose chopper in its price that is absolutely worth it.
The chopper consists of a transparent jar that provides visibility to chopping levels. Also, with a twin blade system, this chopper offers quick and efficient chopping and dicing. The blade material is good enough and is made of stainless steel to chop in 3 ways: rough, medium, or fine. In terms of overall quality, performance and convenience, you can trust in this amazing electric chopper.
Key Features
Best suitable for chopping and cutting vegetables, fruits, spices, meat, nuts, and cheese
Blade material: Stainless steel
Product Dimensions: 13.5 x 13.5 x 25 cm
Exclusive ring handle design for easy cutting and chopping
Medium plastic container to store chopped items
It can chop coarse, medium, or fine
Product warranty: 1 year
Pros
Good enough to chop or dice proficiently.
Twin stainless steel blade provides easy and fast chopping.
It can chop 3 ways: Rough, medium, or fine.
Whipping can also be done with this chopper.
It helps in reducing the effort of daily food preparation or hectic chopping of vegetables.
The chopper is appropriate for cutting soft as well as hard vegetables, cooked meat, fish, nuts, cheese, etc.
It works silently without creating any nuisance.
Cons
The blades are fixed close to the bottom of the container, which results in large and uncut upper pieces while chopping veggies. So, you need to stir the item you chop after a while to get even chopping.
6. Butterfly Premium Vegetable Chopper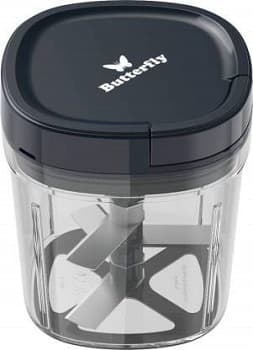 If you are looking for the best hand chopper at a pocket-friendly price tag, then you must try Butterfly Premium Vegetable Chopper. It is an excellent chopping device that significantly minimizes your effort of chopping. Seeing as the design of the chopper attracts everyone and so the features too. It comes in a sleek, compact look that is finished with unbreakable ABS plastic material. The material used in it is strong and long-lasting.
The best part is that it does not require electricity as it is a complete hand chopper. It is featured with a string function to chop or mince vegetables in a hassle-free manner.
The model comprises 3-sharp stainless steel blades and is suitable for cutting fruits, veggies, and dry fruits into tiny pieces. And the entire operating process needs just a few pulls of the cord as it is based on string function. Whether using it on a daily basis or preparing salad, gravy, paste, or puree for small gatherings, you can make it more quickly and easily with this hand chopper.
Key Features
Sleek and compact look
Finished with strong ABS plastic material that is ongoing even after several uses
Sharp and strong 3 blades made from Stainless steel
Featured with string function for easy chopping of vegetables and fruits
900ml large storage container
Pros
Reasonable priced that suits everyone's range.
Chop or dice effectively and saves time & energy.
Eco-friendly design with no electricity required.
Cons
Maybe the lid of the container seems loose-fitting. It can chop with ease with proper handling.
7. Wonderchef – 63152935 String Chopper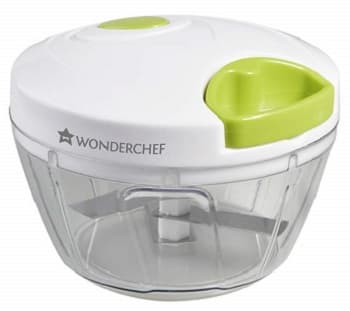 Food preparation is now no more a hassle with this Wonderchef string chopper. It's a plastic chopper with an ergonomic design that gives a great addition to your kitchen. Plus, the quality construction adds to its durability and offers efficiency in the kitchen.
It consists of a sharp, wear-resistant triple blade that is fixed in different positions in the jar. The blades are placed poles apart just because it covers the entire height of the chopper. As a result, you will get even chopping without any chunks left.
Anti-slip silicon support in the bottom provides a grip when kept on the slab. The chopper may fall while in operation, but it prevents the jar from slipping with the help of silicon support.
A transparent jar is also there with the unit that makes visible the foodstuffs level while chopping. It can chop everything from onion and messy garlic to fruits and nuts in a couple of seconds.
As it is a string-based chopper, you can easily control the vegetable's size with an underhanded number of pulls. Moreover, it offers impressive performance and functionality to provide just the right service for years to come.
Key Features
3-sharp stainless steel blade that can chop in seconds
Ergonomic design with high-quality food-grade plastic material gives a great addition to your kitchen
Transparent container makes foodstuffs visible while chopping
Silicon-supported bottom
Multi-utility chopper fits for chopping, mincing, or whisking
Powerful motor with versatile features
Easy maintenance
Pros
The 3 high-quality sharp blades are set in different positions so that it covers the entire height of the chopper. This will facilitate even chopping very quickly in seconds.
Being an apparent container allows you to see the shapes of the foodstuffs while they are being chopped.
Anti-slip silicon support in the bottom gives firmness to the chopper.
It comprises a unique whisking attachment that allows you to whisk eggs in no minute or make homemade cream or yogurt.
Cons
The chopper is too small for big chopping needs.
8. Havells Handy Mini Chopper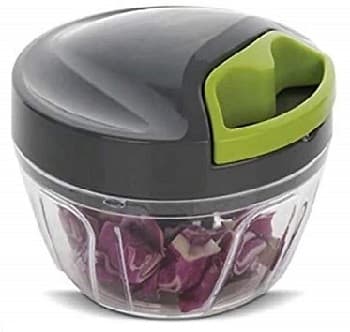 When looking for a budget-friendly chopper, Havells handy mini chopper could be the one for your kitchen. The product works amazingly and value for money as well.
Seeing as, it is a manual food chopper, and you need to gently pull it with your hand and do chopping easily. It saves a lot of time for food preparation.It consists of 3-stainless steel blades that are made of good quality material. The blades are sharp enough to chop vegetables in the required size.
There is no electricity required to operate this chopper, and it is best suitable for students who live in hostels. The effortless and user-friendly feature makes it handy, so you can also give a try to this mini chopper for small chopping needs.
The chopper comes with an anti-skid bottom that makes it more durable and firm while in use. Even more, the maintenance and cleaning of the chopper are also very easy, and you can wash it after every single use without any hassle.
Key Features
User-friendly device and easy maintenance
No electricity required
Manual chopper which requires gentle pulling
3 Stainless Steel blades
Anti-slip base
High-quality handy mini chopper
Pros
One of the best products for chopping nuts, fruits and vegetables, etc.
Effortless chopping and saves a lot of time.
Easy maintenance and cleaning.
Food grade material construction makes it safe to use.
Cons
It must come with a holder to keep blades. As blades are very sharp and after cleaning, the blades get disorganized and unsafe too. Keeping it open causes harm.
9. BLACK+DECKER BXCH1201IN Chopper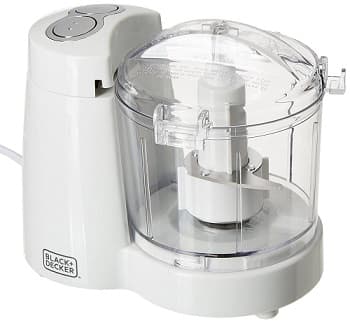 Black+Decker Mini Chopper is a compact and highly versatile vegetable slicer that proves the best helping hand for your chopping requirements. It can mince garlic and herbs along with even chopping in seconds. You can make salad, breadcrumbs, and a lot more right away without any effort.
The 2-speed levels allow you to get either finely chopped veggies or roughly chopped vegetables as per your requirement.
This light-weight and stylish mini chopper have a safety lock available on the lid. It will prevent you from any harm while using the device. Seeing as, it is swift and saves all your hectic chopping, so add this ideal thing to your essential kitchen tools. In its price, it facilitates you with maximum performance, utility, and feasibility. So go for it without any doubt!!
Key Features
2-speed function, i.e., low and high for particular size and shape of foodstuff
High-quality stainless steel blades
Even chopping and mincing
350 ml large food-grade container for everyday use
One pulse operation for better control
Safety lid lock
2-years warranty on the product
Rust-free blades and is safe for long run
Pros
100% hygienic chopping and causes no harm to the chopped food.
Light-weight and handy chopper.
It can operate with high speed to low-speed chopping and dicing of the food items with ease.
Cons
Costly but can't ignore its amazing features.
10. Home Puff HP-Big-CHPR Vegetable Chopper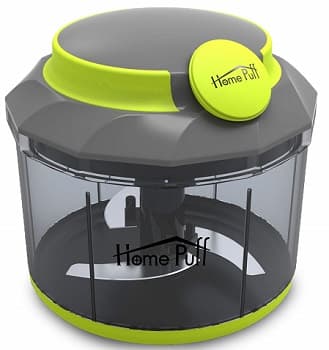 Now, last but surely not the least, this is another best vegetable chopper in India from the brand Homepuff. It comprises 1000ml capacity with 3 high-quality stainless steel blades for fast and even chopping.
The major attraction of this product is its rapid chopping without any hassle. Excluding this, it is featured with an anti-skid base design, soothing soft grip lid, rotating buckle with 360-degree fixed, easy pull cord, and large handle for easy control. The chopper has a wonderful big size container that can be easily detachable for easy storage after cutting.
The Home puff food chopper also includes a mixer blade in the package. So, if you want to prepare cake batter or homemade cream, do it with the same chopper. Moreover, you can whisk the egg for fluffy omelets as well. It is suitable for evenly blend of solid or liquid mixing.
The components are easily detachable and are dishwasher safe, which helps easy cleaning too. All you need to be cautious of the sharp blades while washing.
Key Features
Sharp stainless steel blade for fast and perfect chopping
Food-grade plastic and ergonomic design
Anti-skid bottom
No electricity required
Easy and convenient chopping in just a few pulls
Powerful and multi-purpose
Dishwasher-safe
Whisk blade included with the package
Pros
It is very convenient to use in just a few pulls.
No electricity required and provides effortless chopping.
Easy cleaning and maintenance.
Large handle and smooth pull cord for easy control.
Cons
A little bit pricey when compared to other brands.
The components are fragile. It would be best if you handled it with care.
How to Choose the Best Vegetable Chopper? (Buying Guide)
A food chopper is simply a mechanically assembled device that makes chopping and cutting easy and effortless. Although buying a vegetable chopper does not require detailed evaluation, as you are paying your valuable savings to buy one, it is logical to figure out its features and functions carefully. Let's come to know the essential elements you need to figure out while purchasing a vegetable slicer for your kitchen. Read thoroughly and compare them to make out the best for your own.
Types of Chopper
You should measure your requirements first, whether you need a manual or electric one. Basically, there are two types of cutter for vegetables: Electrical Vegetable Cutter and Manual Vegetable Cutter. A detailed description of its common types is mentioned below.
1. Electric Vegetable Choppers
These are more convenient choppers as they work with efficiency. It does not require any physical efforts but electricity. You will get chopped fruits and vegetables or even salads within no time. You just need to split the vegetable fifty-fifty and directly put it into the chopper, then switch it On, and the rest, the chopper will do.
2. Manual Vegetable Chopper
These are handy and do not require electricity. All you need to drive the handle manually to get finely chopped vegetables. Based on different cutting techniques and blades, the manual vegetable chopper is of three types:
3. Pulley Type Choppers
The mechanism of this chopper is very simple, like Beyblades. These have a cord and crane mechanism. The cord needs to drag manually, which will rotate the blades surrounded by the box. As a result, you will get the chopped vegetables easily.
4. Food Processor Choppers
This type of vegetable chopper is somehow similar to the pulley model. The only difference is the mechanism for the blade rotation. There is a handle in place of a pulley on the top of the chopper. You need to rotate the handle manually to chop the vegetables. Other than this, you can also make chapati dough with these processors.
5. Box Models
As the name already indicates its materialization, these have a square or rectangular shaped box that includes sharp blades on their surface and a container at the bottom. You need to place the vegetables on these blades and then close the container. The vegetable or fruits get chopped and fall inside the box.
6. Slicer
This type of slicer has an attached beaker on the downside. The slicer moves the vegetables and fruits smoothly in backward and forward motion, and the pieces will directly fall into the attached container.
7. Mandolines
This type of Vegetable Cutter also works in back and forth motions. Generally, it has more than 2 or 3 blades. It slices the vegetables into pieces with the help of blades.
8. Cutter
It is the most common type of cutter for vegetables, and most likely, you will find this tool in every house. Its blade is razor-sharp that is sufficient to cut the vegetables in a single stroke. It is the most traditional kind of a cutter, or you can say it the best hand chopper used in every kitchen.
9. Dicer
Dicer is a kind of chopper that makes slices easily. When diced on this cutter, the vegetables will fall in the container. It can chop vegetables without much effort. With the help of dicer, you can prepare a salad platter in a couple of minutes.
10. Vegetable Grinder
It is a kind of chopper that is basically used for grinding or mincing. It can grind almost everything very easily from vegetable mincing to meat, beef, or pork mincing. You can get finely minced vegetables along with meat with this grinder by replacing the traditional chop up style with a knife.
Also, check for the Best Meat Grinders
11. Onion Cutter
The design of this chopper is very simple and user-friendly. It will finely cut the vegetables into pieces without crushing them as other food processors do. With this manual onion cutter, you can get the desired chopping in no time.
12. Lettuce Cutter
For some lengthy and boring chopping tasks, this device is beneficial in saving time. The lettuce cutter will tear up the lettuce leaves and cut them into strips. It will save you from extra effort as well.
13. French Fries Cutter
French Fries are loved by all ages and the most favored snack of all time. For evening snacks or casual get-togethers, it is necessary to have the perfect French Fries Cutter so that you can cut large quantities in a couple of minutes with a perfect shape. All you need to place the potato in the chopper and press on the handle to get the cubical French fries shapes.
14. Wedger
Wedger is a user-friendly device that simply separates a thing. You just have to put the vegetable in the given space and move forward the handle with force. You will obtain the perfect shape of the preferred vegetable.
As you are familiar with the different varieties of vegetable Cutter and before buying one, you should weigh up the variation between electric and manual vegetable choppers. The comparison between both can help you in finding yours based on your requirement. So let's compare both:
Electric v/s Manual Vegetable Chopper
Manual choppers are widespread appliances used in almost every house. These are usually made out of plastic that includes steel bladed cutters. Manual vegetable Cutters are perfect for daily chopping needs. Whether you are arranging a small get-together, a manual chopper can help you in hectic chopping tasks. A typical manual vegetable Cutter has the following characteristics:
Light-weighted and huge storage box
Can chop almost every vegetable along with fruits
It can mince meat as well
It comes in various color options and designs
Pocket-friendly
On the other side, electric models are more convenient and faster than manual models. It is suitable for home use and suits perfectly in a big modular kitchen. But, these are best suitable for huge chopping tasks like: for restaurant purposes and other big establishments. The electric chopper can cut many vegetables in a couple of minutes. All in all, it can do more than manual models such as:
It can chop any type of vegetable, fruit, or even meat as required.
It can whip up cream or curd as well.
You can make puree from vegetables and fruits with an electric chopper.
It can do temporary grinding too.
But, having so many features is not well enough to buy one. Electric models are more expensive than manual choppers. Before buying the best hand chopper for your kitchen use, you must figure out the price as well. However, some electric vegetable choppers are available in the minimum price range, and we have already mentioned those in our best product list picks.
Things to Consider Before Buying a Vegetable Chopper
1. Ease of Usage
It is the most important factor because the motive of any appliance is to make the task easy and save extra effort and time. It isn't very worthy if chopping can be done in less time, but its operation mode is not that easy. Hence, for easier usages, make sure you prefer a press box model vegetable chopper that has a storage box to store. There is no problem to gather its containers too. Press box models require only a substantial amount of energy to push down. Therefore, the initial consideration should be how easy to use the device is.
If talking about electric vegetable choppers, make sure you wear proper gear while using them because chopping is easy with an electric chopper, but you have to be very careful. Hence, ease of use is very important while taking one.
2. Capacity
The storage capacity of any chopper is different from model to model. Usually, the food processors and choppers, whether it is electric or manual, have transparent containers. If you are going to use the chopper for just chopping nuts and dry fruits or mincing herbs, ginger, and garlic, then a chopper with 1-2 cup capacity is the ideal option. But if you require a chopper for mincing meat or chopping vegetables, then larger capacity choppers would be the best option.
3. Shape and Size of the Slices
Most of the chefs require a particular shape and type of dicing for their platters and servings. If you are one of them, check the blades you require so that you get the type of chopping you want.
4. Type of Blades
Salad preparation or restaurant-style platter servings require perfect chopping and slices. Types of blades should also be measured if you want perfection in your dine serving. A straight-lined standard blade would be an excellent choice for everyday chopping needs. But for other types of chopping requirements, seek saw-styled blades or spiral blades.
5. Blade Material
Every chopper requires sharpness in its blades, and it will be ongoing only when the material is of good quality. Most of the vegetable chopper consists of stainless steel blades and is the best choice for everyday chopping needs. It is more durable, and stainless steel blades are resistant to rust and corrosion. Apart from that, it is easy to clean and requires minimal maintenance.
6. Easy Maintenance and Cleaning
Every vegetable chopper needs to be cleaned after every use because the container and the blades get dirty once done chopping. Most of the hand choppers have hard to reach corners where cleaning is not easy. Moreover, in a few products, some elements are not easy to clean. Thus, make sure to pick a removable model and clean up in no time.
The case is someway similar when cleaning electrical choppers, but you need some precautions before cleaning and maintenance. You first need to disconnect the veggie container along with the blades from the main unit. Get them cleaned afterward with defined safety measures. Before further use, ensure that the electronics and the cabling do not get wet unexpectedly. The container also needs to be dry completely before you use them again.
7. Material
Likewise, the blade material, the material of the main unit, is also very significant. Make sure the chopper is BPA free material if you are choosing a plastic chopper. Similarly, if you are going to pick a steel chopper for your kitchen, make sure it is rust or corrosion-free.
8. Powerful Motor
If your option is an electric vegetable chopper for chopping or grinding needs, ensure its motor frequency. A powerful motor always makes chopping and mincing easy and convenient within no time. Hence, prefer the best electric vegetable chopper with the fastest power.
9. Wattage
To chop vegetables effectively, the power consumption of the electric chopper should be powerful. It should not be too high wattage. The ideal power consumption would be 250-450 watts, and that is best enough to chop vegetables or meat appropriately. Too high wattage can lead to expensive electricity bills. Thus, check the wattage before paying for one.
10. Even and Secured Base
Unstable base crumple and fall down while operating. Hence, it is important to check that the best hand chopper you pick has an even and secured base.
11. Dishwasher Safe
Likewise, the vegetable cutter can do chopping fast and effectively, the same as its cleaning should be. Make sure that the chopper you select is dishwasher safe so that you can easily wash its components.
12. Versatility
An appliance with many functions is always incomparable and is most desired. Generally, choppers do exceptional dicing, mincing, chopping, and slicing, but they can't make grinding. Always prefer a chopper that can dice vegetables and fruits to different preferred shapes and sizes. Other than that, they execute finely chop dry fruits and nuts and mince ginger and garlic.
Well, manual choppers can do everything except grinding, but electric vegetable choppers have the ability to execute a temporary grinding function as well.
13. Price and Warranty
Price estimation is always significant before buying any appliance. Check whether the price of the product you purchase is compatible with the features it offers you. Furthermore, ensure the warranty period of the chopper reliably. Warranty assurance will help you with easy returns and damages. Hence, it can't be negligible if you pay for an electric vegetable chopper.
However, manual hand choppers are less costly, but most brands offer them at a high price. It is recommended that you should compare the features as well as its price from a trustworthy brand. Evaluation at the preliminary stage can save you from getting fooled.
Vegetable Choppers Frequently Asked Questions (FAQs)
1. Do food processors and vegetable choppers are the same?

The working of both is the same, but with a vegetable chopper, you can only cut down the vegetables and it is a small sized device. While a food processor is not that slender, it's a large-sized device that can mix up one or more things, including vegetable cutting.

2. Does vegetable chopper really ease chopping tasks and reduce cooking time?

Yes, of course, you can do your best with vegetable choppers. It is a simple and less costly way to reduce your cooking time. It makes chopping an easy and cool process by reducing your physical effort too.

3. Are vegetable cutters versatile?

Yes, a vegetable cutter can do many things at a time, including chopping, cutting, mincing, crumbling, and crushing simply and easily. Even most of the electrical models can be used as a temporary grinder. Hence, it can do grinding as well.

4. Can a vegetable chopper be used as a mixer or blender?

Possibly!! But Hand choppers can't give justice to blending. It may be executed by electric choppers only as they are more efficient in chopping and versatile too. If you plan to make puree from an electric vegetable chopper, be ready to get chunky messes than clear puree.

5. What is the use of a food chopper?

Food choppers are designed for multi-purpose tasks. It can make the chopping, dicing, and mincing food easy and simple. Food choppers are ideal for vegetables, fruits, dry fruits, and meats as well. You can simply cut nuts and fruits, chop veggies such as onion, garlic, carrot, celery, etc., mince meat and crush the ice with a food chopper.

6. Are vegetable grater and vegetable chopper different?

Yes, both of them work differently. A grater is used to grate vegetables and fruits. But a chopper can cut into pieces. Grater does not have steel blades like vegetable choppers. Graters are just simple kitchen tools that don't have big containers or setups.

7. How hectic is the maintenance of vegetable slicer?

There is nothing like chaotic with the maintenance of a vegetable slicer. It does not require any special care. You can clean it on a regular basis by using an ordinary dishwasher. But with electric choppers, follow the required safety measures while cleaning.

8. What type of foodstuffs can be chopped by the best hand chopper?

Using a hand chopper, you can chop fruits, dry fruits, meat, loaves of bread, etc. The vegetable chopper are useful in salad cutting, slicing unique shapes of any vegetable and fruits, and also makes mincing and grating very easy and effortless.
Conclusion
Most of the people think, why to take this much headache. it's just a chopper. But, keep in mind it is an essential kitchen tool. Rather than saving extra effort, it may save your time too. In our buying guide section, we have pointed out every single description related to vegetable choppers. Also, we have mentioned the best vegetable choppers with flexible functionality and outstanding performance. So, it will surely help you to figure out which one is best for your chopping needs. If you need any further information or have a query? Please leave in the comment box, one of our members will reply to you with all the details.
Related Reviews and Buying Guide
Buy Best Vegetable Chopper Online
Borosil Chef Delite 300 Watts Electric Choppe...
28%
INALSA Electric Chopper Bullet- 400 Watts wit...
37%
AGARO Elite Rechargeable Mini Electric Choppe...
33%
AGARO Electric Chopper, 400 Watts, Vegetable ...
44%
KENT Electric Chopper-B for Kitchen 250 Watt ...
62%
DigiSmart 400 W Genius 100% Copper Motor Elec...
62%
Brayden Chopro Electric Vegetable Chopper for...
22%
UN1QUE Rechargeable Mini Electric Chopper - S...
50%