Making awesome and delicious food is every homemaker's choice, and it will get more enjoyable when the cooking is fast and efficient. The technology has made it easy with its wonderful invention Induction Cooktops. Also known as Induction stove, Induction cooker, Induction Chulha, and even Induction Oven, this great kitchen appliance is now one of the best choices for every modern kitchen.
Well, what is best about Induction cooktops is that it saves both time and energy without putting much effort? And concerning safety measures, the induction cooktops are proving to be more beneficial than the LPG gas stoves.
But choosing the right induction cooktop requires a lot more considerations. We recommend you to please read our Buying Guide, so that you may invest in the right model.
10 Best Induction Cooktops in India
Well, the market is full of numerous brands and models of the induction cooktops, so how to choose the best one for your daily cooking needs is somehow very difficult. But don't you get worried as we have listed here some of the best induction cooktop for the fast and efficient cooking. The list we have made is based on their specifications, buyer's feedback, function, and other important factors. So, I am sure your buying decision will now get easier with this list if you are planning to buy the best one.
Best Induction Cooktops in India – Reviews
1. Pigeon Cruise Induction Cooktop (Best Overall)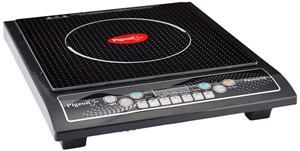 Get an experience of healthy and smart cooking with this best induction cooktop model from the brand Pigeon. This one retains all the essential nutrients and vitamin in the food unlike the conventional mode of cooking. Moreover, the classy, sleek and trendy design of this induction cooktop adds a great appeal to your kitchen interior. The appliance with its advanced technology and superior product design not only saves your time by cooking faster but also offers the optimized performance.
This induction cooktop comes with seven Indian preset menus for your convenience. Plus, there also has built-in indicators for every function including temperature indicator, voltage input, etc. And the smart control panel enhances the ease of use for this induction cooktop.
Key Features
Smart control panel
Push button
Bigger heating element for high efficiency
7 preset menus
Dual heat sensor
Auto switch off
Compact design for easy portability
Built-in indicators for every function
Multi-functional nature
Pros
Smart and elegant design
Energy efficient induction cooktop
Easy cooking with reinforced performance
Compatible with any induction-friendly cookware
Compact and portable
Cons
Not ideal for cooking the large amount of food
2. Inalsa Nucook Induction Cooktop (Runner Up)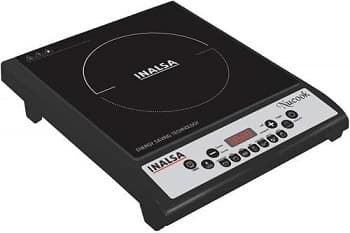 Quality, performance, and elegance- all in a single appliance describes this induction cooktop from the brand Inalsa. The appliance is very easy to operate with its simple on/off push button. Even anyone can operate this induction cooktop very easily with its smart control panel. It is equipped with seven preset menus or cooking modes that lets you cook the meal even more easily and conveniently.
The best is its unique power saving technology that dynamically monitors the temperature of the vessel and adjusts the power level according to the size of the vessel. When it comes to added features, this appliance has a lot more including anti-magnetic wall, soft touch buttons, durability, and safety that will surely make your cooking experience more enjoyable.
Key Features
Digital display
7 preset cooking modes with on/off timer
Anti-magnetic wall
Unique power saving technology
Variable temperature and power selection
4 digit display
Automatic pan detection
Overheat protection
Pros
Sleek and elegant design
Easy to cook and saves time as well
Offers quick and consistent heating at high efficiency
Nice safety features
Cons
3. Pigeon Rapido Cute Induction Cooktop
Again from the brand Pigeon, this best induction cooktop gives you an enjoyable and hassle-free cooking experience. This highly efficient induction cooktop comes with a lot more amazing and outstanding features that make it a must buy appliance for your kitchen. It truly resembles its name by providing the rapid cooking solution in your kitchen. This induction cooktop comes with a picture perfect LED display including various push-button controls for easy operation. Not only this but also it is featured with seven preset Indian menus that offer more efficient cooking.
Featuring dual heat sensors, the Pigeon Rapido Induction Cooktop also offers safer, better, and faster cooking. Plus, it also comes with the automatic shut off feature that turns off the appliance when the cooking gets completed. As a whole, this induction cooktop is faster, safer, and more energy efficient over your traditional cooking methods.
Key Features
LED display
Push buttons
Time and temperature settings
Dual heat sensor
Automatic shut off
7 Indian Preset Menus
Pros
Energy efficient induction cooktop
Smart, elegant, and space saving design
Nice functionality
Easy to clean and use
Reasonably priced
Cons
4. Philips Viva Collection HD4928/01 Induction Cooktop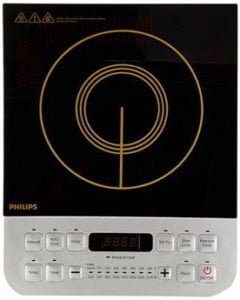 Get the joy of effortless cooking with this induction cooktop from Philips Viva Collection. The appliance is made up of a microcrystal plate. Its sleek design makes the appliance a beautiful addition to your kitchen interiors.
It comes with a smart touch start function enabling you to cook with the safest means. Its no-flame cooking feature provides safety and thus minimizing the chances of injuries. A simple push-button lets you control all the functions very easily and efficiently. It also has 6 preset cooking menus for effortless cooking.
Key features
Sleek Hi-Tech Design
Touch Start feature
Time setting for 0-3 hours
Auto-off program
Pros
Best quality product
So fast and easy to use
Efficient and stylish
Different temperature and wattage settings to use accordingly
Cons
Cord for the plug is small
Only special induction-safe cookware can be used
5. Prestige PIC 15.0 Induction Cooktop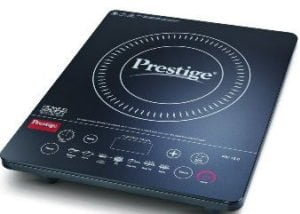 The next best induction cooktop on our list comes from the house of Prestige. This one includes a lot of cool features. The Prestige 15 Induction Cooktop comes with a sleek and stylish design that appeals to your kitchen interior. Cooking has never been easier and faster with this efficient electrical appliance. This energy-efficient induction cooktop comes with top-notch features including feather-touch buttons, in-built voltage regulator, preset Indian menu and a lot more.
Key Features
Control Touch Buttons
Automatic Voltage Regulator
Low Power Consumption
Preset Indian menu
Safe and easy to use
Pros
The ergonomic design adds to the beauty of this induction cooktop
Very smart touch buttons for smooth operation
Energy efficient induction cooktop
Easy to operate and clean
Compatible even with the stainless steel cookware
Cons
No downsides for the product
6. Usha Cook Joy 3616 Induction Cooktop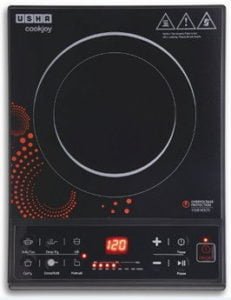 Healthy and safe cooking is all this handy induction cooktop from Usha boasts about. Its appealing design adds a great style to your kitchen interiors. This energy efficient induction chulha lets you cook the food very fastly and easily. Also, its push-button feature lets you operate the appliance in a straightforward manner.
Key Features
Power Saving Intelligence
Pan Sensor technology
5 Preset Menu Option
Smart Push Button
Extra Long Cord
Pros
Heats very quickly and so cooking gets very fast
The Pan sensor technology is a nice feature
Smart touch buttons for smooth operation
Less power consumption
Cons
Only special cookware is compatible with it
7. Bajaj Majesty ICX 7 Induction Cooktop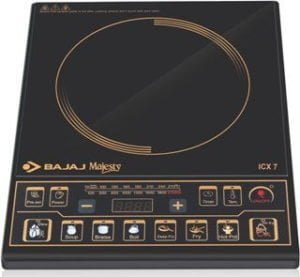 This induction cooktop from Bajaj offers fast, easy and safe cooking with being energy-efficient too. The flat, sleek and stylish design appeals to any modern kitchen. It comes with 8 preset one-touch menus. Just select the option you need and the appliance will automatically set the right temperature. This induction cooktop also has the Keep Warm Mode letting the food to get warmed until you consume it while maintaining its freshness and taste.
Key Features
8 Preset Menu
Keep Warm Mode
Tak Switch Controls
Auto Shut off
Delay Timer
Pros
Classy design
Nice temperature control function
Built quality is very good and the product is durable
Functions very efficiently
Energy efficient induction cooktop
Cons
No downsides for the product
8. Philips Viva Collection HD4938/01 Induction Cooktop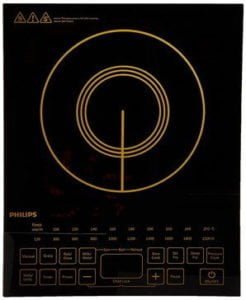 This is also the nice one in our list of best induction cooktops. Give a tidy, neater, and appealing look to your kitchen with this classy induction cooktop from Philips Viva Collection. The model is loaded with lots of smart features that make cooking fast and easy. With the smart sensor touch feature, you can easily operate the appliance without any hassle. Also, 10 preset menus are here with this cooktop for different Indian recipes.
Key Features
Energy Efficient Induction Cooktop
Time setting for 0-3 hours
10 Preset Menus
24 Hours Preset Timer Function
High quality full glass panel
Auto shut off
Pros
Easy and safe to use
Nice stylish design
Menu controls are also very easy to use
Functions very efficiently
Cons
Noise issues
Sometimes shows error
9. Havells Insta Cook PT Induction Cooktop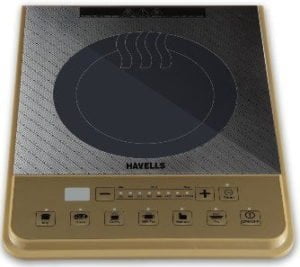 For easy, fast, and efficient cooking, this one from Havells is also one of the best choices for your kitchen. Its smart one-touch operation lets you cook the food very easily. It comes with 6 preset cooking menus that make the cooking very convenient. There is an LED display light with this induction cooktop that displays the status of settings.
Key Features
One-touch Operation
Variable Power Control
6 Preset Indian Menus
Auto Pan Detection
Auto switch off
Timer Function
Pros
Sleek and stylish design
Build quality is very nice
Quick heating
Worth for the price
Cons
10. Usha C 2102 P 2000-Watt Induction Cooktop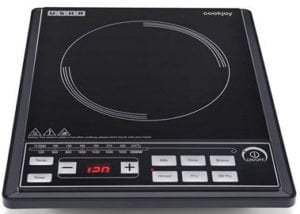 The Usha C 2102 P Induction Cooktop matches all your cooking needs by offering convenient and faster cooking experience. It comes with 6 preset cooking menus matching various Indian and International cuisines. The appliance is very safe to use and saves a lot from your high electricity bills being an energy efficient model. The Auto-shutoff feature is awesome that automatically shut down the device at extreme temperatures.
Key Features
Sleek design
Push Button Control
6 preset cooking menus
Variable temperature and time settings
Digital heat indicator
Pros
Quality is awesome
Buttons are very smooth to operate the appliance
Really very fast cooking
Easy to maintain
Consumes minimal power
Cons
Create some noise while operation
How to Choose the Best Induction Cooktops? (Buying Guide)
How do Induction Cooktops work?
Let us get to know how this induction cooking works. But before that, we need to understand what induction is. Induction is a shortened way for electromagnetic induction. It is the process of generating heat using magnetism.
Induction cooktops work apparently different from the gas stoves. The induction cooktop has an electronically controlled coil of metal inside it, which produces a magnetic field all around it and directly above it.
It actually works on the principle of heat produced by the induction of magnetic field around that comes from the glass surface, once the switch is on. Since there is the magnetism between the induction cooktop and the cookware, it speeds up the cooking process and also resulting in tasty, delicious and nutritious food.
The very best about the induction cooktops is that these appliances are very safe to use as they get turns on only when you place the cookware on it. Once you remove the cookware, the device turns off automatically. Here is the video that shows about the installation and working of an induction cooktop.
Pros & Cons of Induction Cooktops
Pros
Fast and efficient cooking
Cooking is safe
Easy to use and clean
Energy efficient kitchen appliance
Appealing appliance for any modern kitchen
Cons
In case of power cut, you can't cook food on the induction cooktops
Only special induction cooktop safe cookware can be used
Types of Induction Cooktops
Now, when it comes to the types of induction cooktops, a lot more options are available in the market. Here is the detailed description of different kinds of induction cooktops.
1. Built-In Induction Cooktops
These types of induction cooktops featuring flat and sleek design along with a ceramic glass unit on the top are made to get easily installed on your kitchen countertops. They are usually available in black color.
2. Freestanding Induction Cooktops
Freestanding Induction Cooktops can easily get fitted into your kitchen counters. It comes with different zones of induction that makes it more efficient one. Also, you can choose among the different color ranges.
3. Portable and Standalone Induction Cooktops
These are the most commonly used as well as the convenient units to cook. As the name says Portable Induction Cooktops, you can use these induction cooktops to prepare anything you want and anywhere. They are the most budget-friendly options and available in both single- and double unit. Different color ranges are also available so you can choose according to your preference.
Benefits of Induction Cooktop Over Gas Stove
1. Distributes Heat Fast
In terms of heat distribution, the induction cooktop distributes the heat fast and equally. As the heat will automatically transfer to the cooking pan and pot, it fastens up the cooking process over the cooking on gas stove.
2. Saves Time
As the induction heats the cooking pan and pots directly, you don't have to wait long to start cooking. Thus, it makes your time of cooking shorter.
3. Boils Water Faster
Based on actual tests, the gas range boils water in 8 minutes while the induction cooktop brings water to boil in less than 4 minutes. No other cooking appliances can surpass this record.
Benefits of Induction Cooktop Over Electric Stove
If you look at both the induction and electric cooktop, you may not be able to tell the difference right away. Both cooking appliances use electric currents from a socket and rely on electricity to generate heat. The induction cooktop only works on heating the cookware while the electric cooktop gets heated itself and then transfers that heat. Thus, the cooking on induction cooktop is faster over the electric stove, that makes an induction cooktop a better choice.
1. Comfort And Speed Cooking
The induction cooktop heats up and cools down quickly. On the other hand, electric cooktop takes time to heat up and cool down. In induction, it is easy to switch from low to high heat, while an electric cooktop is slower than 30%.
According to tests done in the lab, an induction cooktop cooks food and boils water faster than an electric cooktop. Therefore, using induction is more cooking friendly than electric.
2. Energy Efficiency
According to popular mechanics, around 90% of the electricity consumed by the induction is used for cooking food. Almost no heat energy is escaping into the atmosphere. While the electric cooktop used 70% of the electricity consumed for cooking.
Induction is energy efficient; it cooks with more accuracy.
Things to consider before buying an Induction Cooktop
Before you step out for the best Induction Cooktop, just go through the following buying guide to select the most appropriate one.
1. Wattage
The first and foremost thing before you buy any electrical appliance is to check its wattage or power consumption. The same holds in case of an induction cooktop. If you want the best one for your daily rush, consider the unit having high power consumption or high wattage. It gives better efficiency, and you will be able to cook the food very speedily.
2. Type
We have already discussed about the type of induction cooktops. So, you can choose the one according to your need and convenience.
3. Design
Design consideration is another important aspect while choosing an induction cooktop. Some come with framed edges and some has edgeless construction. Keep in mind, the framed edge design models are prone to dirt build-up but will help contain the spills. While the edgeless designs are prone to breaks if one accidentally drops heavy on the edge, but are easier to wipe and clean.
4. Size
Choosing the right size appliance is also very important. While picking up an induction cooktop, keep in mind thay your cookware needs to match the size of the cooking zone. If it does not match the cooking zone, it will not be recognized, and the cooktop will not heat up.
5. Pre-set Cooking Menu
For your convenience, more induction cooktops are made with a preset cooking menu for boiling milk, making rice, frying, etc. In this way, you get your food cooked fast in a single touch.
6. Pan Detection
Pan detection is another most important feature which means the induction will start working only when it detects the pan. In other words, we can say that, once you put on the pan over the surface of induction it starts working immediately. The cooktop stops automatically when the pan is removed from the glass surface.
7. Auto Switch-Off Feature
Almost all the models come with this feature that makes the appliance stops automatically in case there is a voltage fluctuation, overheating, or no pan is kept on the glass surface. This feature is very important for the extra durability and long life of the Induction Cooktop.
8. Timer
This feature is beneficial for those who almost forget about the food they are cooking. The induction cooktops with timer feature let you set the appropriate time for the food you need to cook under the specific interval. And the appliance will automatically switch off once the time interval is finished.
9. Touch Controls
Now most of the modern units comes with unique touch control feature that lets you operate the appliance in just one touch rather than the typical knob systems.
Multiple Safety Features of Induction Cooktop
Here are some of the smart safety features that an induction cooktop features:
Auto Shut Off- Removing the pan from the cooktop will automatically shut off the burner. And if you accidentally turn on the burner without a pot in place, it will not heat the surface, which is a very good feature to avoid injuries.
Quick Cooling Feature- When shutting off the burner after cooking, you can touch the glass surface seconds later without worrying about burns. Since the glass surface, itself doesn't heat, avoiding any injuries, especially for children and the elderly.
Avoid Kitchen Heat And Grease Fire- The most common accident in the kitchen is a grease fire. Grease is highly flammable and is the common cause of accidents in the kitchen. But since the induction cooktop does not produce both grease and fire, it greatly reduces unwanted incidents in the kitchen.
Cleaning and Maintenance of Induction Cooktop
To get the most of your induction cooktop, you have to make sure that you clean it thoroughly every day. If there are accumulated stains and dirt on the top, it will hamper the magnetic field and heat production of the induction cooktop. Worse, it could damage the surface of the cooktop. But the good thing is that the induction cooktop is so easy to clean.
Here are some of the recommended non-abrasive and chlorine-free cleaning materials:
Cleaning With Toothpaste
Use your regular toothpaste to clean the induction cooktop. Put a good amount of it on a damp cleaning pad or cloth, add a few drops of water, and then apply it to the glass and stainless steel area. Rub the cloth until the stains go away. Lastly, use a dry cloth to wipe away the toothpaste and dirt.
Cleaning With Baking Soda And Soapy Water
You need a cloth, hot water, dishwashing liquid or detergent soap, and baking soda. Mix the dishwashing liquid or detergent soap to hot water, then soak the cloth in the hot soapy water. Meanwhile, sprinkle a good amount of baking soda on the induction surface.
After some time, squeeze the cloth until it's not soggy and place it over the induction on top of the baking soda. Let it stay for 15 minutes maximum of 30 minutes, depending on how dirty your induction is. After that duration, gently rub the cloth until thoroughly clean and remove.
Cleaning With Baking Soda And Vinegar
Prepare a 50-50 solution of vinegar and water. Spray it on the induction and leave it for a few minutes. Next, spread a good amount of baking soda over the vinegar and leave for 15-20 minutes. Then wipe out the mixture with a damp cloth or sponge. Lastly, use a soft cloth to wipe out the excess.
Note: Things not recommended to be used in induction cooktop Steel wool, Abrasive cloth, Coarse scrubs, Knife or sharp tools, Flammable materials, Chlorine-based bleaching agents, and Ammonia.
Conclusion
So, that's all about the best induction cooktops you can buy online in India. There is no doubt that an induction cooktop is an amazing addition to your kitchen. Grace your daily cooking experience by switching to this popular cooking appliance. Know what fits for you, and keep in mind which design and features you need in your kitchen.
All the models we have reviewed are best in performance, budget-friendly and highly efficient induction cooktops. So, get ready to prepare awesome, delicious, and nutritious food in no time by selecting one of the above- mentioned induction cooktops. And if you have any query or suggestion regarding this blog, please do share in the comment section below.
Read Related Reviews
Buy the Best Induction Cooktop Online
Pigeon by Stovekraft Cruise 1800 watt Inducti...
50%
Philips Viva Collection HD4928/01 2100-Watt I...
42%
Prestige PIC 20 1600 Watts Induction Cooktop ...
7%
Prestige IRIS ECO 1200 W Induction Cooktop wi...
47%
Pigeon By Stovekraft Acer Plus 1800 Watt Indu...
47%
Prestige PIC 6.1 V3 PIC 2200 Watts Induction ...
12%
iBELL IBL30YO Induction Cooktop with Crystal ...
55%
Philips Viva Collection Hd4938/01 2100-Watt G...
25%