The trend of using cutting-edge appliances for cooking is so widespread. You may find many kitchens equipped with some advanced kitchen appliances. Cooking is an art, and one can render the delicious taste in whatever recipe they prefer. In spite of this fact, some people dislike the time spent and hassles it take to cook delicious food. To streamline the cooking process, one of the best kitchen appliances is the Electric Pressure Cookers.
So, welcome to this blog that is all about the best electric pressure cookers in India. Here we have covered the detailed reviews of all our best picked models along with their complete buying guide. With the choice of the best Electric pressure cooker, it is sure that the efficiency, taste, and speed of the cooking process will increase.
Unlike the traditional pressure cookers, the electric pressure cookers are much more efficient and equipped with advanced functionalities. You simply need to put the ingredients, lock the lid, and choose a cooking program you prefer. Consequently, within a few minutes, you can cook the delicious recipes without hassles.
Get in-depth information on Electric Pressure Cookers and how to choose the best one in our Buying Guide Section.
7 Best Electric Pressure Cookers in India
Best Electric Pressure Cookers in India Reviews
Now, get the detailed review of of all the above listed models of electric pressure cookers.
1. Wonderchef Nutri Pot Electric Pressure Cooker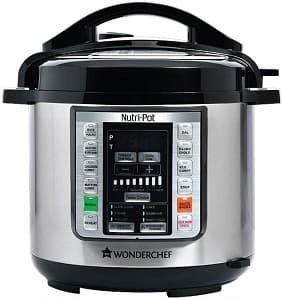 Now you will get the benefits of health, taste, and convenience in your everyday cooking with this Wonderchef electric pressure cooker. It is an efficiently working Nutri-pot that combines seven kitchen appliances in a single device. You can use it as a pressure cooker, rice cooker, saute, yogurt maker, warmer, steamer, and slow cooker.
What makes this Electric pressure cooker from Wonderchef the best one in this list? Well, its capability to avoid over-cooking of food and efficient cooking mechanism makes it the best appliance in this list. More importantly, it preserves the rich minerals and vitamins from food items without compromising the taste.
With the inclusion of measuring cup and spoon, you can use the only optimum amount of water for cooking. Also, it comes with 18 preset functions that simplifies the cooking process. So, perfect cooking results are guaranteed every time. The included recipe book with this electric pressure cooker assists you in preparing a wide assortment of Indian recipes.
Key Features
The tight-fitting lid holds the steam generated from the food. Moreover, it helps to build up pressure and temperature inside the pot
It is a smart pressure cooker that is programmed with an embedded microprocessor. This microprocessor monitors temperature, pressure, and time
A 24-hour delay timer enables you to program this cooker exactly to start the cooking process
The food is kept warm until ready to serve by the automatic keep-warm function
Pros
Strong and sturdy construction
Appealing design
Takes quite less time to cook
Comes with many smart functionalities
Cons
Does not come with a proper manual
What are its specialties?
The ability to customize pressure level for various recipes make it a unique digital pressure cooker. The uniform heat distribution and ease of cleaning are some of its specialties.
View on Amazon View on Flipkart
2. Crock-Pot Express Electric Pressure Cooker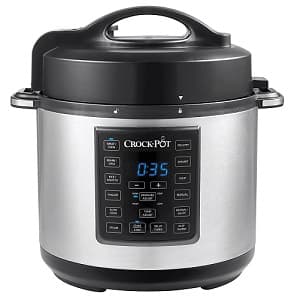 Featuring the capacity of 5.6 liters, this Crock-pot Express electric pressure cooker is sure to fulfill the cooking needs of your family. It is a touch-operated, automatic cooker that uses electricity for its operation. You will surely get nutritious, healthy food always by cooking from this cooker.
Being versatile, it works as a 12-in-1 multifunctional cooker. Thus, allowing you to use it as a pressure cooker, steamer, rice cooker, warmer, and as a saute pan, etc.
This model of electric pressure cooker comes with 15 built-in smart Indian recipes. Right from khichdi to meat, you will be able to prepare many different recipes. These recipe modes enable you to flawlessly cook your preferred dishes with a simple press of a button. So, you can continue your other work while this cooker cooks for you.
In the pack, you will find all the necessary accessories to streamline your cooking experience. It includes aluminum non-stick coated pan, two ladle scoop spatula, flat spatula, measuring cup, recipe pamphlet, and instruction manual.
Key Features
The working operation of this versatile Electric pressure cooker ensures uniform cooking of all ingredients
It comes with a water level indicator
This cooker offers healthy cooking benefits
There are 9 safety levels included to control pressure, temperature, and power
It allows both open as well as closed mode cooking
There is the inclusion of a delay timer whose timing ranges from 30 minutes to 8 hours
Pros
Easy to use
Suitable option if you are looking for instant pot types cooker
Build quality is very nice
Sturdy and durable
Cons
Too large for a family of 2 persons
What are its specialties?
The multi-purpose functionality makes this electrically operated pressure cooker one of the best ones from Crock-pot brand. Its keep warm function is its unique specialty because it retains the taste and flavor of food for up to 4 hours after cooking.
3. Prestige Electric Pressure Cooker PEPC 1.0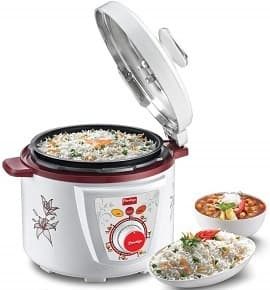 This prestige electric cooker in our list owns many unique qualities that bring it at the top position in the market. It aims to redefine convenience and make the cooking process efficient for everyday cooking.
Smart design with elegant white color option makes this electric pressure cooker a very smart choice for your kitchen. Now you can save time and make cooking in a single go with this contemporary kitchen appliance. It conveys convenience like never before, so it is one of the preferred choices among customers.
The unique features like mechanical timer and preset menus take care of cooking while you are away. Even, in case of power cut, it automatically stops the timer and resumes again when the power is back.
There would be no hassles while choosing the correct preset for the appropriate preparation of recipes. As a result, you will attain the most excellent results with minimum supervision.
Key Features
This EPC 1.0 cooker allows you to set a suitable time for meal preparation
During the situation of power loss, the timer will stop its operation and would resume once the power is back
With the advanced pressure mechanism, the excess pressure is released when needed
The exterior is reinforced with the 0.5 mm thick material to increase durability
Pros
Excellent build quality
Comes with high durability
Provides maximum safety with automatic tuning of pressure
Cons
Initially, its settings are difficult to use
What are its specialties?
The high efficiency saves your cooking time and makes sure you can accomplish other tasks as well. Moreover, its body is easy to clean and maintain to guarantee longevity.
4. Geek Robocook Automatic Electric Pressure Cooker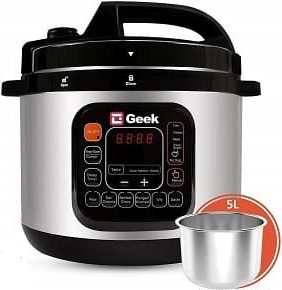 Are you looking for a mess-free, efficient cooking mechanism at the convenience of your home? If the answer is yes, then this 5-liter capacity electric pressure cooker with steel pot is the finest choice to consider.
This electric pressure cooker comes with a total of 11 preset menus allowing you to cook a wide range of breakfast and meal recipes. For example, it can cook delicious idli, sambhar, biryani, pulao, etc., and it can cook non-vegetarian foods as well.
The reason why it is an all-in-one intelligent cooker is that it can saute, bake, steam, stew, braise, and fry different ingredients. With the execution of advanced technology, it lets you cook faster.
Key Features
Digital timer controls for advanced cooking convenience
It comes with seven safety guards, including temperature, multi-layered safety mechanism guarding pressure, fitment, exhaust, etc. to make the cooking process safe
It works on the basis of circumventing cooking process that retains nutritional quotient from grains, vegetables, pulses, etc. while cooking
Pros
Nice design with sturdy built
Very easy to use
Worth for the money
Great in terms of performance
Cons
No replacement available for the Teflon cooking pot
What are its specialties?
The ability to preserve all the nutrition in the food makes this digital pressure cooker a suitable choice among customers. During cooking, it makes sure there is no mess or any delays.
View on Amazon View on Flipkart
5. Wellspire Multi Cooking Pot Smart Electric Pressure Cooker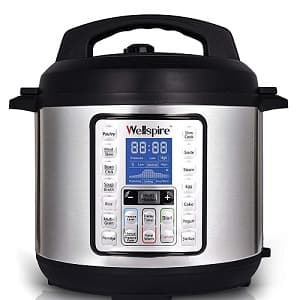 With excellent precision, this electric multi-cooker employs the desired taste and flavor while cooking. It offers digitally controlled precision cooking with a capacity of 6 liters. On the pot, there is a non-stick Teflon coating that makes the cooking process effective.
With the use of this multi-cooker, you will be able to cook tough meat, cereals, beans, oatmeals with milk, etc.
This electric pressure cooker comes with the accessories including Power cord, Meal spoon, Measuring cup, Instruction manual and Warranty card.
Key Features
This stainless steel Electric pressure cooker is efficient in operation and saves your time
The capacity of this cooker 6 L which is good enough to cook large amount of food
With the digitally controlled precision cooking mechanism, it retains the essential nutrients in food
It comes with automatic keep-warm function as one of the built-in safety features
To enhance the convenience of the user, it comes with a touch handle and removable cord
The measuring cup it includes, offers high precision cooking
Pros
Good quality of materials
Boast excellent portability
Easy operation
Smart design
Cons
What are its specialties?
Every pressure cooker does not give you a benefit to cooking with high precision, but this unit provides you the same. With all the necessary safety features, the unit is undoubtedly one of the best electrically operated pressure cookers in the market.
6. Mealthy MultiPot 9-in-1 Programmable Electric Pressure Cooker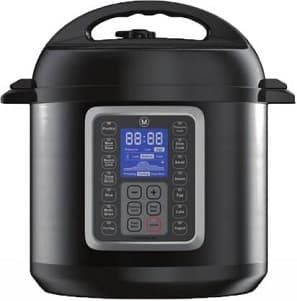 What is so beneficial than cooking your favorite recipes in less time? Well, this Mealthy MultiPot Electric pressure cooker employs smart cooking techniques to save time while cooking. It can work as nine different appliances to let you cook many different meal recipes. Compared to other pressure cookers, this electric instant pot cooks at less than half the time. So, you will get instant access to your recipes.
It comes with 14 simple-touch cooking programs. Ranging from egg to meat, many different food ingredients, you can cook in a few minutes with this electric pressure cooker.
The measuring cup also comes in the pack to make sure you include ingredients in a precise amount. Moreover, the color recipe booklet helps you prepare many new recipes with ease.
Key Features
The stainless steel pot comes with 8-quart capacity
It also includes a trivet and stainless steel steamer basket
Its LCD panel comes with a progress indicator and intuitive icons. So, the output is always precisely represented, and you need not carry out the guesswork
The steamer basket with the unit allows you to prepare two dishes simultaneously
Pros
Stylish appeal
Build quality is very good
Comes with automatic turn-off feature
The display is nice and informative
Cons
Appears bulky
Not suitable for a small family
What are its specialties?
It allows you to know exactly when the pressure is reached. All electric pressure cookers do not come with a bright LCD screen, but this one includes it, so this is its unique aspect.
7. Instant Pot Duo 7-in-1 Electric Pressure Cooker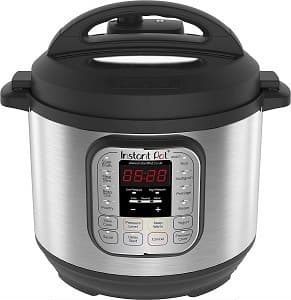 Belonging from the famous brand – Instant Pot Duo, this appliance is capable of cooking many different types of recipes due to its multi-functional working process. Have you imagined that you can cook all your favorite dishes quickly with a simple press of a button? The same is now possible with this Instant pot cooker.
This multi-functional cooking appliance allows seven different functions in one single unit. It includes pressure cooking, slow cooking, rice cooking, saute/browning, yogurt making, steaming, and warming.
This cooker comes with 24-hour timer that facilitates delayed cooking according to your preference. Even, throughout the cooking process, this cooker does not generate any noise, and there are no leaks.
During its working process, it retains all the flavors in the food without making your kitchen messy with the steam.
Key Features
The control panel is large-sized and easy to use
It comes with 14 programs, automatic keep-warm, dual pressure, and 3 temperature settings
There are 10 safety mechanisms to make sure the entire cooking process is energy-efficient and safe
The 3-ply base stainless steel material make the unit very sturdy and durable
It includes an automatic keep-warm function to retain the temperature of the food for up to 10 hours
Pros
Prepares delicious rice recipes
Versatile and time-saving
Nice build
Very easy to use
Cons
What are its specialties?
The overall design is very slim making the cooker to occupy less space in your kitchen countertop. The ability to speed up the cooking process and saving of energy makes this V2 7-in-1 cooker, a unique kitchen appliance.
Electric Pressure Cookers Buying Guide
With plenty of brands, features, budget options, and your needs, it can be confusing to pick a suitable electric pressure cooker unit. Once you have assessed your needs and budget, you can look at the below-described buying guide to make your selection easy:
What is an Electric Pressure Cooker?
An electric pressure cooker is an electrically driven pressure cooker that makes use of electricity to generate high or low pressure inside the cooker. This type of cooker comprises of pressure cooking containers (alternatively known as cooking pot or inner pot), temperature/pressure sensors, and the electric heating element.
The user just needs to put all the necessary ingredients in the cooking pot and adjust the pressure cooking duration for the desired food recipe you want to cook. Once these tasks are done, the electric pressure cooker will do the rest.
Basic Components of an Electric Pressure Cooker
1. Housing
The exterior pot of the pressure cooker, or the outer portion is known as the housing of electric pressure cooker. It comes with the digital control panel, Temperature sensor, and the heating element.
The heating element is present at the base of the housing. This heating element is actually a ceramic disk where a heat sensor is there at the middle of the disk.
This heat sensor also known as temperature sensor helps in tracking out the cooking temperature of the pressure cooker. It acts as a safety system, means if there is too high temperature inside the cooker, it automatically shuts off the appliance.
Now, the programmable panel which comes with all the buttons, necessary for operating the electric pressure cooker.
2. Inner Pot
It is a removable cooking pot that fits well inside the housing. Here you keep all the ingredients for cooking. Different models have different types of inner pot. For exp. Some come with stainless steel pot with ceramic coating. Some are non-stick pot with no Teflon coating and some has non-stick pot with Teflon coating.
3. Lid
The lid locks the top of the housing of the unit. It comes with two types of pressure valve including:
Floating Weight Valve that keeps the pressure in the cooker by having a weight to push the steam in.
Spring Valve that is a calibrated metal spiral spring used to resist the push of the steam inside the pressure cooker.
4. Pressure Release Switch
In most of the models, the pressure release switch presents at the exterior of the lid. It is also known as pressure limit valve, pressure regulator knob, steam release handle, steam release reset button, and rapid release button.
This button controls the steam inside the pot to escape. You can easily switch it close to build pressure inside the cooking pot and open it to release the pressure.
5. Sealing Ring
The sealing ring, also known as sealing gasket is a removable ring that is made up of food-grade silicone material. You can easily attach it to the underside of the lid. While cooking, when you lock the lid, the sealing ring creates an airtight sealing inside the pot. Thus, it allows the cooker come to create the pressure.
6. Anti-Block Shield
Most of the models of electric pressure cooker comes with an anti-block shield. It is a metal shield over the opening of the pressure release switch that protects the foam and food from entering into the pressure release switch.
How does an Electric Pressure Cooker work?
An electric pressure cooker unit includes three main parts -the inner pot, lid, and housing. The safety valves and smart control box are other important components that help in the working process.
Once you have placed your ingredients, the first working component is the inner pot. The inner pot is basically a removable cooking pot that is made up of stainless steel or aluminum. Actually, the size of the inner pot decides the size of the housing, and up to some extent the price of the cooker. Typically, the inner pot capacity varies from 3 liters to 6 liters.
Once the food gets sufficiently heated and cooked inside the inner pot, the lid lock comes into play. The lid possesses a gasket or sealing ring. Once the lid is positioned on the cooker inside the sealed position, the inner pot and the lid create an air-tight chamber. Inside this chamber, the pressure increases whenever heat is given to the inner pot. If the lid is not in the locked position, there would be an unsecured operating condition.
To get an easy concept of working mechanism of an electric pressure cooker, please check the link How Electric Pressure Cooker Works?
Different Functions and Controls of an Electric Pressure Cooker
Push Button Controls: To control settings, program, and temperature, etc.
LED display: To monitor the cooking process.
Pressure Indicator: That lights up when pressure reaches the desirable temperature and switches off when the pressure goes down.
Adjustable pressure: From low, medium, and high.
Thermostat Feature: That adjusts the temperature automatically as per the food type and quantity.
Auto Shut-off: Function keeps the appliance shut off automatically when cooking is done.
Keep Warm: Function maintains an appropriate temperature inside the cooker that retains the hotness of the food for 4-5hours.
Delay Start Timer: Delays the cooking time by setting a timer.
Preset Menus: To cook the desired recipe automatically that are included with the pressure cooker.
Electric Pressure Cooker Accessories
A good electric pressure unit comes with a handful of accessories making your cooking task very much simpler. These accessories include:
Inner cooking pot
Cooking Basket and Racks
Spare Silicone Gasket
Steamer Insert Tray
Measuring cup
Rice paddle
Serving spoon
Things to Consider Before Buying an Electric Pressure Cooker
1. Size
The size of the cooker relies on the overall size of your family. Generally, these versions of pressure cookers come in different sizes extending from 2 liters to 10 liters. If you just want to cook baby food, the small-sized cookers are available. These pressure cookers usually come with a capacity of 1 liter to 1.5 liters.
It is usually found that a standard Indian family consisting of 3-4 persons would require an electric pressure cooker that comes in the range of 3 to 5 liters. Whereas you need to go for 8 to 10 liters of capacity if the family consists of 4 or more people.
If you have a big family and you pick up a small-sized pressure cooker, it will demand you to cook multiple times. As a result, it will lead to wastage of fuel and time. On the other hand, if your cooking needs are small, usually, for a small family and when you use a large sized pressure cooker, it will demand more fuel and excess cleaning effort.
Thus, you need to be careful with the appropriate size of the electrically operated pressure cooker.
2. How often you use?
Do you know how often you want to prepare meals from such cookers? If you already know the frequency of use then the process of selection becomes easy. For example, if you plan to use to on an everyday basis to prepare meals for your family then you need to purchase the device with multiple inner cooking pots. This is because it will eliminate the hassles of washing dishes after each use.
On the other hand, if you already know that your use for an electric pressure cooker is rare, for example, you only use twice or thrice in a month then you can consider an appliance with only one inner pot.
3. Construction
It is not a feasible idea to frequently invest your money in these cooker models. Therefore, durability is the foremost aspect to consider.
Normally, electric pressure cookers are constructed of heavy gauge stainless steel that can resist excess pressure cooking. One more key benefit of such cookers is that they can resist a huge amount of heat, unlike the typical kitchenware. Moreover, they are easy to clean and few of the models are even dishwasher safe.
To ensure the longevity of these units, you need to choose those models that are durably constructed from materials like aluminum or stainless steel. Any minor damage or break will not influence their build quality.
4. Automatic Temperature Control
The thermostat present inside the inner pot controls the temperature of the inner pot to stay within a safe range, depending on the type of food you are cooking. With the automatic temperature control feature, the cooking process would be safe. Moreover, this feature makes sure the excess power is not consumed during the cooking process.
5. Leakage protection
During the situation when the cooker lid has leakage, the electric pressure cooker will not attain a preset pressure level. These situations happen when the steam release is not closed properly or the sealing ring is missing. When such a problem lasts long, there would be a risk related to the burning of food.
So, you need to carefully check those electrically operated pressure cookers that have leaky lid protection. It protects the food inside the pot from burning.
6. High-temperature Warning
The absence of water or moisture leads to a situation where pressure would not be built up inside the pot. As a result, it leads to overheating. Due to situations like an absence of inner pot, inner pot not working in proper contact with the built-in heating element, or inner pot suffering from heat dissipation issues, the additional temperature may build up. For all such situations, the high-temperature warning feature will help a lot.
This feature give a warning whenever the temperature exceeds a certain limit. As a result, your food will be saved from getting burnt. So, you need to consider electric pressure cookers having high-temperature warning feature.
7. Dishwasher Compatibility
One of the great features of these cookers is dishwasher compatibility. It is a decent idea to choose the units that are safe for use in the dishwasher machine. It is generally observed that the hard anodized pressure cooker units are not dishwasher safe. However, aluminum and stainless steel cookers are dishwasher safe. Therefore, you need to look out for the term 'dishwasher-safe' in the product description.
8. Versatility
Most of these units are versatile but based on your preference you can check its potential to cook a variety of food recipes. Many of these devices can work as six, seven or eight appliances in one. So, if your family size is huge and the requirement is frequent for cooking a wide range of recipes, you can look for eight in one type of cooker.
Some of the recent models even come with the functionality of ten appliances in one. This means that it is the most versatile option to consider. You can consider buying those models that can cook, boil, bake, steam, brown, and many more.
9. Reactive to acids
Generally, Indians make use of acidic content and salt in high proportion while cooking. This is because they intend to make the meal delicious. So, it is better to choose the cooker made up of material that does not react to such acids.
Aluminum pressure cookers are reactive to acid and salts. So, they are not a decent option to consider when you plan to prepare meals with high acid content. In this regard, stainless steel and anodized pressure cookers are better choices.
10. Avoid non-stick
It is always a great idea to not purchase those electrical pressure cookers that have a non-stick surface. The reason is that they are not very durable as the Teflon coating. It means that the non-stick of such cookers cannot withstand a huge amount of heat. So, it is a better idea to avoid the non-stick electric pressure cookers .
11. Go for a reliable manufacturer
It is easy to understand that throughout the life of a pressure cooker, some of its parts will wear and needs replacement. This is the key reason why some customers avoid purchasing a multi-cooker from a brand that is not so famous.
If you purchase an electric pressure cooker from a no-name brand, it is possible that you need to frequently replace the parts and may suffer from low durability. So, the best idea is to choose a reliable manufacturer that includes the cost for replacement of parts within a certain duration.
Choose a dependable manufacturer of pressure cooker that sells the corresponding replacement parts. The manufacturer that is easily reachable must be the first consideration.
12. Smart Features
Some of the expensive and higher-end cooker models come with smart features that allow them to connect wirelessly and communicate to us through a smart device. These smart features are not inevitable to consider but you can consider them if you want to try out advanced cooking to enhance your convenience.
Electric Pressure Cooker Vs Regular Pressure Cooker
The conventional pressure cookers were used on the stove top and they present a traditional approach for cooking. In such pressure cookers, a safety valve, a steam regulator, and a pressure-activated interlock system offer protection against the risk of explosion and overheating.
Whenever a preset pressure is attained in the cooker, the collected pressure pushes the steam regulator in order to allow the steam to come out. This is the main reason why regular pressure cookers produce loud noise whenever the pressure is on. On the other hand, the electric pressure cookers are quiet in operation. In addition to this, there are lots of differences between regular pressure cookers and electric ones. Let's look at these differences:
1. Power Source
The traditional stove-top pressure cookers make use of the heated gas to function properly. Since in ancient times, everybody has a stove-top in their homes, the regular pressure cookers were easier to use and easier to work with. Moreover, the gas costs quite less than electric power. On the other hand, the electric pressure cookers utilize electricity and might consume more power than what is expected.
Though the efficiency and power consumption differ from model to model, they certainly cost more across the long run. So, the excess power consumption and the related costs make electric versions more expensive than then regular pressure cookers. But, some electric models are also available that save electric energy, so you can look carefully to purchase those models.
2. Durability
When deciding to buy any kitchen appliance, durability is the prominent aspect to take into consideration. If you buy a less durable appliance, it will not last long and will make you buy frequently.
The regular pressure cookers operated on the stove-top are much more durable options. It is because you only need a stove for their operation. They do not depend on any external power source. Since the pressure build up inside naturally, the required pressure for cooking will be attained anywhere, anytime.
On the other hand, the Electric pressure cooker due to their construction might lose their heating ability soon. Such cookers depend on electrical components that conduct heat directly from the power source to the interior. In case such heating elements stop functioning, the entire cooking process stops. Moreover, these electric models are more prone to heat damage and the typical wear & tear due to electronic components.
3. Efficiency
The cooking speed of any pressure cooker is proportional to the amount of pressure it can generate. If the pressure is higher, it suggests that the boiling point of water is low. As a result, quick cooking is guaranteed.
Generally, the regular stove-top pressure cookers can attain a certain amount of pressure prior to releasing the gas. However, they are not customizable, so the pressure could not be controlled. Therefore, you are unable to adjust the time it requires to cook.
On the other hand, electric pressure cookers present innumerable customization. This makes sure that a higher pressure could be attained to speed up the cooking process. But, the excess amounts of pressure can pose health threats and are finest when avoided. But, electric versions are more efficient. They can cook any type of food recipe in lesser time than the regular pressure cookers.
4. Portability
The conventional pressure cookers demand you to be in the presence of a stove always while the cooking process is going on. But, generally the gas stoves are fixed in the kitchen So, you can use them only in the kitchen and nowhere else.
On the other hand, the electric versions can be easily connected to any socket and they don't need any additional parts except an adapter.So, they are easily portable and can be used at any place where the electric outlet is available. So, it is quite easy to move around and used outdoors as well.
5. Price
The regular stove-top pressure cookers cost lesser than the electric ones. Most of the regular pressure cookers are available within a price range of Rs2000 to Rs6000. The electric units, on the other hand, costs higher, and their prices ranges between Rs5000 to Rs 12,000.
Safety and Maintenance of Electric Pressure Cookers
There are several misconceptions about electric pressure cookers. One of them is they may lead to explosions due to excess pressure. The fact is they are the safest cooking pots in the market. The threat occurs when the quality of the cooker is substandard and you become careless during its use.
To convey safety, the manufacturers equip these appliances with temperature and pressure sensors. These sensors are automatically adjusted. The electric cookers hold high temperatures and steam inside. Therefore, safety must not be ignored while purchasing electric pressure cookers.
You can consider safety features like a pressure controller, pressure release valve, secure lid locks, pressure indicator, and firmly fitted lids. All these components make sure these appliances cannot be opened while cooking is going on and overall safe cooking is assured.
Taking a look at their maintenance, they are quite easy to take care of even if you use them on a regular basis. All you need to do is clean them once a week and clear any stains present in the interior and exterior. So, they are easy to maintain longevity.
Some Useful Tips
Read the instruction manual carefully before using an electric pressure cooker.
Don't fill the pressure cooker fully to avoid overflowing of the food. It is better to fill it only two-third.
Never open the pressure cooker when it is on.
For your safety, first unplug it and release the pressure before opening it to avoid any burst.
Clean the lid of the electric pressure cooker after every use.
Wipe out the outer body of the electric pressure cooker with clean cloth for its longevity and proper maintenance.
Benefits of Electric Pressure Cooker
Cooks food faster
Retains the flavor and nutritional value
Comes with good safety features
Multiple cooking programs allow you to do slow cooking, rice cooking, baking, yoghurt making, sautéing, and steaming, etc. in a single unit
Frequently Asked Questions(FAQs)
Are electric pressure cookers safe to use?

Yes, the electric pressure cookers are very safe to use with their modern safety features. You can use it very easily without worrying about any hazards. But it is necessary to read the instruction manual on how to use it and all their safety features very carefully before using it.
Also, keep in mind not to touch the cooker while cooking is going on. Even when the cooking is finished, avoid touching the hot surface of the cooker. Keep yourself away from the cooker while the cooker is releasing pressure.

How do you know about the appropriate pressure for cooking?

The appropriate pressure setting depends on the type of food you are cooking. All the latest models come with the built-in setting (low, medium, and high) to set the appropriate pressure for a recipe. Some models lack the medium pressure setting. Generally, you need to set lower pressure to cook soft foods and higher pressure to cook hard foods.
You can also research it online for the electric pressure cooker recipes to determine the appropriate pressure.

How to release the pressure from an electric pressure cooker?

It is very simple. Disconnect the power source first when the cooking gets done. Then, press the quick-release button by turning or lifting the pressure release valve. The pressure is then released in a safe and controlled way.

Can you cook without liquid in an electric pressure cooker?

Pressure cooking means using of steam to cook food. And water is essential for the building of the steam in a pressure cooker. So, technically without liquid, you can't cook food in it.

Are electric pressure cookers easy to use?

The answer is both yes and no. In fact, you need a lot of practice to learn about how to operate the control panel. But once you get master in it, you can easily use the cooker without any hassle. The electric pressure cooker comes with push-button controls and a digital monitor that ensures ease of cooking.
Conclusion
When it comes to convenience in daily cooking, you can choose a suitable and best Electric pressure cooker from the above list. These electric versions of pressure cookers are much more efficient, convenient to use, versatile, and the best of all –they are safe to use.
Moreover, the buying guide we have covered contains all the necessary information to ease your buying decision. Still, if you feel anything is missing or even want to share your suggestions and feedback, please do write to us in the below comment section.
Read More Reviews
Buy Electric Pressure Cooker Online
Instant Pot 321 6 Litre, Stainless Steel 9-in...
48%
AGARO Imperial Electric Pressure Cooker, 8 Li...
36%
Brayden Marvo 11-in-1 Automatic Multi-Purpose...
23%
Wonderchef Nutri-Pot Electric Pressure Cooker...
33%
Morphy Richards WizPot 6 Litres 1000W Electri...
42%
Kuvings Instant Pot 6 Litre Electric Pressure...
68%
Prestige Multi Cooker 1 Litre - PMC 1.0+
20%
Geek Robocook Zeta 5 Litre Electric Pressure ...
32%