A pressure cooker is a vital appliance in any Indian kitchen. You can cook a wide range of recipes using a pressure cooker. But, with the use of the traditional pressure cooker, cooking efficiency is not so high. It is where the smart electric pressure cookers are proving to be very beneficial. These digital pressure cookers make cooking very efficient and easy. Also, to fulfill the cooking needs of a large family, 5 liters electric pressure cooker are superb choice.
Many features make such electric pressure cookers a great choice. These features include heavy build quality, efficient performance, high durability, etc. Even though they are capable enough to fulfill the cooking needs of a large family. Therefore, it is now becoming very popular in many Indian homes. Also, you may find these pressure cookers in restaurants too.
But, buying an electric pressure cooker is really a challenging job. To make it easy for you, we have covered the full Buying Guide on How to Buy an Electric Pressure Cooker?
Our Best Picks of Electric Pressure Cookers of 5 L Capacity
Review of Best Electric Pressure Cookers of 5 L Capacity
Now, get the detailed review of all the above listed models of Electric Pressure Cookers of 5 L Capacity along with their full specifications, pros and cons.
1. Geek Robocook Automatic 5 Liters Electric Pressure Cooker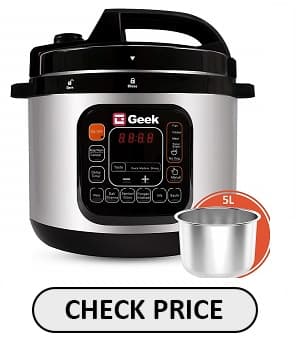 Featuring the latest technology, this model of Geek Electric pressure cooker 5 liters is suitable for fast cooking. The working operation is very simple, and it is further improved by the inclusion of the seven safety guards. This electric pressure cooker offers an efficient and mess-free cooking mechanism.
The included preset menus are managed by microchips. So, anyone can enjoy their favorite dishes with no manual intervention. The cooking process saves the nutritional content in the ingredients that are cooked. In addition to cooking rice, this appliance can also cook, bake, sauté, stew, fry, etc. Therefore, it is proving to be a multi-functional appliance.
The working mechanism uses programmable intelligent cooking (PiC). The Pic smartly manages heat, time, temperature, time, and pressure. Therefore, it simplifies the cooking process than ever. Also, it guarantees a perfect taste of food.
Key Features
There are 11 preset menus
It comes with seven safety guards
The temperature, pressure, fitment, exhaust, etc. are easy to control
Uses the advanced cooking technology along with digital timer controls
Reduces manual efforts while cooking
Capable of baking, steaming, stewing, braising, frying, etc
The Circumvent cooking process saves nutrition in the food
Buyers Feedback
The Good
Stylish design
Outstanding build quality
Best value for the money
Very easy and safe to use
View on Amazon View on Flipkart
2. Instant Pot DUO60 1000W 7in1 Multi-Use Electric Pressure Cooker 5.7 L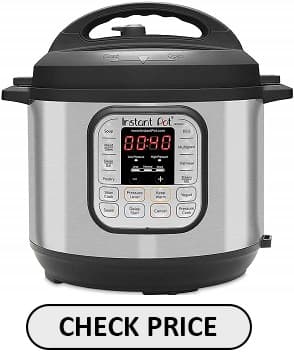 Are you looking for a multipurpose electric pressure cooker? Well, you can go for the Instant Pot DUO60 electric pressure cooker. The appliance is best in terms of versatility. This instant pot duo cooker comes with a capacity of 5.7 liters, and it increases the speed of cooking.
Compared to the traditional pressure cookers, this electric pressure cooker increases cooking speed by 2-6 times. Also, it makes sure the energy consumption is less. It produces healthy food at your own convenience easily and quickly.
There are seven different functionalities included in this programmable pressure cooker. Based on your needs, you can prepare rice, yogurt, chicken, meat, soup, and many different recipes. The brushed stainless steel exterior is fingerprint resistant and is also durable. Due to durable construction and beautiful design, it is quite easy to clean and suitable for long-term use.
There comes an LCD screen making the appliance a smart pressure cooker. It allows you to easily check the progress of food while cooking. With the purchase of this 7-in-1 pressure cooker, you get access to a free instant pot app. By using this app, you can access 1000+ recipes. You can download this app from the Google Play Store and the Apple app store.
In the pack, you will find this pressure cooker unit, a steam rack, a lid, and a stainless steel cooking pot. The 3-ply bottom stainless steel pot is highly durable. This steel pot makes sure there are no health concerns related to non-stick coatings.
Key Features
It comes with 5.7 liters capacity
There are 13 easy touch cooking programs
It comes with a keep warm feature
No loss of nutrition due to re-heating
It comes with more than ten safety mechanisms
A 24-hour timer for delayed cooking
Buyers Feedback
The Good
Easy to use and program
No safety concerns
Prepares a wide range of recipes
Easy to carry along
Highly durable
3. Mealthy MultiPot 9-in-1 Programmable Electric Pressure Cooker 6 liters
If you are looking for an automatic electric pressure cooker with smart functionalities and durability, then go for this product. It is a multifunctional programmable pressure cooker with a capacity of 6 liters. It comes with a steamer basket and a stainless steel pot.
This smart cooker has 14 simple-touch cooking programs. These programs are slow cook, pressure cook, steam, saute, cake, egg, porridge, yogurt, rice, multigrain, beans, soup, meat, and poultry. So, you can easily cook different kinds of recipes in a few minutes.
Compared to traditional pressure cookers, this unit cooks in less than half the time. So, you will get quick access to your recipes. Whether you want to pressure cook, steam, sauté, etc., this electric kitchen appliance is the best choice.
With the purchase of this 9-in-1 pressure cooker, you will get a 1-year warranty on its parts. The accessories come with it include an extra silicone gasket, steamer basket, silicone mitts, rice paddle, ladle, 4cm-raised steam rack, and measuring cup. Also, you can find various recipes on its site and mobile app for iOS and Android devices.
Key Features
The stainless-steel steamer basket allows preparing two dishes at once
An external LCD screen shows the progress of food you are cooking
An extra silicone gasket for sweet dishes
Silicone mitts allow safe removal and transport of inner pot
Extra-wide steam vent handle keeps your hands away from steam release
Buyers Feedback
The Good
High efficiency
Can prepare many Indian recipes
The parts are durable
Easy to check the progress of food
Maintains the taste of food
View on Amazon View on Flipkart
4. Preethi Touch EPC005 6-Liter Electric Pressure Cooker
The Preethi Touch EPC005 6 liters pressure cooker is capable enough to cook a large amount of food in one go. The easy functionalities and top-notch performance of this electric pressure cooker make it the best choice for every Indian kitchen.
It can produce nutritious and healthy food whenever you cook. This electric pressure cooker works as a 6-in-1 multifunctional cooker. So, you can use it as a pressure cooker, rice cooker, slow cooker, saute pan, steamer, and a warmer. There are 15 built-in smart Indian recipes present that allow you to cook different dishes with a simple press of a button.
Its nutri++ feature is one of the unique specialties that make sure the food cooking is going on at the optimum temperature and pressure. So, you can get the proper nutrition from that food. The cooker also includes delay timer function the delayed cooking process. There is a keep-warm function helping to save the taste and flavor of food for up to 4 hours of completion of cooking.
There are no steam leaks, and the cooking goes on without any noise. The manufacturer includes nine safety levels successfully controlling the power, temperature, and pressure. It ensures only the safe cooking process.
Key Features
It can be used for pressure cooking, rice cooking, steaming, sauteing, and warming
Features Nutri++technology for healthier cooking
Comes with a water level indicator for uniform cooking
There are nine safety levels
Delay timer of 30 min to 8 hours
Auto Warm function to keep food warm for up to 4 hours
Buyers Feedback
The Good
Very nice build quality
Looks very stylish and appealing
Very easy to use
Suitable for a large family
Highly Durable
Retains flavor of food
The Bad
Not available in 3L version
View on Amazon View on Flipkart
5. Cosori Electric Pressure Cooker 7-in-1 Multi-Functional
This multi-functional appliance form the brand Cosori comes next in our list of best 5 liters electric pressure cooker. Featuring seven different functions, it allows you for pressure cooking, slow cooking, rice cooking, yogurt making, sautéing, steaming, and warming, all in a single unit. Plus, its thirteen preset menus allow easy cooking in just one touch of a button.
This electric pressure cooker ensures faster and quicker cooking of food even with no compromise in taste. And, it also preserves all the essential nutrients and minerals in the food. Thus, it offers only healthy and delicious meals every time.
There is a digital control panel simplifying the process to program different settings with ease. The LED display accurately indicates the status of cooking progress. A built-in timer is also there for enhanced cooking.
There are many extra accessories present. You will find a glass lid and an extra silicone sealing ring to begin your pressure cooking process. The stainless steel pot also comes with six pressure levels for personalized cooking.
With the help of customizable pressure settings, you can create endless recipes. The accessories come with it includes measuring cup, steamer rack, ladle, spoon, etc. that make your cooking process more convenient. So, for families with a busy lifestyle, this cooker is the best option.
Key Features
It is a 7-in-1 pressure cooker
It ensures faster and quick cooking
Preserves all the essential nutrients of the food
There are 13 preset menus for smart and easy cooking
It comes with nine safety mechanism for safe cooking
Buyers Feedback
The Good
A quick way to cook meals
Sturdy construction make it very durable
All necessary accessories included
Retains original taste of food
Safe to cook
The Bad
The cord is slightly longer
6. Redmond Digital Smart Multicooker Rmc-M150E Voice Guide, Capacity 5L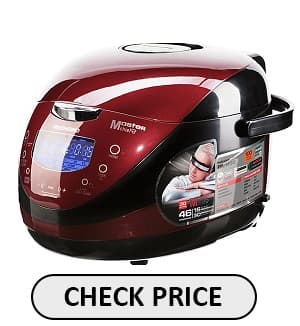 A wide range of Indian recipes is easy to cook with this Redmond instant pot cooker. This digital 5 liters Electric pressure cooker is one of the unique electric pressure cookers with hi-tech functionalities. Also, its unique helmet shaped design is very appealing that adds grace to your kitchen interiors. This one allows not only cooking but also baking too.
It comes with 46 automatic programs (incudes 16 automatic and 30 manual), letting you prepare many different recipes in a smart way. There is the inclusion of the standard automatic programs along with the manual adjustment. This feature offers significant adjustments in cooking temperature and time.
This electric pressure cooker also has a unique Masterchief function. It enables you to adjust any program according to your taste. You can also save the adjustments into the memory for future use. In this way, this Redmond device always cooks tasty meals based on automatic settings.
One of the unique features of this Redmond digital pressure cooker is its voice guide function. This function makes it easy to use for visually impaired people. For such people, the easy marking on the control panel proves highly beneficial. Such markings are present in this digital cooker. There is also a keep-warm function for up to 24 hours that keeps the cooked food hot for up to 24 hours.
Key Features
Unique and stylish design
It comes with 3D heating cooking technology for even and uniform cooking
Removable steam valve
Easy temperature adjustment for various recipes
Voice Guide Function
There are 46 cooking programs including 16 automatic and 30 manual
Smart touch control panel for pressure and temperature adjustment
Time delay for 24 hours
Auto keep-warm function for 24 hours
Disabling the keep warm function
Buyers Feedback
The Good
Comes with lots of automatic programs
Capable of setting a perfect temperature
Easy to use for old aged people
Comes with a delay function
Lasts longer
The Bad
Initially, difficult to use
7. Elite Platinum EPC-55BL Maxi-Matic 5.5 Quart Electric Digital Pressure Cooker
If you are looking for an Electric pressure cooker that is capable of saving energy, go for this digital pressure cooker. Its working mechanism consumes 35-60% less energy. In this Elite Platinum digital pressure cooker, there is a unique pressure control system present that reduces the cooking time. The manufacturer includes eight protection devices in the kit. The included lid is easy to open whenever you want during the cooking process.
The capacity of this electric pressure cooker is 5 liters, and there is a nonstick inner pot available inside. The manufacturer includes a 24-hour delay timer with memory function. There are pre-programmed menu functions present for meat, vegetables, rice, and keep warm function.
This 5-liter electric pressure cooker comes with an ability to cook rice similar to a standard rice cooker. For easy viewing, it comes with a transparent tempered glass viewing window. This window is made durable and capable of sustaining high pressure. The kit includes a serving scoop, a measuring cup, a scoop holder, and a condensation collector.
Key Features
Removable Non-stick Cooking Pot of 5 liters
The programmable cooking time of 4 hours
5 Easy to use preset menus
24 Hour delay timer function
Memory function is also there
Tempered glass window
Buyers Feedback
The Good
Cooks very well
Nice build quality
Easy to view the cooking process
Saves time and energy
Comes with a lot of accessories
Easy to program
Final Words
That's all for the review of the latest and best 5 Liters electric pressure cooker. These digital cookers will surely offer efficient cooking for a large family. Also, you can prepare many different recipes without any manual efforts or difficulties. So, get your best pick right now.
Also Check
Buy Related Products
Preethi Touch EPC005 6-Liter Electric Pressur...
20%
Instant Pot Duo 7-in-1 Electric Pressure Cook...
10%
Wonderchef Nutri-Pot 3L
23%
Instant Pot Duo 7-in-1 Electric Pressure Cook...
30%
Mealthy MultiPot 9-in-1 Programmable Electric...
31%
Geek Robocook Automatic 5 Litre Electric Pres...
44%