Cooking rice in a traditional pressure cooker is now outdated. The latest and modern electric rice cookers are in rage now that takes the guesswork out of cooking rice.
So if you are looking at getting yourself one of the best rice cookers for you and are wondering which one to buy, the article is for you. We have looked at 50 models of electric rice cookers and have come up with a list of 10 best rice cookers that may suit your needs.
An electric rice cooker is an easy-to-use appliance for your kitchen. It has programmed functions that let you cook rice or other different types of food quickly without monitoring. Thus, it is a convenient option for hostelers, old-age people, and bachelors. So, why don't you have one? Read on and get your best pick!
Best Electric Rice Cookers (Quick List)
8 Best Rice Cooker (Reviews)
Here we reviewed the top electric rice cookers for small and large families from reputed brands like Prestige, Panasonic, Bajaj, Kent, Wonderchef, and others. Let's have a thorough review of it:
1. Prestige PRWO 1.8-2
Overall Best Rice Cooker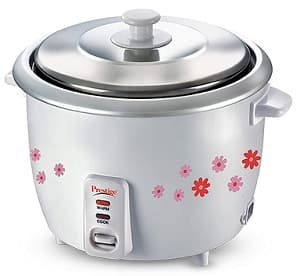 Prestige is the top kitchen appliances brand that has come up with an innovative model of electric rice cooker that ensures durability, safety, and conviction. After detailed research, we found this model overall best in our search list. If you want an electric rice cooker with decent design, capacity, price tag, and performance all, this model from Prestige is best to invest in. The best thing is it's adaptable aluminum cooking pans that help in providing consistent warmth for even cooking. From now, no more mushy or overcooked rice because of its even cooking feature. The close-fit high-quality stainless steel lid has steam vents to take off steam.
Specifications
Material: Stainless steel, aluminum
Wattage: 700 Watts
Voltage: 230 Volts
Capacity: 1 L
Warranty: 1 year on the product & 5 Year on the heating plate
Key Features
The initial impression of any product is the product's appearance, and this model hits this clause as it looks classy and elegant by its design. Moreover, its user-friendly control makes it best for both beginners and pros.
It consumes 700 Watt of electricity which is pretty energy-efficient.
Talking about the capacity, it can cook up to 1000 g of raw rice as it comes with two aluminum cooking pans. And this capacity is suitable enough to feed 4-5 persons at a time.
There are two different cooking modes with this model: speed cooking and keep warm function that you can use according to your needs. The speed cooking allows cooking very faster, and the keeping warm function ensures that the dish stays warm for a long period of time.
Prestige offers a healthy cooking option as it uses steam to make porridge, idlis, stews, soup, and pulao very easily in this rice cooker.
It also has a stainless steel close fit lid, so the cooked dishes remain warm for a longer duration.
One of the most impressive features is its more accessible functions that make it convenient to use by any age group people.
Tip: Being precautionary, make sure the bottom of the rice pot dried up completely before placing the rice container on the Heater. Moisture can cause the breakdown of the space heater.
Pros
It looks stylish and elegant
Durable construction
User-friendly and easy to clean
Fast cooking with two cooking pans and starch strainer
Low price and value for money
Cons
The volume of the pan is a little smaller
2. Panasonic SR-WA22H(E) Automatic Rice Cooker
Best Rice Cooker for Large Family (4-5 members)
The second best product based on our research is ideal for a small nuclear family with 4-5 members. This product is manufactured by Panasonic appliances that is elegant in design and made with durability. It cooks the rice in perfect consistency within minimal time. You can make 1.25 Kg of rice in this cooker at a time that is pretty enough capacity to fulfill small house parties also. The 2.2 Liter cooking space is ideal for cooking delicious rice dishes, soups, steamed veggies, idlis, etc., for relatives and making them happy.
Specifications
Material: Anodized aluminum pan
Total volume: 5.4 L
Power consumption: 750 W
Operating voltage: 220-240 V
Pre-cooking capacity: 2.2 L
Post cooking capacity: 5.4 L
Warranty: 2 Years on the product along with a 5-year service contract on Heater
Key Features
The Panasonic rice cooker is available in incredible Apple Green color, which surely adds to the look of your kitchen.
The whole unit is made of premium quality CRCA, food-grade material which is strong enough to stay long.
The cooking pan is made of anodized aluminum, which provides a non-stick feature for even cooking. The lid is finished with strong stainless steel material. Additionally, the cooking plate, strainer plate, scoop spoon, and measuring cup is also highly durable.
This rice cooker also includes two heat-resistant plastic handles, which are safe to hold without getting burnt.
In terms of power consumption, it has a low power usage of 450 Watts. It is extremely energy-efficient and saves you a lot in terms of electricity bills.
The automatic keep warm feature keeps the food warm for up to 5 hours.
It is the best rice cooker in terms of size and utility that allows you to enjoy steaming hot rice along with a variety of rice dishes such as veg-pulao, biryani, and others, without any hassle.
This rice cooker is also featured with Auto-shut off that ensures the safety of the appliance. Even when your food reaches the optimum temperature and gets cooked completely, the appliance shuts off automatically without letting your food get burnt.
Pros
Ideal for small nuclear family or get together
Elegant design with great ROHS compliant material used
Auto cooking along with auto cut-off feature
Easy to use and clean
Minimal cooking time
A convenient bridge handle is safe to use and protects your hand from getting burnt
Cost-effective and value for money
Cons
There is no extra bowl with the appliance
3. KENT Personal Rice Cooker
Best Rice Cooker for Small Family (2-3 members)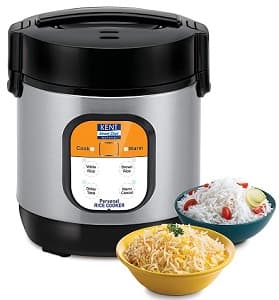 A big rice cooker is not worth the money if you don't need to cook much. Even if your family has only a few members (2-3 only), you will need a small capacity rice cooker that enables you to cook rapidly and conveniently. Taking this into consideration, our third pick is the best bet for a small family unit, usually with 2-3 members. What's more is its super-impressive design with durable construction that makes this product a great buy in every manner.
Kent is a famous brand that manufactures several household appliances. Out of which, this personal rice cooker is one of the modern, decent-capacity rice cookers with a compact design. It is a completely economical product that suits everyone's budget.
Specifications
Capacity: 0.9 Liters
Total Power Consumption: 180 W
Input Power Supply: Single Phase 220 V AC, 50 Hz
Warranty: 1 Year
Key Features
The Kent personal rice cooker is a portable and stylish cooker that looks more like a lunch carrier. Whether you are going out with your loved ones or maybe planning for a picnic, you can carry it easily with you.
It can make 0.9 L of rice at a time which is enough for 3-4 members.
One of the best features of this rice cooker is that you get separate modes for white rice cooking and brown rice cooking.
You can program it to various modes according to your requirements and feasibility. Moreover, it includes a delayed cooking function that lets you cook food at your preferred time. You just need to set the timer, and the rice cooker will automatically start cooking at that time.
It comprises advanced induction heating technology that circulates the heat evenly so that every rice granules gets cooked completely with perfect consistency every time.
The easier it is to make rice, the easier it is to clean the rice cooker. You can use a wet duster to wipe the appliance.
The compact and handy design of this rice cooker makes it easy to carry with you and cook at any time without the hassle of cleaning.
It includes some add-ons with the main unit: an extra container to cook small amounts of curries, a measuring cup, an inner pan, etc.
Pros
A compact and portable design ideal for newlyweds, travelers, or bachelors
Programmable to various modes
Delayed timer is a nice feature to cook at your preferred time
Less power consumption hardly 180 watts
Easy to use and clean
Cons
The non-stick coating on the rice pot gets remove over a while
4. Bajaj Majesty RCX 1 Mini Rice Cooker
Best Rice Cooker for Bachelors and Hostelers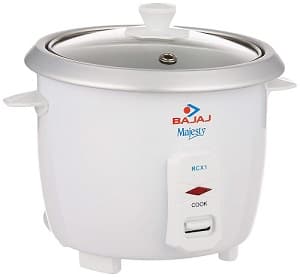 This mini multi-functional rice cooker from Bajaj is a decent buy for small unit family members. If you are a family of two or a student residing in a hostel or a bachelor, this model would be an ideal choice. It is a compact, portable and stylish rice cooker that lets you cook many more options other than making only rice. For a little hunger, you can cook soup in this rice cooker. It can also cook instant khichdi, porridge, stew, momos, pulao, and several other rice dishes in a matter of minutes.
Specifications
Capacity: 0.4 L
Power Consumption: 200 Watts
Maximum post-cooking capacity: 0.20 Kg
Warranty: 2 Years on product
Key Features
The first striking feature of this rice cooker is its intuitive and user-friendly control. No more complicated buttons at all, just one button operation makes rice cooking absolutely hassle-free.
Its elegant and stylish design with see-thru lid makes it a decent addition to your kitchen interiors.
It is equipped with a 0.4 L capacity in which you can make 0.20 Kg of rice at once. Thus, it is an ideal choice for bachelors and couples.
If you travel most, this rice cooker is good to take along with you for trips. Being portable and light-weighted, you can effortlessly carry it with you.
The electrical appliance from Bajaj always ensures quality and less power consumption. This rice cooker has 200 Watts power consumption only and therefore, you will save a lot of electricity.
This mini multi-function cooker provides cool-touch handles that let you hold the rice cooker without burning your hands.
Storage has never been an issue for this rice cooker as its compact and compressed size doesn't take much space and thus ensures easy storing of it.
Pros
Easy clear-cut operation with incredible features
Compact size and light-weight for easy portability
Safe to use and clean
Economical and ideal for couples and bachelors
Transparent lid to monitor the food preparation
Low energy consumption
Cons
No auto shut off, you need to switch off the cooker manually if you get the rice burning smell
5. Wonderchef Prato Electric Rice Cooker
Best Rice Cooker with Steamer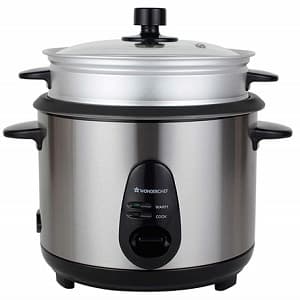 If you seek for the best rice cooker with a steamer, nothing can be better than the Wonderchef Prato cooker. If steam-cooked cuisines are your regular choice of eating, this particular model is best for that. You can make steam idlis, momos, half-cooked veggies, modaks, plus boil eggs with the steamer attachment in this electric rice cooker. The stainless steel outer body provides durability to it. Over and above, the luminous silver color adds beauty to your kitchen.
Specifications
Capacity: 1 L
Material: Stainless steel
Color: Silver
Power: 400 Watts
Warranty: 2 Years
Key Features
The model is beautifully crafted and looks very rich with its gleaming stainless steel outer body to compliment your kitchen decor. Plus, its durable construction ensures the longevity of the appliance.
It comes in a capacity of 1 L, pretty good enough for any small-medium sized family.
It comprises an extra attachment (steamer) which becomes very useful for steaming. With the help of a steamer, you can make steam-cooked cuisines in a better way without much effort.
There is a tempered glass lid with the appliance with steam vents that allow you to monitor the steaming process.
The model also comes with a removable non-stick inner pot which is pretty easy to clean and maintain.
An additional thermostat is also there to look after the heating plate and fuse.
Cooking is pretty easy with this electric rice cooker. It has a single button that has dual functions for easy operation. All you need to press cook for cooking/steaming.
You can also set it to keep warm function to make the food mild hot automatically for few hours.
Pros
Stylish design
Compact and portable
Easy to clean and use
It has a rust-free stainless steel body which is durable and long-lasting
Cons
It does not start automatically if the power goes off
6. Zojirushi NS-LGC05XB Micom
Best Professional-Grade Rice Cooker with Warmer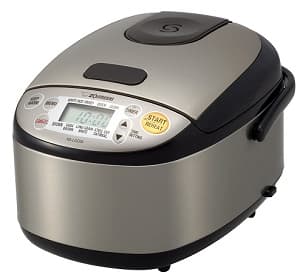 Zojirushi Micom is the best rice cooker with a warmer that does professional-style cooking for the whole family. It keeps the food warm for hours and stays fresh, making it the best rice cooker with a better warmer function. The setting to cook different varieties of rice is easy to choose, and the outcome is amazing. You can cook nutty brown rice, fluffy white rice, sushi rice, or even oats in a perfect way even without any hassle.
Specifications
Capacity: 3 cups raw rice
Power: 450 Watts
Voltage: 120 Volts
Material: Stainless steel
Key Features
It comes in a graceful and attractive design, with durability at the same time. The outer body is made with a stainless steel coating with black accents if talking about the exterior finish. The inner vessel comprises a non-stick coating so that food does not get stuck on the vessel. Quick cleaning of the vessel is another benefit of a non-stick coated pot.
Various programmed modes to cook different varieties of rice, or oatmeal. Thus, it takes the guesswork out of cooking and results in perfectly cooked meal.
What makes it different from other models we have listed is its keep warm function duration (for up to 12 hours) that is maximum enough from the others.
The power consumption is only 450 Watts, good for such a professional-grade appliance.
Talking about the capacity, it can cook up to 3 cups of rice (uncooked), so a great choice for medium to large families.
Another best feature of this rice cooker is its Triple heating technology (bottom, side, and lid) that provides even heating inside it. Thus, it results in evenly cooked meals in no time. Plus, the inner lid is detachable, and you can wash it to make it fresh and clean all the time.
Due to its large capacity, this is the most reliable appliance in the market for commercial usage or large catering requirements.
The retractable cord is another advantage that features less clutter and a simple storage solution.
Pros
Very compact and easy to use
A unique setting for different varieties of rice
Quick and even cooking with triple Heater
Less power consumption
Cons
The timer is a bit inaccurate
7. Comfee Programmable Rice Cooker
Best Multi-functional Rice Cooker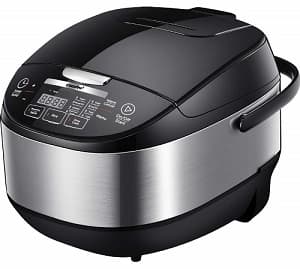 The next on our list comes a model from Comfee that is a multi-utility cooker with a great set of features. Rather than cooking only rice, it features various programmed settings that make cooking very satisfying and enjoyable. The different preset programs include Browning/ Saute, Slow cook, Keep Warm function, and a choice of programmed setting for rice, yogurt, oatmeal, quinoa, pasta, steam, soup/stew cake, etc.
Specifications
Material: Stainless steel
Power: 890 Watts
Voltage: 120 Volts
Capacity: 5.2 Quarts
Key Features
This rice cooker is a perfect combination of enormous capacity with multi-functional features. So, it is an exceptional choice for professional-style cooking. In this 5 L capacity rice cooker, you can make 6 cups of rice, 6 cups of beans, and 3-6 pounds of meat. For a medium-size family with 3-6 members, this multi-functional rice cooker is best.
There are various preset programs for browning/sauteing, slow cooking, steaming, etc. Even you get the cooking modes for brown rice, white rice, oatmeal, pasta, soup, yogurt, and cake. Just choose the preferred cooking mode and the appliance will cook it for you without your interference.
It goes over the intelligent 6-step cooking process for the best result to achieve the ideal cooking performance. It's a non-stick rice cooker that prevents the food from sticking at the base of the pot. The inner pot comprises T2.00 mm non-stick coating. The non-stick coated pot has one more advantage of easy cleaning.
It also includes 24 hours preset timer that you can set it and get your meal ready at your predefined time.
Featuring an LED light display, it offers more visibility in the darkroom.
Pros
Stylish and sturdy built
Decent capacity, suitable for medium-sized family with 3-6 members
Cooker and warmer function
Preset timer for easy operation
A rich choice for making various dishes
Non-stick coated pot for easy cooking and cleaning
Cons
Expensive than the other models we have listed
8. Panasonic SR-DF181 Rice Cooker
Best for Brown Rice, Sticky Rice, and Soups
Now last but not least, a stylishly designed Panasonic product is there on our list for a better cooking experience. The Panasonic Micom cooker is an excellent solution for comfortable meal preparation. If you like the variety of rice more than regular rice, then this cooker would be a great choice. It can cook brown rice, quinoa, and various other rice varieties ideally.
Specifications
Capacity: 1.8 L
Power: 750 W
Warranty: 1 Year
Key Features
The simple and compact design is the first impressive feature of this rice cooker that looks elegant on your kitchen countertop.
The inner pot is made with aluminum material with a nicely non-stick coating in it. The cooked food doesn't stick to it and facilitates easy cleaning.
There are only four visible buttons for operations that allow you to cook six different menus with simple press of a button. What's more is the user-friendly control panel that is understandable for every person.
It is also featured with advanced fuzzy logic technology that automatically adjusts the power and cooking time and offers precise and consistent results every time.
The best benefit of having this micom cooker is its power failure device. If there is a power cut, it can automatically resume the cooking from where it stopped. Hence, from now, you don't need to worry about the consistency of the food. It will continue before disturbing the homogeneity of the food.
With its additional attachment- the steam tray, you can stream or slow cook various food.
It facilitates your super-fast cooking experience and lets you cook brown rice, soup, porridge, sticky rice, quinoa, dal, and much more.
Pros
Best for brown rice, white rice, and different varieties of rice
User-friendly control panel
Compact and simple design
Easy to carry, travel-friendly
Easy to clean parts
The power failure service is a convenient function that allows you to resume cooking where you left off.
Cons
How to Choose the Best Rice Cooker?
The electric rice cooker has become extremely popular and if you would like to add this appliance to your cooking methods, then considering the below mentioned features are very important:-
1. Capacity
Capacity is generally specified as the maximum quantity of uncooked rice you can cook straight away. The capacity varies from 0.5 -2.5 L. Before choosing an electric rice and pasta cooker, you need to consider your family's size and compare how much capacity you will need to meet your requirements. Just select the rice cooker 5L, rice cooker 3L, or less capacity based on the number of members in your family. Check the below table to know better the right rice cooker for your family.
| Raw Rice Weight | Raw Rice Volume | Post Cooking Rice Volume |
| --- | --- | --- |
| 250 g | 0.5 l | 1.4 l |
| 500 g | 1 l | 2.7 l |
| 600 g | 1.2 l | 3 l |
| 750 g | 1.5 l | 3.8 l |
| 900 g | 1.8 l | 4.4 l |
| 1100 g | 2.2 l | 5.4 l |
2. Construction Material
Inner pot material is the foremost thing to consider for perfect rice cooking. Basically, three different types of material are used in making an inner pot. You can pick the best one meeting your preference. The best materials used in making inner pot are:
Stainless Steel: Stainless Steel is proving to be the best material for rice cooking. Apart from hard-wearing and robust features, it is long-lasting too. With a glossy finish, the rice cooker vessels look new for years. However, these are a bit expensive when compared to other inner pot materials. The only drawback is that the heat conduction property is not as good as that of aluminum.
Aluminum: Aluminum is the best conductor of heat, and most of the electric rice cookers with aluminum vessels are generally light in weight and inexpensive. Though the aluminum vessels are not as durable as stainless steel, they can crook or bend easily if you apply excess pressure.
Non-Stick: Non-stick pots are usually very convenient for cooking as no food materials stick to the pan while cooking. Cleaning non-stick vessels is also very easy and effortless. However, regular use of it leads to wear off non-stick coatings even faster. You need to replace the non-stick pot as it is not meant for long-term usage.
Excluding the inner pot material, the rice cooker's lid should be made of high-quality material. It should be stainless steel as it locks in the heat inside and allows the raw rice to cook evenly with perfect consistency.
The cooking plate should have holes to pour out the excess starch from rice or pasta. These vents prevent the rice from overcooking or turning mushy. The holes in the cooking plate also enable you to make idli and momos in it.
3. Lid Type
There are usually two types of lid present in rice cookers: Sealed Lid and Unsealed Lid. Rice cookers with sealed lids prevent the rice from splattering while cooking. It is not easy to clean them, but the models with removable vents make cleaning easy and simple.
On the other hand, a rice steamer with unsealed lids is somehow economical. Some models include a transparent lid so that you can keep an eye on the cooking process. Cleaning them is also very easy and simple. Other rice cooker models include a close-fit stainless steel lid. You can choose the best rice cookers as per your preferences for the lid.
4. Automatic Shut-off Feature
There are special sensors in electric rice cookers that confirm if the dish is suitable for eating or if the rice has been cooked properly or not. The cooker turns off automatically once these sensors sense that the dish has cooked. Almost the entire best rice cooker brands in India comprises automatic shut-off feature.
5. Programmable Modes
Almost all the electric rice cookers come with several programmable modes to cook a variety of meals (not just only rice) using a single touch of the button. They are programmed already, so take the guesswork out of cooking. And without your intervention, you can get your meal ready in a few minutes. The best thing is that it retains its nutritional value and cooks the food evenly.
5. Automatic Warm Function
Nothing is better if you get your food warm and fresh after a few hours of cooking. Thankfully, the best rice cooker models come with an Auto Warm function that keeps the food warm for up to a few hours (5-12 hours), time varies according to brand and model. Additionally, it keeps the food fresh for a long time and does not let the lip-smacking smell out of it.
6. Even Cooking
Evenly cooked rice is everyone's choice, and if the pot of rice cannot provide perfectly cooked rice, you will get poorly cooked rice in many forms. Maybe you sometimes get mushy rice in the center, undercooked rice on the top, water-logged rice grains on the bottom, or burnt rice in the corner. A good rice and pasta cooker should have the feature to cook even and perfect consistency rice throughout the vessel. Hence, make sure your choice should be under this consideration.
7. Water Level Indicator
The perfect ratio of water always provides the just-right consistency to cooked rice. If you are a bachelor and don't know how to cook perfect rice, then the water level indicator is a wonderful feature you rely on. This gives you the precise quantity of water that you need to add so that the rice/pasta gets cooked thoroughly without getting soggy or over-cooked.
8. Energy and Power Consumption
The power consumption is measured by the number of watts that is required for cooking purposes. The power it consumes to switch on the cooker and generates energy is the energy efficiency of every electric rice cooker.
The power consumption ranges between 300 Watts to 1100 Watts. A normal rice cooker model consumes 400 Watts of power that is good enough to cook food in less time.
Compared to traditional gas cookers, electric rice cookers consume only 60-70% of the heat energy and offer better productivity.
9. Easy Operation
Rice cooking in electric rice cookers is a matter of single-touch operation. Almost all the rice steamers are user-friendly. It will start functioning once you add the required amount of water and rice and switch on the button afterward.
Electric rice cookers are pretty easy to operate, and it becomes more accessible if you choose some advanced models with additional digital functions. These automated functions include self-timer, steaming, delay start, automatic cook and warm, slow cooking, etc. These programmed features in the best rice cooker brand help you in getting cooked rice with perfect consistency without monitoring.
10. Cool-touch Handle
A cool-touch handle provides a safe and strong grip to move the cooker even when it has hot rice. These handles are resistant to heat and help in preventing your hand from burning.
11. Ease of Use
A rice cooker should have a user-friendly feature for easy accessibility. Some of the factors that make an electric rice steamer an easy-to-use device are its automatic function, ergonomic handle, and non-stick bowl for better cooking and serving. It should have a single-touch functioning. There should be labeled control functions so that it becomes easily understandable. To easily reach the power plug, the cord's length should be lengthy.
A large and proper gripping handle makes it easy to lift even when the container is already full. Moreover, cleaning and maintenance should be effortless to use it frequently like regular cookers with no matter of special cleaning.
12. Easy to Clean Bowl
We have already covered this feature, but for more information, you should take this aspect thoughtfully. You might see that some top brands in the market provide steel bowls. While cooking in a stainless steel container, food gets stuck to the bowl, and cleaning the container becomes a tough job. However, the rice container that has a non-stick coating prevents the rice from sticking and getting mushy. Additionally, it is easier to clean them.
Above all, most of the premium brands manufacture anodized aluminum vessels. The newest production comprises Teflon-coated rice containers. These containers are easier to clean and user-friendly than other corresponding items.
13. Cool Exterior
Apart from keeping interior warmth, maintaining the exterior body of the electric rice cooker is also satisfying. The exterior surface of the electric rice cooker should be well insulated to prevent burning probability. Most rice cooker brands provide two layers of insulation. The manufacturers also consider handles of the rice cooker that have proper grip and are safe to use.
.
14. Design and Quality
Like other factors, the design and look of the rice cooker are also significant. Purchase a model that looks good with the interior of your kitchen. Additionally, a high-quality rice cooker will work efficiently and provide durability.
15. Weight
A rice cooker should be light and handy. A heavy rice cooker will never be an ideal choice as it gets damaged easily and can't be transferable. Always make your choice to light-weight rice cookers that are durable too, if you will use it frequently.
16. Accessories
The add-ons of any product make the functioning easy and convenient. If you seek the best rice cooker in India, you must check important accessories for easy operation. Some of the useful accessories are:
For steaming rice, pasta, or veggies, a steamer basket can be very helpful.
A measuring cup makes the cooking procedure easy to a great extent to add rice and water in a precise amount.
A spatula with a rice cooker is helpful while serving or mixing the dish. If the spatula has a non-stick coating, it will better to scoop out the dish without shredding.
Make sure the model you select comprises all the above accessories; cooking becomes very helpful. Other than this, you can purchase extra accessories separately, such as Idli maker, etc.
17. Brand
It is always better to choose any electrical appliance from a trustworthy brand because they provide genuine products. Moreover, the branded products have a specific warranty period and offer better after-sale services. Choosing an electrical appliance from brands might cost a bit more than local ones but definitely provide authenticity and durability, which is worth the money.
Our recommendations on genuine brands are Prestige, Bajaj, Kent, and Panasonic, etc. Read more in our product review section for more information so that you will get what you exactly want.
18. Reviews
Online user reviews are beneficial to know detailed information on products. You get to know both the pros and cons of the particular model. Hence, it is always helpful to check the reviews of the model that you have selected.
19. Price
Investing in an electric rice cooker will be a good deal, but you have to make sure that you have got a good product in the amount of money you have invested. Usually, a decent quality electric rice cooker ranges between Rs 1000-Rs 3000. But, rice cookers with Teflon-coated bowls might cost you a bit more than normal stainless steel or aluminum rice cookers.
20. Warranty
Purchasing branded products always provide a good deal because they offer durability and permanence of the product and endow with a warranty period and after-sale services. A Standard Warranty period could be between 1-2 years. However, most of the brands offer extended warranty on the heating plates. You have to be judicious while choosing any brand for rice cookers, and it's better to give preference to those brands that provide an extended warranty.
Utility of Electric Rice Cookers
Not only steamed rice, but you can make multiple recipes in rice cookers:
If you like oatmeal in your breakfast, making it in a rice cooker is very simple—all you need to add is water or a little less milk. Finish it with chopped dry fruits and nuts if you want.
Make risotto or pasta without stirring.
Poach fruit
Steam vegetables
Hard-boiled eggs
Slow-cook soups, stews, beans, etc
Idlis and momos
Noodles and many more
Benefits of Electric Rice Cooker Over Traditional Cooking Method
The electric rice cookers simplify cooking with their automated functions and user-friendly features. Unlike conventional cookers, you need not consistently monitor or track whistles or rely on unusual timer cooking.
Additionally, it provides grace to your kitchen with its stunning design and color. Unlike the boring design of traditional pressure cookers, you have various choices to pick a suitable electric cooker that suits your kitchen's interior design. The stylish designs bring together both visuals and safety.
It not only cooks rice but several other food items too. You can prepare multiple foodstuffs like everyone's favorite noodles, steam veggies, soups, pasta, idli, dhokla, steam veggies, and many others. Other than this, you can also cook beans, veggies, cereals, grains, and even a small bit of meat and fish.
Rice steamer saves a lot of time and provides perfect consistency.
Its auto-off feature makes your hectic rice cooking calm and composed.
Electric Rice Cookers Frequently Asked Questions (FAQs)
1. What are the best rice cooker brands in India?

The best brands for electric rice cooker are Panasonic, Prestige, Philips, Kent, etc.

2. What can we cook in an electric rice cooker?

Electric rice cooker has many utilities rather than cooking rice only. You can make oatmeal, banana bread, idli, momos, steam veggies, hard-boiled eggs, vegetable frittata, apple and pineapple upside-down cake for cake lovers, cinnamon apples, pancakes, etc. in an electric rice cooker.

3. Can you cook dal in a rice cooker?

Yes, you can cook dal of any variety. They cook perfectly all right in electric rice cookers—all you need to cook it in enough water. And, of course, you need to watch it if it leaks out a bit. Overnight soaked dal or beans will get much easier to cook with perfect consistency. But it's ok if you cook dry dal directly in the rice cooker.

4. Do electric rice cookers use a lot of electricity?

Electric rice cookers do not have high power consumption. However, most of the model has 1100 W peak expenditure but spends only about 750 W for simple rice cooking. And, in that case, it consumes only 0.7 units of electricity per hour.

5. Are rice cookers healthy?

The rice cooked in a rice cooker is healthy and not harmful for your health. However, it is not as healthy as a stove cooked rice. To cook more nutritious rice in rice cookers, you need to skip the white rice over brown rice to maintain the nutritional value of the rice.

6. What kind of rice do you use in a rice cooker?

An electric rice cooker can cook any rice, whether it's long-grain, white or brown rice, short-grain, basmati, or jasmine. It can also be used to make different cereals, like oatmeal, quinoa, and wild rice. However, it would help if you were careful to add the water ratio accordingly. However, many modern brands have multiple settings for cooking a variety of grains.

7. Can I cook potatoes in a rice cooker?

Electric rice cookers are multifunctional. You can steam potatoes or any veggie of your choice in the steaming basket. Additionally, you can place them directly in the pot until they become soft or tender.

8. Can I use my rice cooker as a slow cooker?

Yes, rice steamers can be used as slow cookers, but it will take a little extra effort. The procedures of cooking in rice cookers as slow cookers are not set and forget. It just includes some challenges while slow cooking.
Conclusion
Finally wrapping it up, our aim is to help the readers in making an informed decision while investing money in the product. To assist you get the best rice cooker for small and large family needs, we have mentioned some smart products with detailed specifications that can be helpful to you.
However, our personal recommendation would be Prestige PRWO Electric Rice Cooker. You can use it for years without any question because it offers ample capacity and better performance in your budget. However, if you want a rice cooker for large family, Panasonic SR-WA22H(E) Automatic Rice Cooker, is the best choice with good capacity.
Read Related Reviews
Buy Electric Rice Cookers Online
Pigeon by Stovekraft Joy 1.8 Liter Electric R...
45%
Prestige 1.8 Litres Electric Rice Cooker (PRW...
38%
Prestige Prwo 1.0 L Electric Rice Cooker With...
41%
Panasonic SR-WA22H (E) Automatic Rice Cooker,...
24%
Bajaj RCX 1.8 DLX Rice Cooker, 1.8 Litre , Wh...
30%
Prestige Delight PRWO 1.0 L Electric Rice Coo...
25%
Panasonic SRWA 18 1.8 Liter Automatic Rice Co...
24%
USHA RC18GS2 Steamer 700 Watt Automatic Rice ...
34%