For those who are not that passionate about roti making, the most tiresome part for them is to prepare the dough. The entire calculation of how much water you need to add to how much atta, and then mixing them with your hands is a real mess! Having a best Dough Maker is a great solution to overcome this issue.
Even those who run out of time in the morning in making a meal for the family right before going to the office know this daily struggle quite well. Also, those who have some problematic condition with their wrist and hand, putting so much pressure while mixing the atta dough may be a hectic job.
But hopefully, the advancement of technology never lets you down. And that is why the invention of the dough maker is winning over every household kitchen. These devices are easy to use and lessen your effort and time for making bread.
So, if you are one of those people who every morning juggle with the problem of dough making, then this article is apt for you. We will review the 7 best dough makers here along with a complete dough maker Buying Guide that will make your purchase job easier.
7 Best Dough Makers (Atta Kneaders) in India
Best Dough Makers in India Reviews
1. KENT- 16010 Atta and Bread Maker (Overall Best Pick)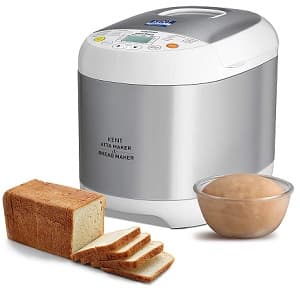 Our overall best pick is the 550 watt-powered dough maker from the house of KENT. This steel grey model weighs 11 kg and features a dimension of 36 x 24.5 x 30 cm. With a strong 550 wattage power, it can give you a bigger batch of dough per use.
Kent's fully automated best dough maker comes with a plethora of preset options for kneading the atta and making a large variety of bread. It has the most creative design and durable construction ever, which makes it earn the first position. Now, unleashing varieties of baking and cooking has become easier with this dough maker.
Its seamless design features the most hygienic attributes. You can quickly knead your atta or any kind of flour for preparing a variety of doughs. So, now cook several tasty dishes to leave your guests to smack their lips. Besides making rotis and bread, use this device to explore delicacies like sticky rice, jam, cake, rice wine, delicious desserts, etc. at ease.
Also, the exclusive design of the mixer meets an easy profile. It has a time-based function and a one-touch automatic operation for easy control. All that you need to do is select the required programme and chill! The 19 brilliant programme options are best to try out new dishes every day. Explore the variety with ease.
The appliance comprises detachable components, which makes it easy to clean, maintain, and store. With single-phase 220 volts AC, 50 Hz of input power supply, it works fast and saves your electricity bill. Moreover, it has a pedestal mounting design, which is easy to install and move.
Kent's atta dough maker includes other attachments like kneading panel remover, measuring spoon and cup, bread maker, and the instruction manual. The best part about this appliance is that it has a window on the top lip, from which you can keep an eye on what's cooking inside. Added vents in the lid maintain the balance of the internal air circulation of the device.
Your preference for extra hygiene is always the priority of this roti maker. The hands-free design is a win-win deal for anyone. Just add flour, water, and other preferred ingredients and put on the settings of your choice, and the unit will handle the rest.
Key Features
Fully automatic
Comes with a dimensional measurement of 36 x 24.5 x 30 cm
19 programme menus for customized speed and style as per recipes
Personalized flavors for various ranges of bread and dishes
Fully covered design for better hygiene and convenience
Pedestal mounting
1-year warranty
550-watt power capacity
Single-phase 220 volts AC, 50 Hz power supply
Item weighs 11 kg
Includes atta bread maker, kneading panel remover, measuring spoon and cup, user manual
Pros
Comes in a user-friendly design
Detachable components are easy to assemble
Great for automatic mixing and kneading
Easy one-touch automatic operation
Cons
2. Lifelong Atta and Bread Maker (Runner Up)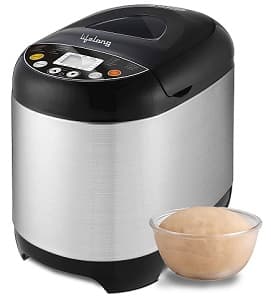 This one goes as the runner up for our pick as the best atta maker online. Instead of the first-mentioned product, you can also opt for this one to get the same quality of performance, at a fair budget range. Now, bake your favorite bread or knead the dough perfectly with the help of the Lifelong Atta and Bread maker.
Stuffed with better quality design and features, it is precisely crafted to give you high efficiency and versatility. The product comes with an exceptional LCD screen with 19 preset menu settings. These precise 19 digital customized options give you the freedom to make anything from multiple types of bread to yogurt, jam, pizza, stir-fry, defrost, etc.
The Lifelong Atta and Bread maker can beautifully prepare chapatis, pooris, etc. as it has automatic kneading, fermenting, and baking features. So, why waste your days with the same kind of meals every day, when you can add variety?
Also, the 5-hour programmable timer delay function adds more smartness to this household appliance. With this timer setting, you can bake bread at any time of the day you choose. You can set the timer for when you want your bread, and it will be automatically ready. Isn't that amazing?
Moreover, the one-touch automatic operation adds more ease to the operating style of the appliance. All you need to do is touch the setting to set the machine in the required mode, and your bread will be ready.
The most fantastic feature of this particular bread maker is its crust control design. You can choose the crust for your baking, between light, medium, and dark. Also, the gadget is compatible with almost all kinds of flour and ingredients. Just put them all together, power the machine, and your dough is ready.
The inclusion of special programmes makes the appliance more convenient and user-friendly. You can easily make gluten-free, sugar-free, and salt-free bread along with the ease of settings. Go beyond bread; try cakes, pizzas, jams, and loads of flavors with the Lifelong dough maker.
Similar to its seamless and creative features, it also comes with a well-constructed design. The non-stick removable bread pan with a firm handle is easy to hold and replace. Also, the glass view window on the top gives you complete visibility of the dough while kneading.
Additionally, the device comes with air vents for better air circulation. Also, the baking chamber is large enough for your big family.
Key Features
240 volts input supply
Stainless steel body
550 wattage capacity
Item weighs 5.2 kg
LCD panel with 19 preset menu options
Baking tin is non-stick and removable
5 hours of programmable timer delay
One-touch automatic operation
The product dimension measures 35.5 x 2 x 30.2 cm
Includes 1 bread maker, 1 measuring cup, 1 measuring spoon, user manual, and 1-year warranty card
Pros
Suitable for multipurpose use with 19 program settings
Offers an easy and fast kneading
Maintains proper hygiene
3-crust color choices for preferred bread texture
Goes ideal with all kinds of ingredients
Cons
The dough can become soggy if the ingredients are not correctly measured
3. Homeplus Magic Atta Maker (Budget Pick)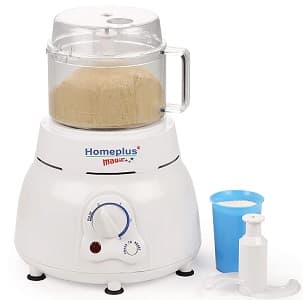 We understand your efforts to save some extra bucks even after fulfilling all your needs. So, if you are tight on your budget or not willing to spend more for a dough maker, then this one is just for you. This budget-friendly piece comes to fulfill everyone's needs without compromising the performance. That's why we recommend this one for a budget-friendly pick.
The Homeplus Magic Atta Maker works like magic when it comes to dough making and atta kneading. Are your guests waiting for dinner, and you don't have any idea how to make chapattis so fast? Worry not. This roti dough maker will cover it for you.
This magic atta maker can knead ½ kg of flour, atta, or any other similar type of ingredients within only 30 minutes. Also, you can try making different shakes and chop veggies for a large meal within seconds.
You can extract butter and juice through this device with ease. It has a citrus extractor with which you can squeeze the juice out of any seedless citrus fruit. With stainless steel chopping blades, the veggies get evenly chopped.
This product has a brilliant design with reliable construction, which is apt for any Indian kitchen. It comes with a powerful copper motor that retains smooth and heavy performance without getting burned out. Also, the anti-skid feet of the device helps it to have a steady grip on the kitchen cabinet surface so that it can knead the dough firmly.
The super-strong unbreakable polycarbonate jar body can tolerate heavy usages and run for a longer period without any drawback. A multi-speed operation setting lets you customize the speed while kneading or mixing the dough so that you can achieve the perfect texture as per your preferences. The device assures safety with its circuit breaker measure.
With multiple attachment features, the Homeplus Magic Atta Maker gets a multifunctional profile. The additional whipping blade is best for making lassi, butter, and beating eggs. A measuring glass also comes with the unit so that you can maintain proper measurements of the ingredients.
Key Features
350 watt-powered high-quality copper motor
The dimension measures 34 x 31 x 39 cm
Unbreakable polycarbonate jar body
Strong ABS atta kneading blade
Anti-skid feet for a steady grip
Multi-speed operation
The item weighs 4.1 kg
Internal Circuit-breaker for the overall appliance's safety
The power source of 220-240 V, AC- 50 Hz
5 minutes of time rating
Includes chopper, atta kneading blades, juice extractor, and whipping blades
Pros
Comes at a very affordable price
Suitable for versatile use
Great for kneading a large batch of dough at once
Simple design and easy to use
Stainless steel durable body
Cons
Power consumption is high
In the case of overload, the model can disfunction
4. Rico Atta Kneader + All in one food processor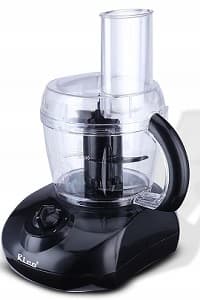 Your search for the best dough maker in India will come to an end with this product. If you are looking out for a device that can do more for you without just atta-kneading, this one should be your first preference.
Rico Atta kneader is not only a regular atta kneader; instead, it's a food processor with an all-in-one function. With this device, you don't need to worry about purchasing discrete equipment for separate functionalities. You can easily slice, chop, shred fruits and vegetables along with atta kneading.
Also, the food processor enables you to whip creams, batters, and purees easily in no time. The assortments with detachable blades for dicing and cutting vegetables lessens your cooking time.
With 400 watts of powerful motor, this device has supreme power control. Its high-end motor construction offers a heavy-duty performance so that it doesn't burn-out with a heavy load. Along with the 2-speed setting, you can either set it to a low-speed or high speed at ease. For whipping or beating cream, butter, egg, and bread dough, speed-1 is apt. With speed-2, you can go for seamless vegetable cutting, grating, and shredding.
With anti-skid vacuum feet, the dough maker stays safe from sliding on any surface. The feet create a tough vacuum with which it doesn't move much and has a steady setting. Along with the sharp and robust stainless-steel blades for chopping, it can mince veggies with fine and even texture.
The atta kneading blade is strong, unbreakable, and made of food-grade polycarbonate plastic, which ensures complete dough making within 1-2 minutes. The large unbreakable bowl comes with an 800 ml measurement capacity so that you can easily go for large measurements.
Key Features
All-in-one shredder, juicer, chopper, citrus extractor, slicer
Black body with ABS food-grade material
The dimension measures 23 x 25 x 37 cm
400 wattage capacity with long-lasting copper motor
2-speed setting with a pulse for maximum control
Skid-free feet
800 ml transparent polycarbonate food processing bowl
Unbreakable blade for atta kneading
It weighs 2.84 kg
Includes 1 mini food processor, 1 warranty card, and 1 instruction manual
Pros
Multiple detachable sharp and robust blades are easy to use
Low noise operation
Completely hygienic with the ABS food-grade material
Light in weight
Cons
The dough becomes soggy
Needs more improvement in the jar quality
5. VINR Electric Atta Kneader Dough Maker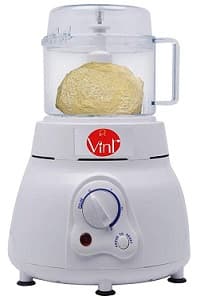 Why limit yourself to just atta kneading and dough making when you can get more? Bring this appliance to add one helping hand to your kitchen to save both your energy and time. It is not just a dough maker; rather, it's a four-in-one machine with multiple features.
Now, perform more than one thing to express your inner MasterChef. This model lets you knead ½ kgs of atta within only 30 seconds. With this device, you can make not only dough but also a variety of shakes, juices, and whatnot, at ease. It is a suitable match for extracting butter, squeezing citrus juices, chopping vegetables, etc., which makes it one of the best dough maker machines.
It has a powerful motor, which is enough to give support for heavy-duty kneading and chopping so that you can go for endless food making. The unbreakable bowl for chopping and kneading lasts for a long time. Besides, it comes with an internal circuit breaker that takes care of the whole appliance's safety to avoid malfunctioning.
The dough maker comes with several accessories like a chopper, citrus extractor, whipping blade, kneading blade, and juicer for a compact service. To ensure better precaution, there is a press-to-reset button. In case of overload, you can press this button to allow the device to start working after 5 minutes.
Key Features
Versatile purpose-serving device
350-watt motor capacity
White body made of ABS material
Super-strong ABS atta kneading blade
Food-grade blade for peeling of peas
Stainless-steel chopping blade
The dimension measures 19.99 x 15.01 x 15.01 cm
It weighs 6 kg
It requires 220-240 V, AC – 50 Hz power source
5 minutes of time rating
Pros
Easy to operate with a simple design
ABS material construction facilitates proper hygiene
Comes at an affordable price range
Heavy motor capacity
Cons
Heavy weight
Not so durable
6. Clearline Appliances 3.5 L Dough Kneader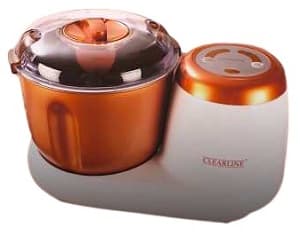 Opt for this device from Clearline Appliances' vast collection of kitchen tools that are innovative in design and convenient in performance. If you think of kneading a large amount at once, then this one would be the best electric dough maker with its heavy-duty motor power.
The dough kneader features a 3.5 L non-stick coated bowl, which is large and durable enough. Also, cleaning the bowl is not at all a hectic job, as it has a non-stick coating, which is easy to wash.
If you need to make food for a large family or you throw parties at your place quite often, then this one can give a reliable performance every time. With the unbreakable aluminum blade, it kneads the dough perfectly from every side to achieve better consistency.
It has the best functions on the control panel, which makes it easy to use and handle. By turning on the power supply, the panel activates, and the indicator light flashes for once. The mixing dough button lets you set the timer for 5 minutes, 10 minutes, or 15 minutes, as per your preference.
The easy on/ off button adds more ease to the operation. The inclusion of the unique heating function for fermenting the dough adds more perfection to your job, which is best for making soft chapatis and bhaturas. For fermentation, you can press the heating button with the timer set for 30/ 45/ 60 mins. The indicator light will blink for better indication.
Also, the design features lockable double lids through which you can add more ingredients, even if the kneading operation is on. The appliance has anti-skid vacuum feet so that it can stay steady on the kitchen slab without any slip or skid.
This atta dough maker is an excellent choice for anyone. As the functionalities are easy to control, the bowl assembling is so easy that even your kids can help you. All you need to do is fasten the bowl to the housing properly and switch it on. Similarly, the removal of the bowl is also easy.
Key Features
Heating function for fermentation
Timer function
Indicator lights
White-brown metal body
Built-in locking mechanism for enhanced safety. The unit won't start without a proper lock.
650 watt of motor power
3.5 L bowl capacity
It weighs 3.77 km
Includes a removable lid, main body with motor unit, power cord, non-stick coated bowl, operation panel, mixing blade, measuring cup, and spoon
Pros
Large bowl for large serving per run
Easy to wash
Fermentation feature with adjustable heating function
Lightweight
Cons
Not multifunctional
Fragile lid clips
7. Harvienterprise New Manual Food Chopper Atta Maker Dough Kneader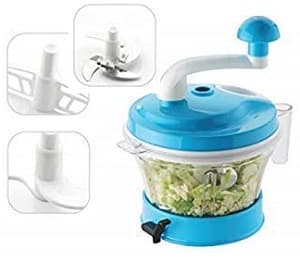 We understand your needs. That's why we have tried to present all kinds of dough makers, suitable for different price ranges and purposes. And this one is a fair enough model available at a very cheap rate, making it one of the best atta makers. From food chopping to atta dough making and kneading, all you can do easily with this manual food processing device within minutes.
It's a tiresome and messy job to knead atta or flour with your hands for a long time. But now, you can still do such things manually without getting your hands dirty. This manual 4-in-1 food processor is made of ABS material, never to compromise your safety and hygiene.
The transparent and unbreakable container runs for an extended period and lets you have a complete view of the processing. Featuring a vacuum base, this appliance sits steadily on the kitchen cabinet to make your job easy. With 100% extra sharp SS blades, be it chopping veggies or kneading dough, everything becomes a child's play.
Besides, with the 2-speed gear system, you can have complete control of the speed while kneading or chopping. Also, the gadget's small design makes it easy to carry anywhere and occupies a minute space for storage. The power-free design of the system saves energy and lets you get your job done anywhere.
The bowl comes with an extra air-tight lid. Also, you can easily use it as regular food storage when the machine is not in use. The different kinds of blades make food processing even much easier.
Key Features
Manual food chopper atta maker and dough kneader
Vacuum base
2-speed system
Multi-color appearance
ABS plastic container
Product dimension is 24 x 24 x 24 cm
Item weighs 349 grams
Includes 1-unit dough maker, handle, and food bowl
Pros
Easy to carry and store
No electricity needed
ABS food-grade bowl is safe to use
Easy shredding, chopping, grating, slicing, churning, and kneading
Cons
Not suitable for large amounts
Not so durable
How to Choose the Best Dough Maker? (Buying Guide)
However, choosing a roti dough maker might be a daunting task for you. A dough maker should have certain key factors that will make you tag it as a convenient cooking partner.
Here we present a complete buying guide on dough maker so that you never have to stay confused while shopping. Below we highlighted the crucial factors that you must not miss while choosing the best dough maker for you. So, before jumping into a decision, have a look at the following important factors:
Types of Dough Makers
There are different types of dough makers available in the market as per the convenience of the users. Following are the various types of atta makers that you need to know before buying one:
1. Manual Dough Maker
The manual dough makers come in a simple design. This basic form of dough makers includes blunt blades, which stay connected to a plastic handle on the outside. When you manually rotate the handle, the blades start to turn to mix the wheat flour.
It takes about 10-15 minutes for a manual dough kneader to complete the entire process. If you are not ready to spend enough for a dough maker, then a manual one is just or you. They are lightweight, and the simplicity in design makes it quite economical. However, durability gets compromised here. Too much fast-moving of the handle is not suitable for a manual dough maker.
2. Electrical Dough Makers
There are dough makers that can run on electricity. For fast and reliable kneading, these dough mixers are just perfect. You only need to put in the ingredients while maintaining correct proportions, and the dough maker will do the rest. These gadgets come with knobs through which you can adjust the speed.
3. Stand Mixers
For those who love to bake more, stand mixers are ideal for them. With a premium quality stand mixer, you can prepare a dough of anything, starting from bread, loaf, pizza to rotis. The stand mixers come with wire whisk, paddle, and dough hook attachments.
If you want to add more air to your dough, then whisking it thoroughly is possibly the best option. Ingredients like egg, baking soda, yogurt, and yeast need to be appropriately whisked to achieve the fluff. And the wire whisk is best for that.
In case of less dense ingredients like whole-grain wheat or atta, you mix them with normal water to cook regular rotis; the paddle is great for that. The helically shaped dough hook adds more stretch while kneading to gain the right texture.
Another variation of the stand mixers come with a tilted head. A tilt-head stand mixer possesses a head that can be inclined to remove the bowl. You can easily add the required ingredients after lifting the head slightly.
4. Vertical Cutters
Not just dough making, you can do more with a vertical cutter dough maker. They usually come with various features like a vegetable chopper, juice extractor, lemon squeezer, chutney maker, etc. It's great to have so many attributes in a single unit, as it cuts your expenses for separate tools.
However, if you don't want to compromise with the quality of the dough for soft and nice rotis and bread, then go for a dedicated one. The dough making quality often gets compromised due to the machine being a multipurpose one.
5. Spiral Dough Maker
This type of roti dough maker comes with a spiral-shaped rod along with a netted agitator. When the dough maker is on power, the bowl rotates around the axis, and the netted rod remains still. So, for those who want to blend their dough more perfectly, this one is ideal for them.
It creates less noise while kneading the dough. The dough gets a soft and nice consistency perfect for making fluffy pieces of bread. However, this type of device cannot produce a lot of dough at once. In case you have a small family, then the spiral atta maker can be a good choice for you.
6. Bowl-Lift Dough Maker
Unlike the tilt-head dough makers, here you can lift the bowl. You can move the bowl up-down as per your convenience to add ingredients. Once you complete pouring the ingredients into the bowl, you need to lift the bowl upward. At the fixed-top, there is a ladle agitator, which starts kneading the dough.
7. Planetary Dough Maker
This kind of dough maker has got its name from its working style. Both the bowl and agitator rotate to prepare a nice and soft dough. The agitator moves around its axis, and the bowl moves anti-clockwise. To make sure your dough is kneaded well from each direction, this one is the best. You can also go for chopping vegetables and meat mixing with a planetary dough maker.
Features to Consider Before Buying Dough Maker
1. Dough Maker Capacity
The capacity of the mixer decides how much dough you can knead at once. It entirely depends on your personal preferences. If you have a large family to feed, or you love to throw a party at your place, then a dough made with a bigger capacity must be your first preference. Nevertheless, most of the dough makers come with a capacity of 450-500 grams.
2. Power Consumption
The most important factor to consider about a kneading machine is its power capacity. Most low-powered dough makers burn out when you try to put in more wheat or whole grain atta. The dough maker you will choose should have proper strength and enough power for kneading whole grain bread dough.
The gluten development for atta needs a stronger bond as compared to the regular flour. Keeping that in mind, focus on the power capacity of the dough maker before picking one for you. Choose a product that goes compatible with heavy loads.
3. Gluten Development
Gluten is the main binding matter of dough. The protein present in atta or flour contains gliadin and glutenin. When these protein components come in contact with water or any other liquid you put for dough making, it creates an elastic bond. The gluten development is crucial to make your bread have a nice rise and good shape.
So, after power, your next focus should be on the gluten development of the unit. Making food is all about adding more nutrients to it. And gluten is an excellent source of protein. Now, it depends on the performance of a dough kneader that how much gluten the mix can generate. Pick a product, which develops a dough that can be stretched into a thin layer without getting torn apart.
4. Speed and Pulse Setting
You would, of course, not pick a dough maker just to knead atta for handmade bread. The dough maker should be able to make all kinds of dough for different types of bread. However, not all sorts of dough require the same pressure for kneading. That's why the speed and pulse adjustment setting is necessary for your dough maker.
Most of the dough mixers come with 2-4 speed adjustment settings and pulse features. Go for the one that lets you do a variety of jobs using different speed types. It will help you to get the perfect dough texture every time. The speed options in a dough maker range from low, medium to high. So, choose smart what you need.
5. Ease of Cleaning
Since it's all about food, choose a product with which you can maintain top-notch hygiene. Opt for a dough maker, which is dishwasher-safe. It will ease you in washing the device regularly. Nevertheless, it's not that easy task to clean a dough maker. And that is why it is imperative to choose a design that is simple enough to clean and easily washable.
6. Construction and Build Quality
Either you can pick a dough maker with metallic construction, or there are many dough makers made of a plastic shell. The metallic designs are heavyweight but offer durable performance. However, they are a bit pricey.
If you don't want a weighty one, then opt for a model made with plastic. But make sure that the plastic is high-quality. It's better to choose a dough maker body with ABS or food-grade plastic. Food grade plastics are the best to ensure hygiene.
7. Bowl Type
The bowl material and its shape that comes along a dough maker play an important role in deciding the dough's quality. Choosing a bowl made of stainless steel is the best thing that you can do. Stainless steel lasts for a long time and doesn't catch rust. Thus, it's entirely food safe and durable. You can either select a dough maker that comes with a stainless-steel bowl or purchase it separately.
Most of the bowls feature a regular shape, which is an all-rounder for all kinds of dough. Now, if you plan to do more with your dough maker, like a Bundt cake, then choose a bowl that comes with a center column.
8. Accessories and Attachments
Why choose less when there are more? It can be smart to go for accessory attachments to unlock the multifunctional side of a dough maker. You can go for seamless functionalities along with attachments like handles, mixers, blades, etc. The following are some of the essential attachments that you can consider purchasing.
Handle: A dough maker with a handle becomes easier to access. Handles may be either movable, detachable, or fixed. As per your convenience, you may go for the handle functionality.
Kneading accessories: A kneading accessory comes in the form of a hook. Like the handle, the kneading accessories are also either removable, rotatable, or fixed. For better mixing of your dough, choose the right type of kneading attachment. There are different types of kneading blades to choose from as per the texture you want for your dough.
Mixers: For appropriate mixing of all the ingredients of your dough, a mixer comes in handy. With a mixer attachment, you can not only make dough for your rotis, but also you can prepare doughs for pizza, cookie, loaf, etc. Moreover, there are options for meat mixing, potato mashing, and any other kinds of mixing.
Measurement tools: Several models of dough makers come with additional attachments like different sized cups. You can measure your ingredients using these cups at ease.
Apart from these accessories, there are other attachments too that you can opt to make your dough maker perform multiple functions. But make sure the dough maker has in-built functionality to go compatible with such accessories. Here is what else you can add to your dough maker.
Vegetable Chopper: To chop your veggies in a fine and nice shape, a veggie cutter or chopper comes with a few dough makers. The blades of a dough maker are of various types, which are great for chopping, cutting, alongside kneading.
Citrus Cone: To extract the juice of seedless fruits like lemon, there is a citrus cone attachment. You can also squeeze out juices of other easy fruits using this cone.
9. Timer
For better functionality, you need to choose a dough maker that comes with smart features. And a timer in a dough maker is one of those attributes that make your job easy. With the timer feature, you can customize the time for the mixing of your dough. Thus, it is easy to keep track of the kneading time and also conserve power.
10. Start and Pause Option
You must not want your ingredients to splatter and cause a total mess. That's why pick a product with a dedicated start and pause button with which you can have full control over the dough making process. With the start option, the dough maker will stay away from running abruptly, instead, operate in a very organized way.
Besides, the pause button is also a beneficial one. With it, you can pause the dough maker any time, add the ingredients in between, and again run it with the preset speed.
11. Weight and Storage
The dough maker's weight is a matter of concern if you need to shift it quite often. For changing the workspace or carrying the dough maker upstairs, a lightweight unit would be the best. You can easily lift them. As already said, those with a metallic construction are quite heavy. For a lightweight profile, the plastic body is suitable.
Again, if you have to deal with limited space in your kitchen, then storage is much essential to consider. Choose a dough maker that you can easily store at any place. It is better to avoid the ones that consume ample space.
12. Warranty
It's better to pick a dough maker that possesses a brand warranty to stay on the safer side. Most of the dough makers come with 1-2 years of warranty. So, know properly about the warranty matters before buying one.
13. Price
Price is one of the most critical factors for anything that you purchase. The price range of the dough makers ranges from Rs. 500-4000. However, some models with additional characteristics cost even more. Based on the functionalities and capacities of the dough makers, the pricing varies. So, choose a dough maker that falls fit within your budget and offers premium features at a reasonable rate.
Atta Dough Maker Frequently Asked Questions (FAQs)
1. How long does it take for a dough maker to prepare a dough?

It takes an average of 5-10 minutes. If you are kneading with a manual dough maker, then it will take 10-15 minutes. But for an electric dough maker, it will hardly take 2-3 minutes. Also, if you want to add more air to the dough, you can knead it for 20-30 minutes.

2. How can you make atta dough using a mixer?

Add the proper amount of wheat flour/ atta and water in your mixer/ blender. Blend them at an optimum speed. Keep checking in between if there is any need for more water. Once the mixture is firm and soft, take it out. Now you need to knead it for some minutes. And there you go; the dough is ready.

3. Is the dough maker at all beneficial?

Yes, it is. For those who find it difficult to knead the dough manually, a dough maker works like magic for them. It saves time and effort. Those makers, which come with a multifunctional profile, can also do extra work like chopping vegetables, extracting juices, etc.

4. Which type of blades is best for a dough maker?

Sharp blades made of stainless steel are the best for dough makers. The stainless-steel blades restrain rust and functions for a long time, unlike the plastic blades.

5. Is the pouring shield a must for a dough maker?

Well, that's completely optional and depends on your personal preferences. The pouring shield works as the lip of the bowl to prevent flying off the light ingredients from the vessel. To be on the safer side, you can easily opt for one.

6. How does the dough hook work?

The dough hook moves to and fro to turn and fold the dough. A dough hook makes sure that your dough is perfectly mixed and gets the best texture. Also, it makes the process faster and easier.

7. How to properly clean a dough maker?

Detach the device from the electric supply. Then, disassemble the attachments like blades, handle, bowls, hooks, etc. Wash each of them using clean water and mild dishwashing soap. Make sure you are following all the necessary instructions while using the soap.
You can also use baking soda instead of the dishwasher soap to remove all the unwanted stains and smells. Once you are done with cleaning, wipe the equipment with a dry cloth.

8. What else can I do with my dough maker?

Well, you can do a lot of things. With a dough maker, you can prepare pizza, cookie, and loaf dough. You can also whisk cream and egg, mash potatoes, mix meat paste, prepare cupcake batters, etc. If your dough maker has certain add-on features, then you can even chop or cut veggies, make chutneys, or extract juices.

9. Which kind of dough maker should I choose to make small doughs?

For preparing small doughs, spiral dough makers can be the best option for you. They can produce a small amount of dough at one go, suitable for small families' domestic uses.

10. Do electric dough makers have a high-power consumption?

Depending on the performance of an electric dough maker, the answer is no. It takes about 2-5 minutes for an electric dough maker to produce a completely soft and firm dough. So, it saves both time and energy.
Conclusion
Why waste time every day in dough making, kneading, and preparing when you can let the best dough makers do it for you?
From the large variety of options available in the market, it's quite natural for you to get confused. But we hope, now, it will become easier for you to make a smart purchase after going through the detailed reviews of our selected top-notch products and the buying guide.
Our best pick from the list is KENT Atta and Bread Maker because of its brilliant performance, heavy-duty motor, and 19 variety of preset functions. Moreover, Kent's brand value and warranty that come with the product speaks of its genuine profile as the best electric dough maker.
Buy Dough Maker Online
Preethi Master Chef MGA-524 Atta Kneader, 2.1...
10%
Clearline Automatic Electric Dough Kneader Wi...
17%
Home Plus Magic 500-Watt Atta Kneader | Food ...
18%
Amazon Brand - Solimo Plastic Atta/Dough Make...
36%
AMAR IMPEX Dough/Atta Maker Must for Every Ki...
45%
Rico Multifunction Food Processor/Atta Kneade...
Clearline Automatic Electric Dough Kneader wi...
17%
OFFER SALE Manual Food Processor Vacuum Base ...
34%