Do you lack time for making perfect and soft Rotis due to your busy and hectic schedule? Also, it's a tough task to get that perfect round shape of a roti when you don't get proper time to master the art of roti making with hands. However, if you are missing those perfectly shaped rotis of your mom's hand, then a Roti Maker is exactly the thing you need at this moment.
A Roti Maker is exclusively designed to prepare beautiful and soft rotis within seconds. And the best part is that you don't need to flatten the dough with a rolling pin, which is one of the toughest works to do in the process. Also, the appliance is capable of making rotis in bulk within just a few minutes. Thus, it is perfect for feeding a large family or more members.
However, choosing the perfect chapati maker is a matter of consideration of many factors. It must have specific features like non-stick coatings on the griddle, better power consumption capabilities, sturdy design, cool-touch durable handles, and a shock-proof body.
So, if you are looking for a supreme quality chapati maker to serve your needs, then this is the right place for you. Here, we are going to provide you with the reviews of 7-best roti makers with a complete Buying Guide, which is undoubtedly going to solve all your doubts regarding best purchase.
7 Best Roti Makers in India
Best Roti Makers in India Reviews
1. Prestige Xclusive Stainless Steel PRM 5.0 Roti Maker (Overall Best)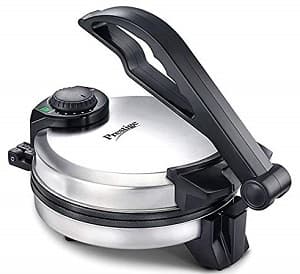 We know how much you love the perfectly round shape of your homemade rotis; that's why we are here to get you introduced to the overall best pick of our collection of roti maker reviews. This Prestige Xclusive Stainless Steel PRM 5.0 roti maker comes with the best features to make your meal great.
The model comes with a granite non-stick spatter coated surface, which is specially incorporated to let you make your rotis with the perfect shape without creating a mess. Moreover, it has a unique concave curved base along with raised edges for making the roti stay at the center of the surface while making easy flips and rolls.
Also, the stainless-steel body of the appliance adds up to the attributes of durability and strength. Besides, stainless steel material makes the body reinforced and shock-proof to render you the utmost safety while cooking.
The design of this Prestige roti maker makes it easily operable with the adjustable temperature control knobs. Along with these knobs, you can have great authority over the process to achieve the perfect shape and softness of your rotis.
Besides, the red-light power indicators let you know the performance status of your roti maker. Furthermore, there is a green light to indicate the heating of the base of your roti maker. This green LED goes off to let you know that the appliance is ready for use.
The curved edges and non-stick design lets you use it for making different Indian bread, omelette, pancakes, etc. Also, the inclusion of a dough maker helps you to prepare the dough for a wide Indian dish range. Additionally, you can use it for liquidizing tomato soup, beating cream, churning milkshake, lassi, buttermilk, etc.
Key Features
Granite spatter non-stick coated surface
Concave curved base with elevated edges
Reinforced stainless steel shock-proof body
Adjustable temperature knobs
Power and heating indication LEDs
Multipurpose design
Dimension measurements are 18 x 15 x 17 cm
Weighs 2 kg
Black and silver appearance
Includes the appliance, demo C.D., and warranty
Pros
Granite non-stick coating for perfect round shaped rotis
Suitable for multiple uses
Reinforced design with stainless steel
Shock-proof
Easy to clean
Cons
The thin batter might stick to the surface
View on Amazon View on Flipkart
2. Bajaj Vacco "Go-Ezzee" Chapati/Roti/Khakhra Maker (Runner Up)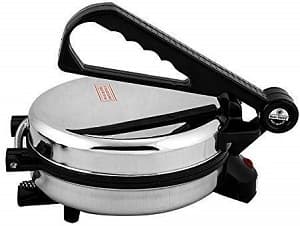 The runner up roti maker from our list of reviews goes to BAJAJ VACCO Go-Ezzee, which is specifically made to meet all your needs. If you aren't willing to buy the first product mentioned above, then you can go with this one at ease.
This model from Bajaj comes with the best features and quality. It is engineered with an automatic cut-off feature to ensure that each roti is made soft and fluffy. The machine is very light, which makes it easy to handle for your household needs.
There are no more hassles to roll your rotis as this appliance will do that for you seamlessly. The combined action of high utility "pressing handles," which presses both the plates or tawas together along with the upper lifting handle that lifts the top plate, makes the rotis acquire the perfect shape. It also comes with a shock-proof design that ensures proper safety.
Moreover, this electric chapati maker is made with a durable stainless-steel body to ensure durability and strong, robust construction. It comes with a power-on LED indicator to let you know that the appliance is on. Besides, the handles of the appliance are heat-resistant made of ABS plastic with cool-touch features so that you can easily make your rotis without burning your hands. Plus, the high-quality food-grade Teflon coated non-stick plates ensure that the dough gets appropriately cooked without sticking.
This high-end roti maker comes with a multipurpose design with which you can easily make parathas, papads, kulchas, and khakhras apart from making just chapatis. With the shock-proof housing, this appliance makes sure there is no current leakage from any part of the machine. Moreover, the superior quality of the heavy gauge stainless steel material facilitates a rust-proof durable exterior body.
Key Features
Output wattage of 900 W with 230-240 V operating voltage at 50 Hz
Lightweight making it easy to lift and carry
Multipurpose design
Food grade non-stick aluminum coating
Shock-proof body
High-quality ISI marked lead and 6-amp plug
LED status indicators
The dimension measures 30.48 x 22.86 x 22.86 cm
Item weighs 2 kg
Includes the roti maker, free demo C.D., demo booklet, and waranty card
Pros
High-quality component ensures the best performance
Ultra-safe with shock-proof body
Heat-resistant handles to avoid burns
Automatic electric design to make rotis within minutes
Time and energy saving
Cons
It is not suitable with too thick dough
View on Amazon View on Flipkart
3. Sunflame RM1 900-Watt Roti Maker (Best Budget Pick)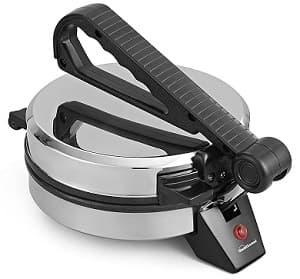 You must be looking for a good quality roti maker, which also fits your budget. Well, then picking this Sunflame roti maker can be the best decision for you to make. This one is perfectly designed to meet all those features, which makes it one of the best designs for this budget.
It comes with a LED indicator with which you can easily know whether the machine is connected to power or not. The indicator glows with a bright red color whenever the appliance gets turned on. The design of the appliance talks a lot about the brilliance of construction as it is coated with a supreme quality food-grade non-stick layer.
The non-stick coating on the plates cooks rotis properly, facilitating the easy flow of the dough without sticking much on the tawas. Besides, the appliance comes with a heat-resistant upper lifting handle that lets you lift the top plate easily and use it at ease.
The stainless-steel body of the Sunflame Automatic Electric Roti maker makes sure that the device is durable and serves you for a longer time. Also, the stainless-steel body is rust-proof and gives better performance. One of the most highlighted features of this device is that it can be easily cleaned and maintained.
Key Features
Silver-black appearance
Food-grade non-stick coated heating tawas
Moulded plug
Reliable heating coil for better performance
Easy to hold light Bakelite handle
Power indicator
Power capacity of 900 watt
Product dimension measures 19 x 20 x 32 cm
The item weighs 2 kg
Includes 1-roti maker, with wire and user guide
Pros
Uniform heating with oil-free cooking
Enhanced durability with stainless steel exterior body
Lightweight and portable
Thermostat ensures safety
Affordable
Cons
High power consumption
Thermostat control doesn't work after a few months
4. Rotimatic Robotic Roti Maker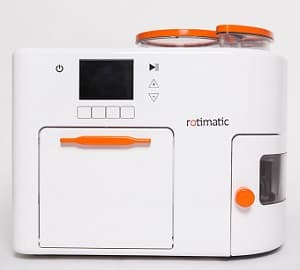 If you are in the hunt for a chapati maker that can elevate the fun of your roti making experience with the best of features, then this gadget by Rotimatic can steal your heart. This appliance has a perfect design to meet all the ease and convenience in roti making that you crave to have.
With the easy design of this appliance, you can create perfect rotis at the touch of just one button. Moreover, this chapati making machine ensures that every roti it cooks is perfectly round by shape, soft, fluffy, and evenly cooked with three separate layers. It renders the best taste and nutritional values to the rotis.
The appliance also features high-quality parts that are easy to clean. Each of the components is dishwasher-friendly so that you can maintain hygiene every time you cook. The best part about this appliance is that it is designed with IoT smarts. Owing to this feature, it learns with every new roti and upgrades itself to give you the perfect roti every time.
Moreover, it implements the latest firmware, with which you can efficiently operate this appliance. With the help of the Wi-Fi connectivity feature of the device, you can easily download new recipes for rotis and a large variety of dishes every time.
As per its attributes, it can be considered much better than any other chapati maker in the market. But are you wondering why it didn't get the first position in our list? Well, that's because of its too high pricing. It is undoubtedly costly, but if you can afford it, then you can choose this one to get the best performance ever.
Key Features
Robotic smart roti maker
Roti making with one-touch
2-removable and dishwasher-friendly components
Cooks rotis with separate 3-layers
Incorporates IoT
One can download recipes through the Wi-Fi
Product dimension measures 40 x 32 x 40 cm
The gadget weighs 22.86 kg
Pros
Smart robotic technology for efficient roti making
Suitable for multipurpose cooking
Easy to operate
Cooks within minutes
Easy to clean
Cons
5. Divya Electric Roti/Chapati/Khakhra Maker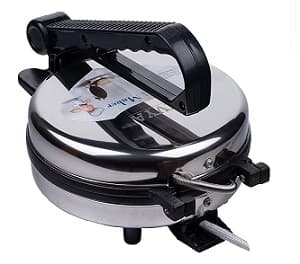 Enjoy the best of roti making with this automatic appliance that lets you enjoy fast cooking with ease. Along with its strong and sturdy cool-touch handle, you just need to properly press the dough to make round, fluffy, and soft rotis at once.
There is no need to use the rolling pins to flatten your dough. With the heat-resistant upper lifting handle and knobs, you can easily lift the top plate when the chapatti is ready, without burning your fingers.
This roti maker features a supreme quality food-grade Teflon heritage coating to ensure a better flow of the dough without sticking onto the surface. Also, the inclusion of red LED indicators notifies you if the machine is connected to power or not. When the appliance reaches the predetermined desired temperature, the power automatically cuts off.
Due to the shock-proof attribute, the model ensures no leakage of current and no short circuit for your better safety. Besides, the stainless-steel body of it is rust-proof and durable enough, which facilitates better performance for a long time.
Owing to its multipurpose design, you can make anything along with rotis. Also, the appliance is lightweight, which makes it one of the best roti makers in India.
Key Features
An output of 1000 watt with 230-240 V A.C. requirement at 50 Hz
Heat-resistant Bakelite handles
Food-grade Teflon coated non-stick plates
Shock-proof
Stainless steel body
Product dimension measures 29.5 x 22.5 x 22.5 cm
The item weighs 2.1 kg
Black and silver body
Pros
Low electricity consumption
Easy to use
Can perform frying pan and saute jobs
Affordable
Heatproof to protect your hands from getting burnt
Cons
The non-stick coating is not durable
Cleaning is not easy
6. Vijaylakshmi Roti Maker
Get the best of roti making along with a roti maker that lets you easily cook the perfectly shaped round homemade rotis with ease. And this Vijayalakshmi Roti Maker can be the right choice for you if you are finding one.
With this appliance, the process becomes relatively easy. All you need to do is make a dough about an inch in diameter. Flatten the ball slightly and place it gently at the center of the bottom plate. Then you need to close the upper plate of the roti maker while gently pressing the dough downwards with its easy-press handle.
After a few seconds, open the upper plate of the roti maker, and you will find the dough to be flattened into the shape of a roti. But you need to leave the roti in the appliance for about 15-20 seconds. After 20-25 seconds, air bubbles will appear on the surface of the roti, and it will puff from both sides, giving you a soft and fluffy round roti.
Doesn't it sound easy? So, get the Vijayalaxmi roti maker right now to make healthy and tasty rotis. This device comes with a non-stick surface that does not require pouring off any extra oil, ghee, or flour on the surface, which makes it one of the best roti makers. Moreover, the easy design does not require any cooking gas to produce the rotis.
Key Features
Black and silver appearance
Non-stick surface
Versatile
Comes with a dimensional measurement of 31.2 x 23 x 22.4 cm
The item weighs 2 kg
Includes only 1 unit of roti maker
Pros
Easy to use
Makes round roti within 30 seconds
Lightweight
Easy to clean with a damp cloth
Cons
7. OTC Electric Chapati, Roti and Khakra Maker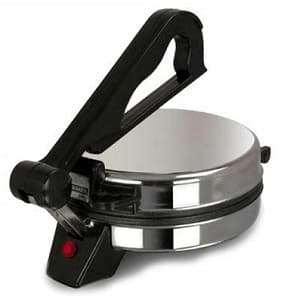 Minimize the stress of shaping and rolling dough with a rolling pin and waiting for minutes to cook the perfect roti. This OTC Electric Chapati Maker is specifically designed to save hours of your labor in the kitchen. Using this roti maker, you can make a good number of rotis within minutes.
This appliance features a robust construction made of a special hard metal, which makes this roti maker more durable. Moreover, the upper disc of the chapati maker does not reach the ground level while pressing the handle; instead, it stays normal to the ground.
On the other hand, when the handle stays normal to the ground, pressing it by 45-inches allows the pressing disc to touch the ground disc. The inner portion of the discs is covered with a special type of ivory sheet. So, while pressing, the ivory sheets make sure that the chapati lying in the middle gets cooked properly.
The thermostat control of the appliance ensures perfect heating to cook the roti evenly from every side. The total stainless-steel body facilitates enhanced durability. Also, the sleek and easy design of it adds a bit of aestheticism to your kitchen looks while subtracting down your stress of making perfectly round rotis.
Key Features
Electric chapati roti and khakhra maker
Black and silver appearance
Thermostat control for better safety
Stainless steel body
Ivory coating in between the upper and bottom plates
900 watts of power consumption
Dual heating function
Operates at 220 volts
Product dimension measures 27 x 22 x 31 cm
Includes 1-roti maker unit
Pros
Special hard, strong metal facilitates better durability
Easy to use
Quick operation
Budget-friendly
Lightweight
Cons
Handles loosen after few times of use
Not shock-proof
How to Choose the Best Roti Maker? (Buying Guide)
If you, too, find the entire process of kneading the dough, rolling it into the perfectly round shape of roti, and cooking it evenly in the oven frustrating, then a roti maker is the exact thing you need to pick. However, it may not be an easy task for you to pick a brilliant quality roti maker if you don't know what traits to look for.
A good quality roti maker comes with all the essential features to make your job easy and gives you the perfectly shaped soft rotis. So, here is a complete buying guide on what you need to consider while opting for the best roti maker for your household. Let's have a look:
Features of the Tawa or Griddle
The Tawa or griddle is that part of a roti maker where you place your dough to prepare the roti. And that is why you need to pay special attention to its construction.
1. Size
The tawa or griddle of the chapati maker plays a vital role in deciding the size of the roti that you are going to get. When you place the dough in the tawa and press it with the upper handle, the dough flattens to make a round-shaped roti. The tawa gets heated to prepare the roti.
There are a variety of sizes available for the tawas of a roti maker. However, the size between 8-10 inches is the best for making perfectly shaped round rotis. Also, the griddle shall not be too small or very big.
2. Material
The tawa material decides the performance of the roti maker. The best quality material heats properly and cooks the roti evenly from everywhere. Also, a high-quality, long-lasting material makes sure that you cook the rotis properly for a long time with proper heating and maintaining hygiene.
Thus, choosing a tawa made of forged aluminum can undoubtedly be the best choice. Aluminum generates the proper amount of heat required for making rotis or chapatis. Also, it facilitates proper heat distribution everywhere so that the roti does not stay raw from any side. And this feature of proper heating encourages the air bubbles to form on the surface of the roti, adding fluff to it.
3. Non-Stick Coating
Initially, there were many complaints about the roti makers that the dough stuck onto the tawa surface, posing difficulty in getting the roti's proper shape and cooking it appropriately. Also, some people were using to add flour or oil on the surface to make the roti come off easily once prepared.
However, the inclusion of non-stick coating in the roti makers does not require any kind of flour or oil on the surface of the tawa. Many brands use granite spatter coating to make the surface non-stick. Also, some models of the roti makers come with food-grade Teflon non-stick coatings, which makes sure that the dough flows smoothly inside the roti maker machine to form the perfect shape of the roti.
Thus, it is essential to opt for a high-quality non-stick coating. The cheap quality coatings tend to come off after several uses, and your roti maker will become useless if something like that happens. So, pay close attention to the type of non-stick coatings used in the appliance.
Body of the Roti Maker
The body of the roti maker needs to be paid special concern. The entire construction or design of the roti maker talks about the quality of the product. So, while buying, take note that you are considering all the factors stated below.
1. Body Material
The durability of the roti maker depends on the material used to make the product. You cannot compromise with the material, as a poor-quality component will lead to easy rust formation or breaking down of the appliance.
The ideal material for a roti maker is stainless steel. A stainless-steel body of a roti maker makes sure that it stays rust-free. Also, it sustains for a long time without any drawbacks. Moreover, stainless steel is easy to clean and stays spotless for a long time.
2. Shock-proof Body
Any electric appliance comes with the risks related to it. So, to avoid such risks, you need to go for a shock-proof design. A rugged shock-resistant design will ensure better safety for you while cooking the rotis. Also, the shock-proof design makes sure that you get better protection from the electric shocks caused due to short-circuit or voltage fluctuations.
3. Non-heating Handles
Handles play a crucial role in how you control the appliance. While making roti, you need to press the dough against the tawa by holding the handle properly. But if the handle gets heated, you will end up burning your hands. That's why you need to pick a roti-maker that comes with non-heating handles.
Purchase a model with insulated handles, which makes them stay cool even at high temperatures. Some roti makers come with Bakelite ABS plastic in the handle for facilitating a cool touch feature. You can consider choosing one to keep your hands safe from accidental burns due to sudden touch.
Some Other Features to Consider Before Buying Roti Maker
1. Adjustable Temperature
Adjusting the temperature makes sure that you are providing the optimum temperature to obtain the proper texture of the rotis and chapatis. Some of the models come with a feature of 3-temperature settings from which you can choose among the low, medium, and high temperatures for your convenience.
Picking a model with adjustable temperature allows you to select the proper temperature setting required for preparing your dish. So, opting for a model that lets you choose and customize the temperatures can be a smart decision for you to make.
2. LED Indicators
It is often confusing to know if the griddle of your roti-maker is perfectly heated or not. You, of course, cannot check it with your bare hands to see if it's hot or not. So, the proper inclusion of indicators helps in such cases. Selecting a roti maker machine that comes with an in-built on-off indicator will easily let you know that your roti maker is ready for use.
Some of the brands provide red LED indicators to let you know that the roti maker is on power. And the inclusion of green LEDs indicates that the roti maker is perfectly heated and ready to use. Some cheap models lack these features, so it's better to check on these attributes properly to get the best value for your money.
3. Automatic Cut-off
Some superior quality roti makers come with this feature. An automatic cut-off feature in a chapati maker machine makes sure that the appliance cuts itself off from the power when it reaches the highest temperature. It ensures low usage or consumption of excessive power. Also, it helps to avoid any overheating related issues in the device.
4. Size and Weight of the Roti Maker
Size plays a significant role in deciding the ease of storing and maneuvering the appliance. However, most of the roti makers come in a standard size. These standard sizes can fit in any corner of your kitchen cabinet or the racks.
A roti maker is an appliance that you are going to use daily to make your everyday meal. For that, it is essential to choose a lightweight model. You'll need to lift the upper lid handle several times while making rotis regularly. A heavier handle might make your task difficult.
So, choose a roti maker that has a minimum of weight. The suitable weight for a roti maker is around 2 kg. With a portable, lightweight profile, you'll be able to lift your roti-maker anytime and carry it anywhere for your convenience.
5. Power Input
The required temperature for a roti maker should be 450℉ for achieving the best texture and softness of the rotis. The standard power input for a roti maker is 800 watts with 200-250 voltage requirements at 50 Hz. It is the minimum power requirement for a regular roti maker to reach the griddle temperature of 450℉.
However, many models come with the 1000 watt that serves as a better design and performs far better than the average 800-watt models.
6. Easy to Clean
Since you are going to make your rotis using a roti maker, you need to keep the hygiene top-notch. Focus on the model's cleaning convenience. Choose one that is easy to clean. However, most of the roti makers do not require much equipment for cleaning.
You can effortlessly clean them using a damp paper towel or clean cloth. But some models come with dishwasher-proof removable parts too. Make sure that you are checking on all the cleaning related tips and cautions.
7. Best Quality Parts/ Components
Safety and better performance come from the inclusion of the best quality parts in a roti maker. You need to keep a note that the roti maker you are opting for is equipped with the best quality components.
If the parts are fragile or lead to drawbacks in the performance, it will make your task of making rotis harder. So, before buying, check all the features appropriately to get high-end efficiency from your model.
8. Pricing
Pricing is the most crucial factor that you need to check on while buying anything. A roti maker price starts from a minimum of Rs. 1000. However, the quality may differ due to the price range. For better features, you'll need to spend more bucks.
A standard quality roti maker with an optimized performance comes in the range of Rs. 2500. Well, the cost entirely depends on what you need in your roti maker and how much you want to spend on it. So, opt for a model that suits your budget and comes with all the important characteristics.
Pros of Roti Maker
Time and energy saving.
Prepares healthy rotis as well.
No mess in making perfect round shaped rotis.
Many models come with one-touch program that takes all the hassles away to make rotis in just one touch of a button.
Cost svaing also, as no wastage of gas at all.
Great for beginners who don't know how to roll and make rotis.
Very easy to use, so any age group person can use it effortlessly.
Cons of Roti Maker
The rotis made in a roti roti maker machine hardens fastly, so you need to consume it as soon as possible.
Need a little more caution while cleaning it, but it is not a big deal.
How to Make Rotis in a Roti Maker?
Making rotis in a roti maker machine is very easy. These are few simple steps that you can follow to make soft rotis by using the appliance:-
The first step is to make the dough balls from the freshly prepared dough and roll them in dry atta.
Then switch on the electric chapati maker machine and let it heat for up to 5-6 minutes, until the indicator light switches off.
Now take out the atta ball and place it on the upper corner of the machine.
Then close the lid and press the handle firmly for at least 1-2 seconds, not more than that. When you open the lid, you will find that the roti is now completely round in shape.
Now, let it cook for at least 15-20 seconds from this side. You can take more time depending on how much cooked you like your rotis.
Now turn the roti and cook it according to your preferences.
Once both the surfaces are cooked properly (browned), close the lid. You will see the rotis will rise out and slide from the machine automatically.
Here is a quick video on how to make roti in a roti maker machine.
Tips for Making Soft Rotis In a Roti Maker
Make sure before making the atta dough, that there must no be the grainy particles in it.
Knead the dough a little more softer than the dough used to make roti on tawa. But keep in mind that the dough must be non-sticky.
Allow the dough to rest for at least 30-minutes before making the roti. If you use the freshly prepared dough, you will find that you rotis will start breaking.
Never use the stored atta dough for making roti in a roti maker machine.
Use a little oil while making the atta balls to make your rotis soft.
Only start the roti making, once you find that the machine is heated completely.
Do's and Dont's of a Roti Maker
Alway press the roti maker's lid in one swift motion.
Do not press the lid more hardly, otherwise you will not get the perfect round shape, instead it breaks.
Try to use wooden spatula to fip the rotis to avoid burn your hands.
Never keep the appliance on wet surface or area.
Never wash the appliance. Clean it using a damp cloth after each use.
Roti Makers Frequently Asked Questions (FAQs)
1. Is roti maker safe for health?

Yes, the roti makers are entirely safe for your health if its tawa coating comprises of food-grade materials. Also, most of the roti makers come with stainless steel and Teflon non-stick coating, which makes sure that the roti does not stick to the pan and remains completely safe.

2. How long does it take to make a roti using a roti maker?

A premium quality roti maker takes not more than 20 seconds to the maximum of 2 minutes to turn your dough into a fully cooked round roti. The time may differ from one appliance to another. The first roti takes a longer time to get cooked if the griddle is not heated correctly.

3. How long should I rest the dough for cooking it in the roti maker?

The roti might get hard if you place the dough in the roti maker immediately after kneading. So, you need to rest the dough for about 20-30 minutes post kneading to get the perfect soft texture of the rotis. You can also cover the dough with a damp clean cloth or a paper towel to make them perfectly soft and fluffy.

4. An electric roti maker or manual roti maker – which one is the best?

It depends on the convenience or suitability with the user's preference. An electric roti maker is costlier than the manual ones. But an electric roti maker can give you faster results without spending much effort. On the other hand, the manual one needs a lot of effort as well as time.

5. What's the difference between a dough maker and a roti maker?

There are misconceptions about a dough maker and roti maker as many people tend to confuse between these two or assume them to be the same. Well, a dough maker is an appliance that mixes the ingredients in the form of dough for the dish you want to prepare. But a roti maker works by placing the dough on a surface plate and turns it into a roti or chapati.

6. What is the standard cost for a roti maker?

The price of a roti maker depends on what features you want in the device. The standard pricing range for a roti maker falls anywhere between Rs. 800-3000. You can easily have a good quality roti maker within this range with all the required features. However, for more smart features, you can opt for the pricier models. Make sure that you are getting the best value for each penny spent.

7. Why do the rotis in the roti maker get hard?

The rotis in the roti maker gets hard when you place the dough in the appliance immediately after kneading it. You need to let the dough rest idle for some time to acquire that perfect texture of the rotis. Also, Indian bread tends to get hard if you overcook them. So, you need to cook them properly at an optimum temperature.

8. What makes the rotis rubbery?

If you place the dough in the roti maker before the tawa gets adequately heated, then the roti will not get cooked properly. Also, if the dough is too thick, it takes more time to get cooked. So, if you replace the rotis early from the pan, it stays uncooked, which makes it rubbery.

9. How to clean my roti maker properly?

To clean your roti maker, you need to follow a few simple steps. Firstly, take lukewarm water. Avoid too much hot or cold water. Then, take a clean cloth and dip it in the water and squeeze it properly to remove any excess water.
After that, wipe the machine surface properly until the spot goes away. You may need to wipe several times if the spots are more. Once the marks are gone, wipe the machine again using a dry cloth to make sure the surface is evenly dried.

10. Is a roti maker worth buying?

A roti maker can be worth buying if you make sure that you have purchased a good quality product from a reputed brand. Most cheap quality products come with minimal features and drawbacks, which leaves your rotis uncooked or hard. That's why you need to buy the best quality roti maker that comes with proper features and a non-stick coated food-safe surface, which lets you have nice rotis within seconds.
Conclusion
Making smart decisions while choosing the best roti maker for cooking perfect round-shaped rotis will undoubtedly make your job easier. We have made the above list of roti makers, based on our detailed research on their features and performance so that you can pick the best one.
Our overall best pick goes with the Prestige PRM Stainless Steel Roti Maker as it comes with a robust design, non-stick coating, temperature control knob, and a shock-proof design. Moreover, it also fits into the standard budget requirement, which can be an ideal choice for you. We hope the buying guide added in this article will make your decision much easier.
Read Related Reviews
Buy Roti Maker Machine Online
BAJAJ VACCO®Go-Ezzee Chapati/Roti/Khakhra Ma...
5%
iBELL ROTI MAKER 1500Watt Nonstick Roti/Chapa...
30%
Prestige PRM 3.0 Stainless Steel Roti Maker- ...
7%
RYLAN Heavy Quality Stainless Steel 7.5 inch ...
33%
KWT Heavy Quality Stainless Steel 7.5 inch Di...
54%
Notabilla Heavy Quality Stainless Steel 7.5 i...
67%
ZOSOE Heavy Quality Stainless Steel 7.5 inch ...
33%
WALVIA Heavy Quality Stainless Steel 7.5 inch...
45%