The loss of flavor and moisture damages the taste of your food. Whether you cook for a small family or a larger one, there must be no compromise with the taste and nutrients in food. An Electric Pressure Cooker is a must-have appliance for your kitchen that cooks faster and retains the flavor and nutrients in the food. So, after 5 liters Electric Pressure Cooker, we came with this article covering review on 3 Liters Electric Pressure Cooker. These digital cookers are light in weight, efficient, durable, and highly suitable for a family of 3-4 persons.
Our Best Picks of 3 Liters Electric Pressure Cooker
Review of the Best 3 Liters Electric Pressure Cooker
Here is the detailed review of our best-picked models presented in the list. Have a look at their full specifications as well as pros and cons and then decide for the best one.
1. Instant Pot Duo Mini 7-in-1, 3 Litre Multi-Use Programmable Pressure Cooker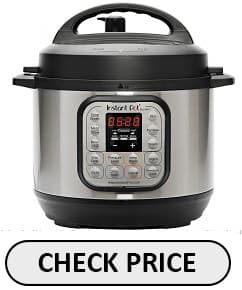 This version of the instant pot duo is very versatile in its operation. You can use it in the form of a rice cooker, slow cooker, sauté, steamer, warmer, and yogurt maker. This Electric pressure cooker version is compact, and its capacity is ideal for serving a small family.
The compact design of this programmable pressure cooker makes sure much space is not occupied in your kitchen countertop. It is possible to put it in your car and carry it for travel purposes. During the operation, it does not emit heat or steam. So, you will not find any bad cooking smells coming out from this pressure cooker.
The design covers fully automatic pressure cooking programs with three slow cook heat settings. You can choose any of these settings to cook rice, sauté, or yogurt. Moreover, there are two unique features also that includes an auto keep-warm function and a delay start function.
The lid, cooking pot, and all other components have stainless steel construction. The best part is that cooking pot and lid are dishwasher safe making cleaning very easy.
The cooker comes with 11 smart built-in programs. So, you can easily cook your favorite dishes with a simple press of a button. This model of the Instant Pot Duo compact rice cooker can cook up to 6 cups of rice. Using the rice cooker function, you can cook different types of rice. For example, you can cook white rice, brown rice, sushi, rice, wild rice, risotto rice, and more.
The pack includes accessories like rice measuring cup, rice paddle, a spoon, stainless steel trivet, a stainless steel steam rack without the handles, a condensation collector, and a recipe book.
Key Features
7 smart cooking functions
11 programmable digital controls
24-hour delay start
Automatic keep-warm function for up to 10 hours
Stainless Steel inner cooking pot
Buyers Feedback
The Good
Strong and sturdy construction
Comes with all necessary accessories
Functions are easy to use
Capable of cooking many different types of rice
Easy to carry along
2. Elite Platinum EPC-414 Maxi-Matic 4 Quart Electric Pressure Cooker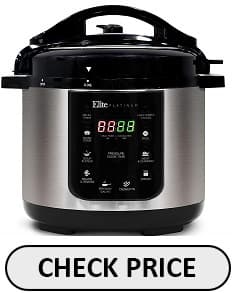 This electric pressure cooker has a very stylish design with a black and silver color combination. It has nine easy to use preset menu functions. These functions allow you to use the cooker for slow cook, keep warm, soup & stew, brown/sauté, beans & grains, steam, desserts, rice, and meat & chicken. So, these preset menus reduce the time of cooking by 70%.
There is a 24-hour delay timer that allows you for delayed cooking. Compared to other stovetop pressure cookers, this programmable pressure cooker is quieter in operation. And, within less time, it can easily cook a sufficient quantity of meals.
The smooth surface of the non-stick pot is easy to clean and maintain. The 4-quart capacity is enough for serving food for 3-4 people along with leftovers.
Key Features
Stainless steel housing
Dual-layer thermal exterior
Removable non-stick inner pot
Safety lid with vent
9 preset menus
Digital display cooking functions
24 Hour delay timer
Auto Keep warm function for up to 10 hours
Buyers Feedback
The Good
Durable construction
Menus functions are easy to use
Easy to clean
Decreases time for cooking
Super-silent operation
3. Sabichi 168139 Stainless Steel Electric Pot Multi-Function Slow Cooker, 3.5 Litre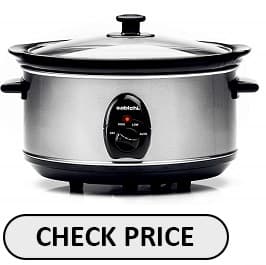 Simplify the cooking process using this automatic electric pressure cooker from the brand Sabichi. This multi-functional slow cooker makes use of a slow cooking mechanism. It lets you perfectly prepare tasty meals from the convenience of your home. The slow cooking is the perfect way to cook delicious, homemade meals full of nutrition.
Throughout the cooking process, there are no hassles. You can fill up the inner pot with your preferred ingredients and allow it to cook. Thus, you can easily and efficiently prepare meals for breakfast, lunch, and dinner.
This 3 liters electric pressure cooker is perfect for a small family. There is a removable, dishwasher safe ceramic bowl present inside. On the top, a tempered glass lid is available. This lid is easy to open and close. It makes sure the excess pressure is not built up inside. Sabichi includes three cooking functions –low, auto, and high.
With the use of high-quality stainless steel in the body, this cooker unit is made durable. In less time and with minimal efforts, you can prepare tasty dishes with it. It works great for preparing soups, stews, rice, curries, etc. You can also cook different types of vegetables inside.
Key Features
Stainless steel construction
Tempered glass lid
Removable ceramic bowl
Bowl is dishwasher safe
Includes 3 cooking functions: low, high, and auto
Buyers Feedback
The Good
Allows addition of the right amount of ingredients
You can make many different recipes
Build quality is outstanding making the appliance durable
Retains taste and flavor of food
Easy to transport
Saves energy
Final Words
Well, the digital cookers we have covered above are from top-rated brands and are surely be the great buy for you. These 3 liters Electric pressure cooker will occupy less space in your kitchen and cooks quickly. Also, they do not consume much time and energy. So, you can cook a lot of Indian recipes with a delicious taste in an efficient way.
Buy Related Products
Haden 3.5L Slow Cooker/Electric Multi-Functio...
72%
Instant Pot Duo 7-in-1 Electric Pressure Cook...
10%
Bergner Elite Stainless Steel Slow Cooker 320...
31%
Bergner Elite Stainless Steel Slow Cooker 280...
29%
Crock-Pot Express Electric Pressure Cooker 12...
46%
Mealthy MultiPot 9-in-1 Programmable Electric...
31%