Microwave ovens have become an essential part of our lives. But with so many models on the market, which should you choose? And how do you know which features are gimmicks and which are worthwhile? With so many different models to choose from, it's important to do your research to find the best microwave oven for your needs. That's why we've reviewed over 50 different models to find the best microwave oven on the Indian market today. We've combed through the mountains of options, tested dozens of the most popular appliances, and have compiled all the necessary information in one convenient source.
The article will help you not only to select your best microwave oven, but also to understand what matters most when it comes to choosing one according to our buying guide.
Key Takeaways
Here is the TL;DR version of this entire article.
Out of all models our team tested, we find Samsung MC28M6036CB is best in all fronts with latest features and from a well-known brand. In case you are a home baker and need a bigger microwave oven, we recommend LG MJEN326SF for the best baking experience.
The right microwave oven depends upon several factors like size, capacity, power usage, type, and warranty. Make sure to check all of them carefully when choosing one.
Best Microwave Ovens (Quick List)
Best Microwave Ovens (Reviews)
1. Samsung 28 L Convection Microwave Oven (MC28M6036CB)
Best Microwave Oven Overall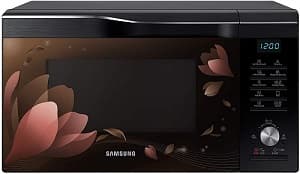 Samsung is one of the best brands delivering their outstanding products of home appliances assuring quality and performance. This Samsung Convection Microwave Oven is designed with a Slim Fry technology that allows you to opt for healthier food options without having to deep fry the food. Let's take a glimpse at its smart features that will make it an outstanding purchase in every manner.
Key Features
It is designed with a Slim Fry technology that allows you to cook food with only a touch of oil. It provides warm air circulation that makes the food crispy (without deep frying). Hence, no oil splatters or greasy pans!
With its revolutionary Hotblast Technology, the unit blows hot air through several air holes directly onto the food you are cooking. Thus, it speeds up the cooking process and results in tender and crunchy outside and juicy inside.
It has a built-in Fermentation function that makes use of fermentation technology to set the accurate temperature. Thus, you can make homemade yogurt, dough, and other delicious fresh meals.
It comes with an Auto Cook Menu that provides you with the exact duration of how long you should microwave something. Thus, the food comes out neither too hot nor too cold. You just need to set what you are cooking and how much – and it will do the job for you. It is already pre-designed for what settings to use.
It is designed with a Ceramic Enamel Cavity that gives you a holistic cooking experience. It is extremely easy to clean, hygienic, durable, and 99.9% bacteria-free.
Specifications
Capacity: 28 L
Power Output: 900 W
Warranty: 1 Year Complete + 4 Years additional warranty on Magnetron
Included Components: Microwave, Turntable, Crusty Plate, Wire Rack and Manual
Dimension and Weight: 46.3 x 51.7 x 31 Centimeters; 17 kg 900 g
Pros
Value for money
Easy to use and clean
Durable and flexible
Hygienic
Hot blast feature
Easy operation
High quality of material
Affordable
Scratch resistance
No discoloration
Less use of oil
Cons
2. LG 32 L Charcoal Convection Microwave Oven (MJEN326SF)
Best Microwave Oven for Baking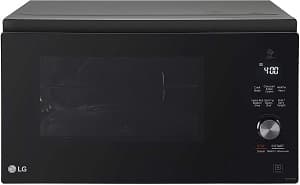 Next up, our runner-up pick from the brand LG is a decent addition to your kitchen. The Charcoal Convection Microwave Oven stands out to be the best for baking purposes (especially for baking cake). It's an all-in-one Microwave that provides premium quality material, smooth finishing, and assured durability. Furthermore, with multiple impressive features at a budget-friendly price, you may get the best out of it.
Key Features
It is designed with a charcoal lighting heater which helps maintain the natural flavors and spices. This keeps the food juicy on the inside yet crunchy on the outside.
It comes with a Healthy Heart Auto Cook Menu certified by the heart care foundation of India. This prevents the occurrence of heart diseases or other ailments – and gives you a healthier lifestyle.
The Auto Cook Menu is very easy to use – choose the dish you want to cook, press 'start', and you're done.
It has a 360 degrees Motorized Rotisserie that provide easy barbecuing at home. Make crunchy and delicious dishes in one touch!
One of the best feature that you will surely appreciate is its roti maker function. Pressing a button lets you cook different types of breads like lachha paratha, tandoori roti, missi roti, etc. very easily.
With this microwave oven, you can make organic ghee in just 12 minutes (with no smell).
It is made from a stainless steel cavity that allows better reflection and uniform heating (to prevent over baking or under baking).
It gives you an incredible cooking experience and helps you save time and energy.
It has a diet fry technology that allows you to prepare food with very little oil.
Specifications
Capacity: 32 L
Power Output: 900 W
Warranty: 1 year on product and 4 years on Magnetron
Included Components: 1 unit of machine, 1 unit of drain hose, 1 unit OT hose, 1 unit of QRG, 1 unit of user manual
Dimension and Weight: 64 x 60 x 85 cm; 81 Kg
Pros
Minimalistic design
Powerful and energy-efficient
Corrosion-resistant
Easy to use and clean
Cons
3. Panasonic 27L Convection Microwave Oven (NN-CT645BFDG)
Best Microwave Oven for Pizza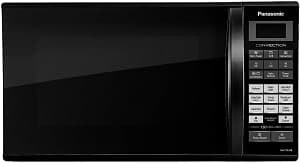 Belonging to one of the most reputed brands Panasonic, our next pick is worth purchasing for those looking for a microwave oven at an affordable price. Panasonic boasts to be a brand that ensures incredible craftsmanship and provides amazing quality material.
This microwave oven helps you cook healthy meals without compromising on the taste, texture, or nutrients. This, however, is the best for making pizza at home.
Key Features
It uses unique Japanese technology that allows you to cook delicious food and enjoy real flavors without compromising on the taste, texture, and nutritional value.
With auto-designed time and modes, it reheats the food in a matter of a few minutes. It heats the food so well even the leftovers taste fresh.
It reduces the prep time and provides hassle-free defrosting. No more waiting! You can defrost veggies, meat, bread, fruits, fish at just the click of a button.
It comes with an Auto Cook Menu – you can choose from a variety of options and surprise your dear ones by preparing chef-like cuisines.
It has a pre-installed recipe feature, temperature settings, and preset cooking time that makes it consumer-driven and user-friendly.
It is powered by dual grills (top and back) that increase the temperature and allows efficient (and faster) cooking. Moreover, it comes with an airtight seal that prevents the heat from escaping – which makes the food crispy outside and juicy inside.
It has a 27L capacity which makes it suitable for families with 4 to 5 members; it has 900 wattage power – which promotes even cooking – and provides faster results.
Specifications
Capacity: 27 L
Power Output: 900 W
Warranty: 1 year on product, 4 years on magnetron
Included Components: Microwave, High low rack, Glass tray, User manual, Warranty card, Roller ring
Dimension and Weight: 51.3 x 42.7 x 30.5 cm; 20.39 Kg
Pros
Two way (dual) heating
Durable construction
Hassle-free defrosting
Demo and installation services available
1-year warranty
Cons
Vapour gets collected inside
No child lock feature
4. IFB 20 L Grill Microwave Oven (20PG4S)
Best Microwave oven for Grill (Grilled Chicken)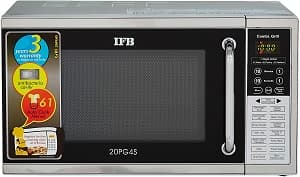 The next product in our list of the best microwave ovens comes from the house of IFB. It's the most suitable appliance for grilling purposes. The IFB microwave oven comes with a lot of amenities, making it worth the money you spent. Let's take a look at some of its features right away.
Key Features
It comes with a steam clean feature – which helps remove grease and oil (using steam) from your microwave in a few minutes.
It has an auto-defrost option which makes defrosting a cakewalk.
It comes with an auto-switch OFF feature that shuts down the device when the temperatures get too high. Thus, ensuring overheating protection.
It has a double grill mode option which distributes the heat evenly in all corners in minutes—ideal for grilling kebabs or tandoori chicken.
It comes with a 20L Capacity – which is best for small families and bachelors.
The brand provides a starter kit with this product
It offers 61 standard auto-cook meal options and other special features, such as weight defrost, steam clean, auto reheat and deodorize, multi-stage, and so on.
Specifications
Capacity: 20 L
Power Output: 800 W
Warranty: 1 Year On Product And 3 Years On Magnetron
Included Components: 1 Microwave Oven, Warranty Card, User Manual and Starter Kit
Dimension and Weight: 45.2 x 26.2 x 36.5 cm; 9.9 kg
Pros
Prompt and efficient
Budget-friendly
Easy to use, clean, and maintain
1 Year Warranty
Cons
Makes a loud humming noise sometimes
5. Samsung 23 L Solo Microwave Oven (MS23F301TAK/TL)
Best microwave oven for cooking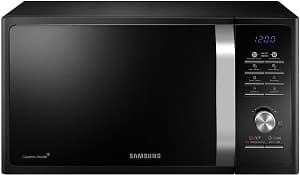 This Samsung Microwave with 23 liters capacity is our next pick that again has impressive features and performance. It is made from a durable, premium quality material with a stylish design. This oven stands out to be the best for cooking purposes (solely). It is energy-efficient and offers long-lasting performance. Some of its smart features include:
Key Features
The outer body of this microwave is made from high-quality, sturdy material construction that improves its efficiency even during long durations of a power cut.
It has a stylish appearance that fits in any style of kitchen. It comes with an elegantly curved handle that augments its exterior design – enhancing your home decor.
It can be used for defrosting, reheating, or cooking. The maximum cooking time is 99 minutes.
It comes with a Triple Distribution System (TDS) technology. This creative technology spreads the heat effectively – so that the food is cooked thoroughly, leaving no undercooked spots.
It has Ceramic Enamel Exterior Coating that offers easy cleaning of the outside and the inside. It also helps keep the microwave oven hygienic and free from bacteria.
It has an intuitive control panel with jog dials and tact buttons that are very easy to use for long-lasting performance. Besides, you can easily set the desired mode with just a click.
It comes with a child lock which ensures maximum safety of children.
Specifications
Capacity: 23 L
Power Output: 800 W
Warranty: 1 year comprehensive
Included Components: Microwave Oven, 1 Turn Table & 1 User Manual with Warranty Card
Dimension and Weight: 42.3 x 55.2 x 32.6 cm; 12 Kg
Pros
Stylish design
Triple distribution system technology
Energy-saving mode
Antibacterial protection
Durable and lightweight
Cons
No grill or convection feature available
It makes noise while starting
6. Whirlpool 31L Built-in Oven Combi Convection Microwave Oven (AMW 735)
Best Microwave Oven for Commercial Use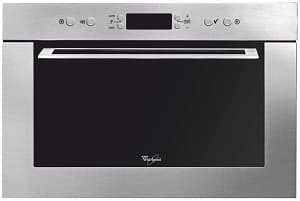 Whirlpool is one of the most reputed companies in India when it comes to kitchenware. This model from whirlpool comes as our next pick, not because of its sturdy construction but its amazing performance and durability. Even if you are passionate about style and elegance, the model is a perfect choice to go with. What makes it different from others on our list is its built-in design that can easily be stuck on your wall or fixed to your cupboard doors and saves your valuable countertop space. Thus, gives your kitchen a seamless, modern look.
Key Features
The capacity of 31 L is pretty enough for both home use or commercial use.
For faster results, browning, and even cooking, it uses three heat sources: grill, crisp plate, and microwaves.
It provides even microwave distribution (through two inlets inside the cavity).
It has 3D distribution technology that combines the reflection of microwave along with dual heat emission.
It has a crisp grill feature that ensures perfect crisping using grill heat.
The material is made up of high-quality stainless steel with an LCD digital display.
It also comes with a specially designed steamer vessel for quick and healthy steaming. Moreover, the pre-programmed settings offer perfect results in steaming.
Specifications
Capacity: 31 L
Power Output: 1000 W
Warranty: 1 Year
Included Components:
Dimension and Weight: 385 x 595 x 514 cm
Pros
Even heat distribution for perfect cooking
Very durable and sturdy
Crisp grill
Value for money
Cons
It makes noise while starting
7. IFB 30 L Convection Microwave Oven (30BRC2)
Best Microwave Oven for Elderly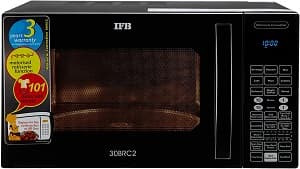 Our last pick for today is a convection microwave from the brand IFB -a perfect fit for elderly people. It uses a very simple technology – with no complicated dials or buttons. Here are some of its features:
Key Features
It comes with an energy-saving mode that reduces standby electricity consumption (with a touch of a button) to help you save on your power bills.
Other special features include an auto cook menu with multiple recipes, control panel lock, defrost, turntable, interior light, timer, and so on.
It is sensitive to touch as it comes with a built-in touch control panel that makes it easy to operate and clean.
It comes with a child lock safety – ensuring the absolute safety of your children.
It has1-year warranty on the product and three years on magnetron and cavity.
Specifications
Capacity: 30 L
Power Output: 900 W
Warranty: 1 year on product & 3 years on magnetron
Included Components: 1 Microwave Oven, Warranty Card, User Manual and Starter Kit
Dimension and Weight: 44 x 53.9 x 30 cm; 20.09 Kg
Pros
Looks very stylish
Sturdy and durable construction
Power saving
Decent capacity to cater medium to large families
Cons
You have to set the timer again if the power goes off
How to Choose the Best Microwave Oven? (Buying Guide)
Different Types of Microwave Oven (Which one is right for you?)
1. Solo Microwave Oven
These are the low-level or basic microwave ovens – that make use of electromagnetic radiation – specially designed to reheat food, cook noodles, and defrost frozen food.
Solo microwave ovens can be used for both domestic and commercial purposes. They are designed in such a way – that they use "Watts" to convert energy into heat – which helps to cook the food. They are the cheapest among all the three types.
2. Grill Microwave Oven
Grill microwave ovens are generally used to give the taste of grill to families without having to fire up an outdoor grill. They can perform everything a solo microwave does – grilling pizza, chicken, meats, and whatnot!
These ovens come with a special grill heater (comprising grilling coils) – which enhances the grilling mechanism. Grill microwave ovens are mostly used in pizza stores, sandwich stores, or in hotels and restaurants – to grill chicken and fish.
3. Convection Microwave Oven
A convection microwave oven is an all-inclusive oven. It comprises the features of both solo and grill microwave ovens. What's more, it has a baking feature as well. They make use of different heaters along with a fan (heater+fan combination) to cook, grill, even bake.
However, these microwave ovens use different techniques to cook food. The solo and grill oven use metal boxes to utilize "Watts" to cook food, whereas a convection oven pushes the heat into the oven – with the help of a fan – which makes it very suitable for a cooking environment.
Among the three types, convection microwave ovens are the best for residential use. Although they are a little bit on the pricier side, you won't regret a single penny you spent while purchasing it. It is an ALL-IN-ONE type – does the job of cooking, grilling, roasting, baking, heating equally well. And because of their small size and versatility, they are a perfect fit for small kitchens and apartments.
What to Look for Before Buying a Microwave Oven?
1. Size & Capacity
Microwave ovens come in various sizes starting from 15 l to 32 L (basic size) and above. Therefore, before purchasing the one, consider the space you have in your kitchen first. You may also consider your family size as well as your daily cooking needs to decide upon the right size of the microwave. Besides, make sure you check the capacity (power rating) of the oven. The higher the capacity, the less will be the cooking time. This helps you save time and energy. The size ranges of the microwave include:
| Family Size | Usage | Ideal Capacity |
| --- | --- | --- |
| 2-4 members | Solo Microwave Oven | 15-20 L |
| 2-4 members | Grill/Convection Microwave Oven | 21-30 L |
| 4-6 members | Solo Microwave Oven | 25-30 L |
| 4-6 members | Grill/Convection Microwave Oven | 32 L and above |
2. Power Consumption
Power consumption of the oven directly depends upon the capacity (power rating) and the size of the oven. Higher the size and power rating of the oven, the higher will be the energy usage. Normally, a small-sized oven consumes almost half the energy than the larger ones. Hence, it is always advisable to purchase a smaller-sized oven (if you have fewer family members).
3. Construction Material
Manufacturers are getting smarter day by day at making products that look more effective and attractive. Before purchasing the microwave oven, check all the parts of the product – whether the shiny stand is made up of hard metal or it's just a plastic frame with shiny finishing. If you find such casualties, it indicates that the company is trying to build a false image of the products. Therefore, checking the construction material is extremely important.
4. Power Levels
Power levels are commonly used to prevent over-cooking. There are five power levels – High, medium-high, medium, low, warm. Depending upon the model, every level serves a specific purpose. Therefore, before purchasing the oven, make sure you know what purpose you need the oven for. For example, High (100) percent power is suitable for boiling, browning, cooking ground meat, et al. On the other hand, Low (30) percent power is suitable for simmering, defrosting, etc. Moreover, power levels provide greater flexibility. They help you fine-tune or adapt your recipes effectively.
5. Wattage
When it comes to ovens, wattage is equivalent to power. Wattage signifies the functioning of your oven. The power output of most of the microwave oven falls between 600 to 1200 watts. Higher the wattage, the more efficient and faster the cooking time. For example, a 1000 wattage microwave oven will provide faster and efficient results rather than a 700 wattage appliance – which may not even cook the food properly. Therefore, always opt for the ones with higher wattage. You can even perform a "time-to-boil" test to estimate the wattage of the oven.
6. Control Panel Types
Ovens with digital panels help you in various ways. Generally, there are three types of Control Panels. Flat Control Panels. Breakfront Control Panels. And Console type Control Panels. They automatically turn off after the food is cooked – once you put on the timer mode. Moreover, they help you cook, re-heat, and bake efficiently. Consider checking such features before buying a microwave oven.
7. Ease of Use
Microwave ovens are used to make your cooking experience easy-peasy. Always prefer the ones with a convenient user interface and imperative design. It should provide easy adjustments and no complications whatsoever – when it comes down to handling the buttons and dials. Moreover, look for the display and see if the units are visible and easy to understand or not. Besides, make sure the oven you opt for is easier to maintain as well. Nowadays, companies provide ovens with control panels which make your job effortless.
8. Auto Cook Menu
This function is more than just helpful for amateur cooks. Auto Cook Menu changes your cooking game! It comes with numerous recipes to choose from. All you have to do is – set the timer, choose the dish you want to cook and press 'start.' Besides, they offer pre-programmed cooking times; you don't even need to set the power level (the sensor sets and maintains the power levels automatically from the steam as the food cooks).
9. Timer
The timer feature is perhaps the most significant of all features – when it comes to purchasing a microwave oven. Appliances with an auto-timer function are pre-programmed to Turn OFF and ON – to suit your needs. Moreover, the timer feature enables the device to switch OFF on itself when not in use. Thus, saving electricity. And if you tend to forget things – this feature in itself can be a damsel in distress for you. What if you put something on the gas and forget about it? Well, it can (literally) save your house from burning! Safety's first.
10. Keep Warm Feature
The keep warm feature is again necessary to consider. When you are preparing many dishes together – this feature makes sure the temperature is maintained properly – and the food is not getting over-cooked. Thus, the food stays deliciously warm and fresh – and ready to serve. It keeps the food at serving temperature for up to 15 minutes.
11. Safety Features
Microwave Ovens are safe for daily use – but there are a few safety parameters – you need to consider first. Power outage warnings, auto shut OFF features, leakage, child lock, and so on.
Power outage warnings are important to consider. This feature will warn you – if there's low electricity or power failure in your area. You just need to switch it OFF, then. This, in turn, increases the longevity of the appliance – and prevents permanent failures or breakdown.
Besides, it might slip off your head to just switch OFF the appliance – once you are done cooking. In that case, if your microwave oven has an auto shut OFF feature, it would help prevent unnecessary damage. Plus, it would help you save on your energy bills.
Leakage prevention is again significant. Microwave ovens are categorized by a gas diode (a radiation-sensitive gas lamp) placed at the oven door. Gas leakage can seriously harm your device. Make sure your device has a leakage-prevention feature. Check for other safety measures as well- child lock safety, and so on.
12. Accessories
You need to consider buying certain accessories – before purchasing the oven itself. For example, get extra turntable plates, plate covers (to reheat the food without any lids or covers), microwave Tawa (to make chapatis and parathas), microwave oven gloves (to prevent your skin from burning), microwave crisper (to restore the taste and texture of food), baking tray (to bake cakes, brownies, and more), pasta cooker (to make pasta or spaghetti), egg maker, coffee maker, steam sterilizer, soup mug, potato bags, and so on.
13. Price
The price of the microwave oven depends upon its type, brand, as well as the features present in it. For instance:
The Solo Microwave Oven falls in the range of Rs 5000 to Rs 12,000 (price range vary according to capacity).
Grill Microwave ovens cost around Rs 5000 to Rs 15,000.
The Convection Microwave ovens are the expensive ones and falls in the price range of Rs 10000 to Rs 40,000.
We suggest you consider your budget first – choose what (exact) features you require – and then make the purchase accordingly. Keep in mind, the model you invest in must have all basic and necessary features for your day to day needs. If money is no bar for you, you can buy expensive models to experience the latest technology and get the best result from your microwave.
14. Warranty
The standard industry warranty range for a microwave oven is one year. There are no such issues with warranty assurance whatsoever. However, some companies offer a warranty range between 2 and 4 years. Extended warranties are always worth it – it saves you money in the long run. Thus, opt for products with a greater warranty period.
Advantages of using a Microwave Oven
Here are some useful advantages of a microwave oven:
Requires negligible time to heat food: As it has been discussed earlier, a microwave oven requires almost no time to cook food. The major phenomena behind this speedy cooking – is the vibration of the water molecules by the reflected microwaves. Generally, these waves have the potential to vibrate the water molecules about a million times per second. This produces faster results.
Taste and Nutrition remains the same: Due to the speedy cooking feature, the food doesn't lose the flavor – and retain its nutrition as well. Because the microwave oven uses water molecules to cook food – it has been approved by the Food Safety and Standards Authority of India (FSSAI) and the World Health Organisation (WHO).
Very easy to clean: One of the major advantages of a microwave oven is – it not only provides easy cleaning of the appliance but also the accessories. Even the cooking chambers can be cleaned effortlessly. And that's because microwave ovens only make the food hot – not the utensils (or accessories). It works in a way that – the food doesn't get stuck around the utensils, making the work easier. It can be easily washed without getting burnt.
Disadvantages of Microwave Oven
Here are a few disadvantages of using a Microwave Oven:
Uneven cooking can lead to food poisoning: Because of the standard wave pattern, there are possibilities of the formation of hot or cold spots (due to uneven cooking) – which can lead to food poisoning. However, the waves can only penetrate to 1.5 inches. Therefore, it is highly recommended to consider the shape and size of the food.
>Provides dry food: Aforesaid, microwaves make use of water molecules to cook food. This decreases the level of water, resulting in dry food. Hence, it is advisable to add extra water – to avoid the food from getting dry.
Deep Frying option is not available: Microwave ovens have almost every feature except for the deep frying mode. Although convection microwaves come with a Slim Fry Technology – that allows you to cook food with little oil. But again, since, deep frying option is not available – it's a disadvantage.
It may leak microwave radiation when damaged: Microwave radiation is harmful to human bodies. An oven can leak microwave radiation – when it gets damaged – which can be very hazardous to the health. Therefore, take necessary precautions for sure. Check the oven once every week – to make sure there's no leakage.
How does a Microwave Oven Work?
A device called magnetron works as the main source of production of microwaves in ovens.
The magnetron is a vacuum tube-like structure that allows the electrons to move in the same frequency as that of the microwaves. This results in the emission of microwaves.
The emitted microwaves make their way through the waveguide and reach the cooking chamber.
The stirrers (located at the top of the cooking chamber) enables the microwaves to spread equally in all directions.
Microwaves get reflected by the material coated within the oven.
Then the reflected waves penetrate the food and allow the water molecules to vibrate.
Since water is a dipolar substance, the microwaves generate friction by vibrating the water molecules.
There will be the production of heat in the food due to the friction in water molecules.
At last, the food gets struck by the water molecule's oscillation but not by the microwave radiation.
Safety Tips to Follow while Using a Microwave Oven
Here are some safety tips which you should follow while using a microwave oven:
Always use microwave-safe utensils and containers.
Wear protective gloves which deal with microwaves.
Follow the microwave instructions guided on the package.
Use a food thermometer to check the temperature of the food.
Always use potholders while removing something from the microwave.
Mix the food well for a minute or two before tasting it – so that the heat can distribute evenly.
Be careful while opening the container of the popcorn bag – so that the steam evades away from your hand.
Microwave Ovens Frequently Asked Questions (FAQs)
1. What are the best microwave oven brands in India?

The best microwave oven brands in India are Samsung, Godrej, IFB, Panasonic, LG, and Whirlpool.

2. How do I know what size microwave to buy?

Before purchasing any microwave oven, consider the space you have in your kitchen first. This can easily help you understand the proper size of oven you should buy for yourself. Medium-sized ovens are generally appropriate for small families, apartments, or RVs.

3. How should I clean the microwave oven?

To clean your microwave oven, do not spray any chemical as that might leach into the food (and cause food poisoning). Just clean it with a mixture of soap and water. Add lemon to remove stubborn stains.

4. Can I bake in a solo microwave?

No, a solo microwave oven is not meant for baking purposes. Always opt for a convection microwave oven for baking purposes.

5. Do microwave ovens remove the nutrients of food?

No, microwave ovens do not affect the flavour and nutrients of the food unless you overcook it. Due to its fast cooking feature, the flavour and nutrients of the food remain the same.

6. What are inverter microwaves?

Inverter microwave ovens are almost the same as the standard microwave ovens. The only difference is – in inverter microwaves, power is supplied through the inverter circuit. With the help of these microwaves, you can braise, poach, even steam more delicate food (all in less time).

7. Can you roast meat in a convection microwave oven?

Yes, you can roast meat in a convection microwave oven. Just keep a few things in mind while handling convection ovens – it cooks food faster as compared to the normal ones (due to the even heat distribution technology). Thus, you have to keep your eyes on it – and reduce the temperature by 25 degrees F – or else the meat may get overcooked.

8. Is it bad to run a microwave when it is empty?

It may not be bad but it can cause some damage to the magnetron. Though the glass turntable (or glass-ceramic floor) together may absorb the microwave energy, there are chances that the energy might reflect back to the magnetron. This in turn can damage your appliance and reduce its efficiency.

9. What is the difference between a microwave oven and a toaster oven?

Toaster ovens are used to heat up the whole inside air of the chamber (while cooking food) whereas microwave ovens only focus on heating up the air around the food. This is the main reason why a microwave oven cooks faster than a toaster oven.

10. How long does a microwave oven last?

The average lifespan of a microwave oven is about 7 years. However, it may last more than 7 years – if used and maintained properly. On the other hand, heavy use and poor maintenance may reduce its lifespan.
Conclusion
That's all! We hope the above-listed reviews and guide will be beneficial to you – and will help you make the best choice according to your requirements. We have covered everything you need – down to the last detail.
As per our personal recommendation, you may consider purchasing our top pick: Samsung 28 L Convection microwave oven, which is the best in terms of price, durability, and performance. Our second recommendation would be: LG 32 L charcoal convection microwave oven, which is best for baking purposes.
Let us know if you have any questions or suggestions in the comment section down below. We'd love to hear from you!
Read Related Reviews
Buy Microwave Ovens Online
Panasonic 20L Solo Microwave Oven (NN-ST26JMF...
Samsung 23 L Grill Microwave Oven (MG23A3515A...
27%
Samsung 21L, Convection Microwave Oven with T...
19%
Whirlpool 20 L Solo Microwave Oven (MAGICOOK ...
22%
IFB 25 L Solo Microwave Oven (25PM2S, Silver)
1%
LG 20 L Grill Microwave Oven (MH2044DB, Black...
12%
AGARO Marvel 9 Liters Oven Toaster Griller,Ca...
43%
IFB 20 Litre Solo Microwave Oven (20PM-MEC2) ...
19%