For every new moms, who have just skipped from breast feeding to bottle feeding, a Baby Bottle Sterilizer is the most beneficial product. So, if you have a baby in your house, then this article is undoubtedly for you!
Looking after babies is a real challenge because they are sensitive to even the most modest issues. Thereby special measures must be applied for looking after them as they also have weaker immunity compared to an adult.
As you all know cleaning and maintaining hygiene to the feeding bottles is very important. Using a baby bottle sterilizer is the best way to clean all the germs and bacteria, from the feeding bottle. It makes your little one absolutely safe from any kind of infection from these germs and bacteria.
So, here we are, to talk about the minute details that you need to keep in mind while purchasing such best baby bottle sterilizers. Better, you must go through our Comprehensive Buying Guide to make an informed purchase decision.
We have also created a list of best baby bottle sterilizers in India that you can get right away and certainly have the best results with.
9 Best Baby Bottle Sterilizers in India
Best Baby Bottle Sterilizer Reviews
Now have a look on the in-depth reviews of the above listed models of electric steam sterilizers to pick the one of your preferred choice.
1. Philips Avent Advanced SCF291/00 Bottle Sterilizer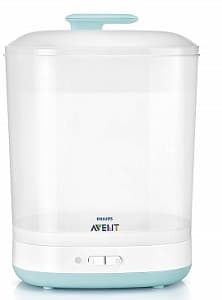 Our top pick includes a great product from the house of Philips! It is probably one of their best steam sterilizers and also one of the best baby bottle sterilizers available in the market today. If it comes from Philips, then you don't have to worry about the quality of the product as you are going to get the best thing.
You are surely not going to get disappointed by this product. It will undoubtedly help the mothers out there in the best possible way! The most attractive feature of this product is the modular design that makes it easy to clean without any hassle. It is probably the best-designed sterilizer available in the market.
The sterilizer comes with a 99.99% germ clearance guarantee and is thereby wholly safe to use for your baby. The machine makes use of natural steam sterilization process to achieve this level of safety and thus is a safe option for everyone. The sterilized bottles are safe from germs for 24 hours if they are kept inside the compartment.
The product also has a two-year replacement warranty, which is a desirable offer for the buyers. It may be a bit expensive in comparison to other sterilizers in the list. Still, Philips Avent Sterilizer is one of the best products in the market right now, and the price is completely justified if you look at the reviews given by the customers.
Key Features
The product has a modular design
Makes use of natural steam sterilization process
Sleek design for better storage and ease of use
Comes with a two-year replacement warranty
Sterilizes the bottles in a matter of minutes
10 minutes sterilization cycle
Sterilize six bottles in one go
Sterilization effective for up to 24 hours
Pros
Exceptional Modular design
Attractive warranty offer
Easy to store
Easy to clean
Cons
2. LuvLap Joy Electric Steam Sterilizer
Another big name that comes to mind when talking about baby care products is LuvLap. They have been one of the best sellers in the market recently, and you get to have the best quality if you opt for their products. This electric steam sterilizer will surely leave you surprised!
The sterilizer can be used simultaneously for six bottles and can also adjust wide neck bottles in the compartment. You can also place food containers to warm up food for your baby. It is probably the best multipurpose product that you can purchase in the market today!
The product also warms up food and bottles evenly, so you don't have to worry about hot spots. Also, you can use it as an egg boiler, which is an added advantage. The sterilizer action of the product kills 99.99% germs and makes the bottles entirely safe for your baby. It comes with a transparent lid so that you can view the contents inside.
The sterilizer has a LED display and various temperature settings that will provide you with the best results and is very easy to use. You also get to have a measuring cup, tongs, and other accessories with the product. So it is one of the best for value sterilizers that you can get.
The product has a minimalistic design and is easy to store, which is a high point since some of these products can be very bulky.
Key Features
4-in-1 sterilizes baby bottles, warms milk and baby food, steams food and boils eggs
8 minutes sterilization cycle
Easy to use
LED display with sound indicator
Auto shut off
Comes with accessories that other brands lack
Can sterilize six bottles at once
Transparent lid for easy viewing inside
Pros
Multi-functional utility makes it a decent choice
Affordable price
Safe and easy to use
Easy to store
Cons
Couldn't pause the operation when started
3. TruMom USA Electric Steam Sterilizer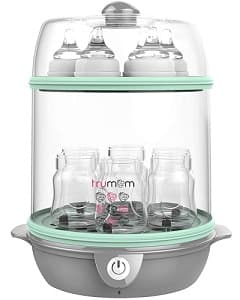 A relatively new name in the market of sterilizers is TruMom, which is an American company. The company has been known for getting great reviews from the buyers and makes products that are known for their quality and affordable price. With this particular sterilizer, TruMom has again shown that they are one of the best!
The product makes use of electricity to provide the steam flow and sterilize the bottles. At once, the compartment can hold six bottles of any size. The product is known for its longevity and is durable for a very long time. It is an excellent option if you want something different in a baby bottle sterilizer.
The machine has an ergonomic design, which gives it an excellent handy look. It also has a durable built quality, which speaks a lot about the product. With so many multifunctional uses, it is an incredible product to have and will be a great addition to your baby care products in general!
Key Features
Ergonomic design provides a handy look
Durable built quality
Multifunctional usage; can be used as a food steamer too
9 min fast sterilization
One button operation
Sterilize 6 bottles at a time
High temperature steam sterilization
Pros
Best product for its price
Durable built quality
Very convenient to use
Easy to clean
Cons
4. Chicco 2 in 1 Sterilizer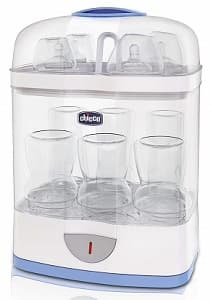 Chicco is a relatively costlier brand that comes in mind when thinking about baby bottle sterilizers. The brand is known for its incredible customer service and exceptional built quality. It is undoubtedly one of those brands where you get to have the return for the money that you invest.
The sterilizers provide a quick and easy method for cleaning baby bottles and gets the job done pretty well. The product can eliminate almost 99.99% of germs and bacteria present on the bottle and keeps them clean for the next 24 hours when kept inside the lid.
It also comes with an automatic safety stop, which automatically switches off the machine when the sterilization process is over. This is a wonderful feature to have if you tend to forget things. The compartment is big enough to fit most of the baby bottles available in the market.
Chicco is one of the best baby care brands in the world with an experience of over 60 years, and their product is known for its exceptional built quality. The company makes no mistake with the design of this sterilizer, as well as it is one of the best-looking products in the business right now.
Key Features
Kills 99.9% germs and bacteria
Keeps bottle sterilized for up to 24 hours
Comes with an automatic safety stop feature
High-level build quality
Impeccable design
Offers choice for two different configurations: compact and full size
Pros
Sleek and attractive design
Great built quality
Excellent reviews from buyers
Very easy to use
Cons
5. Fisher-Price Electric Bottle Sterilizer
Fisher-Price is again a well-known brand that offers amazing quality products. So, this bottle sterilizer is one of those affordable options that you can opt for. The products made by them haven't sold many units, but the reviews have been reasonably good about them. The company makes some decent baby bottle sterilizers.
This particular product from Morisons has been performing well in the market recently, and the reviews have been decent about it. It can store six bottles in the compartment, which is a fair plus point because several sterilizers store less and cost a lot more than this.
It also comes with an auto switch-off feature, which adds to the safety of the product. The sterilization process is quick and easy and can be done within 10 minutes, which is quite impressive. There is also a feature that allows you to have full thermostatic control. All of this makes it a great choice as a sterilizer.
The only down point about the product is its design. The body isn't a lot durable, and also the design is quite bulky, which can make it a bit unattractive for some of the buyers.
Key Features
Capacity to hold 6 bottles at a time
Auto switch feature
Quick sterilization process of 10 minutes
Provides full thermostatic control
Includes tong for easy handling
One Dial Control for easy operation
Pros
Decent reviews from buyers
Very affordable
Easy and safe to use
Cons
6. Pigeon 6 Bottle Steam Sterilizer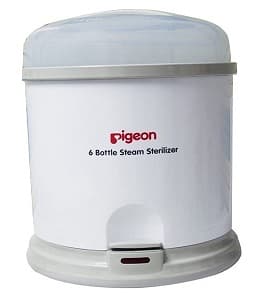 Another sterilizer with many more excellent features comes from the company known as Pigeon. Their products have excellent design and durable built quality that provide longevity to the products they make. Pigeon makes some of the best baby bottle sterilizers that you can buy online.
Just like some other sterilizers in the list, this one from Pigeon can clean six bottles at once. It has a longer sterilization time in comparison to others and takes about 16 minutes to complete the process. Bit it completely assures 99.9% removal of germs and bacteria from the feeding bottle.
There comes a power on indicator on the unit when the machine is in the operation. As for your convenience, the unit also comes with automatic switch off feature. So, the machine shuts off automatically when the sterilization process gets over.
The design is minimalistic but tough that makes the sterilizer feel like new for more extended periods. Even more, the cleaning of the unit is also very easy, as you can easily disassemble the parts of this sterilizer.
Key Features
16-minute sterilization cycle
Can sterilize six bottles at once
Minimalistic but tough design
Energy-saving unit
Automatic power-on indicator
24 hours sterilization effect
Auto switch off
Pros
Tough Design
Sturdy built quality
Easy to use
Easy to clean
Cons
Average customer reviews
Expensive
7. Adore Baby Bottle Microwave Steam Sterilizer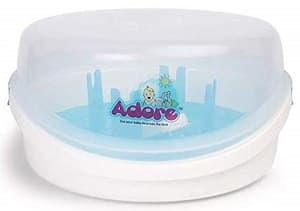 If you are looking not to spend much on a baby bottle sterilizer, then this product from Adore is the one for you. It will provide you with a quick sterilization process using microwave steaming without burning a hole in your pocket. It has also received exceptional reviews from the customers and is one of the best small size baby bottle sterilizers.
The sterilizer can store four bottles at once and has a rapid sterilization process that does the work in 6-8 minutes. With its compact design and easy to use functionality, this is like a dream come true product for a lot of buyers.
The most striking feature of the product is its affordable price tag, making it one of the best deals that you can have!
Key Features
Rapid Sterilization Cycle
Exceptional Customer reviews
Can store four bottles at once
Compact design
24 hours sterilization effect
BPA-free plastic construction
Dishwasher safe
Pros
Good quality sterilizer
Big enough to handle a day's capacity of feeding bottles, caps, nipples etc.
Very easy to use in microwave
Easy to store
Very affordable
Great customer reviews
Cons
Not ideal for big sized bottles
8. Mee Mee 3 in 1 Steam Sterilizer, Bottle and Food Warmer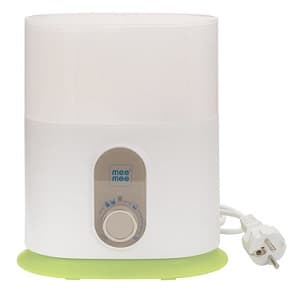 We have another 3 in 1 baby bottle sterilizer here from a company known as Mee Mee. The customer reviews about this product has been average. But, the price of the sterilizer is an attractive point to look out for if budget is an issue for you.
This sterilizer can only store two bottles which is less comparatively but it gets the job done easily. So, for anyone who has only one kid at home, it would really be a nice purchase.
The design is a bit bulky so it might be a fuss to store it in the house. This sterilizer can also be used as food warmer as well. It justifies the price of the sterilizer and you can go for this if you want something for a lesser price.
Key Features
Sterilize two bottles at once
BPA-free material construction
Easily adjustable to three different sizes
Multi-functional appliance: sterilize bottle, warm milk and heat food
8-10 min sterilization cycle
Pros
Sturdy build quality
Cheaper than many sterilizers
Safe and easy to use
Sterilize bottle quickly
Cons
Can hold only two bottle at a time
Below average customer reviews
9. Dr. Brown's Natural Flow Microwave Steam Sterilizer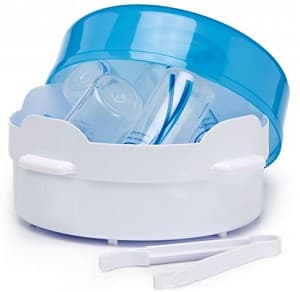 It is probably the highest-rated baby bottle sterilizer available on Amazon right now. With a five-star rating, this sterilizer from Dr. Brown's has received some excellent reviews from the buyers. Be it the affordable price or the exceptional design, and you can never go wrong with this product!
It is a microwave steam sterilizer that you can easily use if you have a microwave. Natural Flow sterilizer can fit four standard or full neck bottles in the compartment at once and sterilize them with ease.
The unit comes with a sterilizing tray where you can put the bottles for sterilization. This tray is also removable to ensure easy cleaning of it.
Though this particular product hasn't sold many units, the reviews have been excellent, and people have been fully satisfied with it. It is one of the best values for money sterilizer to buy.
Key Features
Microwave steam sterilizer
Comes in a unique design
Can sterilize four bottles at once
Comes with a sterilizing tray that is removable for easy cleaning
Includes a pair of tongs for easy removal of the sterilized bottles
Pros
Affordable price
Highly-Rated product
Very handy product
Works perfectly
Cons
How to Choose the Best Electric Steam Sterilizer? (The Buyers Guide)
As it has been pretty evident from our list, you get to have hundreds of options when you go out to purchase steam sterilizers. Thus, it becomes complicated to make the ideal choice because of the number of options you get to have.
There are dozens of products that come up in the same price range and also have almost similar features. In such a scenario, it becomes a challenging task for the buyers to choose that sterilizer that suits their needs. To tackle this problem for you, we have come up with this comprehensive buying guide.
This buying guide will provide you with those minute details that most of the buyers tend to ignore while making the final purchase. You need to keep these points in mind before you finalize any product as they will help you to get the best from the lot!
Also, the essential thing that you need to remember is that you purchase a sterilizer from trusted sources. Whether to buy it online or going to a shop, you need to get familiar with the reviews and then only make the decision for the purchase.
Why Choose a Baby Bottle Sterilizer?
Washing baby bottles with hot water and soap are not only sufficient to kill germs and bacteria from it. Even, most of us generally utilize the method of sterilization by boiling the feeding bottle in a vessel over the stovetop. But the process is a bit time consuming, and sometimes does not offer effective sterilization. The only plus point is that you don't need to spend extra.
Here, the modern baby bottle sterilizers are proving to be very beneficial, making the job pretty much easier. It fully takes care of your baby's health and safety. And it kills 99.9% of germs and bacteria from the bottle. The below section describes the complete benefits and drawbacks of using a baby bottle sterilizer.
Pros and Cons of Using Electric Steam Sterilizer
Pros
Very effective and convenient over the boiling method
Available in various versions that you can choose depending upon your convenience and budget
You can sterilize many bottles at a time
It can keep the bottle sterilized for up to 24 hours
Safe and easy to use
Some sterilizers come with accessories like tongs or tray to hold smaller items
Some can also dry and deodorize the feeding bottles
Cons
Expensive over the boiling method and microwave sterilizers
Pro Tips
Check the instruction manual carefully before use.
Always clean the baby bottle sterilizer properly after each use.
Quality of water is a very important aspect in cleaning the sterilizers. It is best to opt for filtered water for its cleaning to avoid scale build-up.
Also, clean the heating coil of the electric sterilizer using water and vinegar solution.
Different Types of Baby Bottle Sterilizer
1. Electric Steam Sterilizers
Electric steam sterilizers make use of steam for the cleaning process and work on electricity. These are the most common types of sterilizers that you would find in the market. As they make no use of chemicals, this is one of the best ways to clean and sterilize bottles for your baby. The best part is that various models offer you the benefit of sterilizing more than one bottle at a time.
2. Microwave Sterilizer
Microwave sterilizer also works on steam power to sterilize the baby bottles. Here, you need to put the bottle in a bowl that is specifically designed to steam in the microwave.
These are the most affordable solution but do not provide the drying features like the electric steam sterilizers.
3. UV Sterilizers
UV sterilizers are the most modern methods for sterilizing baby feeding bottles. It makes use of ultraviolet light for the cleaning process. These are very light in weight and portable, making it an excellent choice for most of us.
These are also exceptional in their work and are very easy to use, unlike the steam sterilizers. But have a significant drawback that they can only be used to sterilize one bottle at a time.
4. Cold Water Sterilizer
These actually come in tablet form that you need to dissolve in cold water to form a sterilizing solution. This solution effectively kills germs and bacteria from the bottle. But keep in mind to change the solution every 24 hours.
Now for cold water sterilizing, you need to buy sterilizing units to immerse the bottle in that. Also, you can use a clean bucket or plastic container with a lid.
How to Use Electric Steam Sterilizer
Before starting to use the sterilizer, first clean the baby feeding bottle and other accessories with warm and soapy water.
Now add water in the sterilizer up to that level recommended in the manual. It is better to use distilled water, though some models can work with tap water too.
Now place the bottles upside-down as per the recommended capacity. Some models can hold six bottles at a time, and some can hold more.
Place the nipples, nipple rings, and caps inside the sterilizer with enough spacing while keeping their face down.
Cover the machine securely and turn it on for sterilization. Different models have different processing time, while most units finish the process in ten minutes.
When the process is over, remove the bottles out of it and let it dry completely. Some advanced models can also dry and deodorize the bottles.
Things to Consider Before Buying a Baby Bottle/Electric Steam Sterilizer
1. Price
The cost of the product is the first thing that you need to keep in mind before making the final decision. There are so many options you get to have, and some of them might be attractive, but the best way to sort them is to categorize them based on their price. It will make the work much easier for you.
You need to finalize a budget and the maximum amount that you are willing to spend on such a product. Then according to that, start finding the ideal product for yourself. Doing this is going to help you in several ways and will also help in making the choice that is best for you and your wallet.
There are several baby bottle sterilizers available that do not justify their price and are not good for the money. In order to be safe from those, you need to study the products well and choose only the ones that are within your budget.
Also, sterilizers with many accessories or additional features tend to be costlier than the ones which do not have them. Thereby you should only go for such accessories that you need and save a lot of money there as well.
Well, the quality sterilizers range from Rs 1500-Rs 5000. You can choose depending upon the feature requirements and your budget preferences.
2. Durability
Once you have decided upon the budget, the next important thing is the built quality of the sterilizer. It is something you can see and examine yourself when you have the product in hand because a durable and sturdy machine has that gripping and robust feel to it, which is easily recognizable.
A machine that has a poor built quality is cheaper, but it won't last long, and the investment is a futile one. Such products can be hazardous to the user because there are chances of getting an electric shock because of the poor quality of the sterilizer body and lose connections.
You need to make sure that the machine feels right and is durable at every point. Durability also ensures that if the sterilizer falls, not much damage happens to it because of the sturdy design. Cheap sterilizers would crumble upon as soon as it would have an impact with the ground. Keep the durability point in mind to get the best sterilizer for your baby.
3. Capacity of the Sterilizer
The capacity of the sterilizer shows how much bottle it can hold for sterilizing in one batch. So, before choosing a sterilizer, you must first consider how much bottles you need in one day.
It is an essential factor to consider if you have many babies at home and need to have several bottles to be cleaned all at once.
The typical range for the number of bottles is from 2-8, with the most common being six as this is the average standard followed by most of the sterilizers. If you have 2-3 babies at home, then opting for a sterilizer with six bottle capacity is the ideal choice for you.
If you have lesser or more babies, then you can choose the capacity based upon your convenience as there are a wide range of products available. Our recommendation would be to opt for a 4-6 bottle capacity sterilizer as it would be more than enough for most of the buyers.
4. Size
Size matters a lot. Baby bottle sterilizers are available in variant size and shapes. So, before considering the suitable size option, you may think for some more important things.
The first is your storage space. Depending upon the space where you want to keep the sterilizer, you may choose from smaller sized, mid-sized or large sterilizers.
Second thing, you may consider, is the number of bottles you need to sterilize at a time. Then, you can choose the sterilizer with the capacity ranging from 2-8 bottles, depending upon your requirement.
You may also consider that the wide-necked and wide-mouthed bottles take more space, therefore choose wisely.
The one that offers extra space for sterilizing extra accessories, not only bottle, is always a wise decision.
5. Sterilization Cycle
Based on their sizes and the motors' power, different sterilizers take a different amount of time to sterilize baby bottles. Ideally, it takes anywhere between 10-15 minutes for most of the sterilizers, and anything less or more than that is pretty rare, but some products do provide that as well.
There is a common misconception among the people that more time for the sterilization process equals better cleaning, but that is not the case for most of these products. The time taken solely depends on the size and the power of the motors. If the size is not large enough, then the process would take relatively lesser time.
Similar is the case with the power of the motors. A sterilizer with a powerful motor will be able to clean the bottles in lesser time. Several steam sterilizers take 6-8 minutes in cleaning baby bottles, which is exceptionally fast, but then they are also a bit expensive, so you need to invest wisely.
6. Portability
There might be times when you have to go out of time with your baby, and it then becomes challenging to carry large sterilizers. Thereby portability is an essential factor for those parents who travel with their babies a lot and want the utmost safety for them.
A baby bottle sterilizer with a sleek and compact design allows it to be easy to carry and very portable. Then you can take it wherever you want to and can quickly warm and clean the bottles for your baby. Since these products work on electricity, so there is no issue with the working as well.
Portability also allows you to store the sterilizer easily and without creating a fuss. It won't occupy a lot of storage space and can be easily made to use on a daily purpose.
7. Type of Sterilizer
One thing that most of the new buyers of baby bottle sterilizers are unaware is the fact that there are several types of sterilizers available in the market. Each of them has a different mechanism, and they follow a complete set of varying procedures in cleaning the bottles for your baby. We have already discussed above the different types of baby bottle sterilizers. But for specific purposes, you may choose accordingly. For eg,
For your home use, if you use more than one bottles everyday, then choosing a countertop electric steam sterilizer is a wise decision.
A portable UV sterilizer is a great option for traveling purposes.
Even, if you are in a search of something affordable and convenient, you can go for a microwave sterilizer.
8. Cleaning of the Sterilizer
To keep the sterilizer free from dust and germs, you need to clean the machine regularly. Now, some of these machines are relatively easy to clean because they have a simple design and are built in such a way that facilitates cleaning. Some even have modular design solely made for ease of usage and cleaning purposes.
On the other hand, some machines have intricate contours to reach, and thus it is tough to clean them thoroughly. It will allow more dust to settle, and there could be some issues with the sterilizer's functioning.
Therefore, you must invest in a machine that is easy to clean and gets the job done all within your budget.
9. Usability of the Sterilizer
There are several modes that you get with a sterilizer. Some of these can be a bit confusing for the mothers out there. They also tend to cost more in comparison to the ones that are relatively simple in their working.
Nonetheless, some of these modes and features can be highly useful if you know well how to operate them.
The auto-switch off feature and different modes prove to be very convenient. They are essential for the safety of the user and also of the machine. There are other features as well that make the working of the machine reasonably easy to understand are required for the proper functioning of the device.
Thereby you must go through the different modes of a sterilizer and choose the one that you understand well. Having a lot of complicated features will render them useless, and that will be heavy on your pocket.
10. Drying Ability
Once the sterilization process is complete, most of the bottles have moisture on their surfaces because of the steam. Electric sterilizers mostly make use of steam for the procedure. Thus, it is pretty evident that there will be moisture left on the bottles, and then you have to dry them with a clean cloth.
But various advanced models also come with the drying and deodorizing feature as well. You can consider purchasing them as they will keep you at ease, and you won't have to work a lot in cleaning the bottles again.
11. Convenient Accessories
Other than the unit, the extra pair of accessories make it more convenient to use. So, before buying a sterilizer, if you get the following accessories with it, it will surely be a great deal.
Accessory tray
Tongs for lifting the sterilized bottles
Bottle brushes for internal cleaning of the bottle
Bottle and sippy cups, etc.
12. Extra Features to Look For
Timer feature to let you know that the sterilizaton process is over
Limescale control water filter
Auto sterilize feature
Alarm signal to notify you that the sterilizer is hot
Auto dryer for quick drying of the bottles and accessories
Deodorize feature
As it is pretty evident from the list, several baby bottle sterilizers come with lots of accessories and features. These features and accessories are pretty useful, but you also have to pay significant money for the same. More elements equal to more investment.
You need to fully understand the features of the machine and then finally decide whether you want to invest your money in that machine or not. The essential purpose of the device is to sterilize and clean bottles. Anything else is an add on; thereby, you must consider the features well before making the final decision.
Safety Tips to Follow While using an Electric Sterilizer
Lock the cover or door of the machine securely before turning the machine on.
Many models come with safety interlock features to prevent the release of high-pressure steam, but not all. So, you need to be very careful about that.
Avoid touching the models that lack the heat-shield feature while it is in operation.
Use heat-resistant gloves to remove the bottle and accessories from the unit.
Never keep anything inflammable near the sterilizer unit.
How to clean Baby Bottle Sterilizer?
One of the essential queries that most of the parents have is how to clean the baby bottle sterilizer. It is something that you are using for your baby, thereby, and it must be kept clean at all times to ensure safety and no spread of germs.
There are several ways you can clean and look after your sterilizer. We are going to share with you the most fundamental procedure here. Follow the steps given below –
Firstly, you need to separate all the parts of the sterilizer and keep them aside to clean them separately.
You can use a paper towel or a dry cloth for cleaning the base of the sterilizer.
Now pour some amount of vinegar in the base of the sterilizer and let it settle there for 5-10 minutes or depending upon how dirty the bottom seems to be.
Pour out the vinegar from the base of the sterilizer.
Now you can either take a scrubber or a toothbrush to scrub off the bottom of the base. It will clean out any sludge that might be present there.
Now use a damp cloth to wipe off the base.
You can clean the container of the sterilizer by scrubbing it in water and getting all the dirt cleaned.
Let the parts dry, and then you can assemble the sterilizer for future use.
Maintenance Tips for Baby Bottle Sterilizer
We have already told you how you can clean your sterilizer and keep it safe from dirt. Now for maintaining the longevity of the machine, there are certain things that you need to know. Let us talk about those as well.
Since a sterilizer is an electrical appliance, you need to take special care in operating it.
A power surge can damage the internal wiring of the motor and can cause severe damage to the sterilizer. Avoid using the sterilizer during voltage fluctuations. It will ensure the safety of your machine.
Try to keep the sterilizer in a dry place so that there is no issue with the wiring and the internal working of the machine. These devices are very susceptible to damage if there is moisture around them.
Also, get your sterilizer fixed if there is an issue because that can hamper the sterilization process. You need to make sure that your baby gets to have the best!
Baby Bottle Sterilizer FAQ's
1. How long does a sterilization cycle last?

A typical sterilization cycle takes about 10-15 minutes on an average. It may take more or less time depending upon the size of the baby bottle sterilizer and the power of the motor in the sterilizer.

2. Can we use plastic bottles in the sterilizer?

Yes, plastic bottles are the ones that are most frequently used in these machines, and they are safe to be cleaned by them.

3. How much electricity does a baby bottle sterilizer consume?

A sterilizer is a small machine that has a small motor and also gets the job done pretty quickly; thereby, it won't consume a lot of electricity.

4. How long are bottles safe to use after sterilization?

If you keep the bottles in the sterilizers, you can use them anytime within 24 hours. Twenty-four hours is the average time for most of the sterilizers. It may vary a bit for different machines.

5. To what extent are sterilizers able to clean bottles?

Most of the sterilizers can remove 99.99% germs and bacteria from the bottles within 10-15 minutes. Thereby they get the job done well.

6. Do the bottles need to clean after the sterilization process?

You may have to wipe the bottles with a clean and dry cloth to wipe off the water droplets. The only thing to keep in mind while doing this is that you need to use a dry and clean towel. You can also make use of a microwave sterilizer as they have excellent drying ability.

7. How often should baby bottles be sterilized?

Usually, you can sterilize the bottle once every day, but for keeping your baby on the safer side, you should clean them after each use. It will ensure that your baby is safe from germs and bacteria at all times.

8. How long should I continue sterilizing baby bottles?

You should keep sterilizing them as long as your baby feeds on these bottles. Typically, this lasts about 6-8 months. It depends on how long you are feeding your baby using bottles.

9. Can pacifiers be cleaned in such sterilizers?

Yes, pacifiers and other baby accessories can be sterilized in these machines as well, just like the bottles and food containers. Some sterilizers even have individual holders in their compartment that are explicitly designed for this purpose.

10. Is it necessary to use six bottles in a six-bottle sterilizer?

No, you can use anywhere between 6 or fewer bottles depending upon your need.
Conclusion
That's all on our ultimate research on best baby bottle sterilizers in India. A baby bottle sterilizer is a highly essential product to have if you have babies at home. It ensures the safety and protects you, child, from germs and bacteria. They are also a quick and easy way of cleaning bottles, which generally take a lot of time and effort. They also provide excellent results that cannot be achieved manually.
Our recommendation would be the Philips Avent 2-in-1 Electric Steam Sterilizer because of its fantastic design and excellent built quality. If you are looking for an affordable option, then Adore Baby Bottle Microwave Steam Sterilizer is the one for you.
We hope that through this detailed discussion, we have been able to provide you with the information that you needed, and now it would be easy for you to buy a sterilizer!
Still if you feel anything is missing, please do write us in the below comment section.
Read Related Reviews
Buy Streilizer Online
UV Sterilizer Box with USB Charging, Ultravio...
80%
Sirona Rechargeable Menstrual Cup UV Steriliz...
29%
Reliefto® UV Sterilizer Cabinet.The Room Tem...
37%
Eliante 8w UVC Sterilizer Sanitizer Tube with...
43%
UV Sterilizer Box+2Bulbs Professional Home Ap...
49%
Flix (Beetel) Uv Sanitizer 10W Qi Wireless Ch...
76%
Dhanuka Global Smart Phone Sanitizer | Cell P...
32%
PetzLifeWorld Aquarium UV Light | UV Steriliz...
42%