A bowl of homemade fresh, crunchy, and crispy popcorns is one of the best snacks ever, either you are watching the movie in your home theater or having it with a cup of tea or coffee. And when it comes to making popcorns at home, this exactly is not a rocket science for you. Gone are the days when people were using prepackaged and unhealthy popcorns. With the Microwave Popcorn Poppers, you are now able to make fresh, healthy and delicious popcorns with total ease.
Since different variants of popcorn makers are available in the market, microwave popcorn poppers are the easiest and most effective way to make popcorns at home. Even the microwave popcorn poppers are the very cost effective options than its other variants. So, welcome to the blog which is all about the latest microwave popcorn poppers and their reviews for your best pick.
Check these posts also
Nowadays, we are more concerned about our health and love to eat oil-free food to stay healthy and fit. And when it comes to Popcorns, whether cooked in oil or without oil, it is the most delicious snack ever. Microwave popcorn poppers play a great role in popping the popcorns with or without oil and butter in a matter of minutes. Thus, proving to be a great as well as a healthier alternative for making popcorns effortlessly.
What is a Microwave Popcorn Maker and how it works?
Microwave popcorn poppers, unlike the electric popcorn makers, come in a bowl-shaped design with the well-vented lids to cover. These popcorn makers are used in a microwave to pop up the corn kernels for a perfect bowl full of popcorns. These are made up of silicone and other microwave-safe materials that you can safely use in your microwave for the delicious and crunchy popcorns in few minutes only. All you need to add the corn kernels in the microwave popcorn popper, cover it with the lid, and microwave it for 3-5 minutes only. And done. Your delicious crunchy snack is ready.
Features of a Microwave Popcorn Maker
Offers the fluffy and crunchy popcorn
Leaves only a few of the kernels unpopped or burnt
Easy to use and clean
Makes quality popcorn in a faster manner
Flexibility to add other ingredients like salt, butter, and other seasonings too accordingly
The silicone poppers are 100% BPA free that makes it a healthier alternative for prolonged usage
If you are using borosilicate glass microwave popcorn maker, it is another great option for healthy and safe usage
Our top picks of Microwave Popcorn Poppers
Now, when it comes to choosing the best microwave popcorn poppers to use at home, it comes in two variants that we have already discussed above. The Silicone Microwave Popcorn Maker and the Borosilicate Glass Microwave Popcorn Maker. Both of them come with their own significance and features, and it is very easy to use them. So let's have a look on our top picks of microwave popcorn makers that combines both silicone and borosilicate poppers.
Best Microwave Popcorn Popers Reviews
In this section, we have described in detail, the review of each model of microwave popcorn poppers we have picked. In terms of ease of usage and convenience, size, design, and functionality, all the models are up to the mark. So have a look at the detailed review to get your favorite pick.
1. Lekue Microwave Popcorn Popper/Popcorn Maker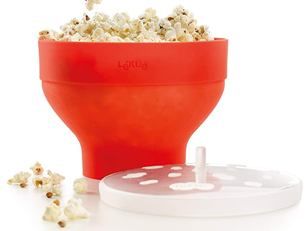 With its innovative design and features, the Lekue Microwave Popcorn Popper comes in the top of our list. The vibrant red color and the size of this popcorn maker make it really an ideal choice to prepare popcorn for your family as well as for gatherings. This bowl-shaped microwave popcorn popper is made of BPA-free platinum silicone and requires no oil or butter at all. It also comes with a suction lid that does not make the popcorn to overflow from the bowl while popping. And the best is its collapsible design that makes it easy to store in your kitchen.
Key Features
Innovative design
Made of BPA-free platinum silicone
Collapsible design for easy storage
Easy to clean
Large capacity
The suction lid keeps the popcorn from overflowing the bowl
Buyers Feedback
The Good
Great quality BPA-Free material
It makes the popcorn nicely popped
You can add oil, spices, and butter directly to the bowl and also skip it for healthy snacking
Cleaning is a breeze with no smells at all
The collapsible feature makes it a really great for storage
Convenient and easy to use
2. The Original Salbree Microwave Popcorn Popper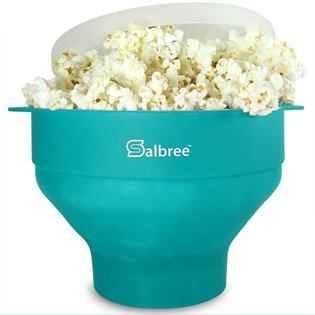 The second in our top picks is the Salbree Microwave Popcorn Popper that makes it really a joy for popping the popcorns. The best is its adorable and aesthetic appearance that adds a great style to your kitchen. It comes with a convenient and easy to grab handles enabling you to use it without hot-pads. With this silicone made microwave popcorn popper, you don't need to add oil to your popcorns and hence focuses on healthy using. Even you can add oil, salt, or butter, Make popcorn your way- it's your choice. The collapsible space saving design of this microwave popcorn maker is another great add-on for easy storage.
Key Features
Made of high-quality silicone
BPA-Free
Convenient handles for easy grabbing and safe transportation
Ecologically friendly
Easy to use and clean
Buyers Feedback
The Good
Good quality product
Pops a giant bowlful at a time
The quality of popcorn it delivers is also great
Perfectly popped popcorn without even using oil or butter
Only minimal kernels left unpopped
Very convenient to use
Easy to clean
The collapsible design is great for easy storage
3. Nordic Ware Microwave Popcorn Popper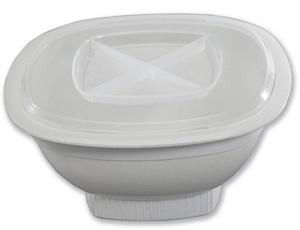 This microwave popcorn popper from Nordic Ware is surely be your favorite for making crispy and fluffy popcorns in the microwave. Within a matter of minutes, even with or without oil, you can effortlessly make your favorite snack. It has the capability to make 12 cups of popcorns in one go so that you can enjoy with your family. This bowl-shaped popcorn maker is made up of an unbreakable as well as high-temperature-friendly plastic with a lid included. Also, its compact size makes it easy to store in your kitchen.
Key Features
Made of an unbreakable and chip-proof cookware material
High-density plastic offers durability at high temperatures
Convenient lid prevents the spills
Popping bowl can also be used as a serving dish
12 cup capacity
Dishwasher safe
Buyers Feedback
The Good
Excellent quality product
Ideal for popping delicious popcorn with or without oil
Quick and easy popcorn, from your microwave
Capacity is pretty good for large servings
It pops the corn kernels leaving only a few kernels unpopped
Perfect popping every time
Easy to clean
4. OXO Good Grips Microwave Popcorn Popper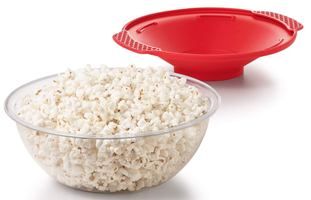 This is another easy and simple microwave popcorn maker for making healthier popcorn. Making healthy popcorns is now easier and quicker even without any mess with this popper. It comes with a stay cool handles and easy adjustments letting you customize your favorite snack the way you want. Its multi-functional lid secured closed for shaking ingredients and can also be used as serving bowl too. Also, it comes with the handy measurements markings that let you decide how much amount of kernels to use at a time.
Key Features
BPA-Free High-Quality Silicone
Stay cool handles featuring honeycomb pattern to dissipate heat
Measurement markings to fill the right amount of kernels
Base and bowl nest for compact storage
Capacity 10 cups
Angled walls for evenly popping
Buyers Feedback
The Good
Nice design and build quality
The top doubles as a bowl and there's a vent for steam to release on the silicon lid too, so no chance of burning
Convenient and easy to use
No need to add fats
Compact size for easy storage
Easy to clean
5. Ecolution Glass Microwave Popcorn Popper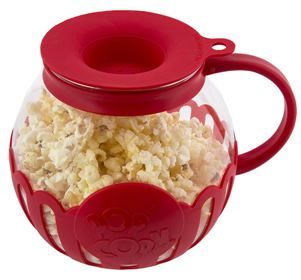 This microwave popcorn maker from Ecolution made with borosilicate glass in another best popcorn popping devices out there. It is designed with a temperature safe glass having a wide mouth that makes the preparation and serving easier. No need to add oil or butter for healthier popcorn, but you can add or melt butter while the corn is popping through its convenient silicone lid optionally. So, enjoy the safe, easy and fun way to make healthy popcorns whenever you want with this handy popcorn maker.
Key Features
Optimal design
Temperature safe borosilicate glass
100% BPA free
Dishwasher safe
Capacity 3 Quart
Buyers Feedback
The Good
Awesome build and classy design
No burning at all. Requires only 3 minutes to pop kernels perfectly
Convenient, easy and healthy way to make popcorns at home
Good capacity to pop in one go
Very easy clean up
If using butter or oil, it goes a long way and helps the salt stick
Related Items
JERN Microwave Popcorn Popper
30%
RIANZ Reusable Microwave Silicone Popcorn Pop...
51%
Ziaon Collapsible Silicone Microwave Hot Air ...
65%
Dhruheer Microwave Popcorn Popper - Silicone ...
25%
Femora Borosilicate Glass Microwave Safe Popc...
20%
Sevia Silicone Microwave Popcorn Maker Popcor...
46%