Popcorn Machines offer a great benefit in making the delicious, authentic, and crunchy popcorn from the comfort of your home with the utmost ease. Ranging from hot air poppers, microwave poppers, to stovetop poppers, there comes another variant Commercial Popcorn Machines to make the fluffiest and tasty snack. Commercial Popcorn Machines, also known as theater style popcorn makers gives you the flexibility to make a large amount of popcorn in one go.
Expolore more on Popcorn Makers
Even all the variants of popcorn makers come with their own benefits; none can offer the special flavor like commercial popcorn machines. The machine can do its magic in making the most flavorful popcorn in an effortless way.
Commercial Popcorn Machines are mostly found in movie theaters, multiplexes, carnivals, picnic spots, etc. Even there comes the theater style popcorn maker serving the purpose of popcorn making for your home theater, large gatherings, and parties that you can easily use at your home.
What is a Commercial Popcorn Machine?
The commercial popcorn machines, also known as Movie Theater Style Popcorn Maker come in a box type design, made with the transparent glass material. Inside the box, there is a popping kettle and under it, there comes an electric heating element to keep the popcorn hot and crispy for a long time. A handle is also there that lets you easily spill out the inner contents in the bottom of the box. With its large doorway, the machine lets you scoop out the popcorn very easily.
With the colorful and eye-catching design, some are compact enough to place on your kitchen countertop, some come with the large stand units, while some have the cart type design. These machines are useful for both vending purposes as well as to treat your popcorn lover guests at your home.
So, whether you are a popcorn vendor, or want such a great popcorn maker for your home use, investing in a commercial popcorn machine or theater style popcorn maker is really ideal. The very best part of the commercial popcorn machines is that they come with high production capability, so great to serve large groups with these popcorn makers.
How does it work?
To get the most familiar taste and smell of popcorn, kettle style machines also known as theater-style popcorn maker is the best and ideal choice. What is especially best about these machines is that it preserve the flavor of the corn and lets you create the most authentic and flavorful popcorn?
The working mechanism of commercial popcorn machines or theater style popcorn makers is very simple. The corn kernels are popped in the kettle through the heating element beneath it. You just need to add the corn kernels, oil, butter, or any other flavor of your choice. There comes a mechanical stirring arm to move the unpopped kernels all around the kettle. The heating coil heats each corn piece very evenly while covering the popcorn with the right amount of oil and flavor.
To make the popcorn in commercial popcorn machines, the exact amount of heat is very much important for the perfect popping. For this, the machine comes with the control switches that are easy to operate. Now, when the kernels get popped, the loose lid will easily push in the upward direction to flow out the popcorn in the holding compartment. So, isn't it very simple? Of course Yes. Bring home the theater style popcorn makers and make tons of delicious popcorn effortless to share with your family and friends for an awesome movie night.
Pros and Cons of Theater Style Popcorn Makers
Pros
Delivers the most authentic flavor of popcorn rather than the other variants of popcorn makers
High Production Capability
Best for retail purposes as well as for home use
Make large batches of popcorn in one go
Built-in warming decks keep the popcorn extra hot
Popping is very fast
Easy to set up, use and clean
Cons
Expensive units
Needs a large space
As butter and oil is used in popcorn popping for extra flavor, therefore not delivers the healthier popcorn
Our Best Picks of Commercial Popcorn Machines/ Theater Style Popcorn Makers
Whether you are in the profession of popcorn selling or want a popcorn machine that comes with a high production capability for home use, our best picks of Commercial Popcorn Makers or Theater Style Popcorn Makers will surely help you in getting the right one. Equipped with the latest technology, sturdy built, premium quality and of course the ease of use and versatility, all the models are up to the mark. So, have a look on the list of our best picked commercial popcorn machines.
Best Commercial Popcorn Machines/ Theater Style Popcorn Makers Reviews
Now it's time for the detailed review of each model we have picked. The review is based on the features and specs and also the feedback of the buyers, so I am sure it's now pretty easy for you to make your best pick.
1. Great Northern Popcorn Black Foundation Popcorn Machine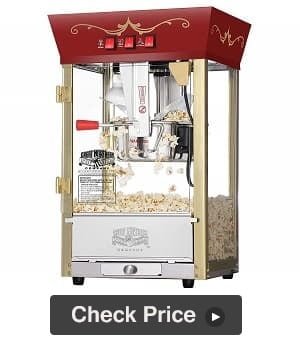 The Great Northern Theater Style Popcorn Popper can be simply described in just one word- Awesome. It combines the most authentic design with all the convenience of modern technology. The machine comes with inbuilt stainless steel food-zones, exclusive warming deck, tempered safety glass panels, and easy to clean 6-ounce stainless steel kettle. There are also old maid drawers to collect the un-popped kernels.
This machine is an ideal choice for the places with the large gathering like churches, varsity/PTA clubs, schools, and many others. Operating at 560 watts, this deluxe popcorn maker has the capability to pop around 2 gallons popcorn per batch. It also has 2 control switches- spotlight warmer and stirrer/pot heater for your convenience.
Key Features
Heavy-duty powder coated steel and stainless steel construction
Tempered safety glass panel
High Impact Polycarbonate doors
6 Ounce Kettle
Stainless steel food zones
Built-in warmer light
Old Maid drawers for unpopped kernel
2 control switches and 560 Watts
Whisper quiet motor
Warming deck
Makes roughly 2 gallons of popcorn per batch
Buyers Feedback
The Good
Strong and sturdy built
Super silent operation
Warming deck to keep popcorn warm and fresh
A bit wider machine, so it is easier not to burn yourself when pouring in the ingredients
The popcorn taste is really great
With the switch control options, it is easy to use this popcorn maker
Easy to clean
The Bad
No downsides for the product
2. Elite Deluxe EPM-200B Maxi-Matic Popcorn Popper Machine with Trolley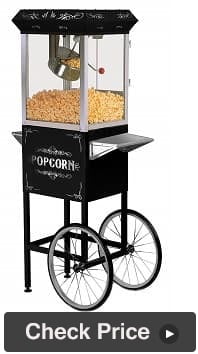 Something with the cart-super amazing design this commercial popcorn machine has. This is one of the best models from the brand Elite that is absolutely the centerpiece for all your parties and gatherings. An attractive black finish with see-through glass panels is really awesome. Featuring an 8-ounce aluminum kettle, this commercial popcorn maker can pop up to 3 gallons of popcorn per batch in just 5 minutes. So, a very good option for home use as well as commercial use.
The very best part is its warming feature that keeps your popcorn warm and fresh for a long time. Also, with its convenient 2-in-1 design, you can either use it as a tabletop machine or as a pushcart popping trolley.
Key Features
Makes up to 3 gallons of popcorn per batch
3 switches- Light, Heat, and Motor
Easy to clean detachable stainless steel 8-ounce popping kettle
Silver electroplated handrail and serving platform
18-inch silver anodized wheels, and stands at 5-feet tall
Bottom warmer to keep popcorn fresh and warm
Tempered glass windows and plexiglass door, kernel crumb tray, and popcorn supply storage cabinet
Buyers Feedback
The Good
Great machine with strong build
Easy to assemble and use
The nice storage compartment behind the door to store oil and popcorn
The popping kettle is very easy to remove to clean
The bottom tray also easily slides out making it convenient for picking up loose kernels that are unpopped
Works very well
The popper can also be removed from the cart to be a countertop model if needed
3. Elite Deluxe EPM-250 Maxi-Matic Classic Tabletop Kettle Popcorn Popper Machine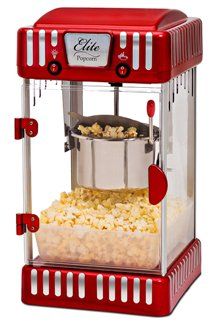 This another model of theater style popcorn maker from Elite resembles you the old classic retro style popcorn makers used in the theaters. It comes with the plexiglass doors and windows and an attractive candy apple red finish with silver inlays that gives it the most appealing look. This popcorn making machine has included a kettle having capacity of 2.5 oz, and with the 300 Watt power usage, it is capable to make up to 1 gallon of popcorn in one batch. So you can easily share with your friends and family without waiting for a long time for the mouthwatering popcorn. The machine also has the convenient removable tray for easy serving of popcorn.
Key Features
Traditional hot oil kettle popcorn maker
Makes up to 1 gallon of popcorn per batch
2.5 oz stainless steel kettle with built-in stirring system
Warming light to keep popcorn fresh and hot
Convenient removable popcorn tray collects the popcorn inside the machine and doubles as a serving tray
Includes measuring cup and spoon for easy measurement of kernels and oil
Buyers Feedback
The Good
Super nice and strong build quality
Operation is also a breeze
It pops really very quick
The compact footprint allows it to fit on a countertop or table easily
Cleaning of the kettle is also very easy
The heat lamp offers a tremendous help in keeping your popcorn crispy and delicious
This machine comes with a big removable tray that catches the popped corn that is really a big plus
The Bad
Cleaning of the base interior is somehow messy
4. West Bend 82515 Theater Style Popcorn Machine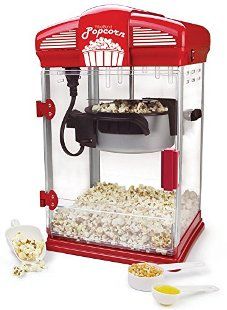 It is also another best theater style popcorn maker featuring modern conveniences for an amazing home theater experience. It comes with an eye-catching bright red cabinet with easy to clean plastic sidewalls as well as 2.5 oz removable stainless steel kettle. The unit requires no pre-heating and is capable to pop 4 quarts of tasty and delicious popcorn per batch. The popping kettle has the non-stick coating, a removable lid, and a motorized stir rod. This popcorn maker also has the kernel catch tray on to the base of the machine to catch the unpopped kernels for easy disposal. The On/Off switch equipped with the machine lets you operate it very easily with the perfectly popped kernels every time.
Key Features
Attractive and space saving
4-quart theater popcorn machine
No preheating needed
Non-stick coated kettle with the removable lid and stir rod
Tilt door makes serving simple
Attractive, durable, and easy to clean popper cabinet
Includes serving tray, measuring cup and serving scoop
Buyers Feedback
The Good
Assembly and operation is very easy
Build quality is awesome
Non-stick popping kettle tilts to dump popcorn and is removable for fast and easy cleaning
The small footprint makes owning this theater style popcorn maker convenient for everyone
Serving is very simple through its tilt door
Pops almost every kernel without burning
The Bad
The machine could be more user-friendly for cleaning purposes
5. Cuisinart CPM-28 Classic-Style Popcorn Maker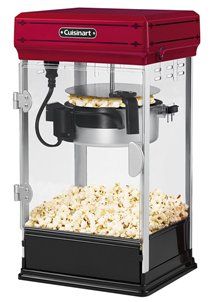 Perfect for home use as well as for commercial use, this classic style popcorn maker is yet another best pick in our list. Featuring the classic pivoting kettle and 500 Watts of power, this theater style popcorn maker pops up to 10 cups of popcorn in just 3 minutes. The aluminum kettle comes with the non-stick coating as well as tilt serving that is removable for easy cleaning. The machine also has the large vents to release steam that preserves the freshness and of the popcorn during storage. The stirring rod on the popcorn maker makes the oil distribution throughout the kernels very evenly and so letting the kernels popped very evenly as well.
Key Features
Makes 10 cups of popcorn
Door and nonstick kettle are removable for easy cleaning
Tilt-out door for easy serving
Kernel tray included to catch the unpopped kernels
No heat up time required
Mechanized spinner moves kernels to ensure even cooking
Includes popcorn scoop, kernel measuring cup, and oil measuring spoon
Buyers Feedback
The Good
Best authentic looking popcorn maker
Well made and sturdy
Works wonderfully
The motor is so quiet with a super silent operation
Pops very quick and fast
Easy to use and clean
It has a kernel catcher and an innovative kettle top. You can slide up the whole top while you fill which makes a super easy kettle filling
Related Items
Glan Reusable and Washable Theater Style Popc...
21%
Majik Theater Style Popcorn Tubs Bowl Plastic...
15%
Ekan Reusable and Washable Food Box Home Movi...
16%
Pelo Popcorn Containers for Home Set of 3 Reu...
15%
Fully Theater Style Popcorn Tubs Bowl Medium ...
21%
ThemeHouseParty® Theater Style Cartoon Print...
13%