Having a popcorn machine at your home lets you make the delicious, crunchy, and tasty popcorn anytime whenever you have the cravings for it. Whether it is the movie nights, evening snack, family fun, parties, and gatherings, popcorn makes your fun double. Stovetop Popcorn Makers, like Hot Air and Microwave Popcorn Makers, are yet another beautiful investment to make the fresh popcorn from the comfort of home. Even it is an economical option too for making your favorite snack.
Making popcorn on the stovetop is really a fun. It really feels a more hands-on approach to make the popcorn using stovetop popcorn makers. Also, it will get more exciting when you have a pot with glass lids. It lets you monitor the progress of the kernels while popping.
More option in popcorn makers
What is a Stovetop Popcorn Maker and how it works?
Stovetop popcorn makers, the name reveals that these devices are used for making popcorn on the stovetop. These are specifically made with stainless steel, some having the stainless steel lid, and some with the transparent glass lid. These stovetop popcorn makers you can easily use at your home for making large quantities of popcorn. Even it is also an ideal choice to use on an open fire during the camping or trips.
Now how it works-it is as simple as you think. Switch on your gas stove or induction cooktop and set it on a low heat. Place the Popcorn maker on it and add a little bit of oil to it. Then add the corn kernels, cover it with lid, and let it pop for 3-4 minutes. And Done. Cleaning of these cookwares is also super easy, you just need to wipe it with the paper towel.
Pros and Cons of Stovetop Popcorn Makers
Pros
Inexpensive
Can be used both on induction and gas stove
Produces popcorn very fast with a minimal amount of unpopped kernels
Makes a large amount of popcorn in one go
It gets hotter than other popcorn makers, so resulting in larger popped kernels
Easy to clean
Cons
No on/off switch is there. You have to monitor the pot during the popping process
Sometimes cause the kernels to be burned if the flame is high
Our Top Picks of Stovetop Popcorn Makers
If you are wondering to choose the best, our top picks of stovetop popcorn makers will really help you. We have picked the best of the best brands and models on the basis of their ease of use and convenience, reliability, versatility, and some other features. So have a look on our best picks.
Best Stovetop Popcorn Makers Reviews
Now let's have a look at the detailed review of each model separately to decide upon which one really suits your need. We have come with the specifications and buyers feedback for each model, so it will be convenient for you to make the best pick for a stovetop popcorn maker.
1. Whirley-Pop Stovetop Popcorn Popper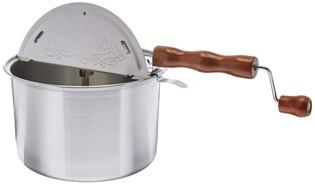 Get the mouthwatering flavor of hot and fresh popcorn with this stovetop popcorn maker from the brand Whirley. This simple and easy to use popcorn popper is really fun to make the crispy and crunchy popcorn in few minutes only. Whether it is the movie night, gatherings, parties or even a night with family, it makes every kernel popped to the perfection.
The capacity of this stovetop popcorn maker is also very good. You can make 6 quarts in one go in less than 3 minutes. With its patented stirring mechanism, no need to worry about sticking and burning of popcorn. It also comes with the wooden crank and handle that makes the handling of it very easy while making the popcorn. This aluminum stovetop popcorn maker also has the removable lid as well as quick release clips making the cleaning process a breeze.
And the plus point is that the Whirley popcorn popper comes with 3 popcorn popping kits including the fresh popping corns, buttery salt and gourmet popping oil-all you needed to create authentic and delicious theater style popcorn.
Key Features
Fast and Easy- Makes 6qts in less than 3 minutes
4 steam vents allowing steam to escape during popping for the tender and crispy popcorn
The patented stirring mechanism for every kernel to pop with perfection
Hardwood handle ensures the safety
Easy cleanup
Removable lid with quick release clips
Buyers Feedback
The Good
The ultimate popcorn popper with nice and sturdy built
Pops almost every kernel and no burned pieces
Super fast and easy to use
Capacity is pretty good for large gatherings and family functions
Flavor it delivers is really great
Cleaning is super easy
2. Wabash Valley Farms 25008 Whirley-Pop Stovetop Popcorn Popper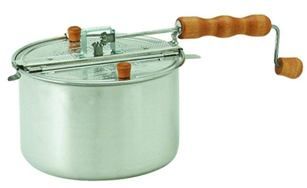 If you want the classic way of making popcorn at home, this one stovetop popcorn maker from Wabash Valley Farms is absolutely the best buy. This aluminum pan comes with the clip-on lid, stay cool handle, and stainless steel stirring system to make 6 quarts of delicious popcorn in one batch.
It has been designed with the patented stirring mechanism, so every kernel gets popped with the perfection. The lid of this popcorn maker comes with steam vents keeping your popcorn dry and crisp. And with the added bonus, this stovetop popcorn maker comes with all inclusive real theater popping kit, so you will surely go to discover the best popcorn with the fluffy goodness.
Key Features
6 Quarts capacity
Aluminum pan with wooden handle and stainless steel stirring system
Patented stirring mechanism to prevent burning and sticking
Easy clean up: Just wipe with the paper towel
Removable lid
Buyers Feedback
The Good
Awesome build quality
Delivers fluffy and perfectly popped kernels with few to no-unpopped kernels
Quick and easy
Super easy to clean
The taste and texture of the popcorn it delivers is really great
3. Zippy Pop Stovetop Popcorn Popper
This stovetop popcorn maker from Zippy, the third in our list brings a new popcorn making experience with fun. Not only to make the fluffy popcorn but also easy to make other homemade goodness like roasted nuts, or other snacks with this stovetop popcorn maker. It comes with the vented and tempered glass lid along with the crank handle enabling the full control on you whatever you are making. The vibrant red aluminum pot with non-stick interior prevents sticking and makes it easy to clean.
It uses very less oil and lets you control the ingredients, for healthier and happier snacking. And the very best feature is that its patented stirring tumbling mechanism lets you add seasoning and ingredients like chocolate, peanut butter, caramel, cheese, and more with the more even distribution.
Key Features
Premium aluminum pot with non-stick interior
Innovative tumbling mechanism
Tempered glass lid
Capacity 4 Quarts
Dishwasher safe
Create custom snack mixes by adding ingredients such as chocolate, caramel and more through the silicone covered flavor pot
Buyers Feedback
The Good
The most perfect popper with strong and sturdy built
The Teflon coating protects the corn from burning and sticking
Cleaning is very simple by wiping with a paper towel
The lid and turning device are heavy and of solid construction
4. Norpro Old Time Stovetop Popcorn Popper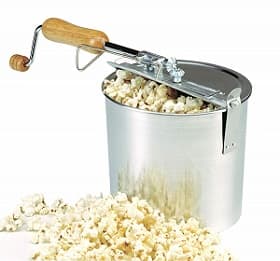 This non-rusting aluminum stovetop popcorn maker from Norpro having the capacity of 6 quarts delivers the tastiest popcorn to your family and friends. The pot has the aluminum bottom that provides even heat distribution while popping, so you can get only the perfect popcorn. Its wooden handle comes with the turning gear that lets you stir the kernels for even popping. What is extremely best is its super-easy cleaning.
Key Features
6 Quarts Capacity
Non-rusting aluminum pot
Aluminum layer bottom for even heat distribution
Wooden handle with turning gear
The lid has steam vents for keeping the popcorn crisp
Easy to pour
Induction compatible
Buyers Feedback
The Good
Well built
The thick aluminum bottom provides even heating
Very fast and quick popping
Delivers perfect popcorn leaving only a few kernels unpopped
The Bad
The pot is too heavy to maneuver, so it should come with handles on the pot
No dishwasher safe
5. Great Northern Stovetop Popcorn Popper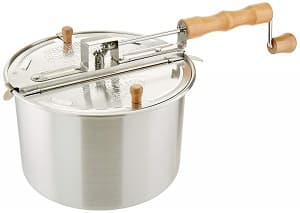 When it comes to choosing the best popcorn maker for your kitchen, this one stainless steel stovetop popcorn maker is yet another ideal choice. Make the delicious and Movie Theater like popcorn with ease in your kitchen with this stovetop popcorn maker. Featuring an innovative design, it allows the moisture to escape out while the popping process, so you can only get hot, crunchy, and delicious popcorn. With its innovative stirring handle, now no need to worry about burning of the popcorn. Just get the perfect popcorn after each batch. Also, the cleaning of it is so simple, so it is worth investing in it.
Key Features
Stainless steel stovetop popcorn maker
Duplex heat pad for even cooking
Make 5 quarts of popcorn in a few minutes
Vented lids to release moisture
Unique spinner stirring mechanism
Real wood handles and knobs
Easy cleanup
Buyers Feedback
The Good
Great quality product with an awesome built
The capacity of this popcorn maker is good
Easy to use and clean
No leftover and burned kernels
Delivers absolutely perfect kernels every single time
Related Items
Kwikbuy Mini Hot Air Popcorn Machine Sweet Po...
31%
divinezon Popcorn Popping and Snack Maker (Re...
43%
KORYO by Big Bazaar Popcorn Maker KPM1218PR
72%
EUROLINE EL-205 (Popcorn Maker) 50 g (Yellow)
33%
Jaipan JPMG0267 Smart Popcorn Maker (White)
54%
Trendz Forever TF-1720 900-Watt Electric Popc...
41%
Currently no product available, please check after some time.