A good smile speaks a lot, isn't it? But do you think, you will get it with a yellow teeth. Of course not. That's why a right toothbrush plays a very important role to keep your teeth shiny and away from plaque build up. The regular toothbrushes are no matter the best, but if I say that an Electric Toothbrush can do much more. Yes! its time to upgrade your classic toothbrush with a modern and best Electric Toothbrush.
As we all know, oral hygiene is very important, a powered toothbrush comes with many advanced features to maintain your pearl whites, and keep it healthy and sparkling.
You will find a huge range of technologically advanced electric toothbrushes in Indian market that will suit your oral hygiene needs to get the perfect results.
But which one suits your teeth and your oral problems is the main thing. When it comes to deciding the best toothbrush for receding gums, nothing is better than an electric toothbrush. In view of that, we have listed some popular Electric toothbrushes in India with their reviews along with a descriptive Buying Guide. This will help you out in finding yours.
Top 10 Best Electric Toothbrushes in India
Electric Toothbrushes
Special Features
Warranty
Philips Sonicare Electric Rechargeable Toothbrush
Read Review
Sonic technology
2-min timer
Two week battery life

2 Years
CHECK PRICE
Oral B Pro 600 Electric Rechargeable Toothbrush
Read Review
Superior 3-D cleaning action
Round brush head
Pro timer
2 Years
CHECK PRICE
Caresmith Spark Rechargeable Electric Toothbrush
Read Review
Sonic technology
6 cleaning modes
4 hours charge lasts up to 20 days
1 Year
CHECK PRICE
JSB HF129 Electric Toothbrush
Read Review
Sonic technology
3 cleaning modes
2-min timer
1 Year
CHECK PRICE
Oral B Vitality Rechargeable Toothbrush
Read Review
Superior 3-D cleaning action
Round brush head
Pro timer
2 Years
CHECK PRICE
Agaro Rex Sonic Electric Kids Toothbrush
Read Review
Sonic Technology
2-min smart timer
IPX 7 Water proof
Long lasting up to 21 days in one 4 hours charge
1 Year
CHECK PRICE
Philips HX3214/11 Electric Toothbrush
Read Review
Innovative Sonic Technology
Battery Life Up To 14 Days
2 Year
CHECK PRICE
Wurze 1901 Super Sonic Toothbrush
Read Review
5 Brushing modes
criss-cross bristles
Waterproof IPX7
2-mi smart timer
Long battery life
1 Year
CHECK PRICE
Agaro Cosmic Sonic Electric Toothbrush
Read Review
5 cleaning modes
Smart memory
IPX7 Waterproof
2-min auto shut off
1 Year
CHECK PRICE
Philips 4100 Rechargeable Electric Toothbrush
Read Review
Sonic technology
2-minute Timer
Brush head replacement reminder
2 Years
CHECK PRICE
Best Electric Toothbrush in India – Reviews
1. Philips Sonicare CleanCare+ Electric Rechargeable Toothbrush (Overall Best)

Oral hygiene can be easy and effortless with Philips Sonicare Clean Care plus Electric Rechargeable Toothbrush. This product is found best overall for better oral hygiene. Moreover, its outstanding quality and performance makes it a best buy product.
It has soft curvy and flexible bristles that can remove up to 3-times more plaque. The brush head fibers or the bristles is made of high-quality strands and has compactly packed fibers. Comparing to the manual toothbrush, its brush strokes weaken the plaque to pieces and clean it up exceptionally.
The toothbrush is featured with sonic technology that smoothly removes the debris or plaque from corners of the teeth as well.
To clean-up hard-to-reach areas of the oral cavity nothing is better than this product. It hardly takes 2 minutes to systematically brush your teeth. The SmartTimer signals of Phillips Sonicare indicate you earlier when your overall time is up.
This electric toothbrush also comes with a Click-on brush head system. The brush handle can be on and off with brush head click. It can also helpful for easy maintenance and cleaning.
If talking about the battery life, its capacity is good. It can lasts up to 14 days between charges that makes it comparably better than other electric toothbrushes.
Key Features
It is based on advanced sonic technology for effective removal of plaque or debris from your teeth
It can clean-up 3 times more plaque than a manual toothbrush
Smart-timer of 2 minutes
14 days fluent battery life limits the need for regular charging
2-Year Warranty all over the world
Easy start modes helps easy conversion
Pros
It gives you a day long fresh mouth.
The bristles of the toothbrush reaches the corners of the jaw and cleans 3-times more plaque.
Battery life is comparably better than others. It can last a week or more depending on the usage.
You will have a perfect clean up of your teeth with 2-minute preset timer.
Cons
The unit should be provided with more rapid charging adapter otherwise the battery capacity is good
2. Oral B Pro 600 Cross Action Electric Rechargeable Toothbrush (Runner Up)

Coming to the second choice of our search, Oral B Pro 600 Cross action has the entire key features, likewise the first product in our search list. It is the runner-up model for people who would like to buy a reliable electric toothbrush at a cost-effective price. It does almost the same for better oral hygiene like the previous one. So in case if you don't like our previous product, you can better invest in this one.
This toothbrush is based on advanced 3-D cleaning technology with criss-cross action. The proficient criss-cross action helps in reaching each tooth with the help of a brush head that surrounds at a 16-degree angle. The 3-D cleaning technique moves back and forth, pulsates, and turns around to crush the debris level and remove plaque completely.
Oral B Pro600 Cross action brings innovative brushing solutions to ensure you a cleaner and healthier oral cavity. Mostly, dentists recommend 2 minutes brushing for a healthier mouth cavity and its in-handle timer helps you carrying out the suggested brush timing.
The product is compatible with different toothbrush heads. It goes consistent with cross action, floss action, 3D white, precision clean, sensitive clean, dual clean, and trizone.
It also has rechargeable battery power and comes with a charging stand. The stand is simple in design and keeps the unit standing while charging. As an advisory, it is suggested to wipe the toothbrush handle once using to prevent stains on the handle.
Key Features
Clinically proven advanced 3-D cleaning action.
Criss-cross technology for better cleaning of teeth
2-minute timer
Soft bristles that remove up to 100% plaque
Dynamic movement helps you get better results
2-Years warranty
The pack includes: Single toothbrush head, Single toothbrush handle, charging slot with brush head storage
Pros
It is based on advanced technology that helps you achieve better results compared to any other brand.
The brush head can be replaceable and easily available if needed.
It comprises a charging stand, which is quite simple by design. The stand keeps the brush vertically while charging.
After every 30 sec, the timer buzzes or vibrates automatically. It basically alerts you to focus on another quadrant of the mouth.
This brush is very effective for oral care maintenance on a regular basis.
It cuts off your cost for dentist visits as well.
Cons
The design and finish of this model is a bit lower than other brands.
3. Caresmith Spark Rechargeable Electric Toothbrush (Best Budget Pick)

The exploration of the best toothbrush in less price range is not easy, but we did it for you. If you have a tight budget, but you would like to use the best in a less-price range, then this one will definitely suit your needs.
The Caresmith Spark electric rechargeable toothbrush is good for those who are first-time users and don't want to spend much on it. It has surprisingly great features, and the most shocking is its price.
The spark toothbrush is very light in weight and have a super slim design. Even aged people or children feel comfort to hold and use. Even, it comes in a soothing white color option with soft and smooth bristles. The bristles have a tooth-waved design that fits closely with the shape of your teeth. So, it provides a comfortable brushing experience & thorough cleaning.
This electric toothbrush is based on sonic technology and gives 30000 strokes per minute. Its vibrations provide a unique massage for your mouth, which increases blood flow extensively. Thus, it whitens your smile by reducing tobacco, tea, coffee stains significantly. Consistent use of this toothbrush reduces inflammation as well. Moreover, it has the ability to repeal gingivitis and periodontal pockets.
The model also has a 2-minute timer, and after every 30-sec quad interval, it reminds you to clean other parts of your mouth. For healthy and pink gums, you can rely on this electric toothbrush without spending too much penny for just a toothbrush.
Key Features
Two types of brush heads: medium and soft
Powerful battery backup
4 hours charging lasts for 20 days
Smart auto timer
The superior sonic motor provides 30000 strokes per minute
Package includes: 1 electric toothbrush handle, 1 charging cable, 1 user manual
Pros
The light design makes it easier to hold and use effortlessly for aged or children both.
Quad break of 30 sec take you back to clean other part of your mouth.
It stimulates saliva production. Saliva cleans the debris or food particles that stick to your teeth.
Cons
4. JSB HF129 Electric Toothbrush

Coming to the next one, JSB HF129 electric toothbrush is a very nice product for oral cleaning and is based on sonic technology. It gives 31000 vibrations per minute and cleans the teeth effectively. The sonic brush head vibrates and effectively removes the debris or stuck food particles between the teeth. This makes the product worth for the money and provides you an extensive cleaning experience.
The product offers three modes for deep teeth cleaning: clean, sensitive, and massage. These three different modes help in removing plaque and give sonic pro-clean advantage. The massage mode is very effective to rub-down the teeth and relax the gum line. Brushing with JSB HF129 also helps you throw out bad odor as well. Moreover, the waterproof design makes it very dynamic.
The toothbrush also has a 2-minute brushing reminder. To reach every corner of the mouth, it has a 30-second side switch indicator too.
Another best feature is its long-life lithium-ion rechargeable battery. So, you don't need to charge the battery frequently. There is an inductive charging with an LED indicator.
The pack includes three brush heads, which is worth the money. Once you purchased the product, you don't need to be bothered to get bristles even for a year. The only consequence of the product is its cost. It is rather costly in range for its features. But being made in India, the product is highly recommended.
Key Features
Lightweight and waterproof design
Based on sonic technology that gives your teeth the sonic pro-clean advantage
Cleans 10X better than a manual toothbrush
It gives 31000 vibrations per minute
Included with three brush heads
2-minute brushing reminder
30-second side switch indicator
Three cleaning modes: clean, sensitive, massage
Lithium-ion rechargeable battery with long battery backup
One year warranty
Pros
Three cleaning modes are very effective and functional. Clean mode for regular teeth, sensitive mode for gum massage, and massage mode for sensitive teeth.
Waterproof design
Fine grip to hold effortlessly.
No more teeth gums problems with JSB sonic electric toothbrush. An effective and gentle vibration makes teeth feel fresh.
Rechargeable battery with long battery backup
Cons
The product is really expensive, and the brush head is also costly.
Brush head needs to be changed after two or three months.
View on Amazon View on Flipkart
5. Oral B Vitality Criss-Cross Electric Rechargeable Toothbrush

If you are still doubtful about electric and manual toothbrushes, then you should give a try to Oral B Vitality 100 criss-cross electric toothbrush. All over the world, most dentists recommend using Oral B. And so, this criss-cross electric toothbrush helps you look out your oral cavity very effectively.
It smartly removes more plaque with 2 D cleaning action. While brushing, the cross-action bristles rotate at 16 degrees within each tooth and help in cleaning the plaque on your teeth.
Compared to standard manual toothbrush, it provides a thousand times more strokes in a minute. It gives 8000 movements per minute, and that is enough to clean food particles stuck between the teeth.
The toothbrush is also featured with a 2-minute timer for the best possible brush timing. It vibrates after 30 seconds to remind you to change the portion that's being cleaned.
The brush is also compatible with many brush heads. The adjusted brush heads are: Precision clean, Cross action, ortho care, Sensi ultra-thin, 3D white, Floss action, Trizone, Power tip, etc. So, you will get an intense and deep cleaning of your teeth. All the mentioned features makes this product a value for money. So exchange your manual toothbrush to Oral B criss-cross electric rechargeable toothbrush.
Key Features
2D cleaning action technology with an oscillatory and rotary movement
Circular brush head cups remove more plaque than the usual toothbrush
2-minute professional brush timer
Flexible bristles
30 seconds quad interval reminder
Pros
Flexible and criss-cross bristles of the brush help remove the plaque completely and clean them perfectly.
Battery backup is quite good and satisfactory. Once fully charged can run for a week, even used twice a day.
Bristles flexibility makes it adjustable as per the angle of the teeth.
Compatible with various brush heads: 3D white, Sensitive clean, Floss action, Cross action, Sensi Ultra thin, Trizone, power Tip, Precision clean, Ortho care.
The handle of the toothbrush is of good quality with excellent grip.
Cons
No battery or charging indicator
View on Amazon View on Flipkart
6. Agaro Rex Sonic Electric Kids Toothbrush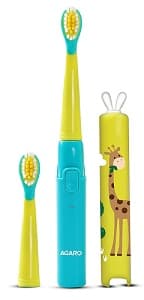 Kids never show their interest in brushing, and that's why taking care of their oral cavity is quite difficult. Based on ultrasonic technology, Agaro Rex electric toothbrush is a best choice for kids. It makes the 2-minute boring brushing process very enjoyable.
Talking about the style and design of the brush, then we must say it's fantastic. Kids love colors, and so this is available in beautiful yellow and green color.
It vibrates at a frequency of 28000 strokes per minute and provides thorough cleaning over regular toothbrushes. The ultrasonic movement and tooth-waved bristles make entire oral cleaning with the backside of the teeth easy and convenient. The three different modes help in improving oral health as well.
Moreover, the 2-minute smart timer encourages you to achieve the professional recommended brushing time. To maintain a healthy brushing habit, it reminds you to switch the cleaned corner to the unclean curve of the teeth with every 30 seconds quad interval. Except this, the toothbrush has color reminder bristles too. The blue indicator bristles will alert you to swap the brush head timely.
After some uses, the bristles get faded, and it lets you know when to replace the brush head. For easy replacement of brush head, you can simply turn it clockwise or counter clockwise to lock and unlock the brush head.
Being waterproof, the whole toothbrush can be rinsed with water, that ensures easy cleaning of it. Even, it can be used unstoppably for 21 days only after 4 hours of full charging. So, isn't it a great choice?
Key Features
Featured with ultrasonic technology generates 28000 strokes per minute
Three cleaning modes: Whitening, Soft, and Massage
Smart timer: 2-minute auto shut off
Alert you after every 30 sec to move to the next portion
Nylon DuPont heads
Long-lasting battery with USB recharge
Package includes: 2 changeable brush heads, 1 head cover, 1 protection cap, 1 USB charging cable
Pros
It gently cleans the teeth without much pressure.
DuPont brush head designed to go well with the landscape of teeth.
2 minute auto shut off gives effective cleaning in the best possible timing
Soft and flexible W tooth-waved bristles make the cleaning easy and convenient. It is getting painless and simple to gums and hard to reach areas.
The battery lasts up to 21 days only after 4 hours of full charging
Cons
Expensive than manual ones
7. Philips HX3214/11 SonicareCleancare + Electric Toothbrush

Give an experience of better oral cleaning to your mouth with Philips HX3214/11 Sonicare Electric toothbrush. Being clinically proven, the toothbrush reaches all over the mouth and removes three times more plaque.
The densely-packed high-quality bristle helps in better cleaning, and the specially curved power tip helps in brushing the hard-to-reach areas very efficiently. The product is featured with an Easy-start program that provides you with a steady and mild increase in brushing.
Rather than only cleaning, the toothbrush also comes with helpful timers. It basically lets you know to clean every portion of the mouth for its given time. After every 30 seconds, it beeps, and so you can change the portion to another one. The SmartTimer of 2-minutes notifies you for the professionally recommended 2 minutes of brushing.
The toothbrush is also featured with a click-on brush head system. With this on and off system, you can securely fit the brush handle. It is helpful for easy maintenance and cleaning. The battery life is excellent, and it can last up to 14 days between charges. Hence, make a cool breeze to your oral cavity with Philips HX3214/11 Sonicare Electric toothbrush.
Key Features
Advanced sonic technology
Professional level oral cleaning
Powerful brush stroke break up the plaque and clear it efficiently
Removes up to three times more plaque than a regular manual toothbrush
2-year warranty worldwide
The package comprises 1 main unit (Clean Care), 1 C1 ProResults brush head, 1 Charger
Waterproof, Smart timer and Easy-start program
Long-life battery backup lasts up to 14 days between charges
Pros
The toothbrush head reaches all over the mouth and cleans properly
Since the entire unit is waterproof. So, it is easy to clean and safe to use.
Quad pacer beep helps you to remind after every 30 seconds to change the cleaned portion to the unclean portion. It gives enough time to clean every portion of the mouth.
Cons
The package doesn't contain any extra brush heads.
Somehow costly comparing to manual ones.
8. Wurze 1901 Super Sonic Toothbrush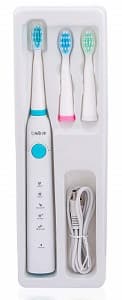 To cut off dental expenses, you should follow healthy habits for better oral solutions. Based on supersonic technology, Wurze 1901 electric toothbrush is good to buy.
Wurze 1901 electric toothbrush has a high-frequency stroke that provides 40000 vibrations per minute. It is actually ten times better than regular ones.
There are five brushing modes that improve gum health in an efficient way. The five different modes are Clean, Whitening, Polish, Massage, and Sensitive modes. It not only removes plaque deeply from the teeth but also gives a shine to your teeth. Massage mode helps in reducing oral health issues and protecting gum. Other than this, with the help of cleansing and whitening techniques, it polishes your teeth effectively and gives a natural shine.
It has a longer battery life that runs for 30 days constantly once fully charged. It's easy and harmless USB fast charging offers you different modes for multi charging. You can charge the device by connecting it with a car charger, phone charger, computer, or power bank.
Even more, the toothbrush is fully waterproof and can run under water as well. Nothing can be harmed after soaking it for up to 30 minutes. Moreover, it allows you to use it while bathing.
Key Features
Supersonic technology with a high frequency of 40,000 strokes/ min
Removes up to 99% plaque
DuPont Bristles, Pulsating head 5mm wide swing on the bristle for gum care and better cleaning
Long-term battery life, 30 days usage in 1 full charge
Lithium-ion batteries required
2-minute Smart timer with 30-sec quad interval
Pros
The product comes with two additional toothbrush heads, which is quite easy to replace.
Five brushing modes helps in improving gum health and prevents you from toothache and tooth decay.
Massage mode gently pampers the gum and protects the gum line.
Being waterproof, it allows you to use while taking shower.
Longer battery life
Cons
There is no way to find out when to replace the brush. It must come with an indicator.
View on Amazon View on Flipkart
9. Agaro Cosmic Sonic Electric Toothbrush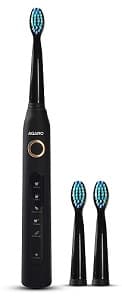 Do you want to check out dental problems without visiting a clinic? Daily usage of electric toothbrushes can cut off the cost for dental issues. Agaro Cosmic Electric toothbrush is one of the best products to deal with basic oral problems.
This electric toothbrush is derived from Advanced Sonic technology and generates 40000 strokes per minute. It is far better than manual brushing and cleans 90% plaque very effectively.
It has five cleaning modes, which are best to resolve toothache, staining, dirt removal, and many other oral problems. Whitening mode effectively removes tea, coffee, tobacco stains to whiten teeth. Clean mode provides incomparable cleaning day by day. Polish mode polishes and makes the teeth brighter after some usage. Sensitive and massage mode gently cleans the teeth and gums along with evenly massaging the gums.
The built-in 2-minute timer is another great feature that helps you achieve the dentist's recommended time. In addition, a 30 seconds interval pause reminds you to change the brushing area.
The product also allows the flexibility of easy brush head replacement. For effortless brush head replacement, simply turn it clockwise or counter-clockwise to tie up alternate brush heads.
Key Features
Advanced Sonic technology produces 40000 vibrations per minute
5 DuPont brush heads that fit with every portion of the teeth
Smart Timer, 2-minute auto shut off with 30-sec quad interval reminder
Smart memory for next use
Waterproof body
Three compatible brush heads
Five cleaning modes: cleaning, sensitive, whitening, polishing, and massage
One year warranty
Durable Battery life with USB recharge, ongoing battery up to 25 days after 4 hours charging
Pros
The W- shape Nylon bristles perfectly fit every shape of the teeth and flawlessly cleans hard-to-reach areas.
The USB charging cable is safe, fast, and long-term.
Good battery backup makes it travel friendly too. 4-hours full charging makes it lasts for 25 days. No need to worry about charging while traveling.
The bristles are soft and easy to clean after each use.
Cons
10. Philips Sonicare ProtectiveClean 4100 Rechargeable Electric Toothbrush
Phillips presents Sonicare protective clean rechargeable electric toothbrush. It seems more expensive than normal toothbrushes along with other popular brands as well. But for the features, the overall price is absolutely worth.
The product is anchored in Sonicare technology that effectively removes plaque. Brushing with Phillips feels like your teeth look much cleaner and shinier than regular brushing. The sleek black and white design doubles its glory.
Its soft and flexible bristles provide comfort to your teeth and gums. Maybe it took some time to get used to the vibrations because its sensation is so strong. All you need to be calm and bear the vibrations and pressure you apply to your gums and teeth. Let the toothbrush do its work. And you will get healthy and clean teeth.
The toothbrush has a pressure sensor and has a 2-minute Smart timer. A healthy brushing habit requires a 2-minute deep cleaning of teeth and gums and the Smart timer helps you to do so.
Philips Sonicare protective clean electric toothbrush also has a durable battery life and requires a lithium-ion battery. The best thing is that it encloses a small protective plastic cover to place your bristles or brush head after brushing.
Key Features
Derived from Sonicare technology
Effective Plaque removal
Rechargeable electric toothbrush
Pressure sensor
Durable battery life, Lithium-ion battery required
Pros
It protects your teeth from plaque and germs effectively.
Soft and flexible bristles give comfort while brushing.
Rechargeable battery with a pressure sensor.
Cons
Very expensive.
The vibration is so strong.
Electric Toothbrush Buying Guide
The electric toothbrush comes with various cleaning modes, and using it will effectively remove debris from foods. It may also help you in eliminating dental plaque and avoiding any source of infection in your oral cavity. Hence, while deciding on an electric toothbrush, it is very important to make out the variation, features, and expertise of the toothbrush. We have mentioned the entire information below to choose the right one:
Things to Consider While Buying the Best Electric Toothbrush
1. Brush Head
While picking a toothbrush, choose wisely the bristles. This is the most important thing which you can't ignore because the structure of these bristles decides the value and excellence of the toothbrush. The brush heads or the bristles are grouped into two types:
Round and Flat- These are suitable for oscillatory or motion featured brushes. The round and flat bristles swing in their own alignment and thoroughly clear the plaque from the tooth.
Criss Cross- The name already suggests its features. The bristles are set in a criss-cross manner that clearly helps in removing plaque between the teeth.
2. Movement Type
Aside from the bristles or the brush head, the type of movement is also very significant. Every movement has its own significance to beat oral problems. Some of the popular motion types are mentioned below:
Vibrating Movement- The toothbrush having vibrating movement vibrates on the teeth shell and removes the plaque easily. The electric toothbrush comes with a vibrating feature that is ideal for those who have problems with the brush that only revolves around the oral cavity.
Rotation- This type of brush spins in a circular motion, similarly as we do with manual toothbrush. If you want the same technique, you should prefer this type of electric toothbrush having rotation type motion.
Oscillatory- This type of movement will swing from side to side in a pendulum fashion. It will remove plaque easily and clean the teeth effortlessly. You can go with an oscillatory movement type toothbrush if your main concern is removing plaque between the teeth.
Oscillatory- Rotation- In this type of electric toothbrush, you may find oscillatory and rotation both types of motion in a single piece. The toothbrush moves backward and forward along with goes around in circular motion all at once. If you would like to take care of oral problems like gingivitis and plaque, then this type is just right to use.
Twin Head Toothbrush- This type of electric toothbrush cleans the teeth effectively by rotating and moving from one side to another. You should prefer this dual head toothbrush, if you are very dedicated to a dirt-free oral cavity.
3. Pressure Sensor
Excessive pressure while brushing can cause gum bleeding. That's why electric toothbrushes are associated with pressure sensors. If you have sensitive teeth, the toothbrushes having pressure sensors warms them if the applied pressure is extreme. You should prefer pressure sensor electric toothbrushes if you have sensitive oral cavities.
4. Speed
Electric toothbrushes are hundreds times faster than the manual brushes. Thus, you will get more effective clean-up in less time. Speed may vary with variable motion types. The electric toothbrushes which clean the teeth more rapidly are known as sonic or ultrasonic toothbrushes. Sonic toothbrushes are much more effective than regular electric toothbrushes. And so, these are costly too.
5. Timer
Dentists always recommend that 2 minutes of proper brushing can save you from many oral problems. But, most of the people couldn't follow the recommendation because of their busy morning schedules. It may lead to serious oral problems like plaque buildup and gingivitis. To beat this issue, electric toothbrushes come with a built-in timer that will automatically beep or shut off after a preset time duration.
6. Cleaning Modes
Tooth cleaning modes are also very important to consider before choosing an electric toothbrush. These have various cleaning modes, such as sensitive mode, cleaning mode, whitening mode, and massage mode. Always prefer the electric toothbrush with maximum modes so that you can change the cleaning mode as per your requirement.
7. Power Supply
There are commonly two sources of power supply in electric toothbrushes. It may be either rechargeable or battery operated. The battery life varies with the cost, brand, and size of the toothbrush. You should select one before buying an electric toothbrush.
Rechargeable Toothbrush: This offers better functionality and is ideal for people having receptive teeth and gums. It is slightly costly but much-preferred type among users having sensitive teeth.
Replaceable or Battery-operated Toothbrush: Contrary to a rechargeable toothbrush, it is reasonably priced and considerably the best not-reusable variation of an electric toothbrush. The battery-powered toothbrush utilizes AA batteries. If you are looking for a cost-effective and easily portable option, then you should go for a battery-powered toothbrush.
8. Charging Display Indication
If you prefer a rechargeable toothbrush, then it is better to go with an electric toothbrush that has a charge indicator. It basically notifies you when to charge the brush in the early hours. To improve the long life of the electric toothbrush, you should buy the one that has a charge indicator.
9. Disposable Head
Electric toothbrushes come with replaceable brush heads. It has to be changed just once in 5-6 months. Rather than purchasing the whole unit, it's better to prefer the electric toothbrush that has a disposable head.
10. Advanced featured Toothbrush
There are many electric toothbrushes that have highly developed and advanced features. Bluetooth connectivity is one of its traits that when connected with your smartphone, you can simply track your progress and compare with previous conditions.
Benefits of Using an Electric Toothbrush
Consumers are shifting their traditional brushing style with manual toothbrush to modern electric toothbrush. If you have receding gums, an electric toothbrush is usually best because it required a smaller amount of forceful action. It is obvious that there will be minimal harm to the tooth and gums if the brushing force is smaller. It is not all; the electric toothbrush has many other benefits too. Some of them are listed below:
Electric toothbrushes have various cleaning modes that help in resolving many oral issues.
It has variable brush heads for variable results.
It can help in reducing bad breath.
The consistent power release does the uphill struggle already on your teeth, so you don't have to effort for brushing.
By means of pre-arranged timers, it provides you proper 2 minute clean.
Faded bristles frequently remind you when to change the brush head.
It is very good for sensitive gums that provide relatively minimal lifespan cost.
Electric toothbrush imparts some value-added features like travel case, apps & more.
Drawbacks of Electric Toothbrush
You can't get everything perfect. If you get the roses, spikes are free. And so, with the electric toothbrushes, there are some negatives too:
The initial price of an electric toothbrush is costly. Comparing to the manual brush, it is more expensive.
The battery life is not long-lasting. It needs to recharge from time to time.
Not travel friendly. Needs extreme protection to heads and grips when on a trip.
Conversely, the plus points prevail over the downsides. So, using an electric toothbrush is all in all beneficial for receding gums or tooth wear, and you can apparently overlook the negatives. Isn't it?
Electric Toothbrush V/s Manual Toothbrush
Based on the features, price, and usage, an electric toothbrush is different from a manual one. Let's discuss the variations between electric and manual one:
Oral Cleaning: Compared to a manual toothbrush, an electric toothbrush gives an effective oral cleaning since it has pressure control with various operating modes.
On the other hand, with manual toothbrushes, you have more control over brushing your teeth. You can also apply the suitable pressure while brushing.
User-friendly: Though both the electric and manual toothbrushes are user-friendly and are suitable for people of all ages. The electric toothbrushes are comfortable for old aged people, especially for those who have arthritis. It is because it needs no extra effort for brushing like a manual one and prevents oral problems effectively.
Variable Head alternatives: You may get manual toothbrushes in a wide variety of choices. Choose from large, medium, or small-sized toothbrush heads with a manual one but with electric toothbrushes, you don't have any choice. It comes with a single size but with a variety of toothbrush heads. The head may be round, flat, criss-cross, or cross action.
Plaque Removal: Due to its vibration modes, oscillation, and power rotation, electric toothbrushes clean the teeth along with the gum line more effectively than a manual toothbrush.
Sensitive teeth: For people with sensitive teeth and gum, it is better to use a manual toothbrush. It is because the pressure applied while brushing can be controllable. On the other hand, electric toothbrushes have automatic pressure and variable speed control. You should know how to manage the speed or pressure applied on the teeth so that you can save your sensitive teeth from pain and discomfort.
Ease of Usage: Manual toothbrushes can be used at any time, but for using electric toothbrushes, you need to check its battery before brushing. It requires proper charging, so if you are traveling a lot, don't prefer an electric one.
Cost: Due to its advanced features and more effectiveness for receding gums, electric toothbrushes are more costly than manual brushes.
Cleaning Time: There is no brushing limit with a manual toothbrush. You can take 2-8 minutes, depending on your choice. But an electric toothbrush comes with a preset timer of 2 minutes. Circulate it all over your teeth to keep yourself from oral issues.
How to Find the Best Electric Toothbrush for Kids?
Healthy dental habits should start at an early age. Hence it is recommended to grow your kids with some healthy dental habits. There is no fixed rule on a particular kid's age to start electric toothbrushes. But it is better to wait until they become 3. If you are looking for the best electric toothbrush for kids, you should consider some factors because the oral cavity of kids is very delicate, and it requires gentleness.
Factors to Consider Before Buying an Electric Toothbrush for Kids
Kids require gentle care, and if it is all about the oral cavity, you should choose the one that has the following characteristics:
1. Soft and flexible bristles
If you follow the recommendations of dentists, they always advise to use a brush with soft and flexible bristles for kids. Soft and gentle bristles can help avoid gum bleeding.
2. Small Brush Head
Small brush heads are very significant to clean the oral cavity of kids, particularly the back molars. It can move easily around the teeth, so better to prefer a small brush head for kids.
3. Appearance
Kids always love character themes and colorful patterns. It can make brushing more fun!
4. Price
Electric toothbrushes have vibration and sensation features which some kids can't tolerate. Hence, before investing in a luxurious one, try an inexpensive toothbrush.
5. Proxy Heads
Whether manual or electrical, it is better to replace the brush head every three months, especially if your kids are using it. This can save your kids from sore throat, flu, cold, or any oral infection.
Advantages and Disadvantages of Electric toothbrushes for Kids
Electric toothbrushes having high-tech features don't mean it is harmful for long-term usage. On the contrary, they can make tooth-brushing easier and safe. It has no side effects on kids. In fact, it is made for the purpose to clean the teeth effectively and causes no harm to the oral cavity of kids.
On the other hand, some kids may not like the feel of an electric toothbrush, or maybe they are sensitive to vibrations. The mild vibrations can be tricky for some kids, or else it is very helpful and significant to use.
When it comes to features to consider in an electric toothbrush for kids, go with the one having gentle vibration frequencies, ultra-soft bristles, and a small proxy brush head.
How to Use an Electric Toothbrush Properly?
There are always two sides of using a product. One is the right way, and another is the wrong way. And the effect of the product completely depends on the way you use it. With an electric toothbrush, you must know how to use it properly to avoid oral problems. All you need to do is:
Hold the toothbrush at a 45-degree angle just before the gum line.
Move the toothbrush from side to side gently in circular motions.
Move it softly over the chewing surface of the teeth that covers the front, back, and top portion of the jawline. This way, you will get clean and sparkling teeth.
Advisory: It is suggested to scrub the gum line softly, or else it may cause gum bleeding. Hard scrubbing can bother your gums!!
Summing up, the important factors that we need to evaluate while choosing the best electric toothbrush for whitening or for receding gums are:
Extra cleaning modes for a particular requirement.
Go for sonic or ultrasonic toothbrushes.
Prefer an advanced featured toothbrush that has Bluetooth connectivity. It might track your progress or improvement in the oral cavity.
And if you are buying Best electric toothbrush for kids, you should check the vibration frequencies, flexible bristles, and a small replacement brush head.
Electric Toothbrush Frequently Asked Questions (FAQs)
1. Why is advanced sonic technology considered the best in electric toothbrushes?

Comparing to manual toothbrushes, electric toothbrushes based on sonic technology get you 30000 strokes at a time. But a regular manual toothbrush gives only 300 strokes per minute. This mild vibration creates extensive movement and energy, which is effective in reaching the areas between teeth and below the gum line. It will help in removing plaque flawlessly from the teeth. Accordingly, you will get a thorough and refreshing oral cleaning experience.

2. Can electric toothbrushes cause harm to the oral cavity?

While brushing at high speed, it can cause harm to already chipped or broken teeth, cut gums, and even injuries to eyes and skin.

3. How do you clean an electric toothbrush?

You can disinfect electric toothbrushes the same way you clean a regular brush. But, it is suggested to detach the brush head from the handle before cleaning thoroughly due to non-water-resistance nature. Some products have waterproof features so that you can clean the whole unit without any concern.

4. Can more than one person use the same electric toothbrush?

Yes, you can. It is possible to share an electric toothbrush. But, it requires different brush heads for individual users. It's ok to be sharing the same handle but multiple brush heads. Wherein case you need a particular manual brush for every person.

5. What are the advantages of electric toothbrushes?

The advantages of electric toothbrush are:-

Safe for gum lines and teeth
More effective in plaque removal
2-minute professional recommended built-in timers
Improve your focus while brushing
Fun for kids

5. How long should you brush with an electric toothbrush?

For healthy oral habits, you should stick to 2-minutes for thorough cleaning of teeth. It is recommended to do 2-minute brushing twice a day to avoid oral problems.

6. How long does an electric toothbrush run?

The average usage duration of an electric toothbrush is 3-5 years. Although the product comes with a 2-year warranty but you need to replace the brush head from time to time.

7. Does an electric toothbrush in India make your teeth whiter?

No, actually not. Regular usage can remove stains, and it may look whiter. It cannot make your teeth completely whiter and shinier, but professional bleaching will.
Conclusion
Picking the best electric toothbrush in India for sensitive teeth or receding gums is an important choice. Our detailed buying guide and hand-picked choices will definitely help you out to get the best. Whether you are buying the best electric toothbrush for kids or elder ones, evaluate the above features carefully so that you will find one for your requirements. As our personal recommendation, you can go for Philips Sonicare CleanCare+ Electric Rechargeable Toothbrush, that is best in terms of performance and quality both.
Read Related Reviews
Buy Best Electric Toothbrush Online
Oral B Vitality 100 Black Criss Cross Electri...
25%
Caresmith SPARK Rechargeable Electric Toothbr...
58%
MI Rechargeable Electric Toothbrush T100 with...
13%
AGARO COSMIC PLUS Sonic Electric Tooth Brush ...
58%
Oral B Cross Action Battery Powered Toothbrus...
10%
Colgate ProClinical 150 Charcoal Sonic Batter...
23%
Oral B Vitality 100 White Criss Cross Electri...
25%
Colgate Batman Toothbrush for kids, Battery P...
18%