Beard trimmers are one of the essential personal care appliances for men-especially at this time when no barber shops are open, and even you are not allowed to go outside.
Maintaining the beard is a part of men's grooming. An attractive beard makes a man look attractive too. So, whether for your occasional trim or regular maintenance of a long beard, a good beard trimmer is a must-have handiest tool.
But choosing the right and best beard trimmer for all your grooming and beard maintenance is a little bit tricky. You might get confused as it comes in countless variants as well as features to know which is right for you. All you need to consider some important factors that you can check in our Comprehensive Buying Guide of Beard Trimmers for men.
The blog also covers some of the best beard trimmers from the topmost brands, their reviews, and the buyer's feedback of all. So, let's get right into it.
10 Best Beard Trimmers in India
Best Beard Trimmers Reviews
Now lets go through the detailed reviews of our best picked models of beard trimmers for men along with their full specifications and customers feedback.
1. Philips BT3221/15 Corded & Cordless Beard Trimmer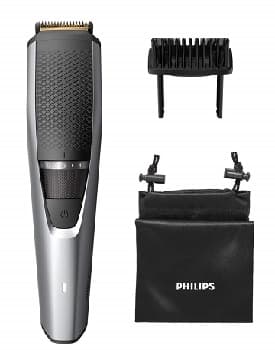 This model from Philips comes to the top of our list due to its outstanding performance and good customer ratings as well. This stubble beard trimmer lets you style your beard the way you want and offers a well-groomed personality. Surely, you will get the professional trimming results.
When it comes to ergonomics, the model offers a comfortable grip while you are using it. Also, it goes easily to the hard to reach areas.
Its overall body includes sturdy ABS plastic construction in black color. Though the length dial and trimming comb come in attractive red color, both the combination looks appealing.
Featuring advanced and extra sharp titanium coated stainless steel blade, it offers precision trimming in each use. The blades also come with rounded tips to deliver even results. These blades are skin-friendly, too, and suits every skin type.
Another best feature of this beard trimmer is that you can use it both as a cordless trimmer or as a wired one according to your convenience. The next thing is the battery, that is not an issue with this trimmer. It offers 90 minutes of run time with one hour of complete charging for the cordless use.
The next best thing about this trimmer is the inclusion of 20-speed settings with the trimming range of 0.5 mm to 10 mm. With the attached zoom wheel, you can select the preferred setting you would like to use.
There comes an LED charging indicator to show you how much battery is left. Thus, it becomes easier for you to charge it for further use. Another most attractive feature is its two years plus one year extended warranty (on online registration), making it an ideal buy for prolonged usage.
Key Features
Ergonomic design
For both corded and cordless use
Titanium coated stainless steel blades
20 trim settings
Trimming range of 0.5 mm to 10mm
Charging time 60 minutes
Run Time 90 minutes
Dura Power Technology for long-lasting performance
LED charging indicator
Comes with travel and storage pouch
Package Includes: a trimmer, a charging cable, cleaning brush, user manual, and travel pouch.
Pros
Looks good and sturdy
Portable, handy and easy to use
Offers precise trimming
The battery is the biggest advantage as with 60 minutes of charge; it provides 2 hours usage
The power Indicator light is also a useful feature
Skin-friendly
Affordable
Cons
No downsides for the product noted yet
2. Mi Corded & Cordless Waterproof Beard Trimmer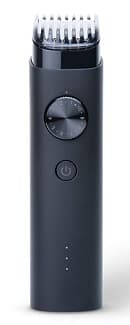 This Mi beard trimmer is an excellent buy for frequent travelers as well as office persons who need a quick shave. It is again a budget trimmer that offers full functionality and amazing performance like an expensive model. With many more exciting features, the model can be a great addition to any men's grooming kit.
The design includes an overall matte finish in an elegant black color that gives it a premium appeal. Plus, the ergonomic grip with rubberized coating ensures easy handling of it.
It includes self-sharpening stainless steel blades for ultimate 0.5mm precision. There are 20 settings dial along with two beard combs offering you a total of 40 length settings to choose from. You can easily select your preferred length using the rotary dial preset at the front of the device.
What you like most is its IPX7 certification. So, cleaning it with water even under the tap will never be a constraint.
When it comes to performance, the model claims to offer ten minutes of run time for the charging time of five minutes only. Once charged fully, the trimmer can last for up to 90 minutes, which is pretty good if you don't find the charger.
As a bonus, it can also work while being plugged in, so add more convenience. You can check the charging status through the triple LED indicators present at the bottom half of the device.
One more best feature of this beard trimmer includes that it can work with most power banks, including Mi Power Bank, etc. Plus, it also consists of a dedicated travel mode allowing you to save more battery.
Key Features
Advanced self-sharpening stainless steel blades
Corded/cordless usage
40 length settings with 0.5 mm precision
Ultra-powerful battery charges quickly for instant use
Charging time 2 hrs
Run Time 90 minutes
IPX7 waterproof
Travel lock
USB charging
LED light indicators for battery status
Package Includes: a trimmer, a charging cable, a cleaning brush, an extra large-sized comb, a user manual, and a soft carry case.
Pros
Attractive look and ergonomic design
Sturdy construction
Rounded blades for skin-friendly performance
Fully washable body ensures easy cleaning
Travel pouch for easy storage
No noisy at all
Cons
The sharp blades are bit irritating on the sensitive skin
3. Philips QP2525/10 OneBlade Hybrid Trimmer and Shaver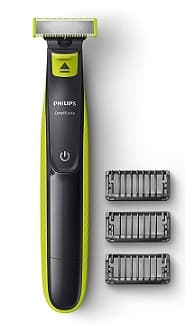 Again a beard trimmer from Philips with so many sophisticated features can be a great addition to your grooming kit. This one is pretty different from other Philips beard trimmers as it combines trimmer and shaver both in one single device.
Whether to maintain your stubble or get a clean shave, this model will let you achieve the same with precision. This revolutionary tool offers a fantastic performance so you can style your beard the way you want.
The design includes a long narrow appearance featuring the black body along with the touch of lime green edges. Its innovative design offers ease of handling and better control over trimming.
What makes it different from other beard trimmers is definitely its unique one blade technology. It means the model has only one blade with twin heads. It also includes a fast-moving cutter having the rpm of two hundred times per second. This cutter moves very fast, so you can quickly shave off long beard hair.
There comes a protective plate on the top of the cutter that avoids the blade from touching the skin. So, your skin stays comfortable and protective. But an important point to keep in mind is that you need to replace the blade once every four months to get the best shaving experience.
This shaver cum trimmer includes three different comb inserts for 1mm, 3mm, and 5mm. So, you can attach one of them to get the desired beard length.
Another best feature of this beard trimmer is that it is ideal for both wet and dry usage. The Philips OneBlade Hybrid trimmer includes a long-lasting NiMH battery that takes eight hours to charge fully. And in one full charge, it offers the run time of 45 minutes.
Key Features
Unique one blade technology
Dual-sided blade for easy styling
Precise edges
Three click-on trimming combs with settings of 1 mm, 3 mm, and 5mm
For both wet and dry usage
Long-lasting NiMH battery
Charging time 8 hours
Run Time 45 minutes
2 yrs warranty on the product with extended one year after registration
Package Includes: one hybrid trimmer cum shaver, the handle, three trimming combs, user manual, and one power charger
Pros
Two in one functionality makes it to use as a shaver and a trimmer both
Looks good and sturdy
Easy to handle
Perfect for styling beard, mustaches, etc
Safe on skin
Easy to carry along
Durable and long-lasting quality
Cons
Replacement blades are bit expensive
High charging time
4. Wahl 09854-624 Lithium Ion All in One Grooming Kit Trimmer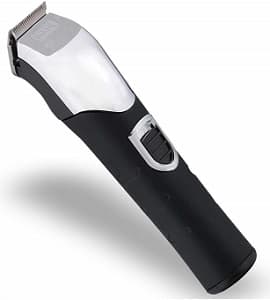 This Wahl beard trimmer is a great buy for getting professional trimming results. Simple, quick, and hassle-free trimming at the comfort of home or on the go is now possible with this quality trimmer. Even at such a price range, it is a great deal to get quality, performance, and versatility-all in one.
It comes with a wonderful design that looks appealing. Plus, the ergonomic, anti-slip, as well as the lightweight design, offers the most comfortable holding while using it.
This trimmer combines the functionality of four devices in one through its unique interchangeable blades. You can trim your sideburns and easy edging around the beard and neckline by using its trimmer blade.
The T-shaped wider clipper blade allows a great outlining and fading short haircuts. Its dual shaver blade attachment is a great way to get a smooth and close shave. Now, the last is a precision detailer blade that is very nice to trim sensitive facial areas like ear, nose, and eyebrows.
What makes the trimmer more powerful is it's Lithium-ion battery that allows the trimmer to charge faster. It features a quick one minute charge that can last for 3 minutes for quick touch-ups. Even it gets fully charged in only one and a half hours and allows the usage time of three hours.
This beard trimmer is also very easy to clean and maintain and includes everything you need for a perfect trimming session.
Key Features
Brushed stainless steel body
4 in 1 tool for trimming, grooming, and detailing
Lithium-ion battery
Self-sharpening precision blades for smooth cutting
T-blades for beard styling, outlines, and fades
Dual shaver blade for ultra-close and irritation-free shaving
Precision detailer for ear, nose, and eyebrows
High-performance rechargeable battery for cordless use
Powerful motor cuts through a variety of hair lengths
1-minute quick charge to offer run time of 3 minutes
Charge Time 1.5 hours
Run Time 3 hours
Package Includes: One trimmer, lithium-ion battery, trimmer Blade, detail Blade, dual Shaver, T-Blade, beard guide combs, charger, cleaning brush, blade oil, storage/charger base, instruction manual
Pros
Looks appealing and robust
Great performance
Good battery life
Comes with a lot of pretty useful attachments
Various trimmer comb of multiple sizes
Cons
No battery life indicator nor the charger indicator present
Trimmer comb comes in fixed sizes, no minute adjustments
Not come with a case for proper storage
5. Havells BT9005 Li-ion Cord and Cordless Beard Trimmer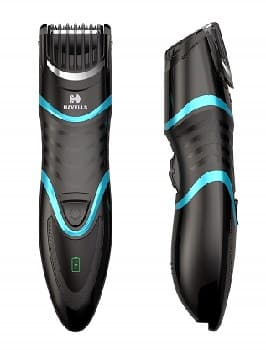 Style your beard anywhere and anytime by bringing this smart beard trimmer from Havells. This one looks not only stylish but also very handy and safe to use. Including a storage stand, the model adds more appeal and is ready to use any time.
This beard trimmer comes with the U-shaped self-sharpening stainless steel blades. These blades ensure sharp and efficient trim. And its U shape helps the trimmer to adjust easily to your facial contour for easy gliding throughout.
These blades are also detachable that can be easily pushed in the outward direction for opening the trimmer head. This way, it ensures ease of cleaning using the cleaning brush.
For the more precise and perfect trimming, the model comes with three comb attachments. These attachments offer the length setting of 3mm, 4mm, and 5 mm. So, you can choose the desired attachment to achieve the preferred length trimming.
This beard trimmer supports both cord and cordless operation that let you use it as per the situation.
Including the li-ion battery, the model features quick charge technology that can be charged only in 90 minutes. And in one full charge, it offers the run time of 50 minutes. There comes a battery indicator too, that turns green when you are using it. And, it becomes red, showing the status that the battery is low.
Key Features
Ergonomic design
Stainless steel blades
U-shaped self-sharpening blades
Rechargeable beard trimmer
Three comb attachments
Triple precision setting allows 0.5mm, 1.0mm, and 1.5mm trimming
Cord and cordless operation
Quick chargeable Li-ion battery
Charging time 90 minutes
Usage time 50 minutes
Battery indicator
Warranty 2 yrs
Package Includes: trimmer, 3 Length setting comb attachments, stand base, power adapter, cleaning brush, lubricating oil, and instruction manual.
Pros
Stylish look
Easy to use and offers fast trimming
Sturdy construction
Ergonomic design for easy handling
Easy cleaning
Performance-wise, it is excellent
Cons
6. Syska HT200U Beard Pro Trimmer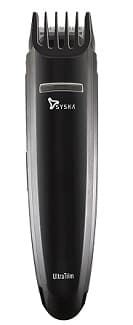 If you are searching for the beard trimmer under Rs 1000, this model from Syska is the best to go with. You will get all the essential features for precise beard trimming at such an affordable price range.
Its ergonomic and sturdy design with the comfortable grip allows ease of handling and offers a nice beard trimming. Moreover, its self sharpening stainless steel blades are great enough to provide outstanding performance. These blades are skin-friendly that creates no irritation and ensures a smooth trimming experience.
The model includes a built-in stubble comb with a trim dial present at the back of the device. There are ten lock-in length settings ranging from 1mm to 10mm. So, you can choose different length settings and thus style your beard as you want. To get a 0.5 mm trim, simply remove the comb from the device.
This cordless beard trimmer includes a long-lasting battery. So, with the charging time of eight hours, it offers you the run time of 30 minutes of continuous use. Even the USB cable comes with it allows the flexible charging of it anywhere using a USB adapter, power bank, or laptop.
Maintenance and cleaning of this device is also effortless. You just need to remove the head and comb and clean it under the tap water.
Key Features
Cordless beard trimmer
Comfortable Grip
Ten length settings from 0.5mm to 10mm
Trim dial for easy length setting
In-built stubble comb
Self-sharpening stainless steel blades
USB charging
Charging Indicator
Removable head for easy cleaning
Charging time 8 hours
Run Time 30 minutes
Package Includes: one beard trimmer, cleaning brush, user manual, and warranty card
Pros
Safe, easy and hygienic to use
Solid and sturdy
Perfect grip for hand
Best budget trimmer
Sharp blades offer easy trimming
Cons
7. Panasonic ER-GB37-K44B Wet/Dry Beard Trimmer

The model ER-GB37-K44B from the brand Panasonic is one of the expensive beard trimmers in our list, but for the features and performance, the price is completely reasonable. Get your lovable stubble style with no hassle at all by adding this beard trimmer in your grooming kit.
There are over twenty cutting length settings ranging from 0.5mm to 10mm, offering you the ultimate control over personal styling. There is also a comb attachment that helps in lifting the flattened beard hairs for smooth and effortless trimming.
Featuring acute 45-degree stainless steel blades, it allows the more precise trimming even to the hard to reach areas as well as the thickest hair. The exceptional design of the blades also ensures no skin irritation.
The best feature of this trimmer is that it is 100% waterproof, and is ideal for both wet and dry usage as per your convenience. This feature also makes the cleaning and maintenance of the trimmer very easy.
When charged fully, the trimmer offers a 50 minute usage period for the most precise and uninterrupted trim.
Key Features
Premium cordless design
19 cutting lengths ranging from 1 mm to 10 mm
Wet and dry usage
Fully Waterproof blade and body
Comb attachment
Acute 45-degree blade edge
Charging Time 8 hours
Usage Time 50 minutes
Rotary motor
Narrow blade
Charging indicator
Package Includes: One Beard Trimmer, compact charging stand, comb attachments, user manual, and warranty card.
Pros
Great product with awesome features
Precise and durable
Easy to use and clean
Good build quality
Plenty of choices for beard length
Battery goes lasts
Cons
8. Vega Grooming Station VHTH-04 Trimmer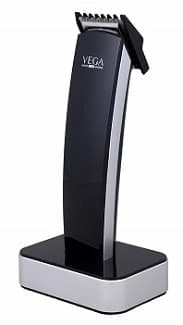 This multipurpose trimmer from Vega not only trims your facial hair but also keeps your body hair neat and clean. Thus offering you salon-style results from the comfort of home. Featuring an ergonomic design and rubber grip handle, the model ensures easy usage.
The model comes with five detachable heads, including U Blade, T blade, Design Trimmer, Nose hair trimmer, and Foil shaver. U blade is ideal for daily trimming sessions. Its T blade offers precision trimming with four comb attachments of variable 3mm, 6mm,9mm, and 12mm length settings.
Well, to design your sideburns and beard, or eyebrows, you can use the design trimmer. Foil shaver offers a clean, close shave. And you can easily trim off your nose and ear hair using the nose hair trimmer attachment.
For more sophisticated performance, this beard trimmer features self-sharpening stainless steel blades that are removable for easy cleaning. Moreover, the smooth rounded tips allow easy trimming on hard to reach areas like jawlines, under the nose, or beside the ears.
This trimmer also includes an impressive charging dock that makes charging of the device super easy. In one full charge of 8 hours, the device offers a cordless usage time of 45 minutes.
Key Features
Self-sharpening stainless steel blades
Rounded tips
5 detachable heads (T Blade, U Blade, Foil shaver, design trimmer, and nose trimmer)
Both for corded and cordless use
Charging stand
Charging Time 8 hours
Run Time 45 minutes
2 years of manufacturing warranty
Package Includes: One trimmer, five detachable heads, one adapter, one charging stand, lubricating oil, cleaning brush, warranty card, and user manual.
Pros
Very handy trimmer
Decent design
Durable quality
Battery charging indicator is a nice feature
Various comb attachments are too good
Cons
Performance is somewhat not impressive
9. Lifelong LLPCM07 Beard Trimmer for Men

This beard trimmer is again the best deal for performance and quality. Its quick charging feature makes it an excellent device for all your beard grooming sessions.
The model is ideal for both cord and cordless usage. Plus, the powerful and silent motor offers outstanding trimming results.
You can style your stubble with its comb setting ranging from 0.4 mm to 10 mm. Also, the stainless steel detachable blades offer precision trimming. The washable head and comb ensure easy cleaning and maintenance of the device.
This beard trimmer features 2 hours of quick charge that offers 60 minutes of continuous run time. There is also an LED battery indicator that shows the battery status: low, full, empty, or charging.
Key Features
2 hours quick charge trimmer
Cord and cordless operation
Efficient and detachable stainless steel blades
Washable comb and head
Adjustable guide comb
Length adjustment 0.4 mm to 10 mm
LED charging indicator
Run time 60 minutes
Package Includes: One trimmer, comb attachment, user manual, and warranty card.
Pros
Looks good and durable
Fast charging saves a lot of time
High precision trimming
Lightweight and easy to use
Battery indicator light is a nice feature
Easy to carry along
Cons
10. Nova NHT – 1047 Pro Skin Advance Rechargeable Cordless Beard Trimmer

Affordable and powerful is all this premium beard trimmer from Nova boasts about. So, if you are searching for the beard trimmer under Rs 500, this model is a great deal. No need to expense a lot by visiting a salon, if you own this trimmer. Give a salon-perfect style to your beard by using this trimmer from the comfort of home.
Featuring stainless steel and skin-friendly blades and comb tips, it offers the best and irritation-free trimming experience. The trimmer includes a free-floating head with a cutter block blade. And to get different shapes and depths to your beard, you can simply attach various clips on to the trimmer head.
Moreover, the blades are nice and extra sharp to offer precise trimming in each use. These are durable, too, and don't wear out frequently.
This cordless trimmer offers the run time of 35 minutes in one full charge of 8 hours. A charging indicator is also there that indicates the amount of charge left and warns in case of low charge.
Key Features
Curved design for good grip
Light in weight
Rechargeable trimmer
Stainless steel blades
User-friendly washable attachments
Rounded tips to ensure zero chances of cuts and accidents
LED indicator
Travel pouch for easy carrying
Charging time 8 hours
Run Time 35 minutes
Package Includes: a trimmer, 3 attachments, a comb, one small lubrication bottle, a power cord, and a travel pouch.
Pros
Works well at such a decent price tag
Lightweight design for easy use
Short power cord making it easy to travel with
Easy to clean and maintain
Cons
Less run time. The battery gets exhausted very soon
The attachments seem to be of poor quality
Not includes the instruction manual
Beard Trimmers Buying Guide
Why do you need a beard trimmer?
Regular haircuts, removing unwanted hair from the body, or shaving is one of the essential parts of men's grooming. But the modern lifestyle is so busy visiting salons on a regular basis, especially for shaving or beard trimming. Using a beard trimmer offers much more convenience and benefits. So, now let's have a look at the multiple benefits of using a beard trimmer.
Though the regular razor offers a clean shave, a good beard trimmer lets you try different fashionable styles on your beard. It cuts out the extra hair off your beard to make it well-groomed.
A beard trimmer shapes your facial hair without using the harsh blades. So, these are absolutely safe on any skin type.
You can trim your beard conveniently at your home. It also comes handy even anywhere, like in hotel rooms, or any trip.
It allows you to shape your beard in your preferred style. Whether to keep a short beard, or to keep long sideburns, it is all in your hands.
A beard trimmer can prevent clogged pores, dirt, and bacteria.
Regular trimming of your beard offers a fuller, smoother, and well-maintained beard.
Using the best quality beard trimmer prevents skin irritation and rashes from your beard.
The best part is that there is no need for shaving cream, foam, or water.
The beard trimmer comes with various attachments for stubble as well as shorter and longer beards. So, it offers full control over the trimming.
It also comes with adjustable settings for different hair lengths.
Different Types of Beard Trimmers to Choose
1. Cordless Vs. Corded Beard Trimmers
No one can deny that the cordless trimmers offer more ease to move around your beard, as no wires come in between while you are using it. These include a rechargeable battery, so no need to stay near a power outlet while you are using it. Thus, these are very convenient to use.
On the other side, the wired or corded trimmers need a power outlet to connect its power cable while using it. These trimmers are the reliable one as you don't need to worry about its battery running out, or you forgot to carry its charger along with you. The only downside with these trimmers is to deal with the messy cords.
Some of the latest beard trimmers include the functionality of both in a single one. So, you can use them both as a cordless or corded trimmer.
Pros and Cons of Cordless Beard Trimmers
Pros
You can use it anywhere and anytime if the battery is fully charged
Easy to use
Easy cleaning and maintenance
Cons
Short run time
Needs battery replacement
Pros and Cons of Corded Trimmers
Pros
Longer run time
No need for batteries as it needs only a power outlet for operation
Cons
2. Wet Vs. Dry Beard Trimmers
Wet or fully washable or waterproof beard trimmers offer more versatility and convenience. So, if you are the person who likes to trim your beard while taking a shower, these are the best to go with. These also offer better and close shaving experience accompanied with gel, foam, or shaving cream.
Some models include a fully waterproof body, while some come with only washable heads.
So, the one with a washable head allows you to flush out any clippings from the crevice of the cutting head. Thus, the trimmer works good without any obstruction.
Now, on the other hand, the dry trimmers are those that you can't use during showers. All the corded beard trimmers fall in the category of dry trimmers.
Some of the latest models of beard trimmers come with both wet and dry convenience. It lets you trim your beard easily and comfortably anywhere and anytime. You can use the dry mode on the go or use it cordless in the shower.
Electric Shaver or Beard Trimmer- Which is better?
Well, both the tools are excellent for men to have in their grooming kit. Since different men have different choices for their facial hair, the choice of electric shaver or beard trimmer totally depends on their preferences.
Trimmers are best if you love a stubble or different beard styles. It allows you to control the length of your facial hair so that you can make the style like you want.
On the other hand, an electric shaver is much likely a razor but more convenient to use like a trimmer. So, the one who prefers a clean look, electric shavers are a great buy.
In terms of convenience, both the tools are excellent but differ in some features. So, let's look at the differences:
Trimmers only trim and give shape to facial hair while electric shavers remove it closely from the skin.
Electric shavers can exfoliate dead skin cells, but trimmers can't.
Trimmers include various comb attachments to let you style your facial hair the way you want, but the electric shavers can't.
Trimmers are available in both corded and cordless models, but the shavers mostly come in battery-operated variants.
Beard Trimmer Vs. Hair Clippers
Like Beard Trimmers, hair trimmers are also an essential tool of the men's grooming kit. However, they both are closely related, but there are some differences between the two.
The hair clippers are used to cut longer hair (head hair or long beard). It also comes with different attachments that can be used to adjust the length of the hair. These are used for thinning out the overgrowth beard so that you can trim or shave it easily.
Trimmers, on the other hand, have few attachments, in some models even no attachments, and have thinner blades. These allow you to work with short hair or fine details and offer a relatively close shave look. You can use it around your neck and chin areas too.
Now, look at some more differences.
| Beard Trimmer | Hair Clipper |
| --- | --- |
| Available in both cordless and corded variant | Corded |
| Includes thin blades for fine detailing | Includes thick blades as compared to the beard trimmers |
| Used for short hairs and can cut relatively closer to the skin | Used for cutting and styling of long hairs |
| Some models include attachments, some may not | Comes with various attachments for different hair length |
Features to Consider Before Buying a Beard Trimmer
1. Usage
Before buying a beard trimmer, first, think for what purpose you are going to use it? Is it just for your beard, or you need to use it for other parts of your body hair too? Some models have only beard trimming options, but some advanced models come with multi-utility features too.
The models that come with a wider range of length settings allow you to trim not only the facial hair but also head hair trimming, underarms, chest hair, etc. Some models even double up as an electric shaver for a fine and clean shave look.
2. Length Settings
Many trimmers come with various comb attachments as well as different length settings. So, you can achieve different lengths and styles the way you want. You will find the length settings ranging from 0 mm to 10 mm (varying from model to model) that you can easily set for achieving the desired length of your beard.
3. Versatility
Do you want only a beard trimmer or a multi groomer? If yes, then many advanced models are able to groom not only your beard but also your mustache, eyebrow, nose, and ear hair as well as body groomers. Keep in mind the more expensive the trimmer, the host of attachments it will offer you from mustache to ear hair trimming.
4. Build Quality
The stylish one is always the preferable choice for you, but considering the build quality as well as construction is also very important.
Better quality of the trimmer ensures better performance always. Most of you think that investing in the one with a higher price tag will give you good. But it might not be true in all cases. Though it is a fact that expensive products offer quality too, but few models are also there that come with good features but lack in quality. So, I am sure you all like to invest only in the one with great build quality.
You must check for the quality blades, decent battery, high-quality plastic or stainless body, and ergonomic grip control.
5. Blade Material
Blades are the most important part of beard trimmers that is responsible for doing the job. So, before buying a trimmer, you must check the quality of the blade material. Generally, the trimmer comes with four-blade types, including carbon steel blade, stainless steel blades, ceramic blade, and titanium blade.
When it comes to sharpness, carbon steel blades are the most ideal ones, but as a downside, these rusts very quickly. So if you like to use the trimmer while taking a shower, the carbon steel blades are not the right choice.
Stainless steel blades are great in terms of sturdiness and are a very nice option for dense and thick beards.
Titanium coated carbon steel blades are the nicest option in terms of sturdiness and durability but are bit costlier over the other variants of blades.
Now, last but not least, the ceramic blades which is again a nice choice if you want quality and sharpness. But as a downside, these blades are very fragile and break easily. So, it needs proper handling and care.
6. Battery Power
The cordless trimmers need to recharge the batteries after a certain run time. You must consider that the battery will last long enough to satisfy your usage needs. Also, the charging time differs from model to model, so check it before buying.
The power of the battery depends upon its type, and you will find either Li-ion battery or NI-MH battery.
Li-Ion batteries are reliable and efficient in performance. It usually takes about an hour or 45 minutes to get a full charge and run for about 60-90 minutes depending upon the battery size.
NI-MH batteries are the older versions that take a long time to charge and have low-efficiency rates. These take several hours to gain complete charge and offer the run time of only 30-45 minutes only.
7. Battery Runtime
The operation time of the trimmer in one full charge is referred to as the runtime of the battery of the trimmer. Considering this factor is of utmost importance if you are planning to buy a cordless trimmer. A good beard trimmer offers you the run time of almost 1 to 1.5 hours in one full charge. So, it is better to invest in the one that falls in this range. Keep in mind that the cheap trimmers offer only the run time of 10-15 minutes only that is not worth it.
8. Waterproof Trimmers
The one that can be operated in both wet and dry conditions is one of the awesome purchases. So, you can use such trimmers anywhere you want either in the shower or afterward and even on the go.
9. Travel Lock Feature
A cordless beard trimmer is an ideal purchase if you travel a lot. The one with a travel lock feature can be a lifesaver in that situation as it prevents unexpected batteries dead. Not all the beard trimmers come with this feature. So, if you think the feature is essential for you, consider the one having it.
10. Budget
The price range of the beard trimmer determines the feature they offer. The budget models will surely lack in some features over the mid-ranged and pricey models. The best-rated beard trimmers range from Rs 1000 to Rs 3000. So, you can first assess what features you need in a beard trimmer and then go for a selective price range. But, below this price range, you may surely have to compromise some features.
11. Warranty
Checking for the warranty as well as its terms and conditions is again an important feature to consider. Go for the one that comes with at least one year of the limited warranty and even a 30-Day Money-Back Guarantee.
How to Use a Beard Trimmer?
Using a beard trimmer is not a tricky job. Though using the trimmer on your neckline, cheek line, or goatee, needs some proper handling, check the link to know how to trim these areas.
Follow these steps to have a good beard trimming.
First, wash your beard with a good quality beard shampoo and then make it dry.
If you don't have the beard shampoo, use a clean towel to remove out excess oil, dirt, and grime from your beard.
After that, use a designated beard comb to straighten out your beard.
Take the beard trimmer and select the preferred length you want and then start trimming.
After, define your cheek line and then neckline.
Once you are done with the trimming, apply the beard oil to relieve any irritation on your beard.
Tips for Cleaning and Maintenance of Beard Trimmers
Maintaining hygiene and cleanliness is very much important when it comes to the grooming products. The same holds for beard trimmers that need proper cleaning and maintenance after each use. It prevents rust and bacterial growth from the device and elongates the life of your beard trimmer. So, here are some useful tips for cleaning and maintenance of the beard trimmers.
Before cleaning, check out first that your trimmer has been switched off (in case of corded trimmers) or remove the batteries if you have a cordless trimmer.
Detach the head of the device and rinse both the body and head in cold or warm water for only the cordless trimmers.
Never use piping hot water to clean them.
For the corded trimmers, you can use an alcohol wipe method, which is a great way to kill germs and bacteria from it.
To remove out the short strands of hair in the blades, sometimes rinsing it with water is not enough. So, in this case, you can use a brush to clean the blades.
Apply oil to the blades to keep them safe from rust. It also elongates the life and performance of the beard trimmer. But keep in mind not put too much oil to it, as it will spoil the motor.
Never keep your beard trimmer wet after washing it. You must air dry it or wipe it with the cloth.
Most beard trimmers come with cleaning sprays. You can use the spray when the device is completely dry.
After you can keep them safely in a cover or bag.
Always store your beard trimmer in a cool and dry place.
Some Useful Tips for Beard Maintenance
If you prefer a long beard, you need to wash and shampoo it on a regular basis.
You can also use a beard conditioner after shampooing to maintain the softness in your beard.
To remove out the tangles, comb your beard with a wide-tooth comb and mustache with a fine-toothed comb.
You can also use beard oil and beard balms as your beard care routine.
Always use a good-sized wall mirror while trimming your beard.
If you are using a beard trimmer, you can maintain the balance between the two sides of your face by starting near the ear on one side and then trim down to the chin. The same you repeat for the other side of your face. It will result in the excellent trimming of your beard.
Never trim the wet beard or mustache.
Conclusion
A well-groomed beard speaks about a men's personality and style. So, what you need is a good beard trimmer that will take care of ungroomed facial hair in no time. The models we have listed all are the best beard trimmers from the topmost brands. These will surely groom your facial hair the way you want with no hassle at all.
Also, the buying guide we have covered will let you finalize your decision with ease and allow you to choose the best suitable one for you. Hope you will get your best pick.
Still feel any confusion; please do share with us via the below comment section.
Read Related Reviews
Buy Related Products Online
Philips Multi Grooming Kit MG3710/65, 9-in-1 ...
19%
MI Xiaomi Grooming Kit,All-In-One Professiona...
45%
Park Avenue Essential Grooming Collection 7 i...
20%
Philips Multi Grooming Kit MG7715/65, 13-in-1...
21%
Park Avenue Luxury Grooming Collection 8 in 1...
12%
Park Avenue Good Morning Grooming Kit – Com...
16%
The Man Company Charcoal Grooming Kit for Men...
35%
Mi Grooming Kit Pro, Face, Hair, Body - Every...
50%