When it comes to styling, girls can't skip their hairs for granted. From the everyday morning fussy hair to picky curly hair, you will find a way to amaze on every occasion and steal everyone's heart through hair straightener.
A best Hair Straightener can let you create glamorous hairstyle, comfortable soft curls, or silky smooth hair. Undoubtedly, it can prove your own personal everyday stylist and girls for sure get a neat hairdo.
What is a Hair Straightener?
A hair straightener, also known as straightening iron, or flat iron is a hair styling tool that lets you straighten out the frizzy and curly hair. It comes with a heating element to flatten out those fussy curls and give you silky smooth hair within a matter of minutes.
You don't need to worry about hair damage because the quality hair straighteners from the most trusted brands like Philips, Vega, Nova, Panasonic, Havells, etc. not only style your hair but also keep it healthy. Now, as much as every girl wishes for that hair straightener brush that could make over their hairstyle. Without a doubt, Hair straightening process with these tools saves them from ugly, uneven, wavy hairs.
Get more detailed information on Hair Straighteners in our Comprehensive Buying Guide .
10 Best Hair Straighteners in India
10 Best Hair Straighteners In India Reviews
Now have a look at the detailed reviews of all the above listed models along with their full specifications and pros and cons to choose the best one for you.
1. Havells HS4101 Hair Straightener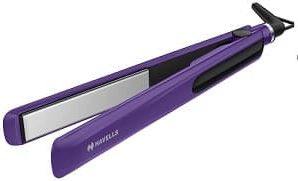 Based on the amazing hair straightening features, this best hair straightener comes at the top on our list. This straightener tool is coated with ceramic plates that move very smoothly on your hair.
Whether it's a party or regular hairstyle for office, you can utilize this hair straightener on a daily basis. And the ceramic coated plates give your hair a natural shine.
What makes this product the best in our search!! The answer is its consistent temperature that allows the product to heat up at constant temperature, which ultimately provides heat evenly across the plates.
This model worth its features as this daily use hair straightener does its work really well. When it's Havells, people surely love this product. Its ceramic coating plates protect hair from heat damage. It turns your frizzy hair strands or curls to smoothen hair in a single glide. Not only hair straightening, you can also get waves and loose curls using this hair straightener.
Using the device is very simple with its simple power on/off button. There also comes a convenient plates lock system for safe and secure storage of the device.
There's no temperature control setting. It comes with a in-built temperature of 210 degrees celsius to which heat won't exceed and will not damage your hair.
If you choose this one, you will get a two-year warranty on the product and home service also available. So what you want else. Undoubtedly, it's totally a fair deal.
Key Features
Instant heat technology
Flawless curls in minute
Get bouncy and voluminous hair
Even straightening from root to tip
Power button
Optimal Styling Temperature 210°C
Plates Lock System
25×120 mm Ceramic coated floating plates
LED indicator
18m long power cord
2-years warranty
Pros
Straightens hair perfectly
Heats up quickly
360-degree rotating long cord
Longer blades can easily go within your hair and can make it even more rapidly
Cons
No temperature control
It imparts a burnt wire type smell on first or second use that sometimes feels like it's getting destroyed from inside
You have to switch off the tool when you feel it's too hot because there is no heat cut off.
2. Philips HP8316/00 Kerashine Hair Straightener

This model is specially designed for those who love hairstyling in no time. Personally speaking for Indian Hair, it would be the best pick. With advanced keratin ceramic coating and SilkPro Care technology, this straightener causes less heat exposure and minimal friction.
The Philips SilkPro Care technology offers style and care both. Its huge plates have been designed for bulky or long hair and to lessen hair damage. The device is also very easy to handle because of its ergonomic and light weight design.
The professional, extra-large plates in this model have been designed for thick or long hair and to reduce damage. Even, the enlarged plate size can straighten more hair in one go and will save the time you basically required to style.
This Philips hair styling tool constantly gives your hair instant care with ionic conditioning. This device fundamentally stimulates negative ions that remove static ions. Moreover, it smooths down the hair cuticles to build up the shine and glossiness of the hair. The outcome is soft, silky, and frizz-free hair with a beautiful shine.
Using Philips styler is very simple and effortless, and so it's maintaining. Doing some simple steps, you can easily cleanse and remove waste from your hair styler.
After using your Philips hair straightener turn off the device and put it on a heat-resistant surface. After cooling down completely, take out remaining hair, if any, from your device. Then, wipe it down with a wet napkin. Before the next use, make sure the styler is dry from top to bottom.
Hairstyling can be done perfectly in no time. With a single styler, hair can be curled, straightened, or made crimped. So, this is perfect for regular hair styling and every occasion, whether for party or office. Philips hair styler gives a stylish look to the hair to match with any outfit.
Key Features
Keratin based ceramic plates for extra smooth sliding
SilkPro Care technology used for reduced heat coverage
Extra wide plates of 47x75mm for better results with thick or long hair
Quick heat-up time in approx 60 seconds
Ionic conditioning
Plate lock
Storage fastener
1.8 meter twisted cord to prevent harmless knotted wires
2 years warranty
Pros
Stylish design
Auto shut-off feature
Straighten hair locks within a single glide
Makes hair shiny and frizz-free
Heats up in less than a minute
Easy lock for handy storage space
Lightweight and easy to handle
Cons
Regular use may lead to hair damage
Once switched on, the hair styler makes a vibrating sound
Only a single power heat setting
3. Philips HP8302 Essential Selfie Straightener

Now we are moving to our third pick for hair styling. Philips Selfie hair straightener is very popular right now. If you want a salon-like finish hair, don't think twice.
With advanced ceramic coating, this product results in minimal friction and requires not as much of heat. One more advantage of ceramic plates is that they heat up quickly. The Philips HP8302 Essential Selfie Hair Straightener heats up in just sixty seconds.
It is based on SilkPro Care technology. This product makes styling at home very easy, quick, and convenient. Effortlessly get a perfect look through preset 210°C professional styling temperature. Simply it is user-friendly!!
Get ready with all your straightened hairs in no time with this hair straightener. You just need a mirror to check if things are getting without stopping. No need for a second person to help you out. Most importantly, for less hair damage, follow the procedure properly.
This product serves the purpose, and the styling lasts longer, either its curling or straight hair. You have to be very patient while using this product because this doesn't have any temperature control. Furthermore, the thickness of the plates is so narrow, and it definitely takes time to complete the entire hair.
Moreover, if you have to hold up the iron with your other hand, you must be very cautious because the high temperature can cause mild burns. Hence, it is to advise you that don't touch the heating surface directly after use.
Key Features
Ceramic plates for smooth gliding and quick heat up
SilkPro Care for minimal heat contact
210°C preset professional styling temperature
Quick heat up in a minute
Hairstyle lasts for approx 3 hours
Plate size: 19×85 mm
1.6 meter cord length
2 years warranty on the product
Pros
Affordable and effective straightener
Smooth plates give your hair a smooth finish
Compact size makes it easily portable
User-friendly
It gives shine to hair. No hair damage in using it occasionally
Cons
There is only one preset temperature. So no alternative for changing temperature
Coil gets hot after some time of use
The plate's width is so thin that you have to be really patient to complete the entire hair styling
Small for thick and long hair
4. Vega 3 in 1 Hair Styler- Straightener, Curler and Crimper (VHSCC-01)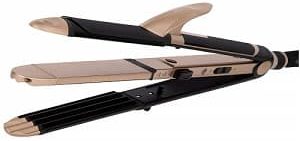 Vega offers this stylish and beautifully designed hair straightener that you will love because it is a three-in-one product. It has three plates to make it more reliable. You can curl, crimp and straighten your hair with this styler.
From an everyday look to a corporate look, this product is the best way to give you a new hairdo. Having ceramic plates made this product more effective because these plates are outstanding for hair straightening.
Coming to the first plate, which is flat by design, allows you to straighten your hair and create a sleek and glossy look. Curling irons help to create radiant curls. And the crimper plate gives beautiful creases for a stylish look.
Vega 3 in 1 styler has a single knob to change freely to three different modes easily and effortlessly. From smooth straight hair, attractive curls to beautiful crimps, this styler gives you the option to switch to different unique hairstyles every day. So, it's time to say goodbye to the terrible frizzy hairstyle. Glam up with this Vega 3 in 1 hair styler.
Key Features
3 in 1 styler
One switch for all style
Easy lock system
Small display screen (LED screen)
360° Swivel cord
Flat Ceramic coated plates give you silky smooth straight hair
Crimper plates create beautiful textures
Curler for free-flowing curls
2 Years Manufacturer Warranty
Pros
Stylish and User-friendly
It has an LED display that indicates the On/Off position
Switch to three different hairstyles
Perfect for thin hair that doesn't need high temperature
Cons
The temperature is not very high
The outer area of the straightener becomes too hot
No auto cut off
5. Panasonic EH-HV10-K62B Portable Hair Straightener and Curler

For all your styling needs, Panasonic offers a straightener tool with a hair curler. You can choose this brand for many reasons. You can get your desired hairstyle effortlessly and the smooth glide through the hair strands giving it smooth and even look.
It is prearranged in a round shape, which means that you can make your hair straight or give to simple wavy curls without folds. Your hair styled easily with minimal damage with this Panasonic portable hair straightener.
The Photo Ceramic coating plates are intended to look after your hair color, and this makes the product worth
for hair styling. It prevents the hair color from fading due to high temperature. It also helps manage moisture and reduce hair damage.
The straightener is embedded with a temperature shield lid to prevent heat burn. This lid keeps the straightener from emitting too much heat.
Panasonic portable Hair straightener provides the exact temperature for all hair types. It has 210 degrees Celsius high heat capacity. This feature helps to curl or straighten your hair strands in a single hit very effortlessly. And the outcome is just amazing, smooth, and bouncy hair!! Get this Portable hair straightening iron, and have your hair softer, smoother, and shinier.
Key Features
Photo Ceramic coating to prevent hair color
High Temperature 210 degree C
Heat protective Lid for easy storage
360 Degree Swivel Cord
Compact Size
2 Years Warranty on manufacturing defects
Pros
Good product for short hairs
360-degree twisting cord allowing you to use it freely
Handy and versatile
Perfect for traveling and quick touch-ups with minimal damage
Cons
Not recommended for long and dense hair
No option for temperature control
No indication for on and off
6. Braun Satin Hair 3 – ST 310 – Hair Straightener

This product is undoubtedly an all in one machine. The Braun Satin is a best hair styler includes unique floating plates, straightening irons, and a curler, in a single device.
The best part of this hair straightener is its extra-wide plates. So, you can get the most efficient styling, the way you want. Even you don't need to worry about your damage as it takes maximum care of your beautiful hair.
This hair straightener features thirteen temperature settings. It ensures maximum hairstyling at the most convenient temperature, your hair requires. Plus, it also offers healthy and safe styling without damaging your hair.
Key Features
Exclusive hovering plates implanted for quick and even styling
Extra wider plates for effortless and rapid straightening
Ceramic eloxal plates for extremely smooth slide
Manual heat setting
13 different settings for healthy styling
Pros
Build quality is very nice
Manual temperature regulation
Fast and even styling
Smooth gliding in one go
Heats up quickly and works wonderfully
Cons
Poor quality plug
Bit expensive
7. Remington S3500 Hair Straightener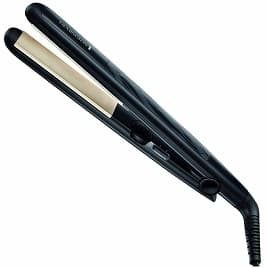 The Remington S3500 has anti stagnant ceramic coated plates. This product gives four times more protection and gives you a sleek, smooth salon-like finish effortlessly.
The top-quality ceramic plates ensure the heat flow uniformly throughout the straightener. Its premium plates put together an easy and effortless glide during styling without any difficulty. The Remington S3500 Ceramic straight's ergonomic design makes it user-friendly.
This best hair straightener fits efficiently in your hand without feeling uneasy and odd. The original floating plates moderate your hair while straightening, leaving it perfectly even and align free. There is a temperature selector with 30 different heat settings, so you can keep it cool for fine hair strands.
Key Features
Large Floating ceramic plates
High temperature of 230 degrees
4x protection for smooth shine and less static
1.8 m long swivel cord
Instant heating, ready in 15 sec
Temperature selector with 30 different choices
Input voltage range of 150-230 volts
Pros
Looks good and sturdy
15 sec instant heat up
Variable temperature settings from 150 Degree C to 230 Degrees C to suit a range of hair types
Styling performance with no hitch or difficulty
Salon like performance for fast styling results
Cons
Straight hair lasts only for an hour barely
It's difficult to hold it while using as the whole equipment gets too hot
8. Syska HS6810 Hair Straightener
Spending time in salon takes precious time, and it costs huge. So, if you are searching for a quality hair straightener at an affordable price tag, this model from Syska is the best to go with.
With Syska HS6810 Hair straightener, transform your hair from dry and boring into sleek, smooth, and shiny style! When you are getting ready in a hurry, and you got confused about your hair styling, try this device from Syska. With its rapid heating function, you can style your hair in no less than a minute.
It is very light-weighted and comfortable in use. Only in a single click of a button, heat distributes evenly across the ceramic coated plates. And, so you will get the perfect hair straightening right the way you want without any hassle.
Key Features
Hair straightener comes with rapid heating technology. It is ready to use in 60 sec
Portable Light-weighted and stylish design make it travel friendly
The Plate has high temperature resistant ceramic coating for a smooth glide
Perfect heat balance technology that prevents damage from over heating
Multifaceted swivel cord makes it easy to stir in any direction
High temperature up to 230 degree Celsius
2 years warranty
Pros
Heat breeze Mode for temperature regulation
Even heating
Perfect for all types of hair
Utilizes heat balancing technology
Cons
It takes time to heat up
High-temperature cause hair damage
9. Nova NHS 860 Professional Hair Straightener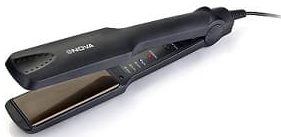 This hair straightener from Nova is light in weight with a comfortable grip and gives you professionally sleek and straight hair. The best feature is its heat setting button, which facilitates you to choose the exact heat level as per your hair type without causing mess on hair.
By using this straightening iron, you can style your hair from wet to dry and curly to straight very quickly.
It's a quick operating styler and just takes a heat-up time of 30 seconds only. You don't have to plug-in for hours or minutes before use.
Moreover, it has a customized function feature; you can operate this styler at four different temperatures. This model is as large as any other hair styler, not too compact or too huge.
Key Features
Ceramic coating Titanium plate material
Nanosilver technology
Quick heat in 30 sec
Digital control
Clear-cut styling with no hair damage
Customized temperature control and variable heat settings
Cord length 1.8 m
Can be used for wet hair as well with no harm
Pros
Quick styling
Solid and sturdy construction
LED indicator for on/off
Shuts off automatically
Cons
Straightening effect doesn't stay even after 50-60 mins
No warranty details provided
10. Syska SuperGlam Hair Straightener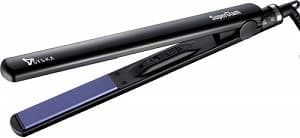 Syska brings this Super Glam hair straightener for giving you that glamorous look you have always been looking for. Having a stunning purple color, the device looks so appealing and stylish.
You will surely love its rapid heating function that takes less than a minute to heat up. And so, it offers the perfect hair straightening without waiting much longer.
It comes with a balancing technology that ensures perfect heat settings. It also distributes the temperature evenly all over the plates and gives you sleek finish in one go and a neat hairdo.
This device will make you sure that hair is straightened uniformly, at the precise temperature. Moreover, the lightweight and ergonomic design ensure easy handling of the device without straining your hands.
Key Features
Excellent quality and durable
Ceramic coating plate for a smooth glide
High-temperature heat resistant plate
Instant heating in 60 sec
Auto cut-off for overheat protection
360° swivel cord prevents from getting wire tangled
Handy and user-friendly
2-years warranty
Pros
It has a heat breeze mode to adjust the temperature
Comes with heat balancing technology
Uniform Heat distribution
Perfect for all hair types
Cons
How to Choose the Best Hair Straighteners? (Buyer's Guide)
Why choose a Hair Straightener?
You all definitely love your hair, and most of you, I am sure, spend a lot of money on hair experts in expensive salons and spas. With the fashion changing day by day, straight hair is always the preferred choice for almost all the ladies.
But why spend your hard-earned money in expensive salons, if you have the option of flat iron or hair straightener for your home use. It lets you straighten your hair with ease from the comfort of your home. Even these are very budget-friendly that will surely be an excellent bet for you.
A good hair straightener does more than just making straight. It gives a natural shine to your hair and can add volume. No matter what type of hair you have, whether dull, fussy or damaged, the device gives you the best hair styling always.
The hair straighteners can let you get different hairstyling like straightening, curling, flipping, etc. at home without any help from hair experts. The most beneficial part is that the device comes with adjustable temperature settings. So, you can easily choose the desired temperature according to your needs and comfort.
A quality product will last for years and help you achieve a beautiful and confident look. With the right product, you can easily style your hair the way you want without worrying about damage. There are countless brands that are promoting different types of hair straighteners. We have mentioned some of the best models from the topmost brands that will let you find the exact one for your needs.
Benefits of Hair Straighteners
For those who want to have straight hair or some kind of hair treatment but afraid of non-natural techniques, read briefly about the benefits of Hair straighteners. Because of the natural and biological factors, it does not harm. Below are the plus points of Hair straighteners:
The lightweight and ergonomic design make it easy to use for anyone.
It gives you the option of having straight and even hair.
The hair straightener takes care of the wavy, rough, and curls.
It makes your hair look smooth and shiny.
Using a quality hair straightener gives you a salon-like finish at your home.
It is much safer than a normal garment iron that people mostly use on their hair to make them flat and straight.
Downsides of using Hair Straightener
The repetitive use of hair straighteners makes your hair dry, brittle and damage it.
Frequent use of hair straighteners also loses the shine of your hair and makes it look dull and unhealthy.
It may create split ends.
Those who have extremely thick, dense and curly hair may experience more damage to their hair because it takes longer to straighten their hair.
How to Use a Hair Straightener?
Follow these simple steps to get perfect hair straightening using the hair straightener.
First, wash your hair with a good quality smoothing and conditioning shampoo.
After that, dry your hair with a clean and dry towel. Follow with a blow-dryer to dry it completely.II. Comb your hair to detangle it thoroughly. It is a very important step for hair straightening.
Now before starting the hair straightening process, apply a hair protection serum to protect it from damage due to heat. Make sure to avoid applying the serum on the roots of your hair as it makes the hair greasy, making hair straightening difficult.
Next, divide your hair into a few sections. Take one section of your hair, do the downward combing of it, and hold the hair with the comb horizontally.
Now place the hair straightener on that section and start sliding the flat iron towards the lower end.
Repeat the same process to each section of the hair you have made.
Done. Enjoy the frizz-free and straight hair, the way you want.
Flat Iron Straightener Vs. Brush Straightener
Both types of hair straighteneing tools have their own pros and cons, its up to you which you prefer best. We have mentioned here some of the main points of differences between them. It will let you choose the one on the basis of your needs and preferences.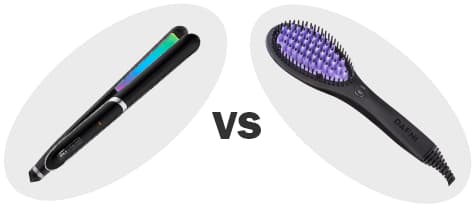 | | Flat Iron Straightener | Brush Hair Straightener |
| --- | --- | --- |
| Heat up time: | Takes more time to reach optimum temperature | Heats up very fast |
| Hair-styling Time: | Takes less time in straightening | Bit slower than the flat iron |
| Efficiency: | Works best to straighten thick, coarse or tight curls | Works best on wavy hairs |
| Safety: | The heated plates can burn your skin if not used properly | More convenient, safe and prone to less damage |
| Uses: | Not recommended for daily uses | You can use it daily without worrying about damage to hairs |
| Function: | Just straighten your locks | In spite of straightening, also massages your scalp for proper blood circulation |
| Performance: | Great for perfect straightening on every hair type | Unable to flatten very thick and curly hair |
| Price: | Bit expensive over the brush hair straightener | Budget-friendly |
Features to Look for Before Buying a Hair Straightener
How to choose your straightener is undoubtedly a big question, but we can help you out. Just look at the below features to make the best pick. Keeping in mind, these aspects surely make your job easier.
1. Know Your Hair Type
Which type of hair do you have is the foremost thing to look for before buying a hair straightener.
Thin and fine hair have more chances of damaging. So, it is better to opt for the one having multiple heat settings. It allows you to control the amount of heat accordingly that can withstand your hair type easily. Also, the hair straighteners with ceramic plates are best for thin and fine hair.
For thick hair, the titanium-plated hair straightener is best as it can heat up quickly and maintain high temperature, making the straightening process very easy.
If your hair is frizzy and has tight curls that are difficult to manage, choose a hair straightener having wide plates. Tourmaline straighteners are perfect for these types of hair. Narrow plates hair straightener are best for short and wavy hair.
2. Know your Purpose
There are several hair straighteners available in the market ranging from cordless, small and handy, while some are with wires. If you are a frequent traveler, a small-sized flat iron will be ideal for you. For straightening out your fringes, a mid-sized hair straightener will be good. But for the straightening of heavy and coarse hair, you must opt for the bigger one.
3. Size of the Hair Straightener
Hair straightener and curler come in different sizes. Purchasing the right size is always important for professional hair styling. Ranging from mini, medium, and huge sized straightening irons, it will also cause less damage to hair strands.
Small Hair Straighteners- These flat irons come with a plate width of 0.5 inches. And these are ideal for straightening short hair. The best part is that with its compact size, you can carry then anywhere along with you.
Standard Hair Straighteners- These are the most popular size of flat irons having the plate width of 1-inch. Having an average size, these are good for average hair length and thickness. The standard flat irons are versatile enough, serving the purpose of curling and flattening with the same device.
Huge-sized Hair Straighteners- These are best for flattening your long hair. Having the plate width of 1.5 Inches-2 inches, it will straighten your long sections of hair more easily and quickly.
4. Design
The ergonomically designed hair straightener with a comfortable grip is the best to go with. The bulkier models are quite difficult to handle for long sessions. On the other hand, lightweight models are very handy and don't strain your arms for prolonged usage. But on the downside, they break easily.
5. Shape of the Straightener
Generally, plates have different shapes and so its versatility. Plates with circular and soft edges are pretty useful and popular. While the plates have pointed edges are not so resourceful.
6. Plate type
Different hair straighteners come with different plate materials discussed below:
Ceramic Plates

By preferences, ceramic plates are highly recommended. It's because ceramic plates use a reduced amount of heat and distribute it from corner to corner in an even way. Thus, it causes no damage to your hair.

Ceramic plates work on infrared technology that releases negative ions, which basically lock the moisture in hair strands and gives them natural smooth and shiny hair. These plates are very smooth and allow hair to evenly distribute without any difficulty.

Porcelain Plates

Other than ceramic plates, many flat irons has the same plates layered with porcelain enamel. Porcelain is best known for its superior quality and is top class terracotta. Porcelain and ceramic both plates emit negative ions. The basic function of these plates is to minimize the resistance between the hair and plates, allowing smooth hair slides with nominal damage and split.

Tourmaline Plates

Tourmaline is another material used in hair styling equipment. It's normally blended in ceramic plates to provide maximum results. Tourmaline also has an incredible smoothing property that locks more moisture into split ends. These plates release sufficient amounts of negative ions and distribute excess moisture elements resembling small particles. Moreover, it enhances the dampness of the curls; as a result reducing unevenness.

Titanium Plates

Hair straightener and curler having Titanium plates are further an excellent choice among all. It also minimizes your hair damage. It is also best for chunky and bulky hair as it warms up quickly, and its temperature extends to the core of the hair consistently in an even way.

Ionic Plates

Subsequently, ionic plates would be another choice if you have messy, damaged, or dry hair. Ionic plates function in such a way that reduce the effect of positive ionic charge with its negative ions.
7. Plate Width
Plate width is also the most important feature you need to check before picking your hair straightener. The wider the plates more rapidly it will take to set straight the hair. If you have healthy and normal hair, you don't need to use wider plates, as these plates turn out more heat, which will harm your hair in the long run. While traveling, you can go for a handy and little contracted plate.
Generally, the plates width suitable for different hair type is as below:
Long and thick hair – 2 inches or more
Frizzy and curly hair – 1 ½ inch
Wavy Hair- 1 Inch
Short Hair- Mini Plates
8. Temperature or Heat Settings
If you think that high heat means faster and more effective straightening, it is not true for all hair types. To reduce the damage to your hair, you must opt for a hair straightener that comes with adjustable temperature settings.
Heat setting plays a very important role in the hair straightening process. Some flat irons have the capacity of 360 degrees while most of the hair straighteners work above 410 degrees. Depending on your hair texture, you can set the temperature of the tool. And so, you can be smart enough to achieve smooth and healthy hair.
9. LED Indicator
The hair straighteners with LED indicator alerts you when the plates of it get overheated. So, you can turn it off to avoid your hair from damage due to excessive heat. Some also come with auto cut off feature that automatically turns off the device when it gets overheated. And turns on the device again when the required temperature is reached.
10. Heat Up Time
Heat up time is another important feature to look for before buying a hair straightener. It is the time that a hair straightener takes to heat up the plate at the desired temperature. And this heat up time differs from model to model. It is recommended to choose the model with fast heat up time. So, you don't have to wait for an extended period to start with the hair straightener.
11. Auto shut off feature
This feature allows the tool to shut off even if you forget to do so. It is actually harmless products to sell. If you forget to shut off the device, it will simply deactivate on its own.
12. Price
It is not always true that an expensive hair straightener will always be best in performance. You definitely look for the quality and features, no matter what price you have to pay. It is also recommended to invest in the branded ones only. It assures quality and performance both. The price range of a quality hair straightener lies around Rs . So, you can choose the one suiting your budget and preferences both.
13. Warranty
Warranty on any product matters a lot. It ensures the quality and longevity of the product. Many popular brands of hair straighteners offer the warranty and after-sales service of 1-2 years. So, you don't need to pay extra in the repairing costs if the straightener gets damage or malfunction in between. We recommend you not to invest in the model having a warranty below one year.
Precautions to Take Before or After Using the Hair Straightener
While going through any hair straightening treatment, whether you do it at home or salon, you can take the following safety measures to avoid the bad results.
Try to avoid straightening your hair when it is wet because damp hair is prone to damage.
It is to suggest you that limit straightening your hair. Daily use of flat iron can fade away your natural shine. You can do it twice a week.
You must use the hair straightener on average or medium temperature.
Before using a hair straightener, always apply a heat protectant to prevent it from the burn.
You have to nourish your hair every time you wash it. Keep oiling before hair wash and use a conditioner.
Keep moisturizing your hair naturally by applying homemade hair masks made of honey, coconut milk, olive oil, and yogurt. You can apply every week to avoid fading natural shine.
Wash your hair with two tablespoons of Apple Cider Vinegar mixed in a cup of water to bring back its lost shine.
Tips for Cleaning and Maintenance of Hair Straighteners
A clean flat iron ensures the best efficient performance. So, it is very important to clean the hair straightener after every use. Here are some important tips for the cleaning and maintenance of hair straighteners.
Before starting the cleaning, make sure to unplug the device.
Do not touch the ceramic plates with bare hands for at least 30 minutes after turning off.
Moist a cloth or cotton swab with water or rubbing alcohol. Then apply it on the plates of the hair straighteners.
Also, use the same to the surfaces of the hair straightener to clean it properly.
Dry it completely for further use.
Never immerse the hair straightener in water for cleaning.
Store the device in a dry place.
Conclusion
Every single girl who doesn't have naturally straight and smooth hair dreams about having flat and even hair. Hair straightener gives you the entire solution for your hair styling. By using this tool, your hair will feel silky, sleek, smooth, and naturally fresh.
Now that you are familiar with features and qualities, you can search out your preference without much effort. From the above buying guide tips and reviews of best hair straighteners in India, it should be easy for you to place an order for your own.
Still, if you have any confusion in your mind, or thinking that we have missed out anything, please pen down to us in the comment section below.
Read Related Reviews
Buy Best Hair Straighteners Online
SYSKA HS6810 Hair Straightener (Pink)
44%
Hair Straightener, Rewup Stranger Things Hair...
63%
PHILIPS 50 Watt Thermo Protect Technology Hea...
22%
PHILIPS BHS393/40 Straightener with SilkProte...
19%
VEGA 3 in 1 Hair Styler, Straightener, Curler...
30%
PHILIPS BHS397/40 Kerashine Titanium Straight...
24%
Hair Straightener - Zemic Hair Straightener C...
65%
Sposito Hair Straightener Brush, Hair Straigh...
45%