Without a doubt, there are a lot of essential activities that one needs to do every day. But as a new parent, it is worrying even going to the other room, leaving your child in their nursery. In such a situation, a best Baby Monitor comes in very handy, and the newest models even hold the video feature for real-time view.
Some Key Points
Before buying the product of your choice, it is important to know what to look for. In that regard, the main points you should focus on are the following.
Types of Baby Monitor: There are different versions of a Baby Monitor that are available, and each has separate uses. You can choose those which star both the Video and Sound factors, and you can check on your baby easily. Another type is of the Sound-only variety, and it is usually very cost-effective and straightforward to use. Additionally, you can try the ones with Motion Sensors which check for movement, pulse rate, heart vitals, etc.
Safety Factors: The best baby monitors come with end-to-end encryption and are password protected for the users' privacy.
Area of Coverage: Another determinant that these products feature is the distance it can monitor.
For a clearer picture, our Comprehensive Buying Guide will give you a better understanding of what factors to focus on most.
7 Best Baby Monitors in India
Best Baby Monitor- Reviews
Now check out the detailed review of all our above listed top picks with their complete specifications and buyers feedback to choose the best one.
1. Infant Optics Dxr-8 Pan/Tilt/Zoom Video Baby Monitor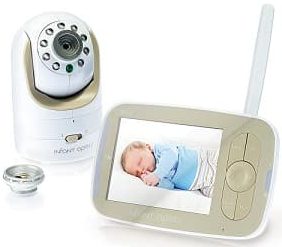 One of the most useful and best baby monitors currently popular in the Indian market is this one, and rightfully so. While it is not a portable type of baby monitor, the functions it provides makes up for it. It has high, long-lasting capability owing to the lithium-ion batteries it runs on. Thus, the chances of it expiring suddenly are very low.
Without a doubt, Infant Optics is known for its good-quality original baby-related products, and this baby monitor is no different. You can calmly go about with your other activities and not worry about not getting to hear how your child is doing.
Certainly, the sound sensors in this product are very good, and it can pick up low noises well. Thus, when it hears your child's cries, it automatically sends you the signal of the situation by blinking repeatedly. As for the display, the size of this baby monitor is 3.5 inches. The visual quality is also very prominent. Plus, there is a temperature feature too that allows you to see how comfortably your baby is sleeping.
Another great feature of this baby monitor is that it is rotatable; to be specific, you can pan or tilt the view. This way, you can see all around the area, which is great if you have multiple children in the room.
Additionally, the interchangeable lens feature lets you choose which lens you prefer as well; wide-range shot or narrow-range shot.
Of course, the secure 2.4 GHz wireless transmission (FHSS) it runs on is the icing on the cake. It is safe and protects both video and audio data, while the long battery life allows better mileage.
Key Features
Maximum four cameras can work simultaneously
The technology of Interchangeable lens
Wireless transmission in 4GHz frequency
Tilt and pan feature available
Temperature display
Highly sensitive to baby's sounds
Invisible IR night vision
Two-way Talk
Alarm function
Pros
Compact design
The display is appropriate
Battery life is long
Night vision condition is present
Cons
No video recording feature
Expensive
2. Motorola MBP33S Wireless Video Baby Monitor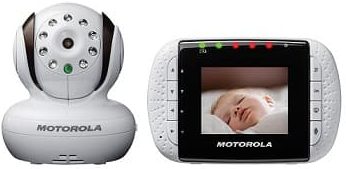 In the matter of keeping a good eye on a newborn kid, this Motorola baby monitor is one of the best in the market. Not only are the features highly compelling, but the price is also very cheap. Thus, if you want to ensure perfect protection for your baby but in a budget-friendly manner, this product allows that.
Specifically, what sets it apart from other less-qualified options is the fact that it runs on FHSS technology, at 2.4 GHz power. Therefore, this secures a perfect connection between the transmitter and the monitor, in a stable manner. You do not have to worry about someone hacking into the system, either.
This dual video-and-audio baby monitor looks sleek and works equally well. Not to mention, it has the night-vision property, making it easier for you to see through the 2.8-inch display even in the dark. This way, your child can keep sleeping comfortably, and you can still stay notified of their progress.
However, this baby monitor cannot cover a huge area range, and thus, it is best not to use it in bigger houses. If you live in a more compact region, this product will work just fine. And if you start going out of its limit without realizing it, the transmitter will start blaring. This way, you can go about your duties and stay content in the silence from your baby's room, and not worry about missing out on any changes.
As a consumer, you would feel relief to know that this baby monitor comes with a warranty of one year. Thus, you can assuredly make your purchase and not agonize over the pricing or damage.
Key Features
FHSS technology of 2.4 GHz ensures more precise hearing
2.8 inch color LCD screen
Five polyphonic lullabies
Room temperature monitor
Good display and video visibility
Night vision
Alarm system available in case of issues
200 m range with Out-of-range warning
Light-weight and compact design
Pros
One year warranty
Reasonable price
Longer battery life
Better connectivity
Gives warnings promptly
Cons
3. SereneLife Wireless Video Baby Monitor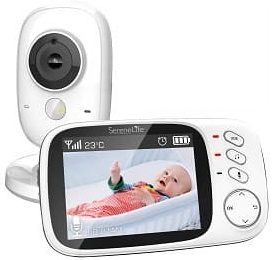 Another of the best baby monitors in India is the SereneLife Wireless Video Baby Monitor that comes with many valuable features. Not to mention, it is a type of portable monitoring system as well. Thus, when you are working on something personally or professionally important in other parts of the house, you can carry it around with you.
As for the system, a notable mention in this scenario is the display of this monitor, which comes in a 3.2-inch size. And the display itself is colored and clear, allowing you to view the happenings in your child's room properly. Plus, the purpose of night-vision only makes this device more powerful in functionality and has more prominence.
As for the interface, it is quite reliable, and there are many other built-in features as well. Two of these that you would not notice in most other devices are the properties of a sleep device and a thermostat. This way, you can understand better how your child is doing, and also, the wireless range allows you to access different areas.
And the sound features of this baby monitor are also very good and it contains a reliable microphone speaker too. There is a possibility of two-way communication that allows you to calm your baby with your voice even from a distance. Of course, the wireless technology allows the radius for this to be quite extended, and the connection is very uninterrupted as well.
On that note, you can also opt for a built-in 'musical lullabies' feature in this device, and that would help you a lot. This way, even if you stop talking to them through the two-way medium, the songs would keep playing. And because of that, your child would feel calmer and sleep for a long time even when you are not there.
Key Features
Built-in microphone
Rechargeable battery (Li-PO 750mah) is built-in
A bigger range that wireless technology can work in
The camera (2.6 X 10 X 4.2 inch) and monitor (4.7 X 0.7 X 2.8 inch) dimensions are wide
Temperature monitoring available
Wall-centric USB power adapters are present
Intercom talk through
1 Year Warranty
Pros
Temperature control allowed
Easy to install and use
Additional features include lullabies, VOX, and moonlight soother
Remote activation allowed from other rooms
Secure system ensure privacy
Cons
Volume adjustment not available in settings
Takes up too much of battery life
4. Hello Baby Remote Wireless Video Baby Monitor
Without a doubt, wireless baby monitors are some of the best options available for keeping a watch on your child. This way, you can use your phone or computer to connect to the transmitter, in a secure manner. In this scenario, this particular baby monitor is definitely one of the best in the bunch.
To specify, you can access four cameras under its control and have multiple angles to look from. Thus, this gives you reliable information about how your baby is doing from multiple viewpoints. And the power is long-lasting too, going up to 8 hours when the screen is on. Otherwise, this power can last up to at least 12 hours thanks to power-saving mode.
Moreover, this product is warranty protected, and the features that it provides are amazing. One of them, of course, is the display, the quality of which is really high-grade. The sound, too, is prominent, and the sensors in this monitor can pick up your baby's cries easily. Owing to that, you would get a quick update when they are in distress or waking up, and you can go to them.
Even at night, you can keep this baby monitor switched on and still see your child clearly with night vision. As for picture quality in this commodity, that is good too.and you can watch them without any issues. Plus, there are temperature sensors in the display too, and that judges the atmosphere in the room effectively.
Thus, you can quickly adjust it to a moderate temperature for your baby's comfort if the temperature is either too high or too low. And if you are worried about connection issues, the 2.4 GHz wireless technology it runs on would ensure against that.
Key Features
LED blinks on the receiver alerting about changes in baby's condition
Wireless technology at 2.4 GHZ ensures good connectivity
Good sound sensors pick up the noises made by the babies easily
Multi-camera system for all-angle view in a room or multiple rooms
Contains two-way talking option
Expandable up to four cameras
Large capacity battery
Temperature monitoring
8 levels alarms
Sound Activated LED Indicator
Lullabies
1 Year Warranty
Pros
Long-lasting battery life
Night vision and dual zoom modes
he alarm system is highly operational and layered
Lightweight and easy-to-use
Room temperature sensor is a nice feature
Cons
Cannot work without lithium-ion batteries
5. iBaby Monitor M6 HD Wi-Fi Wireless Digital Baby Video Camera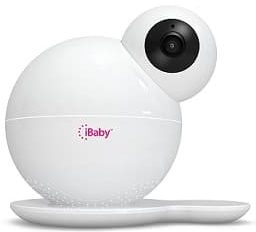 Certainly, in the question of which are the best baby monitors in the Indian market, the iBaby Monitor M6T is one of the top names. Owing to its multi-faceted uses, and powerful audio as well as display features, you can rest easy and worry less. After all, this system picks up the information very thoroughly, and the wireless network allows you to access the information from any room.
The image quality is phenomenal, and so is the directional movement of this device. It has a high-powered tilting and turning capability; the former can go up to 110degrees while the latter can move all around. This way, you can easily see in every corner of the room, and the night vision feature further helps visibility.
There are four views that this camera to monitor baby device can look at, thanks to the four camera options. And the system itself is further modified with temperature and humidity sensors, which allow you to sense the surroundings too. To put it simply, the information you get from this would give you an idea of how comfortable your child is at the moment.
Accordingly, you can adjust the room temperature to ensure a healthy sleep cycle for your baby. Plus, there is the presence of automated soothing music that you can turn on remotely. In case your baby moves or makes any sound, you would get notifications for that instantly as well.
Indeed, the interface is highly easy to navigate, and you can install it very quickly too. Overall, the more effortless connectivity and the comfort-centric features would let you focus on your other duties without issue.
Key Features
Can access four cameras simultaneously
Smart alert features
Access from smartphones through the wireless internet
Humidity and temperature sensors
Music effects
Wide view of the room due to tilt and turn features of the camera
Pros
Night vision
Easy to install
Compatible with most smartphones- iPad, iPhone, IOS, Android
Not too heavy
Two-way echo and audio cancellation features
Cons
6. Philips Avent Dect Baby Monitor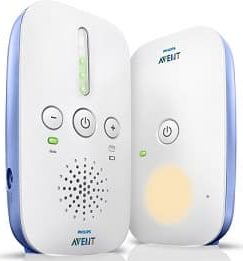 In the Indian market, Philips as an electronics company is highly trusted and important, and thus, Philips Avent Baby Monitor India is quite popular among Indian mothers. And with features like DECT technology and sound level control, this popularity is understandable. The former of these features allows you to use this device securely and not worry about the frequency interfering with another.
The encryption system in this baby monitor is strong and well-developed, and that allows higher security. Plus, the battery life is very durable, enabling the monitor to last for a long time. Furthermore, if the receiver is getting out of the transmitter range, this monitor would give you a warning.
Key Features
A sound level indication is present in the system with volume control
DECT technology allows safer frequency transmission
Alerts you if you are going out of range
Non-rechargeable alkaline batteries of 1.5-bolt R6 AA power in the main unit
Sound activated LED screen present
Pros
The device runs on both rechargeable batteries and non-rechargeable batteries in the two supply sources
Clear visuals
Secure signals ensure privacy-protection
Good sound quality
Adjustable volume and sound in the receiver and the monitor
Cons
Static noise is constant in the background
7. Facelake FL602 Video Baby Monitor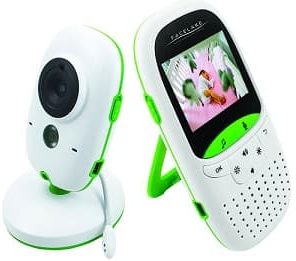 It is a digital version of a baby monitor that allows you to hear and watch your baby from other parts of your home effortlessly. Not to mention, there are many interesting innovations visible in it, like the two-way talking system, temperature sensor, etc. Plus, you can easily see what is going on in your baby's room and how they are faring even at night.
It is because the night vision feature can clearly highlight the scenery up to 15 feet helps with this. Another interesting characteristic that you would like about this baby monitor is how prominent the picture quality is. And it includes VOX mode too, in which you can extend your battery life up to 8 hours.
The support for multiple languages like German, English, Spanish, French, and Italian makes this device more versatile in its range.
Key Features
There is a power adapter
The image sensor is of CMOS DC factor
It can support 5V/500mA of power
Li-polymer battery capacity allows for more prolonged power usage
Single count for both the camera and the monitor
Pros
Inexpensive
Pre-fitted with eight lullabies
Light-weight to carry easily
Wireless connection available
Its night vision feature is very convenient
Cons
Battery life is good but not too power-saving or long-lasting
Baby Monitors Buying Guide
What is a Baby Monitor?
A baby monitor is a system that is used to keep an eye on the sounds and movements of your baby when you are away from them. Some are only audio monitors while some advanced models come with both video and audio functionality to listen and watch your baby conveniently from anywhere when you are not around them.
There are various versions of such monitors, and you can even use a baby monitor app on your phone. Using it, you can see and hear how your baby is doing and if they are safe from a distance. It is really a useful product, and you can even see their heart rates and sleeping patterns.
The various baby monitors in the market have different valuable features, including night vision and motion sensing. And the best part is that you can control the monitor from any distance and see things from any point. As a security system too, there are many uses of this type of audio-visual monitor.
Different Types of Baby Monitors
There are various types of baby monitors, with each of them has distinctive qualities. Focusing on what you need the most, you can choose which you prefer best. Well, the baby monitors come in different versions on the basis of two main categories.
I. Types of Baby Monitors Depending upon the Mode Of Functionality
1. Audio Baby Monitors
When you are considering the best baby monitor in India, most mothers usually opt for this type. Equipped with a receiver and a transmitter, this version allows you to listen to your baby's sounds when you are in another room. When a baby is crying after waking up or needs food, that sound carries through the transmitter.
The person carrying the receiver can then hear the cries and go to the baby's nursery. In case you end up buying this version, take a look at the sound quality first. Without it and the volume adjustment features, you would not have the best experience.
2. Motion-Sensing Baby Monitors
Indeed, a highly basic version of baby monitors is the Motion-sensing Baby Monitor. It is a wireless system that detects the constant movements of your child. And in case the baby does not move for a continuous 20 seconds, the sensors activate and transmit the information to the receiver.
Without a doubt, this version is highly advanced, and it assesses the health conditions of the child by noticing their breathing and movement patterns. In some cases, the transmitter emits an alarm too, and allows the parents to listen into the baby's condition from another place.
This sensory monitor is normally placed in the baby's bed, specifically under the mattress. Notably, sleep cycles for young babies are fitful, and they move a lot during their sleep. In case of some health issues, the baby would not move as much, and that lack of movement triggers the alarm after the set time limit.
3. Video Baby Monitors
Another useful and very common version of baby monitors is the dual video and audio factor. One can use this version from any place in their homes, and there are further variations of it. You can choose the wall-mounted version or the handless one, and even make distinctions on its resolution and color quality.
The older baby monitors in this category have a more black and white screen-type, while the newer models have colored and clearer picture quality. You would also notice many additional features in such baby monitors. They include the ability to spin and tilt the camera remotely, zoom for better visibility, two-way contact, night vision, etc. With so many features, the price of this monitor type is comparatively higher than the audio version.
While these three are the main variations of baby monitors, there are some other differences that you should consider. Notably, these depend based on the frequency they use, either radio or through the WiFi network.
II. Types of Baby Monitors Depending upon the Mode of Transmission
1. Digital Baby Monitors
One of the more modern and expensive versions of baby monitors is this one. In this, there are encoded signals that travel from the monitor to the receiver device. The presence of end-to-end encryption allows users to privately pass information between the two, and no other outside person can tap into this frequency.
Thus, you can access the information from the baby's room, and this frequency cannot transmit to other receivers in other area. Plus, the sound quality of these monitors is at a peak condition as well. Owing to this and the security factor, the prices are normally quite high.
2. Analog Baby Monitors
This version of a baby monitor is one of the earliest types, and the functions follow a similar path like radio channels. To be specific, it works on either the 49 MHz frequency or the 900 MHz frequency, and it has varying channels. Due to its easy-to-use features and one-note functionality, the analog baby monitors are most inexpensive of the lot.
However, it is not a secure connection, and the sounds from your baby monitor can interfere with other analog monitors nearby. You have to adjust the channels manually, but disturbances are still very common. Plus, the quality of the sound may crack occasionally, and there is a constant hissing noise in the background.
3. Wireless Network Baby Monitors
One of the more advanced versions, the Wireless network monitors are compatible with most devices with wireless technology. Thus, you can use your tablet or phone to connect with the baby monitor and receive notifications when there are changes. This, however, is limited to some models only and not compatible with every device.
Accordingly, this type works best when you are using the device in closer proximity. But for some, you can still use it when you are away from your home.
The main connection in this matter is the internet, and you can access the information about your baby's condition directly on your computer.
Because of the more elaborate technology, the cost of these monitors is not too low. Plus, these particular products are more suitable for those who live in a house with a larger surface area than smaller apartments.
4. Wearable Baby Monitors
Another interesting version of baby monitors is the wearable kind that you can clip on to the diaper of your baby. To put it simply, this product is a type of Motion-sensing baby monitor. It senses movement and also is not uncomfortable or distracting for the young kids.
Moreover, it is a wireless technology, and it provides the information securely even if you are in another area. The way that it works is simple. It senses the movement of the baby, and in case of no such movement, the receiver starts vibrating. This occurs after 20 seconds of no activity.
Also, if this count exceeds five more seconds, an alarm would go off alerting you of the situation. Thus, while using this version of a baby monitor on your baby's clothes, you can go about your daily activities like normal. The response time of this baby monitor is also highly prompt, and it concentrates on noticing the comfort level of your child.
Features to Consider Before Buying a Baby Monitor
Before buying a baby monitor, there are many important features to look into. However, the features are not the only thing that you need to stay aware of; other factors like the type and cost also require your attention.
Thus, when you focus on these matters altogether, you would get a better idea about what to purchase. Consequently, you would also understand which features are avoidable so as not to waste money on unneeded or over-the-top products.
1. Price
While the price of a baby monitor is not exactly a physical or functional feature, it does play a role in your purchasing decision. Simply put, these costs are not standard for all; you would notice variations according to their functionality.
If you choose to buy a baby monitor with only audio features available, your bill would be lower. On the other hand, baby monitors with more high-quality specialties have a higher price in the market. These include features such as wireless networking facility, HD imaging, live video, multiple handsets, and many more.
Thus, depending on the points that you need the most and if they have a compatible frequency with your device, you can make your choice. If you can do away without more intensive features or have a smaller home space, buying those with minimal benefits is fine.
2. Coverage Area
Without a doubt, one of the most important factors to consider is how much surface area the baby monitor can cover. To be specific, the range of this product depends on the size of the room and the materials in construction. Some monitors are more equipped with a certain radius and density, which affects how far it can see.
Thus, you should buy one accordingly, too.
In case you live in a smaller apartment, an analog baby monitor performs its function well enough. However, if you buy something more powerful and with more features like WiFi connection, etc., it is not smart buying. On the other hand, if you live in a bigger building with more floors and rooms, choose a baby monitor with DECT technology. It can cover more ground comfortably, whereas an analog version would not.
3. Charging Medium
Most of the models have a battery feature, but some have a cordless technology. Accordingly, you can choose whichever you like better. Electrical cords are usually visible in both the transmitter and the receiver. But in the case of the battery-version for both, you have to keep changing them for the former more than the latter.
In that sense, choose a product that is chargeable as most people do not switch off the baby monitor ever. In case you use your smartphone for receiving video streaming of your baby's nursery, ensure that your phone has good battery life. Also, choose the ones which run on electric charging or lithium-ion batteries, as they elongate the battery life.
Plus, if you cannot tell when you need to charge your baby monitor, buy ones with a light-based indicator.
4. DECT Feature
The baby monitor devices that come with DECT technology ensure a clearer and better sound quality. Moreover, you can personally choose and manage the frequency with the best quality in some models. As for how it works, the microphones in the monitors modified with this particular technology are very sensitive.
There are ambient noise filters that cancel the background noises, and then the parents can focus only on their child's sound. Truly, this secure technology with valuable functionality is worth spending more money on, if you wish to.
5. Privacy
When buying a baby monitor, you should also consider the privacy features it offers. If the monitors contain a TLS/SLS certificate, that is a secure sign, and you should purchase it. Also, the ones that connect to the wireless through routers should have WAP2 security. That allows for end-to-end encryption, and the information that your baby monitor emits runs in one secure channel only.
This way, other people cannot access your devices or can look into your baby's room. It assures a safe and secure space. Similarly, if you are using a phone app, make sure to have an account that is password protected. This automatically blocks someone trying to access your account, and the same occurs if you set a strong password on your WiFi account too.
6. Night Vision
Choose a baby monitor video or even sound type device that includes the night vision feature. Therefore, you can see how your baby is doing through the monitor, even when the lights are off.
7. Band Frequency
Many baby monitors work on a specified frequency, but other electric devices do so too. In this case if you place the baby monitor close to those electrical devices with similar frequencies, you may experience more interference. Therefore, select those baby monitors that have a band frequency. It means that they run on a different frequency than most appliances. This would allow for a lesser interference between the two devices.
For example, if you choose a DECT-centric baby monitor, it is a good plan. It is because such monitors run on a frequency of 1.9 GHz, while other appliances have different bandwidth.
8. Camera Angles
In case you have to look at a larger area of the room or have more children, investing in a baby monitor with better camera angles is important. In fact, choose the ones with more number of cameras, all of which you see through a single screen. Plus, you would have a better experience with this if you buy a baby monitor that includes remote control features. Therefore, you can zoom the screen, tilt the angle on different sides, and also pan around the room.
There are manual types too, but most newer models come with the previously mentioned controller. Also, there are some cameras with a wide-angle view and some without. You can choose which you prefer easier to deal with, depending on your requirement.
9. Sound Activation
It is really a helpful feature that many baby monitors possess, and you should notice if your monitor has the option for it. Additionally, it is also important to notice how powerful the sensors are and how quickly it detects the noises. The function of such baby monitors is to capture the sound of a baby's cries and movement.
Having a sound sensor that can sense something as low as your child's breathing pattern is important. However, some models are sensitive to the sound of the air conditioners too. Thus, notice these first and avoid such products.
10. Two-way communication
In case you are not currently in the room, with the help of some baby monitors, your voice can still reach your child. It is possible through the two-way communication function. Thus, you can sing lullabies and read stories even at a distance, and your baby can hear it perfectly. Keep a note of the sound quality of such devices first before buying.
11. Display
It is better to get a baby monitor with a clearer display than those without, and thus, you should choose one with better picture quality. Primarily, most of the baby monitors come with bigger screens, and their resolution is automatically more defined. However, there are some that you access through an app for baby monitor, and the display for those are smaller.
12. Wi-Fi and Cellular Signals
Many baby monitors relies on Wi-Fi and cellular signals for accessing the internet or to connect with other electronic devices. Though the feature is useful, but keep in mind that such units must be placed away from your baby. It is because the strong cellular and Wi-Fi signals are harmful to your baby as they affect the brainwaves of growing children.
Some More Smart Features to Consider
Out-of Range Indicator
Many smart cameras come with this feature to let you know if you are out of range than the monitor's range limit. The camera will notify you either by light or by beeping sound. The greater the range, the better the camera is, specially when you plan to take the monitor outside.
Low Battery Indicator
It is a great feature in the baby monitor that notifies you with a light or an icon when the battery is running low.
Expandibility
Some smart baby monitors come with this feature that allow you to add up to four cameras using a single device. So, you can easily monitor if you have more than one baby or want to cover more areas of your house.
Extra Receiver
The device with an extra receiver allows you to keep them in separate rooms and charge simultaneously.
Temperature Sensors
The temperature sensor feature in a baby monitor senses the temperature of the room and notifies you if there is a significant change in the room's temperature. This feature is greatly helpful if you have turned on the AC or heater in your baby's room.
Lullabies
The baby monitor having lullabies feature allow you to play music or lullabies for your kid.
Talk-Back
It is another impressive feature that allows you to chat with your baby from other room. It soothes your baby, especially when he/she is crying.
Important Safety Tips to Follow While Using a Baby Monitor
Always keep the monitor away from your baby's crib.
Never plug in a baby monitor if it is damp or wet.
To avoid strangulation of electrical cords of baby monitors around your baby's neck or other part, keep it at least 3 feet away from your baby's crib.
Always keep the electrical cords out of baby's reach.
Web-connected video baby monitors are at high risk of getting hacked. It is better to set strong passwords as well as change it at regular intervals.
Frequently Asked Questions (FAQs)
For whom are baby monitors necessary?

Baby monitors are a good way to keep an eye on your child when you cannot stay in their room for some time. After all, there are many other chores that you need to go ahead with. And keeping these monitors near hand would allow you to check their status without giving up other duties.

Which baby monitors are safe from hacking?

Usually, the digital devices that show you baby monitor video at 2.4 GHz FHSS transmission wirelessly have encryption. Thus, hackers cannot access them easily.

How far should the range of the monitor last, ideally?

In case you live somewhere with more surface area, and several floors, you should buy monitors that cover 600-700 feet of ground or more. If not, a minimum range of 250 to 400 feet is suited for smaller apartments.

Can the monitors stream on different devices simultaneously?

Yes, some password-protected versions allow multiple access to the video or sound information.

Are baby monitors harmful to the baby?

It is true that radiofrequency can have a harmful reaction on human beings, or more specifically, can cause cancer. Unfortunately, that is possible in baby monitors, too, as most use frequencies between 1.89 GHz and 2.4 GHz to transmit. The best thing you can do if you have to use a baby monitor is to place it at least 3-6 feet away from them.

Is two-way communication easy on baby monitors?

For the ones equipped with the talk-back option, yes, it is. There is usually a microphone icon on the receiver, and you need to press and hold on it. The other person can then revert back, and the quality of sound depends on the speaker's condition.

Which baby monitors are ideal for twins?

If you have twins, you should purchase a baby camera with a monitor with interchangeable lenses or features like tilt/pan and zoom. You would have a wider shot this way, and for surveillance on more than one room, use multi-camera monitors.

Around what age of the baby does the importance of using baby monitors lessen?

Generally, when your child turns 6 to 8 months old, this is when their loud sounds can easily reach outside the room. You can stop using this device around then; however, it is a matter of preference.

Is it necessary to leave the monitor on an entire night?

Usually, in the early months after birth, babies are extremely fussy and do not sleep continuously. Thus, when it is time for night-feed, you can hear so through the baby monitor, and you should keep it on all night. However, their sleeping gets better around their four-month age, and you can start keeping it off at night.

Which type of baby monitor is best?

To be fair, it is difficult to mention the best option, as it depends from parent to parent. Thus, the answer to this is very subjective, and you should choose any you feel more useful for you and cost-effective.
Conclusion
Overall, a baby monitor is really an important assisting device for parents that ensures quicker information about their baby's condition. Through these, you can hear if your baby is sleeping well or crying. Plus, they are easy to use, and in some versions, you can connect your phone with the transmitter directly.
Thus, you would receive regular notifications even if you are busy with other chores or in another part of the room. With so many good and important uses, you should choose a device that you find the most helpful. It is an important investment, and you should judge the features and your budget first. Thereafter, you will feel comfortable knowing your child is safe, and baby monitors are a great help in this.
Hope the buying guide and reviews of best baby monitors will let you decide on choosing the best one. Please, do share your suggestions and feedback regarding the blog in the below comment section.
Read Related Reviews
Buy Best Baby Monitors Online
Qubo Baby Cam from Hero Group Baby Monitor 2M...
43%
nooie Baby Monitor, 360 Degree Wireless IP Ca...
34%
VTech VM3252 2.8? Digital Video Baby Monitor ...
39%
EZVIZ by Hikvision| Made in India | WiFi Indo...
66%
HelloBaby HelloBaby Video Baby Monitor with R...
59%
Eufy Baby Monitor Wireless Security SpaceView...
26%
TP-Link Tapo C210 360° 3MP Full HD 2304 X 12...
33%
Safe-O-Kid Sentin Baby Audio Monitor with Bat...
71%