Becoming a new parent is one of the most pleasurable experience, but brings a lot of responsibilities too. To provide you ultimate comfort, there are several baby products and gadgets available nowadays. These include baby bath tub, baby monitors, baby carriers, etc., and among them, a Baby Stroller is also your perfect mate. It lets you carry your child easily along with you wherever you go.
Previously strollers are a show-off thing, but it has become an essential item for multi-tasking mothers. Staying with a baby at home is relatively easy, but carrying him/her outside with you is very complicated.
Thus, a modular stroller has become a very important thing to handle newborns without much effort. To purchase the best baby stroller, we suggest considering our detailed Buying Guide first so that you choose best for your little one. Our comprehensive research is all based on How to Purchase the Right Baby Stroller?
7 Best Baby Strollers/Prams In India
Best Baby Strollers/Prams Reviews
1. LuvLap Galaxy Stroller/Pram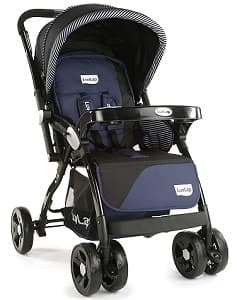 While looking for baby stroller, a variety of products comes your way, but we found LuvLap Galaxy Stroller topmost on our list. Obviously, the key features weighed down in this model are somehow better from others.
This model has an extra-large seating space and is suitable for newborns to 3 years old baby. It can hold weight up-to 15 kg and guarantees the safety performance of the buggy.
Three-position seat reclining and five-point safety harness makes it more safe and comfortable. Five-point safety strap up is a very trusted feature that usually clutches the baby's body very firmly around the waist and shoulders.
Moreover, the regulating recliner helps to adjust the seat positions in 3 different ways. You can simply bend the seat into a vertical, leaning, or flat position. In this way, your baby can sit straight, relax, or even lie-down while moving in a stroller. There is a flexible footrest provided in the stroller that allows you to adjust the most soothing position for your baby.
A reversible handlebar is a very functional feature of this model. It can be inverted in front and back positions both while riding. The purpose of this reversible handlebar is to regulate the position of grip according to your baby's frame of mind.
Babies love to explore the natural scene while riding, and so the face front handlebar works. And if they feel sleepy or bad-tempered, you can move the handlebar to face you.
Luvlap Galaxy stroller is available in a very decent navy/black color and has extendable canopy along with a looking window. To protect your baby from strong winds or harsh sunbeams, you can make the canopy of the stroller longer. Comfort seating has its separate significance, and that's why it has a soft cushioned seat.
Key Features
Full-size stroller with strong and long-lasting wheels
Product Dimension: 78 x 54.2 x 26 cm
5-point harness system
3-position seat recliner (Sitting, relaxing, sleeping)
Extensive double layer canopy
Item Weight: 12.8 Kg
Carrying capacity: Up to 15 Kg
Reversible handlebar
360 degree Front Wheel with Swivel Lock & Brake system
Extra-large storage basket and back pocket
Variable color options available
Pros
Very strong and durable
Easy to assemble with a simple foldable feature
It holds weight up to 25 Kg
Good quality and comfortable seating allow the baby to sit relax or sleep properly.
The extra-large storage basket can undertake picnic essentials or handy baby items.
Back pocket provides more ease to the parents to keep their essentials. With this product, you don't need to carry an additional bag or clutch for keys, mobile, water bottle, or something else
Cons
Reverse maneuvering is tricky, but if you know how to do it properly, you would definitely figure it out.
Plastics used in the stroller are not good-quality, and it may be fragile easily
2. LuvLap Sunshine Stroller/Pram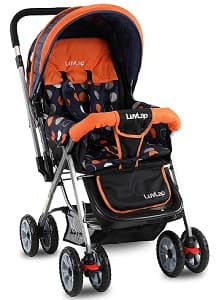 Now again a great featured stroller from the same brand Luvlap. If you are tired of searching a good stroller for your baby, Luvlap sunshine baby Pram is there for your requirements.
The vibrant orange color makes it more good-looking and attractive by design. Embedded with many features, this product definitely wins your heart, and you will be proud of your choice.
The newborn fits well in it, and the stroller carries weight up to 15 Kg. It means the product is good enough for baby approx 0-3 years old. The three-position seat recliners are very well spaced out. You can simply convert it into straight, sloping, and couch forms so that your baby can sit, relax, or sleep comfortably.
5-point safety harness provides proper support at the shoulder and waist that is usually very safe while strolling outside.
The wheels of the stroller are very strong, which proves its durability. The front wheels of the stroller can rotate 360° for uncomplicated movement on uneven roads. Even more, the spinning feature can be fixed firmly for immovability on bumpy roads. There is a Rear control Brakes that you can easily control with the help of your foot. It is helpful to prevent moving when you don't want it to.
A huge canopy attached to the stroller helps save your baby from strong wind and harsh sunlight. It also comprises a looking window that allows you to keep an eye on your baby condition while strolling.
A huge storage basket is also there under the seat of the buggy. You agree or not…But this is a very useful thing as it can put up several stuff. You can keep a few things like baby food, tissue, water bottle, toys, diapers, and many essential baby items. With the help of a spacious storage bin, you don't need to carry an extra bag with you.
Thus, your hands are completely free when you are giving a leisure ride to your baby in a baby stroller. The back pocket also provides you enough space to keep your essentials.
Key Features
Good quality material with soft detachable seat
5-Point safety harness
3-Position seat recliner for comfortable seating
Reversible handlebar
Soft Seat cushions with detachable mosquito net
Washable seat Cushions
Rear wheels brake system
360° Front-wheel Swivel Cord with padlock
Back pocket to store essential items
Big Storage space to store necessary baby items
Easily foldable stroller with a looking window in the canopy
Variable color options available
Pros
Easy to assemble and maneuver
Soft and padded cushioned seat with three different position seat recliner allows the baby to relax and sleep in a comfortable way
The flexible footrest allows the baby to hit and move the legs confidently with a smile
Detachable cushioned seat and mosquito net allows you to clean it on a regular basis to maintain hygiene
Cons
Not portable
The metal framework of the stroller can harm the baby while fixing. Better setting up carefully and keep small kids away to avoid any injury to their fingers.
Mosquito's web does not fit properly. You need little tactics to fit it around the cushioned chair accurately.
It requires more padded filling support at armrest frame as baby tends to move in all directions, which may harm their skin.
View on Amazon View on Flipkart
3. Chicco Cortina CX Stroller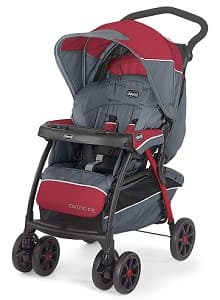 Based on international design, Chicco Cortina CX stroller guarantees complete protection and soothing experience to your baby. It is quite a smart and well-built product that your baby definitely likes. If you are looking for quality and comfort both in a stroller, go for this product without a question.
Mostly baby prams available in the market are not transportable. It is a perfect travel companion for your little one.
For calm and soothing rides, the Chicco Cortina CX stroller has a flexible backrest that has not only five recliners but eight recline positions. 8-different recliner positions allow your baby to sit in the stroller happily while he/she is roaming in the park, mall, or shopping center. It also lets the baby lie down and relax in the dream world while strolling.
The new memory recline feature holds on to the backrest position all through folding and unfolding, which usually reduces the need to bend again the recliner between outing.
Counting on the safety features, this product ensures proper protection from collapse. The front-wheel suspensions make it easy to continue a smooth ride on even and uneven roads as well. The back wheel brakes and front-wheel lock propels the perfect stability and control to the pushchair. It also makes every ride shockproof and pleasurable.
The stroller also has an adjustable canopy that gives protection from the harmful bright light of the sun. Moreover, it has a peek-a-boo window that provides shelter with real-world experience.
This baby stroller contains the entire KeyFit baby car seating through simple click-in connection for traveling purposes. A spacious storage bag is best suitable to store baby stuff while traveling. Without compromising sitting space and comfort for your baby, a storage bag at the bottom eliminates carrying an extra bag with you.
Key Features
Total weight recommendation: Up To 22 kg
8-positions backrest recliner accommodates different positions to sit, resting and sleep comfortably
Travel friendly with Cradle Effect Seat
Memory recline feature
Front and back swivel wheel locks deliver proper control to the stroller
Storage basket with key and cup holders
Pros
Cortina CX Stroller can be folded and unfolded easily. It's a left-hand game for parents.
8-position seat recliner
Open Storage bin attached at the bottom of the seat is very purposeful. No need to carry an extra bag to store baby essentials
Cons
No reversible handle
It can hold weight up to 20 kg only
View on Amazon View on Flipkart
4. Fisher-Price Rover Steel Stroller Cum Pram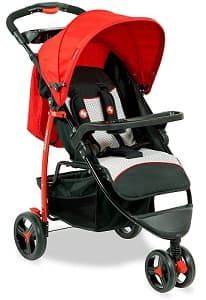 This beautifully designed red-colored Rover stroller from Fisher-Price is highly trendy and provides your baby a safe, relaxed, and smooth ride in the open air. The stroller and its components are durable and long-lasting.
There is an easy-to-move swivel wheels locking button. While traveling on rough roads, you need to press this button on the front wheel. These well-built double wheels on the front give extra steadiness and uncomplicated movement in all directions. For secured movement, a simple anti-shock footbrake technique is also there in the stroller.
Babies always want a relaxing space to play, move, or to rest. Keeping in mind the same comfort level, this product comes with a soft padded seat along with a multi-position backrest and foot-rest system.
The model also includes a bottle and a food tray, which makes it very effective. The best feature of this baby pram is that it is portable and you can easily fold and make it handy for a tour. By means of its uncomplicated foldable technique, you can conveniently keep it at home.
Excluding soft cushioned seating for babies, this stroller provides a comfortable element for driver too. It has foam-padded handles so that when you go outside with your baby, you sense a soft grip while strolling. There is storage space under the baby carriage. You can keep travel essentials in it. Now you don't need an extra bag for baby stuff.
Other than this, a flexible canopy is attached to the buggy along with a looking window so that the baby gets a quick look and enjoys the surroundings. Moreover, this huge canopy also protects your baby from harmful rays.
Key Features
Comfortable Cushioned seats
5-point harness with shoulder cushions
Lockable front spinning wheels with suspension
Flexible backrest ideal for napping and relaxing
Bendable Footrest recline system
Suitable for five months to 3-year babies
Pros
An excellent choice for outdoor rides
Ultra light-weight, Long-lasting stroller, and its components
Portable stroller and easy to fold allow you to carry it with you while traveling.
Highly trendy and durable design
Multi-position backrest and footrest provide extra comfort to your baby while strolling.
Foam padded handle for easy grip
Cons
Not ideal for newly born babies from 0-3 months
View on Amazon View on Flipkart
5. BabyGo Delight Reversible Baby Stroller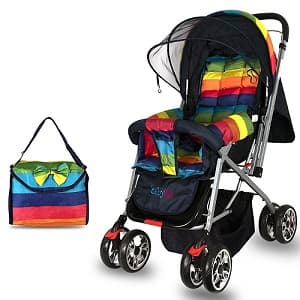 The market is loaded with many products and brands. If you are planning to buy a baby stroller, BabyGo can fulfill all your expectations. The manufacturer launches a very decent product and is only dispatched in the market after quality checks.
The stroller is very light in weight, and the materials used in it are aluminum and steel. Although it comes in many different colors but this rainbow color makes it very attractive and suitable for little one. If you don't want to buy the ordinary black and blue pram for your baby, this rainbow print will definitely amaze you.
Coming to the features of the stroller, the first thing that comes in mind is safety and comfort for the baby. The 3-position seat recline system provides comfort to the little one. Sleeping and relaxing while strolling would be easy for babies.
The stylish frame of the stroller looks fantastic, and the chrome wheels of the carriage look fancy and sturdy. Each single wheel of the carriage comes with a good quality brake system. You may find the backside wheels with brakes and front side wheels with direction fixers. The wheel comprises alloy material, which is very sturdy and long-lasting.
It is one of the lightest strollers in the market and has various features that worth your money for sure. The adjustable canopy provides a perfect shielding towards sunlight and harmful rays. In this way, the canopy fixed at the top somehow protects your baby's sensitive skin from harmful rays.
Moreover, modern sunscreen provides even more protection from the bright sun. To keep a watch on your baby, looking window can be very helpful while strolling. When counting the protective features of the stroller, we can't leave out the mosquito net. The net becomes a safeguard to the baby as it saves the baby from mosquitoes and flies. Hence, it's a decent product that worth your money!!!
Key Features
3-position seat recline system
Foldable and compact with reversible handle
2-point safety harness: waist and legs support
Looking window in the canopy
Back pocket and storage bin
Wheels with good brake system: Front wheels with direction fixers and rear wheels with breaks
Adjustable footrest
Mosquito net
Maximum weight recommendations: 15 Kg
Product weight: 8.73 Kg
Color options available
Pros
It's a decent product which is very good in quality
Easy to assemble and easy to use
Simply fold and carry without much effort wherever you go
The reversible handle moves in two altered directions which is very functional
Cost-effective product
Plenty of storage space to keep baby essentials
Cons
The 2-point safety harness is not enough for baby's protection
Wicked use of cushion leads to appear cotton threads, which are very harmful for the little one
Mosquito net frame does not provide proper functioning as it remains to untie from the bottom
6. MeeMee Baby Pram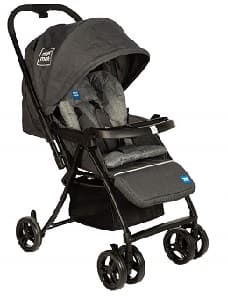 Carrying babies everywhere with you is not easy at all. It's not possible to hold them all time while shopping, traveling, or even walking in the park. MeeMee presents this strong, durable, and well-designed baby pram that makes this challenging job more convenient, enjoyable, and less stressful.
The manufacturer tries hard to satisfy its customers by providing the best for the baby. They create premium quality products with worldwide recognition from the preceding ten years.
The model comes with three different seat positions, which you can change according to your baby's mood. He/she can sit comfortably, tilt back to rest, and sleep with ease through adjustable seating positions. The reversible handle allows you to switch a soft padded handle for front and rear-facing. It is for the purpose to look at your baby while strolling when your kid needs your presence.
It has multiple features making it best out of the rest. In view of safety purposes, 360-degree turning wheels (both front and rear) are fixed in the stroller with a superior quality brake system.
Full-size canopy is an ultimate feature of this stroller, which you can't forget to count. Whether the weather condition is sunny or breezy, you can go outside with your baby anytime you want. The awesome covering (sunshield) in the upside ensures your kid is protected in every climate condition.
Sometimes it gets very tricky to carry a baby pram along with baby essentials with you. But you don't need to worry, because an open and spacious storage bin is also there with the baby carriage. You can carry essential baby stuff on the move.
There also comes a feeding tray with a pushchair that is generally separable. An adjustable 5-point safety belt ensures proper control of the body of the baby.
It has a twofold soften cushion cover, which you can wash occasionally. The double-layer cover protects the seat from dirt and stain. Hence, get everything for your little one!! A whole lot of features in this MeeMee product lets your baby sit comfortably and feel risk-free.
Key Features
Product weight: 8.5 Kg with maximum weight recommendation: 8.50 kg
3-position seat recliner for your growing baby's needs
The 5-point Safety Harness system
Spacious Storage space with Adjustable Canopy
Swivel Front wheels with Lock function
Folding Lock with Quick one-hand fold
Easy and contracted for travel and storing
Removable Feeding tray
Adjustable footrest to maintain comfort level while strolling
Reversible handle to switch front face view
A wide variety of color choice option
Pros
Uncomplicated and easy single-hand fold
Portable for easy storage and travel packing
Reversible handle allow you to look attentively your baby's moves while strolling
Cons
Not a wide stroller
Well, appropriate for smooth and flat surfaces only. It may tumble or overthrow in bumpy surfaces
The swing function is not very useful
Basic 5-point harness is not well-designed. Baby can twist or bend inside the stroller
View on Amazon View on Flipkart
7. Little Pumpkin – Kiddie Kingdom Baby Stroller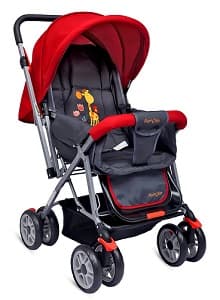 Based on our research, Kiddie kingdom Baby stroller is another best stroller in the Indian market. The stroller material is solid and strong. The makers of the product know everything about the requirements of young parents. Therefore, they manufactured this baby stroller that is very light in weight and can be transportable.
What a young parent looks for in a stroller? Comfort, safety, design, and durability!!! You may get entire features in this single product. It comprises almost every necessary element which a young mom requires. This colorful baby pram will provide a rich and vibrant experience of seating to your baby while strolling outside. It has a simple and uncomplicated single-hand folding feature.
The stroller is best suitable for newborn kids aged from 0-3 years. If your baby is too thin and not very heavy, you can go on with the product for one more year. The maximum weight recommendation for this stroller is 0-20 Kg. Hence, it doesn't matter the age is 3 or 4 years. Weight is all that counts!!
A 3-position recline system with a simple mechanism provides a cozy and relaxing ride. A wide storage basket under the baby carriage is very helpful and let you keep everything that you want while going for shopping or regular evening walk to park with your baby.
It has a reversible handle feature as well that lets the driver flips the handle occasionally. Footrest attached in the pushchair makes your baby feel more relaxed and pleased. It's a light-weight and compact product that one can easily create without much effort!! All in all, a good buy.
Key Features
3-position seat recliner mechanism
Item weight 8.22 Kg
Maximum weight recommendation: 0-20 Kg
Rear and front wheels with suspension
Reversible handle
Easily foldable
Pros
Seat recliner with three different positions by using a simple mechanism
Wheels with suspension provide a smooth ride on rough and bumpy roads as well
No sharp edges on the reversible handle. It is completely safe and comfortable
Cost-effective product
Cons
Not portable
Seat construction includes Rexine type material, which is not that much satisfying
Non-padded handles give the impression of bubble wrapping to an aluminum framework, which is not worth the money
View on Amazon View on Flipkart
How to Choose the Best Baby Stroller? (Buying Guide)
Why Choose a Baby Stroller?
Spending time with newborns is always pleasurable. It's a great feeling that everyone likes to experience. But, for everyday essentials like morning or evening walks, shopping for foodstuff, frequent visits to malls, or traveling occasionally is unavoidable. Although small babies play alone at home with their toys under little supervision, but they don't like to stay at home all the time. Babies too love to go outside and need fresh air once in a while.
But, carrying your baby in the arms while traveling or shopping for a long duration is difficult. Also, taking them with you requires extra care and effort.
And so, Baby Strollers are the perfect travel companion to parents – as it provides a helping hand to handle all the tasks and newborn all at once.
If you want to avoid holding babies while shopping or morning walk, a baby stroller or a pram is the fortunate thing, of course. It would be the most comfortable way to hold little ones along with you. Baby stroller is also known as a pram, and it is the most suitable option for parents or old ones to carry baby than sling-type carriers without any difficulty.
Different Types of Baby Strollers
1. Standard or Full-sized Stroller
For a newborn baby to the growing toddlers, the standard or full-sized strollers is the right choice. These are bigger in size for better accommodation of your child. Even the construction is sturdier and durable, with a lot of excellent features, making your life easier.
Pros
Wide and comfortable
Well-cushioned seat
You can mount the seat either front-facing or rear-facing or reversible
Expandable canopies
Sturdy wheels with the shock absorption feature
Roomy basket to carry useful baby stuff
Telescopic handlebars
You can easily attach a car seat as well
Cons
Heavy and bulky
Tight-fit to navigate busy streets or small-space
2. Lightweight or Umbrella Stroller
These are light in weight and comes with a reasonable price tag. Even these are also very convenient to use because of its lightweight design and easy to fold option. Some models include the seat that reclines completely flat.
Pros
Light in weight
Easily portable
Partial seat incline
Expandable canopy
Built-in cup holder or snack tray
Cons
Not suitable for babies under six months of age. To carry them, you must use car seat adapters.
3. Jogging Stroller
Like the name, for those who prefer jogging or running, this particular type of stroller is for them. The construction includes very lightweight materials so that you can easily handle it. A wrist strap is also there for ensured safety.
Usually, these come with three wheels, having the front wheel to be fixed or lockable. A hand brake is also there to slow down or stop the stroller when needed.
Pros
You can walk, hike, or jump while keeping your child safe
Front-wheel with both the option of swivel and fixed
Compatible with car seat for newborns to toddlers
Telescopic handlebars
Deep reclining seats
Storage basket
Hand brake and wrist strap for safety
Cons
4. Travel Stroller
It combines an infant car seat and a stroller in a single unit. Thus, proving to be a very beneficial solution for easy moving of your sleeping baby from car to the stroller without disturbing them. These types of strollers come in all versions, including light-weight, full-sized, and jogging strollers.
Pros
Ensures easy mobility of kids while sleeping
Two units in one make it a budget-friendly deal
Cons
5. Double Stroller
To carry your twins, or two babies, in the same carriage, a double stroller is a perfect choice. It offers two seating positions:
Tandem: One child sits behind the other, and; Side by Seating Option
Pros
If you have two kids or twins, you don't need to buy two strollers separately
Big basket to hold a lot of stuffs
Cons
With bigger size, they are more challenging to lift
Baby Stroller Vs. Pram
A stroller is basically an American word. Pram word is more popular in India than stroller. Both are working the same, but only there are minor differences. A pram is like a buggy, a small carrier, but the stroller is somewhat big compared to prams. Prams are generally designed for newborn babies, whereas the strollers can hold kids up to 3-4 years old.
Except sling carriers or prams, baby trailer bikes are also very popular, but we need to skip this option as it is not that much popular in India. Its recognition is more in Western countries. Hence, focusing on the Indian market and, of course, baby strollers, there are many options and leading brands you can choose from.
Things to Consider Before Buying a Baby Stroller
In India, there are tremendous varieties of baby prams. Every single model varies in looks, features, safety, and price. Hence, you must first ensure your requirements and check if it is suitable for the age and weight of your baby. Below are the features of a pushchair (prams) that you should weigh up before picking one. The useful features in good strollers are:
1. Weight of the stroller
Considering the strength and solidity of the stroller is very important. A light-weighted stroller is found suitable in everything either you carry a stroller in malls, public parks, or even traveling. It is also easier to drive and move.
However, most of the Indians have a different conviction that compact and light-weighted strollers are mostly poor in quality. But, weight is not always the criteria through which you judge the strength of the stroller. Always consider the materials and other features while finding out the quality of a stroller.
2. Size of the Stroller
After weight, considering the size of the stroller is also an important aspect. It is better always to choose an optimum size, neither too large nor too small. The large-sized stroller makes your baby feel unsafe, while smaller one makes them uncomfortable.
If you have storage issues, it is best to opt for the foldable or collapsible model. Various latest versions of the baby strollers are expandable, too, allowing you to carry more than one child at a time. So, if you have twins, you can consider these versions as a god option.
3. Weight-carrying Capacity
Weight-carrying capacity also matters equally, like the weight of the stroller. If your child is bulky and your selected stroller doesn't have that capacity, it can break anytime. Hence, checking the capability of a modular stroller is vital in making a decision, whether it is suitable for your baby or not.
Make sure the model you choose has the capacity to hold 10 kg a minimum so that you can go on with the product through the coming years.
4. Self-control System for Better support
A good stroller must have a high-quality restraint system. Two popular types of restraint system are as follows:
Five-Point: Five-point restraint system is possibly very safe to strap up. This type of harness is very good to hold the baby in the best possible way. It is simply tied up at shoulder, waist, and between the legs and has a crotch belt that gives proper support to the kids, especially newborns.
Three-Point: It is also not bad in the feature. It has a three-point restraint system that basically locks a toddler at the shoulders. This structure is also safe and sound for babies.
It doesn't matter if it has enough restraint system, smooth lock, and unlock also counts. Smooth lock and unlock system help you carry your baby from the stroller without any difficulty.
5. Always prefer a Sturdy Frame
The well-built and robust framework of a baby stroller is a very important thing to count on. If you select a foldable model, then it is necessary to check the quality of the frame. The pushchair has to be strong and controlling so that the stroller does not tilt or fall down.
Hence, it is important to invest in a baby pram that is safe, sturdy, and finished. Read the reviews of the model you select before purchasing rather than purchasing the model a salesman suggests to you.
6. Good Brake System
Strollers should have a good brake system. Generally, baby prams have foot brakes, and most strollers have a power-assisted brake that gives an instant stop to the wheels on the backside straight away. But, you can also pick the products that provide a stop to every wheel separately. Many models also come with single-touch brakes that usually lock the wheels with a single push. It is very easy to use and suitable for everyone.
Most models have a brake system like as in teenager bicycles. This type of brake system is best suitable in jogging strollers. It lets you to reduce the speed of a baby carriage little by little. If you select a luxury stroller, you may get an instant stop to the rear wheels with hand-operated brakes.
7. Adjustable Handlebar
The standard handlebar of a baby pram is always parallel to the waist level of an average person. But if you are taller or maybe shorter, then go for an adjustable handlebar. It will adjust the height of the handle according to your height.
Other than that, a reversible handlebar is another feature of a modular stroller that allows you to regulate the direction your baby will be exploring so that you can stay looking at your baby without much effort.
8. Flexible and good-quality Sunshade Canopy
Canopy quality and its features are also very important thing to consider while purchasing a baby stroller. After all, it's all about the protection of your baby. A canopy is working as a safeguard, and it saves your baby from sunbeams, rainfall, dust, or even bugs. A canopy must be cozy and relaxing for your baby. Hence, make sure it is of high-quality fabric.
In some models, when the canopy is drawn down completely, it would become like a web panel or porthole to get proper ventilation. Products with this advance feature are somehow costly, and exceeding your budget is rather beneficial. Isn't it!!
The above research is all based on comfort level, safety, durability, accessibility, and price. But most of the strollers in the Indian market have some bonus features as well. Apart from the above factors, additional features in baby strollers are UV coated Canopy, Cup or bottle holder tray, Memory recliner, Rain cover, Key fit, etc.
Young parents will never compromise the quality for baby products. Baby products would have at least 3-4 years of durability. Further than that, babies hardly ever sit in a stroller.
Extra Features to Look For
1. User-friendliness
Baby strollers should move fluently, fold smoothly, carry and hold effortlessly. If your selected model or brand has all these qualities, then it is a good selection, but if not, then of course, you have to change your mind for some other stroller.
If the baby stroller has good-quality wheels and light-weighted body with an outstanding brake system then, it's very easy to push the baby pram single-handedly.
2. Reclining chair
A baby stroller with a recliner chair is very essential for comfort. Fixed seating baby strollers are not a wise selection. Small babies have short sleep and wake process. When you feel your baby is snoozing, you can stretch out the recliner so your baby can relax and put back the recliner when he is awake.
On the other hand, fixed seating can't do all this for your baby. Hence, it is a very smart decision to go for reclining seats. You can put flat in resting position when it needs too.
Most of the brands offer three reclining positions seating. Most luxury stroller presents eight comfortable reclining positions to the baby. It may be expensive but certainly a good selection for toddlers. Five-position recliners are also very popular and provide comfortable tilted seats to your baby.
3. Comfort
When it's time to pay for a product for your baby, it's certain that no one compromise with comfort. You need to pay more attention to check the comfortable seating arrangement and other related features while looking for baby stroller. Baby's skins are very soft, and it requires a lot of care and warmth. Try to find a product that has a comfy and spacious seat where the baby can sit, rest, or perform hand and legs movement generously.
4. Storage
Unless technical features, some other features are also very important to consider. Most of the customers find out the significance of storage space soon after its usage. Don't put yourself in that queue. Before buying baby prams, you must check the storage space because having a lot of space has its additional benefit.
Having baby food, milk, water, diapers, towel/napkin with you is a necessary thing while you are carrying a baby. It's beneficial when you find space for keeping all these baby products in a stroller. Ensure the brand or model you selected must have a spacious basket where you can keep all the essential stuff properly without looking for space here and there. A number of branded models add a back pocket in a stroller where you can put your own small stuff like mobile, wallet, keys, etc.
5. Wheels
Strong and well-built wheels are not a feature you can skip in your buying guide tips. What to look for in a simple wheel mechanics in a baby stroller is described here briefly. The foremost thing to observe is the strength and durability of the wheels. You can't find smooth and even roads everywhere. Hence, if there are uneven roads, a stroller having larger wheels are found suitable.
For smoother rides, air-filled tyres make easy the ride, but you have to pump up the air frequently. Continuation makes the ride pleasurable and takes care of the product for a prolonged time. If you want to get rid of extra effort, prefer foam-filled tyres. It's a great substitute to air-filled wheels. It will provide you the same smoother ride without additional repairs and preservation.
6. Good Suspensions
Babies are not very conscious all the time, and so they don't have as much of staying power and easiness for deep hole on the roads. Therefore, if you are giving your baby a stroller ride on an uneven rough surface, try to find a product that has good suspensions. Models having good suspensions can take up the alarm and give your child a pleasurable and comfortable ride.
7. Single-handedly folding case
When deciding to buy a baby stroller, make sure you explore the folding function carefully. It should be one-hand folding so that you can manage to carry your baby and its stuff and folding the stroller at the same time. Some pushchairs fold automatically with the help of a button even as most of the strollers need to remove the steering wheel to fold down the buggy.
8. Washable Chair Cover
Every product of kids requires more care than adult ones. Practically the same as kid's product requires more washing to maintain hygiene. And so, try to find strollers that have a removable seat cover. It facilitates washing seat cover on a regular basis, and it may protect your baby's skin from harmful bacteria and fungus growth.
If the stroller you purchased doesn't have detachable seat cover, you can also cover up the seat with a towel or tablecloth. But make sure to clean this cloth after every single use to keep up cleanliness.
Safety Tips to Follow While Using a Stroller
Strollers don't have an age limit; instead, they use weight. Make sure to avoid exceeding the limit, as it can make the pram unstable.
Before placing your baby inside the stroller, make sure to fold the stroller completely to avoid any mishappenings.
Never leave your baby unattended when he/she is inside the stroller.
Always opt for the model having a strong frame, with easy steering and a strong and secure footrest.
Use the safety harness to protect your baby from falling forward or tipping.
Do not hang heavy objects like purse or baggage on the handlebars to avoid unbalancing of the stroller.
Carry as little as possible in the stroller.
Make sure to set the brake of the stroller when it is not moving.
As your child grows and becomes more mobile, teach him/her not to stand up or lean out of the pram or stroller.
Check on the condition of the wheels frequently.
Frequently Asked Questions (FAQs)
1. At what age do you prefer strollers for babies?

Although strollers are good enough for newborns to 4 years old, keep in mind every baby is different. Prefer strollers only when If your baby support on their own head properly. If you are uncertain, try getting a consultation with your child specialist.

2. Are strollers safe for newborns?

Though it is best to use a stroller for babies above six months of age, if you are considering buying a stroller for newborns or babies under six months of age, make sure that the stroller comes with the reclining feature with the fully flat position. Since the infants can't sit up straight, with the reclining option, they can easily lay down to get a comfortable position.

3. Which is better 3 wheels stroller or 4 wheeler stroller?

Both strollers have separate utility and value. 3 wheel strollers are a resourceful option, and it will deal with rough roads better. It will provide a comfortable and smooth ride to your baby. The 4-wheel option is also effective as it offers constancy and fidelity. Commonly they are more compact, foldable, and affordable.

4. Should babies rest in strollers?

Before choosing strollers for your baby, make sure it has recliners seats. Usually, newborns can't sit; hence, make sure it has fully reclined or an infant-only car seat so that baby can lie perfectly in a comfortable way while strolling. If not, it is only suitable for six months and above babies.

5. Can a baby be asleep in a stroller all night?

Moving cars or stroller seats are not comfortable for sleep all night. It is only good enough for small rides or walks. It is not safe for catnap or rest all night. Hence, baby swings or pushchairs are not recommended for resting the whole night.

6. Can a stroller ride on rough roads harm a baby?

It is well known that a minor wound can cause lifelong harm. Gentle bouncing can only harm a baby if he is weak or pathetic. Hence, make sure the ride you are providing is on even or flat roads.

7. What are the features of a good stroller?

A good stroller must include these features:

Comfortable Padded seating
Good suspensions
Strong wheels
Reclining seat
Unaccompanied folding feature
5 point control system
Reversible handle
Superior quality brakes
Sturdy Frame
Quality, comfort and cushioning
Convenience of use and foldability
Design and durability

8. Are strollers portable or can carry in flight?

Yes, of course, you are allowed to bring a stroller if you are traveling with your baby. It is free of charge as checked suitcases or bags. If you have a completely foldable stroller, you can hold this right to the airplane door.
Conclusion
So, you are now clear about how a baby stroller or pram is a useful product for any parent. It is one of the most convenient ways to take your child along. A good quality pram not only ensures the best care and comfort to your little ones but also offers them a protected ride.
Therefore, being a convenient option for both the parents and kids, you can now choose the best option we have provided you with. And enjoy a great time with your kids.
Hope, the buying guide and reviews of the best baby strollers in India will let you find your preferred one. Still, if you feel anything is missing, please do share your feedback and suggestions via the below comment section.
Read Related Reviews
Buy Best Baby Prams Online
LuvLap Sunshine Baby Stroller / Pram for 0 to...
27%
LuvLap Galaxy baby stroller, Pram for baby wi...
25%
LuvLap Sunshine Baby Stroller / Pram for 0 to...
26%
LuvLap Sunshine Baby Stroller / Pram for 0 to...
27%
LuvLap Galaxy Stroller / Pram, Extra Large Se...
26%
Little Pumpkin by R for Rabbit Kiddie Kingdom...
24%
LuvLap Sunshine Baby Stroller / Pram for 0 to...
26%
LuvLap Tutti Fruti Baby Stroller / Buggy, Com...
27%