Carrying you baby in your arms is the best feeling ever. But holding them for long hours, is difficult. Therefore, for every new parent, a Baby Carrier is a must-have product to experience a hand-free carrying of your baby while making them safe too.
In everyday life, there is a lot of work that people have to do daily, especially when it comes to family matters. It is not different for new mothers either, as they need to spend time doing their household duties too. Especially in a country like India, many women handle the household work by themselves, and some do office work simultaneously.
Either way, leaving your new child alone for long is neither a good nor a preferred solution for these ladies. In such cases, a Baby Carrier would come extremely handy. They are easy to use, holds the baby close to your body, while also leaving your hands free. Plus, the right carrier bags for babies are safe too, and you can focus on your other activities without worries.
Indeed, there are many good ones in the market, and you need to look over some factors first.
Some Key Points
There are some basic features that a baby carrier must carry, and that ensures a good and stable hold. Depending on these features, you can decide which are suitable for you to buy. If you are wondering what you should focus on more, the following points are some of them.
Weight Capacity: Baby carriers can usually hold around 3-15 kgs of weight. Thus, notice which would suit your child and their weight best.
Type of Carrier: There are different versions of baby carriers in the Indian market, suitable for different age ranges. While a wrap or a sling would work well for a newborn, choose a structured one for older children over two years.
For a clearer picture, the Buying Guide, at the end of the following list, would explain these better. As for which baby carrier bags you should invest in, here is a rundown of the best options in India.
10 Best Baby Carriers in India
Best Baby Carriers in India – Reviews
Now, have a look at the detailed review of above listed models to go for the one suitable for you.
1. LuvLap Elegant Baby Carrier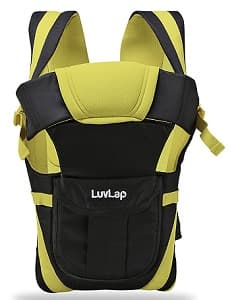 LuvLap is a notable provider of any best baby carrier in India. This particular option is an excellent example to hold your baby very conveniently. Even, you can easily go forward with your other works like your regular household duties, shopping, and even traveling. Your child would comfortably stay in the cradle-like carrier, and it is safe too.
Indeed, stability is something that LuvLap focuses on; there are three belts present act as a supportive feature. The shoulder pads are well-padded and sturdy, and they keep the baby in place securely. The waist belt, which is padded too, reduces the possibility of intense backache or pain. Owing to this, you can comfortably carry your baby around.
Moreover, you would notice cushioned leg holes and armholes, and they provide much-needed comfort to a child's young delicate skin. There is a soft bib placed inside as well to keep the baby dry and clean. The fabric used in its construction is soft and lined with breathable mesh material, and is suitable for warm weather.
Plus, there are some parts that are adjustable or removable as per your convenience. You can adjust the buckles in the side opening of the carrier to fit your child properly. To support the head and neck of your baby, there is a headboard available. In case your child starts feeling uneasy with it, you can remove the board without much issue.
You can change the positioning of your baby in this newborn baby carrier as well. There are four possible settings for this, facing the baby outward or inward, a piggy-back position, or a laying position for an easier nursing situation. Two storage areas are also present where you can keep diapers, wallets, keys, phones, and many more.
Key Features
It is best for 4-month-olds to 18 months olds
Many color choices to choose from
Lightweight averaging around 520 grams
Can hold 15 Kg weight approximately
Main fabric is polyester
A soft bib is present
Pros
Back and neck are well-supported
You can adjust the wide belts
You can clean it easily
The waist belt is sturdy and very effective for giving support
Storage in two pockets
The holes for arms and legs are well-cushioned
Cons
Straps and buckles are not easy to navigate
No instruction manual
Moderate quality
View on Amazon View on Flipkart
2. U Grow Hip Seat Baby Carrier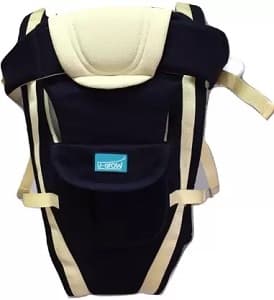 This hip seat infant carrier is definitely one of the best possible options available in this field. It is comfortable for both you and your child, thanks to the cushioned hip seat present. They give proper hold to your baby's balance and allows them to sit properly. The framing of this product is good for thigh and butt support; therefore, your child can sit on it pleasantly.
It is a soft-structured type carrier, and the sitting functions are versatile in this product. You can go for long walks or even down to the shopping center, with your baby on your hips.
Generally, you can wear it on the front, either making your baby facing in or facing out, it is absolutely your choice. Additionally, you can set your baby on your right side, left side, or directly center, as per your wish.
The material is made of breathable and durable fabric and is also highly non-toxic. This Baby Carrier is suitable for 3-month-olds to 2-year-olds, and the texture of the fabric is soft to touch. Plus, for safety from weather conditions, there is a breathable head cover too. Children can breathe through it easily and would sweat less as well.
This infant carrier's structure is very stable and supportive that holds the hips, neck, and back of the children securely. As for the parents, the shoulder and back support provide similar help. Most of the weight falls on the hip region, which takes a lot of pressure off the shoulders.
The two features that are responsible for this are the wide belt at the waist and the cross-straps in the back. Plus, extra storage features allow you to keep your essential items in the multi-utility pouches and pockets. It is highly helpful when you are traveling with your baby.
Key Features
Polyester-cotton blended fabric
2 kgs weight of the baby carrier
Suited for 3 months to 2 years old babies
You can pick up around 15 Kgs of body weight
Appearance is attractive, and there are five color choices present
Pros
Wide waist support
Fabric is non-toxic
Headcover is breathable
Seats, belts, and straps are padded properly
Durable and adjustable seating
Roomy pockets
Cons
Head support is missing
No bib present
3. Chinmay Kids 4 in 1 Adjustable sling Baby Carrier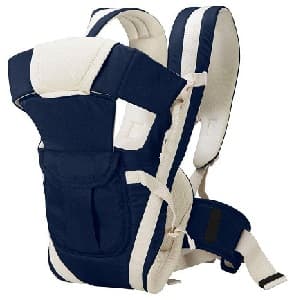 In the market for fashionable and useful baby carriers, Chinmay kids baby carrier is one of the most affordable options. You can adopt four carrying manners: front-facing one, side hip one, back hanging one, or kangaroo style one. Each of these styles is suitable for kids of different ages, thereby proving the versatility of this product.
The product itself takes comfort and stability well into account, and its ergonomic design proves that. There are straps and buckles that you can adjust easily according to your baby's size and comfort. The padding in the straps and shoulder pads allow you as a wearer to fit the carrier to your body properly. It works well with various body types, which adds to its versatility.
The fabric is also durable and soft to touch, made of high-quality polyester and cotton fibers. There is a cushioned headrest present that gives ample support to your baby's head. The fabric and build are longevity-friendly, which means that your baby can fit well into it even as they grow.
This newborn baby carrier is suitable for younger kids only up to two years of age. It is because the maximum weight holding capacity for this baby carrier is around 15 kgs.
Overall, it has many good features that try to keep the babies and parents snug and safe. In India, the weather is an important factor to think about as well. Keeping this point in mind, this particular baby carrier is an excellent choice to make.
Key Features
It comes with 3D ventilating pads
Can hold around 15 kgs of body mass
The product is very lightweight, at 349 grams
Polycotton blend fabric
Comes mainly in navy blue coloring
The head supporter is cushioned
Pros
Fabric is smooth and comfortable
4 different positions for carrying your baby
Ventilating pads
Buckles are doubly protected
Very affordable price
Cons
No bottom padding
The waist size is very small
View on Amazon View on Flipkart
4. Infantino Zip Travel Carrier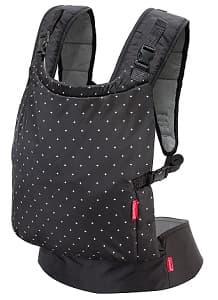 Another best model in the market is this Infantino baby carrier, made perfect for convenience and comfort. Certainly, the front pouch system of these carriers allows you to wrap the whole thing up and put it in the pocket. Therefore, it is a great option to use when you have to travel as it is very easy to carry.
When you do not need to use it, you can turn it into a messenger bag or fanny pack, and wear it like that. And when you require it, simply open the front zipper and take out the entire thing, made of comfortable cotton fabric.
What's more- this carrier also comes with thick pads on the shoulders, and the waistband is wide and stable. Both of these features give utmost comfort to the wearer and the child, highlighting its ergonomic design. Consequently, you do not have to worry about the clasps being flimsy or the seat not being able to hold their weight.
In fact, the seat is also very wide, which allows your child to sit comfortably inside and fall asleep too. You can go for a walk and go about your professional or personal work, and the rounded arch in the back snuggles them in properly. You can wear it in a front-facing way or at your back, and both habits are comfortable to try out.
Another good point of this child carrier is that it is lightweight and can hold a maximum of 18 kgs. It is better suited for older infants, and the build of it makes it easier for everyday usage. Although the features are all great, they are more suited for children above three months.
Key Features
Best for toddlers from 4 months of age to 2-year-olds
Lightweight at 500 grams only
The entire thing is foldable into a front zipper pocket
The sturdy build can carry around 18 kgs of weight
Comes in monochromatic shades of black only
The fabric is pure cotton
Pros
Easy to put on at any time
Simple to carry
Belt in the waist is wide and supportive
Breastfeeding is not difficult
Natural curve to the shape
Cons
You cannot wear it for a continuous length
No support for the neck and head
View on Amazon View on Flipkart
5. Kol Kol Baby Carrier Bag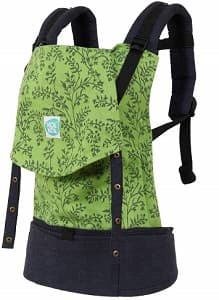 When the question comes about the potential of a carry bag for baby, Kol Kol Baby Carrier Bag leaves a mark. It performs a lot of actions simultaneously that focus on giving utmost comfort and warmth to the baby. On the same note, this baby carrier is good for the parents as well, as the weight is evenly distributed. The brunt of this falls on the back, shoulder, and arms.
The carrier's fabric is comfortable as well, made purely of 100% cotton, which is very soft and breathable. Thus, whether you need one for the winter or summer, you can buy and use this baby carrier at any time. The weight of this product is not much either, around 600 grams, and can support 7 kgs to 20 kgs.
There are additional features that each do their own function perfectly. These include a hood that is good for privacy, storage pocket for extra materials like key or diapers, and leg openings. The shoulder straps and leg openings are thickly padded, provide ultimate comfort to both baby and the mother. Moreover, the supportive waistband gives you some much-needed relief as well and helps against back pain.
You can use this carrier bag is two ways, either keeping your baby facing the front or uplifted on your back. The ideal height and age for a secure and cozy ride in this bag are at least 70cm length and 6-48 months age. Both the age and how-to-use factors are very interrelated.
If your child is of the age of 6 months or one year, you can use both front or back-side carry. On the other hand, if your child is older, around 2 to 4 years, the back-side carry is the best option.
Key Features
The highest weight that this can handle is 20 kgs
Easy to wear in any weather conditions owing to its pure cotton composition
Very lightweight
Good for children of varying ages, 6 months minimum and 4 years maximum
Different color choices
Allows both frontal and back carry
Many additional padding and storage space
Pros
Wearing it is very easy
Fabric is breathable, soft and natural
The padding on shoulder region and back support is good for the wearer
There is a presence of padded seats, belts, and straps which helps the baby feel better
Good for both male and female children
Storage area fits many things
Cons
No instruction manual
Costly
Less back support and zero neck support
6. Mee Mee Breathable Baby Carrier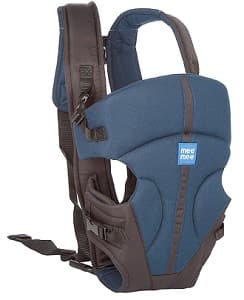 This baby carrier is best for holding children of 10 to 12 kgs of weight and comes with adjustable components. Thus, you can fit the height, straps, and seat according to your baby's size and utilize this for a long time. The fabric is also soft and durable, suitable for different weathers.
As for support, the soft padded headrest and cushioned leg holes promise both comfort and stability. The wide straps on the shoulders and back cross belts together help relieve pressure on the back muscles of the wearer. It is very easy to use, and its lesser weight allows you to carry your child around without any discomfort.
Plus, you can hold your child four separate ways using this baby carrier. These include your baby facing in, facing out, in the front or at the back.
Key Features
Weight below 15 kgs is suitable for carrying
Made of breathable cotton
Color selections available
4-month-olds to 2-year-olds can use this
Light in weight product
Pros
Fabric is breathable
Durable build
Headrest support is well-padded
Light to carry
Can accommodate changes in a growing baby
Four different positioning
Cons
Headcover missing
No back support for the one carrying the carrier
View on Amazon View on Flipkart
7. Chicco Easy Fit Carrier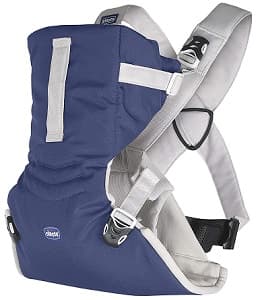 This Chicco baby carrier is one of the best possible options for you to select for your child. The cost of this in the Indian market is comparatively low, and it is available in three different shades. Whether you like black, paprika, or blue, each color would suit both boy and girl children.
As a portable product, it weighs 556 grams, which is quite light and easy to handle. You can carry your newborn baby in this, and the highest weight it can hold is 9 kgs. The seat inside is very easy for young babies to get seated into, thanks to its ergonomic build.
You can easily put it on like a shirt that adapts to different body types and weights. Therefore, you can go about with your other activities with your baby on you, without worrying about them falling off. The babies can sit in a good position as well, and stable support allows for better holding. There are a neck and head support present for this very reason.
You can face your baby in whichever direction you feel most okay with, outward or toward you. The process of making this shift is very simple, as well.
Key Features
It can hold babies of 9 kgs and less weight perfectly
It has a pacifier holder
Swift repositioning from front-facing to parent facing and vice versa
The seat is ergonomic in design
Unisex design
Pros
Best for newborns
Comfortable grip
Stable build
Easy to wear like a shirt
Baby can turn two ways without much discomfort
Moderate cost
Cons
Not many features
Unsuitable for more than 9 kg children
8. Mothercare Two Position Baby Carrier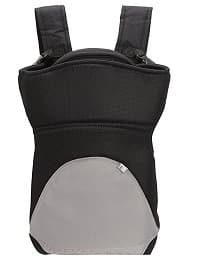 Mothercare is one of the leading baby carrier brands in India, and there are many reasons why. This product, in particular, works on both backward-facing and forward-facing angles. As such, it is great for parents to carry their child around in, and its light 680 grams weight makes it easier.
You can use this Mothercare baby carrier for both girl and boy babies, and the all-black design looks good for each. This baby carrier has padding inside of it, which gives suitable comfort to the wearer. It is better for newborns and allows you with nursing opportunities as well.
Overall, it has a very comfortable framework, and your baby can snuggle within its hold. The highest weight that this product can carry, however, is around 10 kgs.
The most notable function of this carrier is that you can position your baby either at the front or back of you. You should consider their age and body mass in both of these scenarios. If your baby is a newborn or a few months old, keep the carrier facing your chest. If they are four months of age or more, back-side wear is fine.
Key Features
Black in color
Very light-weight at 680 grams
An instruction manual is available
Two-way facing
Padding in shoulders and the sitting area
Pros
Newborns are suitable for this
Can hold up to 10 kgs of weight
Comfortable wearing
Can wear the carrier on both sides of your body
Stable hold
Not very costly
Unisex
Cons
Lack of color options
Not suitable for older children
View on Amazon View on Flipkart
9. Kiddale 5 in 1 Sling Bag Carrier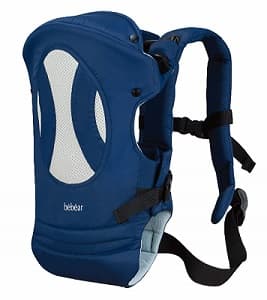 This sling and bag fusion Baby Carrier can hold the baby in five different manners. You can carry six months to 2-year-olds with equal ease, and your back would not suffer too much. Moreover, the waist area includes extra padding and shoulder pads with wide webbing for optimum comfort and stability.
The weather cover features are also useful in this carrier, and a foliage cover is present for this purpose. The straps are made of sturdy materials and are fitted with double buckles. Altogether, it holds the baby in place properly and does not cause discomfort either.
Key Features
3.5 kgs to 15 kgs weight are supported
Light size, at 299 grams
Fabric type is cotton
Good for 3 months of age to 3 years of age
Colour variations include black and purple
5 different positions are acceptable
Pros
Weather shield
Front pocket
Size choices available
Very lightweight
Cons
10. LuvLap Galaxy Baby Carrier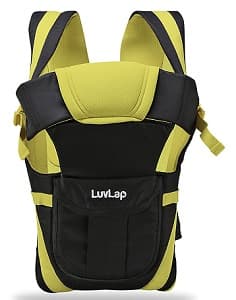 This particular baby carrier is one of the cheapest and good quality baby carriers available in India. It can hold up to 15 kgs of weight and includes three different carrying positions. There is a cushioned head support that you can remove and re-attach whenever necessary.
The shoulder pads and waist belts are padded to keep hold of the weight proportionately and give the wearer comfort too. You can easily adjust the side buckle to stabilize the hold better. Also, there is a soft bib within its structure that helps you and your baby stay fresh and dry.
Key Features
Can hold 15 kgs of weight
Suitable for 6-month-old kids to 3-year-old kids
Detachable headrest
Its weight is 640 grams
A soft bib is present
Pros
3 carrying positions are available
Padded shoulders and waist
Lasts long
You can adjust the side buckles
Cost is mediocre
Cons
Not machine washable
A higher weight compared to other alternatives
View on Amazon View on Flipkart
How to Choose the Best Baby Carrier? (Buying Guide)
Without a doubt, a Baby Carrier is one of the most essential and effective tools that a parent can have. With its help, one can go about their daily routine while carrying their baby handless-ly. This way, you can walk down the road or sit at a desk typing, or even cook in the kitchen, with your baby near you.
However, while this is a helpful invention that is available in shops offline and online, buying one can get confusing. There are various differences in its make, its holding structure, cost, etc., that you need to know about. Some may work for you, while others you may feel are not up to par.
To avoid buying the wrong one, you must know what the features of these products are. And simultaneously, which are the safest choice for you and your baby. All this, and how to use it, are mentioned hereafter.
Different Types of Baby Carrier Bags
Originally, using a sling made of cloth was the best version of a Baby Carry bag that was available. They performed the way they were meant to, and it was easy to fashion one by yourself too. However, in recent times, this field has seen advancement, and the carriers try to supply more comfort and convenience to both you and your baby.
Thus, you would notice variations in design and form; and after seeing which you prefer, you can make your purchase.
1. Wraps
One of the easiest styles of baby carriers for mothers and fathers is the wrap version. It is a highly old-fashioned and tested technique and covers the entire body of the wearer. You have to take a wide fabric piece and wrap it around your own body and then over each shoulder.
This version is a favorite for young moms as they can easily fashion it, and it is simple to adjust. Also, it is perfect for breastfeeding time, which can easily hide the activity from onlookers. It ensures privacy, and your baby can lay comfortably inside the wrap. Then, you can go about your daily work easily enough.
This type of Baby Carrier is perfect for you if you have a newborn, as they cannot hold their head up comfortably. They require constant attention, and they feel calmer around their mothers. The light and soft fabric of such wraps are comfortable against their baby-soft skin, ensuring comfort. Most of the time, the fabric choices include linen, cotton, knit jersey, or cotton jersey.
2. Ring Slings
Ring Slings are easily one of the most comfortable baby carriers to use and are suitable for many reasons. From a structural point of view, it comprises one wide fabric piece that you can wear across your chest. It is not a two-shoulder-technique; you can wear it over whichever side you are more comfortable with.
After fitting it over your body, a pouch forms in the front, depending on how you place it. Use the rings on the sides to pull the loose ends through and then tie it well.
This pouch is loose, and you can easily put your baby within it, and it is suitable for breastfeeding too.
However, the structure is not completely stable, which means adjusting the baby's positioning will get tricky. Also, babies over the age of 2 months cannot sit inside the sling area comfortably anymore.
This style of baby carriers is very versatile; you can position it any way you please.
However, if you are on the heavier side, try to wear slings with a longer length, and the opposite if you have less weight.
You should also keep a note of the material of the ring as well, and choose between wood, metal, or plastic options. As for your baby's comfort, you must consider the weather conditions too and choose a fabric accordingly.
3. Soft Structured Carriers
Another best baby carrier that you would find very popular belongs to the soft-structured baby carrier category. It is because it is highly valuable and includes a steady framework and soft materials. Both the wearer and the child sitting inside it would appreciate the comfortable fit and design.
Parts of its structure include materials such as clip enclosures and adjustable straps. These carriers include a seating area where your kid can sit comfortably against your chest. The shoulder straps keep the whole structure attached to your body, and you can easily carry it around too.
A great point in favor of these baby carriers is the fact that it is highly versatile when it comes to baby ages and sizes. To put it simply, if your baby is of a smaller size, you can tuck their legs inside the baby carry bag easily. As they grow older, their body measurements would grow.
In such a case, you do not have to buy a new one altogether. There are leg holes available on the two sides of some of these products, and they put their legs through them. These are highly cost-effective, and you can use it for a long time.
4. Solid Structured Carriers
Unlike soft-structured types of carriers, this particular design includes aluminum framing. It helps in maintaining a good shape and structure that ensures across-the-board support for the wearer. Moreover, there are different varieties to this version, and you can choose according to what suits your requirement best.
There are differences in its weight among all brands that make this, which means you can choose something lighter or heavier. However, the ones with heavier framing are more sturdy, while the lightweight ones have lesser or slimmer frames.
The heavier options do include extra reinforcements in the buckles and bars. Overall, they are suitable for going outdoors with your children, like extended shopping trips, sight-seeing, or day hikes.
Plus, another distinction about heavy-framed ones is the additional storing options that are present. These include clips, pouches, and many pockets. On an outdoor excursion with your baby, you would appreciate these factors highly. The baby holder itself is very durable, which holds your baby's weight well, even in such travels.
Pros and Cons of Using a Baby Carrier
Pros
The advantages of using a baby carrier include the following-
Freer movement- You can easily walk around crowds with your baby in a baby carrier, compared to options like strollers.
Breastfeeding- You can easily hold your baby closer while you are breastfeeding, and carriers reduce the strain in your muscles too. Not to mention, the fabric acts as a cover as well.
Hands-free- You can go about your usual duties like making food, shopping, working, etc., while holding your child using a carrier.
Neuroscience- As noted by the Pediatrics Academy of America, babies who are picked up more often, cry less, and feel safer than those who do not. Carriers come handy in this matter extremely.
Cons
There are disadvantages regarding baby carriers too, and they are as follows.
Safety issues- While both strollers and carriers help carry babies around, you may sometimes get into minor accidents. For example, if your baby is in a frontal carrier, they would get hurt if you suddenly fall down. Thus, safety is not always guaranteed.
Twins- A twin carrier is a good option in theory, but in practice, carrying two kids may cause intense neck and back pain.
Extra weight- If you are out shopping and have a lot of bags to carry, a baby carrier can prove more difficult to handle. Also, they would increase pressure on your back and hurt you badly.
Learning Requirements- Indeed, wraps and ring slings are very cost-effective and helpful, but for a new mother, it is not simple to wear. You need time to adjust it and wear it properly to ensure your baby is safe. But it takes time to learn the right pattern, and also to master doing it faster.
Things to Consider Before Buying a Baby Carrier
While choosing the best carry bag for baby, it is important to buy one that possesses the necessary features. How good they are would determine how comfortable you and your baby would feel. And that is highly important to consider before buying said product.
1. Age and Body Mass Considerations
While buying the perfect infant carrier for your baby, you should consider their weight and age first. Some are not compatible with particular ages and weight, and that can lead to health issues.
For newborns, wraps and slings are the best choices, but you should make sure to buy the right size for them. Plus, some structured baby carriers come with add-ons, focusing mainly on providing neck support to newborns. Truthfully, babies before the age of 6 months do not have a strong enough neck muscle. Thus, you should try to avoid structured baby carriers for them.
Wraps are best for babies until they reach one year to 16 months of age. After that, they usually start sitting on their own, and they would not like the texture-less and stretchy carrier material of these baby carrier types.
In some slings, babies can curl up to form a C shape, which can restrict their breathing patterns. This is especially true for premature babies, who take time to develop stronger organs and bones. Thus, you should take a good look at the guidelines before buying them.
After a baby turns into a toddler, their weight is mainly over 10 kgs. It then becomes difficult to carry in slings or wraps, and thus, the soft-structured baby carriers are preferable. The age limit in this scenario is mostly six months to three years.
2. Comfort
Certainly, comfort is a very important factor to focus on when you are buying a baby carrier. Both the wearer and the child should feel no unnecessary burden or strain while using the carrier. For the child, you should focus on products that give excellent support to the neck and the head.
In younger kids, especially newborns, these two body parts are not the most developed. Thus, choose a carrier that allows free movement of hands and legs and holds the baby in place. Structured carriers are a stable choice, but you should check the straps, buckles, and seat first.
As for the parents, it depends on what they have the most need for, and maximum individuals choose the soft-structured choice. It is safe and allows you to go about with your activities while your child is in a stable hold. However, those with newborns have a better experience with a sling or wrap version.
And for those suffering from health issues like shoulder or back pain, the best choice is a carrier with sturdy fabric or padded straps. It takes some of the pressure off.
3. Versatility
A versatile carrier is the right choice for saving money while also enjoying good functionality. While a single such carrier is more expensive than most carriers, the ability to adjust its features allows more prolonged usage.
Thus, you can use the adjustable baby carrier for your newborn, and also when they get older. Some brands make particular carriers that come with special features and adjustments for this purpose.
4. Cleanliness
One of the most common side effects of raising a young child is lots of food and drink spillage. Thus, it is obvious that cleanliness is an important factor to consider here. Therefore, you should choose ones which are easily washable in the washing machine. Some like wraps and ring slings are more fabric than framing, and hence, they are very easy to wash.
However, structured baby carriers have different hard components in their build, and there are extra seams, padding, etc. These require separate washing by hand.
5. Nursing
One of the most common activities that you have to take part in on a regular basis is nursing your newborn child. In such cases, a baby carrier that allows easy access, privacy, and a comfortable hold is important. The best option available for this are slings and wraps; structured baby carriers are too hard to adjust.
6. Weather Factors
Weather is another aspect you should consider while choosing the best baby carrier for you. If you live in a place with a warmer climate like India, lighter fabrics are essential. Moreover, dark colors soak more heat, and they are better suited for colder regions.
As for the seasons, slings are more comfortable to use in summer, while structured baby bags are better for winter. Especially when you go outside with your baby, the padding in these provides more warmth.
7. Fabric
You should look at the fabric quality as well while buying a baby carrier, and make sure they are a breathable material. Also, sturdiness, too, is an important factor for holding a child for a more extended period. On the same note, you should buy an infant carrier that has not undergone any chemical treatment, and the dye is children-friendly.
Common and safe fabric types that are breathable and comfortable include:
Hemp
Polyester (breathable but not too comfortable)
Cotton-Spandex blend
Polyester-Nylon blend
100% Cotton
8. Fittings
There is no point in buying a product if they do not fit you or your baby properly. Therefore, you should take account of that. If possible, you should buy these after testing it out on your own self and see if comfort and durability are there.
Some of the main questions to ask yourself here are as follows.
Can you wear it easily without any help from someone else, or are the fittings too completed?
How secure are the straps; can you adjust it according to your shoulder and chest-length? Or do they keep falling off, and you must adjust them all the time?
Is the fit of the baby carrier suitable for your baby and their needs and weight? (Note: This is something that you cannot judge on your own; asking your pediatrician what to focus on is crucial. After all, fittings are not the same for every baby.)
Also, does the baby carrier fit well with the measurements of the wearer? Is the weight evenly placed, and can you adjust the product along your body without much discomfort?
9. Sturdiness
You should check if the parts of the carrier you want are stable, like buckles, snaps, straps, belts, and seats. Also, try to buy carriers that come with a wide strap feature; they provide perfect support to a baby and the one carrying it.
10. Additional Accessories
A few carriers include accessories that add to its features. Some come with attachable accessories, while you need to purchase some separately for others. Of course, check to see the manufacturer's approval and ratings before doing so.
These include:
Weather cover for winter
Rain hood
Sunshade
Teething pad
Drool dib
11. Price
Of course, buying a product with good features is the most important focus. However, the budget, too, is another matter worth considering before purchase. Usually, baby carriers in India range around 700-2000 rupees, but those with more features have higher pricing.
These additional features include some like caissons support and heavy padding, while the quality is also better. However, you should check what features you actually need and also the comfort that these provide.
Neither unnecessary spending nor stingy saving will help you if you choose an unsuitable product.
Safety Tips to Follow While Using Baby Carrier
While using any product, safety guidelines are important to assess beforehand. This is no different while buying baby bag carriers either, as not taking proper precautions first can harm the children later. Thus, follow the given points carefully.
First and foremost, you should consult your pediatrician on what carriers are best for your child's weight and health. It is especially important if your child suffers from respiratory issues, has a cold, was born prematurely, or is younger than four months.
Choose a front carry facility if your child is under five months of age as they need good neck support.
Avoid having any of the fabric on their face. You should also notice that they are not curved into a half-circle inside the wrap or sling styled baby carriers. These can suffocate them, and thus, you should always stay aware.
You should make sure that that your baby can see your face, and you can see theirs. Adjust accordingly after breastfeeding them.
Cleaning and Maintenance of Baby Carriers
Wash the carriers by hand using a mild detergent or soap. Simply scrub the dirt with a light brush.
Avoide using bleach, liquid detrgent and the soap that contains brighteners, as it can damage the fibers of the carriers.
Cotton and linen fabric needs to be washed in cold water. On the other hand, silk, wool, and cashmere can be washed in a lukewarm water.
Do no machine wash the baby carriers. Baby carriers with ring slings contains metal or plastic rings that can damage to both the washer and dryer as well as the carrier when washed.
After washing, rinse it and gently squeeze out any excess water,but make sure not to wring the carrier. Instead roll it in a towel and press gently to squeeze water out.
Allow the baby carrier to air dry completely.
Don't keep them too much in direct sunlight as it can cause fading of the fabric.
Store the baby carrier indoors and in dry location.
Baby Carrier Frequently Asked Questions (FAQs)
Are structured baby carriers easier to use or slings?

Structured carriers come pre-installed with a variety of straps and buckles while you need practice to use a sling properly. How easy either is depends from person to person.

Is twin carriers available in India?

There are not many brands that provide twin baby carriers to Indian citizens, though some expensive options are accessible.

Are good baby carriers available at cheap prices?

Most cheap baby carriers do not provide as many features as the more pricey alternatives. But you can find some exceptions.

Which baby carriers are better for each weight type?

Usually, you can use a sling easily for babies who are very lightweight, specifically the newborns. As they grow older, though, a structured carrier would give better support and allow you to carry them more easily.

Are there specific baby carriers for different weathers?

Yes, choosing a carrier according to the weather is important for you to do. And you should also note the color and fabric type. For example, in summer, ring slings made of lighter fabric and in lighter colors are the best options for your baby.

Which carrier is best for breastfeeding purposes?

A ring sling is a particular carrier type that is best for nursing purposes. You can adjust your child easily, and also the fabric would act as a better cover.

In case of lower back pain, which carrier should I opt for?

If an infant carrier has wide straps for lumbar support and a very snug fit, you should opt for such a product. It causes less stress on your back muscles. Nevertheless, consult a doctor first to be sure.

Which type of baby carriers is best for newborns?

As the spine of newborns is not properly developed directly after birth, ring slings are the most helpful option. They are comfortable and supportive without being restrictive.

Can baby carriers lead to hip problems?

Yes, hip joint misalignment is a problem that you can face from using baby carriers. However, some modern options take this into account and are specially designed to give the users natural positioning easily. You can opt for those.

How to know if my baby carrier is safe to use?

Every baby carrier is essentially safe to use as the manufacturers keep that in mind while designing and producing. Yet, you should handle the one you buy as per manufacturers' guidelines and pay close attention to it. That would allow safer and more proficient usage.
Conclusion
Overall, there are many affordable and best baby carriers that you would find in India. This particular type of product is a highly important commodity that makes the lives of parents easier. After all, it is not easy to always carry your babies around to different places. These carriers perform that function, leaving your hands open for other duties.
Out of the many mentioned above, the Infantino Zip Travel Carrier is one of the best carriers available that performs well for both the parent and the baby. U Grow Hip Seat Baby Carrier is another good alternative to consider.
Nonetheless, whichever infant carrier you do end up choosing, you should first identify what features it holds and understand if it is suitable for you.
And don't forget to share your feedback or suggestions in the below comment section.
Read Related Reviews
Buy Best Baby Carriers Online
Chinmay Kids Adjustable Baby Carrier Cum Kang...
58%
TRUMOM (USA) 3 in1 Baby Carrier for kids 0 to...
73%
LuvLap Royal Hip Seat Baby Carrier with 4 Car...
29%
Antil's Baby Carrier Bag/Adjustable Hands Fre...
73%
LuvLap Royal Hip Seat Baby Carrier with 4 Car...
42%
SNOWIE SOFT® 4 in 1 Baby Carrier, Adjustable...
33%
Chinmay Kids 4-in-1 Adjustable Baby Carrier C...
58%
MEDITIVE Baby Carrier with Detachable Hip Sea...
53%