There is a general belief that a Baby Car Seat is a luxury item for foreigners. However, this is not necessarily the truth since these products are popular in the Indian market too. Make no mistake; these are vital investments every parent should have to enhance the overall safety of the baby while on the wheel.
Studies reveal that a baby car seat can save your baby's life in case of an accident. It's safer than when you're holding the baby on your lap. Typically, it offers the best protection and ensures your baby is safe.
Despite the different types of seats, the Indian market has all manner of products. As such, it can be difficult to decide the best choice that will meet your needs. Due to the overwhelming choices, we've narrowed down the options to ease your selection process.
Our products are tested for quality and performance. Indeed, they are the best picks on the market. We also have a Comprehensive Buying Guide on the best baby car seat in India with the aim to widen your knowledge about the product. Let's now kick off the discussion. Keep reading.
7 Best Baby Car Seats in India
Best Baby Car Seat Reviews
1. LuvLap Sports Convertible Car Seat
If you're looking for all the benefits of a baby car seat in one product, then dig no further. The LuvLap car seat is the best baby car seat for parents looking for a safe option for their babies while traveling. There is a lot of features that make this baby car seater a top contender, and we'll get into the basics of it.
Starting off first, it is a flexible child seat that comes loaded with safety features. These include a five-point harness that secures your baby from the crotch waist and shoulders. Even more reassuring, the seat is certified as a safe product by the relevant safety organizations.
As well, it has a soft cushion on the harness, seat, and headrest to offer your baby with optimum support and comfort.
With the three adjustable recline positions, your baby can nap while on board. The car seat is versatile that you can use it in the rear-facing position when your baby is an infant. Likewise, you can switch to the two forward-facing positions when your baby reaches two years to four years.
Notably, the seat can rotate in any direction, and this offers the flexibility of use. Hence, you can get your baby in and out without disturbing his sleep.
It's no secret that babies can get a little messy when taking their meals. Luckily, the LuvLap Seat has a removable and washable seat cover.
Key Features
Ages 0-4 years
Three adjustable positions
One rear-facing and two forward-facing recline positions
5-point harness
Carrying capacity 18kg
Orientation: Convertible
Pros
Durable
Safety certification
5 point harness for maximum security
Adjustable
Soft cushion for comfort
Three recline position
Easy to clean
Cons
The initial set-up process is complicated
2. Graco Slimfit All-in-One Convertible Car Seat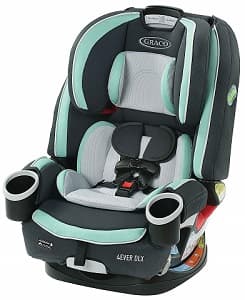 Despite the high price tag, the Graco car seat is a worthwhile purchase that will give you the best value for the money. It's an innovative product and a popular car seat that has won the hearts of many parents globally.
Other than the appealing design, there's more than meets the eye! This car seater for baby has a 4-in-1 orientation meaning it has forward as well as rear-facing positions.
It can accommodate the growing needs of your baby at different ages. As the name implies, it's highly convertible from a rear-facing, to forward-facing, to a high back-belted seat.
For your child's safety, you'll be impressed by the six reclining positions that also guarantee comfort even as your child gets taller. On top of everything else, the frame is made of durable strength as a safety enhancement feature and for endurance.
Incredibly, the headrest features ten positions that you can adjust with one hand without rethreading the shoulder straps.
You'll appreciate the plush material that's gentle on the skin. Also, the easy-to-use harness gives you peace of mind that your child is correctly buckled.
Most vehicles have anchors or tethers for attaching toddler seats, but not so with the Graco 4Ever. It comes with the InRight latch system that eases the installation process.
Other features include the affixed cup holders and inserts that ensure your child's comfort. For convenience, you can clean off any mess by removing the washable seat covers. Also, for quick clean-up, you can wipe off food remains with baby wipes.
Key Features
4-in-1 car seat
Six reclining positions
Ten-point headrest
InRight Latch system
Insert and cup-holder
Maximum weight capacity 54.4kg
Pros
A 4-in-1 seat that accommodates your child up to 10 years
Six reclining positions for comfort
Safety guarantee
Easy to install
Has cup holders and inserts
Easy to clean
Ten position and adjustable headrest
Gentle fabric
Cons
3. Britax Boulevard ClickTight Convertible Car Seat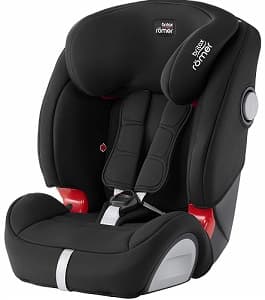 The Britax Boulevard car seat offers remarkable durability that will give you value for your money. Plus, superior support backed by side protection for babies between the ages of 9 to 12 years.
This Britax Car seat model is the most recent addition of the EVOLVE brand products. It boasts of a set of features that guarantees performance while keeping your child safe.
The most notable of this is the side-impact padding that's a safety feature. It reduces impact due to a side collision, whereas the chest pads minimize any risk in case of a front crash.
The 5-point harness is the hallmark of this seat. This outstanding feature protects your child by keeping him/her in a tight position while the car is moving.
Icing on the cake! The harness produces a clicking sound every time you secure your child, and this is a reassurance of safety. As soon as your child reaches four years or 18kg, you can tuck away the harness and instead use the 3-point seat belt.
With the Boulevard 1-2-3 set up, your baby will feel comfortable and enjoy the trip. The seat belt positions across the chest while avoiding the neck.
Another good thing is that you can expand the width and adjust the height of the harness depending on the size of the child. Not only that, but it also provides considerable protection around the neck and head for older children.
The Britax Boulevard is both a rear and forward-facing seat and features a 3-point seat belt that simplifies the installation process. As long as the belt is securely threaded, you only need to strap the car seat, and you'll feel more confident that your baby is safe.
Lastly, the seat does come with some extras that make it easy for the child to pull some snacks from the base. Finally, you don't have to worry about the little messes since the cover is washable.
Key Features
Recommended weight between 9-36 kg
Side impact and chest pads
Soft Latch system
Three-point seat belt
High-back booster protection
Two-point assembly
5-point harness
Two recline positions
Pros
Versatile seat
Has side and front impact padding that forms a protective shield
Two-point set up process
Comfortable headrest
Adjustable
Five-point harness
Cons
It can't be used as a booster since it's affixed
Only two recline positions
4. Fisher-Price – Convertible Baby Car Seat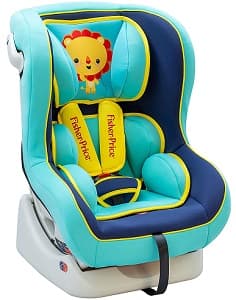 If you have a small baby, you could be wondering if you can get the right car seat for them. Worry less; the Fisher-Price car seat accommodates children from 0 to 18 kg.
For your peace of mind, there is the 5 point harness that guarantees safety and three reclining positions. These include; one rear-facing mode for kids with a weight 0-9kgs. The others are two front-facing modes suitable for toddlers from 9-18kg.
There is a safety guarantee with seat since it's certified by various safety organizations in terms of quality assurance.
The material consists of white-virgin plastic material that's safe on babies. You'll not have a fussy baby on board as they will enjoy looking at the colorful animations that mimic their favorite cartoon characters.
Further, it's a lightweight product and has side impact protection. That being the case, it offers your baby the best protection in case an accident occurs.
The seat cushion is plush and easy to remove for a quick clean-up.
The Fisher Price car seat is not the type of seat you'll have problem installing. The process is simple, and the instructions are clear. Best yet, the bottom is easy to fix and adjust. Once everything is set, your child can get in and out easily, thanks to the Quick Fit harness system.
Key Features
Material White plastic
5-point harness
Three reclining positions
Hand washable
Recommended weight capacity: 0-18 months
Pros
Comfortable
Has five-point harness
Certified as safe
Quick installation
Easy to use
Has three reclining positions
Reasonable pricing
Cons
Doesn't have an ISO fix model and hence you must fix with a car seat belt
The cover is not machine washable
5. Evenflo Tribute LX Convertible Car Seat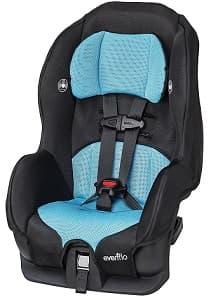 Beyond the elegant appeal of the Evenflo car seat lies a set of features. It's a suitable choice for babies between 2 to 20 kg and grows with your baby. As the name suggests it's a convertible seat, it can accommodate the needs of a growing child.
This artfully designed seat is versatile and comes with both rears facing and forward-facing positions to protect babies of different weights.
Indeed, the engineering process creates three levels of safety. It reduces side impact in an accident while maintaining its fullness regardless of temperature changes.
The Evenflo brand is renowned for compliance with all the safety regulations regarding children's car seats.
The baby car seat has comfortable padding that surrounds the whole seat, thus supporting your baby. For extra safety and comfort, it comes with a baby-friendly headrest or pillow. The front-facing is ideal for bigger kids, and hence this seat is a money saver that's a good value for money.
Something else to add is that the buckling system is excellent, and after latching, everything feels secure. Plus, it has a five-point harness system that fully assures the protection of baby, even big children.
The seat utilizes a comfortable soft cushion that surrounds the whole seat, thereby protecting your baby from impact in case of an accident. Installation is easy since it has easy and up to-the-point instructions.
Lastly, the seat cover is machine washable, and the extras include a cup holder.
Key Features
Recommended weight capacity of 2-20 Kg
4-point harness
Four shoulder straps
Two crotch buckles system
Head pillow
Pros
Comfortable
Certified as safe
Has four-point harness
Excellent buckling system
Easy installation
Has a cup holder
Machine washable
Reasonably priced
Cons
Lacks recline positions thus babies can't sleep
6. LuvLap 4-in-1 Infant/Baby Car Seat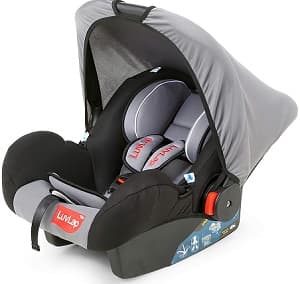 If you're looking for a simple car seat for your baby, you may consider the LuvLap car seat. It has everything you need for a child's car seat. You can use it in a rear-facing position or forward-facing for a road trip with your baby.
For a fact, this is a multi-purpose seat that features a 4-in-1 design, which you may use as a seat, cot, feeding, and rocker chair.
Another thing to note about this seat is that it comes at an unbelievable low price, which is ideal for parents looking to save some money. Other than that, it's been certified as safe by the European Safety Standards.
It has a 5-point harness system that supports your baby on the crotch, waist, and shoulders. Even better is the adjustable headrest that allows you to set different heights for your baby's comfort.
Side protection is another best feature of the LuvLap car seat. The entire seat features a full of foam that offers soft yet firm padding that spreads on the harness and the seat for maximum safety.
A unique feature is a removable canopy that protects against sunlight exposure. Also, the seat cover is washable to maintain cleanliness.
Key Features
Recommended weight is 0- 13 kgs
Suitable for kids between 0-15 months
3-point height adjustment
Heavy padding
5-point harness
Pros
Three height adjustment positions
Certified as safe
Easy to install
Has a canopy
Easy to clean
Reasonably priced
5 point harness
Firm padding for comfort
Cons
The first-time installation takes time
7. TRUMOM (USA) Baby Convertible Sports Car Seat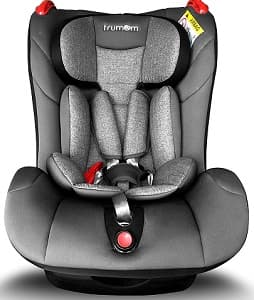 The TRUMOM car seat hits the spot as one of the best infant car seats that's easy to install, safe and affordable. It's a 3-in-1 seat that beats its highly-priced rivals besides being every parent's dream when traveling with your little one.
Kids grow fast, and this seat is a money saver since it accommodates the needs of our growing child. It can support kids between the ages of 0-7 years with a maximum weight recommendation of 0-25kg.
This lightweight and sleek car seat can withstand a side-impact collision. It has soft and cushioned wings that embrace your baby from the neck, spine, and head. Plus, the 5-point harness secures your baby in case of a forceful impact.
Additionally, it's easy to install in view of simple and straightforward instructions. Furthermore, it easily detaches from the base without disturbing the baby.
For comfort, the seat features a three-position recline. It allows you for front, side, and seat adjustment accordingly. The boosters allow the use of a seat belt for bigger kids.
For taller babies, you can adjust the headrest, whereas its design incorporates a rear-facing mode for smaller babies.
Key Features
Age recommendation 0-7 years
5-point harness
3-in-1 car seat
3-position recline
Adjustable headrest
Pros
Side protection from forceful impact
3-position recline
Adjustable height
Ease of installation
Features 5-point harness
Reasonably priced
Safety guarantee
Cons
How to Choose the Best Baby Car Seat? (Buying Guide)
Your child safety is paramount when you're driving, and a child safety seat is essential in saving his/her life. When not secured or strapped, there is a higher risk of life-threatening impact in case of an accident.
However, the Indian baby car seat market is overflowing with all manner of seats. The choices may be overwhelming, and it can be confusing to select the best car seat for your child. Luckily, we have rounded up factors that you need to consider as you pick a suitable option.
Different Types of Baby Car Seat
1. Infant Car Seat
Infant Car Seat An infant seat has a rear-facing configuration and is designed for newborn babies to shield them from an impact of airbags in case of a head-on collision. It also enhances their comfort and security.
This car seat is set up with a sturdy base, and you can also remove it as a carrier for your newborn.
If you're looking for a seat for your newborn baby weighing 0- 13 Kg, an infant seat is an excellent choice.
2. Convertible Car Seat
A convertible car seat features two modes or orientation; these are rear-facing and forward-facing. As the name suggests, you can convert the seat from an infant or rear-facing to a forward-facing seat and quite often; you may use it as a booster seat.
This seat also has height adjustment straps and multiple recliner positions to suit your child's demands. Therefore it makes economic sense since it accommodates the needs of your growing child. The rear-facing modes have more height and weight consideration, thereby allowing kids to use them longer.
3. Booster Seat
A booster seat is designed with a high back or sometimes with backless design. The high back seat is suitable for a bigger child from the age of 4 who has passed the infant stage and can longer use the rear-facing seat. Notably, such a kid can now use the forward-facing seat but still require ample protection.
For safety enhancement, a booster seat has wing protection and an adjustable headrest for comfort. It lifts the child up and can be used up to the point where the child can fit in regular seat belts.
Luckily some boosters integrate well with the belt mechanism. Before you spend your money, ensure there are seat belt adjusters to position the belts in rightful position.
4. 3-in-1 or Combination Seat
A 3-in-1 seat comes as a booster seat, forward-facing, backless booster or a high back booster. It is an excellent option for bigger kids.
Features to Consider Before Buying a Baby Car Seat
1. Age of your Baby
The age of your child also determines the type of child safety seat due to the differences in weight. If you need a seat for a growing child, choose a convertible seat that grows with the child.
As seen earlier, such a convertible comes with three different configurations. You can convert to a front-facing, rear-facing, or booster seat, depending on your growing child's need.
2. Durability
When choosing a car seat for your baby, check the quality of materials. A steel frame enhances durability, and this will give you value for money. Also, the seat cover should have a plush padding material that's premium grade and gentle on your baby.
3. Space in Your Vehicle
There are different types of cars, some are small, others are large family cars with ample space. When shopping, consider a compact-sized seat that can fit in a variety of vehicles. You may also need to consider the number of passengers in your vehicle as everybody's comfort is paramount.
For a big kid, there should be enough space for the legs and for taller kids, ensure the head is not too close to the roof.
4. Versatility
The versatility of a child car seat means that it can serve your baby in a different way other than for safety inside the car.
Some seats are multi-purpose and can be used as a car seat stroller depending on underlying features. Rather than buying a stroller separately, you can buy a multifunctional seat for both, and you save in terms of budget and space.
Some car seats have a five function handle, which is good for carrying and is useful when sitting, mounting, or rocking.
5. Compatibility
Some cars feature an ISOFIX adapter, which is affixed to offer anchor support for your child's car seat. However, not all vehicles have such support, and hence it's crucial to confirm if the seat is compatible.
6. Lightweight and Portable
If you have multiple vehicles, you could save money by buying one seat, which you can easily move from one car to the other. Such a seat should be easy to fix and re-fix. It should be lightweight for convenience when shifting between vehicles.
When converting to a stroller, a collapsible seat is comfortable to carry and more so one with more robust handles.
7. Ease of Installation
The installation should be easy and straight forward. You'll need to check if there's an installation manual accompanying your package. An all in one car seat means it's compatible and can attach to the car seat base effortlessly. Preferably, a click and go system helps in setting up and installation.
8. LATCH System
The LATCH mechanism is a special seat and an acronym for Lower Anchor and Tethers for Children. Although this seat is mostly available in western countries, you can also find it in the Indian Market.
Typically, there is a metal bar installed at the back of the seat, and it attaches to the baby's seat using unique buckles. Some seats have the InRight LATCH system for securing your baby.
9. Adjustable Recline Positions
An adjustable recline position is desirable since it allows the baby to sleep in a comfortable position as you drive.
10. Safety Standards
Always buy a car baby seat that meets the recommended safety standards. For instance, in the United States, the American Academy of Pediatrics has guidelines regarding child car seats.
Since some of the products in the Indian market are imported, you might need to check whether the seats have complied with global safety standards.
A good quality seat should secure your baby at all times when the car is in motion. Evaluate the car seat quality to establish if the brand has all the safety measures such as safety label that determines the laid down safety standards.
Before you buy, confirm whether the seat has been crash-tested, and it meets the safety standards.
11. Brand
Before you buy a baby's car seat, it is essential to check the popularity of the brand from reviews and ratings. Many brands have flooded the Indian market, and it's vital to pick a seat with a high score as this is an indication of popularity.
A seat with a low rating will only confirm its quality is wanting. Don't gamble with your child's safety and pick an item that will end up disappointing you or one that does not give you value for money.
12. Categories
Baby's car seats are categorized and grouped depending on weight and ages. When you establish your baby's weight and age, then it will be easier for you to choose a seat befitting him. These groups are
Group 0: 0-10 Kg or approximate birth 6-9 months. The next is Group 0+ for 0-13kg or approximately birth to 12-15 months.
Group 1: 9-18 kg or approximately birth nine months to 4 years.
Group 2: 15-25 kg or approximate age of 4-6 years, and lastly Group 3: 22-36kg or approximate age of 6 – 11 years.
13. Maintenance
Baby's seats can get dirty easily, and it's crucial to clean them regularly. It is easier to clean if the outer material is removable and can fit easily after washing.
Ensure the material is strong and durable, even with regular washing. Also, ensure the color of the seat matches the interior of your vehicle. If it doesn't match the exact color, it should be closer or something which can mix and match to maintain the décor of your car.
14. Warranty
A warranty is a guarantee that ensures if there will be any problem with the seat after purchase; there is a remedy. Find out if there is a money-back guarantee or warranty to shield for any losses. A baby car seat is a valuable investment that addresses the needs of your growing child. A longer warranty period is desirable.
15. Comfort
The padding and material should be soft, especially for a newborn that needs soothing and comfort as you drive.
16. Baby Car Seat Accessories
Accessories are those extra items that will make your ride enjoyable and fun with a baby on board. For instance, a sunshade or a mirror allows you to monitor your baby in the rear-facing position. It's more convenient rather than turning your head behind and interfering with your concentration on the wheel.
Another important accessory is a ride safer travel rest, which your child will wear alongside a seat belt to guide on the proper position of the seat belt. It's applicable at the booster seat stage where your kid is in a position to wear a safety belt.
Other extras include a cup holder where you can keep drinks and snacks for your baby.
Important Safety Features
A Car seat for babies is designed with a safety first concept where your baby's safety overrides everything else. It's advisable to buy a car seat that fits securely in your car and one that leaves no chance to loosen.
It's crucial to read the manufacturers' recommendation in regards to the weight and height limits. Ensure all the safety features are present and top-grade to protect your baby in case of an impact.
Some of these features include;
1. Safety Harness
A safety harness can be padded, height-adjustable, or un-padded. A good car baby seat should have a harness, especially for small babies who have not reached the age for booster seats. As your child outgrows the infant seat, they can use booster seats, which can be secured using a car safety belt.
It acts like an impact-protection shield and assumes the shape of a bar. It runs through your baby's midsection and the chest and distributes any force that may occur in case of an accident.
5 Point Harness: A 5-point has two straps at the shoulders, two other straps at the hip section, and one at the crotch area, which is interconnected via your car's buckle-release system.
3 Point Harness: A 3-point assumes a Y shape and has two straps at the shoulder and one at the crotch. A 2-point features a lap belt surrounding the waist area.
The best for a newborn is the 5-point system as it protects your baby's delicate body parts.
2. Seat Belt System
Some vehicles have a seat belt system that secures big kids. It should be sturdily threaded to offer the best protection.
3. Side Impact Protection
A car seat with side impact protection ensures your baby is perfectly aligned from the spine, head, and neck. If an accident occurs, the firm cushion absorbs the force and keeps your baby safe.
4. Chest Pads
Chest pads work by distributing the force in case of a coalition. They ensure your baby is secure and doesn't lurch towards the front.
5. Headrests
Lateral shaped headrests offer the best protection to your baby around on each side of the head while ensuring the baby is in the middle position. Even if you hit a pothole, your baby's head will not move.
6. Removable Pillow
Your baby's head is prone to shock even when you hit a bump or a pothole. For this reason, a padded pillow will protect the back of the head regardless of the road's condition.
7. Side Wings
Side wings have ample padding that snug or embrace your baby so that he gets a comfortable ride even on a long journey.
8. Adjustable Harness
When shopping for a car seat, check whether it's adjustable so that you can lift it up depending on your baby's height. The harness should offer a snug fit so that it's neither too loose nor too tight. Some seats may have three sets of harness.
9. Head-impact Protection
You may need to check whether the seat has head-impact protection that ensures proper alignment of the neck and head. It does this by absorbing the force in case of an accident.
Baby Car Seat Frequently Asked Questions (FAQs)
1. How long can you use a car seat before its replacement?

Car seats have an expiry date from the date of manufacture, which is normally six years. At six years, it's assumed that the child can sit comfortably and buckle up the seat belt.

2. What is the difference between forward facing and rearward facing car seats?

There are two styles of baby's car seats, and these are; rear-facing and forward-facing. All babies should be rear-facing until they reach the age of 15 months. At this age, your baby's neck is not strong enough to withstand pressure from a head-on collision if facing forward.
After this stage, your baby can use a forward-facing seat until the age of 4. The seat should have an integral harness to put the baby infirm, comfortable, and safe position.

3. What is a convertible car seat?

A convertible seat will serve the needs of your child after he outgrows the infant seat. The convertible seat assumes three configurations and can be used as rear-facing for small infants and forward-facing for toddlers.

4. At what point should you use a convertible seat?

You can use a convertible seat once your child exceeded the maximum weight capacity or height for an infant seat. Normally, this is available in the manufacturer's guidelines. It can be between the ages of nine and eighteen months.

5. Is there a difference between a convertible seat and a 3-in-1 seat?

A convertible seat has a rear-facing mode as well as a forward saving mode. It's suitable for newborns and grows with your baby up to the maximum weight recommendation.
On the other hand, a 3-in-1 seat can be a harness to a booster seat, combination, forward basing the only harness, backless booster or a high back booster.

6. What is a booster seat?

Once your child exceeds the height and weight recommendation for a convertible car seat, the next seat to use is a booster seat. They are safe alternatives for a big child and have an adjustable headrest and winged protection. These seats are suitable for kids between the ages of eight and twelve.
A booster seat enables your child to sit well using a car's seat belt. Before you use this seat, ensure your child has exceeded weight and height recommendation and can sit on his own. After outgrowing the booster, your child can now transit to the adult seat.

7. What is a 3-position recliner?

A child car seat with a 3-position recliner means it can be adjusted in three positions for standard sitting and sleeping to ensure your baby enjoys a comfortable ride. Some convertible car seats are configured in such a way they can recline when in a forward-facing position.

8. What is side impact protection?

Side impact collision is a type of accident where another vehicle hits your vehicle on the side, endangering the occupants, including your baby. For this reason, your baby's car seat should have side impact protection to protect him in case of such a collision.

9. Why is 5-point harness important?

A 5-point harness keeps your baby in their seat in case of an accident. It protects your child by distributing the impact of the accident across five points to one buckle point. These include the shoulder, crotch, and the pelvis.

10. Can a five-year-old child use a booster seat?

Yes, older car seats had recommendations for booster cushions for kids up to 4 years. However, things have changed, and to boost your child safe, you can use a high backed booster for bigger kids as compared to a backless-booster.
Conclusion
A baby car seat is a necessity in India as many families opt to travel with their little ones. However, you can only enjoy the peace on the steering when you are sure your baby is safe.
Let's face it! Kids are explorers, and that is their nature. It's crucial to consider all factors wholesomely as each is equally important to ensure the overall safety of your child.
Most importantly, consider the quality of the seat so that you get real value. It's better to spend more on a baby car seat that will grow with your child, than buying a new seat every year.
Hopefully, our review of the best car seat in India as well buying guide will surely be helpful, and you can now shop with confidence.
Read Related Reviews
Buy Best Baby Car Seats Online
LuvLap Galaxy Convertible Car Seat for Baby &...
33%
R for Rabbit Convertible Baby Car Seat Jack N...
14%
R for Rabbit Picaboo Baby Carry Cot, 4 in 1 M...
17%
Dash 4 in 1 Infant Baby Car Seat, Carry Cot a...
21%
R for Rabbit Jack N Jill Grand ISOFIX Baby Ca...
25%
R for Rabbit Picaboo Grand 4 in 1 Multi Purpo...
25%
LuvLap Galaxy Convertible Car Seat for Baby &...
20%
Dash 4 in 1 Infant Baby Car Seat, Carry Cot a...
21%