Bath time can be tricky and messy if you are dealing with your infants. To save from all these chaos, you should prefer bath tubs that are very trendy these days. Baby bath tub is an excellent choice as it can be fun for your baby, and for sure, you make it more memorable moment at the same time.
Generally, kids feel more energetic at shower time, and they love to play and make fun while bathing. Even as it is quite trouble-free to make your baby be seated in a designed container and swim for the bath by using baby bather. A good quality baby bath tub is providing a very delightful bath experience to your baby.
Basically, a baby bath tub is designed in such a manner that lets your baby playing toys throughout bathing. They also splatter while bathing without any risk, and it would be the best thing that facilitates the parents to freshen up the baby easily.
For newborns, you can even consider for bath tubs that are inclined with spongy cushions or fur fillings inside. Seeing as you have a number of options these days to prefer a bath tub for your baby and it seems quite simple to choose from, but actually, it's not. Check out our Comprehensive Buying Guide on Baby Bath Tubs with different characteristics that surely help you out in deciding the suitable baby bather for your infant.
Note: When you feel concern to select child bathtubs, it is necessary that you judge exactly what might make your child safe and hygienic. Remember that not luxurious or high-quality kid's bath tubs are costly. You simply have to be very smart and perceptive in your purchasing selections. Just ensure that whichever brand or type you select, it's safe as well as germ-free for your baby.
8 Best Baby Bath Tubs in India
Best Baby Bath Tub Reviews
Now, check out the detailed reviews of all our listed models with their full specifications and buyers feedback.
1. Cho-Cho European Standard Inflatable Baby Bather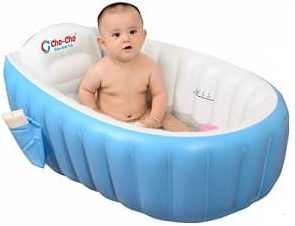 From our thorough research, this best baby bath tub from the brand Cho-Cho comes the first in our list. It's for sure the best gift for your baby. The quality of the product is amazing and is made up of BPA free European Standard PVC material. Its framework is quite soft and flexible that provides no harm to your baby's skin while bathing.
The size of the bathtub is 90 Cm x 60Cm x 27Cm, which is pretty good for newborns to 4-year-old adults. It is a very light-weight product, and the weight measures only 1.25 kg, which makes it very easy to handle.
The product is ideal for both boys and girls. The slip-resistant design makes it an ultimate choice for kids, and they will surely love to make fun while bathing without any risk. It has an inflatable raised section to hold up the baby's leg.
There comes a padded cushion that offers support to the back of your baby. You can regulate the angle of the bathtub manually through an inflating pump. A handy storage bag is also there on the side of the tub. So, you can store mini items like baby toys or some bathing stuffs (Shampoo, Shower gel, or baby wash) in that storage space very easily.
There is also a plastic cord at the bottom of the tub. It helps in quick filling and drying. As a complimentary item, a free inflation pump comes with the package.
The best feature of the product is its foldable design that can save storage space as well as make it an ultimate choice for travelers. Kids can swim freely with the help of the head ring and enjoy splashing water while bathing. A fastener is fixed at the base of the container through which you can fill the air with ease. Moreover, the large size drain plug is also attached at the base for water discharge.
Key Features
European Standard 0.6P PVC Material
Product dimension is 9 x 27 x 37 cm
Weight of the bath tub 1.5kg
Fully Air-filled tub allows your baby to move freely in it
Head rest and safety balloon between the legs for their comfort and safety
Backrest design for comfortable seating
Synthetic pipe attached to the stand for effortless aeration and filling
Side pockets to keep bathing stuff
45-degree movable backrest to support baby's back
Handy and long-lasting
Easy To Use and Clean
Pros
The bath tub is pretty big, ideal for both newborns up to 4years growing adults
Build quality is very nice
It becomes relatively very powerful when puffed up with air that makes the baby very relaxed during the shower
Light-weighted and foldable to save space
Cons
Sometimes durability fluctuates. Hence it is advised you to use it properly and read all instructions carefully before use
2. LuvLap Hippo Dippo Baby Bather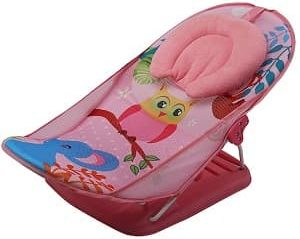 Some little moments of bath time of your baby can be more memorable with this Luvlap baby bather. Your newborn deserves special care, and so Luvlap products are designed specially for your child's soft skin. This one baby bather is an excellent pick for newborns and toddlers from 8-9 months who can't sit up straight on their legs.
The bath tub offers a very comfortable bath to your baby featuring many comfy and outstanding features. Its design includes a sturdy metallic frame with a wide and thick plastic base for ultimate support. The quality of this baby bath tub is outstanding. Even the durable and premium quality non-toxic materials construction is absolutely safe for your kids.
The product also assures the complete comfort and security of your baby. Flexible seating can give relief to the back of your baby during the shower. The design of the bather seating is very comfortable that your baby feels the same warmth and comfort of your lap.
To make the bathing experience more soothing and relaxing, it also comes with an adjustable backrest with three recliner position. The bather's seat includes a soft web slings that help make newborns comfy and happy while bathing.
Key Features
Approx Weight capacity up to 9kg
Best buy for small babies up to 8-9 months old
Heavy-duty and long-lasting framework
Fluffy head support and curvy sides with inbuilt cushions
3 poses lounge space with self-regulating backrest
Supplementary footrest for more relieve
Soft woven web seating to help make newborns relaxed and happy while bathing
Well-built metallic structure
Broad and heavy synthetic stand for excellent support
Foldable design for easy storage and carrying
Pros
Easy to fold and carry without trouble
Machine washable cushions
Maximum weight recommendations 9 Kg
Adjustable headrest makes it easy to regulate cushions manually
The upper incliner can be adjusted in 3 ways whether footrest can be
Cons
Pillows become messy and get ragged after a few uses
The bather is rather useful for 4-5 months. There are chances of getting a fungal infection if not used frequently. Hence, it is advised to clean it every day after use and dry it completely
Not for growing adults
3. LuvLap Wild Woods Baby Bather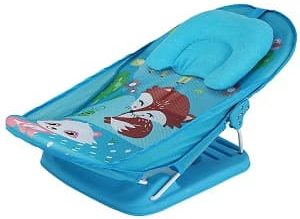 Now again, a baby bath tub from Luvlap that comprises of durable and high-quality materials. This cute and colorful baby bather in elegant blue color is great for babies who can't sit up straight . Even, this product comes with boundless features. What a baby requires most while bathing is all it has!!!
It is suitable for newborns to 9 months growing adults. In this depressing time and a busy schedule, where you have many responsibilities, but no time to play with your baby, this product gives a relaxing time to spend with your newborn.
It can make a simple bath more enjoyable, and you will definitely love the kicks and giggles of your baby. The head support is very soft and has a padded filling inside, whereas, the footrest is pretty wide for extra comfort.
This is not enough; it has further more features that are very useful for mothers as well as for babies too. An adjustable backrest is there with three recline position which can tilt back and add comfort in baby's shower time.
Wild woods baby bather comes with a strong metallic frame and broad profound plastic stand. This sturdy base provides excellent support to the bathtub.
The light-weight design makes this product one of the best investments as it takes less space and can carry easily. Make sure to avoid using this baby bather for two years old and above infants because the maximum weight capacity is only 9 kg. It may lead to some difficulties or may rupture anytime.
Key Features
Made up of Top-quality materials
Very well-built, durable and handy
Strong and sharp metallic frame
Broad plastic base for excellent support
Padded Head sling and curvy corners for extra safety
Extended footrest
Flexible backrest with three direction tilt position
Maximum age recommended: 0-9 months
Weight Capacity: Up to 9 kg
Pros
Foldable and light-weight features make it more handy and convenient to carry and store
Machine washable cushion
Looks good and sturdy
Comfortable and durable
Cons
Not for babies more than nine months
Not returnable or exchangeable
Somehow slippery surface, so you need to be very careful
4. MeeMee Baby Bather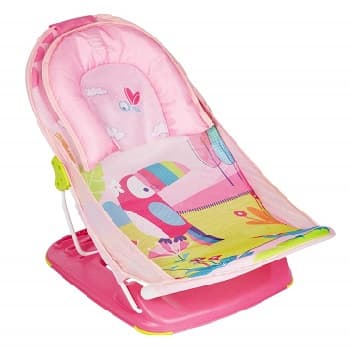 If you are looking for the best bathing chair, MeeMee Baby bather is your option that is quite budget-friendly. It is foldable so that you can store and carry it easily from one place to another.
The materials used in it are of high-quality and has anti-slip seat padding. The fabric is good enough to fight with fungus or molds. But it is suggested to dry it completely after use because the damp surface may lead to infection.
The design is pretty good for toddlers. The product body comprises of premium quality, solid, and durable PVC material. This makes the bath tub long-lasting.
It also comes with international standards of sanitation and protection so that your baby can make fun while bathing without any fear.
With its unique design and comfortable seating, it provides a pleasant and cozy feeling to your baby. The ergonomic design of the bath seat has rounded edges, and there is plenty of space for the baby to cradle and enjoy the bath.
Key Features
Anti-slip seat padding with mildew resistant framework
Bathtub Frame is made up of high-quality imported PVC material
Maximum weight recommended: 18 kg
Item weight: 1.63kg
Pros
Ergonomic design with rounded edges provides plenty of space for the baby to fit in the bather and enjoy the bath at ease
Anti-fungal seat padding makes it very hygienic and causes no harm to the baby's skin
Extra-safe and unique design makes bath time uncomplicated for you and, at the same time, enjoyable for your baby
Durable and long-lasting product
Cons
The base of the bather is not stable
It is difficult to assemble
5. Babyhop Foldable Bath Tub with Bath Support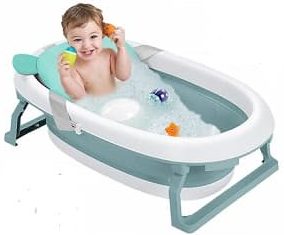 Handling alone your infants while bathing is not easy. A good-quality bathtub can make your task easy and hilarious. So, this best bath tub from Babyhop comes the next in our list to give your baby a comfortable and safe bath.
It is a 2-in-1 bather that includes one baby bather along with a fluffy cushion for head support. With foldable design and amazing support, it not only provides an amusable bathing experience to your kids but a helping hand for parents too.
The manufacturer takes care of every single detail that makes this tub an excellent choice for babies. Therefore, you don't need to be concerned. All you have to do is focus on what actually matters!! Just enjoy every silly laugh, cute hug, adorable kisses and giggles of your cute little ones.
This foldable bath tub is very light in weight and can be easily folded up so that it can adjust into contracted storage spaces. It is best suitable for infants as well as aged from 0-3 years old. This is a 2-in-1 bather that includes one baby bather along with a fluffy cushion for head support. The temperature receptive drain plug makes it more useful and functional.
The various temperature of the water leads to the color change of the drain plug. If the temperature of water passes through 37 degrees C, it will change the color and turns into white. If the water temperature is less than 37 degrees C, it will become red. This thermal sensor is specially designed for safety purposes so that the baby can bathe at the perfect temperature with no stress.
It would be the perfect size for toddlers. This bathtub can be used for babies, and the bath support mat provides additional comfort to hold newborns. Anti-slip silicon tub stand will add solidity and strength to the bather and makes it long-lasting.
Key Features
Anti-slippery surface and grip
Anti-slip stand at the base for underneath support
Safety lock and stable supporting frame
Sturdy and well-built design
Foldable in 3 simple steps and can be store easily
After fold width is just 9cm that effectively saving storage space
Temperature sensor ensure more safety for babies
Pros
Superior quality product
Looks nice
2 in one bath tub for newborn to 3 years old
The inflated seat provides more comfort to float or go for a dip
Collapsible design for easy storage
Cons
No warranty details provided
6. Sunbaby Anti Slip Bathtub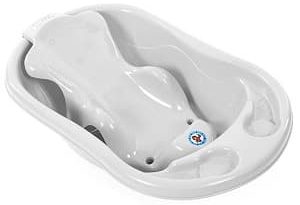 If you are searching for a quality baby bather at an affordable price, this one from Sunbaby must be a great pick. Even it is available in variable attractive color options, so you can choose the one you like most.
This bathtub comes in a design that suits the requirements of babies. It can be safer, and the kids love to have fun with water and playing with bath toys.
The construction includes high-quality, BPA free materials. The dimension of the bath tub is 79 cm X 48 cm X 22 cm, whereas the sling dimension is 61 cm X 31.5 cm X 18 cm. This model can be used in adult bath tubs too.
It is a high-quality product with a non-slip surface. There also comes a slip-resistant armrest to protect your kid from getting hurt. It is designed for safety purpose so that your child feel more relaxed without slipping.
The bather slide offers excellent support to the newborn and infants. When they grow up, you can easily remove the slide to provide enough space for their bathing. And therefore, they can play comfortably while bathing.
The model is also easy to carry anywhere and have slip-resistant suctions. There is also a water level indicator so that you can't go beyond the maximum line. And the drainage at the bottom allows the stream flows easily.
In the package, you will get one bath tub along with one bath sling. This product is undoubtedly a good buy for your lovely kid!!! One advisable thing is never to lift up the tub full of water or your newborns in it.
Key Features
Exclusive colorful Bathtub with bather slide
Unique rounded ergonomic shape
Unisex product with a bath seat
High-quality product with anti-slip armrest and surface
Removable bather slide for grown adults
Bathtub Dimension: 79 cm X 48 cm X 22 cm
Bath sling Dimension: 61 cm X 31.5 cm X 18 cm
Product weight 3.26 kg
Pros
Outstanding quality
The bather slide helps the parents to give effortless bathing experience with safety measures
Unique rounded ergonomic shape makes seating more comfortable while bathing
Huge bath tub with globular armrest and slings providing a relaxed and sound bath to your baby
Very comfortable
Budget-friendly product
Cons
Not too strong enough and comfortable for heavy sized baby
The base is quite delicate, and the supports do not even fix to the floor
7. Intex Whale Spray Pool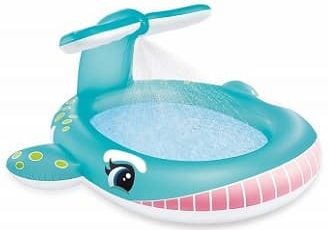 When a bath tub gives you all that pleasure that your baby can enjoy the diaper free moment in summers, who else does not recommend this!! Intex presents a beautifully designed Whale spray Pool that is certainly turned out to be your personal pool at home.
Personally speaking, the best part of this product is a water sprayer at the top. The design is very eye-catching, and so the utilities. Babies will definitely make fun while having a bath.
This inflatable pool is a great way to enjoy summers. But keep in mind that this spray pool is not for newborns. It is an excellent buy for kids over three years. You can place it in your garden too if you are planning for pool party. Your kids will really take pleasure in this bash. The water sprayer has its separate effectiveness. You can simply connect the spray can to a normal garden hose to set up the water flow through the spray.
If you are planning for a pool party for your kids, all you have to do is fill up this hot-air balloon pool and enjoy the special huge pond. Kids can wet each other around in the garden, and this activity makes them contented and relaxed.
Key Features
Multicolor with no assembly required
High-quality vinyl material
Recommended age: 36 months to 10 years
Size: 82 x 62 x 39 inch
Beautifully designed Water sprayer at the top
Pros
Very useful for kids aged to 8-9 years old
Quite big in size to swim comfortably
Two or more kids can enjoy swimming at the same time
It comes with additional stickers for punctures if any
Good quality and durable
Water sprayer can be attached to the backyard hosepipe
Cons
This model occupies more space hence it needs to keep it at the terrace or open area
8. Safe-O-Kid Inflatable Baby Bath Tub
Safe-O-Kid presents this very attractive bathtub that has all the features you are looking for. This inflatable bathtub is made up of fine-quality material and is environment-friendly. It usually has no side effects, and that makes it very safe for kids.
Your kids can simply swim, play, or bath without any harm to their bodies. It comes in different attractive colors, but that depends on the availability of the product. This package comprises one bath tub, one air pump along with a repair kit. Undeniably, it's a complete package if you are looking for the same.
The recommended age of using this bath tub is 6 to 36 months old baby. The material used in this model is 0.25mm PVC. The unique crystal double-deck bubbles make it very comfortable and protected. It can be placed indoor as well as outdoor.
As it is durable and strong enough to stay last longer, but it is recommended to use on a flat surface. The inflatable is not enough to avoid dent and scratches to the tub. One more thing that is very important is avoiding pouring too much hot water (the temperature would be below 50 degrees).
Precautionary, you have to be with your baby all the time while bathing. Hold up the baby's head when giving a shower; otherwise, it may lead to drowning or the water into the nose or ear. All in all, a useful product!! Just count your requirements and order for your own.
Key Features
Material: 0.25mm PVC, environmental-friendly
Package of 3 items: bathtub, repair kit and air pump
Item weight: 1.13 kg
Special crystal double-deck bubbles base
10 days returnable
Four air injection points to inflate and deflate
Pros
Scale line position is helpful for the baby from the risk of drowning
Eco-friendly material causes no harm to the skin of infants
The air pump is very useful to inflate as well as deflate the tub easily
Anti-slip surface provides support to the baby
Cons
It takes time, patience along with energy to inflate and deflate the tub
How to Choose the Best Baby Bath Tub? (Buying Guide)
Different Types of Baby Bath Tubs
There are numerous types of baby bath tubs available in the market. Below are given some sorted varieties for your reference.
1. Plastic Baby Bath Tub
Commonly baby bath tubs are made up of plastic, which is very light-weighted and user-friendly. These tubs are simple slanted cores with foam lining that allows the newborn to settle down, even in a little standing position. For water drainage, a plug is fixed at the bottom of the tub. A suction mug and a clip are also provided to dispense it after use.
2. Cushioned Bath Tub
It's a different kind of bath tub that is very popular these days. All you need to insert cushion tub into the tub having full of water. These cushions provide support to the baby while bathing.
3. Convertible Baby Bath Tub
From newborn to growing kids, these convertible bath tubs are a perfect choice. As the name suggests, it is a changeable bath tub. For newborns, you have to place a slot to support the baby, and subsequently, you can take out the slot to provide an additional gap. So that, your child can enjoy the fun during bathing.
4. Inflatable Baby Bath Tub
These are basically flat in size, very cost-effective, and portable. You just need to pump air, and it will become very huge, like a regular bath tub. This baby bather holds enough water, which is suitable for an amusing bath.
5. Fold-Up Baby Bath Tub
These bath tubs are good for those who travel a lot because they can fold up and require less storage space. Due to its foldable feature, it can easily place into a cupboard or dresser. These bath tubs are generally huge in size, but they can shrink a little bit of their original size when contracted. It is less durable; that's why you need to check if there any leakage.
6. Luxury Baby Bath Tub
Luxury bath tub is designed like a mini spa. You get a nozzle, in-built mini shower, simmer machine, and much stuff. This luxury baby bath tub is very pricey because of its automatic features. It may work automatically and also wash away the foam after use. Your baby will definitely find lavishness and comfort with a luxury baby bath tub.
7. Bath Seat
Bath seat is a kind of tub that can be used as normal seating when not in use. They are well-built and long-lasting. For 5-10 months old babies, this special bath tub is a good choice. Baby can simply bath in this tub while sitting in a standing position. The bath seat provides complete protection and prevents the baby from slipping while bathing.
8. Baby Bather in Adult Bath Tub
Some bath tubs are made up of harmless fabric or synthetic framework. They can be used separately or by placing in your big bath tub too. These are specially designed to provide extra ease and relief to your baby while having a bath. Hence, it's a good choice for small babies, but make sure the model you pick is stable and long-lasting.
So, now you can go for the type which is suitable for all your requirements.
Features to Consider Before Buying a Baby Bath Tub
Here we are mentioning some important factors that can help you better decide on your choice. To purchase the best bath tub for your baby, you should look into excellence, durability, and several other factors that meet your requirements. For your reference, read briefly the important factors given below.
1. Size of the Bath Tub
Size matters!! If you think of purchasing a bath tub for your baby, you must consider the dimension of the bath tub. Perfect size based on your requirements is the ultimate choice. Full-size bath tub is too big for toddlers; it can lead to slipping or may be something like sinking. And quite the opposite, too small bath tub can be uncomfortable to the little one. While purchasing the tub, it is suggested to carefully examine the size and weight so that you can single out the one suitable for your kid.
2. Build Quality and Material
Bath tub can be made of plastic, fur-filling, or cloth-like fabrics. These three materials are very common in manufacturing bath tubs, and plastic is widely popular among them. Before choosing plastic material, ensure it is non-toxic. Some plastic bath tubs smell bad and very harmful, so think twice before you go for your choice.
Furthermore, you need to check the quality while going for a fur-filling material. Ensure its silkiness and ease so that your baby feels much comfort while bathing.
3. Storage
Keeping a huge bath tub in a small area is definitely very useful. If you have a small bathing area, then a foldable bath tub is an excellent selection. After use, you can simply fold and store them in the bathroom drawer. Some foldable models are coming with a fastener backside that usually helps you to hang the tub. What you need to keep in mind is dry it from top to bottom before placing it in a cabinet.
4. Slip-free surface
Always go for the material having a non-skid surface. Usually, the soap or baby wash is slippery, and it can cause harm to your baby while bathing. Hence, prefer non-skid surface while purchasing a bath tub for newborn babies.
5. Drain Cap
You can't skip this feature while picking bath tub for baby. Usually, a drain plug is fixed at the bottom of the bathtub, and it helps in removing water from the tub after a wash. Some drains take out water from the tub completely, but some may leave a small proportion in the container. To dry out completely, you need to soak it using a cloth. Hence, make sure that the drain plugs work properly.
If there has no drain plug, then it's difficult to draw off the water. It will add additional work in your job. You need to tilt the loaded container or lift up the tub to remove the water. Hence, for your effortlessness, it is suggested to purchase a bathtub that has a drain option with a closure cap. This also helps in preventing water strains on the tub.
6. Contoured Edges for Comfort and Safety
Babies tend to slip within the tub, or sometimes they lose their balance while bathing. For that reason, you always prefer curvy ends for comfort and safety. Some of the bath tubs come with anti-slip pads or cushions at the edges to avoid baby from getting injured at the time of bathing. Baby bath tub with shower also makes you feel ease in providing the bath. On the other hand, the baby, too, feels happy and relaxed inside the tub.
7. Padded Head Rest
Having a cushion assembled inside the tub is always an excellent feature to consider. Padded headrest always makes your baby feel comfortable. It prevents your baby from injury and gives them a feel like resting on a soft bed.
8.Temperature Gauge
Baby skins are very delicate and sensitive. Perfect hotness always requires while you give a bath to your baby. The temperature gauge is one of the most vital features to consider while purchasing a baby bather. Some of the bath tubs have a unique temperature meter that alerts you if the water is too hot with the help of a color-changing indicator. Some bath tubs have a digital heat indicator too. The water warmth should be lower than 120 degrees for newborn babies.
In case, if you skip this feature while purchasing your bath tub, no need to worry, you can buy a thermometer separately. If you don't have a thermometer, too, it is advised to check the hotness manually with hands.
9.Water Capacity
To give your baby a convenient and contented bath, you need to go for bath tub model that has pretty adequate water holding capacity. Or else, there is no use of having a bath tub. If it is too squat, then the bathing experience will be very struggling. Don't show your negotiation in choosing bath tub having low water capacity. If you have storage issues, favor hanging or fold-up bath tubs.
10. Maximum Water Level
Each baby bather comes with the water fill line showing the level of water in the baby bath tub. And the top line comes with the word "MAX" written on that. It shows the maximum level of water desired for your baby in bathing. It is recommended to exceed the level of water beyond the MAX line, to ensure safety of your kids.
11. Stress-free Maintenance
There are some models available in the market whose maintenance is quite easy. Some bath tubs give you a tiresome experience while cleaning. Therefore, choose a bath tub that is durable and have stress free maintenance. Models with fewer openings are very hassle-free to sustain. It can also save your time and efforts.
12. Easy to Dry
Generally, everyone ignored this factor, but this is very important for better hygiene. Baby Bath tubs are used on a daily basis or usually once or twice in a day. Hence, it is important for the bath tub to be dried up rapidly. If not dry properly, it can cause fungus growth, which is not good for the baby's hygiene. For that reason, always choose a bathtub that can drain the water completely and make it dry with no strains. Mold-resistance bath tub with stand is a an excellent choice if you love hygiene.
13. Portability
A moveable bath tub is the best choice if you travel frequently. A portable bath tub can be very easy to carry around. Depending on your requirements, choose wisely between convertible or foldable. You can make it big anywhere like usual bath tub while using it or fold up in your bag after use. Just ensure that you dried it up completely after use and be careful to avoid any rupture to the tub.
14. Durability
The baby bath tub with stand is much safer than usual. Baby Bather having huge support, is usually very strong and might be long-lasting. Curvy and flexible base are quite risky to use.
Benefits of Baby Bath Tub
Having a baby bath tub in your household things is a pretty good choice. It has many benefits including:
Bath tub allows both of your hands to give a bath and also hold your kid with no difficulty.
A baby bath tub is somewhat reasonably priced and will provide you composure and extra comfort to your baby.
During wintry weather, you may give your baby a bath in the veranda or terrace under sunlight. This can be very helpful when the weather is too cold.
Using a luxury bath tub somehow prevent slippage from your baby, and come with a curvy cushion or head rest that simply avoid draining.
Baby bath tub with shower will help you to break out the annoyance of changing positions and squatting.
It will also save water from over consumption.
In-built contoured head rest of baby bath tub allows your baby's skull to stay on top of the water level.
All in all, keeping your baby safe and clean is vital. Once you reflect on your preferences and select which type of baby bath is suitable for you, it will surely give you inner serenity. And that is, of course, well worth for your baby!!
Safety Tips to follow while bathing your Baby in the Baby Bather
Giving a bath to a newborn is very complicated. Those parents who get this parenthood responsibility for the first time should follow some safety measures so that they can provide a smooth bath to their child. It might seem to be a very easy task, but giving a shower to a baby can be really tough and complicated because handling baby while bathing is not easy. They love to make fun while bathing, or some kids put their all efforts to escape from shower. What precautions should you need to take is given below:
Make sure bath tub is placed on smooth surface. Uneven floors might lead to misbalance the bath tub and fall down.
Give proper attention to your child. Avoid doing other tasks or ignore him/her while giving bath because they can slip or drown any time.
Never leave your baby alone in the bath tub.
Always use towel or washcloth for wiping. Avoid using sponges because the sponge can crack and go into your baby's mouth. This can be very dangerous.
Make sure to have baby towel and other bath supplies within your reach so that you can keep your baby on hands all the times.
While lifting or moving bath tub one place to another, do not carry your baby with the bath tub. It is risky to do two things at the same time. Any miss of movement or unsteadiness might lead to an injury.
Please ensure that the safety of baby comes first. Always keep in mind the above safety measures before giving bath to your baby using bath tub.
Important Points to keep in mind when choosing a bath tub for Newborns or Infants
Avoid choosing the bath tub made of thick plastic.
Inflatable bath tubs and bath buckets are dangerous for newborns.
The tub with rough edges is also not ideal for your baby as it may scratch your baby's skin.
The one having foam cushions are dangerous, as your baby may swallow their pieces.
It is better to go for the models having slots or pouches to hold necessary stuffs like baby shower gel, shampoo.
Cleaning and Maintenance of Baby Bath Tubs
Tub cleaning is very necessary after each bath session of your baby. Here are some fabulous cleaning and maintenance tips to maintain hygiene.
Wash your baby bath tub after each use. It is also good to deep clean it from time to time.
You can use a gentle multi-purpose cleaner, vinegar or liquid soap, to clean the bath tub of your baby.
To remove the stubborn build up, you can use a clean pad or toothbrush.
After wet cleaning, ensure to wipe it with dry cloth.
Never use harsh chemicals to clean the baby bath tub, as if it is not washed properly, it will cause harm to baby's skin.
Make sure to dry the tub completely to avoid any bacteria or fungus build up.
Also ensure not to clean the tub right before bath time.
Frequently Asked Questions (FAQs)
Do you really need a baby bath tub?

Most of the parents choose to bathe their baby on their legs, or even use a sink insert baby bath seat on their kitchen or bathroom sink. These options are quite challenging to keep a soft hold on your baby as there are more chances of slipping. Therefore, choosing a bath tub is a great idea. These come with anti-slip surfaces, support, comfort, and convenience all, providing ultimate safety for your baby while convenient for you at the same time.

Is it safe to use a baby bath tub?

Yes, baby bath tubs are absolutely safe for your kids as they are designed with ultimate support and anti-slip surface. But you must keep in mind some more important points to allow a safe bath for your infants. Never leave infants or toddlers unattended in the bath tub, as it may lead to drowning risk. Also, hold your newborns or infants very safely while bathing them.

One best part is that it is also easier for the new moms who have gone through C-Section and are unable to bathe their newborns on their lap.

How to use a baby bath tub?

Fill the baby bath tub with warm water at a temperature ideal for your baby. Now uncover your baby and keep him/her in the bath tub while holding them properly. Take a few drops of body wash and apply to your baby and finally clean them using a sponge or clean cloth.

When can I put my baby in the bath tub?

For the newborns, when their umbilical cord has fallen off, using a baby bath tub for their shower is completely safe under controlled water temperature conditions. You must hold them properly ensuring their safety.

How long will you use a baby bath tub?

Though each baby bath tub has its own age range, when your baby starts sitting up on their own, you may have to switch for the bigger bath tubs.

How to clean and disinfect baby bath tubs?

First, put the baby bath tub in the main bath tub. Then add warm water to the main bathtub along with 2-3 cups of vinegar to it. You can also use a disinfectant liquid or liquid soap. Now clean the tub and accessories using a scrubber or clean cloth. If there is any soap residue at the top or bottom of the tub, scrub it with baking soda and water paste. Finally rinse the tub with clean water and allow it to dry completely.
Conclusion
That's all for the best baby bath tubs to reduce all your stress while bathing them. It will also a great fun for your kid to take shower in the bath tub. As choosing the right type of bath tub is very important to ensure your kids safety, we have detailed every single points in our buying guide section. Hope it will help you in making the most informed purchase decision.
Also, the models we have listed are from top brands with great quality and performance. So, pick the one according to your requirements and budget and spend some precious moments with your little ones.
Please share your feedback and suggestions regarding the blog via below comment section.
Read Related Reviews
Buy Top Baby Bath Tubs Online
Intex Inflatable Kids Bath Tub, 3 Ft (Multico...
53%
LUVLAP Baby Cool Pool Bathtub with Bath seat ...
49%
Cho-Cho Inflatable Bath Tubs® European Stand...
81%
Intex Baby Bath Tub, Multi Color (2 feet)
26%
Skip Hop Bath Tub - Moby Smart Sling 3-Stage ...
22%
StarAndDaisy Foldable Infant Bath Tub With Sm...
85%
Baybee Sansa Inflatable Baby Bath tub for Kid...
38%
StarAndDaisy Foldable Infant Bath Tub, Collap...
51%