Considering the geographical location of India, the tropical climate can take a toll on one's lifestyle. The extremely hot and wet climate spread out over different regions has increased the demand for the best cooling solutions. But for many Indian homes, the affordability of ACs or Coolers is a bit more cumbersome. But there's a decent solution for this- best Pedestal Fans.
Almost all the households today own a pedestal fan, mostly because of its features and reasonable pricing. Since they are portable fans and come in different shapes and sizes, you can easily install them in any room you wish to.
Pedestal fans, also known as stand fans, only require a power outlet to run, making it much easier for people with minimal knowledge to operate it as well.
So, if you are searching to buy such an affordable cooling solution for your home, you are at the right place. We have reviewed here the best and latest models of pedestal fans in India to make your buying decision more simpler.
We have also covered a detailed Buying Guide , so you would know every single detail on it to make the right choice suitable for you.
10 Best Pedestal Fans in India
Best Pedestal Fans in India – Reviews
1. iBELL CHROME10 5 Leaf Pedestal Fan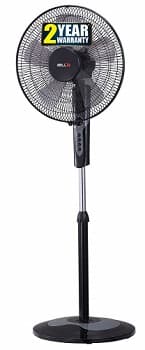 Here comes our top pick from the brand iBell that is rated as the best high-speed pedestal fan. This 16-inch windy beast might just be the perfect fit for your needs; it is an exceptional blend of reliable performance and structure with considerably more airflow than others. Here are some of the smart features of this stand fan:-
The model comes with a higher oscillation degree to cover a larger area.
It is equipped with 3-speed settings from low, medium, and high to easily set it as per your comfort.
A tilting head is a bonus for adjusting the angles according to your needs.
The five highly durable ABS blades provide cool air throughout the area covered.
Also, it has a built-in timer feature that automatically turns it off after 2 hours.
With a 1.8M power cable, it covers the problem of the distance with the power sockets.
The height-adjustable feature allows you to set the preferred height position of the fan.
The 100% copper motor ensures the existence of cool wind in the environment.
It needs simple assembly done by the user according to the instruction manual provided.
2 Years Warranty on the fan assures the quality and durability of the product.
Pros
Sturdy and durable build quality
Assembly is very easy
Different speed buttons are very assisting to set the speed as per the cool air you need
Timer option is also a unique feature
Cons
Noisy, not suitable for quiet backgrounds
2. Croma 110-watt 400mm Pedestal Fan

CROMA is a well-known store for a vast series of electrical experiences; it is, therefore, a one-stop brand for all your needs. While covering everything from smartphones to home appliances, they have the most elegant products for all your needs. So, our next best pick is this model of pedestal fan from Croma that comes with too many outstanding features, including:
This pedestal fan is exceptionally smooth and ergonomic.
It is 24 inches tall and quite lightweight, which enhances its portability.
The fully engineered 25 mm stack copper motor provides and efficient flow of cool air through the well-built blades.
It is also equipped with an optional oscillation feature to fulfill every requirement of the customer.
It is simply controlled with a 3-speed level for all your convenience.
Featuring a 1.7M long power cord, it allows no any inconvenience to plug it in the socket.
The fan has exceptionally reduced noise levels, lower than 65 decibels, so no more annoyance at all.
Adjustable height feature making it a perfect fit for all kinds of environments.
The warranty of 2 years makes it a best purchase at all.
Pros
Stylish and elegant design
Cooling performance is top-notch
Superb airflow
Works continuously for long hours without any heating issues
Very easy to assemble
Cons
A bit noisy at the highest speed setting
3. Usha Helix Pro High Speed Pedestal Fan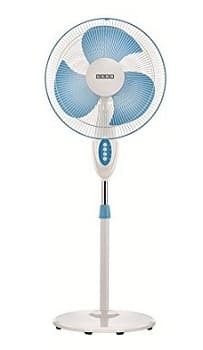 USHA is an Indian company established in 1954 and has spread and developed tremendously throughout the years. It is one of the leading fan manufacturers in India and is well known for its reliability in the world of electrical appliances. The Helix Pro fan is exceptionally sturdy, like the brand holding its name in the market. Some of the smart features of this pedestal fans are:
The fan is equipped with an ABS body and aerodynamically crafted smooth semi-transparent PP blades to generate cold waves of air.
This quality material construction protects the fan from corrosion and makes it durable.
High air delivery for perfect cooling to every nook and corners of the room.
Unique oil reservoir lubrication enhances the life of the product.
It is equipped with 3-speed steps that provide 67 cubic meters of air delivery in a minute.
To protect the machine furthermore, it is equipped with a fuse to automatically protect the motor from excess heat.
The copper motor ensures smooth working, and constant airflow, and the unique pivot management makes it adaptable to your needs.
With a simple instruction manual provided, it is very easy to assemble the fan.
2 years warranty on the fan is a pretty good duration to provide you relief from any service and maintenance issues.
Pros
Looks decent in white color, matches perfectly to your room aesthetics
High-speed fan
Low noise operation and easy maintenance
Light in weight for easy mobility
Zero vibration
Cons
Plastic quality should upgrade
4. Bajaj VPR01 Pedestal Fan with remote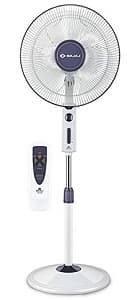 Bajaj is one of the major brands in India, with a vast market expanding continuously with their new and innovative products. Be it bikes, finances, or simple home electrical appliances; it has your list covered for all just at one brand. With its developed and sturdy brand name, it offers amazing products. One of those is the remotely controlled VPR01 pedestal fan. Have a look at some of the fantastic features of this pedestal fan:
The high-performance acrylic blades ensure constant delivery of air without any issues for a longer duration of time and zero warp from the air pressure in the surroundings.
Five-speed settings options allow you to choose your preferred speed.
It is also featured with a timer function with custom settings to be set by the user according to the personalized needs of the situation and the environment.
The silent operation of the fan ensures it to be fit for every place and background.
It ensures better comfort with low noise.
The fan controls any overheating due to voltage fluctuations or any other causes to protect the device.
The simple remote control saves a lot of work and relaxes the user to a higher level.
With a 2-year warranty, you don't need to worry about the service and maintenance charges within that period.
Pros
Remotely control operation removes away all the hassles of operating the fan
Low noise fan
Hassle-free and quick installation
Small LED light indicator at the panel for added convenience
The height is good and adjustable
Cons
Not a super high-speed fan, but ok in terms of air delivery
5. V-Guard Gatimaan High-speed Pedestal Fan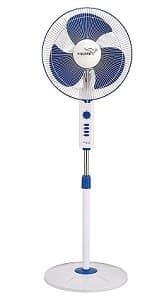 The company might not be very popular, but it is one of the major manufacturers of electrical appliances in India, and the largest one in Kerala. It offers a wide range of products from voltage stabilizers to even agricultural equipment and solar appliances too. Here Gatimaan, a high-speed pedestal fan with an in-built timer, comes the next on our list. The fan is best in performance and comes with many more outstanding features like:
It is made of superior grade stator material to optimize the power consumption without interfering with the performance of the device.
The better material makes the device sturdier structure-wise to survive rough handling without any damage.
The fan also has comparatively smoother oscillation while working throughout.
It comes with a 3-speed selector that controls the aerodynamic blades.
The design is balanced to enhance performance uniquely.
Gatimaan also has a 2-hour timer feature that allows the device to turn off itself after 120 minutes without any input from the user.
The powerful motor is laminated by silicon steel lamination for optimum power consumption.
In-built overheat and overload protector ensures the safety of the appliance.
Pros
Premium look and quality
Adequate airflow for better cooling
The swing control switch is very advantageous
Very easy assembly
Cons
6. Havells V3 Yurbo Pedestal Fan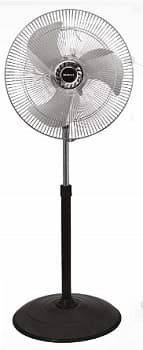 Havells is a fast-moving electrical goods company which has a considerable global presence. It owns some prestigious brands like Lloyd and Crabtree and has a huge range of products, be it industrial or home appliances. The brand has also been recognized and awarded for its amazing products. Out of the enormous appliances, the V3 Yurbo pedestal fan is an excellent choice for your budget cooling needs. Its key features are as follows:-
This 60-inch fan has 3 blades of 120cm, each which operates at a voltage of 220-240 volts.
With a greater height than general fans in the market and a good sweep area of 450mm, it helps the fan to cover and cool a wider area.
The blades are concealed and protected by 120 guard stokes to ensure nothing unwanted goes through the blades causing damage or accidents.
The fan operates with less noise that is 62 decibels only, so don't worry about the annoyance and disturbance created by noise.
It covers 110CMM in air delivery to reach a wide area of your room.
The fan also has a thermal overload protector to prevent the device from any damage during voltage fluctuations hence increasing the life of the device.
2 Years warranty on the product ensures no more worrying about service or parts replacement in case of malfunctioning within that duration.
Pros
The metallic finish gives it a premium look
Nice high-speed fan, suitable for bigger rooms
Smooth operation
Very easy to control the speed using speed control buttons
Low noise operation
Cons
7. Crompton High Flo Neo Pedestal Fan

Crompton Greaves, an Indian multinational company that is highly engaged in designing and manufacturing all kinds of products in power generation and transmission. One of their high-performance products is the High Flo Neo pedestal fan. Available at a pocket-friendly price, this one can be a great addition to your home or office for getting cool air in summers. The smart features of this Crompton Pedestal Fan are:
It is equipped with a 3-speed energy-saving motor that moves the aerodynamically made heavy-duty ABS blades.
The fan covers an area of 120CMM for better air delivery.
With a 400MM sweep, it ensures no spot is left without a windy whirl from the fan.
To protect the device from fluctuations and overheating, it is featured with a thermal overload protector.
It has a finger proof grill to avoid any mishaps.
The fan stands on a sturdy base to increase the stability and a junction box topped up with a long-lasting motor.
Along with high performance, it is customer-friendly with a spring load knob for easy adjustments and operation.
Pros
Energy-saving motor
High in terms of performance
Very light-weighted for easy portability
Cons
8. Orient Electric Stand-32 Trendz Pedestal Fan

Orient Electric Limited is a part of the immensely diverse CK Birla group. It is a well-established name in the Indian fan industry for more than 6 decades. Orient is also a one-stop-shop for home electrical appliances. The company works with innovations and manufactures lifestyle-enhancing products that sometimes overwhelm the customers too. So, we have another best pedestal fan in our list from Orient. Its smart features are:
The fan is a uniquely trendy in the fan industry with a sweep of 400mm.
With an air delivery of 83 cubic meters per minute, it offers immense airflow.
To conquer the environmental damage, it comes with an extra coating against corrosion and coated guard with a polymer ring.
It is equipped with highly aerodynamic resin blades to increase the airflow further and telescopic arrangement to suit all your specific needs.
An up-down tilt mechanism allows you to customize it further with 90-degree oscillation.
The device is also fit to protect itself from voltage fluctuations and overheating.
This model requires a very simple assembly with no hassle.
Pros
Looks trendy and stylish
High air delivery
Build quality is up to the mark
Cons
The speed of the fan does not meet the expectation
9. Rowenta VU5550 Oscillating Fan with Remote Control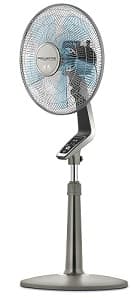 ROWENTA, a German manufacturer of general home appliances since 1909, has been part of the global French group. It has worked for more than a decade to come up with eco-intelligent products while contributing towards the environment simultaneously. Their whole range of products is refined in each aspect with a great level of easy use.
This oscillating fan from Rowenta is one such wonderful addition in their product range that gives you an instant cooling solution at an affordable range. Have a look at some of its smart features:
The fan delivers a powerful airflow up to 2436 Cu. Ft./Min, which is exceptionally stronger than every fan in the market.
With the quick generation of immensely fresh air, it is exceptionally quiet, too, with noise ranks from 40 to57 decibels.
It has an adjustable height range of 42 to 54 inches and a portable design to make it even more adaptive.
Equipped with 5 blades that can be customized to set a target, in particular, the output is considerably high.
The remote control function of this oscillating fan enhances ease of use for the users.
There is also a manual control dial present to set your desired speed.
The built-in handle adds more convenience for the easy portability of the fan.
Pros
Stylish design
Silent airflow
Remote control is a nice feature for easy operation
It perfectly oscillates to cover a wide area
Cons
Expensive
Cleaning is a bit difficult as grills are difficult to remove
10. Luminous SpeedPRO Pedestal Fan

Luminous power technologies is an immensely powerful brand with their name well-built and established in the market of fans and inverters. Their products run with the latest technology in the market hence simply upgrading your lifestyle. They also have a wide range of solar products.
So, our last pick of best pedestal fan, which is definitely not the least, comes from the Brand Luminous. Its amazing features will surprise you and indeed makes you purchase one for your home.
The fan is equipped with a strong motor to ensure high airflow through the 3 aerodynamically built PP blades.
It has a strong and heavy base to support the powerful motor, which is featured with thermal protection in case of excess heating or voltage problems.
Along with the strong performance, it appears in a glossy finish to enhance the interior appeal of your room.
It also has an in-built timer for accommodating the user's needs.
Variable color options are available to choose from that match best with your room interiors.
Pros
Glossy finish
Strong and powerful motor
Height up and down adjustment is available
Light-weight and easy to carry around
Durable and sturdy material construction
Cons
Pedestal Fans Buying Guide
Pedestal fans are quite useful. When you are searching for more ventilation, it evenly distributes the air rather than focusing on one single area. They are portable as you can carry it from one room to another, making it preferred.
But as you go to buy a pedestal fan, there will be a range of fans providing different features, swing angles, materials, sizes, heights, colors. The vast amount of choices can make it overwhelming and confusing.
So, let's take a look at the breakdown of what are the most important features you must look for in the best pedestal fan, which should be suitable for us.
Things to Consider Before Buying a Pedestal Fan
1. Mobility
One of the main reasons you go for pedestal fan is their feature of mobility. A bulky pedestal fan cannot be easily lifted. A heavy fan means you have to break a lot of sweat from moving it to our desired place, even if it is in the same room. A good pedestal fan has to be light and portable.
Pedestal fan with wheels is a really good option as, in this case, anyone providing very little strength can move it around the house with ease. One can simply move it to any place in the same room or move it to any other room as required without putting a lot of effort. Light and portable pedestal fans should also be durable.
2. Swing Angles
Swing angles is another feature you must look for before purchasing a pedestal fan. There are many pedestal fans with different swing angles. You can find the swings angles with 0 degrees (fixed in one place), 90 degrees, and 180 degrees. If you want the airflow in one direction, then you must go for a fixed pedestal fan.
But generally, 90 degrees and 180 degrees are good angles to go for as it provides air in a larger space. But as you go for more coverage of swing angles, the time interval to complete its oscillation would increase; hence it would take more time to come back to the original place.
3. Size and Height
According to your requirements and the size of the room, you must decide for the pedestal fan to buy. If you have a small area, you must go for smaller pedestal fans, whereas if the size of the room is bigger and can accommodate a bigger pedestal fan, then you should choose the size accordingly. You must also undertake which room you are placing the pedestal fan in.
If it is a small balcony or a bedroom, you might be lenient to buy a smaller one, whereas if you are choosing it for our living room, you might go for a bigger one.
Height adjustable option present in the pedestal fan is also a nice feature. Normally, in the case of most pedestal fans, height can be adjusted manually, but it is still suggested to check it before buying. A good pedestal fan should offer a varied height according to your requirements. The rod should not be stiff when the height is adjusted. The rod should be flexible and durable enough to still allow swing of the fan head.
So, you need to take the size and height into consideration and buy it according to your requirements.
4. Material
The material of the pedestal fan plays a very important role. You must choose a pedestal fan made of durable polymer rather than metals like iron, copper, or brass. These metals tend to rust easily, and you have to galvanize them periodically to prevent rust. So, you still have to spend money on maintenance after buying it.
Also, polymers are lighter and easier to clean. But if you have to go for a metal one, stainless steel and aluminum are preferred choices. The reason is that the tendency of forming rust is greatly reduced, but they would still be heavy to move around.
5. Sound or Noise
Sound is another very important factor you should look into while shopping for pedestal fans. A fan that makes almost no noise to a completely noiseless operation is the best pedestal fan. A very noisy pedestal fan can get very annoying, and you could hardly hear anything except the constant whirring of the blades.
Eventually, it also might end up giving us minor migraines if you hear the whirring for a long time. Whereas, a noiseless pedestal fan ensures our mental peace along with a good breeze. So, you should check the sound factor before buying a good pedestal fan.
6. Fan Modes
Fan modes generally refer to the rotations per minute (RPM). There are normally two types of fan modes in pedestal fan: Variable and Fixed. Fixed fan modes refer to the ones that you cannot control it and has only one fixed RPM.
The fixed pedestal fans are generally used at a wedding so that no one can tamper with it.
But for domestic use, you go for a pedestal fan with variable fan modes. Most of the models these days come with an installed 'Low' 'Medium' or a 'High' speed setting, which lets you alter the fan speed as per your need. You are now in greater control of managing the temperature of your room.
But the more advanced pedestal fans would render us more choices like medium-high and medium-low. The more choices of fan modes you get, the better the pedestal is. Also, you must check for the RPM (rotations per minute) of the fan. Always choose a fan that offers higher RPM if you require more power. Generally, an RPM of 1300 to 1400 will give you a good breeze.
7. Remote Control Feature
Nowadays, with the continuous enhancement in technology you have the choice to buy remote-controlled pedestal fans. These fans are a bit expensive, but the benefits are a lot. You don't need to go near the pedestal fan to change the speed or swing direction. With the help of remote, you can easily change the fan speed right from the place where you are sitting.
Even you can control the fan from a completely different room to adjust the settings. So, if you are working and are really in tune with the work, then you won't have to break your focus and to change the fan speed.
8. Timer
The pedestal fan with the timer feature is a very good choice. It allows you to set the time when the pedestal itself will change its speed, or if you set the timer to turn it off after an hour, it might even turn itself off without doing it manually.This feature ensures that not much electricity or power is wasted, in case you forgot to switch off the fan.
9. Removable Grill
After using the pedestal fan for a long time, it gathers up dust and dirt in the blades of the fan. As a result, it doesn't have such a good cooling effect; rather, you get very dusty air. Not only that, inhaling the dusty air, in the long run, can cause some unnecessary lung problems. So, you must periodically clean the blades of the fan to ensure the optimum airflow. A pedestal fan that does not have a removable grill makes the process a whole lot hectic as you struggle to clean the blades in between the grills. It also increases the chances of minor accidents. And a pedestal fan which comes with the feature of a removable grill ensures you can clean the blades with ease.
You can simply open up the grill and clean the blades and put the grill back. An easily removable grill ensures you do not unintentionally break the fan or hurt yourselves while removing it. You must also ensure it is easy to put back up; otherwise, you might have to call a technician or someone from the company to put it back together.
Most of the pedestal fans with removable grills have screws and bolts, and you must possess a screwdriver to open the grill up. You must also possess a few extra sets of screws and bolts of the same sizes in case you misplace any one of those.
But there are few pedestal fans with a latch system, making it much easier to open up and clean and put it back together than the pedestal fans with screws and bolts. You also do not have to possess extra items like screws or bolts at all times.
10. Blade Sweep
Blade sweep is typically referred to as the full size of their blade span or the diameter of the circle that you see when the fan blades are in motion. A fan with a wider blade sweep means it covers more area for air delivery. So, you should go for a pedestal fan with a larger blade sweep if you want the fan to cover a larger area. But if you are looking for maximum airflow in one particular direction, you can go for a smaller blade sweep pedestal fan. Depending on the purpose, you need to select its blade sweep area.
11. Power Consumption
Power consumption is an important factor you must undertake. A pedestal fan typically consumes a minimal amount of energy compared to a ceiling fan. However, you still need to choose a pedestal fan with an energy savings feature as it might save a good amount of money in the electricity bills in the long run. A higher power consumption means a few extra watts of electricity being used up.
pedestal fan that consumes tons of power is not only going to cost us financially but will affect the world environmentally too. Generally, the remote-controlled pedestal fans tend to consume more power than the normal ones. But nowadays, there are options of having a remote-controlled pedestal fan which consumes lesser power.
The best pedestal fan would have efficiency, and performance should be at peak without consuming too much power. It is usually contributed by the motor power of the fan being used. Hence a good motor is an absolute necessity. An ideal motor ranging from 50W to 100W is generally required for our domestic use.
12. Easy Assembling
A good pedestal fan should be easy to assemble. It should not be the case where you can not even figure out how to assemble it yourselves in your home, and instead, you have to call the company to send someone for help. Assembling a pedestal fan should not feel like it's rocket science, and no one can do it on their own. A good pedestal fan should have easy assembling so that anyone can assemble it easily with an instruction manual.
13. Motion Type
There are generally three kinds of motions available in pedestal fans:
Fixed Motion

In a pedestal fan with fixed motion, the whole fan remains fixed in one place and provides air in one direction. And if you want to change the direction of the airflow, you need to lift the whole fan and turn it to the desired direction. This kind of pedestal fan is generally used for industrial purposes, weddings, and gatherings. In these places, you would prefer a fixed pedestal fan as it serves the purpose of having airflow in only one direction.

Rotating Motion

In the case of pedestal fans with a rotating motion, you get an overall airflow in all the directions. This kind of pedestal fan keeps rotating at a fixed angle. This kind of fan is mostly used for domestic purposes. It ensures all the people in the room present gets the air evenly.

Oscillating Motion
In the case of pedestal fans with an oscillating motion, you get maximum airflow in one or two directions only. It is very similar to both the pedestal fans with rotating motion and fixed motion. The body of the pedestal fan moves from one point to an angle of 90 degrees as it temporarily fixes itself there. And the head of the fan spreads the air around in that particular direction for a few minutes.
14. Blades
The kind of blades present on the pedestal is also a very crucial factor you need to undertake while buying pedestal fans. Generally, most of the pedestal fans have three blades. Few pedestal fans are containing 4 or 5 blades. The more blades in the fan mean better airflow.
The airflow also depends on the shape of the blade. A normal straight blade means normal airflow. But when the pedestal fan contains a curved blade, it would be able to deliver a better airflow as it can focus the air in the front and does not let the air escape from the sides. The curved blade ensures to trap the nearby air in its edges and deliver it forward with a high speed, hence getting maximum air. So, you need to look at the number of blades and the blade shape, the pedestal fan has.
15. Heat Overload Protection
The motor of a pedestal fan eventually heats up when it is working for an extended period. To prevent the motor from overheating, you must allow the pedestal fan to cool down. So, it is very much suggested to buy a pedestal fan with a thermal overload protector to prevent any electrical accidents. It also ensures the motor lasts for a longer period.
The best pedestal fan should have a thermal overload protector to safeguard the motor from damage in the event of a short circuit or being overloaded and overheating.
16. Battery Backup
Few remote-controlled pedestal fans ensure battery backup. In case of a power outage, you can still rely on these pedestal fan to get the air flowing. These remote-controlled pedestal fans with battery backup can be recharged when you have abundant electricity present. They store the power, and when required, they can run for 4 to 6 hours without any problem. If anyone tends to live in an area with frequent power shortages, this is the perfect pedestal fan for them. Since they do not have to sit for hours with no electricity or airflow.
17. Safety Features
A good pedestal fan must have appropriate safety features.
It should have a grounded cord to prevent short circuits.
Slip-resistant feet to prevent the pedestal fan from falling over a person and injuring him/her.
It should have proper PVC coating around the wires so that one does not get electrocuted.
One of the most important proof to look for while buying a pedestal fan is if an ETL listing is mentioned or not. ETL stands for Electrical Testing Labs, a global assurance provider. ETL listing is the proof of product accordance with official quality and safety standards.
18. Low Maintenance
Most of the pedestal fans requires low maintenance. You do not have to spend a fortune to keep the fans working. If you clean the pedestal fan blades periodically, it will last us for ages. Until and unless the motor gets damaged and needs a replacement, the pedestal fans are good to go. So, you need to make sure the pedestal fan you are buying should be of low maintenance. For a low maintenance pedestal fan, you must ensure it has thermal overload protection and a great motor. So that it works well in case of an unusual load to extend the life span of the pedestal fan.
19. Style
Pedestal fan comes in different shapes, sizes, and color. They can add a pretty dash of color in our bland room.
There are pedestal fans with different kinds of designs on their blades.
Vintage-looking pedestal fans are for people who love furniture with a nostalgic flair.
You can also find contemporary patterns on pedestal fans according to your taste.
Classy sleek looking pedestal fans are also there with only a single color.
There are remote-controlled pedestal fans with LED lights and digital displays for the fan speed, timer, and oscillation rate.
Thus, with different styles, you can choose the pedestal fan according to your preferences and room interior design. The choices in styles are endless.
20. Affordability
You need to buy a pedestal fan which is affordable and according to your budget. You should not buy too expensive of a pedestal fan when your budget is low. Neither should you go for a cheaper pedestal fan with fewer features even if you have a higher budget. Fixing the budget beforehand narrows the options and features you need to look for in the fan. A good pedestal fan should range from Rs 2500 to Rs 5000.
21. Warranty
A pedestal fan should have a good warranty period. An excellent long warranty period also indicates the pedestal fan is in good quality and also ensures that it stays like that for a long time. It also means That you don't have to spend any money on the maintenance for the fan in case there is a manufacturer defect. You should always prefer a pedestal fan with a good warranty period. A good warranty period should be 1 to 5 years.
22. Brand/Quality
Lastly, you need to make sure the pedestal fan you are buying is from a good brand. Generally, a good brand ensures the quality of the product, customer care, and customer satisfaction to be the best. But you should not always blindly trust a brand; it is still better to take a look at the features mentioned above if it matches the requirements. Few popular and reliable brands for pedestal fans are Bajaj, Havells, Crompton, Usha, and V-Guard.
Benefits of Pedestal Fans
Manoeuvrability
One of the biggest boons of owning a pedestal fan is that it is a light and portable appliance. You can easily move them, use them in different rooms in your home, or even outdoors. You can also carry them with you to your balcony on a sunny day and shift it to low ventilation rooms. The pedestal standing fans are very light and much easier to carry; therefore, any person in your family can easily move it.
Stylish Designs
Besides the functionality that it offers you, a pedestal fan comes in different styles, which can add beauty to your interior design. Every model comes with a range of colors and designs to choose from, for instance, plastic and metallic, etc. Get yourself a fan that is unique to your home.
Swing Feature
One of the extremely useful features of pedestal fans is its swing feature. On choosing this option, the fan oscillates back and forth. This feature evenly distributes the cool breeze throughout the room, thus balancing the temperature. This feature is more useful when more number of people are occupying a particular room- ventilation becomes easier. Thus, to control the direction of the breeze in the room, you don't always need to move the fan.
Affordability
If you are looking for an appliance other than AC to keep yourself cool in summer and humid, pedestal fans are the best to purchase. These fans come within your budget, with no compromise in their quality. The nature of these fans is amazing because they are durable, affordable, and of high quality. They are made of stainless steel and plastic that don't rust easily or corrode. It requires you to spend very less on maintenance in the long-term.
Cleaning and Maintenance of Pedestal Fan
The periodic cleaning of a pedestan fan keeps it work efficiently and also maintains its longevity. Here are few simple steps to clean and maintain your pedestal fan.
Before beginning with the cleaning and maintenance of it, first unplug the fan from the electric socket and wind up the cord to avoid any injuries or hassle.
Now remove the front and back grill of the fan, so that you can access the blades that accumulates more dirt.
Then remove the blades gently.
Afterwards, clean the blades and grills using mild soap or detergent and warm water.
You can also use a soft cloth to gently scrub these parts.
Ensure to keep all liquid away from the motor.
To clean other parts of the fan like stand, rod, or the base, you can also use a soft and damp cloth.
Now allow all the parts to dry completely before reassembling them again.
Once dry, assemple all the parts again to further use the pedestal fan.
Pedestal Fans Frequently Asked Questions (FAQs)
1. Are tower fans better than pedestal fans?

Although both these types of fans have the main objective of wider circulation of air throughout the room, pedestal fans, by default, have a superior air throw capability than a typical tower fan. The blades are big, and motors are large in pedestal fans to aid in faster movement of air circulation. Comparatively, a tower fan has smaller blades but also has more accessories for temperature control, remote control, etc.

2. Is a pedestal fan adjustable as per one's needs?

Yes, the pedestal fans come with self-adjusting screws that can be used to adjust the appliance. You can put the rod within the rod to adjust the height.

3. Do pedestal fans cause noise disturbance while in operation?

The pedestal fans that are designed these days come with a feature that does not produce the irritating noise than its older versions use to make.

4. How to clean the blades of a pedestal fan?

Remove the grill, using the snaps provided to the sides of the grill. You can use a dry cotton cloth to clean it. In case there are sticky dust or dirt elements on the surface of the blades, you can use cleaning liquid or vinegar instead. Do not use water in this case as it may rust the steel blades.

5. Is it possible to get cool air using pedestal standing fan?

To get cool air, you can either place the fan in an open space or hang a wet cloth near the blades- an easy trick to getting the fan to produce cool air breeze for you.

6. Does the pedestal fan oscillate while operating?

Yes, the pedestal fans oscillate to cover a wider range of areas. Each fan has its specific air sweep, which determines the area the device will cover.

7. Are the blades durable and well-guarded?

Yes, the PP-blades are made from highly durable material and well protected by the metallic guard rails to prevent any unwanted objects from disturbing the rotation.
Conclusion
In conclusion, every pedestal fan is different from the other- be it concerning internal features like functioning or maybe external features like appearance. The durability of these fans makes them far more attractive for purchase. Our personal recommendation for the best pedestal fans are Ansio High-speed Pedestal Fan and Croma 110-watt 400mm Pedestal Fan. But, based on your needs, budget, and housing structure, you can pick any one of the best pedestal fans from the list we have provided. Even more the Comprehensive Buyers Guide we have provided, will surely let you decide the right choice for your needs.
For any queries, feedback, or suggestion, please do write to us in the below comment section.
Read Related Reviews
Buy Pedestal Fan Online
USHA Maxx Air Ultra 400MM Pedestal Fan (White...
47%
Bajaj Esteem 400 MM Oscillating Pedestal Fan ...
40%
Havells Gatik Neo 400mm Pedestal Fan (Aqua Bl...
50%
V-Guard Esfera 5 Blade Pedestal Fan With Remo...
36%
Crompton HighSpeed Torpedo 400-MM Pedestal Fa...
27%
Atomberg Renesa 400mm Pedestal Swing Fan | Si...
31%
AmazonBasics High Speed 55 Watt Oscillating P...
39%
V-Guard Esfera STS N Pedestal Fan (1350 RPM) ...
44%