Luxury and style is now everyone's choice, and when it comes to cooling appliances, technology has changed the way than the conventional pieces. Since there are a lot of cooling appliances available to beat the hot summers but nothing can replace the Ceiling Fans. These units are not only an efficient one but also an economical option too. Modern ceiling fans not only fulfill the need of getting a cool breeze but also add a great style to your home decor. Thanks to the technology that has brought the most modern LED Ceilings Fans with Remote Control options for full luxury and comfort during summers.
5 Best LED Ceiling Fans in India
Seeking for the best LED ceiling fans with remote but confused which one to buy, don't get worried about that. For your ease and convenience, we have narrowed down here the best modern ceiling fans equipped with LED lights as well as remote control options so that you can pick your favorite one.
Best LED Ceiling Fans in India – Reviews
So, are you ready to buy luxurious and stylish LED ceiling fans for your home or office? Get dive into the full review of best LED ceiling fans with the remote control to pick the perfect piece for your home.These pieces we have picked are based on best price, full specifications, and buyers' feedback so that you can choose accordingly.
1. Luminous Lumaire LED Fan with Remote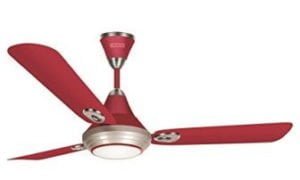 Crafted for comfort and luxury, this ceiling fan from Luminous will absolutely be your best choice. The Luminous Lumaire model is equipped with LED functional light and fully functional remote control operation. Give a glamorous look to your home décor with this LED ceiling fan. The blades are designed in a way that gives maximum high air delivery and makes your room a comfortable place to be in.
Key Features
Powerful motor
Superior air delivery at low voltage
Aluminum blades for no corrosion
Integrated functional LED Light
Remote controlled operation
Pros
Classy and stylish look
Superb air delivery
The remote control operation is a nice feature
LED lights are also very good
Low noise
Cons
2. Orient Electric Underlight Fan Spectra Brushed Brass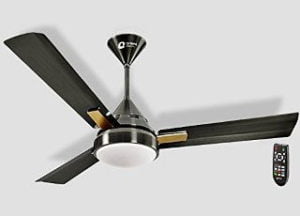 The unique, stylish and trendy design of this ceiling fan from Orient adds a premium looks to your room. The stylish wide blades with three-layered canopy ensure high air thrust and high air delivery. The multicolor LED light integrated with it illuminates the whole room with less power consumption. Also, the remote operation makes this ceiling fan to operate it comfortably and for easy functioning. You can easily control the timer, adjusts LED light intensity, as well as manual color changing mechanism through the remote.
Key Features
Multicolor LED Light
Remote for easy functioning
Wide blades for high air delivery
Powerful and strong motor for durability
Pros
Nice and stylish design
Great air thrust and air delivery
Multicolor LED lights are superb
The remote operation makes it easy to regulate the fan very comfortably
Cons
3. Havells Momenta LED Underlight Ceiling Fan with Remote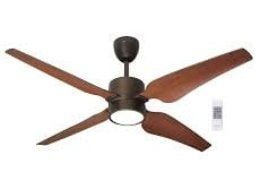 If you are searching for the LED ceiling fans with great quality, high efficiency, as well as the style statement, this one from Havells is a perfect choice. Featuring a perfect architectural bronze finish, this classy model is a unique combination of both style and technology. It comes with the state of the art designer blades that ensure maximum airflow to every corner of the room. The very best is its remote-controlled operation that makes you free from the manual operation for any special regulator. You can easily operate the fan using the remote.
Key Features
Classy and compact design
Contemporary LED underlight
Remote control Operation
Good rotational power
Low power consumption
Ideal for both small and big rooms
Aerodynamically designed 4 blades for superior airflow
4. Luminous TCFFS53G55800 Rayair Ceiling Fan with Remote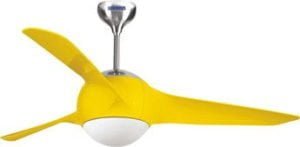 The Luminous TCFFS53G55800 is also one of the best LED ceiling fans with remote in our list. This underlight ceiling fan is a great combination of unique style and superb performance. It comes with the glass/polycarbonate dome for better dispersion of light. The Touchpad RF remote makes it easy to operate the fan in one touch. The blades are designed in such a way that freshens up and cools every corner of your living and work areas.
Key Features
Electroplated body and ABS blades
Integrated functional LED lights
Remote regulated fan and light speed
Strong and powerful motor
Superior aerodynamically balanced blade technology
Double ball bearing
Superior metallic paint finish
5. Orient Electric Aerolite LED ceiling fan with Remote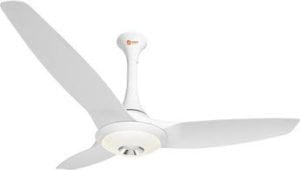 This one from the Aero series range of Orient is one of the best premium LED Ceiling fans with remote. It comes with a pretty attractive and eye-catching LED light perfect for luminous home décor. It's advanced aerodynamically designed blade delivers maximum air throw everywhere in the room while ensuring the noise-free operation. The high glass premium PU finish adds a great style to your room. Also, it comes with a remote for an effortless operation in just a single touch of the button.
Key Features
Super silent noise
Aerodynamic blades for high air delivery
Remote controlled operation
Double ball bearing for noiseless and smooth operation
Powerful 18 pole motor for longer life and durability
Why Choose LED Ceiling Fans with Remote?
A well-equipped ceiling fan in your house can make a big difference. Ensuring proper air circulation to every nooks and corner of the room, the new LED ceiling fans with lights illuminate your room and thus making your room a comfortable place to be in. This is all about style, and now when it comes to luxury, the LED Ceiling fans with remote controls are the best ones.
Think how it is more convenient to operate your fan without standing or using your hand on the voltage regulator by just using the remote control. The sensor of the remote can easily speeds and slows down the speed of the fan in just one touch of the button. The ceiling fans equipped with these modern technologies are somehow expensive but still an economical alternative rather than the costly air conditioners and air coolers.
Conclusion
This is all about the best LED ceiling fans with the remote control we have gathered here. So, get ready to add a great and unique style to your home decor by choosing the perfect one from the list. The list of the LED ceiling fans we have provided in the blog is very economical and superb collections that will surely suit your budget. And still, if you think anything is missing, do share with us in the comment section below.
Read Related Reviews
Buy the Best LED Ceiling Fans Online
ACTIVA Gracia 1200 MM (28 Watts) BLDC Motor F...
51%
Polycab Superia SP03 Super Premium 800 mm Und...
44%
atomberg Efficio Alpha 1200mm BLDC Motor 5 St...
41%
Polycab Fantasy Neo Super Premium 1200 MM Cei...
54%
SUKHAD Premium Recessed False Ceiling Cassett...
60%
atomberg Renesa 1400mm BLDC Motor 5 Star Rate...
34%
atomberg Renesa 600mm BLDC Motor 5 Star Rated...
26%
atomberg Erica 1200mm BLDC Motor 5 Star Rated...
37%