Are you still using old-style ceiling fans (that consume more power) at your home or workplace? If yes, then it's time to replace your archaic ceiling fans with the new technological and super energy-efficient BLDC Fans. To let you make the best pick, we have researched and analyzed over 50 models and narrowed it down to the top 10 best BLDC Fans.
BLDC ceiling fans are all the rage these days, as they provide quiet, cool, and energy-efficient operation. Plus they have enhanced durability as well compared to the normal ceiling fans. You can simply plug in an AC adapter to power it and forget about the fan as it quietly chugs away until you turn it off.
Now, if you think that the BEE-rated normal ceiling fans are also there in the market, then why is it needed to choose a BLDC fan?
To find the answer to this question and more, we will be discussing BLDC fans in this article. We will also discuss some of the advantages that are associated with these fans and give you some tips on how you can go about finding the right fan for your home.
Best BLDC Fans in India
Best BLDC Fans Reviews
1. Atomberg Efficio
Overall Best BLDC FAN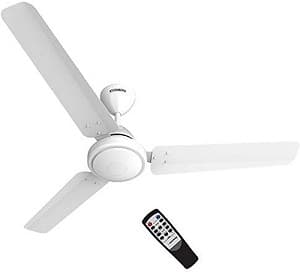 Atomberg is one of the early developers and pioneers in the BLDC fan segment. And so our top pick belongs to the same brand that leads to significant energy saving and reduction in electricity bills. Its perfect size, high energy efficiency, excellent customer ratings, and affordable price make it our top choice by far. Undoubtedly, you will also get the best cooling performance at such a great price tag. Now have a look at its impressive features that will surely make you love this product.
Specifications
Sweep Size: 1200mm
Power Consumption: 28W
No. of Blades: 3
Warranty: 3 Years Onsite
Coverage Area: 140 sq ft.
Key Features
The first thing that stands out is its appealing design with metallic finishing and anti-dust coating that matches any room decor. Also, there are four (white, ivory, black, and matte brown) different color options allowing you to choose the best one suiting your room style.
The next is its 1200mm sweep size that provides the best air delivery to any medium to large-sized rooms. Moreover, the aerodynamically designed bladed adds more to air delivery so that cool air reaches every nooks and corners of the room.
The efficient BLDC motor equipped with it ensures only 28W of energy consumption at the highest speed. Plus, the motor also ensures consistent performance even on a low voltage power supply.
It's aluminum alloy construction ensures no rusting to the blades and fan, therefore increases its durability.
This fan also comes with a fully functional remote control operation, so no need to take the hassle of operating it using the regulator. Just operate your fan by sitting in one place only. Features like speed control, boost, sleep, and timer mode will let you operate the fan at your own convenience.
Pros
Best energy saving fan
Very classy design with matte finish
Aluminum construction makes it lightweight and durable
Super quiet operation
Easy remote control operation
Value for money
Cons
2. Atomberg Renesa+ Ceiling Fan
Best BLDC Fan 1400mm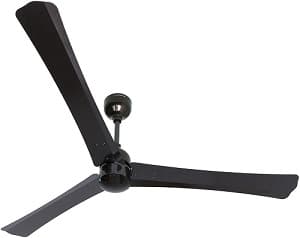 If you are searching for an energy-efficient fan for large halls or bigger rooms, investing in the model Renesa+, again from the brand Atomberg is the best bet. This 1400mm (56 inches) sweep size BLDC ceiling fan is designed to deliver the best cooling performance to the larger area. Furthermore, its super stylish appeal complements any room decor beautifully. All over, it's a perfect blend of style and savings.
Specifications
Sweep Size: 1400mm
Performance Speed: 300 RPM
No. of Blades: 3
Power Consumption: 32 W
Warranty: 3 Years Onsite
Coverage Area: 125 to 225 sq ft.
Key Features
This BLDC ceiling fan has a futuristic three-blade design with a compact LED center portion that looks very stylish. Its metallic finish with dust-resistant coating makes it look new for years.
It is also available in three exotic color options at Amazon, including earth brown, oak wood, and pearl white, allowing you to choose the one matching best to your room interiors.
Equipped with a brilliant BLDC motor, it ensures superb energy savings (consumes only 32W) without affecting the cooling performance.
The larger blades of 1400mm offer the best air delivery allowing it to cool the large rooms from 125 to 225 sq ft.
The fan is equipped with power surge protection, which turns it off in case of heavy voltage fluctuations. Best of all, it keeps its speed constant, no matter whether the voltage is low or high.
This fan comes with a smart remote control for easy access to speed, timer, boost, and sleep modes, allowing you to choose what works best for you.
Pros
Aesthetically appealing design
An anti-dust finish ensures it remains new for years
LED indication for speed is a nice feature
Air delivery is very nice
Cons
Complaints of knocking sound at slow speed
A bit pricey
3. Jupiter Quadcopter 5-Star BLDC Fan
Best 4-blade Ceiling Fan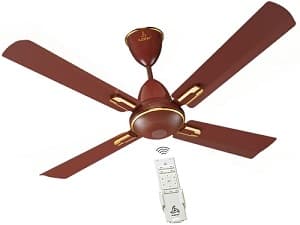 If you are looking for the best 4 blades BLDC fan, then we highly recommend Jupiter Quadcopter for its high energy efficiency, durability, and warranty. In the BLDC fan industry, Jupiter is the only brand known to offer four blades. Its eye-catching design will surely appeal to your room's interiors. The model Quadcopter from Jupiter comes with various handy features yet a highly efficient fan at such a great price tag. Additionally, it is a 5 Star energy-rated ceiling fan, making it even more efficient.
Specifications
Sweep Size: 1200mm
Power Consumption: 30 W
No. of Blades: 4
Warranty: 3 Years Onsite
Key Features
It is equipped with state-of-the-art BLDC technology that ensures smooth cooling performance by consuming only 30W of power. Thus, you can get a huge reduction in your electric bills.
The dynamically balanced blades of 1200 mm ensure powerful and precise cooling to every corner of your room.
The aluminum construction and 100% high-quality copper winding aids in the durability and longevity of this BLDC ceiling fan.
Another impressive feature of this ceiling fan is that you can run it in the reverse direction too. So, in winters, you can get warm air with this fan.
There are six-speed selections, letting you choose the desired speed setting according to your cooling needs.
A handy remote control option is also there with smart functions like adjustable speed control, boost speed, auto switch off (at 2,4,6, and 8 hours), reverse function, etc.
Pros
Well designed and durable construction
Nice air delivery and cooling performance
Very energy efficient ceiling fan
emote functions are simple and intuitive
Cons
4. Havells Efficiencia Neo
Highly Energy-efficient BLDC Fan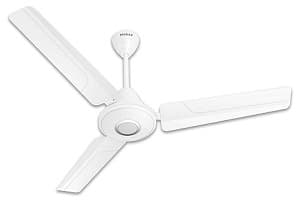 Like the name signifies, this model from Havells is one of the highly energy-efficient BLDC fans on our list that consumes only 26 W. Thus, it is a great buy for those places where the fan is used to run for a longer duration without worrying about high electricity bills. Though it comes in a simple and basic design, it looks very classy and perfectly matches your interiors. Moreover, its silent operation, higher air delivery, and decent price tag make it a best choice at all.
Specifications
Sweep Size: 1200mm
Power Consumption: 26 W
No. of Blades: 3
Warranty: 2 Years
Key Features
It is a five-star rated energy-efficient ceiling fan that consumes 65% less power than the standard ceiling fans.
This fan looks exotic rich with a modern aesthetic look and styling. And the ring in the motor cover makes this fan more attractive. Furthermore, with three adorable color options available, including white, ivory, and brown, you're sure to find the perfect match for your home.
This fan is inverter-friendly. With such a low electricity consumption, it can run longer (up to 3 times more) on the inverter than the normal ceiling fans.
Its overall aluminum construction with ribbed blades provides a longer shelf life to this fan. Additionally, it has a double ball bearing supporting both the fan motor and shaft at two locations. Thus, it ensures perfect balancing and increases the lifespan of the fan.
What's more, is the sweep size of 1200mm that is pretty good enough to cool medium-large rooms very efficiently.
The model is also equipped with a 100% pure copper coil that ensures no heat generation and also improves the fan's performance.
A handy remote control is included with this fan to operate the fan at your convenience.
Pros
Excellent design with great energy saving
Sturdy and durable design
Cooling performance is up to the mark
Noiseless operation
Cons
No timer set up option is there on remote
5. Superfan Super X1 Pink -5 Star Rated
Best Designer BLDC Fan for Workspaces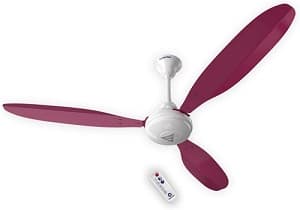 The model Super X1 Pink from the brand Superfan is another best highly energy-efficient BLDC fan on our list. Moreover, its petal shaped blade design makes it exclusive and suitable for your home and workspaces.Because of the 5 Star BEE rating of the ceiling fan, as well as the super-efficient BLDC technology, this fan uses relatively little electricity. This model consumes as low as 6 watts at its lowest speed. The product is recommended if you wish to save on electricity bills while also adding elegance and a stylish touch to your room.
Specifications
Sweep Size: 1200mm
Power Consumption: 35 W
No. of Blades: 3
Warranty: 5 Years
Key Features
With a low power consumption of 35 W, this fan will provide the best cooling to your room. The best part is that it can run for 29 hours by consuming only one unit of electricity.
Additionally, it is a 5 Star energy-rated ceiling fan, further enhancing its energy efficiency.
The low power consumption of this unit also allows it to run longer with an inverter.
With its stylish design and over ten charming color options, you can select the best style option that matches your room decor.
Featuring a 1200 mm sweep length, this fan is pretty good enough to cool most medium to large-sized rooms.
This product includes a remote controller with five adjustable speeds and dedicated switches, a timer for 6 hours and 2 hours, and an on-off switch. So, operating this ceiling fan is no sweat.
Pros
Decent and stylish design
The S-shaped LED light in the center of the fan is another part of attraction
Air delivery and cool breeze is fully satisfactory
No noise while in operation
Robust construction
Value for money
5 Years warranty is a good feature
Cons
6. Orient Electric Aeroslim
Best under light, Most stylish, and IoT enabled Ceiling Fan
In the world of fan industries, Orient is one of the well-known names, so how could we ignore mentioning a model from it. This BLDC ceiling fan from Orient is a gorgeous choice for anyone who values style and elegance. Its sleek design, an LED underlight, IoT-enabled operation, and impressive cooling make this model a true bargain. Meanwhile, its incredible energy-saving technology will definitely encourage you to get one for your home or workplace.
Specifications
Sweep Size: 1200mm
Power Consumption: 45 W
No. of Blades: 3
Warranty: 2 Years
Key Features
Its seamless slim profile with the high-gloss premium finish makes this fan very appealing. Plus, the telescopic adjustable mounting design easily fits both modern and traditional ceilings.
This is an underlight ceiling fan that illuminates the area while offering the cool air at the same time. The product is available in four attractive color options, including marble white, champagne brown, flame gold, and white.
The next impressive feature is its super slim and aerodynamic blade design with the sweep length of 1200 mm never fails to offer the best air delivery to any corners of the room.
The high-grade glass-filled compounded abs provide ultimate strength to the blades, so no more worry about its bending or breaking. Moreover, it is also made of rust-proof material, giving the blades a shiny and shimmery look for long years.
This ceiling fan utilizes BLDC technology and an inverter motor, which reduces its power consumption to 45 W only.
The biggest advantage of this ceiling fan over others on our list is that it can be controlled remotely and via a mobile app (IoT enabled). You can easily pair it with smart home technology like Amazon's Alexa and Google Assistant, so you can control your fan from anywhere using your voice.
A range of settings, such as reverse rotation, automation, sleep mode, scene switching light, turbo mode, breeze mode, and an integrated timer, allow users to customize the experience to their needs.
Pros
An elegant piece for your home interiors
Stable operation even at low voltages
The voice control feature is too good
Reverse rotation is a nice feature to be used in winters
The LED light in the center is bright enough and works best as a night lamp
Cons
A bit pricey
Warranty is too less for such an expensive piece
7. Crompton Energion HS 48-inch
Best Crompton BLDC Fan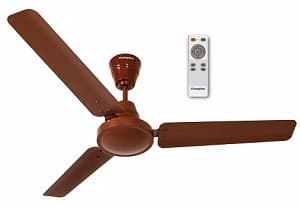 Crompton Energion HS is a perfect choice for the one who doesn't really care for fanciness—but likes performance. Yes, the fan looks very basic in its design, but for its cooling efficiency and energy savings, it will never let you down. Above all, this fan comes with a maximum warranty duration (of 5 years) compared to other ones on our list.
Specifications
Sweep Size: 48-inch
Power Consumption: 35 W
No. of Blades: 3
Warranty: 5 Years onsite
Key Features
Thanks to the fan's Activ BLDC technology, it claims to use half as much energy as conventional fans. Since it uses just 35 W of power at its highest speed and 6 W at the lowest speed, you get to save a lot on your wallet.
Also, it is a 5-star rated fan, enhancing energy efficiency further.
This fan spins at a high speed of 370 RPM, so it is intended to cool every corner of your room.
The fan is meant to work efficiently on the inverter. Even if you are concerned about high voltage fluctuations in your area, no need to bother about. The fan performs well in a wide voltage range of 90V to 300V.
One of the special features of this BLDC fan is its RF-type remote control. It means you don't need to point out your fan to operate it, rather point it anywhere and control the operations easily.
With its remote control, you can quickly and easily adjust speed. There are five-speed options, multiple pairing capabilities (to operate multiple fans with the same remote), a timer for 1, 2, 3, and 4 hours, and a memory function that remembers your fan speed when switched on.
Pros
Nice build quality
Good speed and air delivery
Maximum warranty duration
Remote control is easy to use by pointing anywhere
Cons
Not an anti-dust fan. Captures a lot of dust on blades after a month of usage
8. Atomberg Studio+ BLDC Ceiling Fan
Best anti-dust Fan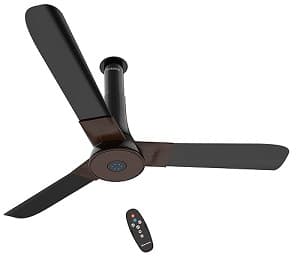 The piece is a perfect compilation of style and elegance that goes well to your room interiors. Its metallic finish with a wooden design at the bottom complements it more. We recommend you to choose this one not only for its energy efficiency but for its anti-dust capability that makes it look new for years and ensures easy cleaning as well.
Specifications
Sweep Size: 1200 mm
Power Consumption: 32 W
No. of Blades: 3
Warranty: 2 Years
Key Features
Its best feature is its anti-dust paint. It makes the fan less prone to dust accumulation than non-anti-dust fans.
The model again is very energy-efficient like other Atomberg models on our list. It doesn't exceed 32 W even at its highest speed.
This fan runs consistently at the same speed across 140-285V, so there is no need to worry about high voltage fluctuations.
It is designed to save power from inverter batteries if you live in an area where blackouts are frequent.
An impressive feature of this fan is that you can adjust the size of the fan to fit your ceiling height as it comes with an adjustable canopy.
Like other Atomberg BLDC ceiling fans, it also comes with a handy remote control to operate your fan by sitting in one place only.
Pros
Stylish and classy design
Good performance while saving electricity
Super silent operation
Easy to clean and maintain
Cons
Complaints of shaking while turning on
9. Atomberg Renesa 600mm Ceiling Fan
Best 600mm BLDC Fan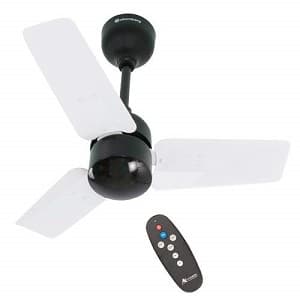 A larger ceiling fan is not worth the money when it comes to cooling a smaller room. So, this model from Atomberg is the perfect choice if you're looking for a ceiling fan to cool a smaller area. Furthermore, its graceful appeal is enhanced by its white and black color combination that truly looks beautiful in any room.
Specifications
Sweep Size: 600mm
Power Consumption: 28 W
No. of Blades: 3
Warranty: 3 Years
Except for the sweep size, the features are all the same, like its Renesa Plus model, which we have reviewed above.
10. Atomberg Efficio 900 mm BLDC Fan
Best 900mm BLDC Fan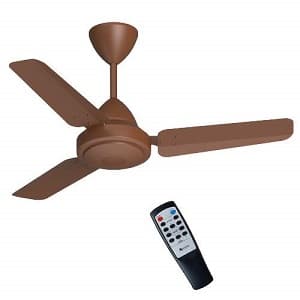 This Fan with 900 mm sweep size is again a great buy to cool small rooms or tiny areas. With an airflow of 157cmm, it promises to offer efficient cooling to any small area of your home or office like small bedrooms, walk-in closets, balconies, bathrooms, hallways, stairwells, garages, and laundry rooms. At the same time, its basic yet classy design (in three colors- white, ivory, and matt brown) and huge power savings make it the best choice at all.
Specifications
Sweep Size: 900mm
Power Consumption: 28 W
No. of Blades: 3
Warranty: 3 Years
Other than the sweep size, the features are the same as in the Efficio 1200mm reviewed above for comparison.
What Exactly a BLDC Fan is and How it Works?
BLDC fans are actually equipped with BLDC (Brushless DC) motors that are powered by DC electric source. It uses an integrated inverter power supply to produce an electrical signal to drive the motor that makes it energy-efficient.
When it comes to its working mechanism, a BLDC fan consists of three main components -stator, rotor, and shaft. The BLDC ceiling fans use permanent magnets for the rotor, which creates a magnetic field. On the other hand, copper windings are used for the stator. Using a lower DC voltage and sensorless electronic control, the stator's coil windings produce a rotating magnetic field. This rotating magnetic field of the stator interacts with the rotor magnetic field that develops a constant torque causing rotation.
BLDC Fans are Better! Know Why?
There are various advantages of using a BLDC fan, making them a superior choice for homes and offices. Here are a few:
Low power consumption (up to 70% energy savings)
Offers superior airflow and quiet operation
Longer lifespan
Less heating of the motor ensures more durability
Having a remote control operation, operating these fans is super easy
It also comes with a timer and sleep mode for all your convenience and more power savings
Works on a wide voltage range from 140 v to 270 v without affecting the performance
Runs three times longer on the inverter
Disadvantages of BLDC Fans
These fans are higher on the price side as compared to the normal ceiling fans.
The service charges are also higher.
If in case the remote is not working, you can't operate these fans using the regulator.
What Makes a BLDC Ceiling Fan Different From a Normal Ceiling Fan?
There are no brushes present in the BLDC motor ceiling fans that result in no heat generation and also ensure noiseless operation than the normal ceiling fans.
The inclusion of the permanent magnet instead of the brushes makes these motors energy-efficient and helps the motor to work faster.
These motors have a higher power-to-weight ratio allowing more high-speed operation with low energy consumption. Plus, it also makes the fan lightweight and heavy on performance.
High thickness copper wire is used in BLDC motors that reduce the chances of winding failure and thus increases the lifespan of ceiling fan bearings. This way, the lifespan of BLDC ceiling fans is longer than the normal ceiling fans.
These fans run smoothly and silently, even at low voltages, without any difference in speed.
How to Choose the Right Size of the Ceiling Fan?
| Blade Span (Inches) | Room Size (sq ft) | Ideal for |
| --- | --- | --- |
| 24-inch | < 35 sq ft | Very small rooms |
| 35-inch | 35-65 sq ft | Small Rooms |
| 47-inch | 65-100 sq ft | Medium sized rooms |
| 55-inch | 100-225 sq ft | Large Rooms |
| (Two or more fans) | > 225 sq ft | Bigger Halls |
To read the further details on how to purchase the right ceiling fan, visit our Buyers Guide Section.
BLDC Fan Frequently Asked Questions (FAQs)
1. What is a BLDC ceiling fan?

The ceiling fans equipped with the powerful BLDC (Brushless Direct Current) motor are called BLDC Ceiling Fans. Instead of using brushes in the motor, they use magnets for the operation of the motor. Over there, it uses an integrated inverter power supply to generate an electrical signal for driving the motor that makes it energy-efficient. The specialty of BLDC ceiling fans is that these cost less electricity, are durable, and require less maintenance at all.

2. How are BLDC fans better?

These ceiling fans include BLDC motors that are brushless and efficient. Due to the brushless design, they produce no heat and no noise. Moreover, the BLDC motor has a higher power to weight ratio that makes these fans light in weight but high in performance. The best part is that they consume very little electricity. All these features make these fans far better over the normal fans.

3. Do BLDC fans need regulators?

Generally, BLDC fans do not require a regulator as you can control the operation of these fans using the remote control. But now, many brands are offering BLDC fans with regulators too. The choice is up to you what suits your preferences best.

4. Which BLDC fan brands are best?

The best BLDC fan brands are Atomberg (formerly Gorilla), Crompton, Superfan, Jupiter, Havells, and Orient.

5. Which consumes more power- BLDC Fan or Normal Fan?

The normal ceiling fans consume more power than the smart BLDC fans. In fact, the BLDC ceiling fans consume 60% less power as compared to the normal ceiling fans.

6. Are BLDC fans quieter?

Yes, the BLDC fans are quieter in operation because of their brushless design. As these motors do not produce any friction during operation, there is no sound at all while rotating.
Conclusion
To wrap it up, we recommend to buy Atomberg Efficio BLDC Ceiling Fan that is overall best for price, efficiency, and performance. And if you want a fan to cool bigger rooms with decent design and price tag, then go for Atomberg Renesa+ Ceiling Fan.
Hope the guide will let you find your best-preferred choice. Further, if you have any queries or suggestions regarding our blog, please do write to us in the below comment section.
Read Related Reviews
Buy BLDC Ceiling Fans Online
Atomberg Renesa 1200mm BLDC Motor 5 Star Rate...
32%
Crompton Energion Hyperjet 1200mm BLDC Ceilin...
45%
Havells Glaze Decorative BLDC 1200mm Energy S...
41%
Havells Ambrose Decorative BLDC 1200mm Energy...
44%
atomberg Ikano 1200mm BLDC Motor 5 Star Rated...
28%
Polycab BLDC 1200 MM High Speed Ceiling Fan (...
55%
atomberg Efficio 1200mm BLDC Motor 5 Star Rat...
20%
atomberg Renesa 1400mm BLDC Motor 5 Star Rate...
33%