In India, Air Conditioners are not only the item of luxury but a necessity too, due to the increasing harshness of summers year by year. And when it comes to budget, the Window ACs are the best option over the Split Air Conditioners and have been for several years. Even most of the people prefer installing a Window AC in their rooms because of its easy installation, and easy maintenance without worrying about high power bills. And most importantly, these units are best enough to cool a small sized room though.
Key Takeaways
If you don't have time, here is a quick summary of what you need to know (TL;DR Version).
For optimal cooling with high energy – efficiency, our recommendation is the LG 1.5 Ton 5-star wi-fi inverter window AC. Along with the brand name of LG, this AC simply performs great for better cooling in a medium-sized room.
Our second recommendation is the Panasonic 1.5 ton 5-star Window AC which is great for optimal cooling coverage in your entire medium-sized room.
If you get lost while searching for your next best Window AC, read our detailed Buying Guide at the end of the article.
While it comes to buying the best window air conditioner for your home, here are the features that you should consider:
The capacity of the AC
Smart home compatibility
Fast cooling
Less power consumption
Remote control capability
Weather-wise temperature adjustment
Self-diagnosis features
Light indicators for detailed information
Air filtration for dust-free air circulation
Dehumidifier
Defrosting capabilities
Warranty on product
After-Sales Service
Best Window AC – Quick List
Window ACs
Star Rating
ISEER Value
Warranty
LG 1.5 Ton Window AC (JW-Q18WUZA.TALG )
Read Review
5
3.5
1 Year Comprehensive
10 Years on Compressor
CHECK PRICE
Panasonic 1.5 Ton Window AC (CW-XN181AM)
Read Review
5
3.34
1 Year Comprehensive
5 Years on Compressor
CHECK PRICE
Blue Star 1.5 Ton Window AC (5W18LD )
Read Review
5
3.31
1 Year Comprehensive
5 Years on Compressor
CHECK PRICE
Panasonic 1 ton Window (AC CW-XN121AM)
Read Review
5
3.34
1 Year Comprehensive
5 Years on Compressor
CHECK PRICE
LG 2.0 Ton wi-fi inverter Window AC (JW-Q24WUZA)
Read Review
5
3.50
1 Year Comprehensive
10 Years on Compressor
CHECK PRICE
Voltas 1.5-ton Window AC (185 DZA/185 DZA R32)
Read Review
5
-
1 Year Comprehensive
5 Years on Compressor
CHECK PRICE
Carrier 1.5 Ton AC (ESTRA NEO R32 CAW18SN5R39F0 )
Read Review
5
3.35
1 Year Comprehensive
5 Years on Compressor
CHECK PRICE
Best Window AC Reviews
1. LG 1.5 Ton 5-star wi-fi Inverter Window AC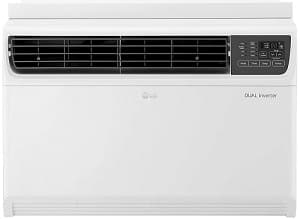 When it comes to purchasing the best AC for your home, you must not want to overlook the best features.
Hence, we have come up to you with the LG 1.5 Ton 5-star wi-fi Inverter Windows AC suggestion as it is just made in the right way for you.
Key Features
This Windows AC comes with a very easy-to-install construction that will easily save some more bucks to your pocket.
The variable-speed compressor is simply great, which appropriately adjusts the power based on the heat loading and energy efficiency.
With a 1.5-ton capacity, it is simply great for cooling any medium-sized rooms up to 115 sq ft.
What makes it our first choice is, it's a 5-star rating, which means it's best in class and definitely energy efficient.
The annual energy consumption is 1106.26, which means you can save a lot in your pocket.
The AC comes with 1 year of comprehensive warranty and 10 years of the compressor with gas charging warranty to give you peace of mind.
With a different speed Dual Rotary Motor, the Dual Inverter Compressor in this AC brings you the best of both worlds with high-speed cooling that saves you a lot of money.
This unit is much impressive, along with its easy monitoring and controlling of the air conditioner at any time from anywhere. You can simply use it with voice control.
100% copper construction with ocean black protection provides outstanding durability for the unit.
Moreover, it's easy to maintain with the clean filter indicator that notifies you to clean it.
Besides, it functions silently so that you can have comfort and peace of mind.
Also, it includes the smart diagnosis system, which conveniently checks for any kind of troubleshooting for a fast function.
Pros
Highly energy efficient
Fast cooling and stays longer
No-noise operation
Easy to install
Easy to maintain
Cons
Bulky in size
Pricey compared to the other options
Bottom Line: This AC by LG is simply great with its bulk of functions. Also, it is very budget-friendly compared to the features it offers.
2. Panasonic 1.5 Ton 5 Star Window AC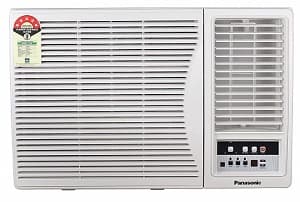 There is nothing like enjoying the complete cooling coverage from a brand like Panasonic. Hence this one is simply the ideal one for your home. The genuine name of the brand is famous for producing energy-efficient air conditioners. Hence comes the next on our list of best window AC.
Key Features
This Window Air Conditioner is created to have powerful mode settings and features that work with higher fan speed to deliver instant fast cooling.
100% copper tubing offers a great and faster heat faster while resisting corrosion too, which ensures the long life of the machine.
With the 2.5 filters, it offers a 2-stage filtration process. It comes with the stage 1catechin filter, which deactivates 90% of bacteria trapped in the air. Also, it prevents odor. Stage 2 PM 2.5 filter removes all the airborne particles, which are smaller than 2.5 micrometers. The PM 2.5 filter offers dust-free clean, and cool air.
The best thing about this AC is that it is the perfect choice for you on a tight budget.
It also includes a temperature display that helps you to see the present temperature of the room.
With the R32 refrigerant, it takes proper care while giving an environmentally friendly service.
The refrigerant protects the condenser from any kind of accidental fire without damaging the ozone layer.
Pros
5-star rating ensures better energy efficiency
Better air throws with good quality air
Fast cooling
Easy to control with remote
Durable
Cons
The noise level is a bit high
Heavy
Bottom Line: For the best value of your money, Panasonic offers you the optimal service. With its fast-cooling and durable features, it is definitely a great one.
3. Blue Star 1.5 Ton 5-star Window AC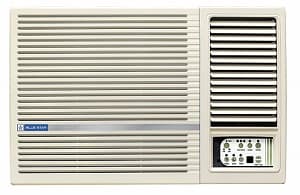 When it comes to picking the best AC for your home, what do you expect? Better energy efficiency, excellent cooling, and a reputed brand, right? This Blue Star Window AC delivers the same, and that's why a great pick for you.
Key Features
This 1.5 ton of 5-star Blue Star window AC is constructed to give you the best cooling experience.
It is finely engineered with a high-energy efficient rotary compressor, along with a built-in accumulator. The Compressor in the Blue Star Air Conditioner is perfectly designed to maximize the cooling with the low energy consumption level. Also, it increased the efficiency while reducing the cost.
With its 100% compressor, this conditioner comes with outdoor units which are rightly designed to maximize cooling efficiency.
Moreover, it intelligently senses the variation in the indoor temperature and at the same time adjusts it automatically, which gives you a great sleep at night.
Along with the anti-freeze thermostat in the indoor coil, it checks the safety areas. It stops the compressor as the unit is set at a very low temperature and runs with the cooling mode. This is great for preventing the frost forming with the heat exchanger.
The built-in specially designed PCB Metal enclosure shields the electrical components of the PCB to prevent damage. The self-diagnosis program features in the unit alerts of any of the faults in operation.
What makes this AC higher up in our ranking the is its low regular maintenance.
The error codes easily troubleshoot the issues and fix the air conditioner.
With the auto-mode intelligent cooling, it rightly offers the proper comfort.
Pros
Great for cooling medium-sized room
It comes with a dust filter for a clean air-cooling
Requires low maintenance
Fast and efficient cooling.
Includes dehumidifier
Cons
Installing is a bit complex
Noise level is high
Bottom Line: Blue star is much more cost-efficient than the other ones on the list. It is highly functional and offers you speedy cooling in a much energy-efficient way.
4. Panasonic 1 ton 5-Star Windows AC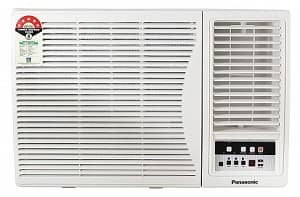 Panasonic never fails to amaze us with its collection of Window Air Conditioners. Panasonic brings forth its 1-ton windows AC which is great for cooling your small rooms.
Key Features
It is equipped with the power mode with its settings and features, which works with the higher fan speed while delivering instant cooling within less time.
Indulge yourself in enjoying the long-time comfort with this AC as it comes with 100% pure copper coil, which ensure with fast heat transfer. Also, it rightly resists corrosion.
Panasonic is simply brilliant with its PM 2.5 filter. The 2-stage filtration process comes with the stage 1 Catechin filter, which rightly deactivates 90% of bacteria trapped in the air. Also, it is brilliant in deactivating the odor caused by the bacteria. The stage 2 PM 2.5 filter removes all the airborne particles, which are smaller than 2.5 micrometers.
With the temperature indicator, you can easily view the current temperature in your room.
The R32 refrigerant takes care of all your comfort while taking care of the planet's well-being.
The 1-ton size is budget-friendly for those who are tight on budget.
Moreover, the R32 refrigerant gas is simply a no-ozone depletion potential.
The 5-star rating rightly indicates that it is energy efficient.
Pros
Easy to install
Pocket friendly
Dust-free air cooling with 2.5 PM filter
Low annual energy consumption
Low maintenance
Cons
Pricey compared to the capacity
Not so durable
Bottom Line: This 1-ton unit by Panasonic is simply great to serve you the cooling with fresh air. Moreover, it saves many bucks in your pocket annually.
5. LG 2.0 Ton 5-star Wi-fi Inverter Window AC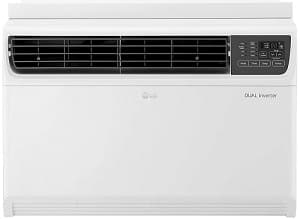 LG is always the best choice for anyone when you want to buy an efficient AC that fits your budget. And so our next best pick belongs to LG, that is super brilliant in each and every manner, whether it is cooling performance, energy efficiency, or price.
Key Features
The LG 2.0 Ton 5 Star AC comes with the Dual inverter compressor along with a variety of speed dual rotary motor which comes with wide rotational frequency. It is for saving more of your money with a high-speed cooling range.
This LG 2-ton window air conditioner comes with voice control compatibility. You can easily monitor and control the air conditioner at any time from anywhere to have convenient on-the-go cooling.
With 100% copper along with ocean black protection, it comes with exceptional durability for the air conditioning.
The top- air discharge facilitates wider airflow, which offers a very quick and uniform cooling all over.
Moreover, it includes the clean filter indicator, which timely notifies you of the help your monitor needs and maintains a very healthy cleaning.
The super silent operation is much admirable as it operates without any noise.
The smart diagnosis system of the unit conveniently checks for any of the troubleshooting in the air conditioner, which gives you the best value for your money.
Pros
Great for large rooms
Low energy consumption
High-capacity compressor
5-star efficiency
Easy and fast cooling
Cons
Bulky to install higher
Installation service is not top-notch
Bottom Line: This 2-ton AC by LG is definitely the great one. Moreover, with its bigger capacity, it serves optimal cooling in your large space in a budget-friendly way.
6. Voltas 1.5 ton 5 Star Window AC
Not only the best in class performance, but Voltas Air Conditioners are also popular for their budget-friendly ranges. And so this, all weather AC from the house of Voltas is a great pick to get ultimate comfort to your home with its best quality ambient cooling.
Key Features
With its ambient cooling, active dehumidifier, and multi-stage filtration advantage, it is simply great.
The high ambient cooling is great in giving you the best performance even at the 50-degree celsius.
With the active dehumidifier, it senses the indoor humidity and controls it properly during the monsoon. With 100% of the copper condenser coil, it offers a very durable performance with efficient cooling.
The Eco mode properly optimizes the power consumption and slightly saves on your electricity bills.
With turbo cooling, this unit facilitates the turbo mode, which cools the room instantly.
The sleep mode feature cuts the excessive cooling and power consumption to give you comfort all night long.
Along with the 2-stage filtration, it removes all the allergens and odors along with dust and harmful particles.
It smart diagnosis feature allow you to check for any abnormalities and failures of the AC and resets it automatically.
Pros
Anti-dust filter to offer clean cooling
Durable copper condenser
5-star energy rating
Budget-friendly
Low noise level
Cons
Installation is a bit difficult
Bottom Line: For fresh cooling, without allergens in the air, this AC by Voltas is simply a great solution. It offers better performance with easy maintenance.
7. Carrier 1.5 Ton 5-Star Window AC
For budget-friendly and optimal cooling, Carrier can be your best choice. The company produces to give you the convenience to enjoy optimal cooling without making a hole in your pocket.
With its energy saver mode, this window air conditioner comes with better features. It simply saves power by shutting the fan off until the compressor is switched off.
Along with the smart time guard, the Carrier AC performs safely against sudden power cuts. It includes a minimum compressor off time that works three minutes before turning on.
The exhaust command is very powerful for this AC. The Carrier AC does not only cool smartly but also relieves the room with any kind of unwanted odor or smoke along with the push to the exhaust lever.
The sleep mode saves much power and gives you a very comfortable sleeping throughout the night. Along with the sleep mode, the AC increases the temperature slightly and gradually to give you comfort without disturbing your sleep.
Pros
Best in class efficiency with the 5-star rating
Includes auto air swing
Budget-friendly
Best cooling for the medium-sized rooms
Offers powerful exhaust mode command
Cons
Bottom Line: While picking this AC, you are simply going to make your best decision. The AC is a bit bulky, so it consumes a much bigger place in your room. However, don't worry the price, cooling, and energy efficiency are enough to fade away the drawback regarding bulkiness.
How to Choose the Best Window AC? (Buyer's Guide)
Picking the right and best window air conditioner for your home can be a daunting task for you. The market is filled with a variety of options which can actually make you go confused when you step into the market to buy one. As a buyer, you must want a budget-friendly product that includes all the necessary features for your requirement. However, sometimes when you find the price, you may not get all the features. On the other hand, the unit that includes everything may exceed the budget.
Thus, it is very crucial to know all the essential factors that can help you with much knowledge so that you can stay confident while buying the one for you. Each of the products comes with certain features that can make your decision-making challenging enough. However, knowing all the essential factors is recommended first to become a benefitted buyer.
Features to Consider Before Buying a Window AC
Usually, a Window Air Conditioner comes with plenty of features. Here are the features that you need to consider while buying the best budget air conditioner for your home. Have a look:
1. Cooling Capacity
The cooling capacity comes as the first consideration when you go to buy a window AC for your home. The cooling capacity is measured in British Thermal Units or BTUs per hour, which is considered as the basic measure for thermal energy. For the best class cooling performance, you need to stick to a unit that comes with the BTU design suiting your space.
For a small space, you should not run for a large AC. A window AC with too little BTU power, for a a large space, is simply going to consume more and more energy. Also, the too-large one is not going to cool and dehumidify your space properly. Thus, you need to pick one that suits your budget and gives you the optimal cooling as per your room's space.
2. Size of the Window AC
The size of the window AC is also an important point of consideration before buying it for your room. For the 110- 115 square feet room, the size of the windows AC should be within the 1- 1.5 ton. For a much bigger room, the window AC size should be 2 tons.
Also, make sure the AC is not too bulky,as it can cause much effort to move it. A much heavier AC unit will make things difficult for you while you opt for cleaning the unit. Whether it is mounting the AC or picking your unit for installation, too much weight can always be an area of discomfort. It is also important to pick a size that rightly covers the window area.
3. Size of The Room
The size of the room plays a much important role while you go to buy an AC for your home. The window air conditioner needs to be compatible enough to cool the entire room optimally. For 100-150 square feet of room, a 1.5-ton AC is simply going to be perfect. On the other hand, for the 50-100 square fit of installation, a 1-ton AC is simply going to be right for you. For a kid's room, the 1-ton AC works perfectly.
Also, for the guest room and for the medium sized rooms, the AC with 1 ton capacity gives proper cooling. In case the space of the room where you are going to install the AC is between the capacity of 120-200 square feet, then a 1.5-ton AC is going to be enough. Simply put, it is great for a large bedroom and living room. For more than 200 square feet, you can consider a 2-ton AC, or you can get two AC with a 1.5-ton capacity.
4. Power Consumption and Energy Rating
The power consumption and energy rating are the most important considerations when it comes to buying a window AC for your home. While buying an AC for your home, you need to ensure that you pick one that does not consume much power while saving much in your pocket.
The summer season comes with much humidity and hotness. The need for an AC at that time becomes very crucial. Thus, your AC needs to give a performance of a minimum of 5-7 hours a day. For this kind of usage, the electric bill can get high. However, for this, you need to have energy-saving technology.
The window ACs come with different types of power wattages which lets it consume the energy as per the requirement. As per the consumption of the electricity, the power rating gets decided.
You can get the optimum power consumption rating on every AC unit, which is decided by the Bureau of Energy Efficiency. The rating goes higher when the AC unit consumes less electricity. Also, look for the star rating in the AC. For better power-saving, the 5 stars AC works fine. On the other hand, the 3-star ACs are low in budget but consume more power than the 5 stars.
5. Service
Do not forget to check whether the Window AC you are buying come with an annual servicing facility or not. Make sure the AC gives a long run with low maintenance so that you can have peace of mind for many years. Also, make sure the care service of the brand is much reliable so that any time you are facing a problem, you can call them for troubleshooting.
6. Maintenance Requirements
The air conditioners require quaterly, half-yearly and annual maintenace to offer the best performance. Its a fact, while offering the cooling, the AC also traps the dust or bacteria in it, which often leads to giving birth to odor and airborne diseases.
The best thing you can do for lessening the maintenance efforts is buying an AC, which is easy to open for cleaning. Or you can simply look for the ACs that come with the air filter options. The Air filter ACs are best for trapping the dirt and dust to offer you fresh air. However, make sure the filter is easy to open and clean for regular fresh air. It is vital for the back unit for the window ACs as it faces dust from the outside, and you cannot clean it properly.
7. Installation Requirements
Make sure the installation requirement of your AC is very simple. The best-grade ACs do not need much effort for installation. However, the process for the installation differs from one unit to another unit. Unlike any other Air Conditioner units, the window air conditioners are much convenient for the installation. During the time of purchase, it comes with all kinds of instructions in the manual book. You can easily install it with a companion. Or you can simply call the installation service that will give you a convenient installation.
8. Multi-functional
Looking for a multi-functional window air conditioner can save a lot of bucks in your pocket while giving you the best class performance. Many of the window air conditioners come with both cooling and heating functionalities. These dual ACs is actually great throughout the year. This dual function lets you use it for cooling in summer and heating in winter.
Also, you can look for the air-purifier feature in your unit. The air purifying units come with HEPA filters. These kinds of filters are convenient for reducing allergens, odors, and other airborne diseases. These units let you stay cool and healthy while preventing germs and bacteria from spreading.
9. For Home or Office?
For home, the window ACs are simply the great ones. Homes usually do not come with larger spaces which makes the space much suitable for a window AC. The office is usually bigger and requires strong cooling. For this reason, office spaces prefer central ACs much. However, for office places, you can consider more than one Window ACs to cover the entire area.
10. Check Climate in your Area
The climate in your area is also very crucial for deciding which AC you should buy. For the too hot and humid areas, you need to pick an AC that rightly cools even at 50-degree temperature. For such areas, you need to buy an AC which comes with a hard and powerful compressor. If you are residing in an industrial area where dust and smoke are very effective, then opt for an AC which comes with a proper filtration system. In case the weather in your place rapidly changes, it's better to find an AC that adjusts itself as per the weather.
11. Warranty
While picking a brand for your window air conditioner, make sure it is offering you the proper warranty coverage for your unit. The warranty coverage is essential to make sure that you are going to get the proper service without any cost if any damage happens to the unit within the warranty period. This rightly saves some extra bucks in your pocket.
Most of the reputed brands offer a 1-year warranty on the unit and 10 years of warranty on the compressor. Also, some companies provide 5-6 years of warranty on the compressor. It is better to pick the one that provides you more warranty so that you can enjoy the long-time peace of mind after making a hefty purchase.
12. Pricing
Pricing is undoubtedly the most crucial area to check on. The pricing is dependent upon the capacity and features of a window air conditioner. If the AC is low on capacity, then it is not going to cost much. For example, a 0.75 ton of AC costs around Rs 17000. It is better for your small needs. For a bigger and five-star unit, you need to spend more than Rs 30000. For the 2-ton capacity, the price goes above Rs. 40000. But make sure you are not spending too much and making a bad purchase decision. Make sure the unit is capable enough to give you the best value for money.
Split AC Vs Window AC
While you go to buy an AC for your home, the tough choice you need to make is whether you want a split AC or you want a Window AC. Both kinds of air conditioners are much efficient in cooling and offer a very brilliant performance.
The Window AC comes with a single unit. But the Split AC comes with two units for both indoor and outdoor. Also, the pricing is much less for the window AC, whereas the Split ACs are much pricey.
When it comes to noise, the window ACs are much louder. However, the Split ACs work in the silent operational mode.
The Split ACs are much complicated and need space for installation. The window ACs are going to be easy to set at any of your windows.
The window ACs are much more budget efficient and energy-efficient and, of course, many portable ACs are also there, which makes it a great choice all the time.
Window AC Frequently Asked Questions (FAQs)
1. Is Split AC better or a window AC?

Both the ACs have their own traits and best features. However, in terms of budget and energy efficiency, the Window air conditioners are the best. On the other hand, the Split ACs look nice and offer a variety of smart features, along with strong cooling, but these are higher on the price side.

2. Does window AC consume more electricity?

No, it does not. But you need to check the star rating on it. If the AC comes with a 5-star rating, then definitely it is going to save many bucks in your pocket. On the other hand, the 3-star rated window ACs are less energy efficient.

3. How much does it cost to run a window AC all day?

Running AC all day can definitely cost you more than 1200-1500 Rs per month in India. For the larger and much capacity Air conditioner, the bill can exceed 4-5 thousand.

4. Does Window AC consume more electricity than split AC?

The window AC comes with a single unit, which makes it consume less power than the split ACs that come with 2 units. This makes the window ACs great to save huge on your electricity bill.

5. Do Window units pull fresh air from outside?

No, the window units do not pull air from the outside. It draws air from inside the room along with its fan. The air is drawn through the air inlet grille. Then the air is passed through a filter to remove the airborne particles.

6. Can you use an air conditioner without a window?

It is necessary for the venting of portable air conditioners like Window AC. If you want effective cooling in your room, you need to ensure that the hot air is venting outside. In case you don't have a window in the room, you need to ensure some other open space that can work for the air venting.

7. How long does a window AC take to cool a room?

The newly designed window ACs come with beneficial cooling with fast operations. However, it takes a minimum of 10 minutes to a maximum of 20 minutes to cool the room optimally.

8. What is the life of a window AC?

A window AC usually lasts up to 8- 10 years. After that, if it starts troubling or malfunctioning, you need to replace it. Also, make sure you maintain it regularly.

9. Does window AC make noise?

Yes, the window AC does make a slight noise. However, the new models are very low on noise, near 40 decibels.

10. How do I maintain my window AC?

Following are the steps to maintain a window AC:

First, you need to take out the filter and use a vacuum to suck all the dirt particles and impurities from inside
Wash the filter in mild soap water.
Sponge the filter properly to get rid of all the dirt.
Rinse the filter thoroughly under tap water and dry it properly using a towel.
After drying it, fit it back again to the AC.

11. Is a window AC better than a portable AC?

Of course, a window AC is better than a portable AC. A portable AC is usually low on capacity, which may not cool your entire room properly.

12. Which AC suits your room?

For your room, the window AC and Split ACs are the best suitable option. However, for a budget-friendly and low-maintenance purchase, the window ACs are simply a great option.
Conclusion
Ensuring the proper cooling for your room is much important to combat the hot and humid weather. A window air conditioner should be able to give you the proper comfort that rightly goes in sync with your room size and the cooling capacity. Pick an air conditioner that is best in price and gives you enhanced cooling with low-maintenance and great peace of mind.
Opt for a unit that simply gives you energy efficiency and is highly durable with its performance. In case you want our suggestion, then it is the LG 1.5 Ton 5-star wi-fi inverter AC, as it is easy to install with fast cooling and remote-control capability works in a convenient way.
Also, it includes easy maintenance features, which makes it the best choice within budget. Besides, Panasonic 1.5 Ton 5 Star Window AC and Blue Star 1.5 Ton 5-star Window AC are also good contenders having comparable features.
Read Related Reviews
Buy Window AC Online
LG 1.5 Ton 5 Star DUAL Inverter Window AC (Co...
34%
Voltas 1.5 Ton 3 Star, Fixed Speed Window AC ...
31%
Godrej 1.5 Ton 3 Star, Turbo Mode, Window AC ...
38%
Lloyd 1.0 Ton 2 Star Fixed Speed Window AC (C...
32%
Voltas 1.5 Ton 5 Star, Inverter Window AC (Co...
33%
Voltas SAC 123 Vectra Platina Fixed Window AC...
17%
Blue Star 0.8 Ton 3 Star Fixed Speed Window A...
18%
Blue Star 1 Ton 3 Star Fixed Speed Window AC ...
15%