It's not quite uncommon to face regular voltage fluctuations almost every day. Especially during the summers, in rural and industrial areas. With increased AC usage, voltage fluctuations also increase, thereby putting your AC at high risk. To solve this problem, our team has come up with the guide of the best stabilizer for AC.
In this article, you would get all the answers related to buying and knowing about voltage stabilizers for AC and its other components.
Key Takeaways
We have summarized (TL;DR Version) the entire post for a quick read for those falling short of time.
V-Gaurd ID4 Ace 5540 is our best AC stabilizer choice due to its features and amazing look.
For a wide supporting range, V-Guard VE 500 is the best choice. It has a voltage range from 90V to 280V.
When buying a new AC stabilizer, check for supported range, security features, copper transformer and warranty.
Best Stabilizers For AC In India [List]
Here is the list of the best stabilizers for AC in India.

Best Stabilizers For AC [Reviews]
1. V-Guard ID4 Ace 5540 AC Stabilizer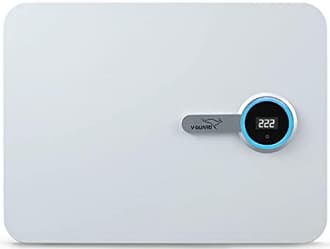 V-Guard ID4 Ace 5540 tops the list as one of the best stabilizers, suitable for a 1.5 ton inverter AC. From compact design to multiple protective features, this stabilizer is easily one of the best.
Key Features
Built with advanced technology, V-Guard ID4 Ace 5540 includes a wide working range between 140V to 280V. Typically curated for 1.5 tons ACs, overall built up comes with a unique design that adds more decor to your room instead of being jammy.
The thermal overload protection helps you and your family stay away from accidental fires by controlling excessive power consumption.
V-Guard ID4 Ace 5540 also comes with an Intelligent Time Delay Technology that turns off the device absolutely by itself in case the power cut doesn't restore after three minutes.
Its electromagnetic field filtering formula makes it a suitable choice for your AC. It helps to suppress electromagnetic waves. These waves travel through the power lines and can damage your device's audiovisual functions.
The display screen in it is exceptional. It has a unique seven-segment digital display with an attractive color changing the LED ring. As a result, you can monitor it even in complete darkness.
Pros
Unique Design
Wide Working Range (140V-280V)
Intelligent Time Delay Technology
Advance Built-In Technology
Thermal Sensors
Digital Display With Colour Changing LED Ring
Cons
Little Expensive, but given the feature and looks, it is justified.
2. Candes Crystal 5kVA for 2 Ton / 2.5 Ton AC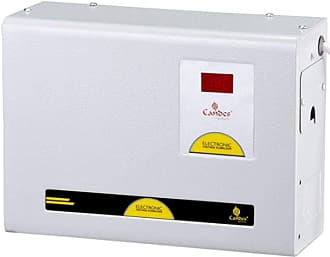 Are you looking for the best AC stabilizer, especially for those ranging from 1.8 tons to 2.5 tons? The Candes Crystal 5kVA is the one that suits your need. Be it a window, split, or inverter AC. If you have 2.5 ton AC, this one is the best stabilizer to use along with it.
Key Features
Candes Crystal 5kVA has a wide operating range. In case the voltage goes beyond the range of 90 to 290 volts, it will automatically cut the power supply to AC.
Being one of the most trusted stabilizers, it has pure copper that helps to reduce power consumption, thereby increasing the longevity of your stabilizer.
Its built-in thermal overload protection helps you protect your family from fire hazards. It also features an auto cut off technology that protects the circuit from voltage fluctuations, while the ITDS technology helps to restore power after 10 seconds.
Apart from all these technical features, it also incorporates a typical yet sturdy and compact design. The steel body with a digital display maintains elegant decor in your room.
Finally, Candes Crystal 5kVA ranks in our top list of the best stabilizers for AC because it offers a whopping 6-year warranty. It means, even if any issue comes up, you can simply get in touch with customer support for free service.
Pros
One of the best choices for 2.5 tons
Digital Display
Sturdy Steel Body
Thermal Overload Protection
Pure Copper
ITDS Technology
6 Year Warranty
Cons
3. Everest 4 KVA Deluxe Voltage Stabilizer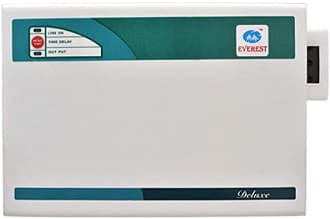 Budget-friendly and high performance is what defines best about Everest 4 KVA Deluxe Voltage Stabilizer. Designed for a typical middle-class household, this one can be an easy choice for your 1.5 tons AC.
Key Features
It comes with a copper winding transformer. Copper is a better conductor of electricity compared to aluminum. As a result, it offers lesser power loss and lower heat generation, thus making it an ideal power-saving option.
Everest 4 KVA Deluxe Voltage Stabilizer has Advanced German Technology Safety with its Toroidal Transformers that ensures more efficiency.
It also offers optimum performance with its sophisticated solid state circuitry technology. The ITDS ensures that the stabilizer has an ideal and reliable safety net for your AC's compressor. In case the power cut lasts for more than three minutes, the stabilizer will switch on itself once the power is restored.
The user friendly LED status indicator is yet another prominent feature. Once the device is switched on, the LED glows up. Along with that, you can also clearly monitor the input and output readings with complete ease.
Noise-free and sleek looking, this voltage stabilizer can help you save up to 40% of power savings. It also offers thermal overload protection that further ensures complete safety.
With its 5 year warranty period, you can contact the company at any time with any kind of issue.
Pros
100% Copper Winding Transformer
Toroidal Transformer with Advance German Technology
Intelligent Time Delay System
User Friendly LED indicator
Noise-free and sleek looking.
Thermal Overload Protection
Budget-Friendly
5-year warranty
Cons
4. V-Guard Magno 410 Voltage Stabilizer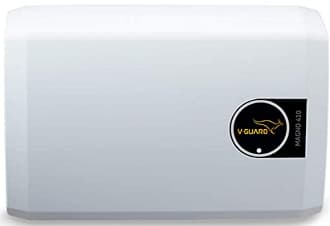 The next in our list of the best AC stabilizers is the V-Guard Magno 410. From its performance range to its sleek clean look, your 1.5 tons AC just got its best friend.
Key Features
V-Guard Magno 410 Voltage Stabilizer is one of the best stabilizers for 1.5 tons AC. Perfect for windows and split ACs, this stabilizer works for a voltage fluctuation range of 170V to 270V, making itself a top choice for areas having moderate to mild low voltage fluctuations.
ITDS helps you in assuring a safety net for your AC's compressor. While the thermal overload protection ensures your family is absolutely safe from any kind of accidental fires.
Its display incorporates a clean, yet user friendly LED status indicator that lets you track the input and output voltage performances.
This model also comes with advanced IC based circuitry that helps the stabilizer to correct the respective input voltage, thus ensuring a more reliable output voltage.
The thermal sensor function lets the stabilizer detect overconsumption of power. When it does so, it disconnects the power load, thus preventing your device from burnouts mishappening.
Being one of the most trusted names, V-Guard Magno 410 Voltage Stabilizer also gives a distinctive look. It comes with a sleek and clean white cabinet along with a wall mounting facility, adding elegance to your room while ensuring safety for your device.
Pros
Support both windows and split 1.5 tons ACs.
The working range includes 170V to 270V. An ideal choice for areas having moderate to mild low voltage fluctuations.
Intelligence Time Delay System (ITDS)
Thermal Overload Protection Crystal
Clear LED status indicator for monitoring input and output performances.
Sleek and clean wall mounted look.
Cons
Unsuitable for high voltage fluctuations
5. Philips Safetec Electronic Voltage Stabilizer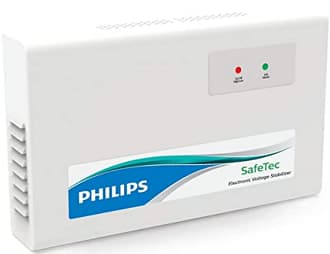 Being one of the best choices for 1.5 tons AC, Philips Safetec Electronic Voltage stabilizer holds a proud rank for both house and office use. It includes a relatively good voltage range and can suit an inverter AC as well.
Key Features
Philips Safetec Electronic Voltage Stabilizer consists of a decent function system. They have designed a module in such a way that it at once feels sophisticated yet efficient.
The "Safetec" technology ensures better performance even with regular power cuts or frequent voltage fluctuations for more power savings.
With its wall mount feature, you can easily install it without caring if the kids can hamper its functioning.
The latest IC technology gives more reliable protection.
The thermal overload protection protects your AC and its compressor sturdily during high-temperature burnouts.
The ITDS protects your AC's compressor by giving it a proper balancing time when your power is restored.
Pros
Ideal stabilizer for 1.5 tons AC
Safetec technology
ITDS
Easy Handling
Thermal Overload Protection
Easy Installation
Commendable Voltage Range (170-270V)
Cons
No Display For Monitoring The Fluctuations
No Copper
6. Luminous TA130D Automatic Voltage Stabilizer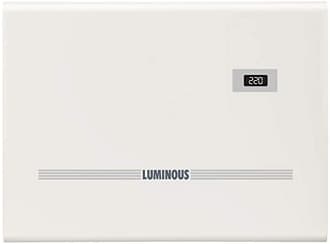 If budget is not a concern, you might consider Luminous TA130D Automatic Voltage Stabilizer as a genuine option. It has a microprocessor system. With a high efficient transformer, it also suits your room decor with the least hassle.
Key Features
The Microprocessor-based system ensures better performance while the high efficient transformer ensures lesser heating.
Luminous TA130D Automatic Voltage Stabilizer offers a seven-segment display, along with various indications.
The complete metal body adds more decor to your room instead of jampacking it. The wall mount system further protects your stabilizer from any kind of damage and protects it from the kids in the house.
It uses a copper winding that ensures more longevity for your stabilizer and your AC.
An appropriate choice for 1 to 1.5 tons ACs
.
Pros
Microprocessor-based system for better and efficient performance
Easy wall-mount installation
Wide working range 139V-270V
Perfect choice for 1.5 tons AC
High efficient transformer
Automatic Cut Offs
7 Segment Digital Display
Copper Winding
Cons
Bit expensive, especially when it's for 1.5 tons AC
7. V-Guard VE 500 for 2 Ton A.C (90V – 280V)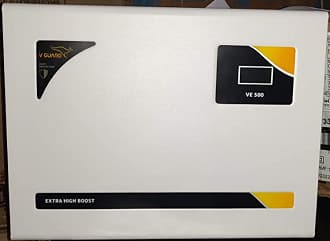 Get high-end and assured protection for your ACs from all kinds of voltage worries with V-Guard VE 500 for 2 Ton AC. With a great digital display and a 3 year warranty period, this one is in our list of the best stabilizers for 2 tons AC.
Key Features
V-Guard VE 500 offers a crystal clear digital display that monitors the input and the output readings with absolute ease.
The built-in thermal overload protection protects your AC or other appliance and your entire household/office from any kind of accidental short circuits.
It has an operating range from 90V to 280V, which means no matter what kind of voltage conditions your area experiences, this stabilizer can easily maintain a stable power supply.
V-Guard VE 500 also comes with a wall-mount design making it an ideal option for adding grace and utility to your room.
It offers a 3 years warranty as well. Even with any minor issue, you can easily get in touch with customer support and get it corrected without any hassle.
Pros
Clear Digital Display
In-Built Thermal Overload Protection
3 year Warranty Period
Elegant Design
Wall Mount
Suits 2 tons AC
Wide Voltage Range (90V-280V)
Cons
AC Stabilizers Buying Guide
After the reviews, we will look out for the features to check for when buying or selecting the best AC stabilizers in India. Of course, the voltage and the power consumption rates do matter the most. But apart from them, you also need to check some other factors.
What is a voltage stabilizer?
A voltage stabilizer is an electrical appliance that helps to deliver a constant and stable voltage, irrespective of the input and the output voltage supply. It helps to protect your electric appliances from the damage caused by voltage fluctuations (high voltage and low voltage).
Voltage stabilizers are mostly preferred for expensive appliances like air conditioners(AC) and refrigerators, primarily to protect them from voltage surges.
These stabilizers are mostly required for areas that suffer from high voltage fluctuations. If you live somewhere where voltage surges or fluctuations are a common daily affair, you might need a stabilizer to protect your respective appliances.
Features to Consider
1. Copper
The inclusion of copper is one of the most common features you must look out for before buying an air conditioner voltage stabilizer. Copper has relatively much lower steep levels than aluminum, which increases the durability and the longevity of the voltage stabilizers.
Copper transformers are also smaller and lighter. It cost less to manufacturers, which means it can go less on your pocket, lesser fatigue and higher performance. Copper transformers also offer much better current distribution than aluminum ones.
2. Warranty
No one would like to buy an appliance that has a lesser warranty period! Shortlist a stabilizer that offers a more extended warranty period. AC stabilizers we reviewed above provide a warranty between 3 to 6 years. Choose the most ideal for you and your family. We would recommend a minimum of 3 year warranty.
3. Specialized Stabilizer
When we talk about voltage stabilizers, most people look at them in general terms. But specialized stabilizers have been specially curated for their respective devices for better performance and compatibility. So make sure you get only a stabilizer that has been made exclusively for ACs.
4. Voltage Range
Before buying a voltage stabilizer for your AC, always check the minimum and maximum voltage fluctuation range in your area. Use a Voltage Digital Multimeter to measure the voltage range. The supporting range of the stabilizer you buy must be either equal or greater than the fluctuation range in your home. If it's lesser, then it can cut off your power supply, thereby not letting your AC to function at all.
5. Surge Protection
Surge protection is yet another feature that you must consider while buying an AC stabilizer. During a lightning or short circuits, a sudden voltage spike can occur. At this point, a stabilizer doesn't have time to adjust the voltage. As a result, both the stabilizer and the AC can get damaged. In such situations, some stabilizers come with surge protection or a spike guard feature that efficiently manage such surges by cutting off the stabilizer output during any spike.
6. Mounting
Like every other appliance, stabilizers, too, need to be kept in a safe yet manageable place. Most of the AC stabilizers come with the mounting option, which helps your stabilizer not just against any damage but also keep it away from children's reach. OneReview always suggests selecting a wall mounted stabilizer over a desk mounted.
7. Time-Delay Systems
Most of the air conditioner stabilizers available in the market come with time-delay systems. It helps your AC compressor by providing enough time for generating the required voltage. Thus it maintains a uniform and stable current flow, especially when you have frequent short power cuts.
8. Overload Functions
Thermal overload protection is definitely one of the essential features you must look out for when buying a voltage stabilizer. So, why is it important? It's because if there is any kind of power overload, the stabilizer automatically switches off your power supply and thus stops the occurrence of short circuits or any accident.
Types of Voltage Stabilizers
Coil Rotation AC Voltage Regulators
Used primarily in the 1920s, this voltage regulator works on a similar principle to a variocoupler. Coil Rotation AC voltage regulators consist of two field coils, one is fixed to its position and the second one rotates on an axis parallel to the first coil.
It provides a constant voltage by balancing the magnetic forces, acting on the movable coil. This itself is achieved by positioning the flexible coil perpendicularly to the present fixed coil.
Electromechanical Regulators
Voltage regulators used to regulate the voltage on a typical AC power distribution line are called electromechanical regulators or voltage stabilizers. These stabilizers utilize servomechanism operations to select an appropriate tap from several taps.
When the output voltage does not fall in the intended range, servomechanism is used to switch the respective tap.
Thus, when the turns ratio of the respective transformer is changed, the secondary voltage can also be changed for obtaining the acceptable values of your output voltage. The hunting, termed as the failure of a controller for adjusting the voltage, can be observed only in the dead band where the controller does not operate.
Constant Voltage Transformer (CVT)
Also called a ferroresonant transformer or a ferroresonant regulator, a constant voltage transformer (CVT) uses electromagnetic resonance to achieve a highly efficient design. It is based on the electromagnetic phenomenon known as ferroresonance, which happens when a current-carrying conductor is placed into a strong magnetic field, in turn controlling the voltage output.
DC Voltage Stabilizers
To regulate the voltage of the DC power supply, Series or Shunt regulators are often used. A typical reference voltage is applied using a shunt regulator such as a voltage regulator tube or Zener diode.
Conduction is started at a specified voltage by these stabilizers. They then conduct maximum current for holding the respective specified terminal voltage. With the help of a low value resistor, the surplus current gets diverted to the ground.
Automatic Voltage Stabilizers
Automatic voltage stabilizers are mostly used on oil rigs, generator sets, or emergency power supplies. It helps to provide variable voltage without changing the phase shift or the power factor.
These come in large and small sizes. The small ones are common in our home and used to protect your expensive electrical appliances from voltage fluctuations.
It has step-up and step-down transformers to bring the power supply within the operating range safe for the connected appliance.
Why Do You Need Voltage Stabilizers For AC?
Protection Of AC
The main job of a stabilizer is to protect your expensive electric appliance, and AC is no exception. An AC stabilizer primarily protects your AC from any kind of accidents/short circuits due to voltage fluctuation or surge. By investing around 1500 INR, you damage-proof your AC. If the power supply in your location is prone to regular power fluctuations, buying a legit stabilizer for AC is a must.
Trouble-Free Start-Up
When there's any kind of power fluctuations, your AC's compressor faces a high chance for start-up trouble, which can seriously hamper your appliance. Here comes the importance of the stabilizers. The stabilizer regulates the voltage and maintains a stable constant current supply, thus AC's compressor start-up without any problem.
Reduced Power Consumption
Every time there's a marked drop in your power supply, your AC operation may get disturbed, causing the AC to consume more power than intended. The use of a voltage stabilizer can reduce this over consumption of energy.
Increased AC Longevity
Voltage fluctuations can reduce the efficiency of AC parts, which in turn shortens your AC's lifespan. It can increase the relatively higher risk for your entire appliance. Using a stabilizer compatible with your AC increases its lifespan because it stops malfunctions in its components.
AC Stabilizer FAQs
What is the significance of power quality?

For any electrical appliance to function properly, you need to have a sufficient yet uniform power supply. Failing this can actually hamper your appliance's functioning process, thereby affecting its longevity. Without a proper power supply, your device may not only malfunction but may also stop working. To protect these electric appliances (for example, an AC), it is highly recommended to get a suitable voltage stabilizer.

What is the difference between a voltage stabilizer and a power conditioner?

Although both of them protect your AC from fluctuations, spikes and sags, an AC power conditioner further protects your appliance against electrical noise and defends better against transients as well as spikes. Unlike a stabilizer, a power conditioner comes with a shielded insulating transformer that suppresses the noise (E to L and E to N) to harmless levels. Generally, the output from any power conditioner is referred to as a typical clean supply. However, as you can already predict by now, a power conditioner is much more expensive than a voltage stabilizer.

Do You Need Stabilizer If You Have A Stabilizer Free Operated Modern AC?

Some of the latest modern ACs have been manufactured with an updated technology that can handle small voltage fluctuation without a stabilizer. The inbuilt circuits balance the small spikes and sags quite easily. However, in Indian homes, high levels of voltage fluctuations are expected. And it is during such a scenario when the need for the best stabilizers for AC arises. Having a specialized voltage stabilizer helps you stay assured with these high voltage fluctuations.

What to do if my Stabilizer Shows Zero Output?

There are two main reasons for this, either your stabilizer is faulty, or your voltage stabilizer has a typical push-to-read button. However, in case it does happen, check if the stabilizer is in a cut-off state. The cut-off state generally occurs when the voltage is either too high or too low.

What To Do If There's an OH1?

OH1 error is caused because of overheating. There's a fan present in all stabilizers. When the error shows up, it means the stabilizer's fan is not working. You need to either replace it or get it fixed as soon as possible.

How Much Power Does AC Stabilizer Consume When The AC Is Off?

When AC is off but the stabilizer is plugged into the power supply, it consumes 1-2 watt/hr, which is an insignificant amount of energy.

Why Is Copper More Important Than Aluminium?

A copper winding transformer offers more safety and is included in most of the best stabilizers. It is more robust, harder and ductile compare to aluminium. It helps to avoid galvanic action that further helps in your stabilizer's longevity. Copper transformers are also much smaller and lighter. They allow a stable and better current distribution too.

Can I Use An AC Stabilizer For Other Household Purposes?

Yes, you can. Just make sure the load doesn't exceed your stabilizer's KVA rating.
Conclusion
As per our review and research, V-Guard ID4 Ace 5540 is the best AC stabilizer. We hope all this article has provided a brief yet lucid insight on not just the best stabilizers for AC in India but also what makes them so. Get the most appropriate one for your family and enjoy hassle-free AC usage.
Read Related Reviews
Buy Best Stabilizer for AC Online
V-Guard iMagno 410 AC Stabilizer for 1.5 ton ...
31%
MICROTEK EM4160 Automatic Voltage Digital Dis...
47%
Everest 4 KVA Deluxe Voltage Stabilizer Used ...
52%
Microtek EM 4160+ Automatic Air Conditioners ...
56%
V-Guard VG 400 for 1.5 Ton A.C (170V to 270V)...
35%
Microtek EM 4170+ Automatic Air Conditioners ...
41%
V-Guard iD4 Ace 5540 AC Stabilizer for 1.5 to...
22%
V-Guard Denor iD400 AC Stabilizer for 1.5 ton...
28%