Electricity is a highly important invention that has improved so many things and made lifestyles better. While nights were meant only for darkness, electricity gave people the chance to live and work during this time too. From home appliances to industrial machines, and so much more, everything is dependent on this technology.
Thus, it is very inconvenient when power outages and blackouts occur in India, and they are sadly very frequent. In such a situation, having an inverter in your home, would relieve a lot of discomfort. Since it is difficult to anticipate the time of the power cuts beforehand, therefore inverters give you the power backup in case of frequent load shedding in your area. Having an inverter at home or building would supply another 4-10 hours of stored electricity. Given its uses, it is natural to say that there is a lot of value for this in both cities and rural areas.
When you are buying an inverter, below are the main deciding factors that you should check for:
Type of Inverters: There are three versions of inverters, sine wave, square wave, and modified sine wave inverters. Among these, sine wave inverter is the best inverter type for home use.
Size of the battery: To make sure your electricity stays on longer, you must buy an inverter with a bigger battery support. It holds more power capacity.
Capacity: A higher capacity inverter allows you to connect more appliances.For small to medium house 900 VA inverter is enough, but if your home is big you can go for 1200 – 1500 VA inverter.
Cost: Cost is directly related to the capacity and features of the inverter. An inverter with higher power backup and VA (Volta-Ampere) will be pricier.
Of course, while these are important points to browse, you would fare better when you understand the details behind each. The buying guide below would help you with that. And the list hereafter would give you an idea of which best power inverter to choose for your home.
10 Best Inverters for Home in India
Best Inverters in India Reviews
1. Luminous Zelio+ 1100 Home Pure Sinewave Inverter (Best Overall)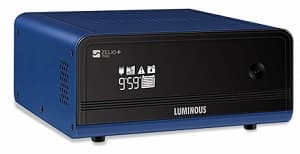 One of the most popular sine-wave inverters is the Luminous Zelio+ 1100 Home Pure Sinewave Inverter UPS. It has a capacity of 900 VA, along with a maximum power load of 756 Watt. You can run 3 tube lights, three CFL, 1 television, 3 ceiling fans, and 1 air cooler with this inverter.
The inverter has also been declared as an intelligent UPS. It is equipped with a 32 bit DSP Processor and makes smart decisions. The learning ability of the inverter to calculate backup time is impressive. Moreover, the inverter also operates in two modes – UPS and Eco mode.
In the Eco mode, the range of output voltage extends more than that of the UPS mode. It is done to reduce battery usage. Meanwhile, in the USP Mode, the range of output voltage is between 180V to 260V. The sine wave output ensures its safety in its function of powering sensitive appliances.
Furthermore, the inverter also offers a wide range of protection so that you can be safe while using it for home or office. It offers protection against battery deep-discharge, reverse polarity, short-circuit, etc. Moreover, it also offers protection to input mains via MCB.
The product also boasts of noiseless operation and supports different types of battery. The batteries include VRLA, flat plate, and tubular.
Key Features
The capacity of 900 VA
Equipped with a 32-bit DSP Processor
Supports different types of batteries
Safe for powering sensitive appliances
Presence of a bypass switch
Comes with a warranty of 24 months
Pros
Temperature can be controlled automatically with the aid of a fan
LED display shows the status of charging time of battery and power backup
Provides protection against overload, reverse polarity, etc.
Operates in two different modes – UPS and ECO
Cons
The cooling fan makes noise, but its bearable and you will not notice it.
2. V-Guard Prime 1150 Digital Inverter UPS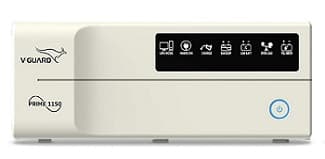 V-guard is a sought-after brand that has built its reputation over the years. One of the most impressive sine wave inverters is the V-Guard Prime 1150 Digital Inverter UPS. The inverter's capacity is 1000 VA, and the maximum power is 800 W. It can aid in the powering of television, tube light, fan, CFL, mixer, air cooler, or refrigerator.
But, there are certain conditions attached.
The most intriguing feature is, however, the battery gravity builder. It assists in increasing battery life and even keeps the battery in good condition. Furthermore, the inverter is also designed with the battery water topping reminder. It ultimately helps to avoid chaos. The feature reminds the user to refill the water whenever it ends. Also, it contributes to enhancing performance.
With the presence of the mute buzzer option, you can avoid unwanted scenarios and chaos. It mutes the alarms that are bound to come in the case of power coming back. The product also has audio indicators. These alerts the users to various aspects like low battery, overload, etc.
Moreover, there is also an LED display, which also indicates short-circuit, water level, etc. It operates in two modes – normal and UPS mode. The UPS mode is for computers, while the normal mode is for the rest of the appliances.
Key Features
Availability of two modes
Average battery recharge time is between 8-10 hours
Presence of high-performance selection switch
Equipped with battery gravity builder
Mute buzzer option
Comes with a warranty of 24 months
Pros
Presence of audio indicators
Integrated with a wide range of protective features
Equipped with a battery water topping reminder
Operates on two modes – normal mode and UPS mode
LED display showing the water level of the battery, overloading, etc.
Cons
It is heavy and is difficult to move
View on Amazon View on Flipkart
3. Microtek UPS EB 700 VA UPS Inverter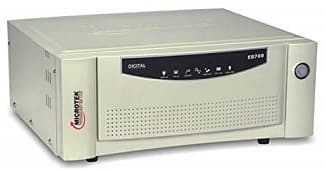 Searching for a budget-friendly inverter? Microtek UPS EB700 is the best to go with.
Microtek has gradually built up a solid reputation over the decades. They have done so by releasing reliable and useful products in the market. The Microtek UPS EB 700 VA UPS Inverter does not disappoint. It has an input voltage of 100-300 V. But the output voltage differs depending on the mode.
The inverter operates on two modes – the mains and UPS. In the mains mode, the output voltage is the same as that of the input voltage. However, in the UPS mode, the output voltage is 210 V ± 10%. The output power is 510 Watts.
Microtek uses CCCV technology to make this model. Due to the presence of the LED display, you can be aware of several aspects like the battery status, etc. It also protects short circuits and has an advanced smart overload sensor.
Moreover, the product also offers protection from reverse polarity, overload, and battery deep discharge. It weighs around 7 kg. So, you can move it around without much difficulty.
The output wave of the inverter is TPZi Waveform (Trape Zoidal). Only one battery is required, and the recommended battery capacity is between the range of 100-150 AH. Furthermore, it comes with a warranty of 2 years.
Key Features
The capacity of 600 VA
Output wave – TPZi Waveform (Trape Zoidal)
Equipped with CCCV technology
Monitoring of battery status
The design is microcontroller based
Comes with a warranty of 2 years
Pros
Automatic switching from Mains mode to UPS mode
Offers protection against a variety of situations
LED display
Smart overload sense
Weighs around 7 kg and can be moved easily
Cons
4. V-Guard Smart Pro 1200 S Solar Inverter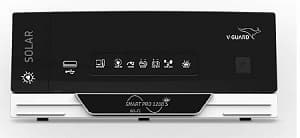 When it comes to launching innovative products in the market, V-Guard is always on the front lines. This time, the highly popular brand has come up with a digital UPS that has solar compatibility. The V-Guard Smart Pro 1200 S is an impressive solar inverter. It can be controlled via the V-Guard Mobile App.
You can control the functioning of the inverter with your smartphone easily. You just have to register on the app and make sure that it syncs with the product. Now, you can switch through different modes, check the battery's backup time, review the power cuts, and many more. The app also has some solar-specific features.
Apart from that, the output wave of the inverter is a pure sine wave. As such, you can safely use it for running sensitive appliances. The solar compatibility is perhaps the highlight of the product. It is perfect for areas that are prone to frequent power cuts. You can also make use of solar energy via this inverter and make great savings on the electricity bill.
With the Smart Pro 1200 S inverter, you can run LED TV, mixer, EESL LED Bulb, room cooler, etc. When switched to the appliance mode, it can run a maximum power up to 100 W. The battery topping reminder alerts the user to refill the water and, hence, aid in the battery's longevity.
Key Features
1200 VA capacity of this inverter allows you to run more electric appliances.
Solar compatibility
Battery water topping reminder
Connection with Bluetooth and Wi-Fi
Can be controlled via V-Guard Mobile App
Turbocharge mode
Performance tracker
Tracking of battery status
Pros
Mobile App to control features
Presence of emergency charging mode
Easy monitoring of battery backup time, etc. through the V-Guard app
Quick battery charging with the Turbocharge mode
Pure sine wave output
Graphical representation of data on power frequency, etc.
Cons
A little heavier than other models in this review (10+ Kg)
View on Amazon View on Flipkart
5. Exide 1450 VA 24V Pure Sinewave Home UPS Inverter with Digital Display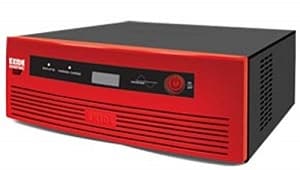 When it comes to trusty inverters, Exide is one of the most authentic brands in the market. The Exide 1450 VA 24V Pure Sine Wave Home UPS Inverter is a revelation. It truly lives up to the reputation of the brand.
The inverter is designed with a Digital Signal Processor. It is also equipped with ASIC technology. Due to this technology, the inverter can sense the condition of the battery. It ultimately helps in enhancing battery life and reducing water topping.
Furthermore, the product is also integrated with the electrolyte level sensor indicator. It alerts the users when there is a low water level in the battery. The presence of the power factor-controlled battery charger assists in reducing the consumption of electricity. Also, there is top-quality protection in the PCB.
The inverter needs two batteries to run, and the recommended battery capacity is 80-180 AH. Furthermore, the transition time from UPS mode to Mains and vice versa is less than 10 msec.
The lower and higher voltage limit for the Mains mode is 100 V+/ – 5 V and 280 V+/- 10 V, respectively. The lower and higher voltage limit for the UPS mode is 180 V+/ – 5 V and 260 V+/- 5 V, respectively.
Key Features
1450 VA capacity is perfect for big house
Equipped with a DSP (Digital Signal Processor)
LCD display
Integrated with the ASIC (Auto Sense Intelligent Control) technology
Electrolyte level sensor indicator
Operates on two modes – mains and UPS
Power factor-controlled battery charger
Comes with a warranty of 24 months
Pros
The LCD shows battery charge, voltage, etc.
Indication of the water level of the battery via the electrolyte level sensor indicator
High-speed microprocessor
Increases battery lifespan with the ASIC technology
Very less power consumption
Cons
View on Amazon View on Flipkart
6. Luminous Zolt 1700 Home Pure Sinewave Inverter UPS
With this Sine Wave inverter's help, you can get a high degree of electricity for the appliances at your home. The power capacity of this inverter is around 1260 W battery and 1500 VA inverter power. Plus, you can add two more batteries if you need to charge more devices.
In case the water level goes down, the maintenance reminder would prompt you to replenish the water on time. Thus, you can go about with your day and not worry about the inverter expiring. Also, the LCD displays battery charging time (hours + minutes), Eco/UPS mode, main on, backup time, and the system fault.
The safety features here are in good condition, too, with MCB safeguard and Safety Alarm features. Overall, it is a good choice to help you run your household condition well.
Key Features
1500 VA capacity is more than enough to run 2 cooler, 4 fans, and 4 LED bulbs.
LCD shows water level, charging time, backup, and more
The Sound Alarm operates in case of heavy issues like short circuit detection
This inverter can work with multiple types of battery, like VRLA (SMF), Tubular, and Flat-Plate
Bypass Switch present for protection against system faults
Includes Home UPS feature with a 32-bit DSP processor that checks load supply and other requirements to optimize battery charging and backup
Externally protected with MCB for safety against short circuits or faults due to power fluctuations
Pros
Extra batteries will benefit you when you need to run multiple devices
Alarms blare in case of low battery, over-charging, wrong wiring, overload, or short circuit
The harmonic distortion allows less noise when operating
Charges fast
Works with multiple devices
Cons
View on Amazon View on Flipkart
7. Luminous Cruze 2KVA Inverter with RC 18000 Battery (2 Batteries)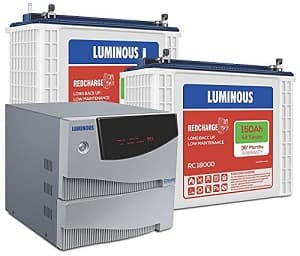 This is a commercial grade inverter with 2 batteries included and we think it's perfect for coaching institutes, small buildings, shops and small factories.
A good thing about Luminous is that it produces some of the best inverters in India. And this Cruze 2KVA Inverter is another addition to this best production list, as it can run many devices. The main technology behind it is Sine Wave, and it can hold higher loads.
The product itself preaches eco-friendliness and does not emit fumes, pollution, or noise. You can easily install it and then maintain it whenever necessary. For better functionality, you would get two batteries that you could use if you need a backup for extra devices.
With a capacity of 2kva/24v automatic-start, 21 amp of charging current, among others, this is a good inverter to consider.
Key Features
Can take load upto 1600 watts
The inverter does not make much sound
Sine wave technology
Maintenance of the device is easy to handle and eco-friendly
The battery has strong tubular plates and is very low-maintenance
The battery uses antimony alloy of lower value and good for handling long duration of power cuts
Pros
Long-lasting service
Tubular plates are easy to handle
A good amount of backup during power outages
You can add more batteries
Durable build
Cons
Installation required trained professional.
8. V-Guard 1200VA Sine Wave 1450 Inverter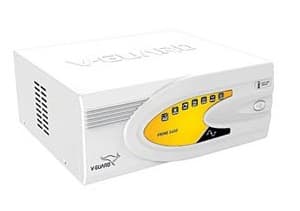 When speaking of the best inverter in India, most of the Sine Wave technology framework options are there. They are easy to handle, and they can hold a lot of capacity for their compatible devices. Owing to this, the next best option is V-Gurad Sine wave Inverter. You would fare well when you use this for your appliances at home.
It has dual voltage choice, high and normal, and its usability depends on the devices they charge. Plus, you can manually change the various modes, too, as there is a front switch. The ability to use this product is very easy, and you can use it for a longer period.
Key Features
You can select the mode of charging relating to the capacity, i.e., between BO and 230 Ah
Ability to change voltage percentage and power
The selector switch also allows you to choose battery technology from tubular to flat and vice versa
The battery has an intelligent reminder for water topping to ensure that the battery does not fail
Allows UPS mode-to-Normal mode shift
Pros
The selector switch has multipurpose uses
The signal controller digitally shows the output condition
The front switch makes it easy to operate
Does not overcharge
Can handle bigger load and backup
Cons
View on Amazon View on Flipkart
9. Luminous Rapid Charge 1650 UPS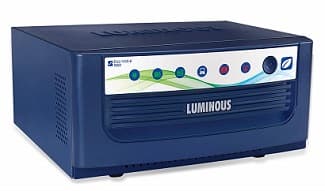 This choice from Luminous is another option that you would find interesting. It is a square wave inverter and can consume a maximum power of 916 to 966W. Under this, you can fit many appliances and then go about with your day.
The inner particles are equally long-range components, like the FSW transformer, microprocessor, and PCB programming. Thus, this inverter would last long and works efficiently to provide power while it does so.
You can use only a single battery with this inverter but it supports various types of inverters. So, you would find that it packs a good punch for its size.
Key Features
The battery that suits this type of inverter can be of different types: VRLA SMF, Flat Plate, or Tubular
The usual capacity of the battery you can use here is 120Ah to 150Ah
This model has a protective build against deep discharge, overload, reverse polarity, short-circuit, and input protection
Contains Eco-UPS mode within
The processors are of high-quality functionality and programming
Pros
Can support many home appliances
Battery type can vary
Easy to use
Can handle the extra load
Charges in three stages
Cons
10. Microtek M-Sun Solar Grid-Tied Inverter System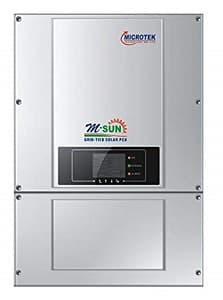 Another product worth mentioning is M-sun from Microtek, which focuses on converting solar energy to electric power. Thus, this promises a high amount of energy potential and is very high-quality as well. You can mount the grid on the wall, and that system allows the electricity conversion.
If the device produced more energy than they need to, extra electricity would not go to waste. There is storage potential in the Utility Grid, which works as per the state laws. That is not all; you can operate all of this through the LCD Display present on the surface. The whole product works using the MPPT algorithm of the Real-Time Precise variety.
Key Features
The LCD Display of 4 inches includes an easy-to-navigate interface
Installation procedure is very simple, just plug it in and start the device
The solar grid turns solar energy into electricity at a fast rate
It can control and reduce the power capacity on its own
One can control the reactive or active power limit remotely from the inverter model
Pros
Runs on solar energy
Long-lasting
Comes with a warranty of 5 years
No battery needed
Mostly self-regulated
Cons
Inverters for Home Buying Guide
Before you buy the best inverter in India, you must know some key factors to equip yourself with required knowledge that will help you in choosing the best inverter for your home. You should know what features would give you the best outcome and suitable for your home. Inverters are long time investment, therefore read the below buying guide.
What is an Inverter and How it Works?
As a backup power device, an inverter works to turn low-voltage direct current power (DC) to regular alternating current (AC) power. With its help, you can operate different appliances in your household. In times of power shortages or blackouts, this is necessary to work as a backup generator.
A lot of different appliances use this power run normally, depending on the battery and its capacity. Many of the electrical devices work through an inverter by cultivating power from other resources. These include boat, truck, car battery, or renewable energy sources like wind turbines or solar energy.
Types of Inverters
There are 3 types of inveters:
1. Sine Wave Inverter
In this type of inverter, there is AC machinery that keeps rotating to produce power. The capacity of this inverter is high, and thus, most high-efficient products work with it. It can hold and provide a lot of loads, and maximum electric devices gel with it well. Thus, it is the most expensive among the inverter types, too.
Device examples include:
Laptops
Mixer grinders
TV
Household appliances like a fridge
2. Square Wave Inverter
Out of all the best inverter India options, the square wave version is the most low-priced. As such, they are not too powerful either; they operate fine but not with most appliances. Only those that require minimal power to work can perform with this inverter.
Device examples include:
3. Modified Sine Wave Inverter
In this particular type of inverter, the shape of the waveform is in a square style. Sure, it works well with most devices and is comparatively cheaper than its namesake. Yet, it has the potential to reduce a device's efficiency.
Plus, the fluorescent lighting in this is less bright, and it emits a buzzing or humming sound frequently. Nevertheless, it does its main job well enough.
Device examples include:
Computer
TV (older models)
Motors
Lights
Types of Batteries
Batteries are supplementary of inverters. Without them, even the best inverters are useless. Power backup and inverter duration is directly dependent on battery and therefore it is important to discuss them here briefly.
1. Tubular Battery
These batteries last lost, averaging at five years. They do not require a lot of maintenance, and their charging cycles are very efficient. In this, the battery tubes stay within a piece of cloth. As for its price in India, the range varies from Rs. 8,000 to Rs. 25,000.
2. Flat Plate Battery
A flat plate battery is one of the original lead-acid batteries. Two electrodes in this stay inside the liquid electrolytic water and sulfuric acid solution. The positive one is made with lead oxide and the negative with porous lead. People need to constantly maintain it, changing the water at each 3-6 months interval. If not done so, it would stop working with time. You also need to place them in a ventilated area since these batteries give out noxious gases. As for the cost, it's cheaper than tubular batteries, ranging within Rs. 9,000-15,000 bracket.
3. Sealed Maintenance-Free Battery
They do not need maintenance and are comparatively safer than the other two. It does not give out any obnoxious gases, and you do not need to refill with distilled water constantly. They are comparatively more costly than the other two but have a smaller lifeline. Another common name of this battery is Value Regulated Lead-Acid or VRLA battery.
Features to Look For Before Buying an Inverter
There are some particular features that an inverter would have that makes them a better choice. When you are choosing an inverter for your home, these are some specifications you should assess:
1. Capacity
The first thing you should think about when you are buying an inverter is their capacity. You would notice this as the VA rating (Volt Ampere). This refers to the power that the inverter gives to the different devices attached to it. If it is working perfectly as per the power requirement of the equipment, then in the ideal world, this rating would appear 100%. However, that is not always possible, and the regular efficiency range of inverters value between 60% to 80%.
The equation here is as such:
Inverter VA rating (power supplied) = the power the electric items consume (power requirement) / efficiency of an inverter (power factor)
For example, if the power requirement of your television is 120W and the average power factor values at 0.7.
Therefore, Average VA = 120/0.7 = 171.42 VA.
In general, an inverter with 800 VA power is a good enough choice for small to medium houses. But if it's a big house and you need the power supply for more electrical appliances, then you can select 1200 VA models.
2. Power Requirement
When you buy an inverter, you need to think about how many appliances you need the backup for. Depending on that, you should decide on your inverter to hold as many items as possible and not lag.
The general power requirements for some appliances are mentioned in this table hereafter.
| Type of Item | Power Requirements (Watts) |
| --- | --- |
| Fan | 80 |
| CFL | 20 |
| Light (Tube) | 40 |
| Light (LED Bulb) | 5-100 |
| Washing Machine | 150-3000 |
| Television | 100-300 |
| Window Air Conditioner | 1000-2500 |
| Induction Cooktop | 1500-3000 |
| Refrigerator | 140-450 |
| Microwave Oven | 2500 |
In this regard, count how many items you have at your home. For example, let's say you have 2 tube lights (40 watts each), 4 fans (80 watts each), 2 CFL bulbs (20 watts each), 3 LED bulbs (10 watts each), 1 refrigerator (300 watts), and 1 television (200 watts).
The total power you would need is:
(2*40) + (4*80) + (2*20) + (3*10) + (1*300) + (1*200)= 970 W.
Thus, you would need an inverter with more than 970 Watts power capacity or 1200VA.
3. Output/Input Voltage
You should select an inverter with the same voltage power as the battery you are using inside it. This counts for both Output Voltage (AC) and Input Voltage (DC) inverters.
Here is an example of the latter.
In case you have a battery of 12V power, you should select an inverter with 12V DC power.
Also, consider the country you are in, as far as the Output Voltage is concerned. In India and most other countries, you can use an inverter with 220-250V AC potential. Only Mexico, Canada, the US, and most Latin America parts need ones with 120V AC potential.
4. Charging Power
See how much the inverters can charge and what type they are. Bigger inverters can provide power for a longer duration, and you need to add extra batteries to extend the backup duration. As for smaller inverters inside vehicles, it runs equipment as long as the battery works and the engine runs.
5. Battery
Not only is the inverter itself important to consider, but so is the battery you use in it. It is the main power structure behind this, and you need to consider the battery quality over anything. It would affect the number of hours and items the inverter can run. The abbreviation for this is Ampere Hours or Ah.
You can find batteries of 100-220Ah capacity in the market easily. But you need to focus on the estimate calculation more rather than thinking about what is available.
Now considering the above example, your power consumption is 970 watts and you need a battery that can run for 4 hours. So, assuming the battery is 12 Volt, below is the formula to calculate the required Ampere hours.
Battery capacity (Ah) = Power Requirement (W) * number of backup time (hours) / voltage of the battery (V)
Therefore, as per the example provided previously,
Battery capacity = (970 * 4) / 12 = 323 Ah
Thus, you need a battery with a capacity of 323 Ah power or more. Before you end up purchasing an inverter in India, you should consider this carefully.
Additional Points to Consider
Aside from the features mentioned, there are some points that you should consider, too, before placing your order. They are related to your circumstances more than the quality of the inverters.
1. Price
You have to look at the inverter price to decide on what you need as well. And for the most part, the range of this lies between Rs. 5,000 to Rs 8,000. It depends upon many factors like the technical specifications, the brand, and its traits.
The quality of a good inverter depends on how less energy it loses during DC to AC energy conversion. While you would find many options, the best ones with the least energy loss are of the costlier variety. The higher the price, the more they can manage bigger appliances. Thus, consider this when you are buying the inverter of your choice.
2. Earthing issues
First and foremost, see if your home has good quality earthing potential. Many electricity-related accidents can occur without warning, like electrocution or short-circuits. If a house has good earthing facilities, the effects are not felt as badly.
Plus, on your part, you should ensure that the dogs or children at home do not get near the inverter. And make sure not to touch any of the battery terminals if your hands are wet, either.
3. Wiring Concerns
Before considering the top inverter of your choice, you should see the wiring conditions at your home. You can take the help of an electrician beforehand for this. And they would detect if the backup facility of the chosen inverter is compatible with the wiring.
You will not have much of a difficulty if you want to provide good power backup to most of your appliances. But you need to pay extra attention to the heavier appliances like a fridge or the ACS. In such a case, an electrician can isolate these in the wiring's backups, and you should focus on them.
4. Bypass Switch
No matter what a great inverter you choose, there comes the likelihood that some difficulties would come up. For example, the device may face a power overload problem, or the fuse may blow. To safeguard the inverter from these eventualities, you can use a bypass switch protection.
You can bypass the regular inverter functionality when needed. The power would then go through the main electric grid instead of its original pathway. Thus, in case of emergencies, you can fix the inverter's problem without disturbing the regular power supply in your house.
Important Safety Tips for Inverters
Of course, when you are using a power inverter, you should consider the safety measures too. It deals with electricity, and any wrong move can cause you and your family much harm. The following are some precautions that are worth considering.
Make sure that you keep it somewhere that is not directly hit with sunlight. Windows are a strict no.
You should avoid touching an inverter if your hands are wet. These devices are very good conductors of electricity, and many of the inverters do not have a shockproof surface. One may get an electric shock if they do so.
Make sure that your younger children cannot reach it. Thus, keep the inverter at a higher flat surface, either horizontally or vertically.
You should put it somewhere dry and cool.
Keep this away from any appliance that releases hot air or a heat vent. Ensure the temperature of the surroundings is around 50 to 80 degrees Celsius.
Avoid placing it near any flammable material.
You need to keep checking the level of water in the battery occasionally. The tubular and flat batteries need clean, distilled water to function well. The period of replenishment varies between 1 month to 3 months. It depends mainly on how much you use the inverter as well as the battery type. Keep a note of the time and refill it at the right moments.
When you are cleaning your inverter, you should use a microfiber cloth to do so.
Alternate Power Supplies
Aside from using the inverter, there are some other energy sources you can consider, too, for backup. They are as follows.
1. Solar Power
It is one of the most popular power energy sources currently. It takes the energy of the solar rays and converts them into electricity, which the batteries store. Given the source, this is one of the most energy-efficient power sources.
The places where solar energy is more, i.e., the sun rays are more intense, can use this power solution. It is good for smaller appliances only, though, and most cannot work with higher load appliances.
2. DG(Diesel Generator) Sets
Diesel is the main fuel that gives diesel generators (DG sets) the power to produce electricity. They generate the power instantly but do not store it. This is also suitable for appliances that take up bigger loads like air conditioners, desert cooler, and water pumps.
Inverter Vs. UPS
Both UPS and Inverters are good power backup solutions that can run many electrical items. There are certain similarities between the two, but there are specific distinctions as well. They are as follows.
| Feature | Inverter | UPS (Uninterruptible Power Supply) |
| --- | --- | --- |
| Back-up | The speed of the back-up is not too high. Due to some issues, one can face problems like data loss or system breakdown. | The speed is very fast. And that does not cost any data loss or crash in the system. |
| Fundamental operation | The inverter transfers electricity to the devices in one step. It changes DC power to AC power, which passes on to the devices. | The UPS's first step is to convert the AC power to DC power and then back to AC power in the inverter portion. Thus, in turn, passes on to the load. |
| Connection | It connects to the primary power supply to provide electricity to appliances. | It directly connects to the appliances and provides electricity. |
| Time Lag | After a power cut, the inverter lags for approximately 500 milliseconds before operating. | After a power cut, the UPS lags for approximately 3-8 milliseconds before operating. |
| Price | Inverters are comparatively cheaper. | The circuit or the machinery in UPS cause the hike in price. |
| Voltage | The voltage of input and output is around 230V. | The AVR (Automatic Voltage Regulation) is set at 220V. |
| Circuit | It holds two main portions: controller and inverter. | It holds three main portions: inverter, rectifier/charger, and controller. |
| Size | The size of an inverter is around 16 kVA. | The size of a UPS is around two kVA. |
| Usage | It is more suitable for areas that do not take up a huge amount of load. This is fitting for offices or houses. | It can provide a good amount of electricity to different sectors using its double conversion system. These include commercial spaces, houses, industrial uses, and offices. |
| Companies | Luminous, Exide, and Microtek provide some of the best inverters. | HP and APC provide some of the best UPS in India. |
Maintenance Tips for Inverters
The above reviews of the best inverter available in India is perfect, but to make them long lasting, you can take some specific steps. There are some components where the inverters suffer the most damage, and you have to maintain them regularly. To ensure that the battery lasts for a long time, you should focus on the following points.
The main thing that you should concern yourself with regarding the battery's maintenance is the water level within. You should keep a reminder to refill the distilled water on time. The duration for this depends on what kind of battery you are using and how many times you used the inverter. Usually, the duration between each necessary replenishment period varies from one to three months.
Try to avoid connecting the inverter and big-load items as much as possible. When you use it up, you have to recharge these big machines again, and doing so constantly would overuse the best inverters' efficiency. Thus, you should use this to charge energy-efficient appliances mainly. This would make sure that the battery condition would not expire.
You should apply grease at the connections of the sockets to safeguard it from rust decays or corrosion. If you see corrosion present regardless, you should clean these areas properly. Use a solution of baking soda and hot water and an old brush for that.
The discharge from the battery occurs every month, and then it can start charging anew. You should encourage this as it freshens the inner electrolyte up.
Inverters Frequently Asked Questions (FAQs)
1. What is a solar inverter?

Unlike regular inverters, you can use the solar inverter in India to convert DC output into AC input voltage. The main element it converts from is the DC output that the PV solar panel emits.

2. How long can I use the inverter?

You can use the inverter for as long as you want to, but the inverter's power depends upon the capacity of the battery. The more appliances you add, the higher the power discharge from the batteries. Thereby, the inverter run-time would also start reducing.
If you own a bigger inverter, you can add as many batteries as you want to gain run-time.

3. Which inverter brands are good for home use in India?

The best brands of inverters in India include Exide, Luminous, Sukam, and Microtek, to name a few.

The reason behind Exide being one is that it produces high-power inverters that can last longer, and their batteries are durable.
Luminous adds a lot of intelligent features to the inverters they produce.
Sukam produces good hybrid-type solar inverters.
Microtek delivers good quality inverters as well as UPS.

4. Would my electricity bill increase if I use an inverter?

When you charge your inverter, the amount of electricity it takes would appear on the bill as a cost. However, it takes less power than regular electricity, and thus, the cost is of a manageable amount. The bill is more when using inverters only if the batteries are aging.

5. How to stop the operation of an inverter?

You do not need to worry about switching off the inverter as it does this task automatically. Many of the inverters have an automatic power feature. When the house's power goes off, the inverter starts up and resumes the power backup to appliances. Similarly, when the power comes back again, the inverter would automatically switch off.
As for manual control, you can switch the device off when the battery charging is done. In such a case, do remember the batteries would still emit the saved energy even if the inverter is off.

6. What rate does the battery drain at?

The speed of the battery drains based on the design and unit of the battery system. The rate differs between 0.02 amps and two amps. Plus, if you have your inverter switched on but no appliance attached, the battery continues draining. The general rate of reduction per week is 168 amp, per day is 24 amps, and per hour is 1 amp.

7. Why my inverter is making noise?

The meaning behind the sound you hear from the inverter depends on the type of sound you can catch.

One type of sound indicates that the current conversion is occurring inside the battery at the moment.
Another possible reason for a sound is that the inverter capacity is overloaded. In such a situation, you need to switch off some appliances to reduce the load.
If a beeping sound is audible continuously, that means that the battery is down and the inverter needs recharging. It signifies a very low level, and you must replenish the product quickly.

8. What causes an inverter to fail?

When the electro-mechanical functions of the capacitors wear down, that can fail an inverter. These particles are very sensitive to heat. When there is a high current, the temperature goes over the operating temperature that is specified. This heating can reduce the performance of the capacitors.
Also, the inductive component cores generate ultrasonic vibrations. These vibrations create the friction that also heats the battery. This, along with the product's heating, is too much for its inner parts to handle. And that would damage the inverter overall.
Conclusion
From all 35 inverters that we have checked before picking the above final list of top 10 best inverters, The Luminous Zelio+ 1100 is, without a doubt, our top choice and we recommend it for small to medium size homes in India. It can handle so many devices at a time and has a lot of distinct features that improve its effectiveness. Starting from battery to price, this top inverter qualifies in many good ways, and so do some other options. Before you decide on the one for you, judge each aspect of the inverter first and your personal needs.
Inverters indeed play an important role in people's lifestyles, and it helps them carry on with regular activities during power failures. The better an inverter you choose, the more number of electrical items you can utilize it for. However, the most beneficial ones are costly, and you need to properly look at the best brands of inverter and the specifications before choosing one.
Read Related Reviews
Buy Inverter Online
Luminous Zelio+ 1100 Home Pure Sinewave Inver...
39%
Luminous Power Sine 800 700VA Pure Sine Wave ...
51%
Luminous Inverter & Battery Combo with Trolle...
33%
V-Guard Prime 1150 Digital Inverter UPS,white
32%
Luminous ECO WATT NEO 700 Square Wave Inverte...
39%
Luminous Zolt 1100 Sine Wave Inverter for Hom...
37%
Luminous iCon 1100 Pure sine Wave Inverter fo...
31%
Luminous Eco Volt Neo 850 Sine Wave Inverter ...
31%