An air conditioner is an essential appliance for cooling a room. Many households in India have this unit for regulating temperature for refreshing comfort. Summer can be hot in India, and temperatures can reach a high of 48 degrees. Although it's a good time to enjoy the sunlight, it can get uncomfortable inside the house. Hence, an AC is a must-have gadget for use at home and offices.
With advancements in technology, a portable air conditioner is cost-effective and convenient to use since you can carry it anywhere.
It can be hectic trying to find a suitable option because of many possibilities. Worry not! We have in-depth research on the best portable ACs to help you pick a suitable choice that will suit your needs. Read on.
Key Takeaways
Here is the quick summary(TL;DR Version) in case you are falling short of time.
As per our review, the best portable AC is Blue star PC12DB, good for a room up to 100 sq ft.
For a large room, our best pick is Whynter Elite ARC-122DS. Though it's expensive and imported from the USA, it is manufactured by Whynter, which is a pioneer company in making portable air conditioners with advanced features.
The main features to look at when buying a portable AC are noise level, number of hose and drainage system. For further in-depth information on portable AC, read the buyer's guide below.
5 Best Portable AC in India
Portable AC
Noise level
Number of Hose
Warranty
Blue Star 1 ton Portable AC - PC12DB
Read Review
52 dBA
1
1 year on product
1 year on condenser
5 years on compressor
CHECK PRICE
Midea Portable AC - MPA12PDR49C0
Read Review
51.5 dBA
1
1 year on product
5 years on compressor
CHECK PRICE
Cruise 1 Ton Portable AC - CPCATF-PQ3S12
Read Review
53 dBA
1
1 year on product
1 year on condenser
5 years on compressor
CHECK PRICE
Croma 1.5 Ton Portable AC - CRAC1201
Read Review
56 dBA
1
1 year over all
CHECK PRICE
Whynter Dual Hose Portable Air Conditioner
Read Review
52 dBA
2
1 year on product
3 years on compressor
CHECK PRICE
Best Portable AC – Reviews
#1 Blue Star 1 ton Portable AC – PC12DB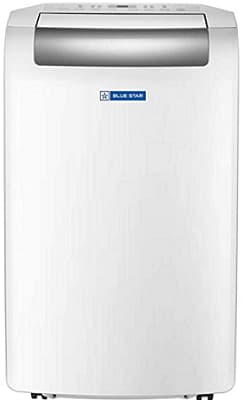 This PC12DB is a 1 ton capacity AC from Blue Star, making it ideal for cooling a room of up to 90 sq ft. It is a highly advanced model with a lot of features.
Key Features
The anti-freeze thermostat ensures water in the cooling system doesn't freeze.
Further, it has hydrophilic evaporator fins that boost the performance of your AC by preventing dust, water, and debris from accumulating. The dry mode feature help in eliminating moisture inside the room, keeping everything dry.
Blue Star 1 ton AC is a highly efficient portable AC with a built-in rotary compressor to deliver optimal cooling.
The energy consumption is extremely low, which leads to lower power bills and more money in your wallet.
The ultra-compact design is the best work of art, plus the caster wheels that allow for effortless movement between places. Even better, it has a cord winder that tucks away the cord, bringing some order in your room by preventing tangling and twisting. It's appealing to the eye and will enhance your room decor.
The model is straightforward to operate, and we're pleased with the tank-full alarm that notifies you when to empty the condensate.
The remote feature lets you operate the AC from anywhere in the room by adjusting the modes.
We love the fact that the AC uses an eco-friendly and wax-free refrigerant with superior lubrication quality.
The airflow will be free of bacteria and other allergens because of the special silver coating sterilizing the air.
Blue star 1 ton AC is rich in features. For example, the self-diagnosis function displays a unique code to inform you of a malfunction. The memory backup restores the operation modes when power is back.
The off-time feature allows for flexibility since it has different time modes. Hence, you can choose your preferred cooling duration. Furthermore, the LCD screen makes it easy to operate.
This model allows for super-fast cooling and, hence, you can sleep at night comfortably without waking up in between. Amazingly, it has a sleep mode to moderate the temperature levels to suit your sleep patterns for an all-night-long relaxing time.
Pros
A fully digitized AC.
Offers self-diagnostic solution.
Eco-friendly.
Has an anti-bacterial.
Tank-full feature immensely useful.
The water condensate doesn't freeze.
It covers large square feet.
It has a sleep mode for personalised use.
Self evaporative system.
Cons
#2 Carrier Midea 1 ton Portable AC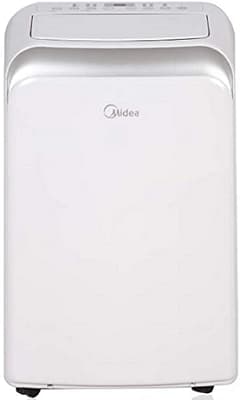 If noise is a concern for you, Midea is one of the best portable air conditioner and the quietest on the market. It's the ideal choice for all your cooling needs. In addition, there are some interesting facts about this home appliance. These improve its functionality to deliver the ultimate cooling.
Key Features
It's an excellent alternative to window units, and you don't have to break the bank to own this type of device. Midea is affordable and a budget option for Indian homes. It's also a money-saver since It's energy-efficient and also, maintenance is easy. Also, it has easy-to-read settings.
It features a sleek size, and therefore it doesn't take much space inside the room. But don't let its small size deceive you! It's a one-ton capacity that can accommodate a 90 sq ft room, and this is a plus feature since it can cool large spaces.
Portability is key when shopping for a portable AC. The good thing is that this model comprises a plastic material. Therefore, it's portable and you can move it between rooms for convenience use.
Operating this unit is not rocket science since it has an auto-start feature. Thus, there's no need to restart it manually and after a power cut, it resets the modes automatically. Notably, the sleep mode function regulates the temperature for comfortable sleeping.
It has a set of advancements, such as the anti-freeze thermometer that prevents frost from collecting at its heat exchanger. The gold evaporator fin protects the copper foil from dust and this boosts the performance of your AC. It also ensures there's clean air circulation free of dust and other residues.
Unlike some noisy models, the appliance is incredibly quiet, thanks to the compressor cover. It absorbs the noise, thus ensuring you get an uninterrupted night's rest.
The installation is straightforward, as there's an easy-to-understand installation kit. You don't need a technician since it's a portable unit that doesn't require any mounting. Also, it has an auto drainage mechanism that gets rid of excess water build-up in the tank.
Pros
Energy efficiency.
It has an auto drainage mechanism.
Allows for optimal air distribution.
Auto evaporation system.
Cons
#3 Cruise 1 Ton Portable AC (Floor Standing AC)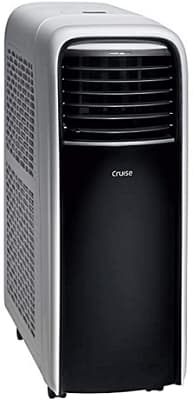 Beyond the looks, Cruise portable air conditioner is a super-convenient air conditioner to regulate the air around inside your house. The cooling ability of this AC isn't the most powerful in India, yet its superior rotary compressor delivers excellent performance even at temperatures as high as 50 degrees.
Key Features
Cruise portable air conditioner is a one ton capacity AC for a small to medium-sized room in India. With an energy efficiency ratio of 2.91, we can conclusively state that this device is energy efficient and a money-saver.
What we most like about this unit is that its premium quality that will last many years. Best of all, the anti-corrosion copper condenser will withstand exposure to water and air, boosting durability.
The unit includes a LED screen and touch controls for easy operation. Also, there is a 2D auto-air swing and wireless remote control. For the price, you also get other accessories such as the exhaust pipe and the slider kit.
Tall and slender, the Cruise air conditioner takes less space and has caster wheels to facilitate movement across rooms. Still, the air vents are wide for maximum airflow and easy to adjust depending on your needs. Also, it features an attractive black finish, which makes it ideal for homes since it can blend with other appliances.
Versatile, the cruise portable air conditioner model is a four in one and can also function as a dehumidifier, fan, or air purifier. The air will stay fresh because of the filtration system that also keeps bacteria at bay. The self evaporative system ensures the extra water condensate escapes into the exhaust.
The set up is easy and will only take a few minutes to have everything ready. For a quick cleanup, the air filter is removable, and this also simplifies the maintenance process.
Pros
It's sleek and compact.
Ease of installation.
It has a dehumidifier mode.
The filtration mechanism ensures cleanliness.
Has an LCD screen with touch dials.
Highly efficient in regulating the room temperature.
Cons
#4. Croma 1.5 Ton Portable AC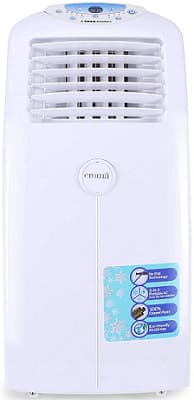 Croma Portable air conditioner is much larger than earlier models in our review in that it's a 1.5 ton capacity. As you would expect, the price is also a little steeper. It can cool a room of up to 110 sq ft and it doesn't end there. There's more than meets the eye, as you will find out shortly.
Key Features
The most outstanding feature of this portable AC is the filtration system that stops dust and other debris from entering the unit. For most people, dust is a concern and with this unit, you're assured of clean air all-year-round.
You don't have to worry about emptying the tank of excess water. It uses no-drip technology with condenser fins and a self evaporative system to keep the water condensate frozen. Also, there's an exhaust pipe for expelling some water from the air conditioner.
With top-notch cooling capability, Croma portable AC has an on/off indicator and therefore, you get to know if the unit is working or not.
With a portable design, you can carry it anywhere at home. The 1.5 ton capacity covers a large room for optimum cooling. It has a 3-in-1 function that acts as a portable air conditioner, fan, or dehumidifier.
This portable air conditioner cools the central air in the summer heat and ensures there's a breezy atmosphere around. It does a lot with only a little power consumption, and it's equally less noisy. The setup is excellent if you want to cool your bedroom with little disruption from noise.
Pros
It's suitable for a 110 square feet room.
The filtration system cleans the unit.
Portable and easy to move.
Less noisy.
Slender and stylish.
Has a remote for a personalised operation.
Cons
#5. Whynter Elite 12,000 BTU Dual Hose Portable Air Conditioner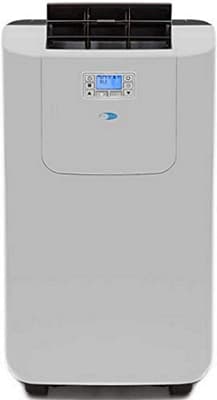 If you need a portable AC for cooling a large coverage area, you can consider Whynter portable AC from an award-winning company. It provides refreshing and humid air during the hot season and serves as a humidifier during the cold season.
Key Features
This AC is a three in one device that works as a dehumidifier, Air conditioner, and fan. Plus, it has a carbon air filter for trapping dust and allergens. A bonus accessory is the storage bag for keeping your portable air conditioner when not in use. Also, you can use it to pack your appliance when traveling.
Even though it's a dual-hose device, it is compact and stands tall. Therefore it will take less space. Besides, it's whisper-quiet with a lower noise level.
The unit includes many features, such as the intake hose exhaust. Also, a setup kit makes it easier to install by reading a set of instructions. It's plug & play and no need to mount like window units air conditioners from Frigidaire.
An amazing feature is a digital timer that lets you control or adjust the time per hour to suit your cooling needs. The LCD displays let you read the modes and allow for simple operation.
It's a powerful cooling unit that can accommodate a large room of up to 400 sq ft. Furthermore, it's eco-friendly, which means that it's safe for the environment since it recycles the condensate instead of letting it escape to the outside.
Pros
It can support rooms of up to 400 square feet.
It has a digital timer.
Eco-friendly.
It's compact and slim.
A higher cooling power.
Cons
Portable Air Conditioners Buying Guide
In our buying guide section, we will look at the features to consider when buying a portable air conditioner. We also look at the different types, pros, cons, and everything else you need to know about these ACs.
Features to consider when buying a portable air conditioner
1. Energy efficiency ratio or EER and British Thermal Units
When shopping for a portable AC, its energy consumption should be the first thing on your mind. Check the energy ratio which appears as class A, A+ or A++. A higher EER means low power consumption, and this may earn you some savings.
Also, check the British Thermal Units (Btu) reading, which is the unit of measure for energy. For instance, a 12,000 Btu air conditioner can serve up to 550 square feet. On the other hand, a 14,000 Btu can cool 500 sq. ft.
Notably, most ACs have complied with the India department of energy air conditioning standards.
Noise Levels
Portable air conditioners are notoriously noisy compared to their counterparts' fixed units. The reason being their motor is built-in, which is a major drawback. However, there are some less noisy models you can consider but first check the decibel level.
In a nutshell, the best portable air conditioner should let you enjoy a relaxing moment without disturbances.
Exhaust Pipe
One useful feature of a portable air conditioner is the exhaust pipe, which pulls and expels air from the room. Some units have only one exhaust pipe, while others have two. It is preferable to use a dual hose portable air conditioner. For example, a 14,000 Btu dual hose portable AC can cover a large area.
Self Evaporating System
The water evaporates automatically, so no need to keep on emptying the tank. The auto evaporation system also helps in keeping the water condensate cool.
Dust or Residue Filter and Anti-bacterial
A dust filter ensures your unit is clean at all times and free of dust and other residues. This feature is essential as it makes sure the surrounding air is fresh. The anti-bacterial property helps in killing or eliminating disease-causing agents such as bacteria and allergens.
Other Features
Plan where you'll put it.
The best portable air conditioners are easy to move, sleek and compact. You need to find a place inside the house where you can place them. You may place it near a wall or a window opening if you want to vent out..
Pricing
Before you buy, it's vital to consider whether the price is within your budget. Portable ACs price ranges between 20000 – 40000 Rs. It mostly depends on features present in a model, such as tonnage, dehumidifier, number of hose, etc.
Types of portable AC
A portable air conditioner comes with two hose options; single and dual hose.
Single-hose
A single-hose portable air conditioner pulls air out of the room, creating negative air pressure. When this happens, fresh or clean air finds its way into the room through openings such as doors and windows. It's cheaper, compact and suitable for a small room.
Dual-hose
A dual-hose portable air conditioner is more efficient with a higher cooling capacity than the single hose for a large sq ft house. It uses two exhaust hoses, one for throwing the hot air out and the other for blowing cool air into the room. The best portable air conditioners have dual hoses since they cover a large area with more square feet.
Pros and Cons of Portable Air Conditioners
The advantages and disadvantages of ACs depend solely on the user experiences. We have sampled several from customer reviews after detailed research.
Pros of ACs
Good value for money: A portable air conditioner is affordable when you compare it with a split air conditioner. It's, therefore, the best option for shoppers on a budget. Although an air conditioning unit with superior features may cost a lot, it's a great investment decision for most people in India.
Easy to install: The best portable air conditioners should be easy to set up. From our review, we sampled those models that have an installation kit. Unlike a window AC, these don't require a lot of effort to setup and their cooling performance is top-notch.
Ease of movement: Portable ACs are very mobile and you can move them from room to room. Some come loaded with caster wheels for easier movement across the floor.
Energy efficient: Portable ACs have low electricity use and therefore help you save some money. They are an excellent alternative to fixed ACs.
Easy maintenance: Portable air conditioning units are easy to maintain, and you don't require any special skills to clean or remove dust and debris.
Cons of portable ACs
Noisy: Unlike window air conditioners, it can be to find a less noisy portable AC. Luckily, in our review, we have a couple of options with less noise levels.
Heavy: Although portable ACs are easy to move and portable, they're also heavy to carry. It's mostly for the advanced models that come with a host of features.
How to maintain a portable AC
Like any other appliance, a portable AC needs proper care to last years.
There is a need to have in place a cleaning schedule such as fortnightly or monthly.
When cleaning, use a clean wet cloth to wipe the exterior and clean the air filters. Inspect the condenser, including the exhaust pipe.
Lastly, clean the house daily and dust the windows to prevent dust build-up.
Portable AC Frequently Asked Questions (FAQs)
1. What is a Portable Air Conditioner?

A portable air conditioner can cool your room in hot weather or warm it in cold weather. As the name suggests, you can move it easily between rooms.

2. Is portable AC good?

Yes, it costs less, easy to install, and doesn't consume a lot of energy.

3. Do portable air conditioners use a lot of electricity?

No portable air conditioners consume less electricity than fixed air conditioners.

4. How efficient are portable air conditioners?

Portable air conditioners are very efficient in cooling the surrounding air. Newer models can also serve as fans or dehumidifiers.

5. How to find the right portable AC unit for you?

There are several things to consider when buying the best portable air conditioners in India. These include price, quality, and efficiency. Also, you can look out for energy consumption and the compactness of the unit.

6. Do portable ACs have to be vented out a window?

Window vents are not a requirement for portable AC's, but they do help to cool the room effectively.

7. Do portable AC need to be drained?

All too often, you don't need to drain a portable AC since most have an exhaust hose for expelling vapor during the cooling and dehumidifying process.

8. Is portable AC better than split AC?

Yes, since it consumes less power. However, with a split AC, the condenser is located outside to allow for maximum cooling of large rooms. It's also less noisy than portable options.

9. Are portable air conditioners as good as window units?

A window ac requires installation on walls or windows. A portable AC stands on the floor and has a vent connecting via a window or wall. A portable AC is better since you can move with it from room to room.

10. Are portable air conditioners quiet?

Not really. Most portable ACs are noisy since their motor is internal. However, you can find some less noisy models such as the ones in our recommendation list.
Conclusion
From our review, the best portable AC in India is the Whitney model for its excellent value for money. It also has a multitude of features and accessories to boost your cooling experience. This model is energy efficient, with a high cooling capacity necessary for a large room. Last, it's versatile and offers a three in one function that includes dehumidification and purifying the surrounding air.
Read Related Reviews
Buy Best Portable AC Online
Blue Star 1 Ton Fixed Speed Portable AC (Copp...
38%
Evapolar evaCHILL Portable Air Conditioners /...
33%
Portable AC Air Conditioner, Desktop Air Cool...
50%
AIRLY Window Seal for AC Unit for Portable Ai...
Cruise 1 Ton Portable AC with Anti-Bacterial ...
24%
LUBELA Mini CoOlEr for room cooling mini CoOl...
47%
LaoTzi Rechargeable Portable Air Conditioner ...
55%
Personal Air Conditioners Portable AC Mini Ai...