Winter, the weather of pleasure and love also brings a lot of pain due to its chilling and bittering cold. Especially in North India, this weather is always at its extreme, even sometimes the temperature falls down below 10 or 5 degrees making you feel extremely uncomfortable. In that situation, relying on only blankets and warmers is not enough to beat the harshness of winters. And here comes the role of Best Room Heaters that are the most affordable and convenient heating appliances.
Room heaters are also known as Space Heaters. When it comes to creating a warm atmosphere inside your room and around your workplace, room heaters are the best and convenient mediums even at a budget-friendly price tag.
Since these are available in different variants, choosing the right one for your needs is a bit tricky. Our Buying Guide and reviews of best room heaters will help you in finding out the right type for your needs.
Top 9 Best Room Heaters in India
Get ready to beat the freezing cold by picking out one of the best room heaters for your home. To make your task easier and simpler, we have compiled here the list of latest and best room heaters that will definitely give you the best result.
Best Room Heater in India – Reviews
1. Bajaj Majesty RFX2 Room Heater (Best Overall)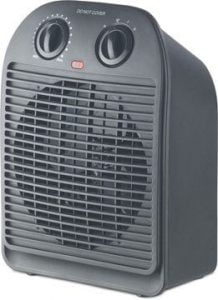 Grabbing the first position on our list of best room heaters in India, this model from Bajaj comes with all the amazing features and functionalities to provide you ultimate comfort during winters. Lookwise, the product is fabulous, and its appealing black color design matches best to your room decor. Also, the high quality plastic material construction makes it durable and long-lasting.
This 2-in-1 room heater from Bajaj can be used as a heater in winters and personal fan during summers. It offers to fan forced hot air circulation and makes the room warm very quickly.
There are two heat settings in this room heater- 1000W for lower temperature and 2000W for the higher temperature of your room. So, you can easily choose the desired one with a simple one touch button operation. Power indicator and adjustable thermostat feature for temperature control are also there making it more convenient to use.
Key Features
International design and styling
Spot Heating
Super clean surface finish
Fan-forced hot air circulation
Adjustable thermostat for the desired temperature
Inbuilt handle
Quadra safety assurance
Two power settings 1000W and 2000W
2 Years Warranty
Pros
Very useful product and looks elegant
Small and handy
Performance is good
Auto cut-off option is a nice feature
Cons
2. Usha FH 3628 PTC Heater (Runner Up)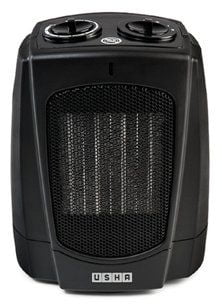 The next on our list is this PTC heater from Usha that delivers an outstanding heating performance without causing dryness or suffocation. What is best is its super stylish design in elegant black color option that perfectly matches your room interiors.
This room heater facilitates superior heating throughout the room with its two heating positions. A special cool wind mode is also there for summers. This room heater also has a low power consumption that saves a lot on your electricity bills.
An adjustable thermostat feature is also there that prevents this room heater from sudden overload. This room heater is also equipped with a powerful thermal cut out and a tip over switch that makes it completely safe for domestic use.
Key Features
Special fan only setting
Fall protection switch
Adjustable two power settings
Thermal cut out for overheat protection
Safety Tip Over Protection
1 Year Warranty
Pros
PTC fan heater with nice built and design
Heats very well
Adjustable heat and thermostat settings are great features to get the desired level of heating as per your convenience
Energy efficient room heater
Cons
3. Orpat OEH-1220 Room Heater (Best Budget Pick)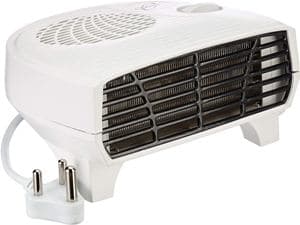 This is another best room heater in our list from Orpat that will definitely make you feel like a warm hug on the chilly winters either its day or night. Even its pocket-friendly price tag fits everyone's budget.
It has a highly efficient heating element that warms up your room within a few minutes. The sleek and compact design of this fan heater looks classy and so perfectly complements both contemporary and modern decor of your room.
This room heater also has a preset thermal cutout option. And so the device automatically cuts out the power supply when it reaches a particular temperature. Overheat protection feature of this room heater will prevent the device from any damage even if used for a long time.
Key Features
Fan Heater with sleek and compact design
Long lasting heating element
Maximum heating in minimum time
Preset thermal cut out
Two heat settings 1000 W and 2000 W
1 Year Warranty
Pros
Nice and elegant design
This fan heater fast heating
Ensures even heat distribution all around your room
Two heating levels is there 1000W and 2000W that you can adjust according to your convenience
Only fan option is also available which is great
Cons
4. Bajaj RHX-2 Halogen Room Heater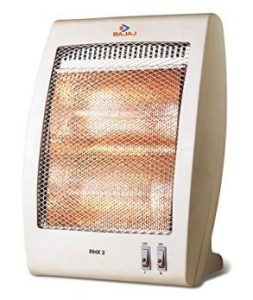 This Bajaj Majesty RHX2 room heater is one of the ideal picks for your home and office . It has been designed to keep you warm in the freezing cold days of winter. Its stylish design blends seamlessly to your home interiors and the same time the warmth it provides is totally matchless.
The heater features two halogen tubes along with high grade reflectors that provides an efficient heating experience. It also has double heat settings of 500 W and 1000 W, so you can choose the desired setting depending upon the heat you need.
Another best feature of this rod type room heater is that it comes with chrome-plated mesh (heat reflector plating) made with CRCA material. It ensures uniform and even heating all around your room. Even with all the safety features included, it is the best choice you can have for your home and office use. The one is Safety tilt switch to safeguard against improper installation and the second one is the Thermal fuse. Also, the inclusion of a durable mesh grill ensures safety of your hands against the direct heat.
What's more is its noiseless operation that makes you use it without any annoyance. Also, its lightweight and portable design, and easy to use operation makes it a best device overall.
Key Features
Two halogen tubes for an efficient room heating experience
Two heat settings- 500W and 1000W to get the right amount of heat accordingly
Dual safety device
Chrome Plated Mesh Grid for even and uniform heating
Noiseless operation
2 Years Warranty
Pros
Excellent product and works very well
Durable construction
Safety features are awesome
Very lightweight device so easily portable anywhere
Allows better heat control with two heat settings
Cons
Very bright and so makes you often uncomfortable
5. Maharaja Whiteline Quato Quartz Heater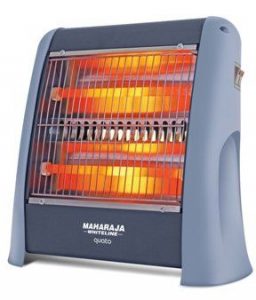 If you are seeking for a smart and extremely budget-friendly best room heater, this one is absolutely the perfect choice. This smart and compact room heater from Maharaja Whiteline warms up an entire room and thus proving to be the most versatile heater. It comes with two heat setting options so that you can adjust to 400W for lower temperature and 800W for the higher temperature in your room.
Since this room heater comes with quartz tubes, it is meant for spot heating. So you just need to turn it on to get its full heating effect. The temperature of these quartz tubes is also higher than that of other heaters and so making it a durable option. This room heater also saves you energy and cost of electricity.
Key Features
Rod type heater with elegant design
2 heat settings-400W and 800W
Easy to carry
Safe tip over switch
Quartz tubes
Low power consumption reduce your electricity bills
1 Year Replacement Warranty
Pros
Super economical and safe
Heating capacity is great
The two rods have different switches so you can easily control the energy consumption as well
Cons
Not ideal for large rooms
6. Usha QH 3002 Quartz Room Heater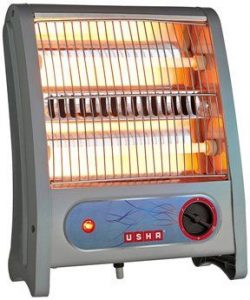 The Usha QH 3002 is another best room heater in India with impressive features and superb performance. Being light-weight, sleek, handy, and compact, this room heater fulfills all your heating needs in the chilly winters. This elegant room heater comes with a ceramic heating element with two heat settings along with a power consumption of 1000W. So, you don't need to worry about the high electricity bill.
This room heater also has a safety feature which cuts off the heater in case it tilts and falls. It is also featured with an adjustable thermostat to adjust the temperature as per your convenience. This reliable room heater also has inbuilt functions including the tip-over switch, an auto-revolving heating process and overheats protection, making it the best choice of yours.
Key Features
Safety tip over switch cuts off
Spot Heating
Powder coated finish to prevent corrosion
2 Heating positions to suit your comfort
Adjustable thermostat
Safety front grill
Cord storage facility
1 Year Warranty
Pros
Provides enough heating to warm a small and medium sized room
Nice quality of the heater
Easy heat control with two suitable power settings
Safe to use
Energy efficient room heater
Cons
7. Eveready QH800 Quartz Room Heater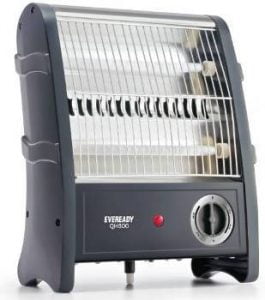 This Eveready quartz room heater is one of the best room heaters with awesome features. Its stylish appearance makes it more appealing. Plus, the overall hard plastic body construction makes it sturdy and durable. There also comes a steel frame in front of it that ensures even and uniform heating all around your room.
It comes with dual heat settings that suit your comfort. This room heater has twin quartz tubes that are useful for direct heating. It's easy to carry design provides ease of use and easy to carry handle is there for all your convenience.
Key Features
Elegant design
Safety tip over switch cuts off power
Easily portable
Twin Quartz tube for direct heating
Night light Indicator
1 Year Warranty
Pros
Great product with awesome quality
Delivers enough amount of heat to make room hot in just a few minutes
Performance is great
Easy thermostat setting
Cons
8. Usha SH 3508H Steam Heater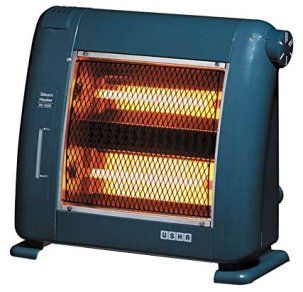 This is another quartz type room heater from the brand Usha to offer you the excellent comfortable experience in the chilly winters. It is a steam heater working as a humidifier as well. You just need to add water to prevent dry heating. It comes with 2 heating positions wattage 400 W and 800 W respectively. And the best is that it is equipped with all the safety features and standards that offer you an amazing ease of use.
Key Features
Cool touch body
High-Grade Reflectors
Quartz tube heating element
2 Heating Position Wattage 400/800 W
Humidifier Function to prevent dryness
Water Tank Capacity 300 ml
Tip-Over Cut off
1 Year Warranty
Pros
Sleek and stylish
Convenient to use
Portable
Humidifier function is a great feature
Awesome safety features
Cons
Not ideal for large rooms
9. Singer OFR 11 FINS Oil Filled Radiator Room Heater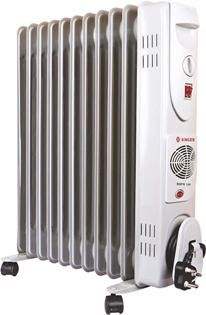 The next comes in our list is an oil filled room heater from the brand Singer. Sleek, stylish and efficient, this room heater is great enough to battle with the cold weather. It comes with the 3-way heating effect that provides instant heating around the area. This room heater also has powder-coated 11 fins oil filled radiators that work greatly as a rust protector making the device more durable.
Now when it comes to safety features, it is absolutely an outstanding product. It comes with Nylon castor wheels and metallic back cover to assure the safety measures. Moreover, its smart auto cut off feature protects it from being overheated. Well, all these features make it a best room heater for all your warming needs.
Key features
11 fins oil filled radiator
3 Power settings
PTC Fan for faster heating
Thermostat control
Overheat protection
Castors for easy mobility
Cord Storage
Pros
Robust and sturdy product
Works very well in extreme winter conditions
Offers more consistent heat generation
Long lasting comfortable heat
Well equipped with all the necessary safety features
Auto shut off when the room temperature gets warm
Cons
Room Heaters Buying Guide
Types of Room Heaters
There are 3 types of room heaters available in the market based on the mode of heating. Each having their own specs and features.
1. Fan Heater or Blower Heater
This type of room heater is also known as ceramic heaters, heat convector, convection heater, and blower room heaters, these are the ideal choices if you want something in the budget. These room heaters come with a fan over a heating element to circulate warm air in the room. With the advanced thermostat switches, you can easily turn it on/off, when the desired level of room temperature has reached. Also, the best part is its fan that you can even use in the summers to get cold air.
Pros
Offers quick heating
Budget-friendly heating device
Ideal for children, adults, and old age people
Cons
Consumes more power
Creates noise
Check here for the reviews of Best Blower Room Heaters
2. Infrared Heaters
These room heaters are also known as radiant heaters or quartz heaters. It works on infrared technology to produce warmness around you. It comes with a quartz tube or ribbon filament that transfers heat directly to you, as soon as you switch on the device. But these room heaters are ideal for small rooms only. These units offer the quick heating, but the major drawback is that the heats get dissipated soon after you switch off the device.
Pros
Functions very smoothly and silently
Quick and instant heating
Consumes less power
Cons
Not ideal for children as it causes skin burn, rashes, and irritation
Not best for big rooms
3. Oil-Filled Heaters
As the name shows this type of room heater uses the oil that is to be poured in the heating element to warm up the surrounding area. These are the expensive room heaters but are the best ones to warm up the large rooms with no noise at all.
Pros
Highly efficient room heaters
Noiseless operation
Ideal for big area or space
Cons
Takes a long time to offer warmness
Expensive
Factors to Consider Before Buying a Room Heater
1. Type of the Room Heater depending upon the Room Size
The first and foremost thing is considering your room size to decide upon which room heater to buy. We have already discussed the different types of room heaters in the above section. So go for the one that specifically suits your needs. As to summarize;
For bachelors or a small family with one-two members, an infrared heater is the most ideal choice. On the other hand, for two-three people, choosing a fan heater is a great decision that generates enough heat to make you feel warm. And if you are searching the room heater for large rooms, oil filled room heaters are the best choice that are meant for heating a large-sized room in a jiffy.
Space Heater Size Chart
How to find the right type of space heater for your room size? You can easily determine it by knowing the wattage of the heater. As a rule of thumb, to heat every square foot of floor area in your room, 10 watts of heating power is required. In equation;
Total Square Footage = Total Wattage / 10
Or Total Wattage = Total Square Footage x 10
Now, have a look at the following chart to know what wattage of room heater you need to warm your room.
| Size of the Room (sq ft) | Wattage of the Room Heater Required |
| --- | --- |
| 75 sq ft | 750 W |
| 100 sq ft | 1000 W |
| 125 sq ft | 1250 W |
| 150 sq ft | 1500 W |
| 200 sq ft | 2000 W |
| 250 sq ft | 2500 W |
| 300 sq ft | 3000 W |
| 350 sq ft | 3500 W |
| 400 sq ft | 4000 W |
| 450 sq ft | 4500 W |
So, now you can calculate the right wattage depending upon your room size.
2. Power Consumption
The power consumption of a room heater is determined by the wattage of that particular model. Different types of room heaters consume different amounts of power.
The infrared heaters ensure less power consumption that take around 800-1200 Wattage.
Fan heaters or heat convectors consume 1500-2000 Wattage.
Oil-filled room heaters are the only ones that consume very less electricity, around 1000 Watts at maximum. So, these are considered as the best room heaters with less energy consumption.
3. Heating Time
What if your room heater takes up so much time to warm a room when you need it instantly? Of Course not. And so, considering the heating time of a room heater is very much important. For this point, the fan heaters and the infrared heaters are the best choices that warm up the room instantly as soon as you switch it on. But the oil heaters take so much time to heat the room, as it needs to heat the oil first, which is a time-consuming process.
4. Energy Efficiency
Most of the modern electric appliances come with the BEE star rating that shows the energy efficiency of that device. And when it comes to room heaters, always go for the high star rating model. The more the energy star rating, the more energy-efficient it is.
5. Portability
Fan or blower heaters and radiant heaters come with a simple, lightweight design that makes them easy to carry from one place to another. While the oil-filled radiators come with the castor wheels to move freely in any direction from one room to another. So choose the one that perfectly fits your needs.
6. Remote Control Operation
Some of the models also come with the remote-controllable option that lets you operate the room heater with the utmost ease. As it is incorporated with wireless technology, so you can easily operate it from a distance also.
7. Power Cord
Choosing the one with a long power cord of at least 70 inches is the best way to use a room heater. It allows you to use it conveniently even if the power outlet is far from your bed or table.
8. Noise levels
Noise level is an important feature to consider in a room heater. If you want a silent atmosphere around you, radiant room heaters and oil-filled room heaters are ideal for their noiseless operation. In comparison, the blower heaters or fan heaters produce a little bit of noise due to the fan.
9. Smart Safety Features
It is important to check whether the room heater has enough safety protection features or not for the utmost convenience and protection. Some advanced safety features include:
Auto Shut Off- It allows the unit to switch off automatically when it reaches a threshold level and thereby provides overheat protection.
Thermostat Feature- It offer you precise temperature control.
Multiple Heat Settings- It allow you to set low, medium, or higher temperature, the one that makes you feel comfortable.
Comfortable Grip and cool-touch body- It allows to lift it safely without worrying about burning your hands.
Safety Mesh- All the room heaters come with a safety mesh in front. It means that the slats are close enough to avoid any accidental mishappenings to your children and pets.
A timer Feature- It allows you to set the time for the unit's on or off at a predetermined time.
10. Brand
Brand matters; after all, it determines the quality and longevity of the product. And when it comes to space heaters, there are various topmost brands in India that offer the best quality room heaters for your needs. Some of the best brands of room heaters are Bajaj, Havells, Usha, Morphy Richards, Orpat, etc. All these brands come with good warranty duration and also offer decent customer service.
11. Price
Price is another important factor before buying a room heater. If budget is your main concern, choosing an infrared heater is the best deal that comes in the price range of Rs 1000 to Rs 1500. Ceramic heater also comes at a budget-friendly price tag ranging from Rs 1000 to Rs 2000, but for extra features like timer and thermostat, you may have to invest up to Rs 5000 to Rs 7000.
On the other hand, oil heaters are the expensive ones, as discussed earlier, and come in the price range of Rs 10,000 to Rs 15,000 depending upon the features present in it.
Important Safety Precautions to Follow While Using a Room Heater
Before using a room heater, the first and foremost thing is to check whether the device is clean and in good condition or not. If you find any problem, try to fix it first and then use it.
Always keep the space heater on a hard and non-inflammable surface, not on carpets, wooden, or plastic surfaces.
Keep all the inflammable items like newspaper, bedding, blankets, etc., away from the heater when it is on.
Do not allow your children or pets to play near the electric heater to avoid any accidental contact, shock, or burn.
Do not use extension cords to operate a room heater.
Make sure that the room heater you are using comes with the latest safety standards.
Never leave the electric heater unattended for long hours.
Room Heater Alternatives
Though room heaters are the most affordable and convenient heating appliances, many people look for other alternatives too. And here are some:-
Hot and Cold AC
It is another best alternative that is ideal for both the summers and winters. The Hot and Cold AC comes with a heater too that provides you warmth in the cold weather. Though it is expensive, the features and benefits it provides validate the price tag fully.
Check here for the Reviews of Best Hold and Cold AC.
Electric Blankets
Blankets and warmers are the best things to use in winters, especially when you lay down on the bed or while sleeping. But what if your blanket comes with heat settings? Isn't it more comfortable and cozy? Yes, and the latest Electric Blankets offer you the same warmth to get rid of chilly winters. It comes with the heating wires inside and is connected to the electrical outlet for instant heating.
Check for the reviews of Best Electric Blankets and Warmers in India.
Room Heaters Frequently Asked Questions (FAQs)
1. Which is the best room heater in India?

All the above-mentioned room heaters are best to buy to overcome the bittering cold. These are all from top-rated brands with awesome features, performance, and safety. You can also buy other top-rated models from the brands like Usha, Havells, Orpat, Bajaj, Morphy Richards, etc.

2. Is a room heater good for health?

The over and excessive use of radiant room heaters and convection room heaters can cause the reduction in oxygen level and humidity. Consequently, these may lead to some negative impacts on health like nasal blockage and dry eyes. To overcome this issue, either you can keep a bucket full of water at the side of the room or else you can use a humidifier.
On the other hand, in the oil filled heater, only oil is burned, and there is no burning of oxygen and humidity. Therefore, buying an oil filled heater is best to be safe from consequent health issues.

3. What are the important factors to consider before buying a room heater?

Factors like wattage, energy consumption, noise level, safety features, heating capacity, and your budget are very important to consider before purchasing a room heater.

4. Is a room heater safe to use?

Yes, the modern room heater comes equipped with many more safety features like auto shut off, thermostat feature, safety mesh and grid, cool touch body, etc., that makes them absolutely safe to use.

5. Is it OK to sleep with the heater on?

No, sleeping with a heater on can increase the level of carbon monoxide in the room. Thus, it consequently chokes the supply of blood to your brain, which can lead to brain hemorrhage and sometimes even asphyxia (sleep death) too.

6. Do oil filled heaters use a lot of electricity?

No, these are the most energy-efficient versions of a room heater. They use electricity only to warm up the oil to generate heat and thereby consequently no electricity is wasted.

7. What is the best portable heater for a room?

If you are the one who loves traveling, the compact and portable room heaters are the best option. Ceramic heaters and infrared heaters are lightweight and compact in size that makes them easy to carry around. On the other hand, the oil filled heaters are a bit heavy, so not for traveling purposes. But they have caster wheels included that make them easy to move around your house from room to room.
Conclusion
This is all about the best room heaters for your home and office in winters. Get ready to fight the freezing cold by picking up one of the above-listed room heaters. All the listed room heaters are from the well-known brands, so quality is completely assured. So, what are you waiting for? Choose the one as per your budget and preference. As our personal recommendation you can go with Bajaj Majesty RFX2 Room Heater that is best in features, performance and price all.
Related Reviews and Buying Guide
Buy Room Heaters Online
Orpat OEH-1220 2000-Watt Fan Heater (White)
9%
Amazon Brand - Solimo 2000/1000 Watts Room He...
35%
Crompton Insta Comfy 800 Watt Room Heater wit...
42%
Orient Electric ABS Plastic Areva Thermostat ...
60%
Havells Solace 1500 Watt with PTC Ceramic Hea...
39%
Bajaj Flashy 1000 Watts Radiant Room Heater
3%
Havells OFR - 9Fin 2400-Watt PTC Room Heater ...
40%
Usha 2 Rod 800 Watt Quartz Heater with Low Po...
24%